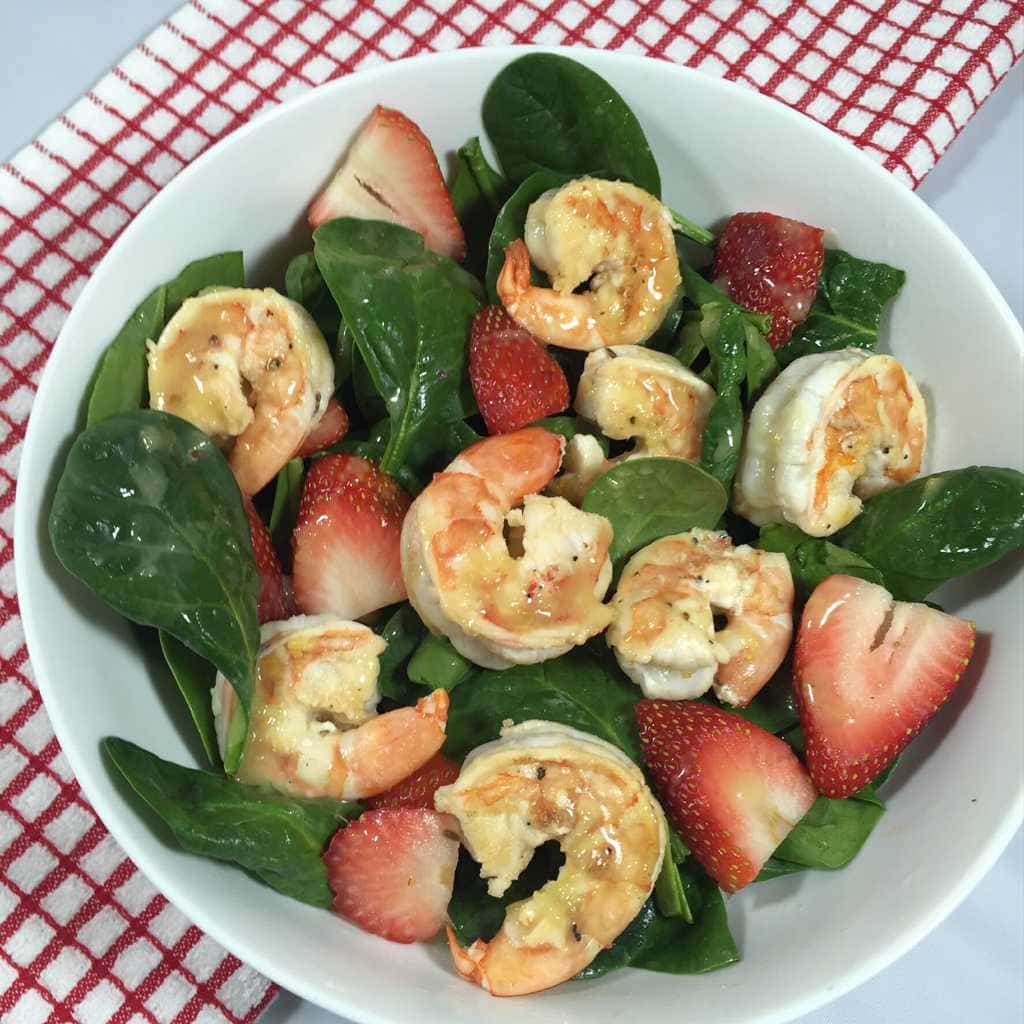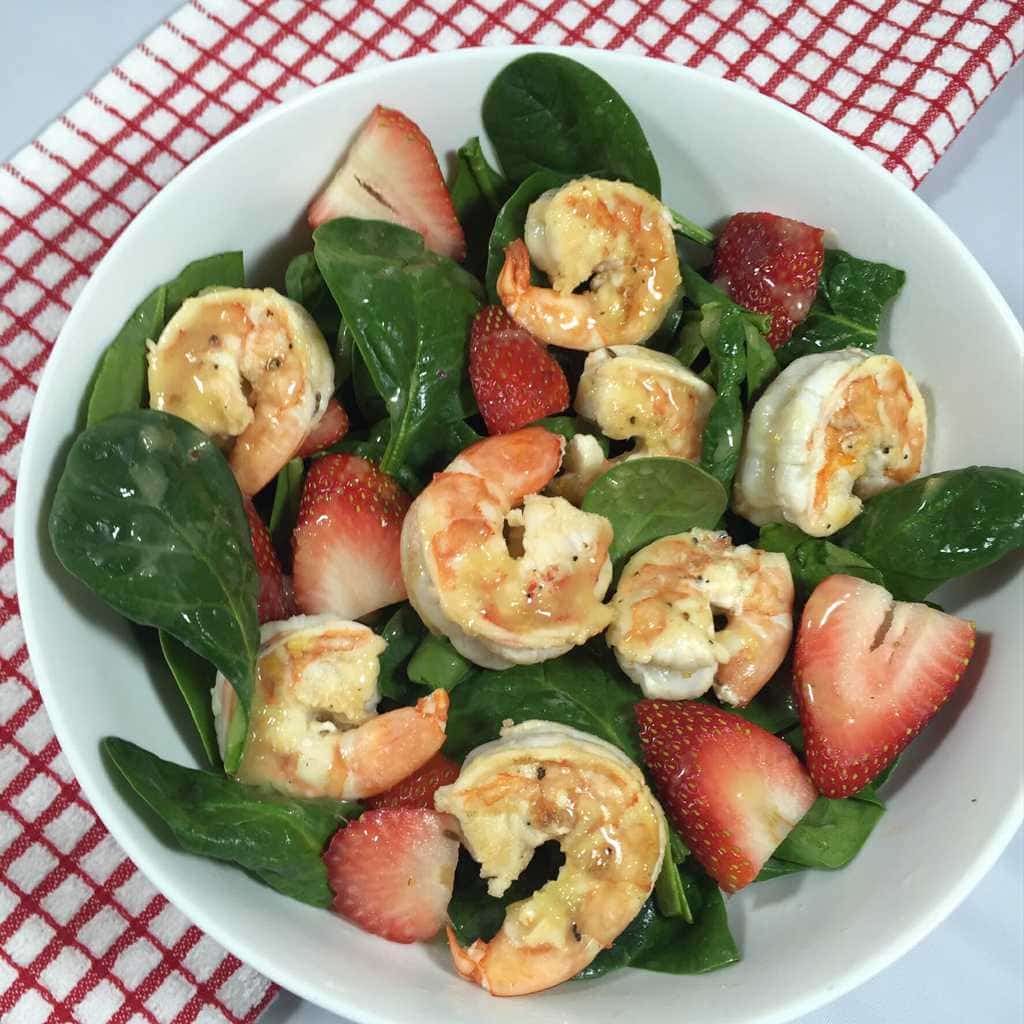 About Spinach Salad with Shrimp & Strawberries
Spinach Salad with Shrimp and Strawberries actually was created for a camping trip.
Camping? Yep!
You have to understand, there are campers…and then there are campers.
First, there are those who camp to get away from normal everyday responsibilities. They go camping to relax and just have fun.
Cooking? Nah, they say. Order a pizza. No cooking, no mess, no clean up.
After all a vacation is a vacation, right? Can't blame them.
Unfortunately, or maybe fortunately, I fall into the second group.
I love to cook and equally love eating well, so that means I need to take food with me and try and get creative with recipes on the road.
Vegetables and fruit keep well in our little refrigerator.
When I say little, I really mean it.
There's room for fresh salad fixins, Angel's carrots of course, bottled water, made- ahead salad dressing and yogurt.
And in the teeny tiny freezer, there's room for some fish and shrimp. That all works well on the road.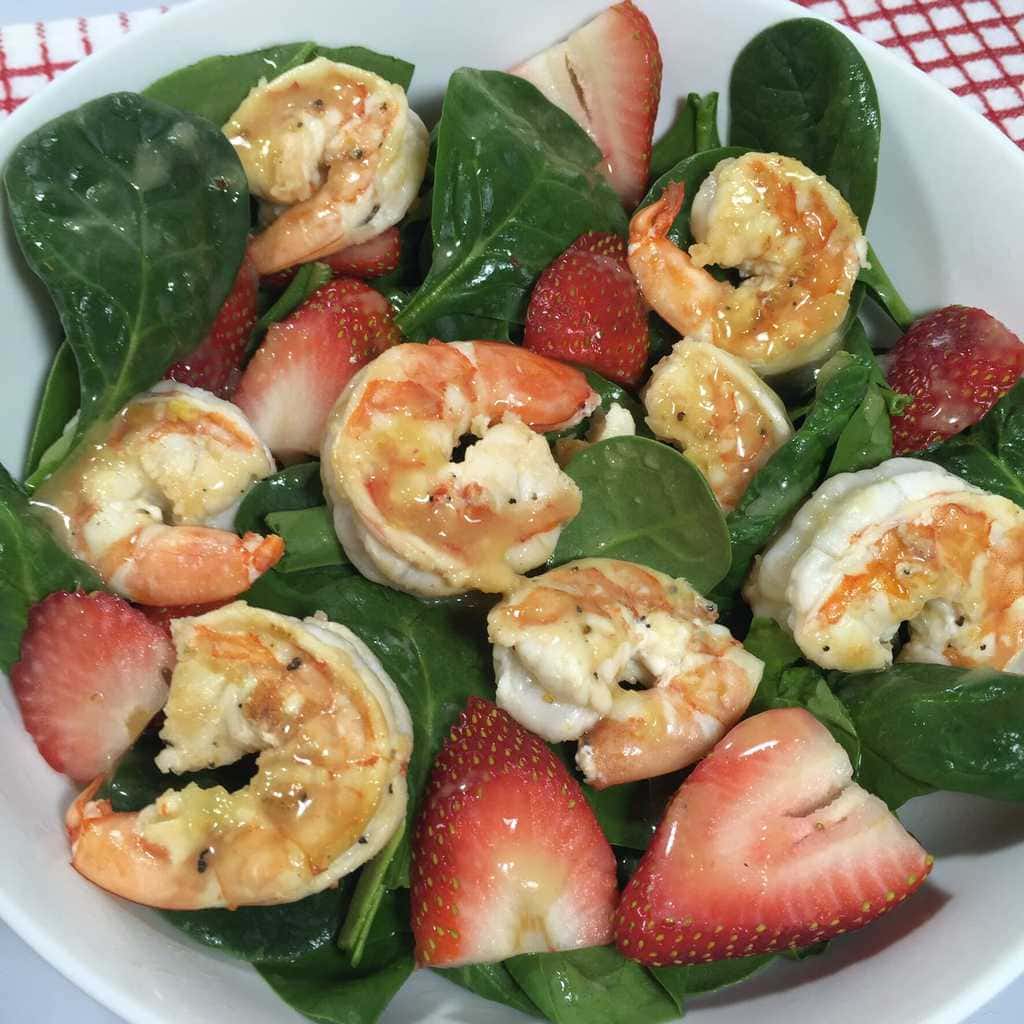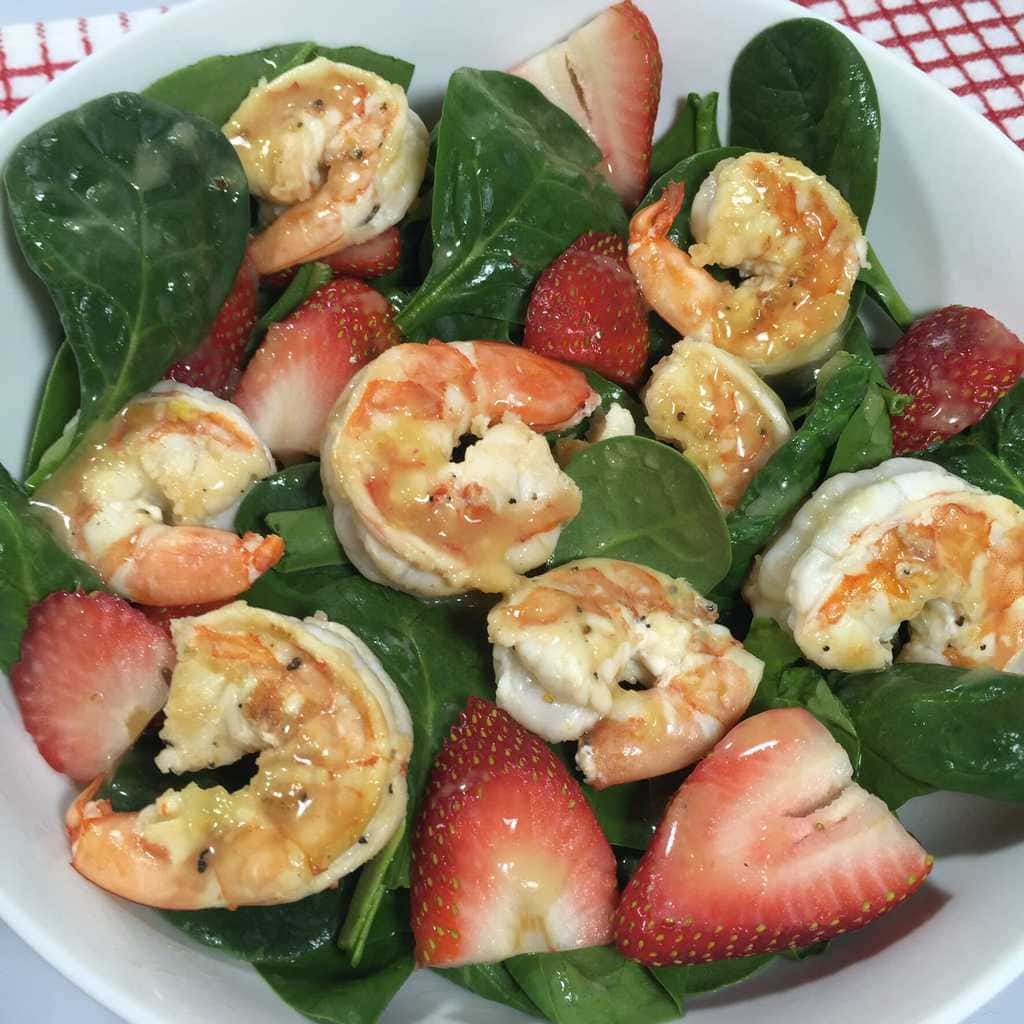 On one of our trips where we were meeting friends, I decided we needed to have a fun salad that could double as dinner, and Spinach Salad with Shrimp and Strawberries was created.
I love this salad. The ingredients are fresh and beautiful, but I think it's the creamy dressing that makes it.
I had experimented with Miso in salad dressings and decided I really loved it.
Miso not only adds viscosity to the dressing allowing it to cling to the food, but it also adds incredible taste.
There are actually 4 different tastes in food: sweet, salty, bitter and sour. And then there's the 5th taste and that is umami.
It's just entirely different because of it's richness and depth of flavor.
Trader Joe's thought this taste this extra flavor made Everything taste great, so they now have started to sell Umami Spice.
Miso is one of the foods that has that taste umami.
And the bonus is that Miso is so good for you because it's full of protein from the fermented soybeans it's made from, plus vitamins like B, E, K and folic acid.
I mean, what could be better? It tastes great and it's super healthy too.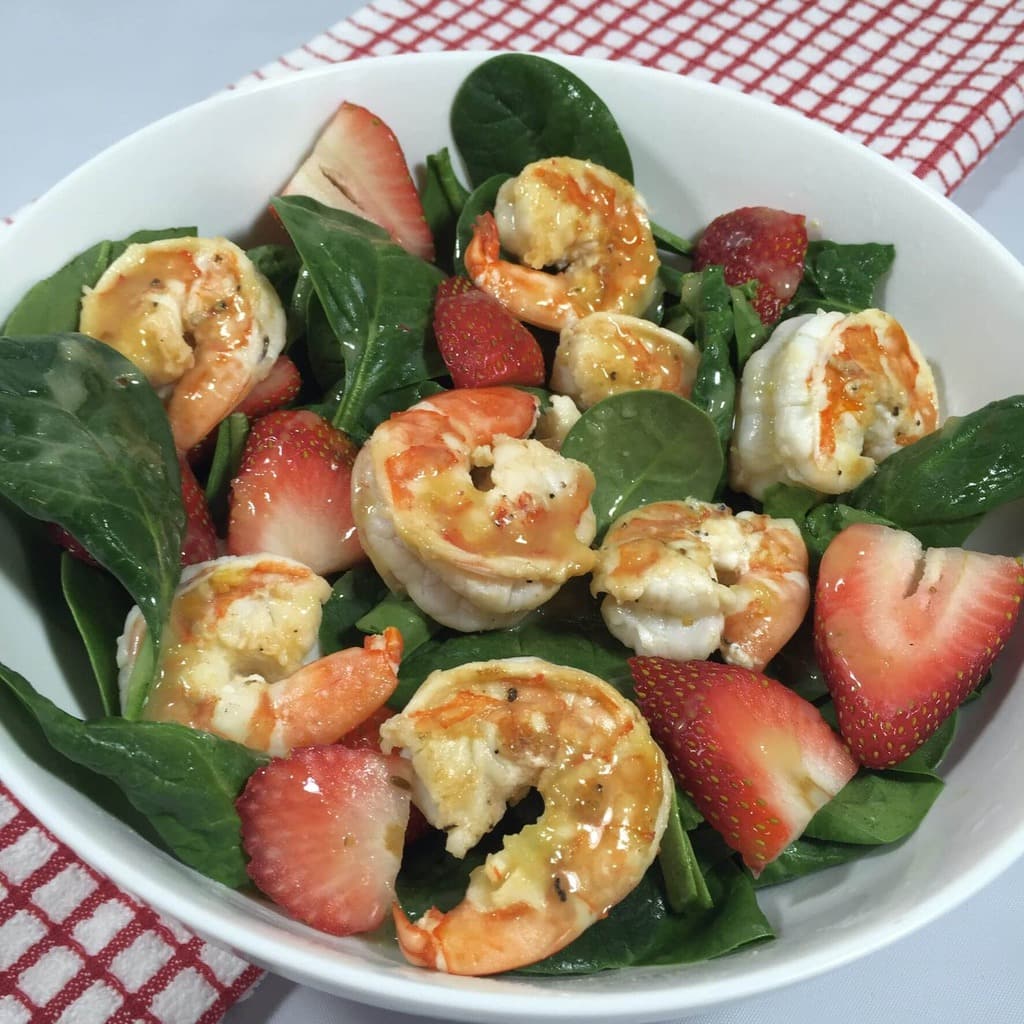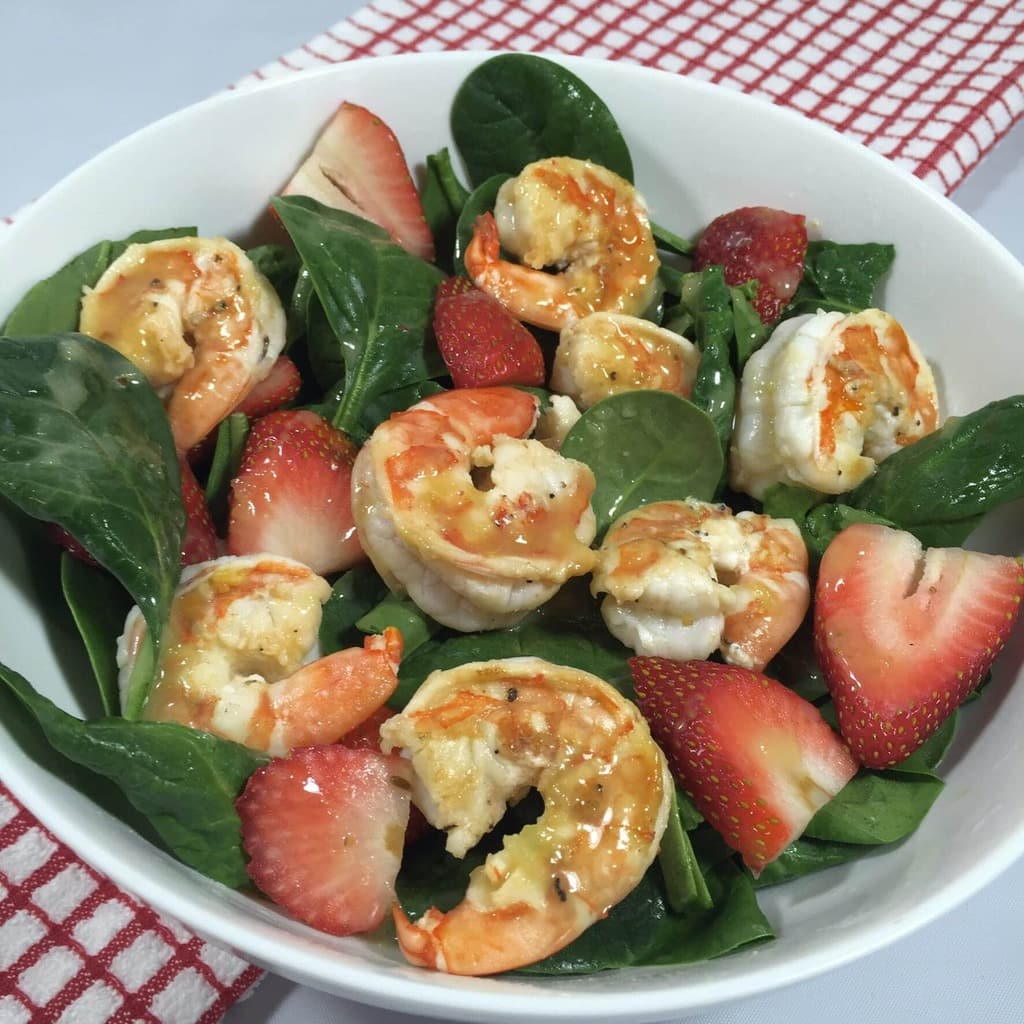 Actually with the dressing and the ingredients of this Spinach Salad with Shrimp and Strawberries, it has almost all of the flavors combined.
The sweetness, but not overly sweet, of the miso dressing and Strawberries, the saltiness of the shrimp and the miso dressing, and the semi bitterness of the greens.
It's a great salad and, yep, it travels well.
Ingredients of Spinach Salad with Shrimp and Strawberries
Shrimp
Lime 
Spinach
Strawberries
Olive Oil
Salt 
Pepper
White Miso Paste 
Rice Vinegar
Honey
Ginger root
Sesame Oil
How to Make Spinach Salad with Shrimp and Strawberries
First, juice a lime and add salt and pepper. Pour the juice over cleaned shrimp and let it set for 20 minutes.
Then in a frypan over medium high heat add olive oil. When up to temperature, add the shrimp and allow it cook 1-2 minutes on each side. Any longer and the shrimp will be tough.
Then remove to a bowl to let cool.
For the salad dressing, whisk together white miso paste, vinegar, honey, grated ginger, sesame oil and mirin.
In the meantime, add cleaned spinach to a serving bowl.  Add sliced strawberries, then add the cooled shrimp.
Drizzle the dressing over the top and serve.
Also try Grilled Lemon Chicken Salad.
If you like this recipe, please leave a comment below and pin us on Pinterest!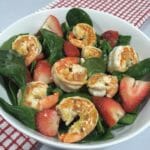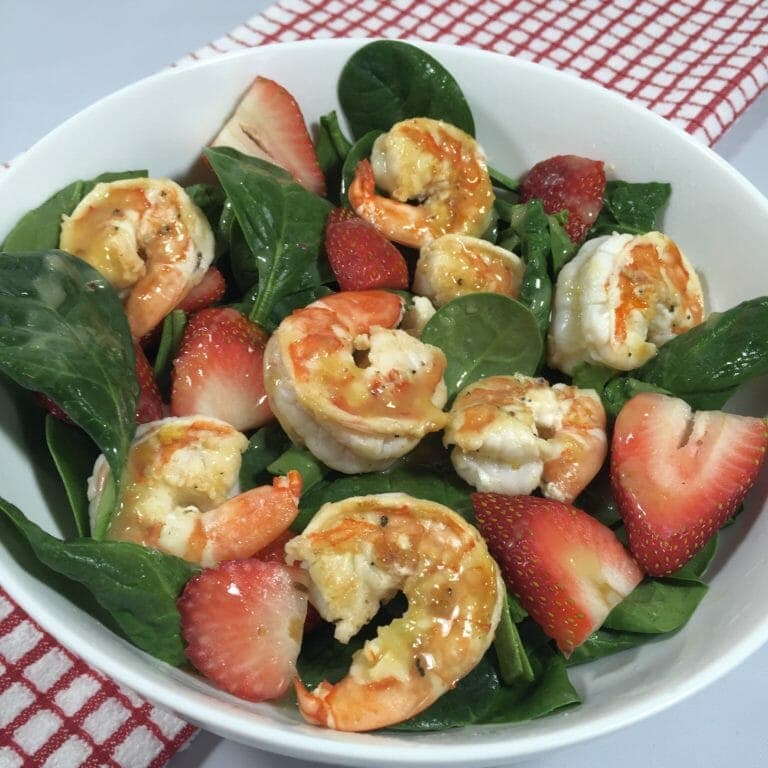 Print Recipe
Spinach Salad with Shrimp and Strawberries
Spinach Salad with Shrimp and Strawberries is quick, easy and totally delicious. The miso dressing completes it with a touch of sweetness.

Ingredients
9

Medium

Shrimp, raw

Peeled and deveined

1

Lime

Juiced

3

Cups

Baby Spinach

Rinsed and dried

7

Strawberries

Sliced thin

1

Tbsp

Olive oil

1/4

Tsp

Salt

1/4

Tsp

Pepper

3/4

Tbsp

White Miso paste

1

Tbsp

Rice vinegar

1 1/2

Tsp

Honey

1-2

Tsp

Grated ginger root

Depending on taste

1/2

Tsp

Sesame Oil

1/2

Tsp

Mirin
Instructions
Marinate cleaned shrimp juice of 1/2 lime, salt and pepper for 20 minutes. Drain and pat dry.

In frypan over medium high heat add olive oil and shrimp. Saute shrimp for 1-2 minutes on each side. Remove immediately and let cool.

While waiting for shrimp to cool make salad dressing. In a small mixing bowl add miso, rice vinegar, honey, ginger, sesame oil, juice of 1/2 lime and Mirin. Whisk well.

Add spinach to serving bowl. Add sliced strawberries, then add cooled shrimp. Pour dressing lightly over salad.
Nutrition
Calories:
138
kcal
|
Carbohydrates:
15
g
|
Protein:
2
g
|
Fat:
8
g
|
Saturated Fat:
1
g
|
Sodium:
575
mg
|
Potassium:
349
mg
|
Fiber:
3
g
|
Sugar:
7
g
|
Vitamin A:
4220
IU
|
Vitamin C:
47.1
mg
|
Calcium:
62
mg
|
Iron:
1.7
mg