Square Deviled Eggs are a new and easy way to make beautiful deviled eggs every time.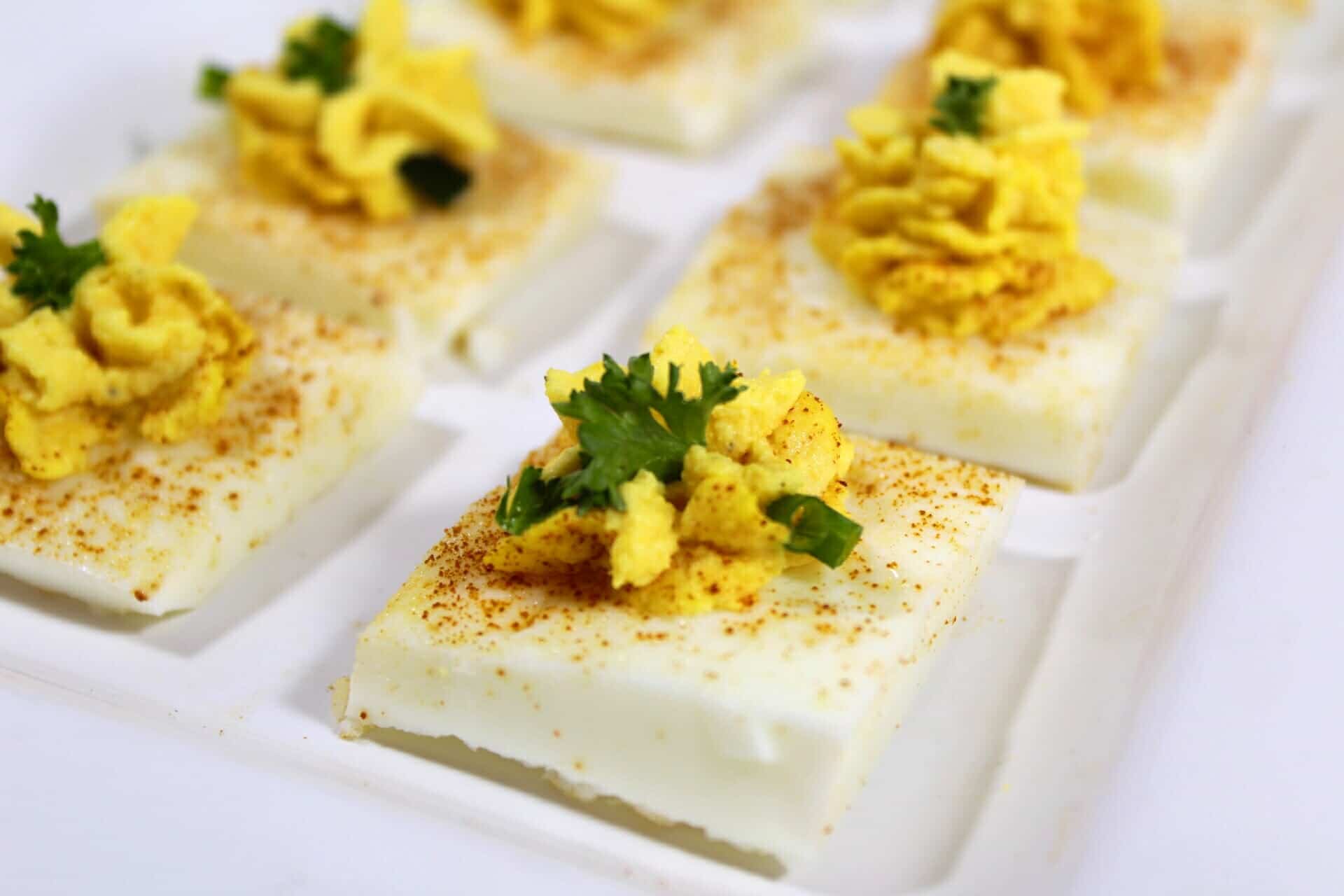 I know… who ever heard of Square Deviled Eggs?
But do you get blocked into doing things the way you've always done? I think we all do.
Most likely we did things the way our Mothers did, and she did things the way Her mother did, and on up the line.
Take for instance classic deviled eggs, an old trusted friend at church picnics, holiday dinners and parties.
And then here comes an "outside the box" thinker like Chef Michael Symon. I recently saw his brilliant technique for making Square Deviled Eggs.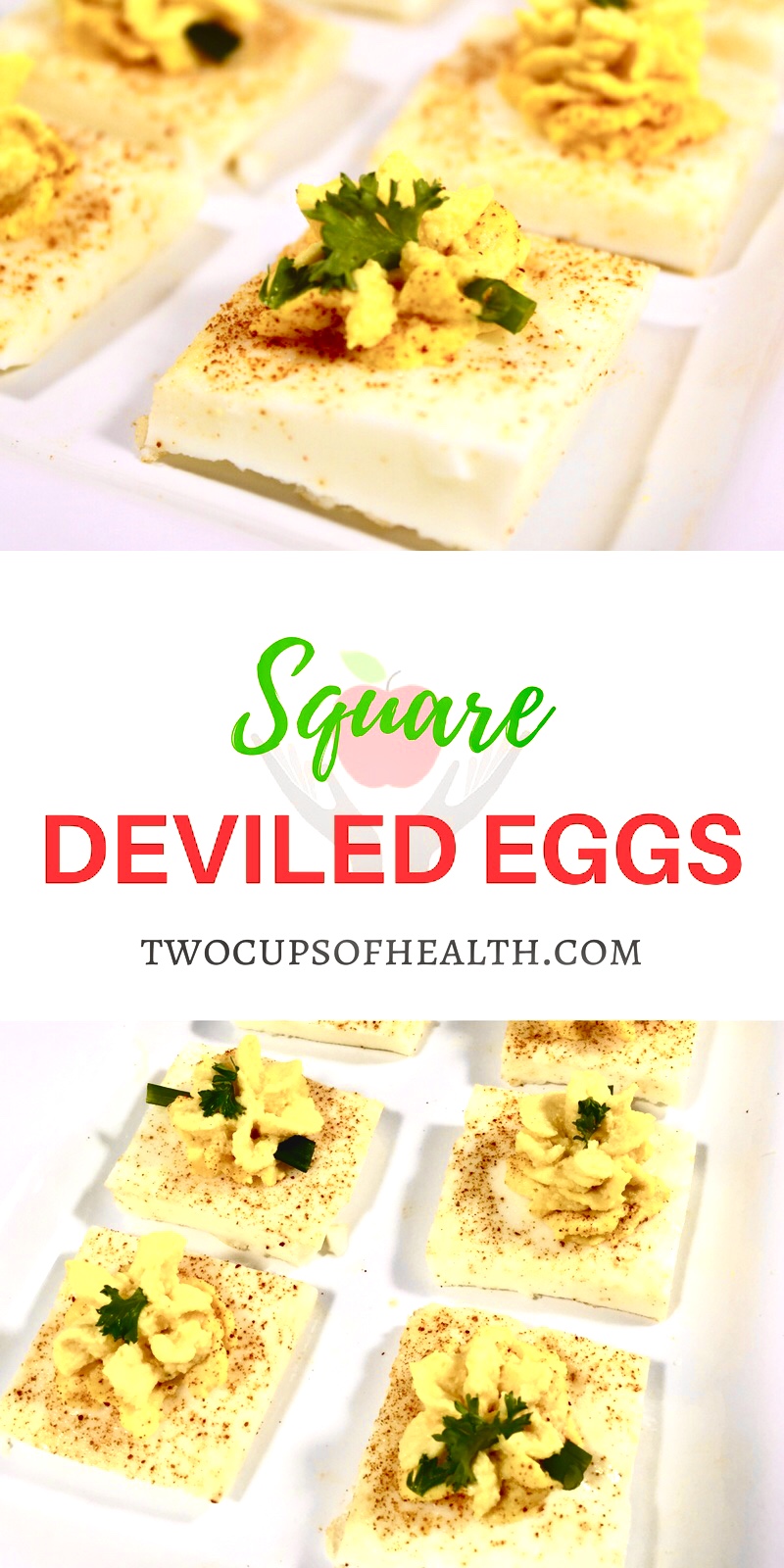 Who knew that making deviled eggs could be so easy, and so perfectly beautiful?
In years past I would always do the traditional method – bring the eggs and water to a boil; take them off the heat; allow them to set covered for 12 minutes.
Then the pot and add cold water to stop the process; then peel the eggs; slice the eggs open; remove the yolks carefully from the eggs to make sure you didn't tear the egg whites; mash the yolks and mix in the ingredients.
Finally spoon or pipe the mixture back into the egg whites shells to make them look as beautiful as possible.
Whew! A lot of work for simple deviled eggs.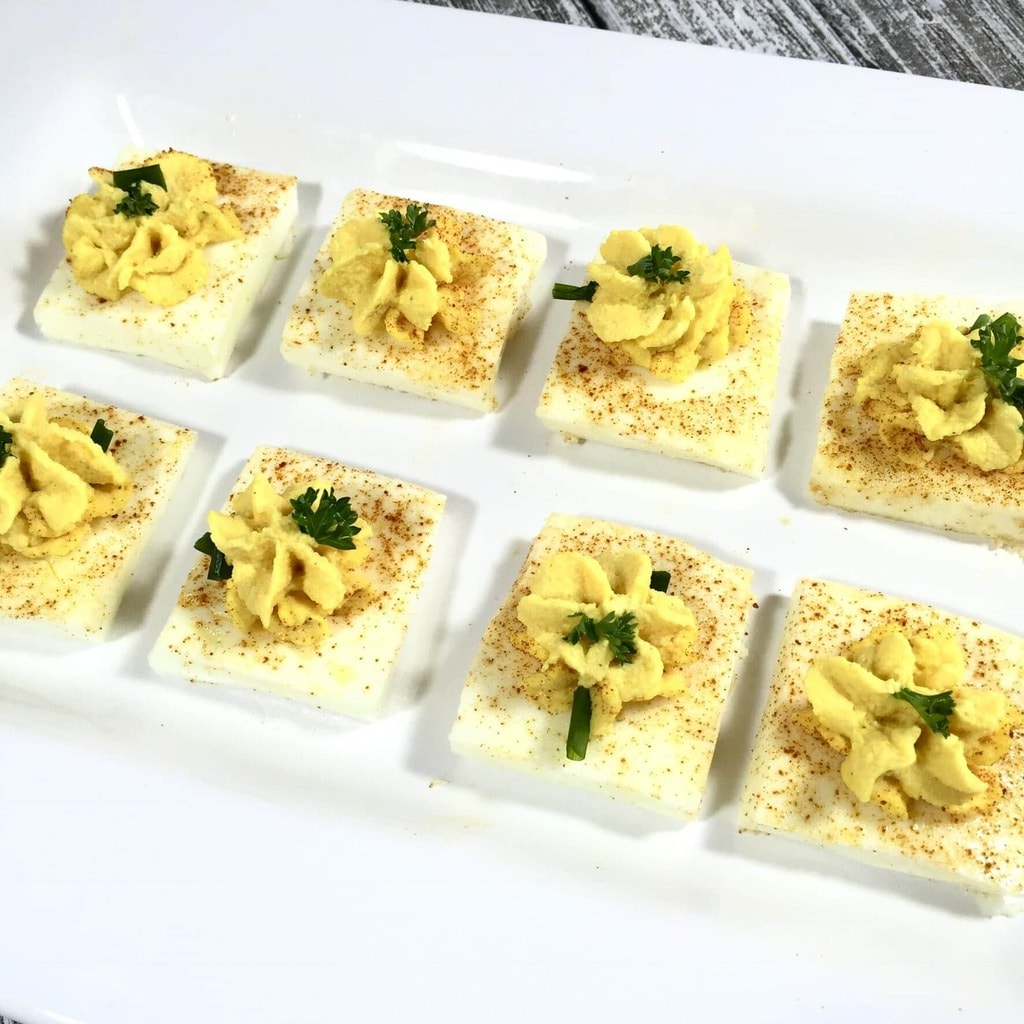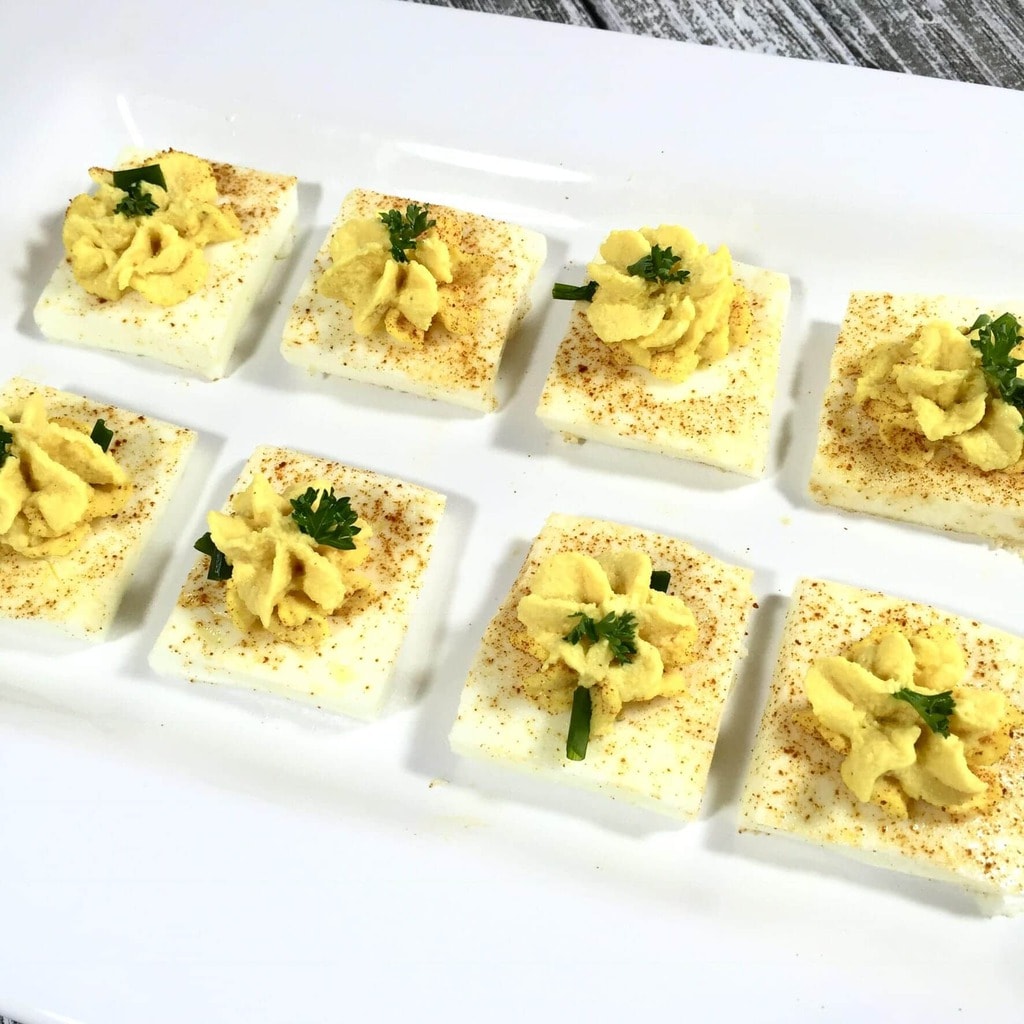 Often, the problem when all that work is done, you might have deviled eggs that look like they just came back from the war.
Maybe some of the egg whites were accidentally removed when you peeled the eggs and instead of perfectly smooth eggs, they were all pitted.
Happens all the time and often because the eggs are too fresh.
Now, thanks to Chef Michael, problem solved. His method for these easy deviled eggs is so much simpler.
How to Make Square Deviled Eggs
One of the best parts of his recipe is that you can you can use fresh…yep, Fresh…eggs.
Chef Michael's method is to separate the yolks from the whites.
Then froth the whites and pour into an 8" x 8" baking pan and bake 20 minutes.
Finally flip the pan onto a cutting board and cut into squares.
Next, in a fry pan over medium heat,  scramble the egg yolks.
When scrambled to a soft stage, take the pan off the heat and let the eggs cool.
Then add the cooled scrambled yolks into a food processor along with your favorite deviled eggs ingredients.
I added mayonnaise, mustard, white wine vinegar, salt and pepper.
Finally,  pipe or spoon your egg mixture unto each egg white square. And finish with a sprinkle of Smoked Paprika.
And voila! Picture perfect Square Deviled Eggs.
If you like this recipe, please leave a comment below and pin us on Pinterest!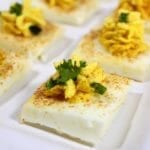 Print Recipe
Square Deviled Eggs
Square Deviled Eggs are a new and easy way to make perfectly beautiful deviled eggs every time. The wonderful taste is the same. It's just more fun.
Ingredients
2

Tsp

Olive Oil

12

Large

Eggs

1/4

Cup

Mayonnaise

1

Tbsp

White wine vinegar

2

Tbsp

Yellow Mustard

1/2

Tsp

Smoked Paprika

1/4

Tsp

Salt

1/4

Tsp

Pepper
Instructions
Preheat oven to 350 degrees F

Add oil to grease an 8" x 8" baking pan

Separate the egg yolks from the whites in two separate bowls. Whisk the whites until frothy and pour into prepared baking dish. Cover with foil and bake 20 minutes. Uncover and remove from oven to cool.

Whisk yolks until smooth and scramble in a saute pan over medium low heat about 4-5 minutes until eggs are fully cooked. Remove from heat to cool.

Add the cooled scrambled eggs to a food processor. Then add mayonnaise, vinegar, mustard, smoked paprika, salt and pepper. Pulse until blended and smooth. Add the filling to a piping bag.

Cover cooled egg white pan with a cutting board and flip pan. Cut the egg whites into squares. Pipe filling on the top and garnish with chives, parsley and/or additional smoked paprika.
Nutrition
Calories:
168
kcal
|
Protein:
9
g
|
Fat:
13
g
|
Saturated Fat:
3
g
|
Cholesterol:
281
mg
|
Sodium:
266
mg
|
Potassium:
108
mg
|
Vitamin A:
465
IU
|
Calcium:
44
mg
|
Iron:
1.4
mg