The humble potato. And yet in the hands of creative chefs throughout the world, magic happens. You get instant deliciousness with dishes such as Potato Soufflé, Vichyssoise, Pomme Frite, known in America as French Fries, and so many more. But you can't talk about fabulous potato dishes without including Potato Pancakes. And these Potato Pancakes with Thyme really stand out.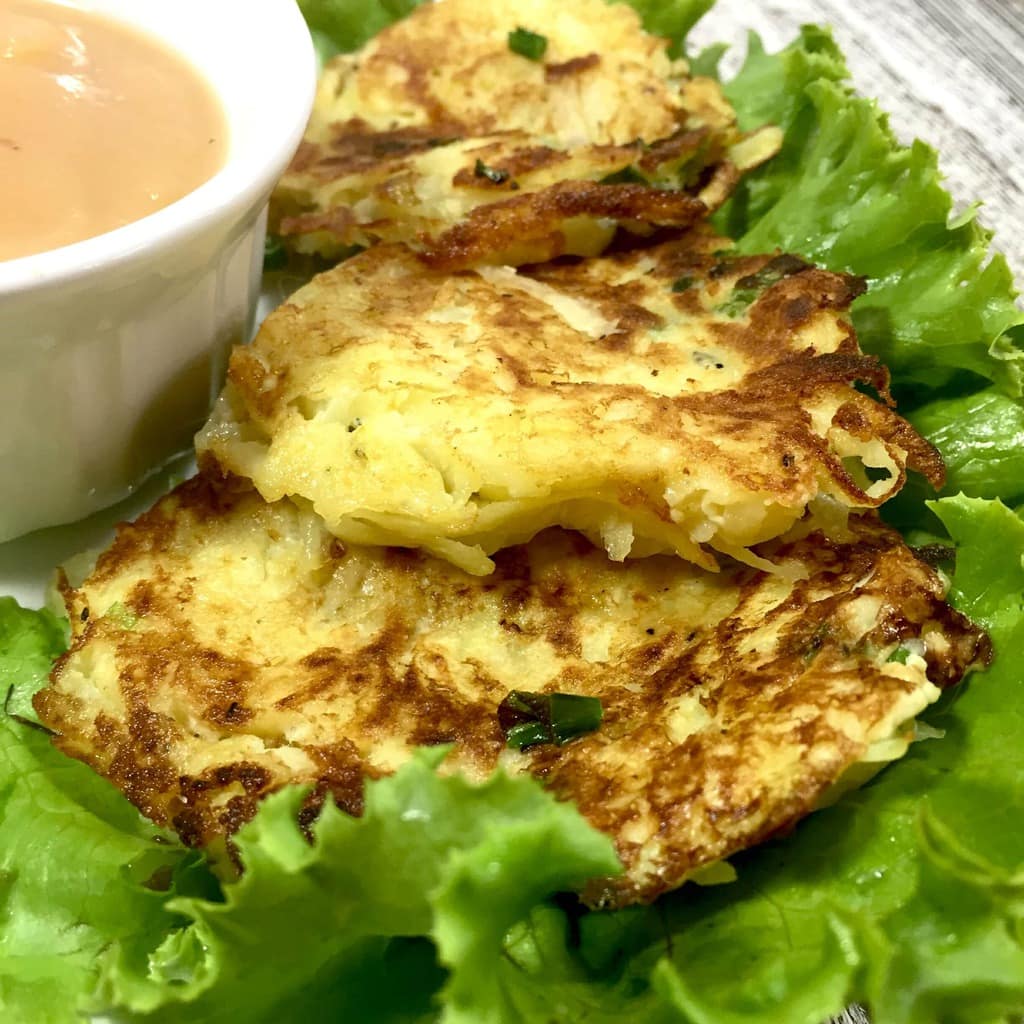 Potato Pancakes with Thyme
Potato pancakes have been around for a long time. Although the basic preparation always begins with grated or ground potatoes, many countries have their own variation of the recipe. In Ireland, potato pancakes are known as Boxty. They often add baking soda and buttermilk for a creamier pancake. In Britain, they're called Potato Cakes, and instead of baking soda they add flour and eggs. In Germany they are called Reibekuchen or Kartoffelpuffer, served with applesauce. And in France Pommes Darphin is as large as a pan and is served in pie-shaped wedges, often topped with creme fraiche.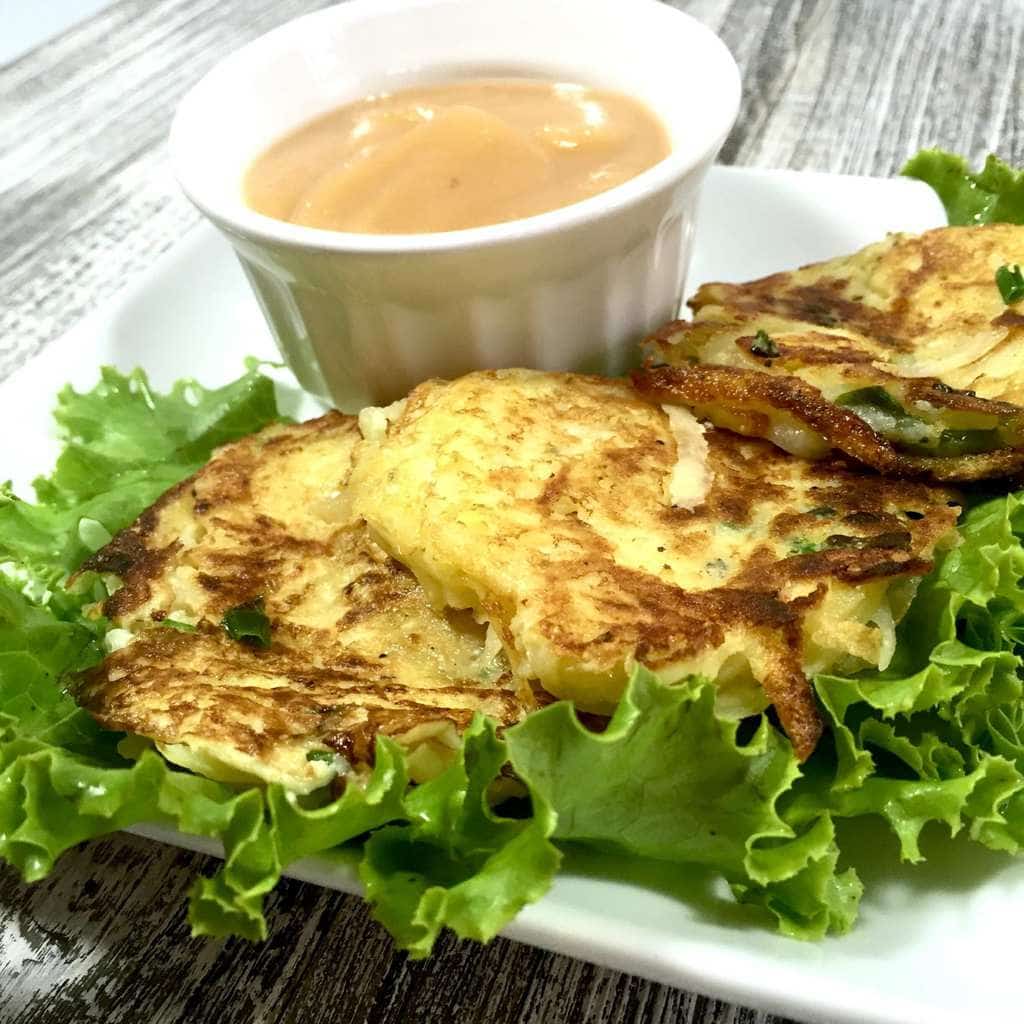 In Czechoslovakia, Bramborák is made with grated potatoes, egg, breadcrumbs, garlic, marjoram and sometimes caraway seeds. In Iran they add eggs, onion, saffron, garlic chives and sometimes cinnamon to their shredded potatoes. And in Poland, their Placki Ziemniaczane is a centuries old dish that was served as a food staple at the 17th century a Polish monasteries. This dish had grated potatoes, onions, eggs, wheat flour and was only served with salt and pepper. In recent years these pancakes are served in a variety of ways – with sour cream, applesauce, mushroom sauce and even fruit syrup.
Sweden's potatoes pancakes are called Raggmunkar. Much like the Polish they are made with grated potatoes, eggs, and wheat flour. But these pancakes are served with fried cured pork belly and lingonberry jam. The Korean potato pancake, Gamja-jeon, is a mixture of grated potato and potato starch and often mixed with onion, chillie and perilla leaf and served with soy sauce.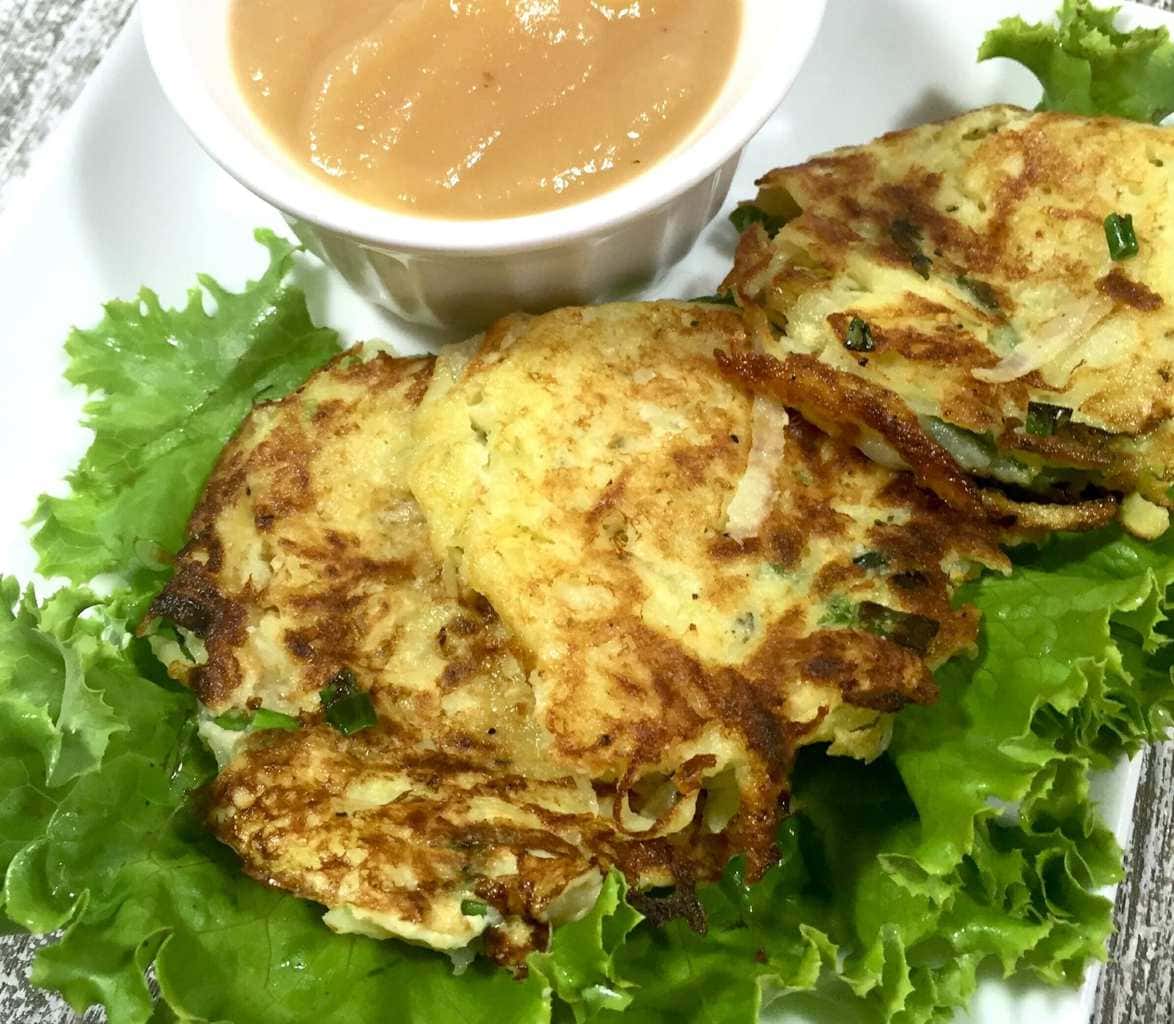 I think the most famous potato pancake is the Jewish Latke, which has been served as part of the Hanukkah celebration since the mid-1800's. Before the potatoes came on the scene though, the latkes actually originated from an Italian recipe for a fried ricotta cheese and egg mixture.
My version of Potato Pancakes with Thyme is semi-traditional with flour, egg, scallion, garlic salt. Adding thyme leaves I think just makes it taste even better and, instead of deep frying I cook them in 1 tablespoon of olive oil and 1 tablespoon butter until they are crisp and wonderful.
If you like this recipe, please leave a comment below and pin us on Pinterest!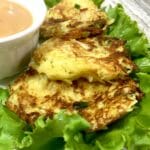 Print Recipe
Potato Pancakes with Thyme
Potato Pancakes with Thyme are an updated version of an old favorite. These delicious crispy pancakes are perfect served with applesauce
Ingredients
2

Medium

Potatoes

Yukon Gold preferred

2

Tbsp

Flour

Wondra preferred

1

Large

Egg

1

Scallion

Green end, sliced

1/2

Tsp

Garlic Salt

1/4

Tsp

Pepper

1/2

Tsp

Thyme

1

Tbsp

Olive oil

1

Tbsp

Ghee
Instructions
Grate potato over a medium sized mixing bowl filled with cold water. Allow potatoes to stay in water about 15 minutes. Then thoroughly rinse potatoes in colander. Press down to drain as much water as possible.

Place potatoes on clean towel and pat potatoes as dry as possible. Then place in mixing bowl and add in flour and mix.

In a small mixing bowl add egg and whisk. Then add garlic salt, pepper and thyme and whisk until combined. Pour egg mixture over potatoes and mix to combine.

Over medium heat add olive oil and ghee (clarified butter). When pan is hot, drop large spoonfuls in the potato mixture into the pan. Cook until browned about 3-4 minutes. Turn over and cook an additional 3-4 minutes.
Nutrition
Calories:
193
kcal
|
Carbohydrates:
6
g
|
Protein:
4
g
|
Fat:
16
g
|
Saturated Fat:
6
g
|
Cholesterol:
112
mg
|
Sodium:
618
mg
|
Potassium:
34
mg
|
Vitamin A:
195
IU
|
Vitamin C:
1.2
mg
|
Calcium:
14
mg
|
Iron:
0.8
mg