Super Antioxidant Salad with Miso Dressing is not only beautiful, but with the mango, strawberries, pistachio nuts and Miso dressing, it's also so healthy for you.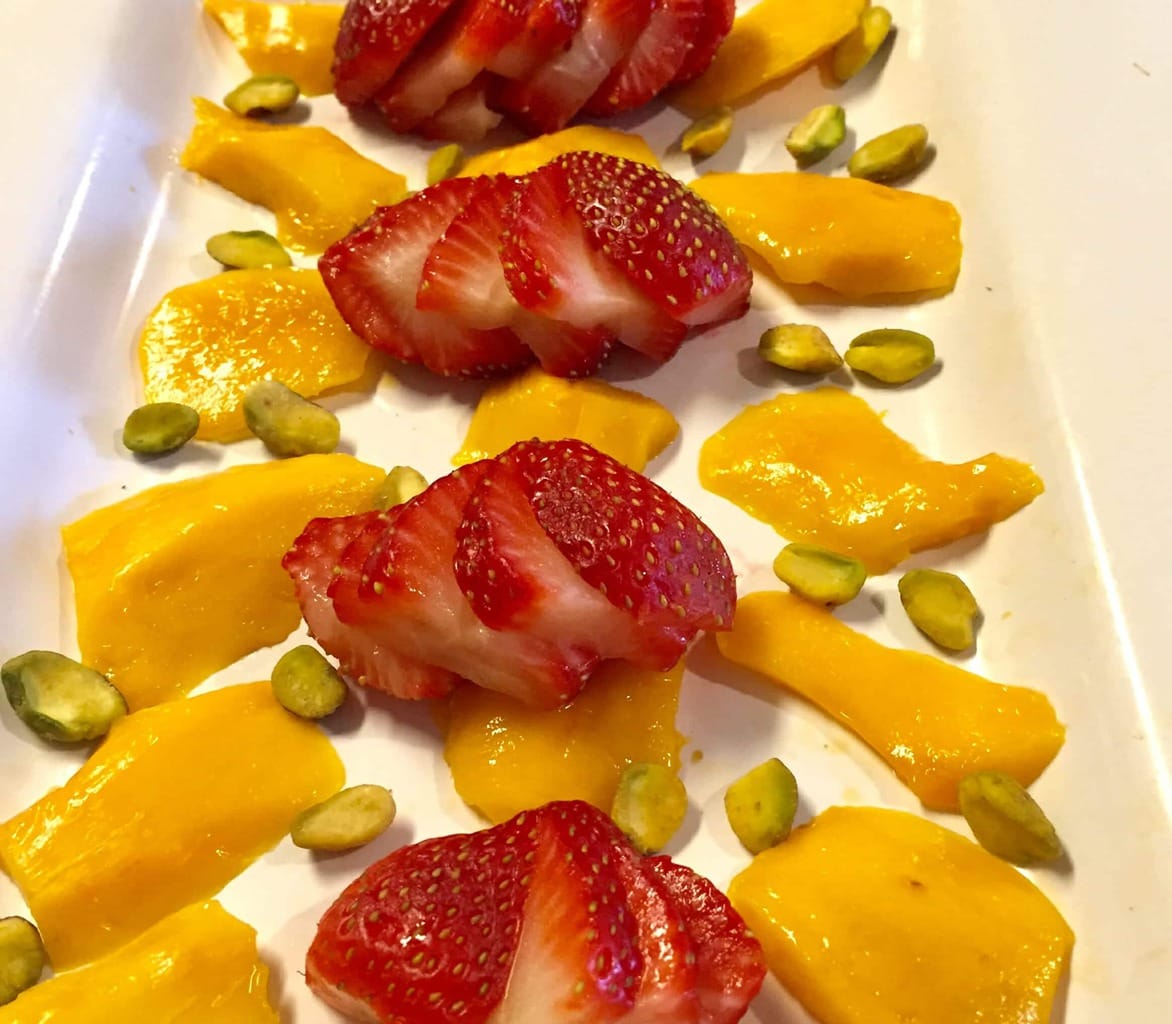 About Super Antioxidant Salad
When we lived in Hawaii fruit was plentiful and you could always find papaya and mangoes.
On the mainland, they're harder to find, so at the market the other day when I saw these gorgeous…and small…mangoes, I was immediately interested.
Then when I saw the price of 2 for $1.00, well I had to buy them. I mean, who could turn that down?
And then just down from the mangoes, were locally grown strawberries.
Big, beautiful and perfect and I thought immediately of combining them into a salad.
And remembering my research for my book, Natural Healing Foods, this would not be just any salad, it would be a Super Antioxidant Salad with Miso Dressing. Why? There's lots of reasons.
Mangoes are not only delicious, but they're packed with vitamins, especially Vitamins C and A, which helps your immune system be healthy and strong.
This helps prevent colds and helps maintain good blood pressure among other things.
And further good news is that mangoes help with weight control.
What's not to like about them?
Plus they also keep your brain sharp. In fact both mangoes and strawberries help in the prevention of Alzheimer's Disease.
Eating mangoes is also excellent for your skin.
Maybe that's why Hawaiians have such beautiful skin.
Plus adding mangoes to your diet helps your heart in several ways.
The high potassium in mangoes increases your blood flow to your nervous system which controls heart rate and blood pressure.
Additionally they help lower your cholesterol levels.
But the best news of all is that clinical studies from Texas AgriLife Research Lab have shown that mangoes have been found to prevent or stop cancer – especially breast cancer and colon cancer.
The Dana-Farber Cancer Institute in Boston recommends drinking one to two mango containing smoothies daily as a healthy addition to people who have cancer.
Then there's strawberries which is no slouch when it comes to a health food.
Like mangoes, they help burn fat.
The Journal of Agriculture and Food Chemistry said a study had shown that when strawberries were given to animals who were being fed a high-fat diet, they gained 24% less weight than those who did not receive the strawberries.
It's really due to the red coloring of strawberries called anthrocyanins.
The eight-week study study further stated that the anthrocyanins in strawberries also boost short term memory by 100%.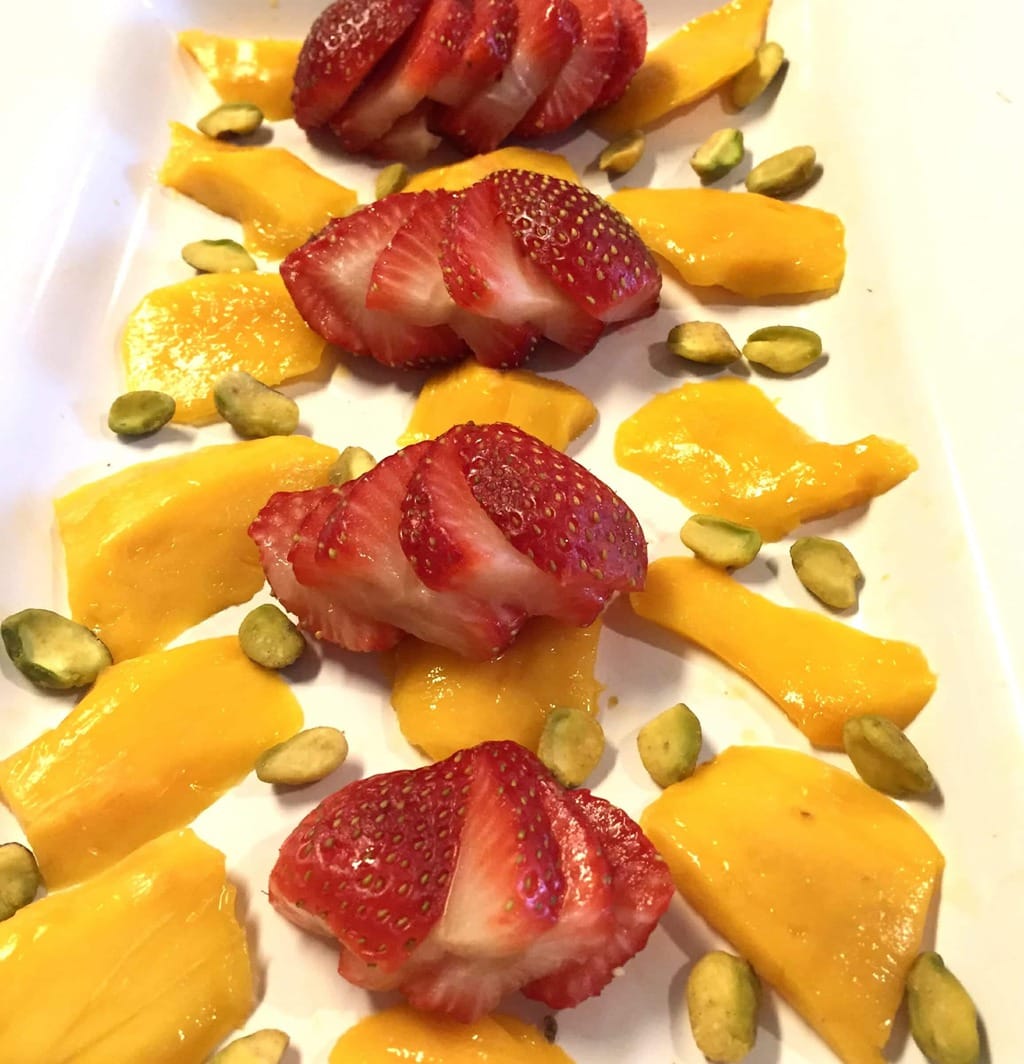 So far with strawberries you're thinner and smarter, but they also help your heart because the flavonoids in strawberries lower the risk of heart disease.
And the potassium, vitamin K and magnesium in strawberries also give you strong bones.
Plus they're Anti Aging.
I mean, does it get any better?
Yep, because of their high vitamin C, researchers found that strawberries, especially organic strawberries, are a powerful force against cancer.
A lab study at Swedish University of Agricultural Sciences found that strawberry extract on human colon and breast cancer cells killed 49% of the colon cancer cells and 37.9% of the breast cancer cells.
And when they used Organic strawberry extract, 60% of the colon cancer cells and 53.1% of the breast cancer cells were killed.
So both mangoes and strawberries are excellent for your health, but I added two more powerful antioxidants to this salad.
First is pistachios. Not only are they pretty, but they are one of the most anti-oxidant nuts around.
They're also high in fiber for digestive health and studies have shown that they lower cholesterol as well as help lower blood pressure more than any other nut.
And finally the Miso dressing.
This fermented soy is good for you in so many ways.
The fermentation enhances beneficial bacteria, which are known as probiotics. And this helps digestion and assimilation of nutrients.
So, Super Antioxidant Salad with Miso Dressing.
Who knew that something this beautiful and delicious could be so healthy for you?
How to Make Super Antioxidant Salad
This gorgeous salad comes together very quickly.
Begin with a ripe mango. One that soft to the touch.
Since mangos have such large pits, it's easiest to slice off small sections     off the mango.
Than peel them and arrange the sections on a large serving plate.
Next wash the strawberries thoroughly and cut off stems. Then with a sharp knife, cut each strawberry toward, but not all the way through the point of the strawberry.  Continue with the other strawberries.
Then fan the strawberries out by carefully pressing your fingers on the top and bottom of each strawberry. Then add them to your serving plate.
Then sprinkle the pistachios over the entire plate.
For the miso dressing, whisk white miso paste, white vinegar, honey, grated ginger, sesame oil and mirin together in a small bowl.
Then drizzle the dressing over the salad and serve.
If you like this recipe, please leave a comment below and pin us on Pinterest!
Also try Shrimp and Spinach Cobb Salad 
Print Recipe
Super Antioxidant Salad with Miso Dressing
Super Antioxidant Salad with Miso Dressing is not only beautiful, but with the mango, strawberries, pistachio nuts but it's also super healthy.
Ingredients
2

Small

Mangoes

Peeled

4

Large

Strawberries

Washed and top stems removed

2

Tbsp

Pistachios

3/4

Tbsp

White Miso paste

1

Tbsp

White Vinegar

1 1/2

Tsp

Honey

1-2

Tsp

Grated ginger

Depending on taste

1/2

Tsp

Sesame oil

1/2

Tsp

Mirin
Instructions
Since mangoes have huge pits, it's easiest to simply slice small segments off mangoes. Arrange slices on serving plate.

Slice strawberries in fan shape by cutting each one 3-4 times just up to pointed end - leaving end slices attached. Carefully fan strawberries and arrange over mangos on platter.

Sprinkle pistachios over entire plate

In a small bowl whisk miso paste, rice vinegar, honey, grated ginger, sesame oil and mirin. Drizzle Miso dressing over salad.
Nutrition
Calories:
101
kcal
|
Carbohydrates:
12
g
|
Protein:
2
g
|
Fat:
5
g
|
Sodium:
248
mg
|
Potassium:
159
mg
|
Fiber:
2
g
|
Sugar:
8
g
|
Vitamin A:
30
IU
|
Vitamin C:
32.2
mg
|
Calcium:
17
mg
|
Iron:
0.7
mg