This quick and easy naan pizza is so much better than delivery. What really makes it delicious is the garlic basil base.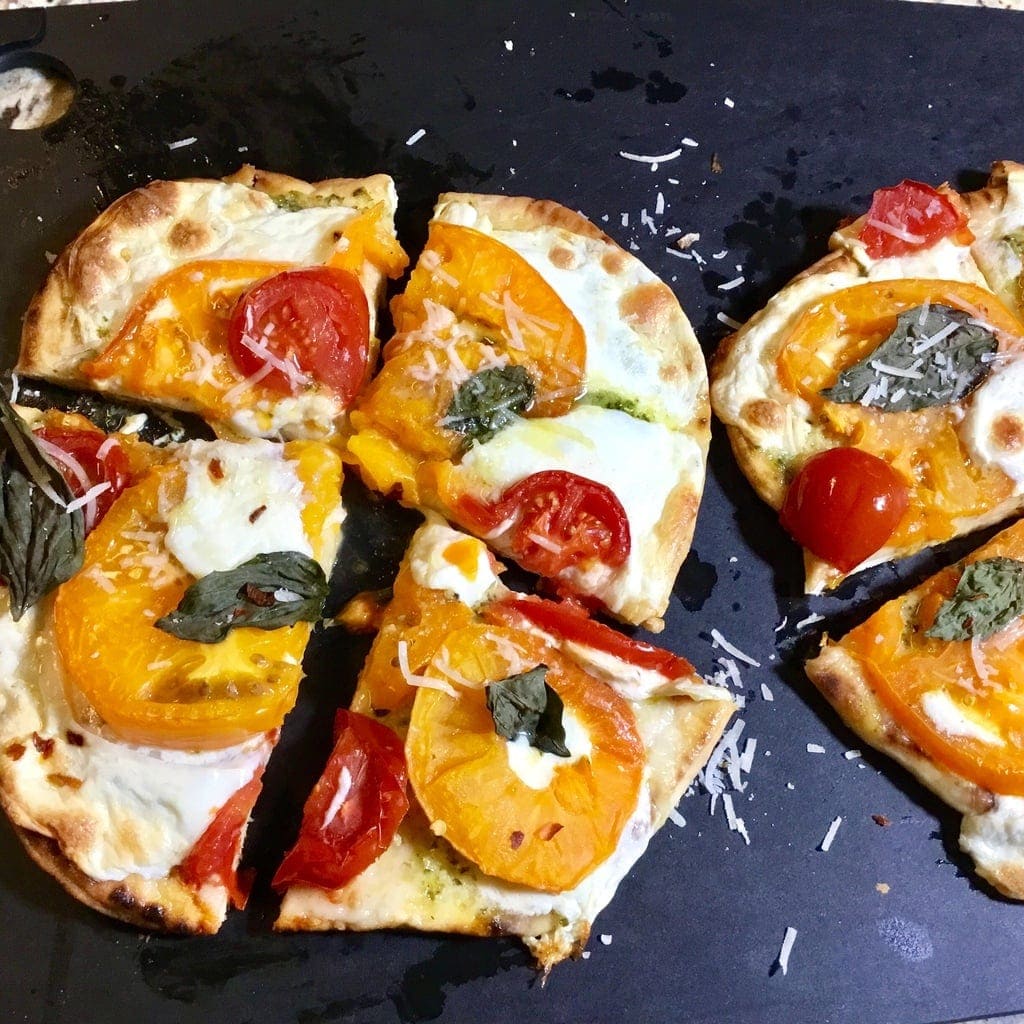 About Quick and Easy Naan Pizza
I've discovered naan pizza.
I know, I know…I'm late to the game. But to me this has been a game changer.
I absolutely love this pizza.
On the occasion that we order out, we usually have Margherita Pizza because of all the pizza combinations it's normally light and fresh tasting.
So when I decided to use Naan bread as a base and added my own ingredients, Margherita pizza once again surfaced.
To say this pizza blew all those other delivery pizzas out of the ballpark is really an understatement.
To give credit where credit is due I really owe the idea to Nigella Lawson.
She said whatever you do always keep naan bread in your pantry because it really is a lifesaver!
Naan is an interesting bread and it resembles pita bread in a lot of ways.
Like pita, naan is a leavened flatbread that has a soft chewy texture.
In fact, it's a little softer than pita. And for this reason it's absolutely perfect for pizza.
So I ran to my closest Trader Joe's and picked up a package of 4  small naan bread loaves and knew they would be perfect for personal pizzas.
And to be honest, these are so filling that two loaves can actually feed three people.
When I was ready to assemble the pizza I played around with the idea of ready made pizza sauce as a base, or even a spicy tomato sauce.
Somehow that wasn't right for this pizza.
It would just kind of muddy it up.
So finally decided on a minced basil, garlic, olive oil base.
It worked wonderfully – both times I made it – because my husband said we definitely have to do this again and again.
So let's make it.
Ingredients for Quick and Easy Naan Pizza
Naan bread: Your choice: Trader Joe's Tandoori Naan or Garlic Naan…both equally good
Basil: For totally fresh flavor
Garlic: For health and depth of flavor
Olive oil: For health
Mozzarella cheese: For melting creaminess
Tomatoes: Fresh from the garden
Red pepper flakes: For a zest of heat
Parmesan Cheese: Just sprinkle for more flavor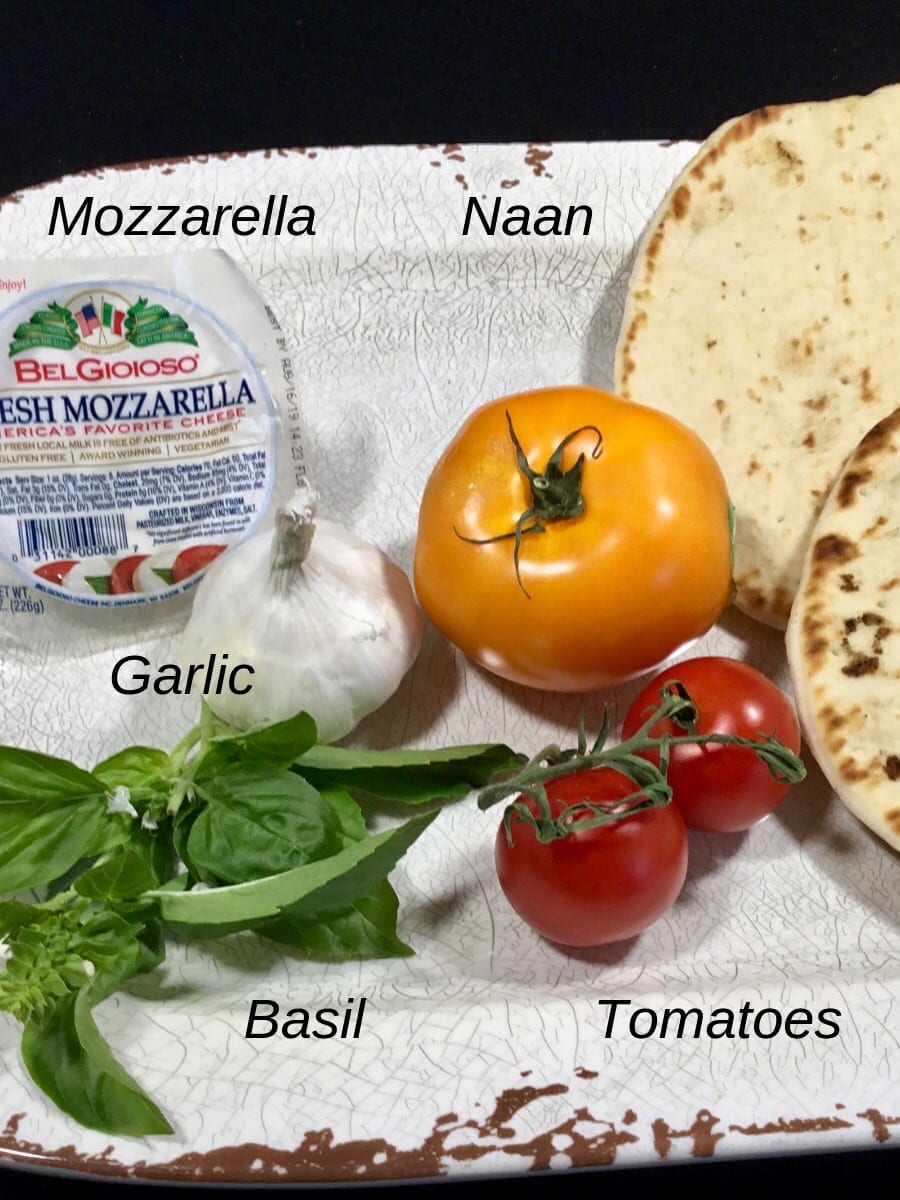 How to Make This Delicious Pizza
When I named this Quick and Easy Naan Pizza, I wasn't kidding.
From start to finish you can be ready to serve this in 20 minutes. Now that beats delivery right there!
First preheat your oven to 425 degrees.
Whether you cook the pizzas on a pizza stone or on a sheet pan, be sure you have either in the oven as its preheated.
The extra heat helps the crust to cook perfectly.
Then finely mince about 3 Tbsp of basil, as well as 3 cloves of garlic and add them to a bowl.
Pour in about 3 Tbsp olive oil and mix the ingredients.
Spread half the mixture on each of the Naan loaves.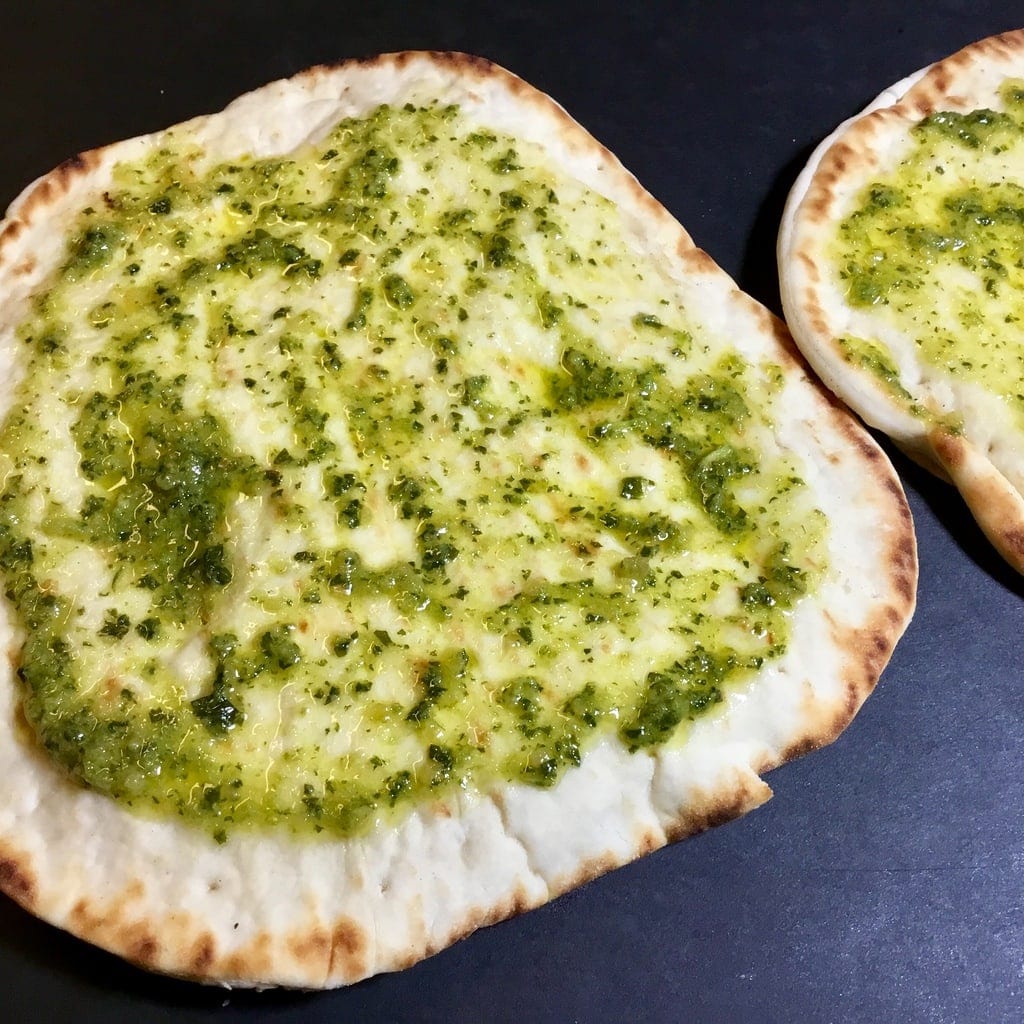 Next add sliced mozzarella cheese evenly on top.
Then add sliced tomatoes.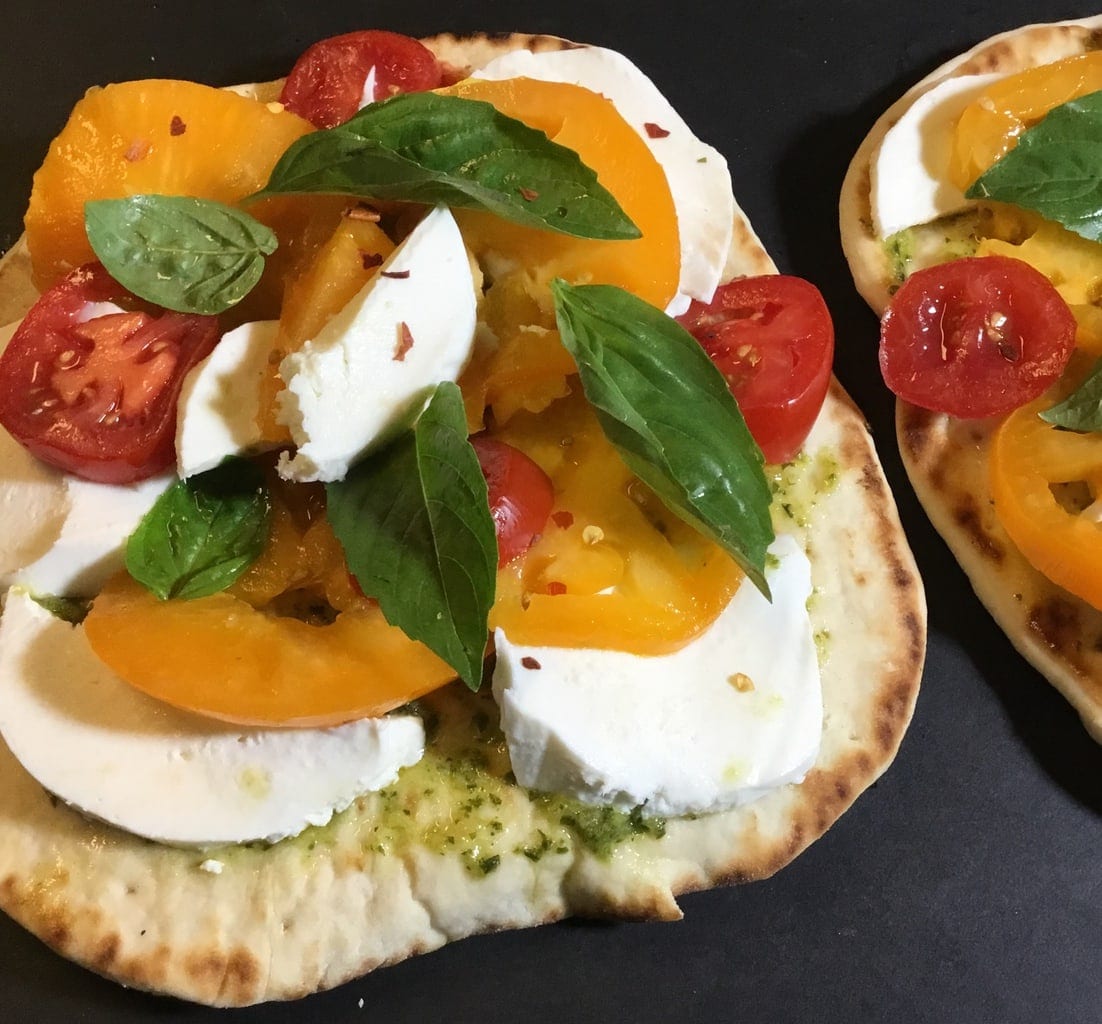 Any tomatoes will do. I used a combination of yellow heirloom and red Campari tomatoes.
Add a few fresh basil leaves over the top. Sprinkle with red pepper flakes. I use just about 1/4 tsp, but if you like more spice add more.
Finish with a light sprinkle of freshly grated Parmesan cheese.
Then add your loaves to your pizza stone or sheet pan and bake the pizzas about 10-12 minutes.
The cheese will be melted and the edges of the Naan will be browned.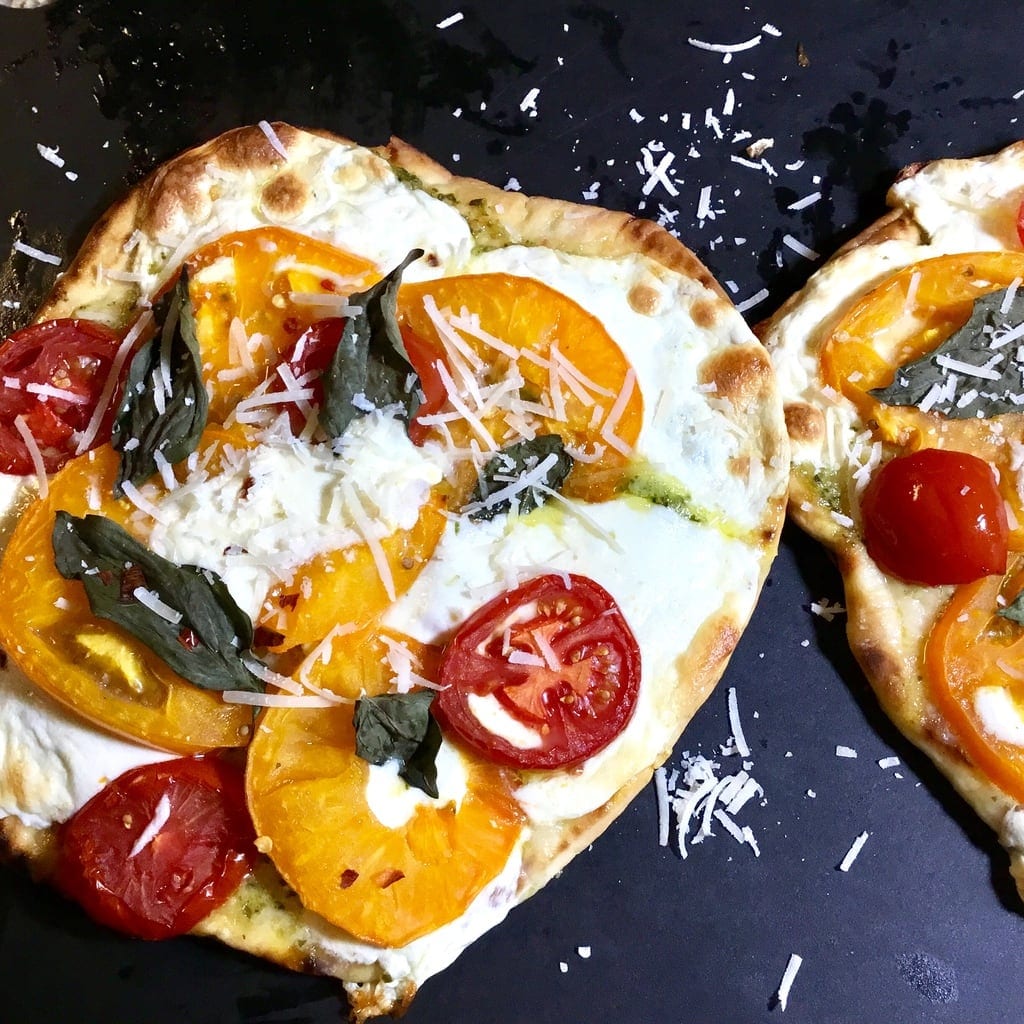 Slice and serve immediately.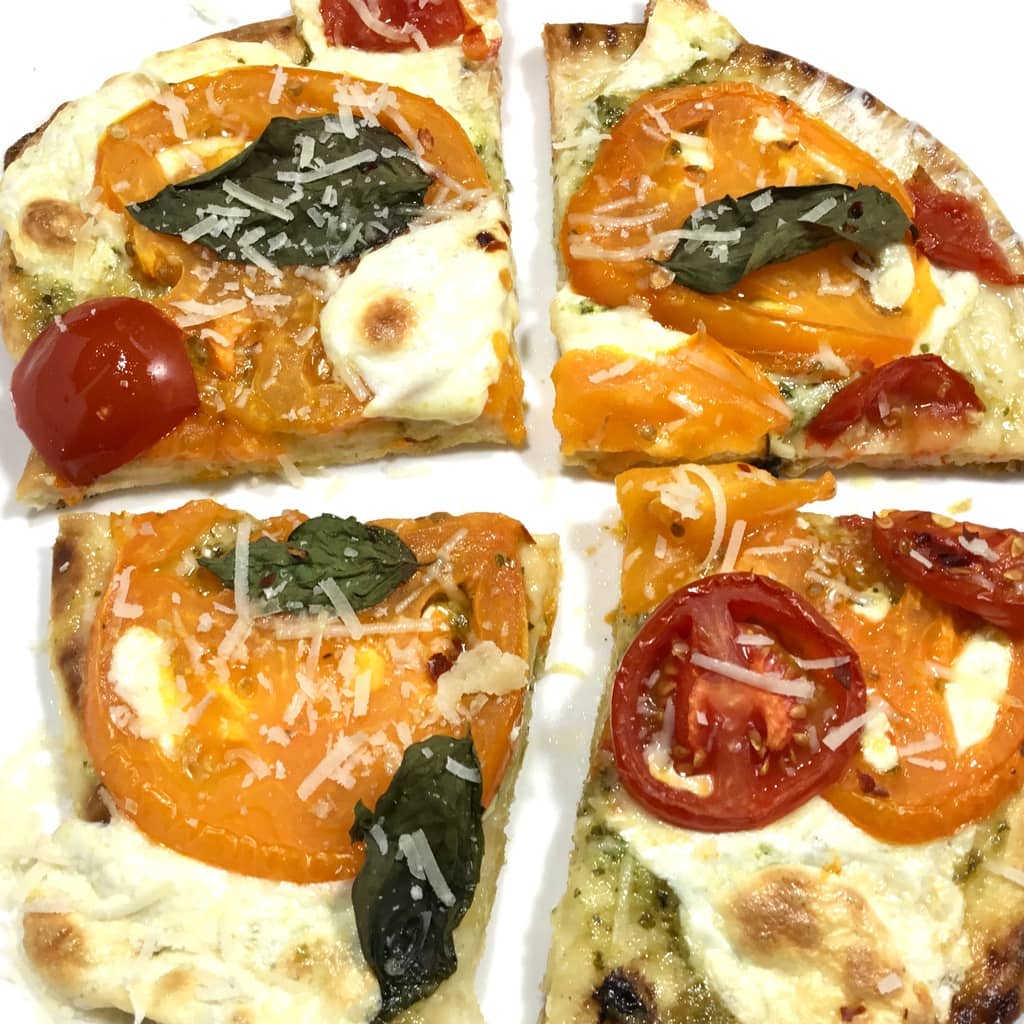 And yet another benefit of this Naan pizza compared to delivery. Fresh, hot, incredibly delicious pizza straight from the oven.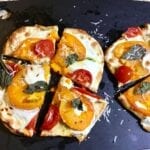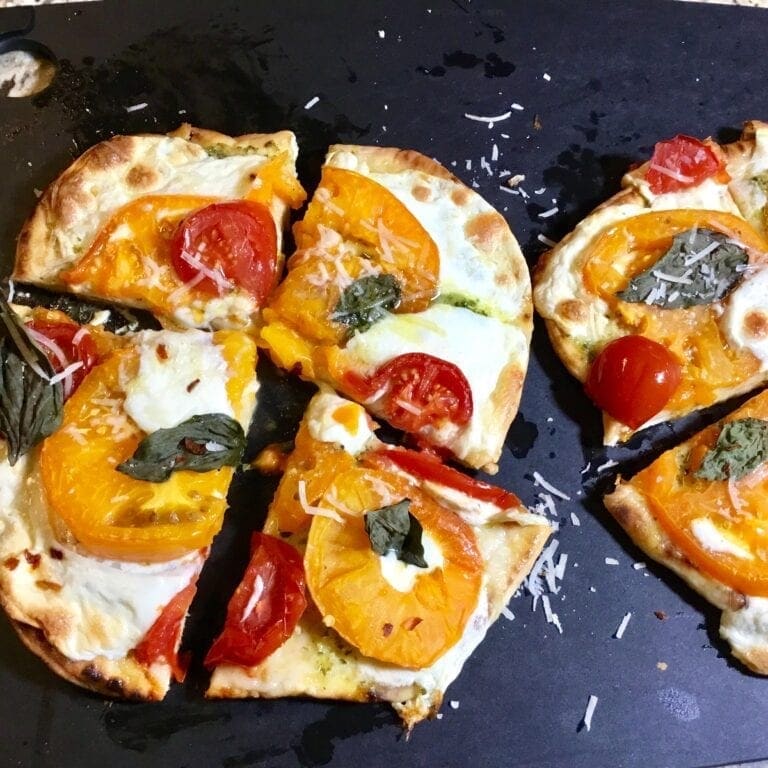 Print Recipe
Quick and Easy Naan Pizza
This quick and easy naan pizza is so much better than delivery. What really makes it delicious is the garlic basil base.
Ingredients
2

Loaves

Naan bread

Trader Joe's

3

Tbsp

Basil

Minced

3

Cloves

Garlic

Mince

3

Tbsp

Olive oil

8

Oz

Mozzarella cheese

Sliced 1/4" thick

3

Tomatoes

Sliced

1/4

Tsp

Red pepper flakes

1

Tsp

Parmesan cheese

Grated

8-10

Basil leaves

Fresh
Instructions
Preheat oven to 425 degrees F Add pizza stone or baking sheet to top rack of the oven as it heats.

Add the minced basil, minced garlic and olive oil to a small bowl and mix to combine. Add half of the mixture to each naan loaf. Spread to about 1" from the edge.

Add the slices of mozzarella cheese evenly over each pizza. Then top with the sliced tomatoes and fresh basil leaves.

Sprinkle with red pepper flakes and Parmesan cheese.

Place pizzas on pizza stone (or the baking sheet) and bake 10-12 minutes. Cheese will be melted and edges of naan will be lightly browned.

Slice and serve immediately
Nutrition
Calories:
382
kcal
|
Carbohydrates:
8
g
|
Protein:
18
g
|
Fat:
31
g
|
Saturated Fat:
12
g
|
Cholesterol:
60
mg
|
Sodium:
494
mg
|
Potassium:
361
mg
|
Fiber:
1
g
|
Sugar:
4
g
|
Vitamin A:
1780
IU
|
Vitamin C:
18.2
mg
|
Calcium:
408
mg
|
Iron:
0.8
mg
If you liked this recipe please leave a comment below and be sure and like us on Facebook and Pin this on Pinterest!
Fun ideas to serve with this Quick and East Naan Pizza:
5 Ingredient Chicken Caprese Wedge
Spinach Salad with Apples and Brie