Deconstructed Caesar Salad makes a great presentation, but the real bonus is that you get to control the calories.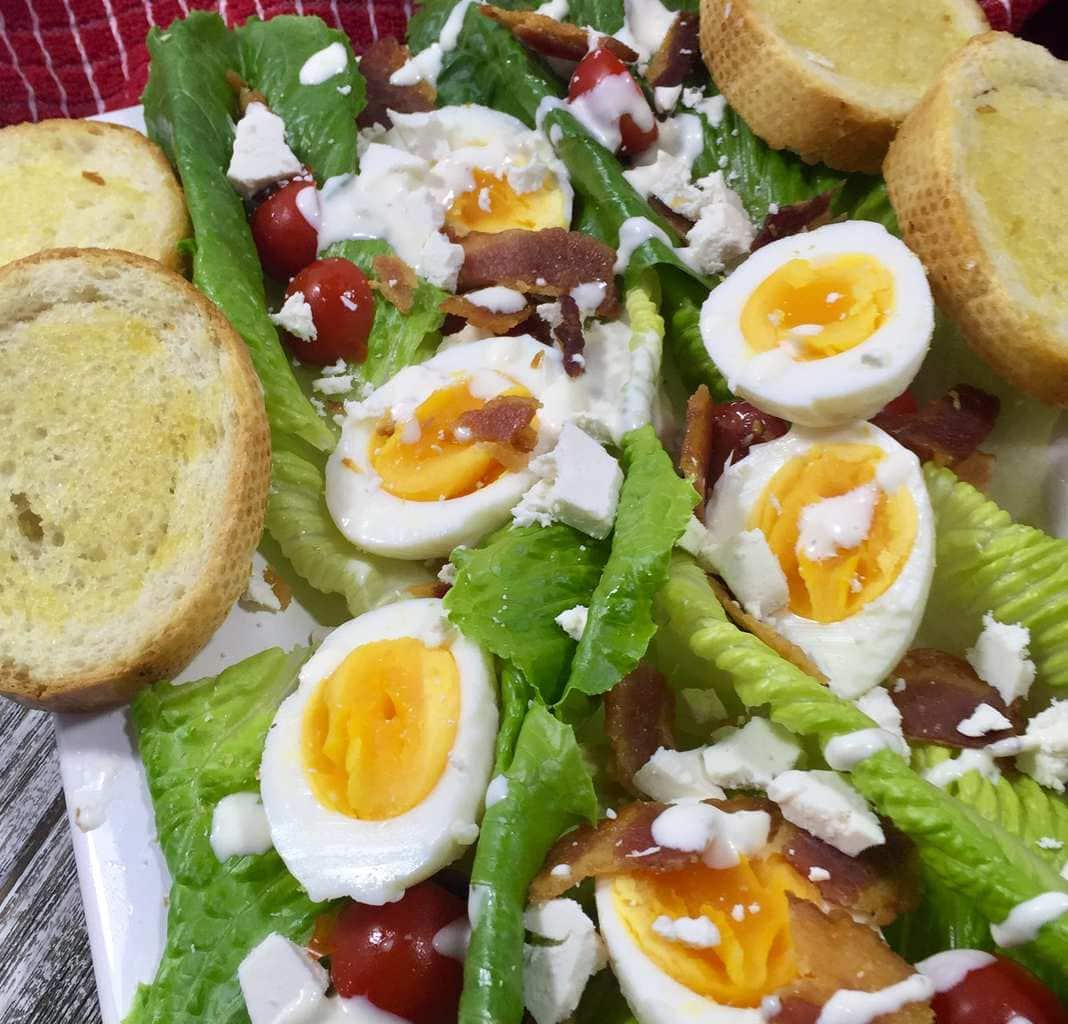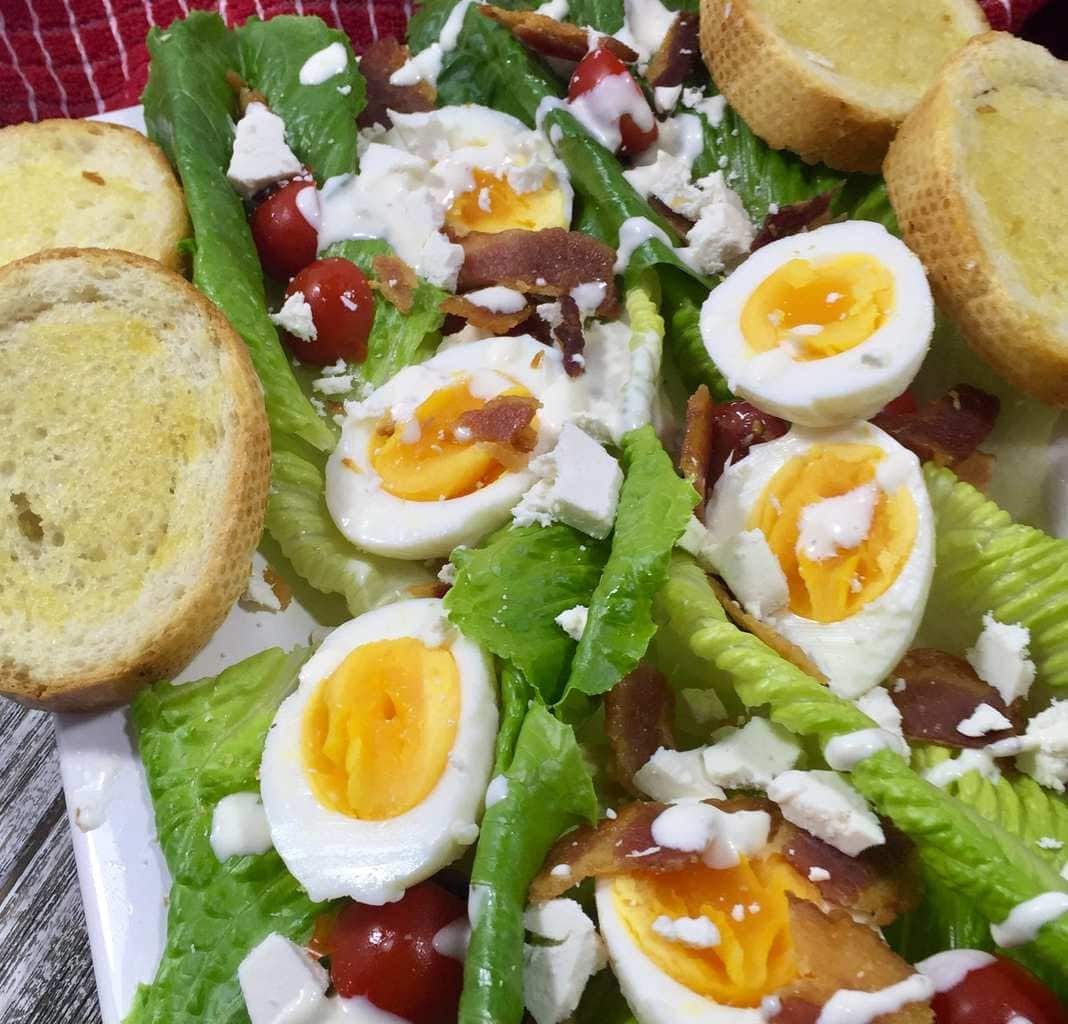 About Deconstructed Caesar Salad 
Caesar Salad is usually my go-to salad that I order at restaurants because I really love the tangy salty flavors.
Unfortunately, if you don't ask for the dressing on the side, it's usually a soggy mess and it's packed with calories. 
But with this Deconstructed Caesar Salad, you're in charge. 
I recently saw tons of Deconstructed recipes that were on Foodnetwork.
So I thought, why not?
Let's make a Deconstructed Caesar Salad.
And as far as healthy recipes go, a generous serving of this salad comes in at only 302 calories.
So let's make it!
Ingredients for Deconstructed Caesar Salad
Mayonnaise

 

Garlic
Lemon juice
Capers juice
Pepper
Romaine lettuce leaves
Cherry tomatoes
Eggs
Bacon
Olive oil
Ricotta Salata Cheese (freshly grated Parmesan can substitute)
How to Make Deconstructed Caesar Salad
First, preheat your oven to 375.
Next comes the bacon. I don't use a lot, but enough to give the salad a fabulous flavor.
Place it on a rack over a sheet pan, so the grease will drip away, and bake it until it's brown and crisp.
It takes about 35 minutes.
While the bacon is cooking wash the romaine and dry it on paper towels.
Next, the eggs.
For this salad I took a hint from Ina Garten to make the perfect eggs for this recipe.
Not hard boiled and not soft boiled.
Just somewhere in between.
I love these eggs because the yolks aren't all dried out. 
Just add the eggs to a large pot and cover the eggs with water.
Bring the pot up to a boil, turn off the heat and let them sit for 3 1/2 minutes.
Then submerge the eggs in cold water and keep them there for 2 minutes.
Timing is important in this recipe.
And for a handy trick for peeling the eggs, crack both ends of the eggs and then roll the eggs gently on the counter to crack and loosen the shells.
Then peel the eggs and cut them in half.
When bacon is crisp, remove from the oven and drain on paper towels.
Instead of the normal Caesar salad dressing, I make a modified Aioli dressing with mayonnaise, minced garlic, lemon juice and pepper. 
And to add a special tangy taste I add just a bit of brine from a jar of capers since there are no anchovies in this recipe.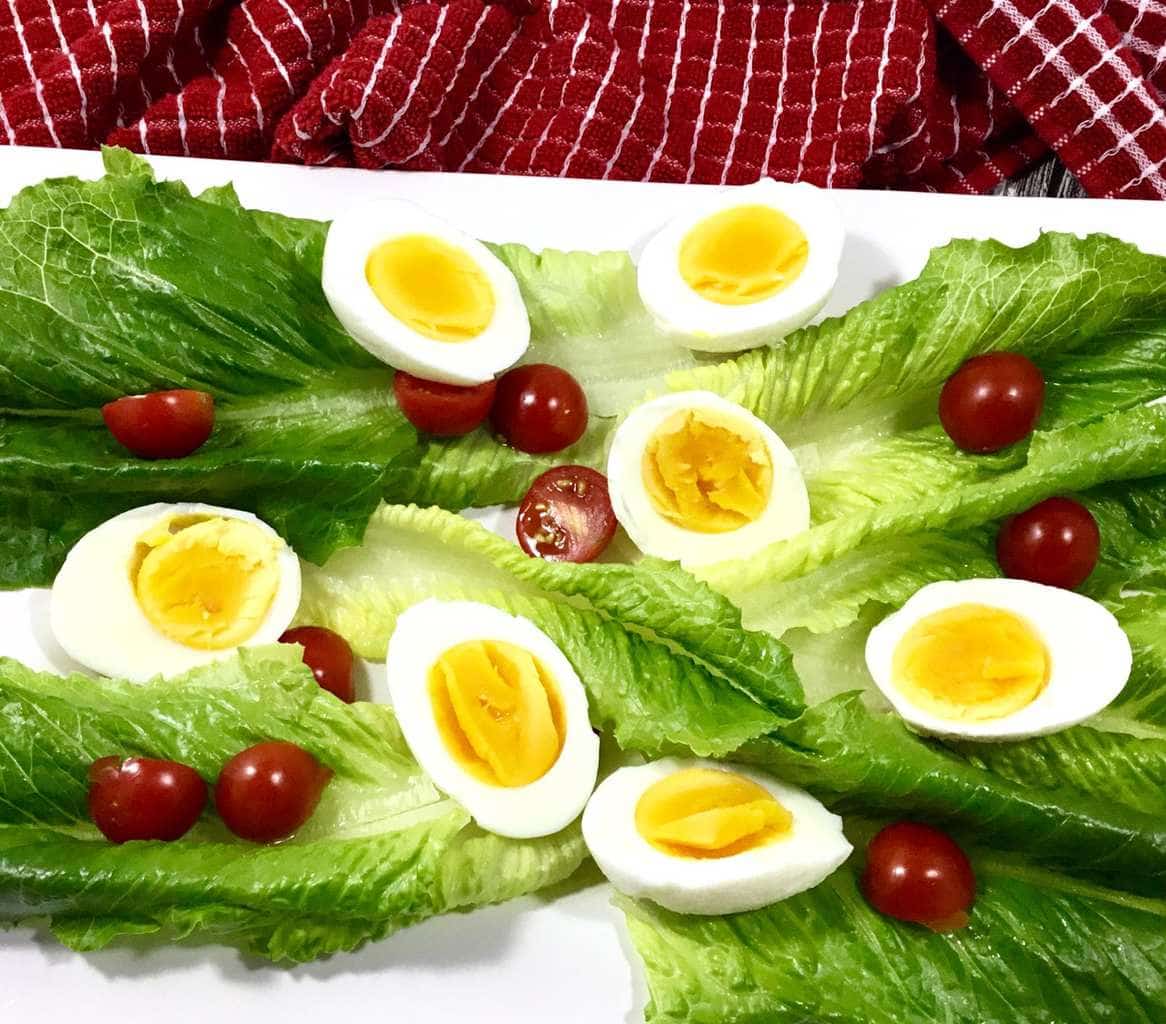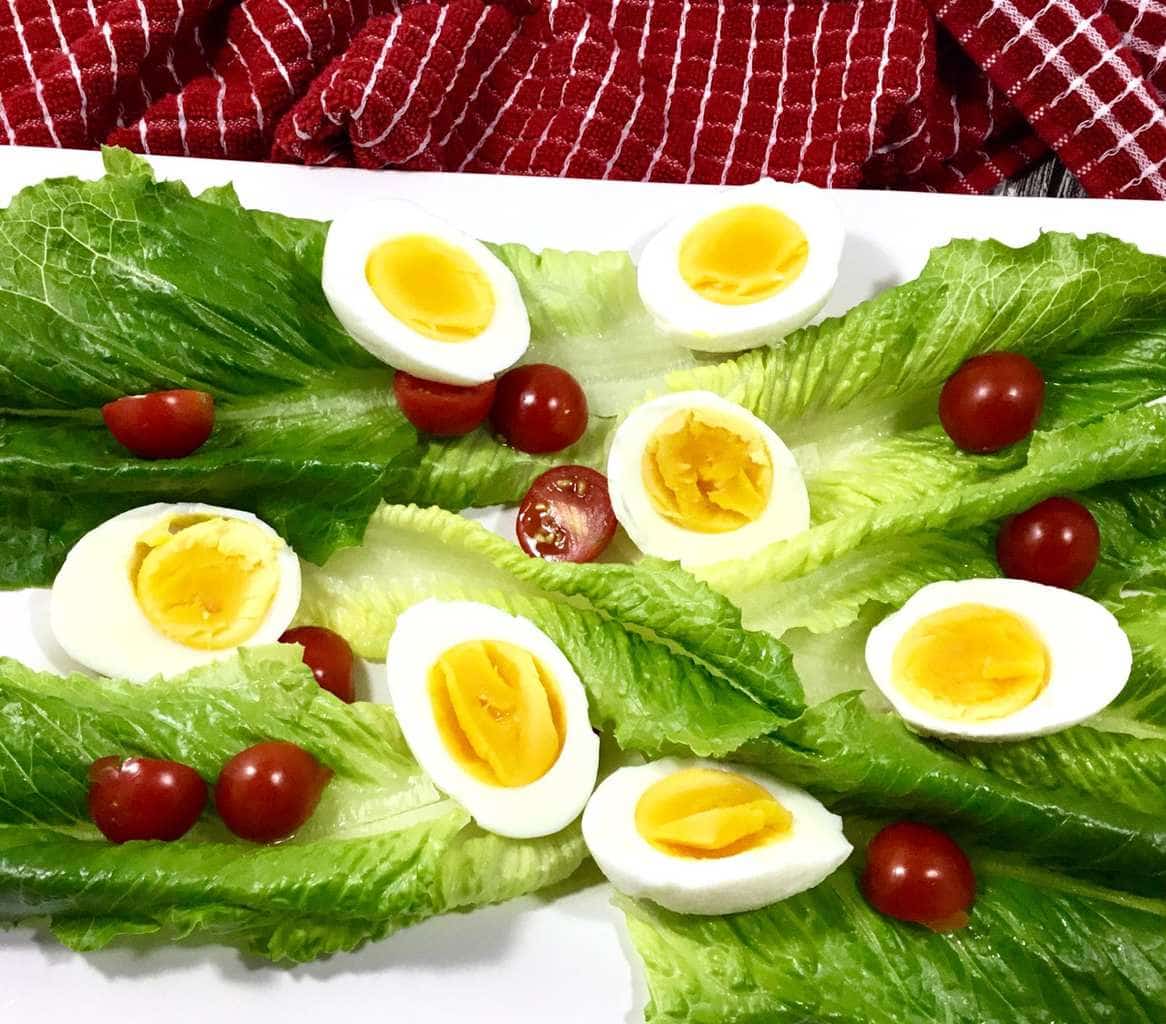 To serve, arrange whole Romaine lettuce leaves on a serving platter and scatter with the cherry tomatoes. 
Then arrange the eggs on top along with the crumbled Ricotta Salata Cheese.
 I like this cheese for a couple of reasons. 
It's slightly salty and it's dry, but at the same time it also has a creaminess to it.
Then crumble the bacon and sprinkle it over the salad.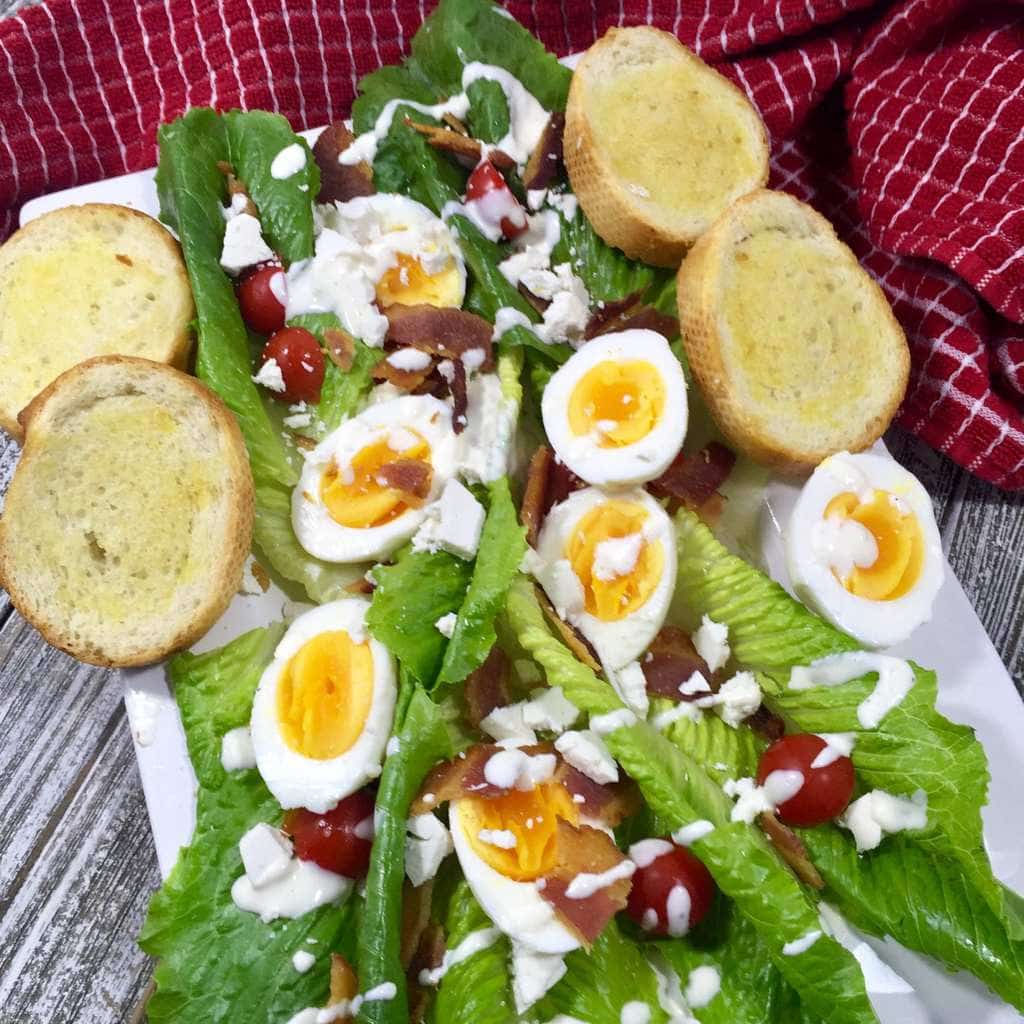 Finally I added the Aioli dressing to a squeeze bottle and lightly drizzled the dressing over the top. 
And there you have it. 
Deconstructed Caesar Salad.   
If you like this recipe, please leave a comment below and be sure and pin this recipe on Pinterest!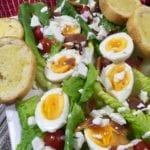 Print Recipe
Deconstructed Caesar Salad
This Deconstructed Caesar Salad is tangy and totally delicious but, unlike regular Caesar Salads that swim in calories, this one is light and health.
Ingredients
2

Tbsp

Mayonnaise

2

Cloves

Garlic

Minced finely

1/2

Lemon

Juiced

1/4

Tsp

Pepper

8

Romaine lettuce leaves

12

Cherry tomatoes

Halved

4

Eggs

3

Slices

Bacon

4

1/2"

Baguette slices

1

Tsp

Olive oil

1

Clove

Garlic

2

Tbsp

Ricotta Salata cheese, crumbled

Parmesan could substitute
Instructions
Preheat oven to 375 degrees F.

Aioli Dressing: In a small mixing bowl whisk mayonnaise, minced garlic, lemon juice and pepper.

Line a sheet pan with foil and add a rack on top of it. Add the bacon slices to the rack and bake for 35 minutes until browned.

While bacon is baking, brush each baguette slice with olive oil. Add the slices to the bacon rack during last 10 minutes of baking.

Remove pan from oven and immediately rub a sliced clove of garlic over the baguette slices. Break the bacon into bite sized pieces.

Add eggs to a large pot and cover with water. Over high heat bring the eggs up to a boil. Then turn off the heat and let them set for 3 1/2 minutes. Immediately submerge the eggs into cold water and keep them there for 2 minutes. Peel the eggs and slice each in half.

Add washed whole Romaine leaves to a serving plate. Scatter cherry tomatoes oven the top. Arrange eggs on top. Scatter bacon pieces over the top along with crumbled cheese. Add Aioli to squeeze bottle and squirt lightly over salad.
Nutrition
Calories:
302
kcal
|
Carbohydrates:
21
g
|
Protein:
12
g
|
Fat:
18
g
|
Saturated Fat:
5
g
|
Cholesterol:
179
mg
|
Sodium:
448
mg
|
Potassium:
394
mg
|
Fiber:
2
g
|
Sugar:
2
g
|
Vitamin A:
5380
IU
|
Vitamin C:
21.7
mg
|
Calcium:
106
mg
|
Iron:
2.7
mg
You might also be interested in: