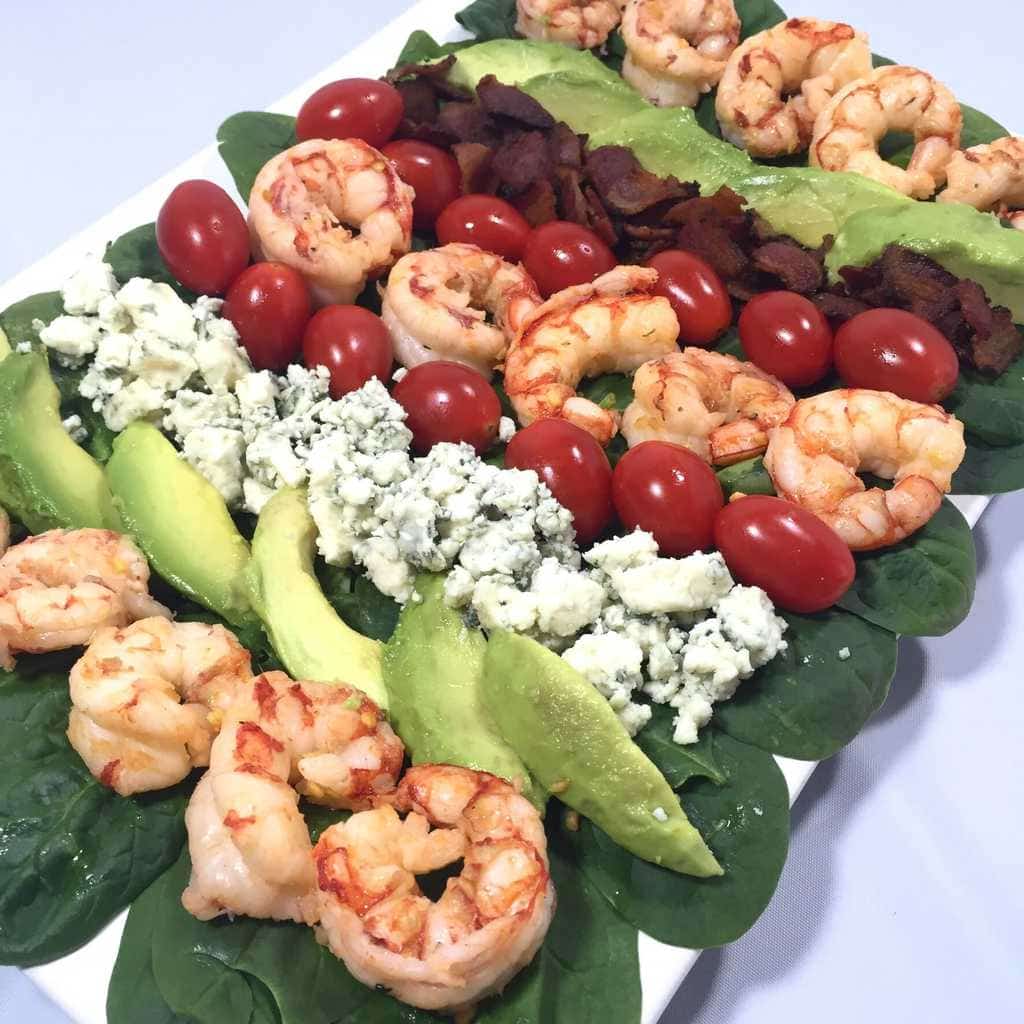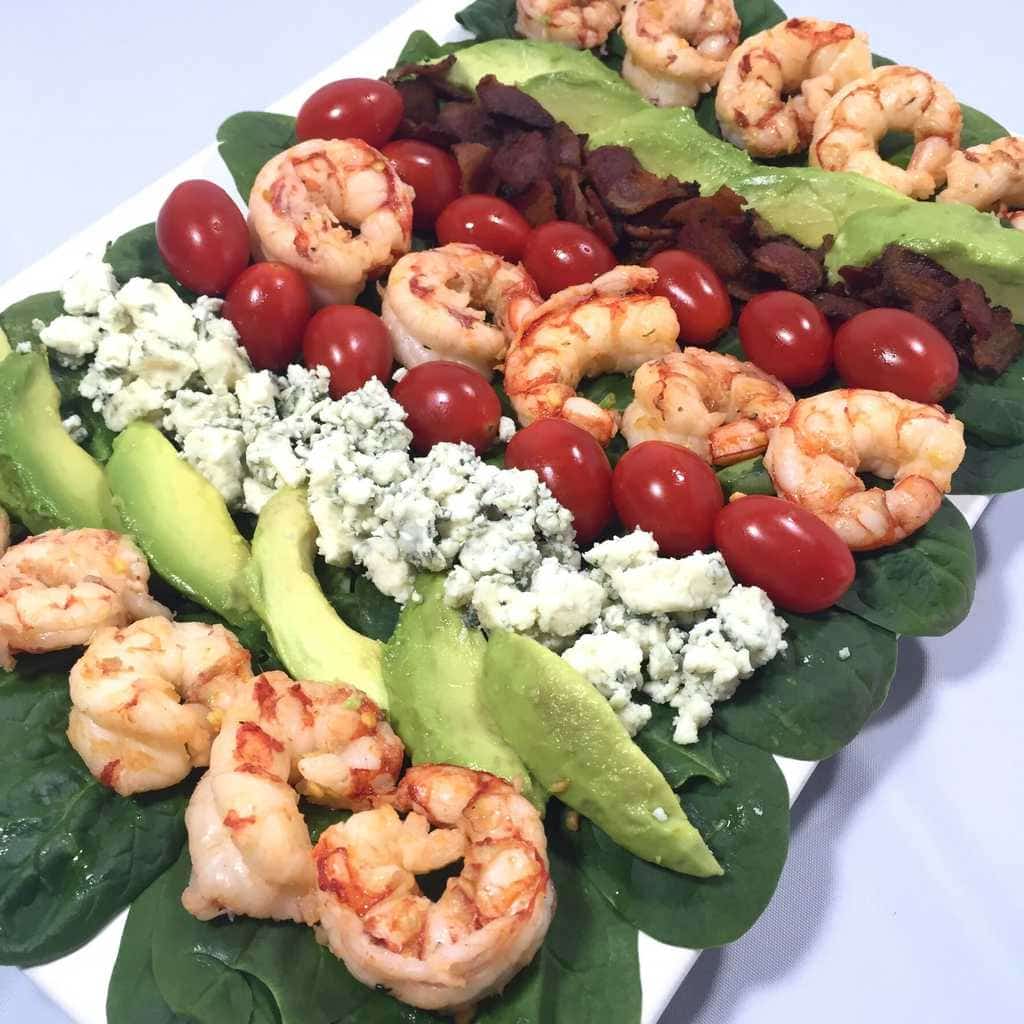 About Shrimp and Spinach Cobb Salad
What's better than Cobb Salad? My Shrimp and Spinach Cobb Salad.
I love Cobb Salad for so many reasons.
First, I guess it's because it just has such symmetry.
Each ingredient is carefully laid out on a bed of greens and the effect is sheer beauty.
I love the colors and the textures of the various foods as they're all perfectly lined up.
It's really nice to know specifically what your eating instead of having such a big jumble of things, which most salads are.
And then there's the fact that Cobb Salad is absolutely delicious.
Although the ingredients have varied over time, the end result is always fabulous flavor.
It's been said that the original Cobb Salad was created by Bob Cobb, who owned the Brown Derby restaurant in Hollywood.
I guess he was in a creative mood one midnight, trying to whip himself up something for a snack.
So he went to his refrigerator and pulled out some iceberg and romaine lettuce, an avocado, a few tomatoes, some hard boiled eggs, a cold chicken breast and some cheese.
Then he saw some crisp bacon that one of his chefs had just cooked and added that in.
And the result was the first Cobb Salad. He loved it so much, he put it on the menu.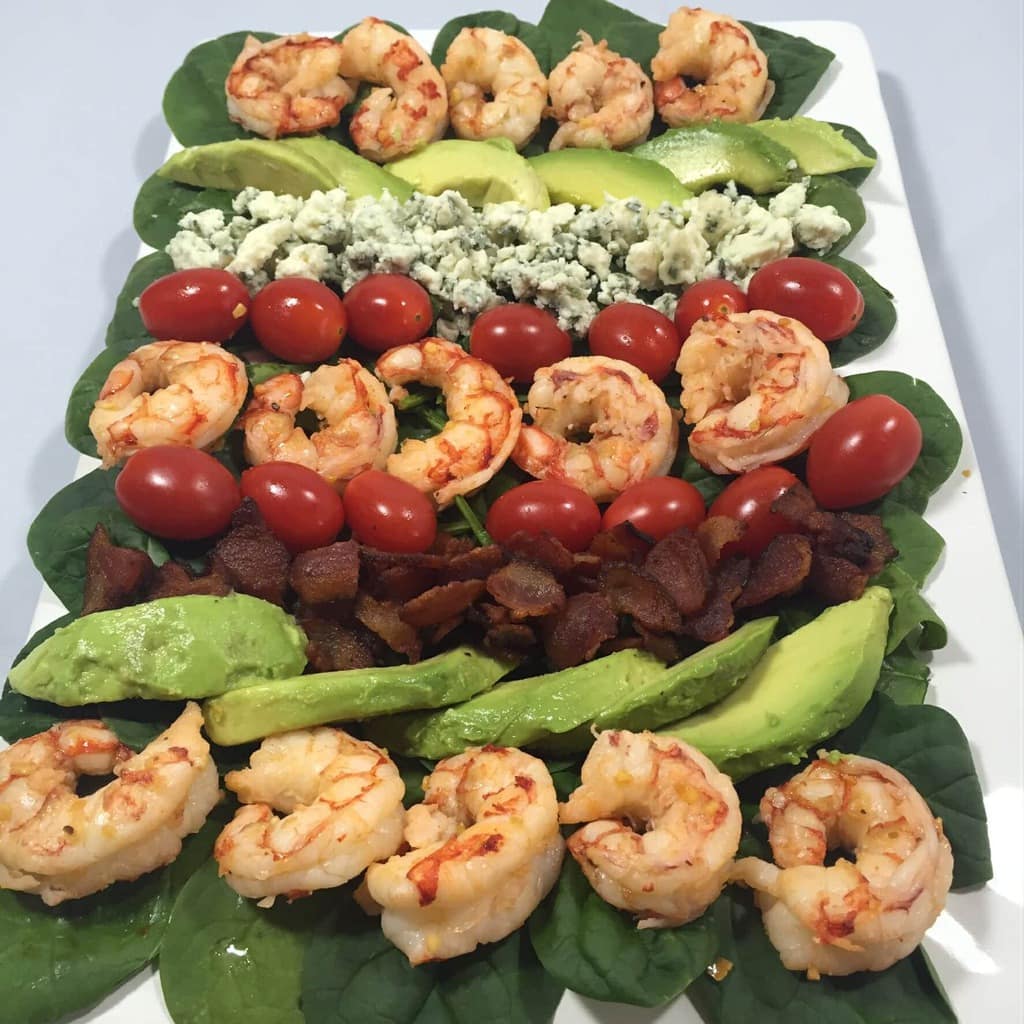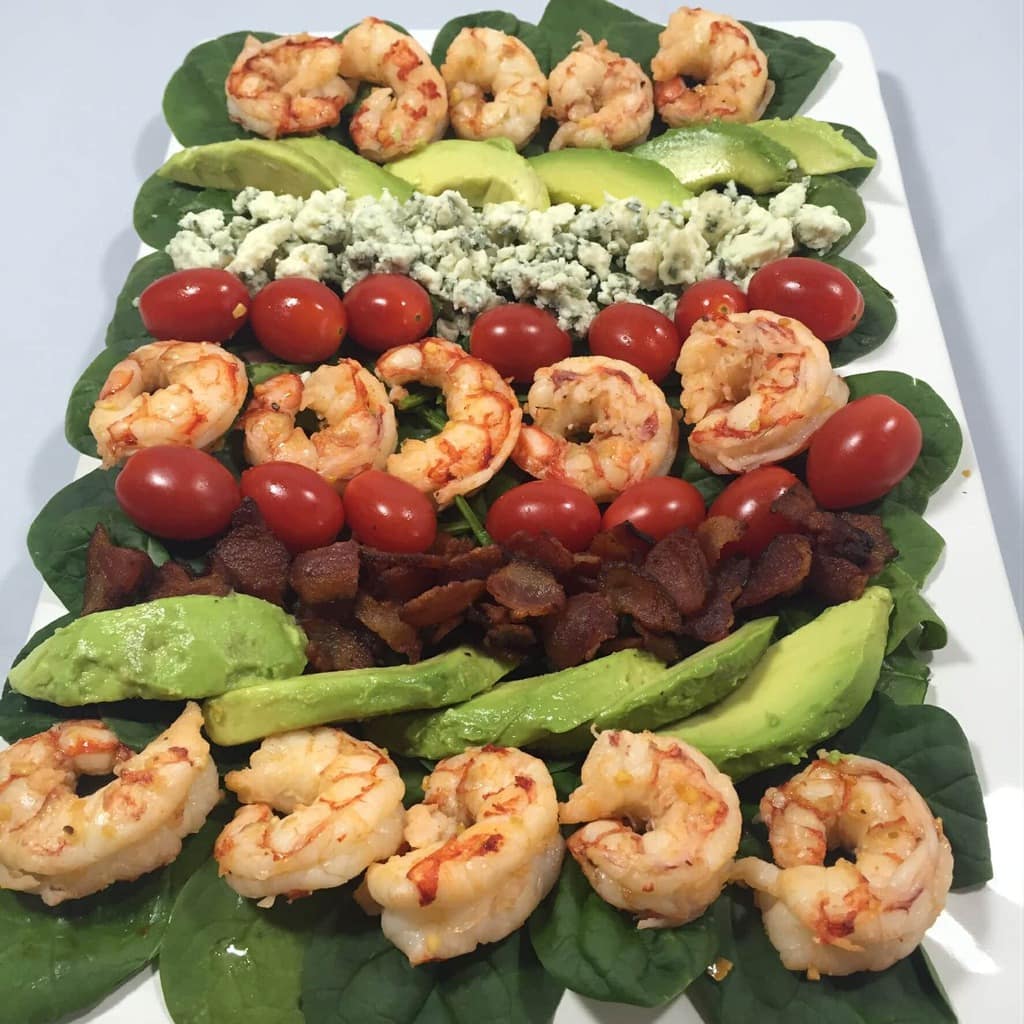 Another reason to love this salad so much is that once it's prepared, it's always there for you waiting patiently in the refrigerator.
So if you've worked late. It's right there, in all it's beautiful glory, tasting fresh and wonderful.
No stopping and picking up something lesser to eat on the way home.
No ordering pizza that's satisfying, but then not particularly healthy for you.
So I was in the mood for a Cobb Salad the other day.
I had been working all day.
My husband wasn't getting home until late and I wanted something ready that was easy, healthy and wonderful when he got home.
So when he finally got home at 7:15, I pulled it out of the refrigerator and all he could say was, "Wow!"
I admit, I loved the look of it myself.
No offense to Mr. Cobb, but I changed it around a bit…as I always do.
Instead of lettuce I opted for baby spinach as a gorgeous dark green bed for the rest of the ingredients to rest upon.
I thought Shrimp would be better than chicken, since we both loved shrimp.
I absolutely agreed the tomatoes, the avocados, an the blue cheese should be added.
And what's a Cobb Salad without bacon? So that was added as well.
And then I thought about the dressing. Originally Mr. Cobb used a French Dressing.
Over the years people have used a vinaigrette or a creamy blue cheese dressing.
But I liked the idea of a touch of sweetness that was in the original Cobb Salad.
I thought of Pomegranate Molasses. If you've never had it you need to give it a try.
A few years back we had visited Cass Winery in Paso Robles.
They served a wonderful salad at lunch that had a Pomegranate Molasses and Blood Orange Oil Dressing.
The flavor was sweet and tangy and so fresh. I loved it so much, I had to buy the ingredients which they wisely sold in their store.
Unfortunately it's not easy to get to Paso Robles, so I had to find another source. And I did. Thank you Amazon. Now I never run out.
So I whisked up Blood Orange Oil, Pomegranate Molasses, and added lemon juice, salt and pepper.
That was the perfect dressing for this salad. My husband loved it. I loved it.
And I think the bed of baby spinach will be my staple from now on.
Although this recipe actually can easily serve 3, I unashamedly have to say, we ate it all with no regrets.
Hope you enjoy Shrimp and Spinach Cobb Salad as much as we do.
So let's make it.
Ingredients of Shrimp and Cobb Salad
Spinach
Shrimp
Bacon
Avocado
Tomatoes
Blue Cheese
Lemon
How To Make Shrimp and Spinach Cobb Salad
First, wash and dry spinach and arrange on a large serving plate.
Place shrimp in a steamer basket and steam 7-8 minutes and let cool.
Sauté  chopped bacon over medium high heat until crisp and brown, about 5-6 minutes. Drain on paper towels.
Arrange the shrimp, cheese and vegetables on the spinach.
When ready to serve, whisk the Blood Orange Oil, the lemon juice and the Pomegranate Molasses and pour over the salad.
If you like this recipe, please leave a comment below and pin us on Pinterest!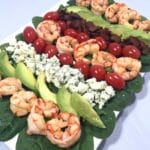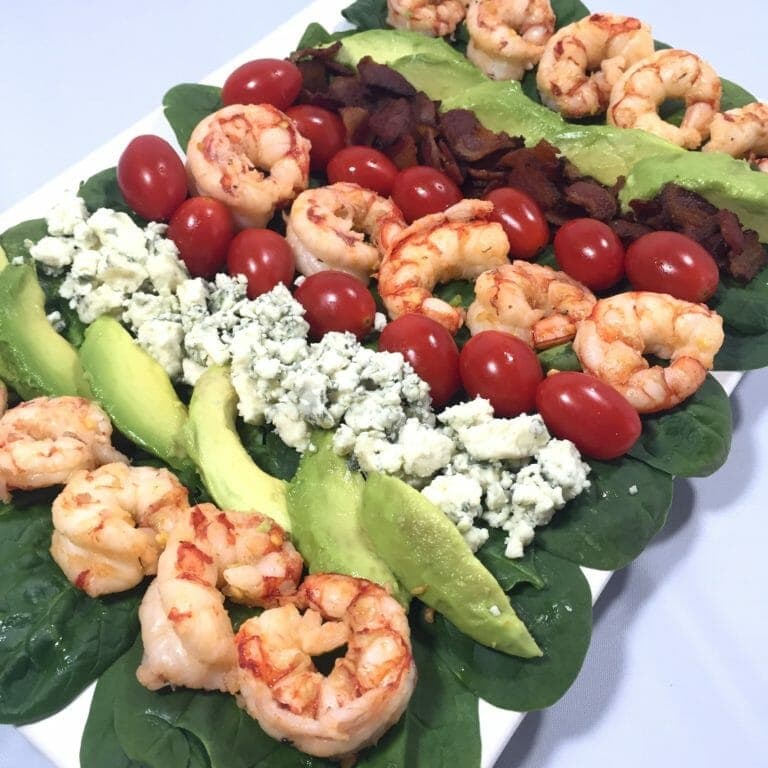 Print Recipe
Shrimp and Spinach Cobb Salad
Shrimp and Spinach Cobb Salad adds a new twist to an old favorite. The dark green spinach provides a perfect backdrop to the lucious flavors of shrimp, bacon, avocados, blue cheese and tomatoes all topped with a tangy, sweet dressing.
Ingredients
2

Cups

Baby Spinach

15

Large

Shrimp

Cleaned and deveined

3

Strips

Bacon

Chopped in 1/2" pieces

1

Large

Avocado

Skin removed and sliced

14

Cherry

Tomatoes

1/4

Cup

Blue Cheese

Crumbles

1

Tbsp

Blood Orange Oil

1/2

Lemon

Juiced

2

Tsp

Pomegranate Molasses
Instructions
Wash and dry spinach leaves and arrange on serving plate.

Place shrimp in steamer basket and steam over high heat 7-8 minutes. Allow to cool.

While shrimp is steaming, saute bacon in frypan over medium high heat until crisp and brown, about 5-6 minutes. Remove to paper towel to drain and cool.

Either arrange various ingredients on baby spinach to your liking or arrange according to the picture: On a rectangular platter beginning from left to right, vertically arrange 5 shrimp, 1/2 avocado sliced, blue cheese crumbles, 7 cherry tomatoes, 5 more shrimp, 7 more tomatoes, bacon crumble, 1/2 avocado sliced, and finally 5 more shrimp.

In a mixing bowl whisk blood orange oil, lemon juice and pomegranate molasses. Drizzle dressing over salad.
Nutrition
Calories:
214
kcal
|
Carbohydrates:
9
g
|
Protein:
7
g
|
Fat:
17
g
|
Saturated Fat:
5
g
|
Cholesterol:
35
mg
|
Sodium:
362
mg
|
Potassium:
396
mg
|
Fiber:
1
g
|
Sugar:
4
g
|
Vitamin A:
2620
IU
|
Vitamin C:
26.1
mg
|
Calcium:
99
mg
|
Iron:
1.1
mg