This easy Grilled Summer Salad with its tangy flavors is perfect for hot summer days.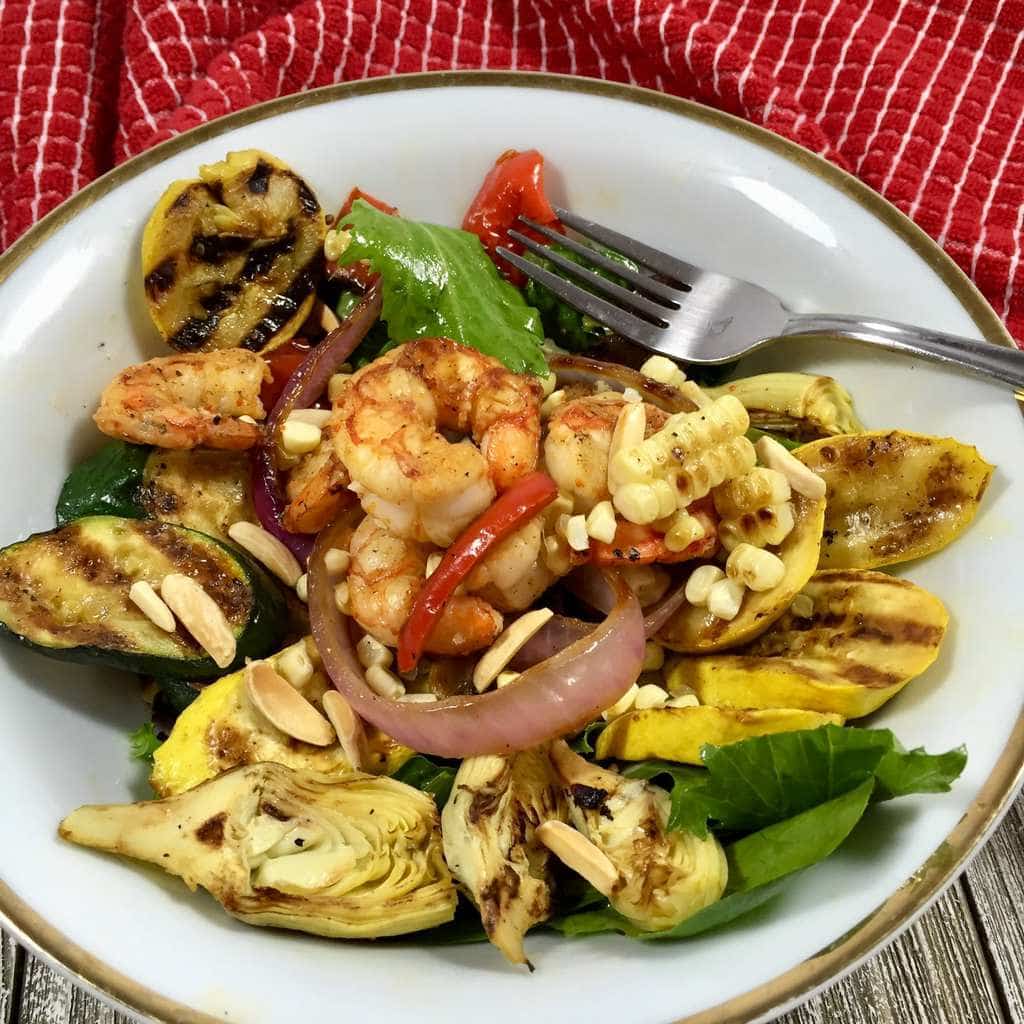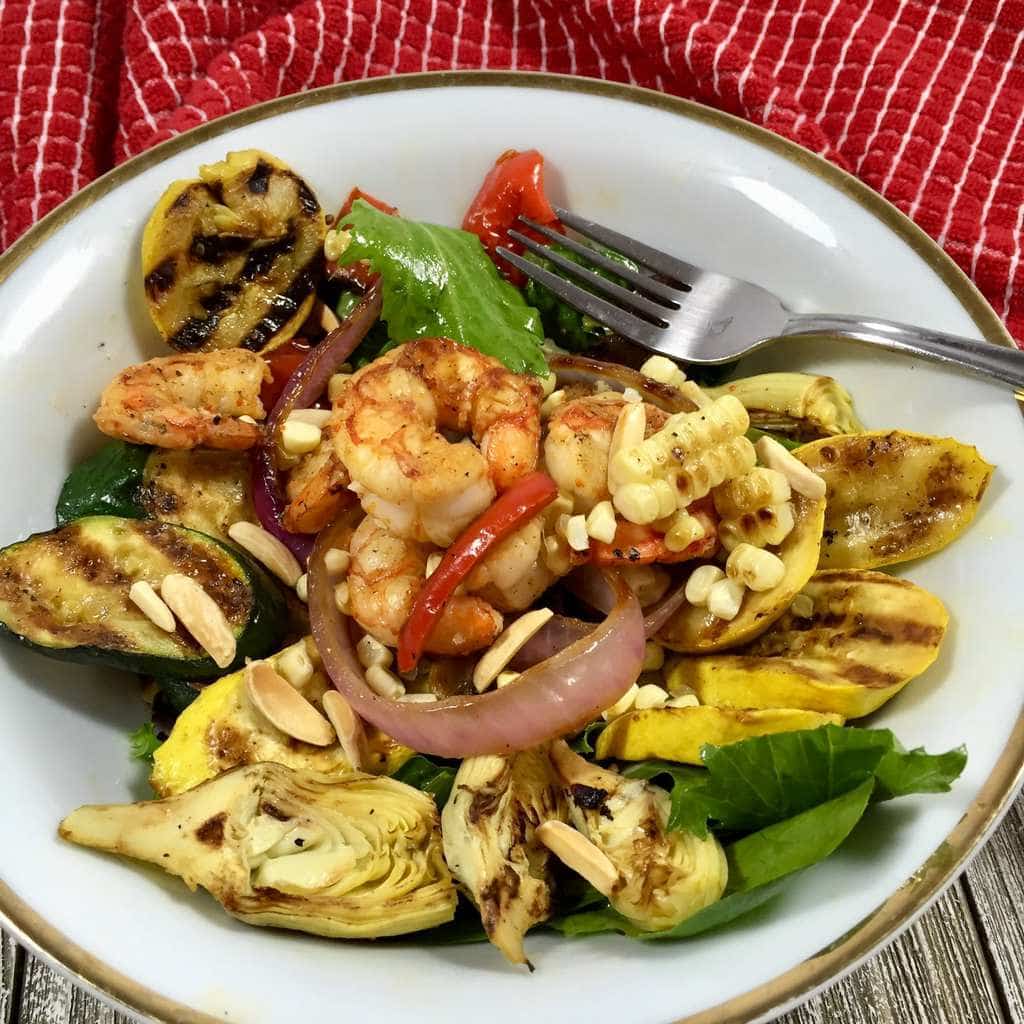 About Grilled Summer Salad
With so many fresh vegetables in the market now, it's hard to choose which ones to get.
The great thing is that most vegetables taste fabulous once they're grilled.
The Grill Master, Bobby Flay, can attest to that.
He grills everything from Romaine lettuce to eggplant.
So no matter what you choose it will be perfect for this salad.
This recipe originally started with just a few vegetables, but I couldn't help myself.
Everything looked great. So I added more…and then a couple more.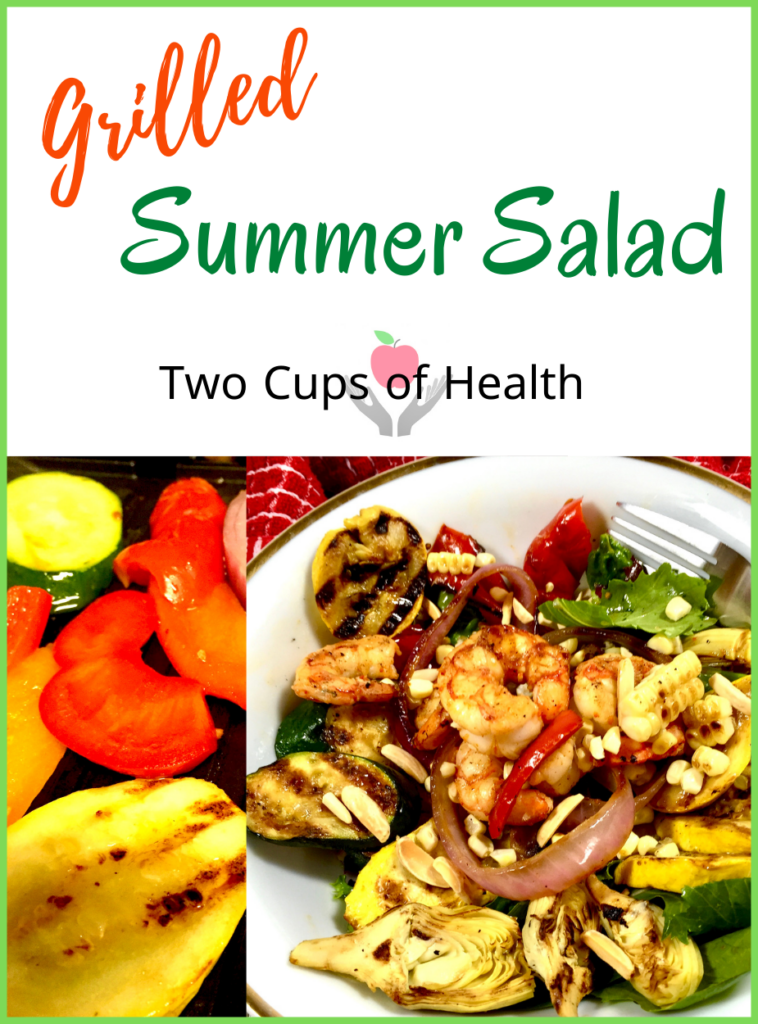 Ingredients for Grilled Summer Salad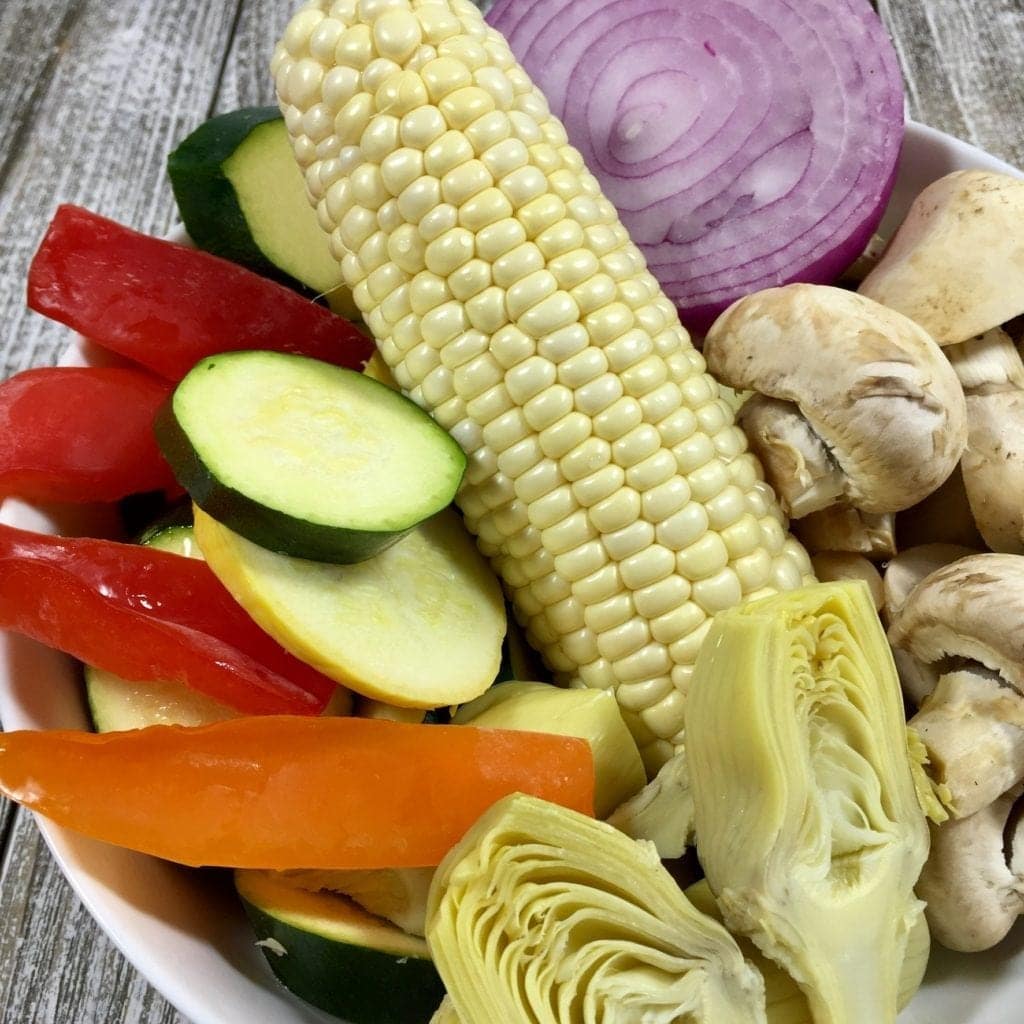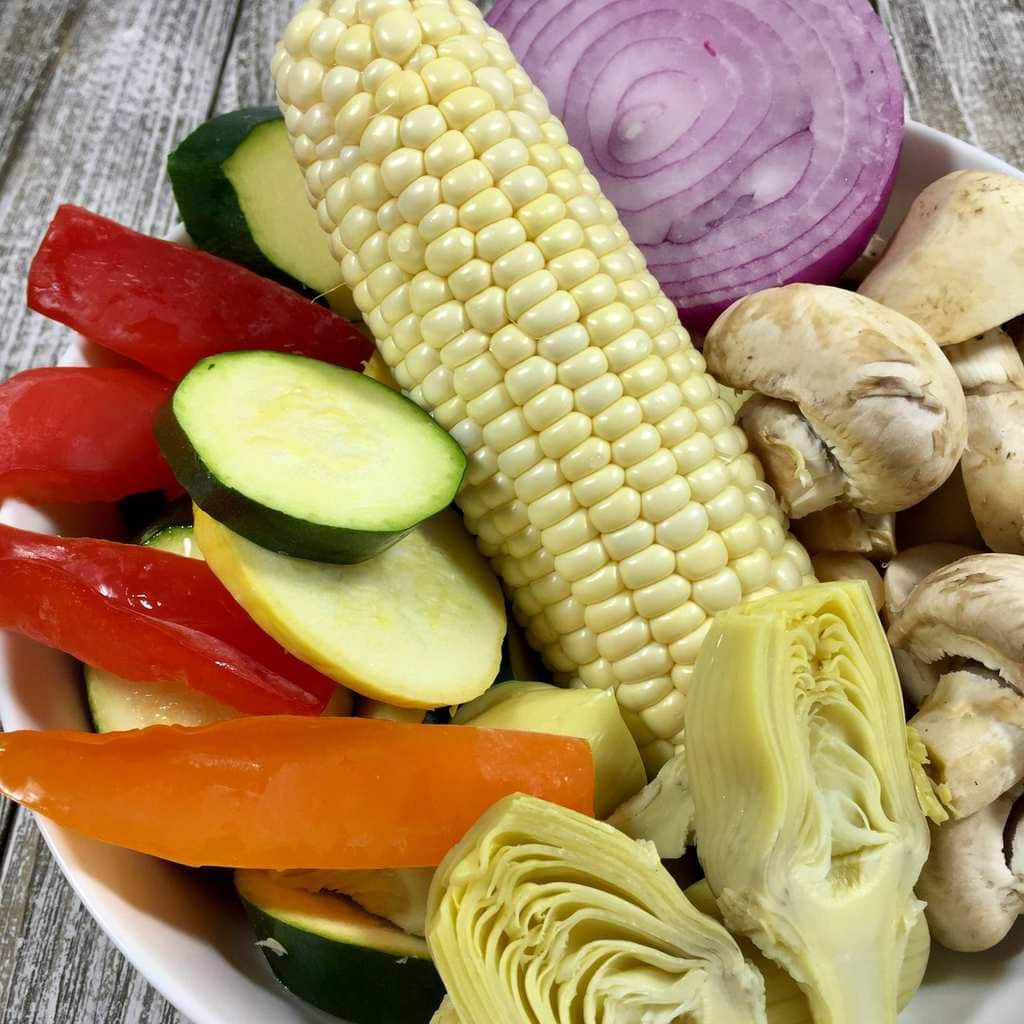 Zucchini
Yellow Squash
Mushrooms
Corn on the Cob
Red Onion
Red peppers
Mixed Salad Greens
Sun Dried Tomatoes
Toasted Almonds
Shrimp
How to Make Grilled Summer Salad
This grilling process actually goes pretty fast.
The shrimp only takes 2 minutes on each side.
And the vegetables only take about 3 minutes on each side.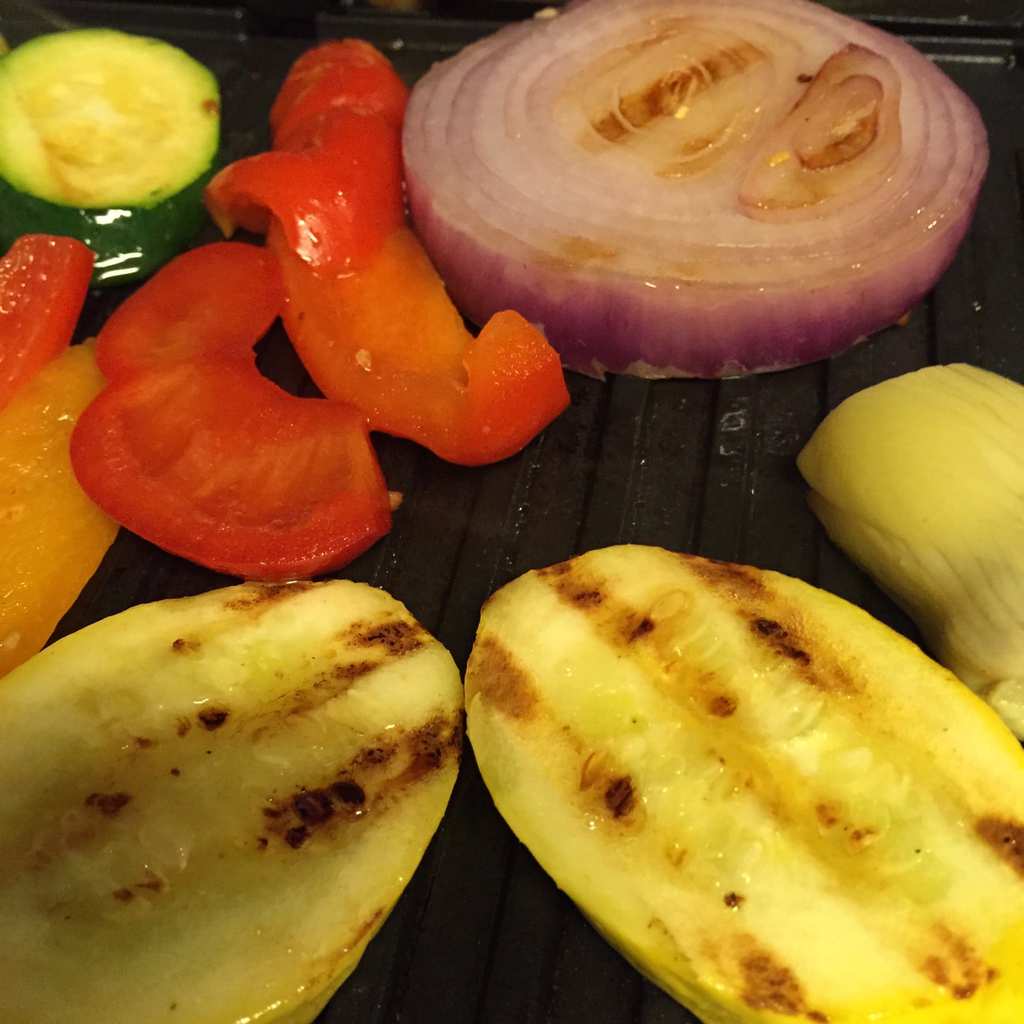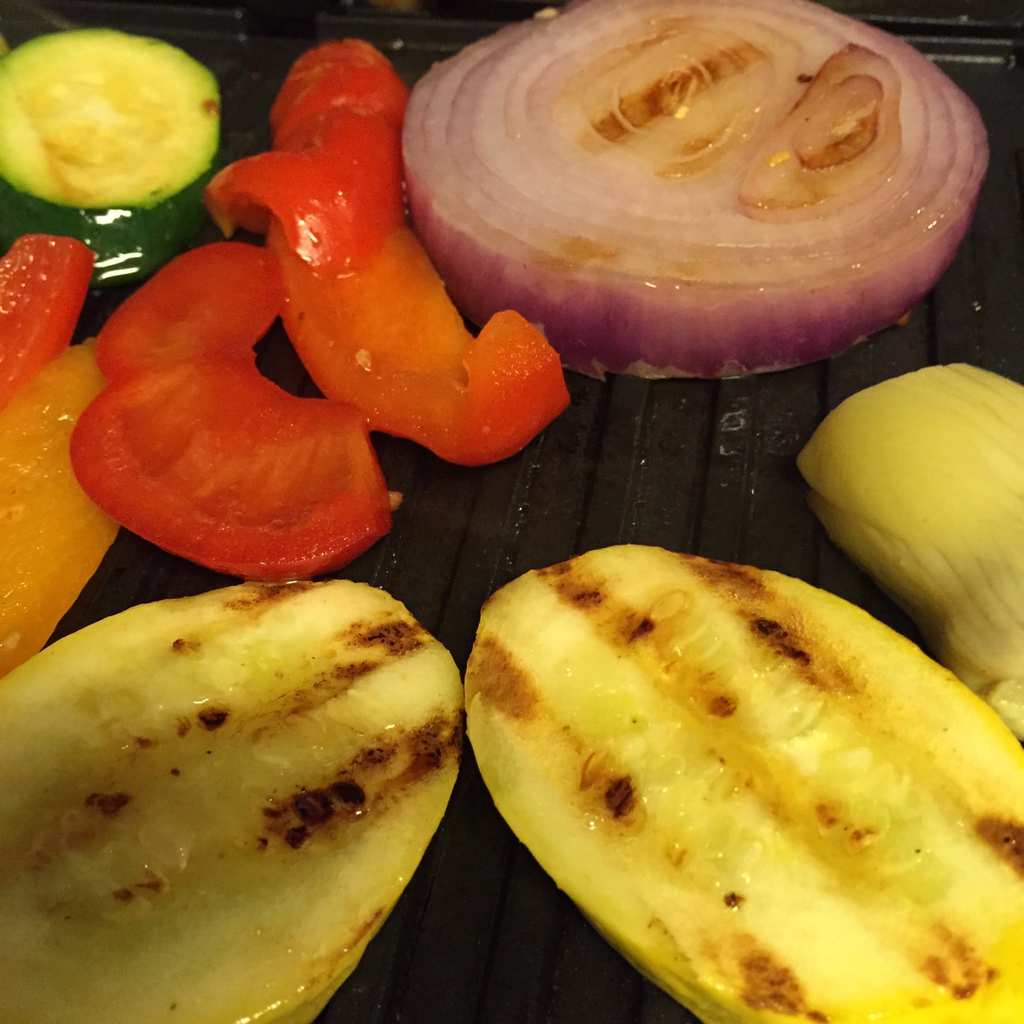 I usually either steam or grill whole artichokes but in this recipe I used Trader Joe's canned artichokes, which worked perfectly. 
They're delicious and packed in water instead of oil, so that saves a lot of calories.
A few minutes on each side was all they needed for beautiful grill marks. 
And once the corn was perfectly grilled, I simply cut it off the cob.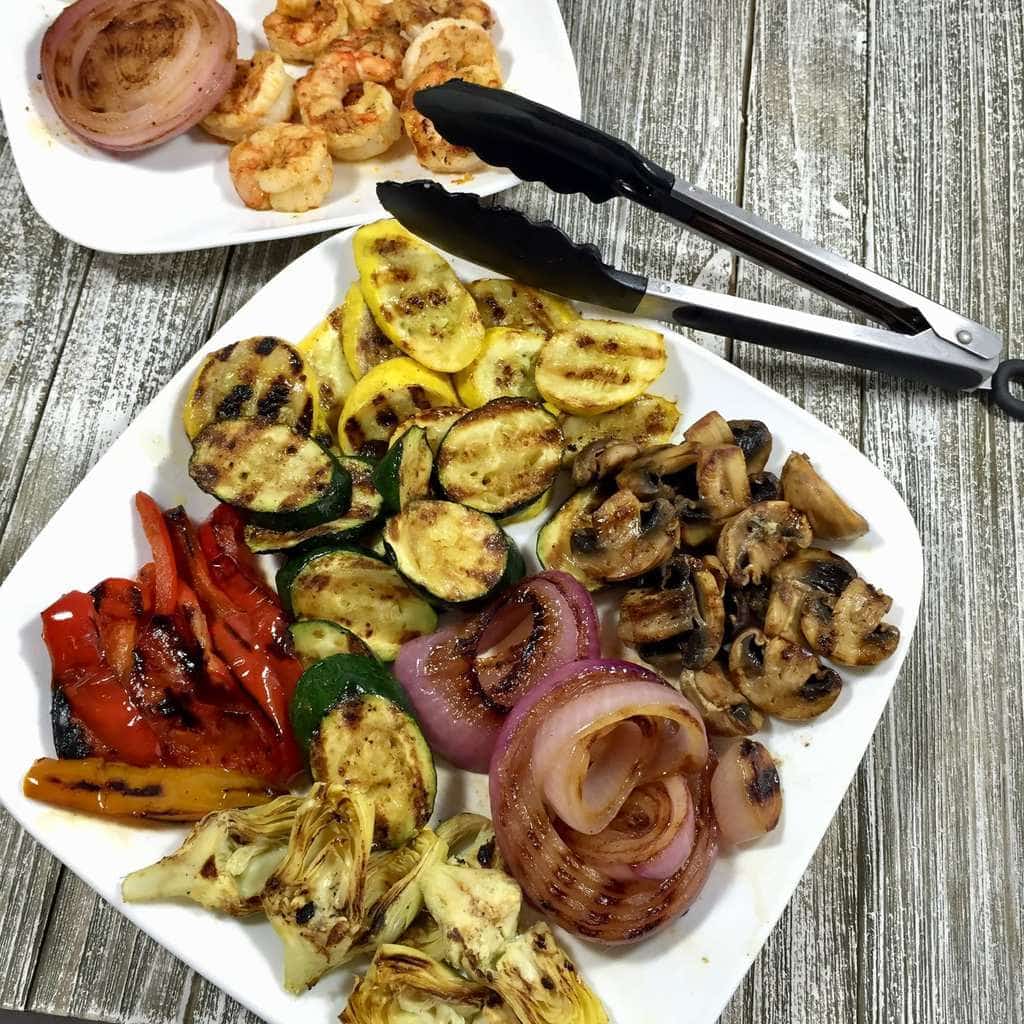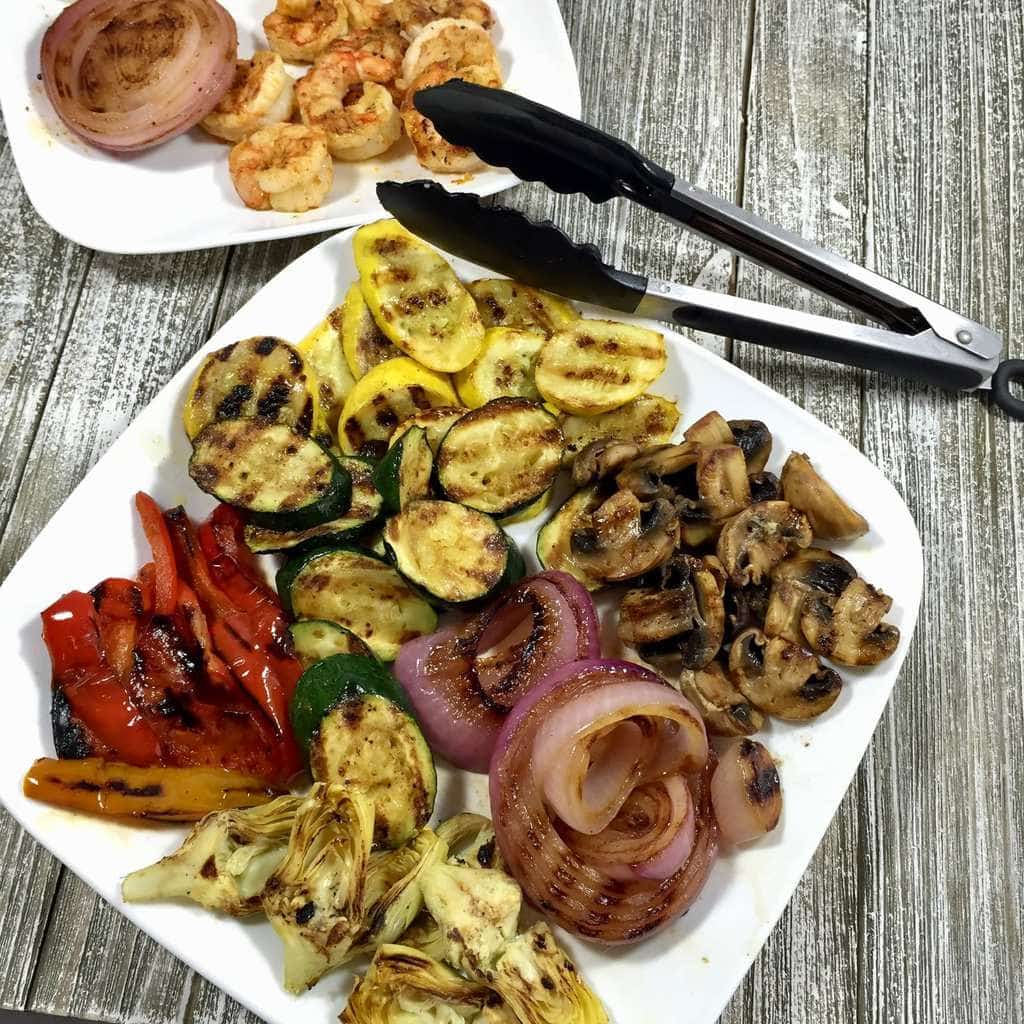 Finally, the dressing came together to beautifully bind everything.
And it's so easy to make.
Just whisk together balsamic vinegar, pomegranate molasses, mustard and thyme leaves.
Grilled vegetables and balsamic vinegar are a great flavor combination. 
For a bit of rich sweetness  Pomegranate Molasses was added as well as a zing of Dijon mustard. 
And for some just-picked-from-the-garden freshness, some fresh thyme.  
Instead of pouring the dressing over the whole salad, which almost always makes for a wilted, heavy salad, I like to lightly mix the salad greens with the dressing first and then add the vegetables and shrimp on the top.  
And so a very quick Grilled Summer Salad that your friends and family will love. 
A perfect dish for hot summer days.  
And if your are into Healthy Recipes, this Grilled Summer Salad had only 328 calories and 2 grams of fat per serving!
Check out some more great summer salads:
If you like this recipe, please leave a comment down below and Pin us on Pinterest!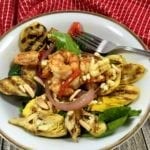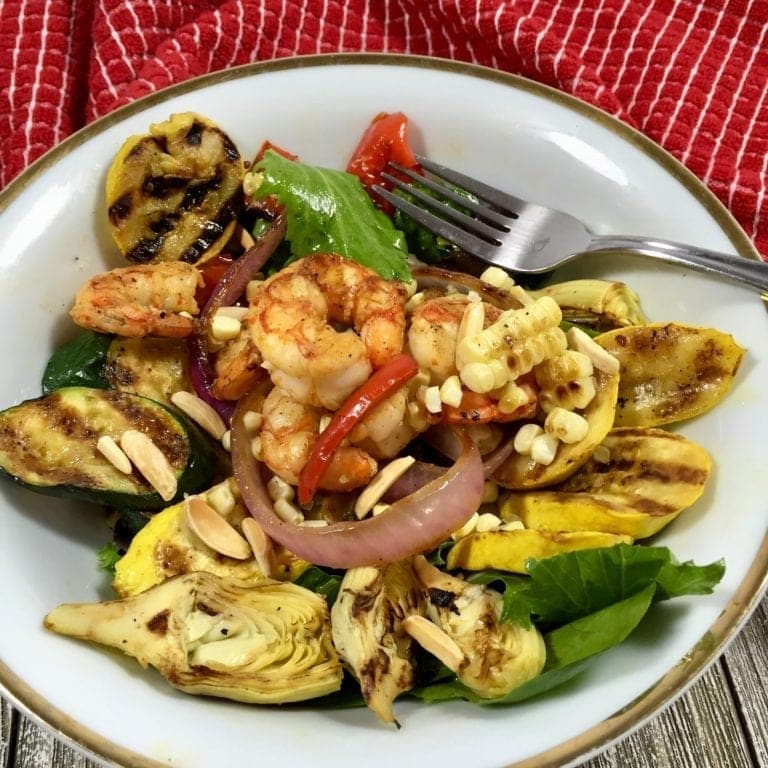 Print Recipe
Grilled Summer Salad
Grilled Summer Salad is perfect for hot summer days. Fresh greens tossed with a Pomegranate Molasses dressing and topped with grilled vegetables and shrimp.
Ingredients
4

Cups

Mixed Greens

3

Tbsp

Olive oil

1/2

Tsp

Sea salt

Prefer Himalayan Pink

1/4

Tsp

Pepper

1/2

Tsp

Smoked paprika

1/4

Tsp

Garlic Powder

8

Mushrooms, sliced in half

Baby Bella or white

1

Yellow squash

Sliced 1/4" thick

1

Zucchini

Sliced 1/4" thick

1

Red onion, sliced 1/2 thick and nit separated

Optional: secure with toothpicks to keep rings together

1

Ear

Corn on cob

6

, cut in half

I used Trader Joe's canned artichokes

1

Red pepper

Thickly sliced

12

Jumbo Shrimp

3

Tbsp

Sundried tomatoes

2

Tbsp

Toasted slivered almonds

2

Tbsp

Balsamic vinegar

2

Tbsp

Pomegranate Molasses

1

Tsp

Dijon Mustard

1

Tsp

Fresh thyme leaves
Instructions
Wash salad greens and add to serving dish. Set aside

In a medium bowl whisk olive oil, salt, pepper, smoked paprika and garlic powder.

Brush oil mixture on mushrooms, yellow squash, zucchini, red onions, corn on the cob, artichoke hearts and red peppers on all sides. Reserve 2 tsp of oil mixture.

Add vegetables to grill being careful not to crowd them. Grill 2-3 minutes on each side until vegetables are tender and you have nice grill marks. Note: The corn will take 4-5 minutes more due to rotating it until lightly browned on each side. Remove grilled vegetables to large plate.

Brush shrimp with reserved oil mixture and add them to grill. Cook 2 minutes per side and remove to plate. When corn is cool enough, cut kernels off cob with sharp knife.

Dressing: To a small mixing bowl add balsamic vinegar, pomegranate molasses, Dijon mustard, thyme leaves.

Add sundried tomatoes and toasted almonds to salad greens. Add 2 Tbsp of dressing and lightly toss making sure all leaves are lightly coated.

Add grilled vegetables and shrimp to salad and drizzle remaining dressing over vegetables and shrimp.
Nutrition
Calories:
328
kcal
|
Carbohydrates:
29
g
|
Protein:
10
g
|
Fat:
20
g
|
Saturated Fat:
2
g
|
Cholesterol:
45
mg
|
Sodium:
728
mg
|
Potassium:
800
mg
|
Fiber:
5
g
|
Sugar:
15
g
|
Vitamin A:
2425
IU
|
Vitamin C:
84.8
mg
|
Calcium:
82
mg
|
Iron:
2.6
mg