Pork Fajita Quesadillas combine fajitas and quesadillas into one delicious dish with all the flavors of Mexico – Smoky, Savory and Spicy.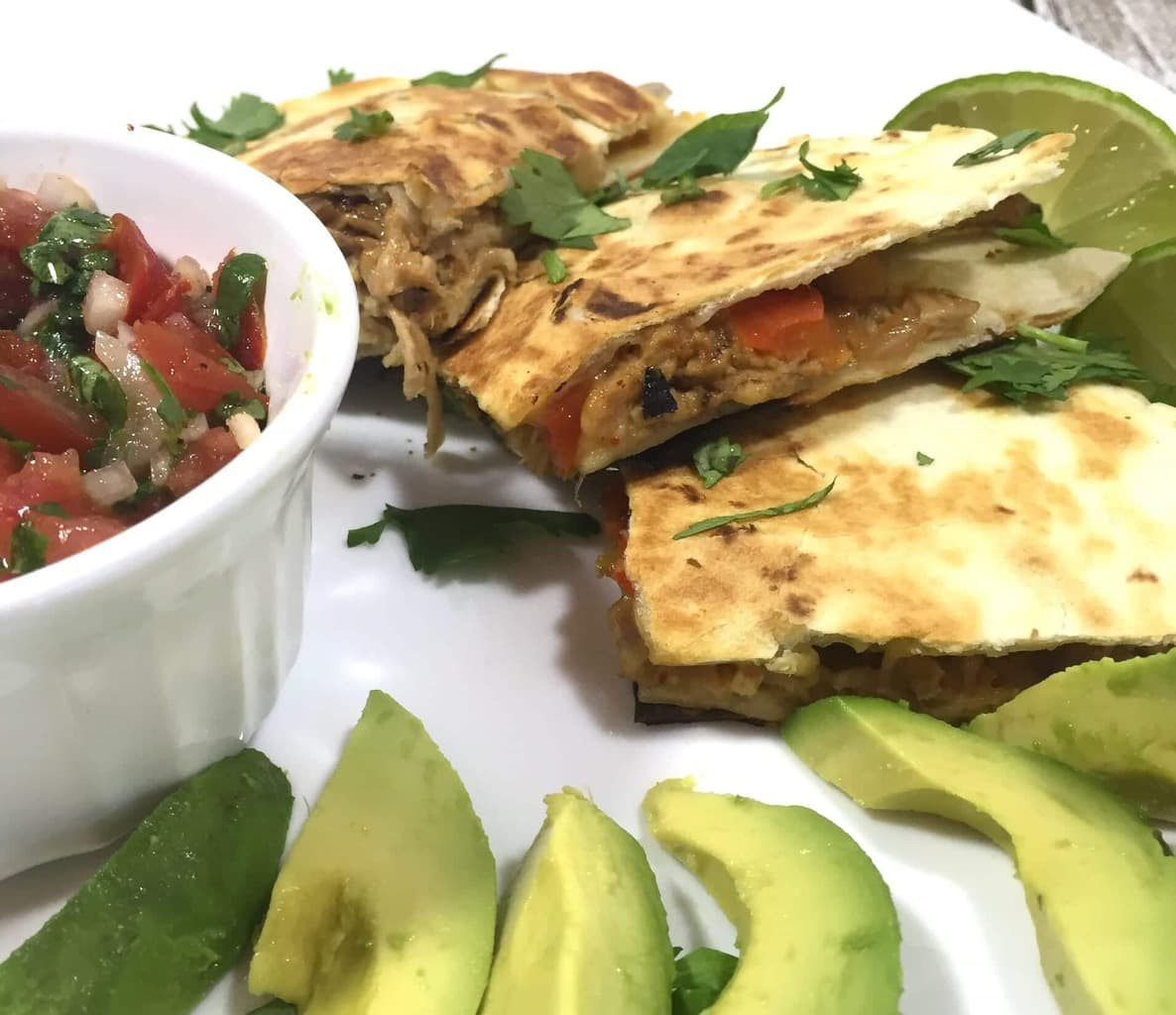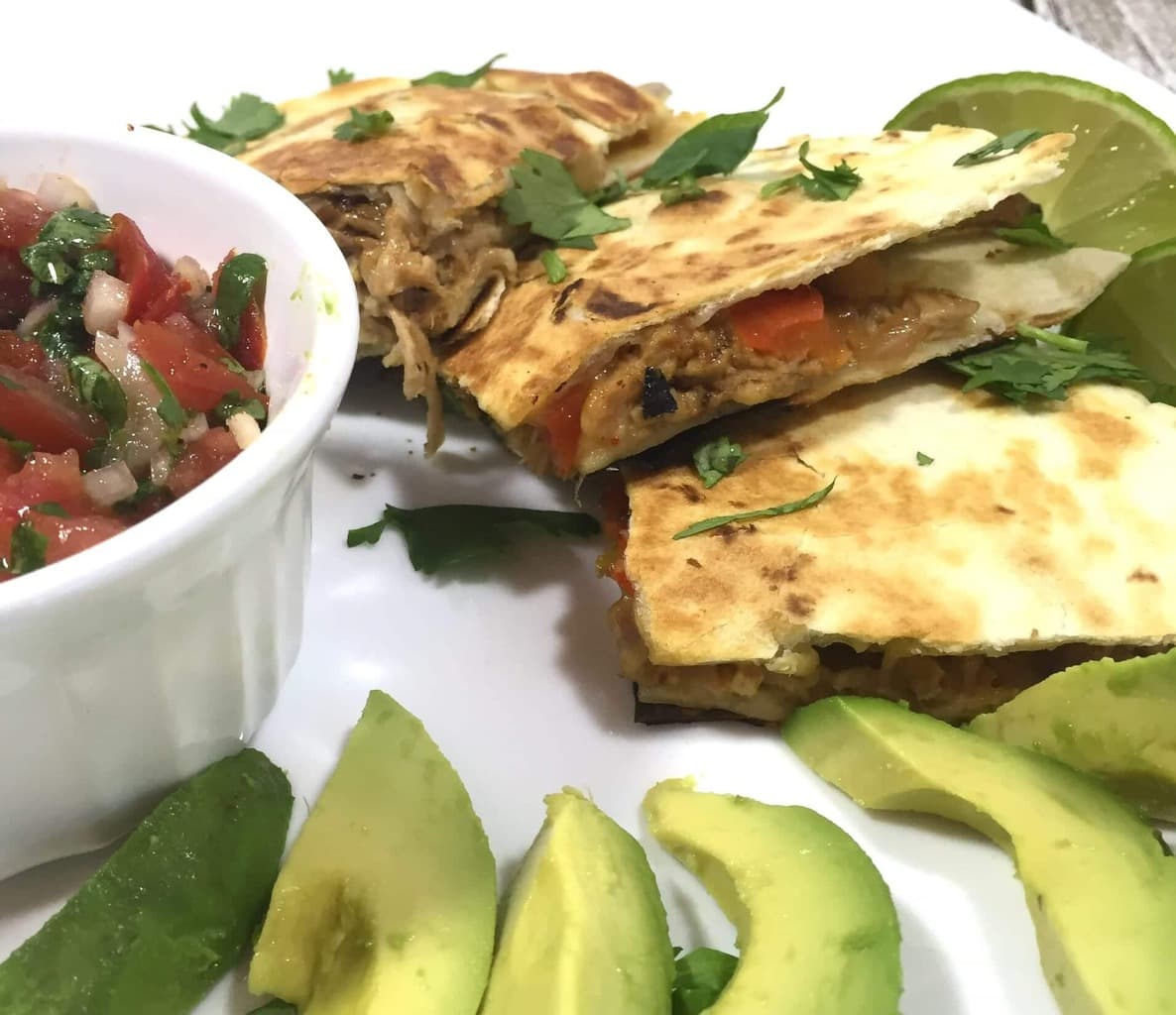 About Pork Fajita Quesadillas 
Pork Fajita Quesadillas always remind me of Cinco de Mayo.
When we were living in Scottsdale, Cinco de Mayo was a very big deal.Parades, mariachi music and the food.
Oh, the food.
There was a special restaurant in Scottsdale that we loved called the Blue Adobe Grill.
They had amazing quesadillas.
In fact as long as I can remember Mexican Food has always been a big part of our lives.
My grandfather owned a construction company in Southern Arizona and came to love Mexican Food.
And my grandmother, originally from Texas, knew how to make it.
She didn't have a Slow Cooker back then but instead cooked pork slowly in a big pot until it fell apart.
Her quesadillas were melt-in-your-mouth delicious from the crispy flour tortillas to the tender flavorful pork.
So as a result, from generation to generation, Mexican Food has been a staple in our family.
Growing up, we had tacos, flautas with guacamole, burritos or enchiladas almost every week.
And Christmas Eve would not have been Christmas Eve without those homemade tamales that my aunt and cousins made.
As I began cooking on my own, I still made the family favorites.
But then I branched our a bit to chimichangas, Chile rellanos, fajitas and pozole.
And although I love quesadillas, I somehow never got around to making them.
Until now.
With Cinco de Mayo just around the corner, I thought it was time for Quesadillas.
But how to make them special? Well, of course,  the way my grandmother made them.
So let's make them.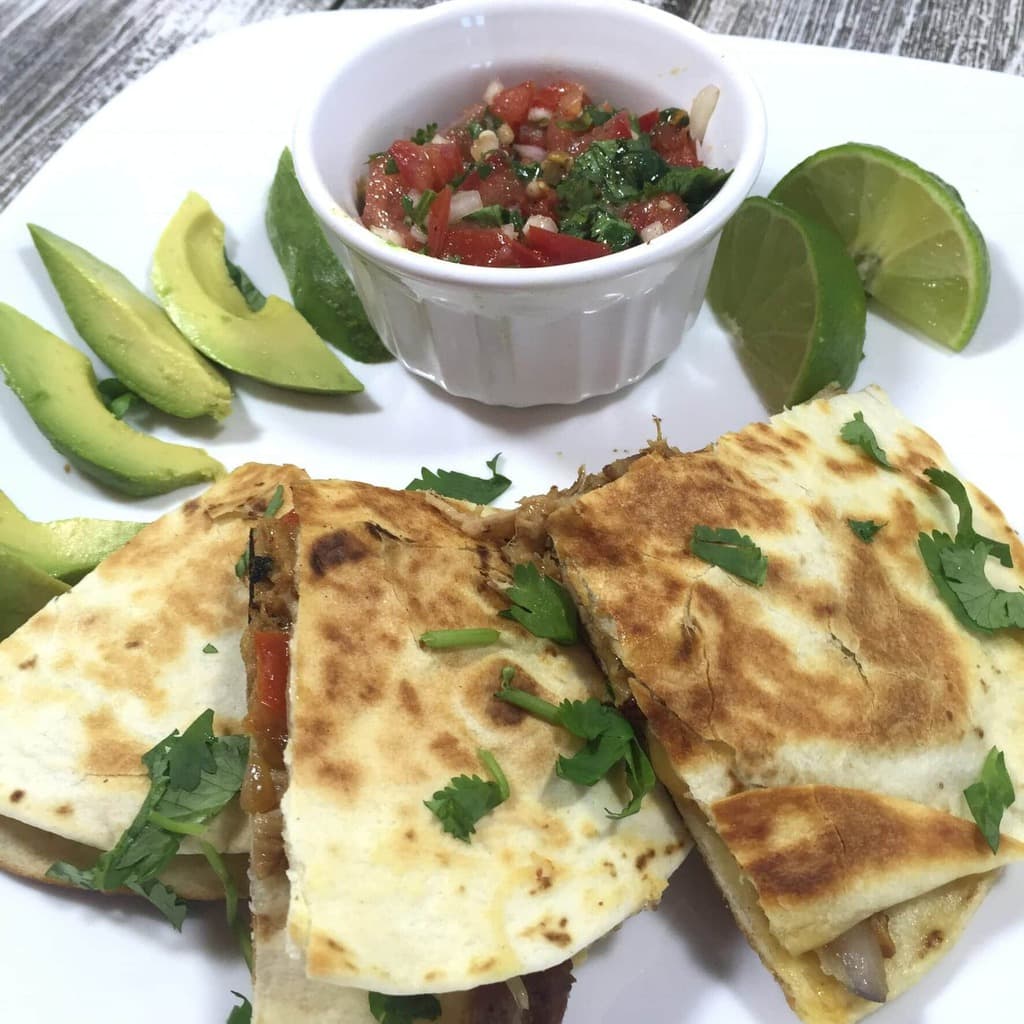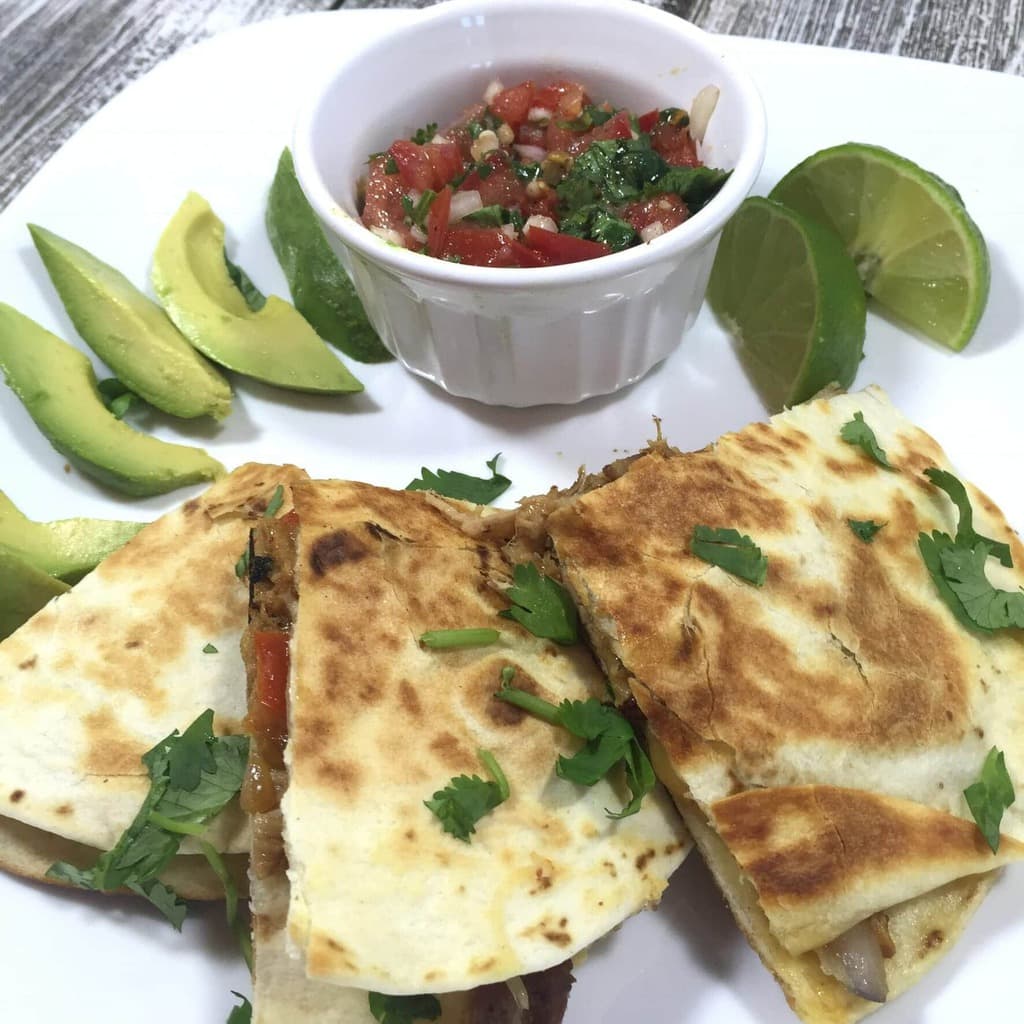 Ingredients of Pork Fajita Quesadillas
Pork tenderloin
Olive oil
Smoked Paprika
Cumin
Salt
Pepper
Red Peppers
Onion
Flour Tortillas
Chipotle Cheddar Cheese
Cilantro
How to Make Pork Fajita Quesadillas
First, Quesadillas call for meat that's juicy and pull-apart tender. So I grabbed my slow cooker.
So much easier than watching that pot all day long like my grandmother did.
I didn't have her exact recipe, but the seasoning had to be the flavors of Mexico. Smokey, Spicy, and Savory.
Cumin for sure, as well as Mesquite Smoke Powder. I still remember smelling the mesquite fires in Scottsdale, which is heavenly.
So a smoked spice like Smoked Mesquite powder as well as another spicy kick of smoked paprika would work great.
Just combine the smoked paprika, the Mesquite smoked powder in a small dish and mix together.
Then brush olive oil over the tenderloin on both sides and evenly sprinkle the spices over.
Then to give it a more flavor, I seared it over medium high about about 2 minutes per side.
I added it to the slow cooker and let cook on low about 6 hours until it's easily shreddable.
It makes it's own delicious sauce sauce so you don't need to add anything else to it.
Because I wanted these quesadillas to be extra special for Cinco de Mayo, and because I love fajitas, I decided to combine the two and make Pork Fajita Quesadillas.
So I caramelized some onions and red peppers. And to add an extra punch of flavor, I added a chipotle cheddar cheese that's works perfectly with this dish.
It's super spicy and great.
Note: Most stores will carry it, but you can also substitute Pepper Jack Cheese.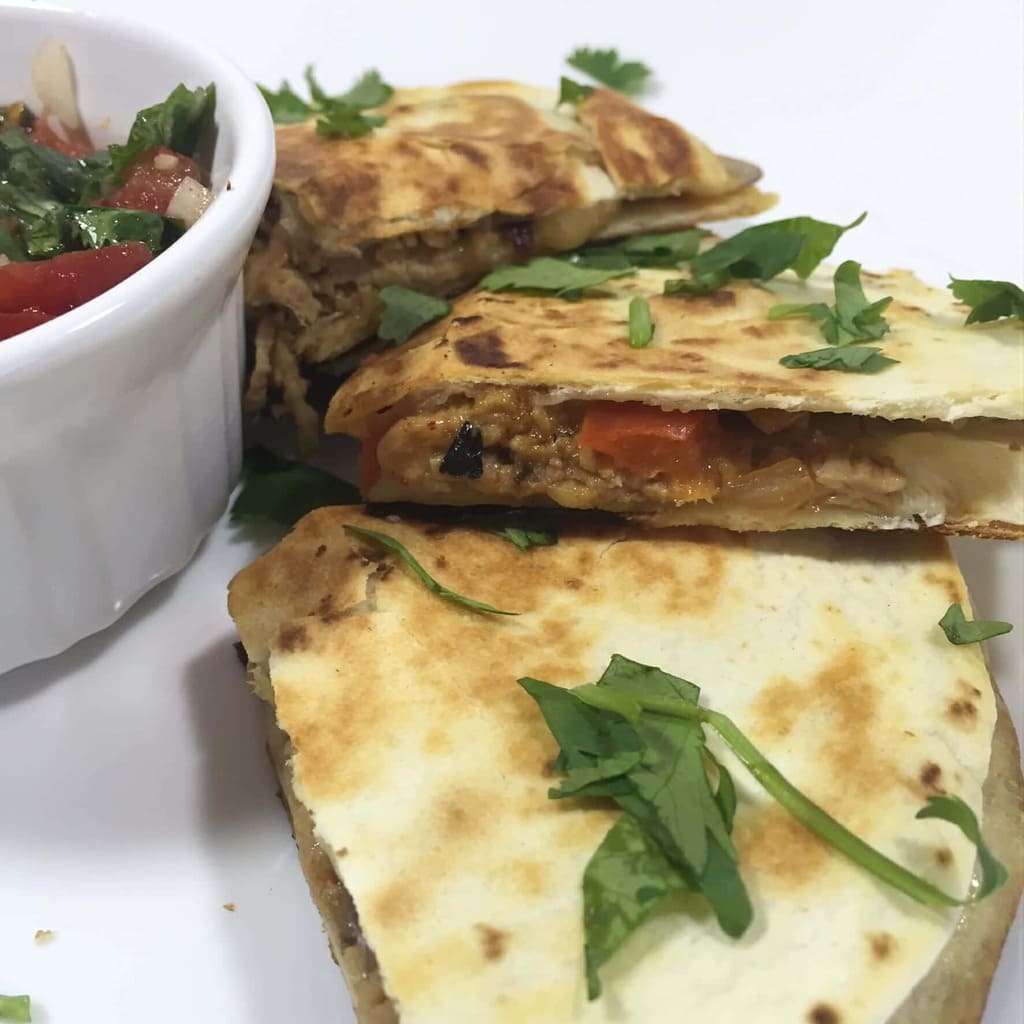 Putting the quesadillas together was so easy.
I added a flour tortilla to a light oiled frypan. Sprinkled it with shredded chipotle cheddar cheese.
Next added the shredded smoky pork. Then add the Caramelized onions and peppers.
Topped it with more shredded cheese and added a second tortilla on top of it.
Cooked it a few minutes until it was browned and flipped the quesadilla over and continued to cook for a few minutes more.
And that was it. I cut the quesadilla into quarters and served it with pico de gallo, sliced avocados, some lime wedges and topped it with some fresh cilantro.
Happy Cinco de Mayo!
If you like this recipe, please leave a comment below and pin us on Pinterest!
For more Mexican recipes check out 15 Cinco de Mayo Favorites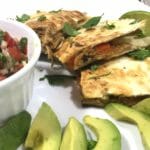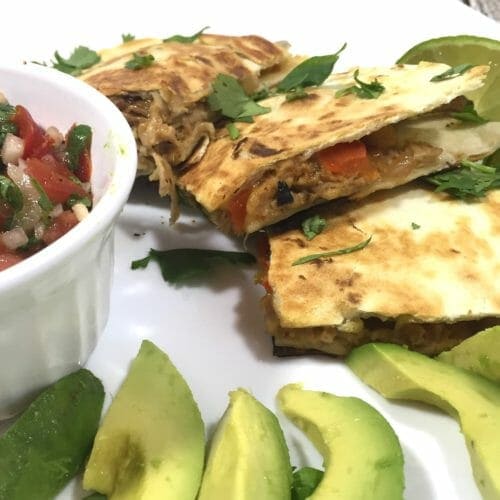 Print Recipe
Pork Fajita Quesadillas
Potato Pancakes with Thyme are an updated version of an old favorite. These delicious crispy pancakes are perfect served with applesauce
Ingredients
1/2

Pound

Pork tenderloin

1

Tsp

Olive oil

1/2

Tsp

Smoked Paprika

1/2

Tsp

Mesquite Smoke Powder

1/2

Tsp

Cumin

1/2

Tsp

Salt

1/4

Tsp

Pepper

1

Tsp

Olive oil

1/2

Cup

Red Peppers

Sliced

1/2

Cup

Onion

Sliced

1

Tsp

Olive oil

4

Large

Flour Tortillas

1/2

Cup

Chipotle Cheddar Cheese

Shredded (Pepper Jack can be substituted)

2

Tbsp

Cilantro

Chopped
Instructions
Rub olive oil on all sides of pork tenderloin

In a small bowl mix smoked paprika, hickory smoke powder, cumin, salt, pepper. Add spices evenly over pork tenderloin.

Heat frypan to medium high heat. Add pork loin and sear pork to brown about 2 minutes on each side.

Add pork to slow cooker, cover and set on low. Allow to cook 5-6 hours until pork shreds easily.

To assemble quesadillas. Unplug slow cooker and shred pork with two forks and let it remain in slow cooker to keep warm.

In a saucepan over medium high heat add oil, red peppers and onions. Cook 3-4 minutes until onions begin to caramelize.

Add 1 tsp olive oil to large frypan and add two flour tortillas. Top each with 1/4 of the shredded cheese, 1/2 portion of the pork, 1/2 portion of the peppers and onions and the remaining 1/4 shredded cheese. Top each with another tortilla. Cook over medium heat for 2 minutes until browned. Turn and cook 2 more minutes.

Cut each quesadilla into fourths and sprinkle with cilantro. Serving suggestion: Sliced limes, avocados and pico de gallo.
Nutrition
Calories:
338
kcal
|
Carbohydrates:
7
g
|
Protein:
31
g
|
Fat:
19
g
|
Saturated Fat:
7
g
|
Cholesterol:
98
mg
|
Sodium:
810
mg
|
Potassium:
605
mg
|
Fiber:
1
g
|
Sugar:
3
g
|
Vitamin A:
1655
IU
|
Vitamin C:
50.6
mg
|
Calcium:
227
mg
|
Iron:
1.9
mg