This Easy Pork Schnitzel is tender, juicy and extra crispy with its Panko topping, but without deep frying this recipe is much lower in calories without losing any of its wonderful flavor.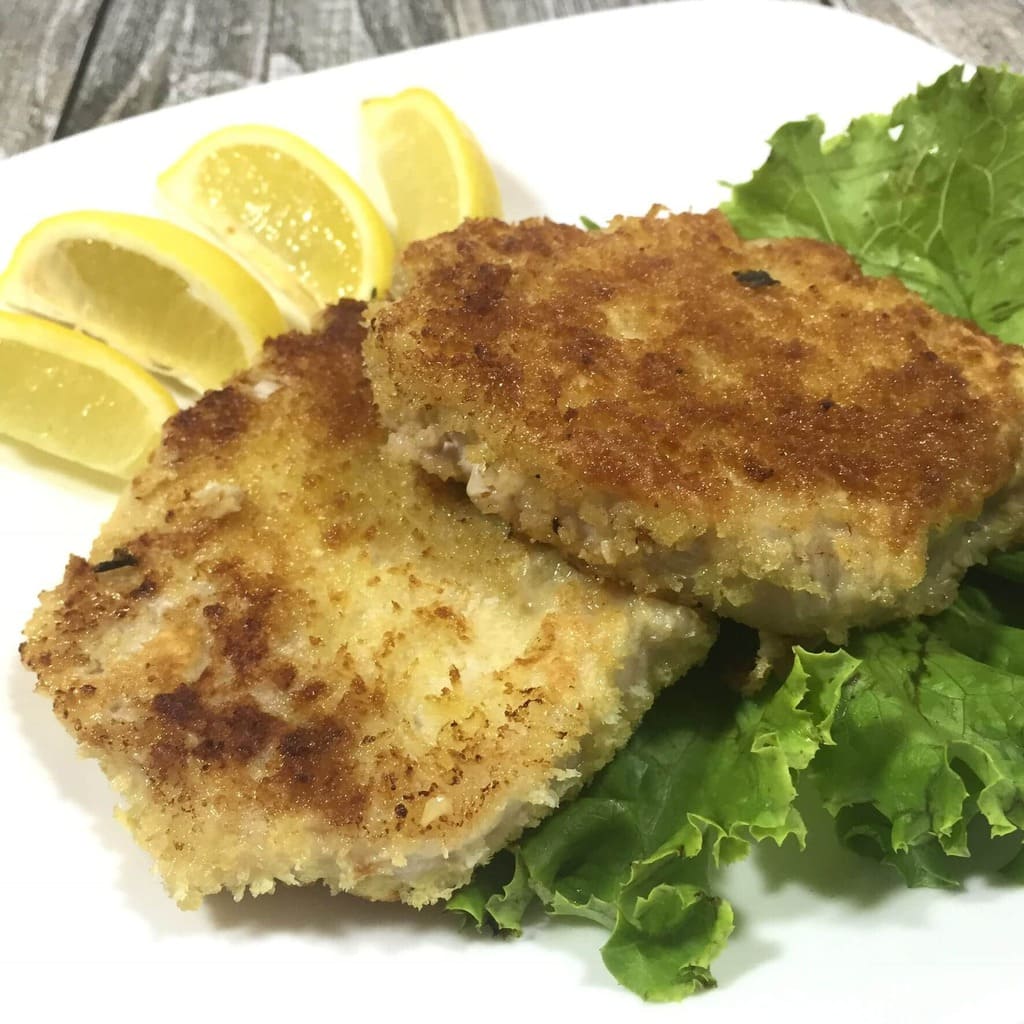 About This Easy Pork Schnitzel
This Easy Pork Schnitzel comes from a very old recipe that has been passed down generation after generation. And it's outstanding. But really, what is Schnitzel? Basically it's cuts of meat that are pounded to 1/4" thick and then battered, breaded and fried. I've always thought Schnitzel originated in Germany or Austria, but apparently this easy technique of breading and frying thin cuts of pork came from the Romans around 1 BC. And even the Austrians readily admit Wienerschnitzel doesn't come from Wien…which is Austria.
And since Schnitzel originated with the Romans, it just makes sense that Italy has its own version of Schnitzel too. Theirs is called Cotoletta alla Milanese which traditionally is made with veal and instead of being deep fried, they sauté theirs in butter. Then I guess the word spread about this delicious dish because other versions of it appeared in other parts of the world as well.
Tonkatsu is the Japanese version of Schnitzel only theirs is made with pork.
A similar version in Korea is called Don-gaseu.
In South America it's called Milanesa.
Australians add Parmesan cheese to their dish and call it Parmie.
Bosnia's Schnitzel dish is called Becca Snicla.
In Denmark it's called Skinkeschnitzel.
And Iran's version, Shenitzel, is thicker and spicier than other versions.
Russia's version is Otbivnaya, which literally means a piece of meat that's been beaten.
And Spain's version is called Escalope Empanado. I mean, once the word gets out about a great recipe you just can't stop it.
Oktoberfest
I had my first taste of the German version of Schnitzel at an Oktoberfest in Oregon. The whole atmosphere of Oktoberfest was magical from the lederhosen to the people dancing to the music of the Oompa bands.
But of course the food was the main attraction. From the booths you could find everything from bratwurst, to spatzle, to sauerkraut and so much more.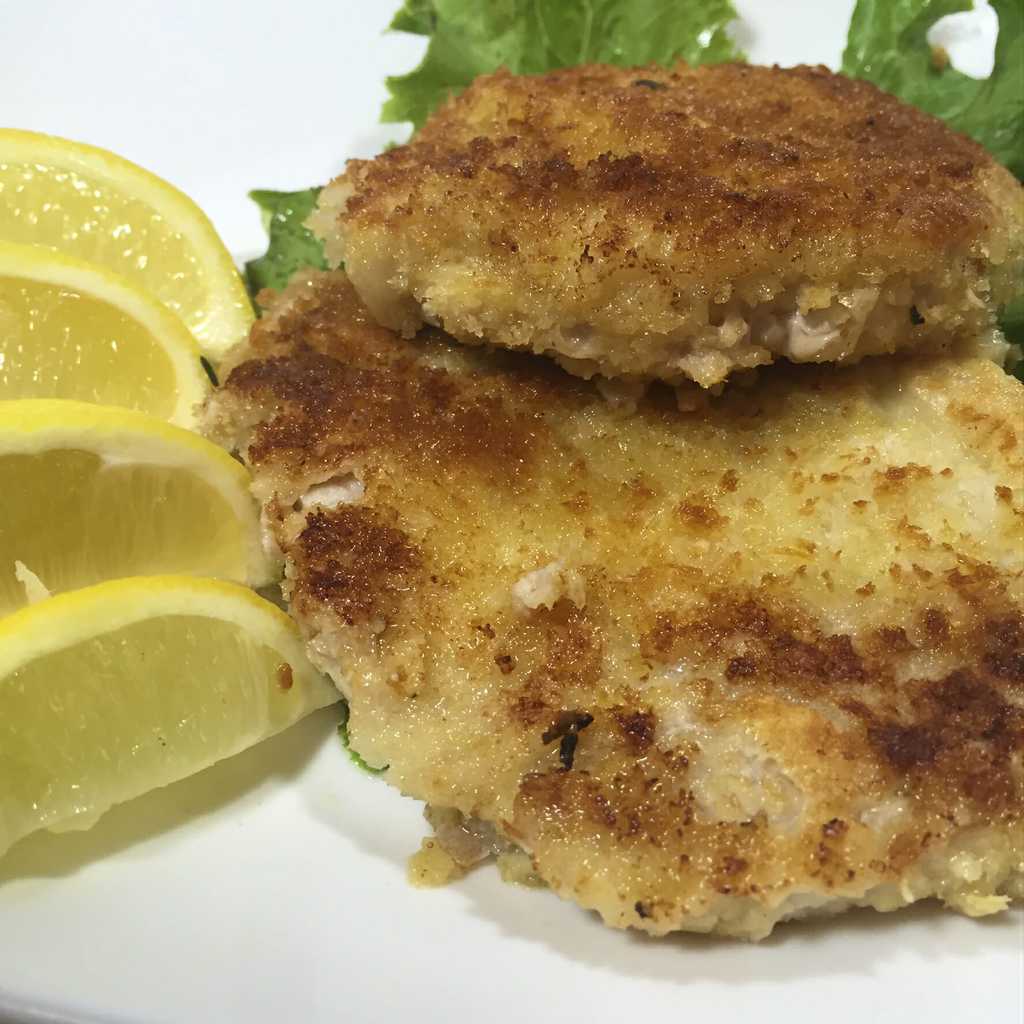 As much as it was all hard to resist those fun foods from the booths, we opted to go into one of the restaurants and have a full German meal instead and that's where we found that delightful Wienerschnitzel.
It was crispy and tender and wonderful and when you squeezed the lemon on it, well, that made it. It was served with a German vinegar-based potato salad, that they called Schwabischer Kartoffelsalat and German Braised Red Cabbage.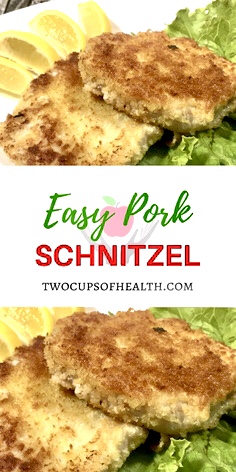 How to Make Easy Pork Schnitzel
So I thought about Oktoberfest the other day and decided it was time for Schnitzel, even though it's not October. As I always do, I changed some things around.
But I'm getting ahead of myself.
Begin by adding two boneless pork chops to a gallon zip lock bag and zip it tightly. Then with a meat pounder, pound the chops to about 1/4″ thickness.
Next, set out three shallow bowls.  To the first add flour. I use Wondra flour because it isn't as thick as regular flour, but you can use regular flour but be sure and use a light coating. To the second add 2 eggs and whisk them together. To the third bowl add Panko. Panko comes in with different seasonings – Italian, Lemon Pepper and more. But for this recipe I used plain Panko.
Remove the chops from the bag and salt and pepper each side. Then add a pork chop into the flour on both sides and shake off excess. Then dip the chop into the eggs, again on both sides. Finally dip the chop into the Panko on both sides. Set aside.
To a frypan over medium high heat add the olive oil and when it comes up to temperature, add in the pork chops. Cook 3-4 minutes on each side until chops are well browned. Serve immediately with lemon on the side, if desired.
A great side for this Easy Pork Schnitzel is German Braised Red Cabbage.
Notes
I wanted to make it lighter, so instead of the traditional deep frying of Schnitzel, I only used a small amount of oil and it was perfectly fine for a nice brown on both sides. In fact better, because it didn't taste greasy. For an extra crunch, I substituted Panko for the bread crumbs.
The result was a much lighter schnitzel without missing of that great Oktoberfest flavor.
If you like this recipe, please leave a comment below and pin us on Pinterest!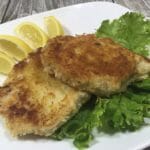 Print Recipe
Easy Pork Schnitzel
This Easy Pork Schnitzel is tender, juicy and extra crispy with its Panko topping, but without deep frying this recipe is much lower in calories without losing any of its wonderful flavor.
Ingredients
2

Pork chops

Boneless

1/4

Tsp

Salt

1/2

Tsp

Pepper

1/4

Cup

Flour

Wondra preferred

2

Large

Eggs

1/2

Cup

Panko

2

Tbsp

Olive oli

1

Lemon

Sliced
Instructions
Between two sheets of plastic wrap, pound pork chops to 1/4" thick.

Set 3 shallow bowls out. To first add flour. To second add 2 eggs and whisk until combined. To third add Panko.

Add olive oil to frypan over medium heat.

Salt and pepper pork chops on both sides. Dredge both sides of pork chops in flour, then in egg mixture, and finally in Panko and add to frypan. Turn heat up to medium high. Cook pork chops 3-4 minutes on each side until well browned.
Nutrition
Calories:
423
kcal
|
Carbohydrates:
28
g
|
Protein:
39
g
|
Fat:
16
g
|
Saturated Fat:
5
g
|
Cholesterol:
275
mg
|
Sodium:
661
mg
|
Potassium:
672
mg
|
Fiber:
2
g
|
Sugar:
2
g
|
Vitamin A:
300
IU
|
Vitamin C:
28.6
mg
|
Calcium:
79
mg
|
Iron:
3.3
mg