Lite Shrimp Gumbo is lower in calories, fat and sodium but is wonderfully rich in flavor with spicy chicken sausage, vegetables and shrimp.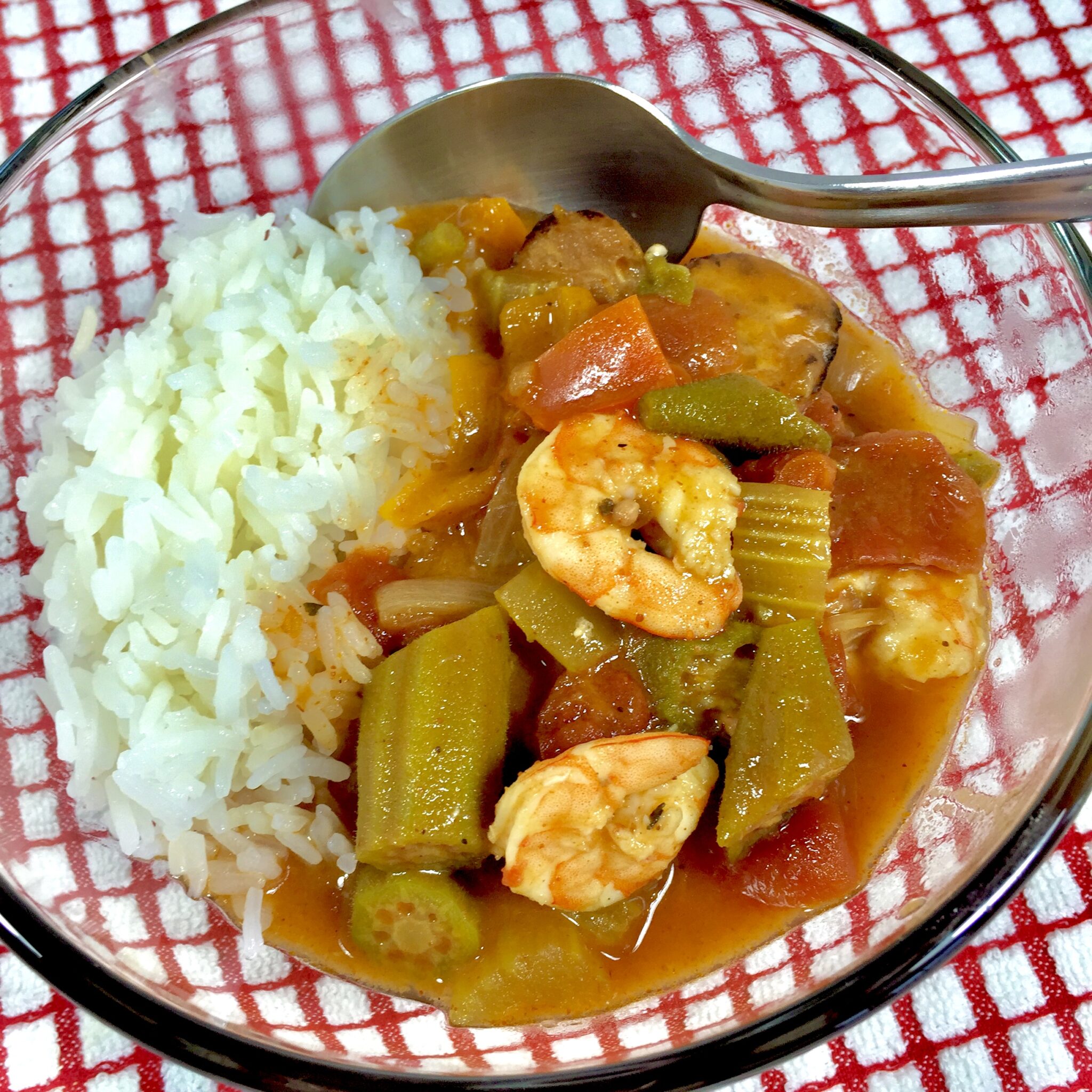 About Lite Shrimp Gumbo
I can't remember the first time I tasted gumbo, but I do remember how good it was and that I needed more and more of those flavors.
And then I discovered Chef Paul Pruddhome on TV.
He was on PBS cooking recipes from his new cookbook, Fork in the Road.
This was a lighter version of his original cookbook, Chef Paul Pruddhome's Louisiana Kitchen and it was from there that I got the inspiration for my Lite Shrimp Gumbo.
I remember watching Chef Paul as he cooked his gumbo and he said, "You have to start with the roux. Now that's what makes the flavor."
This was oil and flour browned in a pan.
He said the color makes all the difference.
He had three bowls of roux to demonstrate.
The lighter roux was used as flavoring for all kinds of dishes, like soups, because it adds another depth of flavor.
He pointed to another bowl with a medium colored roux for other dishes, like jambalaya, which even adds more flavor.
But he said for gumbo or etouffee you've got to have dark roux.
In fact his was almost a chocolate color.
He said you had to be careful in making the dark roux though because if you let it go a minute too long, it becomes bitter.
Then he said, as he added ingredients to a pot, you begin with the "holy trinity" – the onions, the bell peppers, the celery.
Next he added the spices, which really made it all come alive – salt, white pepper, black pepper, and cayenne.
Whoa, I thought, they like it hot in the South.
Plus he added oregano, thyme and bay leaves and the broth which he brought up to a boil and finally the roux mixture which he added by spoonfuls until it was dissolved in each addition.
Finally at the last minute he added shrimp.
I furiously wrote out each instruction as I watched and immediately had to try the recipe.
It was amazing.
It did take a lot of time and my roux wasn't as dark as his, but it all turned out well and I was hooked on Cajun Food and Chef Paul's Recipes.
I had to buy his cookbook.
In fact, I bought all of his cookbooks.
Chef Paul Prudhomme was the best of the best.
He taught us all to love Cajun Food, which he learned to make from his mother.
He said she was a wonderful cook and taught him about spices, and depth of flavor and mostly adding a lot of love in the food.
He laughed and said, "You know, my brothers were always fighting about something or another, but when they came in to eat, they forgot about their anger and just enjoyed the food. At that point I realized how important food was."
So now when I make gumbo, I think about Chef Paul.
My gumbo varies from his, but the basics are there – the "holy trinity, the broth, the spices.
I always add okra because I love it and often tomatoes.
I usually substitute low sodium chicken broth for his seafood stock only because it's what I have.
And to further reduce the sodium, I eliminated the salt.
The shrimp and chicken sausage flavor the gumbo perfectly without it.
And I know that Chef Paul was so right about the roux.
It not only thickens the gumbo, it also gives it a great toasty flavor.
But I changed it a bit for a healthier approach. I brown flour by itself in a frying pan.
No oil.
And then I add it to the sautéed vegetables. Then in goes the sausage and broth to simmer a bit. Everyone seems to love it.
In fact, this gumbo even sold a house.
Our house was up for sale. George was off flying so it was just my daughter and myself for dinner that night.
The realtor scheduled a time for late afternoon. I didn't want cooking smells in the house so I put off dinner. Then the realtor called and said he'd be late, but they were still coming.
After two hours, I said to my daughter, "Let's cook."
The gumbo was simmering when the realtor, the man and his wife finally arrived.
They walked in and the man said, "Wow, something smells good." I said, "It's gumbo. Would you like a little cup as you walk around?"
His wife politely declined, but the man said, "Absolutely!"
They bought the house and it turned out that they owned a restaurant.
He wrote me a note and said, "We love the house and your gumbo. I hope I can make as much magic in the kitchen as you have."
Thank you Chef Paul. You are so right. Food is important in so many ways.
So let's make Lite Shrimp Gumbo.
Ingredients of Lite Shrimp Gumbo
Flour
Olive oil
Sweet Pepper
Onion
Celery
Okra
Butter
Cayenne Pepper
Black Pepper
Paprika
Onion Powder
Thyme
Oregano
Tomatoes
Chicken Broth
Shrimp
How to Make Lite Shrimp Gumbo
First, heat a frypan over medium heat.
Then add 1/4 cup of flour and whisk it as it begins to brown.Keep whisking until it becomes the color of light milk chocolate.
This should take 8-10 minutes.
Take the pan off the heat and add the browned flour to a bowl.
Then add olive oil to the same frypan, over medium high heat, and add the chicken sausage.  Stir about 4-5 minutes until browned.
Remove to a cutting board and cut the sausages into bite size pieces.
Next, add butter and a touch more olive oil to a medium sized pot, over medium high heat. Then add diced onions. diced peppers and celery and sauté, stirring constantly, until the vegetables begin to brown and caramelize.
Add sliced okra and the sliced sausage to the pan and cook  two more minutes.
Then add the spices and the browned flour. Stir and coat the mixture well.
Add in the tomatoes and chicken broth and mix well.
Turn the heat to low and let simmer about 25-30 minutes.
Finally add in the shrimp and let it continue to simmer 2 minutes.
Add to bowls and serve by itself.
Or, as my husband prefers, you can serve it with rice on the side.
Notes
My personal preference of sausage is the traditional Southern sausage, Andouille.  Trader Joe's has a great Andouille Sausage.  The flavor is fabulous.
The shrimp really needs no more that the 2 minutes I suggested. Any more and it becomes tough.
Also try Shrimp Jambalaya.
If you like this recipe, please leave a comment below and pin us on Pinterest!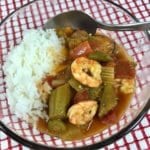 Print Recipe
Lite Shrimp Gumbo
Potato Pancakes with Thyme are an updated version of an old favorite. These delicious crispy pancakes are perfect served with applesauce
Ingredients
1/4

Cup

Flour

Wondra is preferred

1

Tsp

Olive oil

5

Oz

Chicken Sausage, about 3 links

Spicy Sicilian or Italian preferred

1

Small

Yellow onion

Diced

2

Large

Peppers

Diced

2

large

Celery stalks

Diced

1

Pound

Okra

Diced

1

Tbsp

Olive oil

1

Tbsp

Butter

1/2

tsp

Cayenne pepper

1/4

tsp

Black Pepper

1/2

tsp

Paprika

1/2

tsp

Onion powder

1/4

tsp

Thyme

1/4

tsp

Oregano

1

14 oz. can

Tomatoes

Marzano preferred

4

Cups

Chicken broth, low sodium

1

Pound

Shrimp

Shelled and deveined
Instructions
Brown flour in dry frypan over medium low heat and stir with a whisk until flour begins to brown. Keep stirring until the color resembles a light milk chocolate about 10-15 minutes. Remove to bowl.

Add olive oil to frypan and saute sausage until browned about 4-5 minutes. Remove to a cutting board and using a fork and knife, cut sausage into slices.

Add butter and olive oil to medium sized pot over medium high heat. Add onions, peppers and celery and cook 3 minutes until onion caramelizes. Add okra and sausage slices and cook 2-3 more minutes.

Add in cayenne pepper, black pepper, paprika, onion powder, thyme and oregano. Then add browned flour. Stir well and add in tomatoes and chicken broth.

Allow gumbo to simmer 25-30 minutes then add shrimp and allow to cook 2-3 minutes. Serve over rice.
Nutrition
Calories:
314
kcal
|
Carbohydrates:
24
g
|
Protein:
32
g
|
Fat:
11
g
|
Saturated Fat:
3
g
|
Cholesterol:
293
mg
|
Sodium:
1014
mg
|
Potassium:
884
mg
|
Fiber:
6
g
|
Sugar:
5
g
|
Vitamin A:
1585
IU
|
Vitamin C:
98.9
mg
|
Calcium:
292
mg
|
Iron:
4.4
mg