Shrimp Jambalaya is a totally soul-satisfying Cajun-inspired dish that you can happily serve any time of the year.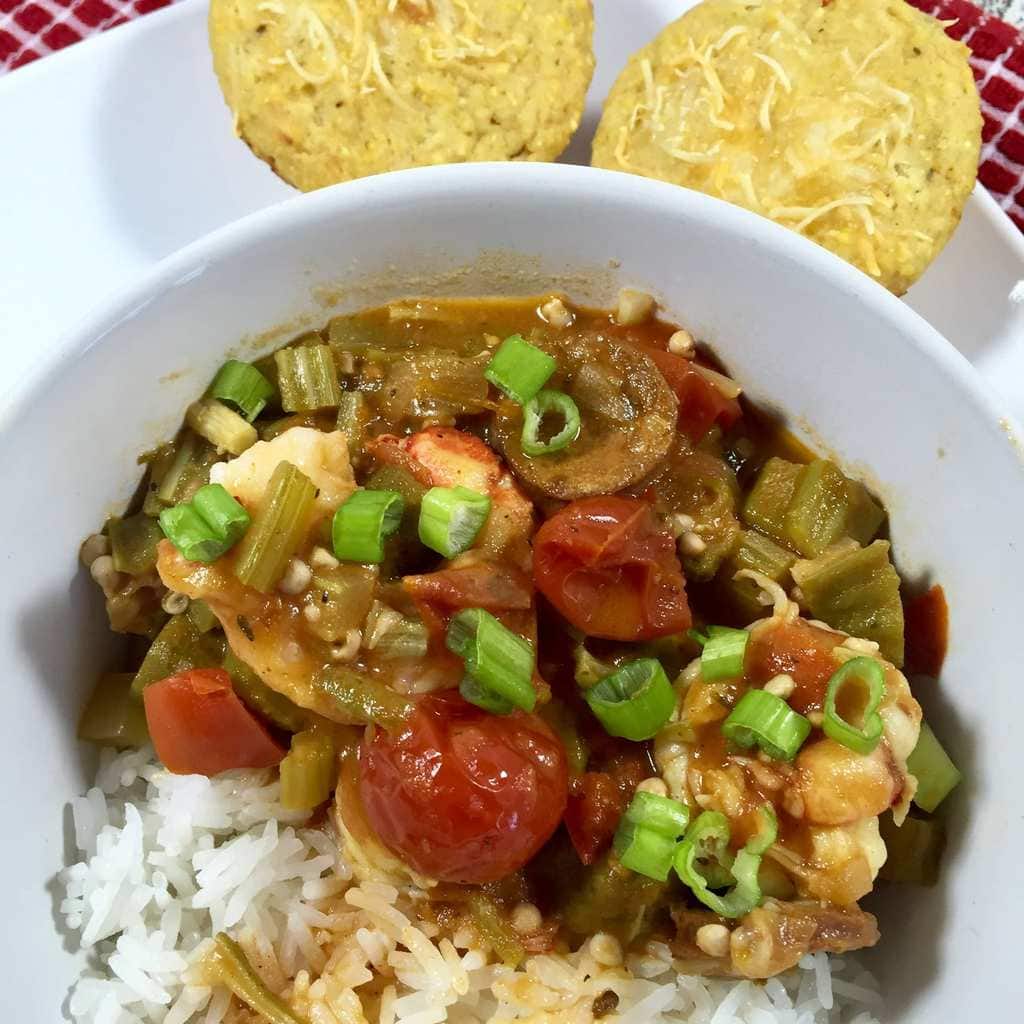 About Shrimp Jambalaya
I always like to know where recipes evolved from and the history of Jambalaya is certainly interesting.
It came about through a merging of cultures from Africa, the Caribbean and the French Canadians.
The name Jambalaya actually comes from Jambon, the French word for ham, because it originally was cooked with ham.
But over the years, shrimp was included along with chicken and Andouille, a spicy sausage from France.
So in Shrimp Jambalaya you have the combination of okra, pepper and tomato stews from Africa, the robust spices of the Caribbean and the French touch of a Mirepoix, sans the carrots, as well as French Andouille Sausage.
I should add a fourth influence  – America itself.
Because this new culture occupied the American South, due to the Louisiana Purchase, you also have to include the rich fishing grounds, including shrimp, from the Gulf.
This merging of cultures has created an exceptional culinary delight of Cajun and Creole dishes.
In this Jambalaya, I use shrimp, smoked  
chicken Andouille Sausage
(which by the way you can find at Trader Joe's…fully cooked) as well as okra…very traditional and I love it.
And of course you have to add the 'Holy Trinity' (as
Chef Paul Prudhomme
used to call it):  celery, onions and peppers.
So let's make Shrimp Jambalaya.
Ingredients for Shrimp Jambalaya
Olive oil
Flour
Onion
Green onions
Green pepper
Celery
Garlic
Cherry tomatoes.
Okra, cut in 1/2"pieces
Thyme
Oregano
Cajun seasoning.
Pepper
Salt.
Smoked chicken Andouille Sausage.
Manischewitz low sodium chicken broth.
Shrimp, cleaned and deveined.
How to Make Shrimp Jambalaya
Making the Jambalya is really pretty simple.
I start with a roux, a flour and oil mixture, that I cook until it's browned.
This roux not only helps to thicken the Shrimp Jambalaya, but it also adds an additional layer of flavor.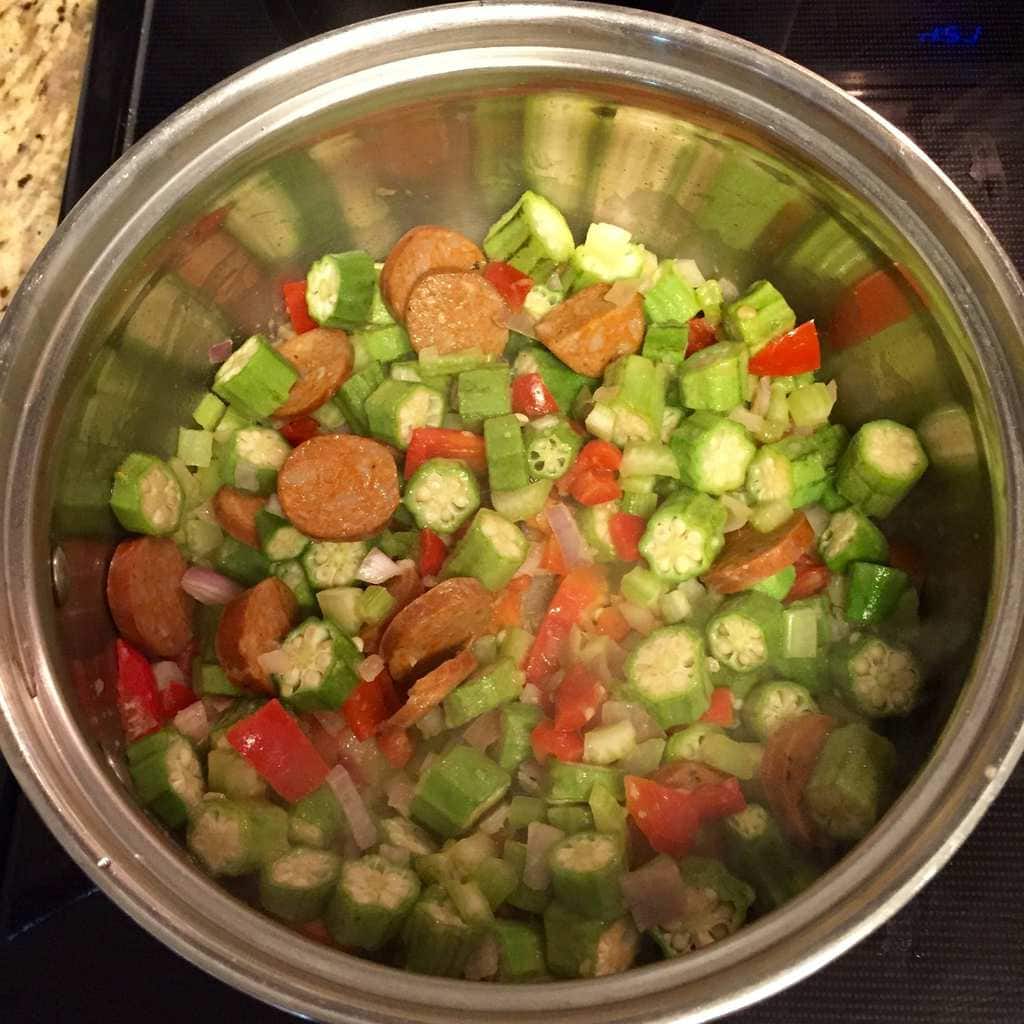 Then I add in the tomatoes, okra and spices along with some chicken broth.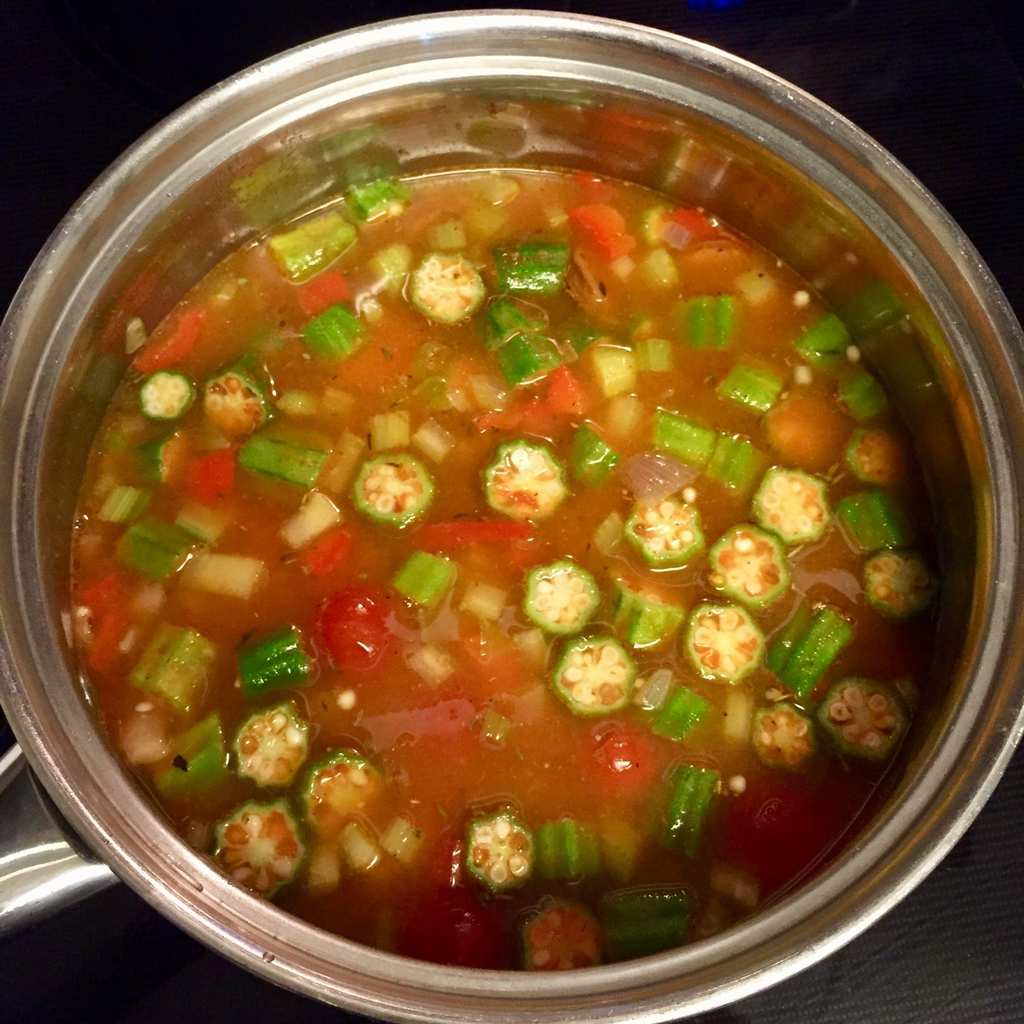 In a traditional Jambalaya, this is the time that you would add the rice and let it simmer for about an hour.
But this Shrimp Jambalaya is a bit easier.
I gave my husband the option: Rice cooked in the Jambalaya or on the side? He said definitely on the side.
Mostly because he's really kind of a rice purist. Individual little grains of perfectly cooked rice rather the softened rice that you get when you cook it in a sauce.
And I agree.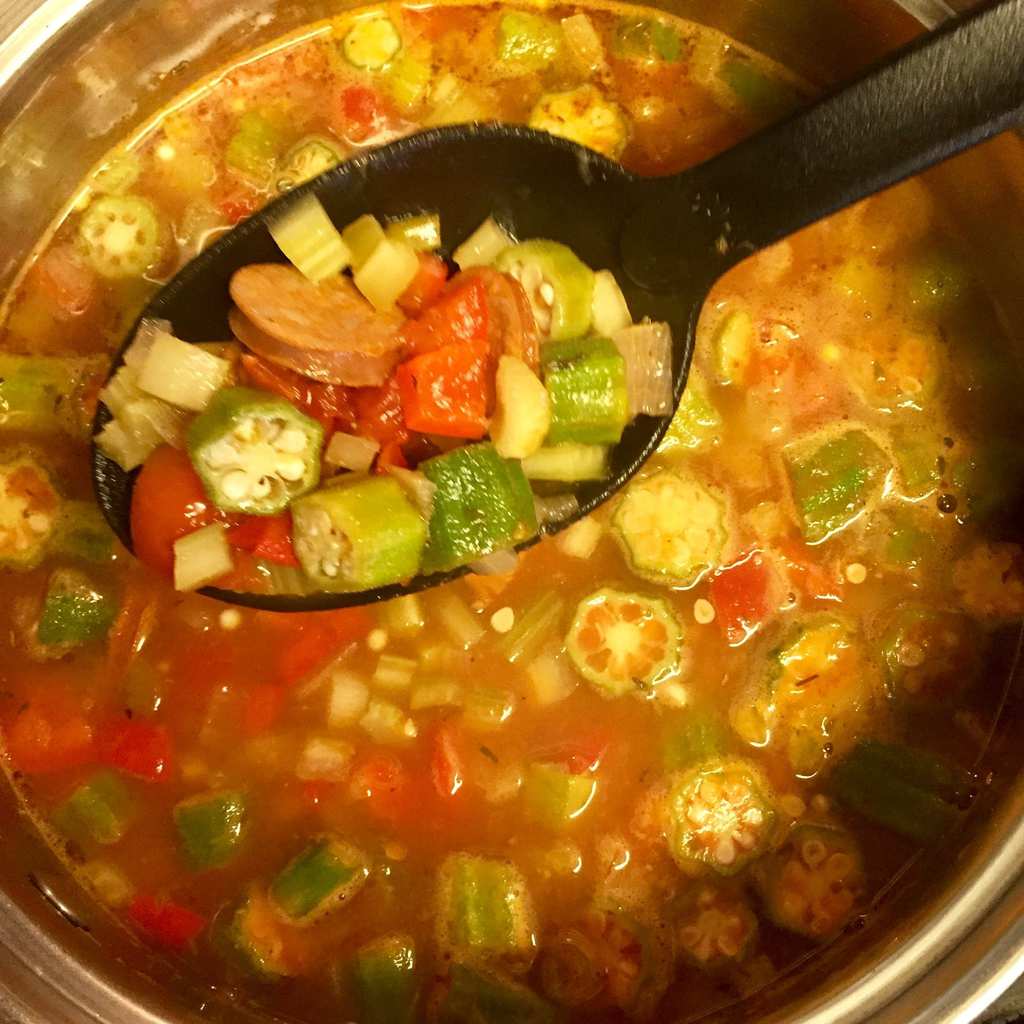 So in this recipe the rice is on the side.
Instead of the traditional Jambalaya recipe which takes about an hour, this recipe takes about 30 minutes.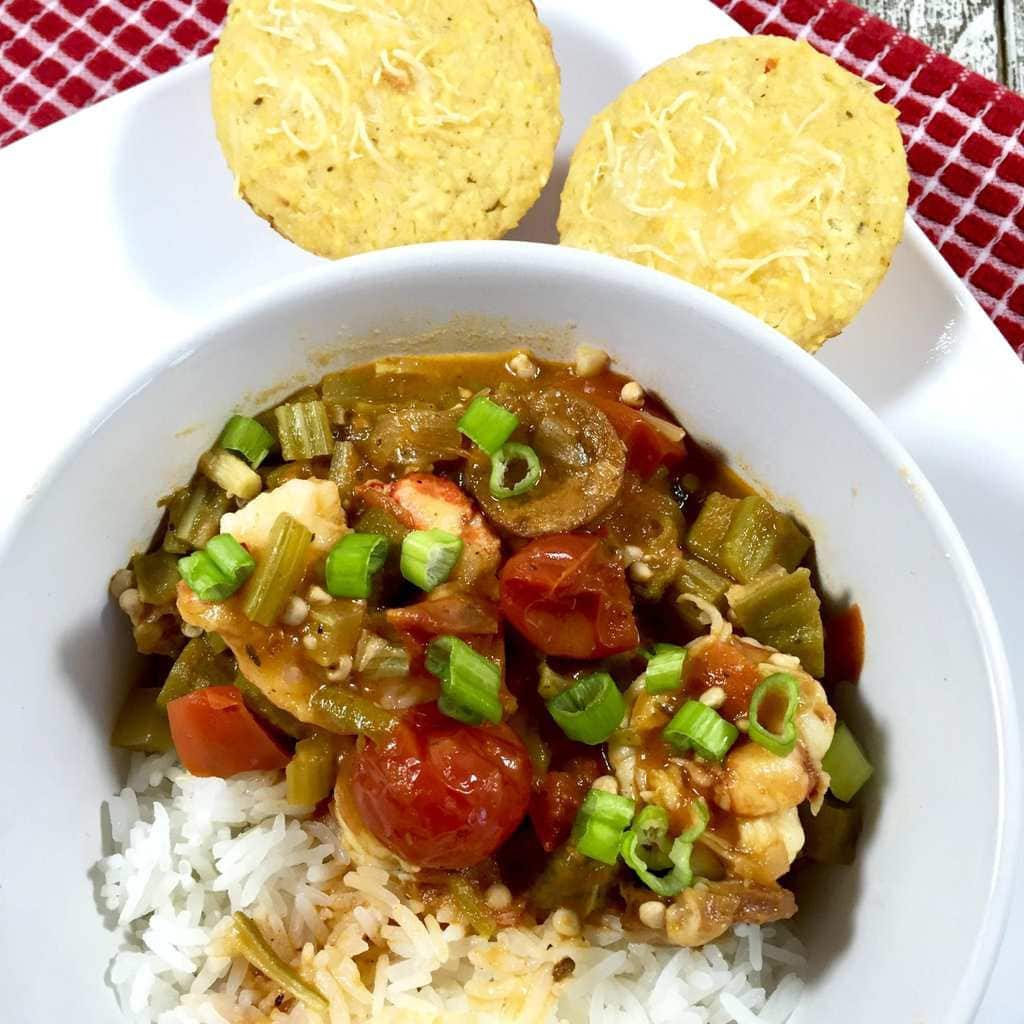 And if you're into Healthy Recipes, this Shrimp Jambalaya has only 224 calories  and 8 grams of fat per serving!
If you like this recipe, please leave a comment below and pin us on Pinterest!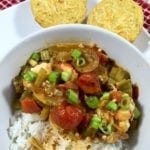 Print Recipe
Shrimp Jambalaya
Shrimp Jambalaya is a totally soul satisfying Cajun inspired dish. It's rich, savory and delicious and a perfect dish any time of the year.
Ingredients
2

Tbsp

Olive oil

2

Tbsp

Flour

Prefer Wondra

1/2

Cup

Onions

Diced

1/2

Cup

Green pepper

Diced

1/2

Cup

Celery

Diced

3

Cloves

Garlic

Minced

1

14 oz can

Cherry tomatoes

2

Cups

Okra

Cut in 1/2" pieces

1/4

Tsp

Thyme

Dried

1/2

Tsp

Oregano

Dried

1/2

Tsp

Cajun Seasoning

More if you prefer hot

1/4

Tsp

Pepper

2

Links

Smoked Chicken Andouille Sausage

1

14 oz can

Chicken broth

Low sodium

1

Pound

Raw shrimp

Cleaned and deveined
Instructions
Add oil to large pot over medium high heat. Add flour and continually stir until browned, about 3 minutes.

Add onions, pepper, celery and garlic and sauté until onion is caramelized, about 3-4 minutes.

Add tomatoes, okra, thyme, oregano, Cajun Seasoning, pepper, salt, Andouille Sausage and chicken broth. Stir and allow to simmer 30-35 minutes until slightly thickened.

Add shrimp and let simmer 2-3 minutes until shrimp are cooked.

Serve by itself or along side of cooked rice.
Nutrition
Calories:
224
kcal
|
Carbohydrates:
10
g
|
Protein:
25
g
|
Fat:
8
g
|
Saturated Fat:
1
g
|
Cholesterol:
285
mg
|
Sodium:
897
mg
|
Potassium:
343
mg
|
Fiber:
2
g
|
Sugar:
2
g
|
Vitamin A:
625
IU
|
Vitamin C:
33.7
mg
|
Calcium:
219
mg
|
Iron:
3.1
mg