This Jicama Salad is light, crunchy and tangy with its Lime Dressing. It's a perfect salad to serve with fish or chicken.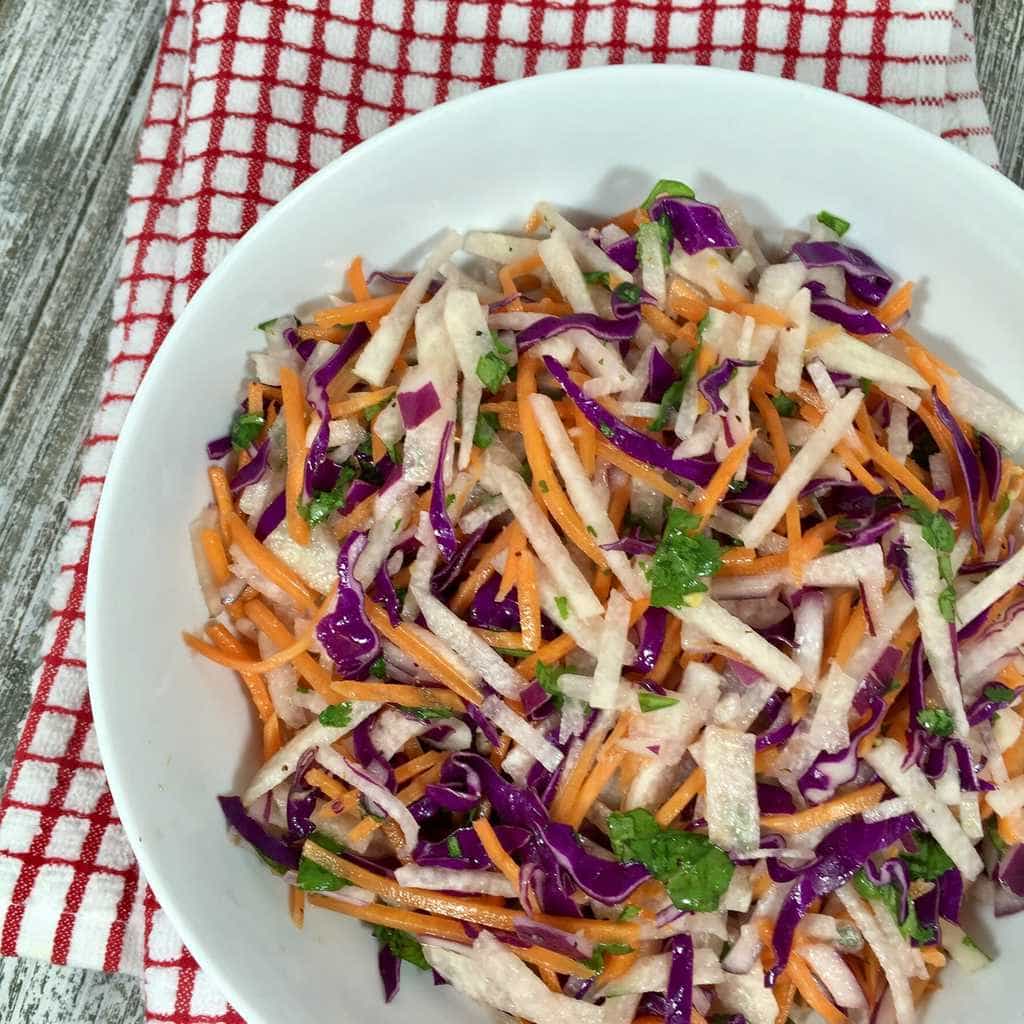 About Jicama Salad
Jicama Salad is something that you'll make again and again.
It's light, crunchy, flavorful, healthy and it's a perfect side dish. I was inspired by a lunch I had at Verf's Tavern and Grill not far from Dallas. It's a great restaurant with an innovative menu.
Usually  I'm more into salads than sandwiches, but I saw the fish sandwich made from cod and that sounded perfect.
Normally a fish sandwich would have some kind of slaw for a crunch, but I was surprised at the slaw they added.
It was a Jicama Salad made with very large pieces of jicama. The flavor it added to that sandwich was really amazing and just right with that perfectly cooked cod.
I've been a fan of jicama for years now because we often went to Mexican restaurants when we lived in ScottsdaIe, where some kind of jicama slaw was served as a side dish to creamy Mexican dishes.
A perfect balance – crunchy and creamy. And the beauty of jicama is that it doesn't really have a definite flavor of it's own. It can take on any flavor you choose to add to it.
So after talking to the waiter at Verf's, I asked him how they made their fabulous slaw, and he helped me out by telling me they used rice wine vinegar and lots of lime juice.
On the way home I had to stop at the store and buy a jicama and of course limes. KnowIng I had to be careful about the size of jicama I bought, I opted for a medium sized one.
So with my latest treasures from the market, I attempted to recreate Verf's jicama slaw. I had some red onions and carrots at home, so they were definitely going to be added as well as some thinly sliced red cabbage for color and extra crunch.
And you can't have this salad without a touch of parsley, so cilantro it would be.
Then came the dressing. In addition to the lime juice, I added some honey for a touch of sweetness, some cumin for spice and a bit of olive oil to coat the vegetables a bit better.
It was close to Verf's, but I think it was kicked up a bit by the cumin. It reminded me more of the jicama salads that we had in Scottsdale.
Ingredients for Jicama Salad
Jicama
Carrots 
Red Onions
Red Cabbage
Cilantro
Limes
Rice Vinegar
Salt
Pepper
Cumin
Honey
Olive oil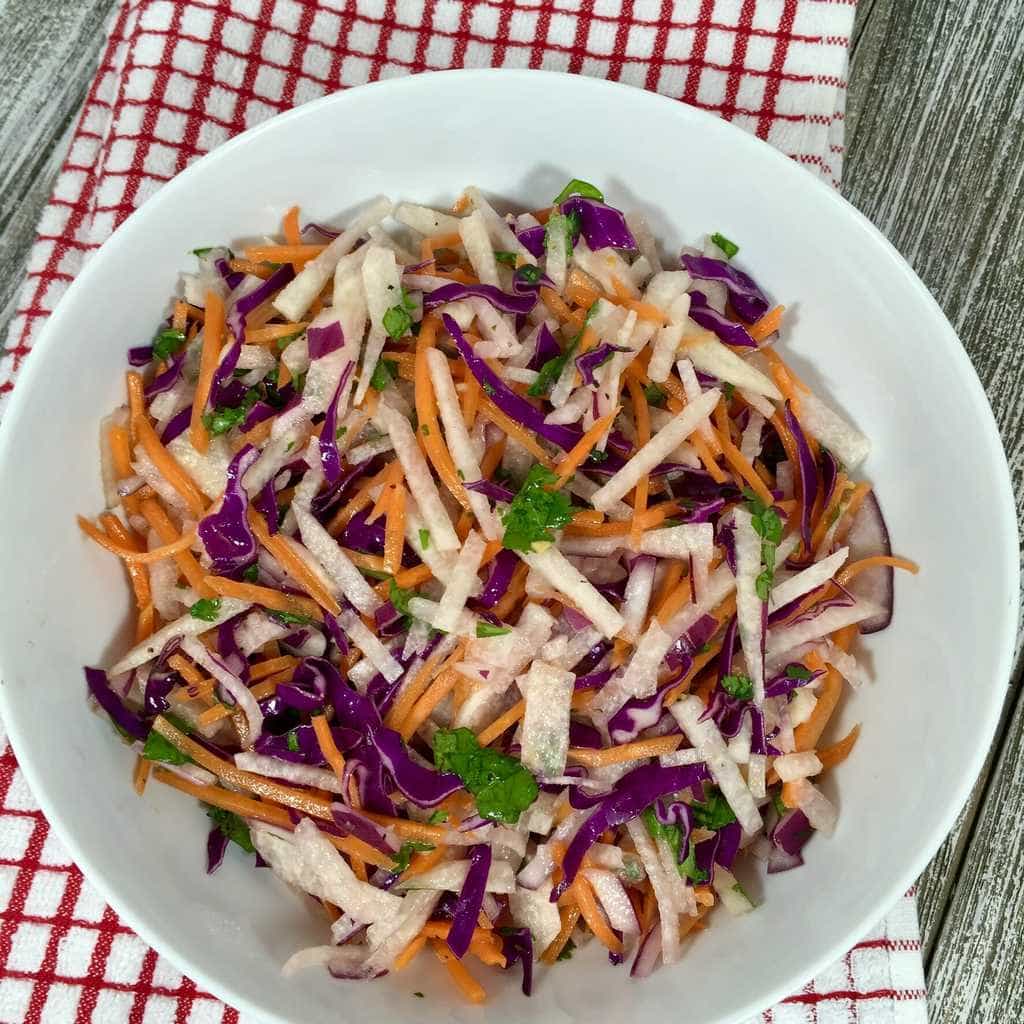 How to Make Jicama Salad
First julienne jicama, carrots, red cabbage, red onions and cilantro and add it to a serving bowl.
Then in a small bowl mix together lime juice, salt, pepper, cumin, honey and olive oil.
Then pour over salad and mix thoroughly.
Finally, let the Jicama Salad set for at least an hour to soak up all that flavorful sauce before serving.
 Note
Be careful when you buy jicama.
When you buy a very large one, it can almost taste a bit woody because the larger ones begin to become more starchy.
The small to medium ones are best because they're the sweetest.
If you like this recipe, please leave a comment below and pin us on Pinterest!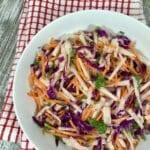 Print Recipe
Jicama Salad
This Jicama Salad is light, crunchy and tangy with its Lime Dressing. It's a perfect salad to serve with fish or chicken.
Ingredients
1

Medium

Jicama

1/2

Cup

Carrots

Shredded

1/4

Cup

Red onions

Diced

1/2

Cup

Red cabbage

Shredded

1/4

Cup

Cilantro

2

Medium

Limes

Juiced

1

Tbsp

Rice wine vinegar

1/2

Tsp

Salt

1/2

Tsp

Pepper

1/2

Tsp

Cumin

1

Tsp

Honey

1

Tbsp

Olive oil
Instructions
In serving bowl add julienned jicama, shredded carrots, red onions, red cabbage and cilantro.

In a small bowl mix lime juice, rice wine vinegar, salt, pepper, cumin, honey and olive oil.

Pour Lime Dressing over jicama combination and mix thoroughly.

Best is salad sets at least an hour to combine flavors.
Nutrition
Calories:
55
kcal
|
Carbohydrates:
9
g
|
Fat:
1
g
|
Sodium:
156
mg
|
Potassium:
162
mg
|
Fiber:
4
g
|
Sugar:
2
g
|
Vitamin A:
1450
IU
|
Vitamin C:
20.5
mg
|
Calcium:
15
mg
|
Iron:
0.6
mg