Chicken Cordon Bleu. This interesting dish has been around for over 50 years. Why? Mainly because it's so good. It's a perfectly balanced combination of ham, Swiss cheese and a tangy touch of Dijon mustard all wrapped up in a chicken breast. And if that wasn't enough, it is then coated with bread crumbs and seared on all sides before it finishes baking in the oven to make sure the cheese is melty and all those flavors meld wonderfully together. It's a bit of work but worth the taste. For those who don't have the time, there's an easier way to have this delicious dish – Easy Chicken Cordon Bleu.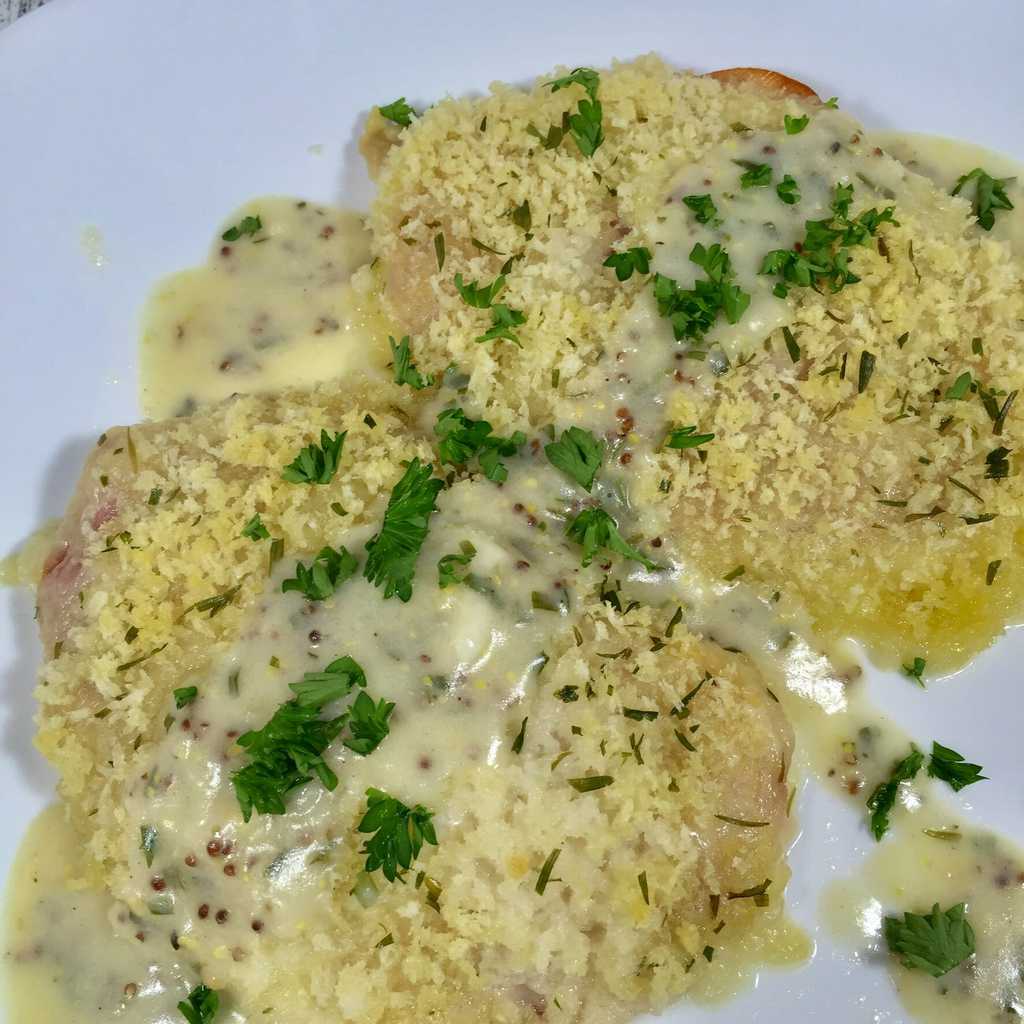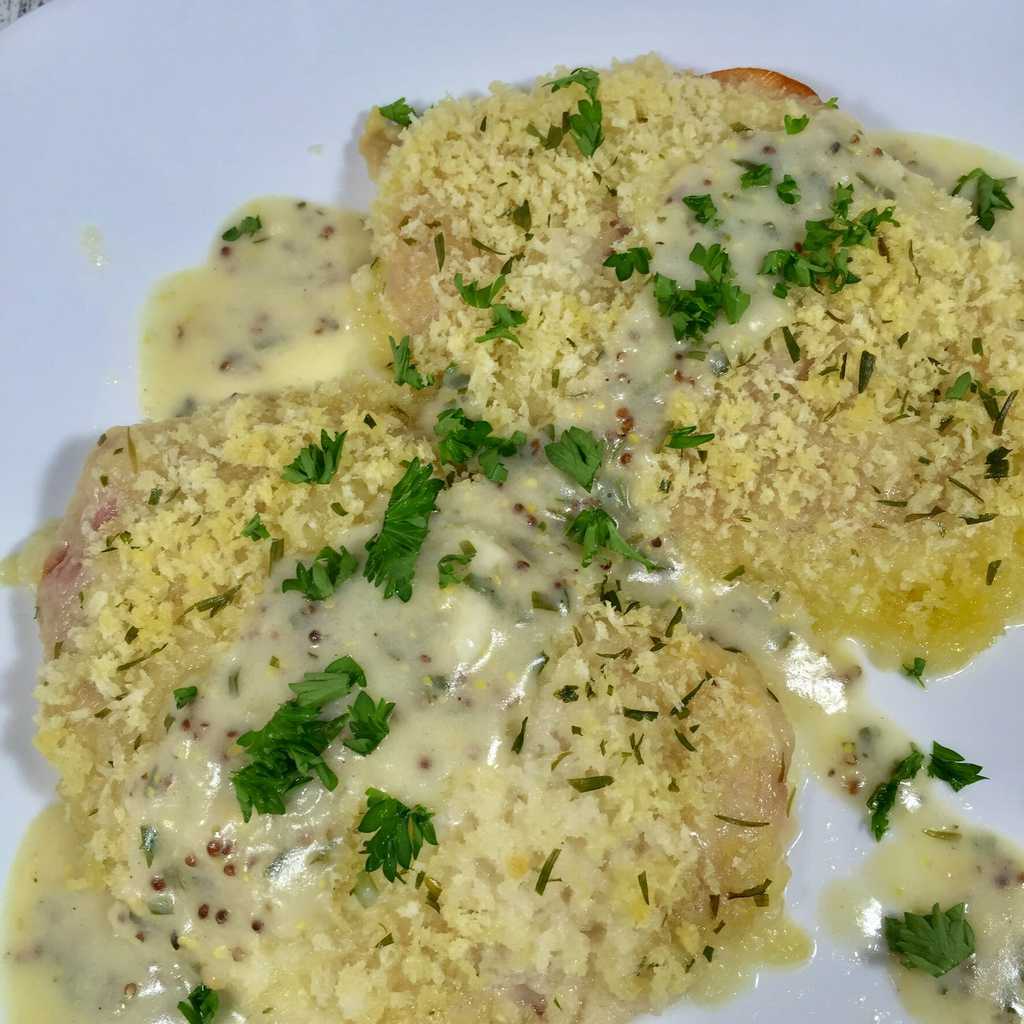 Easy Chicken Cordon Bleu
All the flavors are still there including the tender juicy chicken, the ham, the melty cheese, the crunch of the breadcrumbs and a delightful mustard cream sauce, which I think kicks it up a notch. There's no rolling up the chicken bundles and securing them with toothpicks. No putting the rolled bundles in the refrigerator to to firm up for an hour or two, that the filling doesn't escape. No searing the bundles trying to work around those blasted toothpicks. Nope, none of that. This method is much easier.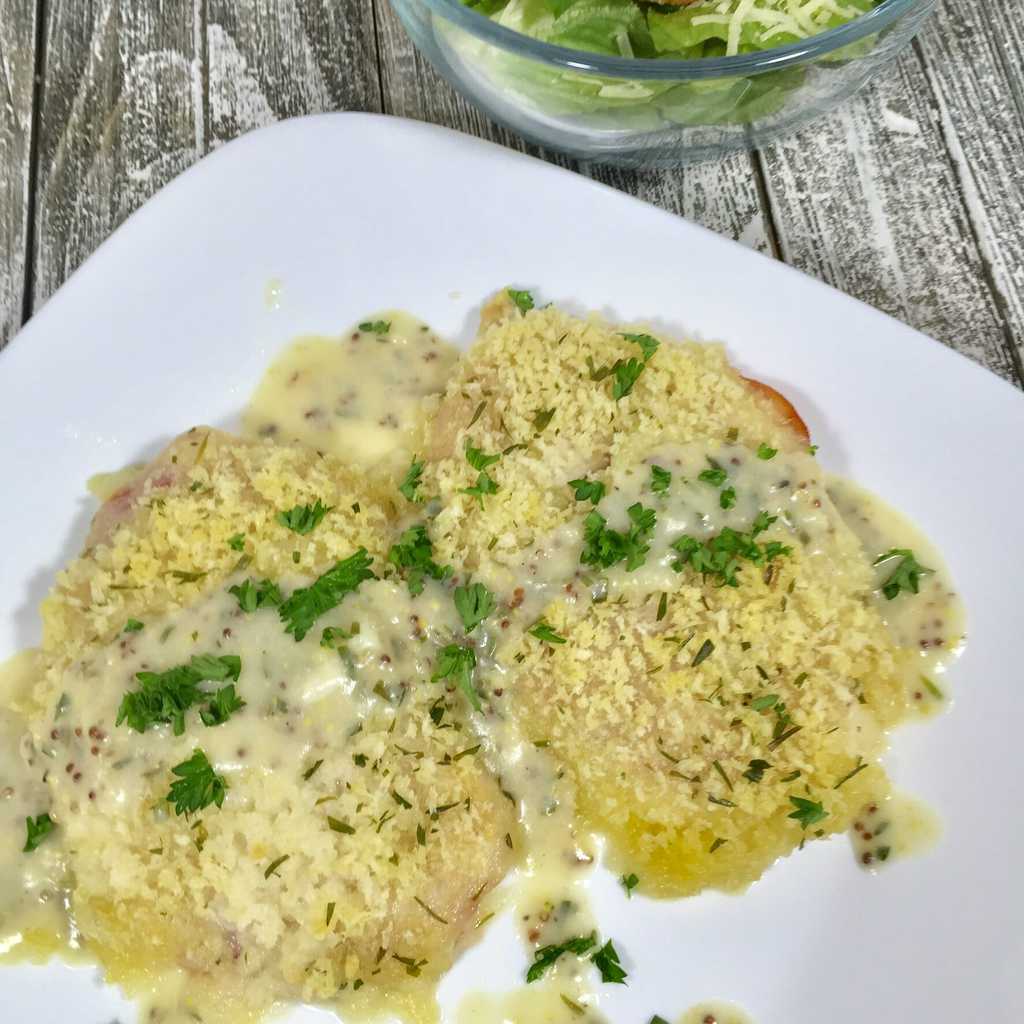 You simply take a chicken breast, cut it in half lengthways, and lay it in a greased oven proof dish. Then you layer the ham and cheese over each chicken breast. Then sprinkle with the breadcrumbs. I use Panko for extra crunch. And finally finish with a simple mustard sauce. Easy Peezy. And every bit of the flavor is still there with a bonus of the creamy mustard sauce.
If you like this recipe, please leave a comment below and pin on Pinterest!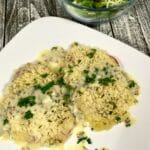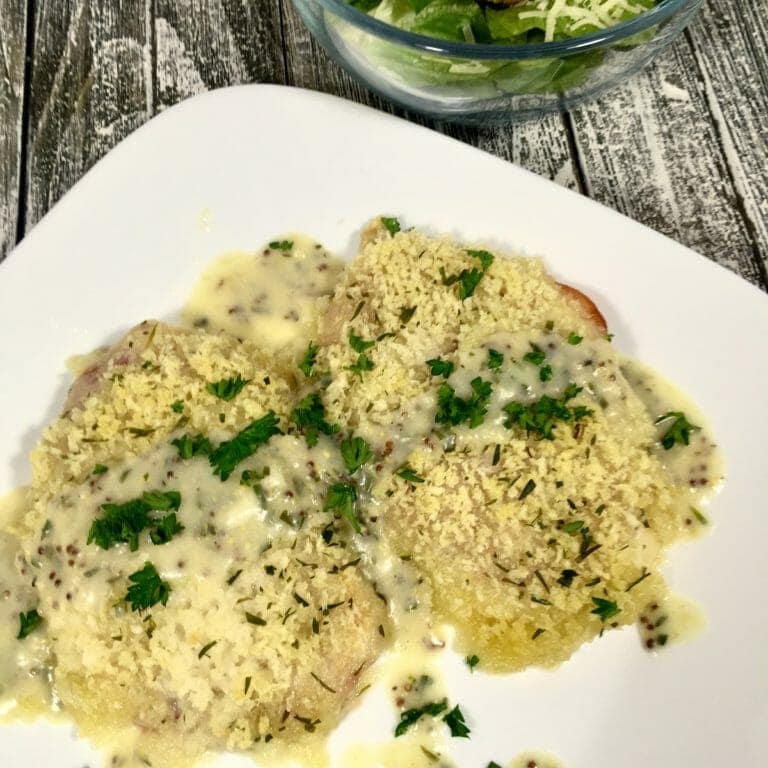 Print Recipe
Easy Chicken Cordon Bleu
Easy Chicken Cordon Bleu is super simple and yet has all the flavors - chicken, ham, Swiss cheese, a crunchy exterior and a bonus of a creamy Dijon sauce.
Ingredients
1

Chicken Breast, boneless

Sliced in half lengthways

1/4

Tsp

Pepper

2

Slices

Ham

Thin sliced, deli style

2

Slices

Lite Swiss Cheese

Thin sliced, deli style

1/3

Cup

Panko

1

Tsp

Olive Oil

Melted

2

Tbsp

Butter

1

Tbsp

Flour

Wondra

1/2

Cup

Milk

Skim

1

Tsp

Dijon Whole Grain Mustard

1/4

Tsp

Pepper
Instructions
Preheat oven to 375 degrees F

Pepper both sides of chicken breasts and lay in a single layer in a lightly greased baking dish. Cover each chicken breast portion with slice of ham and 1 slice of Swiss cheese.

In a small bowl combine Panko with olive oil. Divide mixture over top of each chicken breast. Bake for 35-40 minutes until cheese is bubbling, the crust is golden and the chicken juices run clear.

For the sauce add 2 Tbsp butter to saucepan. Stir in Wonder with a whisk and cook 1-2 minutes. Add in milk and continue whisking until the sauce begins to thicken. Whisk in Dijon mustard and the pepper. Keep warm until chicken is finished baking. Spoon sauce over baked chicken before serving.
Nutrition
Calories:
371
kcal
|
Carbohydrates:
14
g
|
Protein:
17
g
|
Fat:
26
g
|
Saturated Fat:
15
g
|
Cholesterol:
79
mg
|
Sodium:
383
mg
|
Potassium:
201
mg
|
Sugar:
4
g
|
Vitamin A:
685
IU
|
Calcium:
309
mg
|
Iron:
0.9
mg