Chicken Udon Soup with Vegetables sounded like a perfect idea with the recent weather. Although  today it's officially Spring, there are so many parts of the country that still feel the winter chill. So, when it's rainy, or snowy, and downright cold outside, nothing sounds better than soup. Chicken soup…with vegetables for me…and noodles for George. He loves noodles and orders them often when we go out. I remembered I had picked some Udon noodles a couple of weeks ago, plus I had some leftovers from a roasted chicken I recently made, so Chicken Udon Soup with Vegetables it's going to be.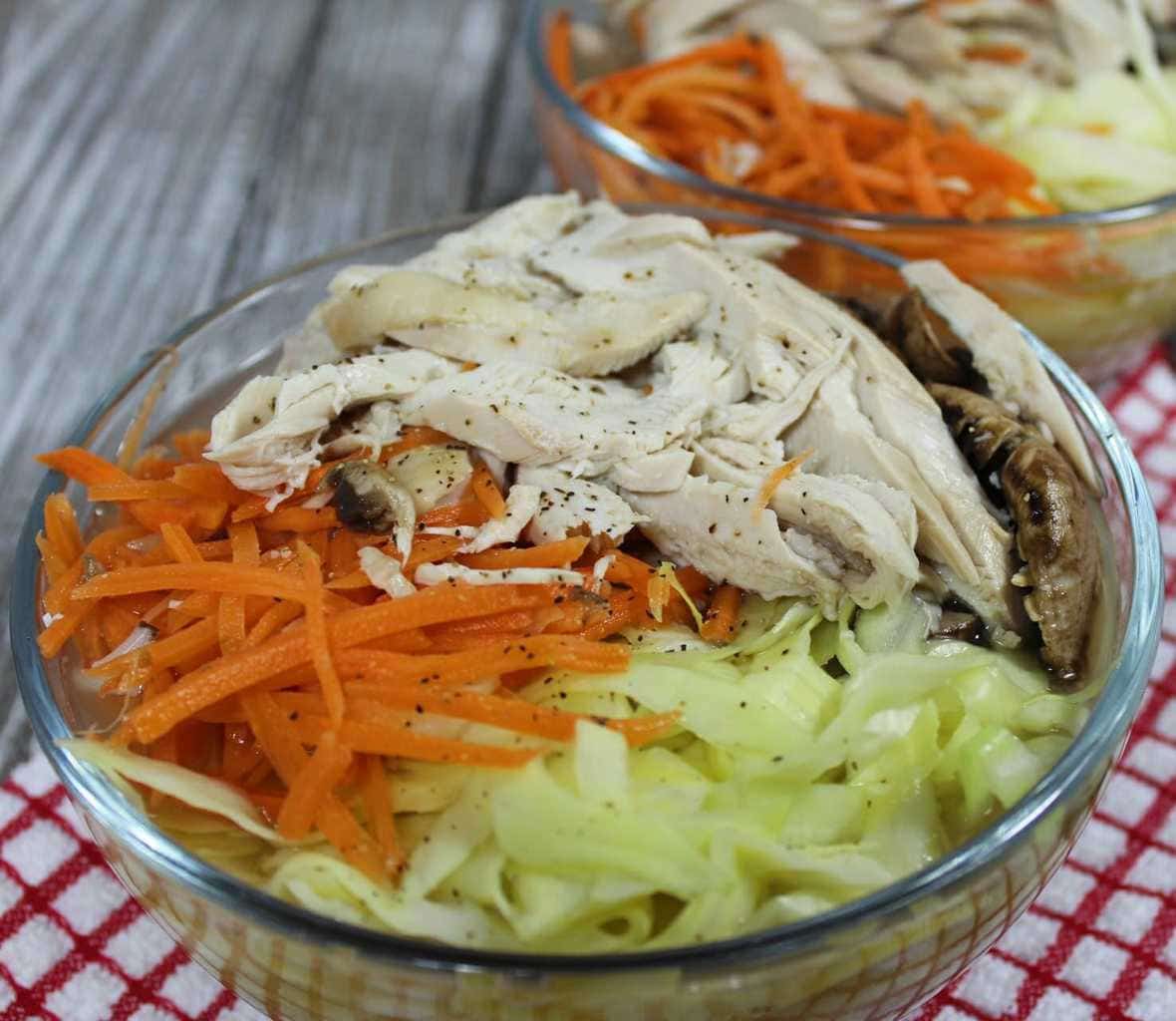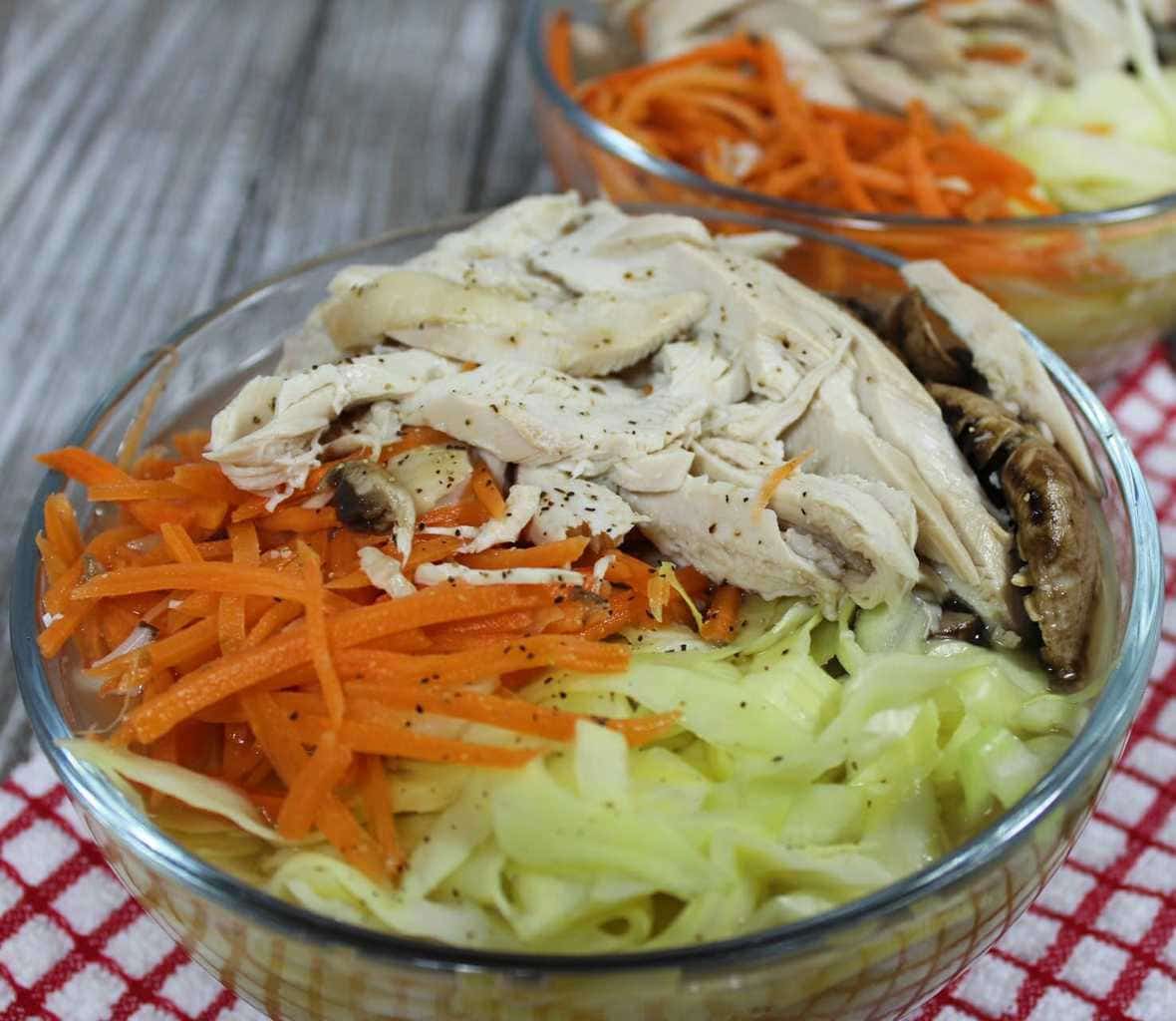 Chicken Udon Soup with Vegetables
Some years back I had lived in Hawaii and the Udon noodle soups there were fabulous. They were often made with vegetables and sometimes shrimp and other times chicken. The broth varied from a light vegetable to a more robust chicken broth. That's the beauty of this soup. You can add anything you want and truly make it your own. So along with the chicken, I added shredded carrots, shredded cabbage and baby portobello mushrooms. Any variety of mushroom will certainly work, but I like the meatiness of the portobello mushrooms for this soup.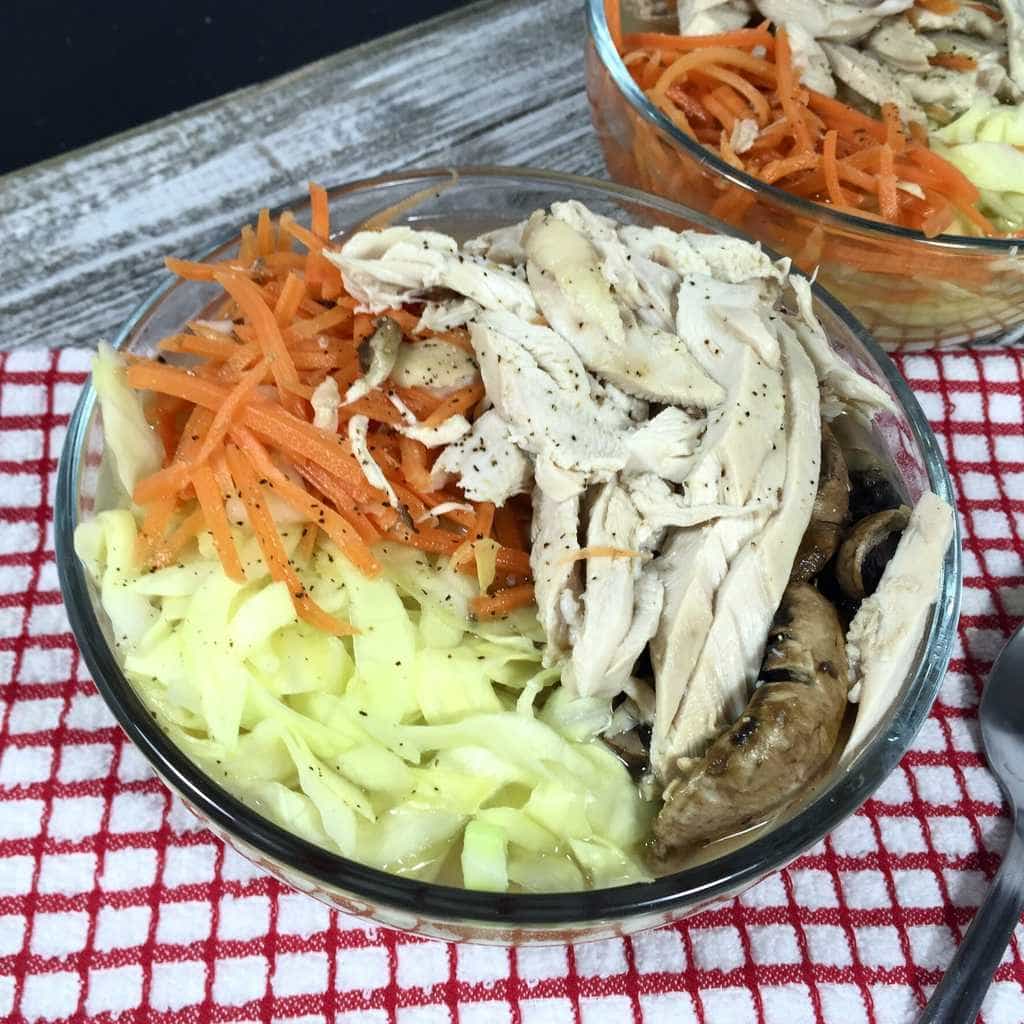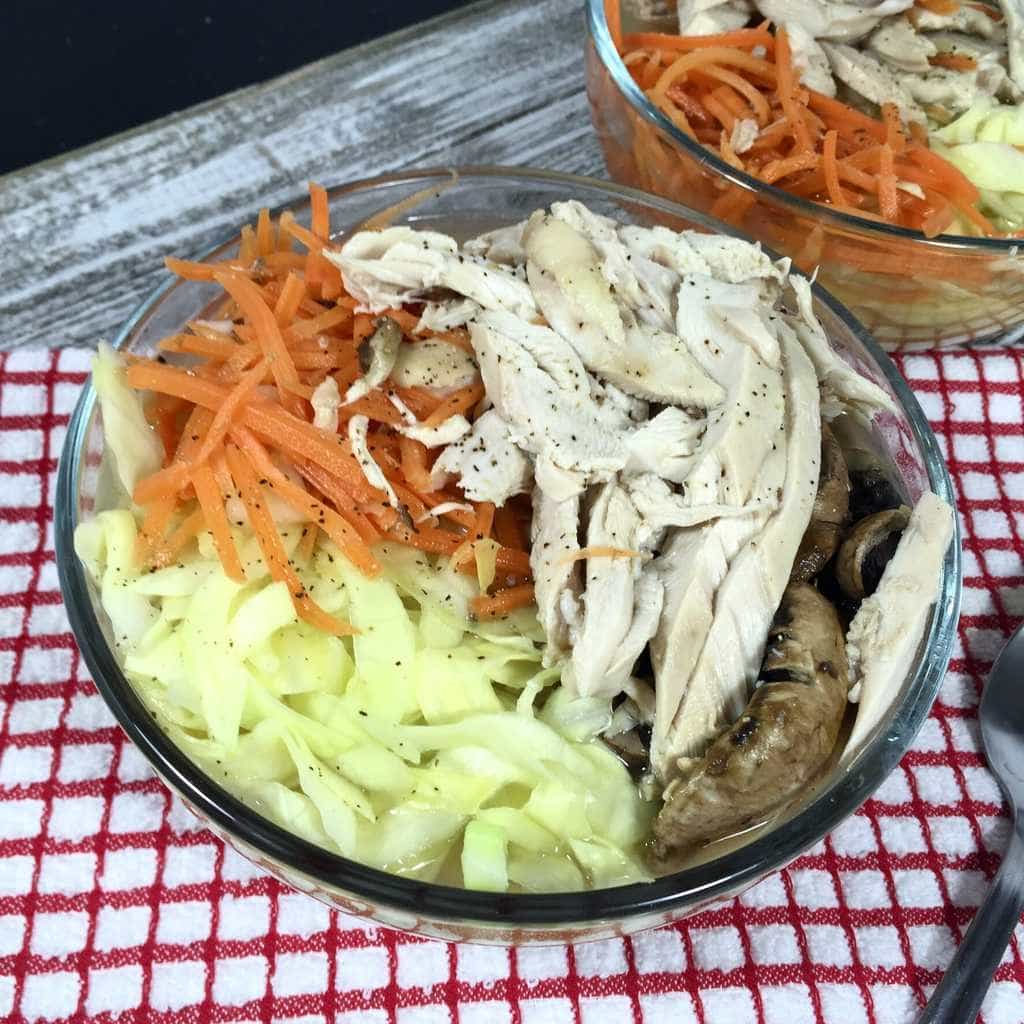 For the broth I went with a low sodium chicken broth. I've mentioned I almost always use Manischewitz. It's worth looking for because it has a simmered for hours flavor – rich and wonderful. After boiling the noodles, I drained them and added them to the serving bowls. Then I topped the noodles with portions of cooked chicken, mushrooms, shredded carrots and the shredded cabbage. Finally I ladled the hot chicken broth over the noodles, the chicken and the vegetables and served it. It was perfect – full of flavor with that rich broth and totally satisfying with the chicken, the crisp tender vegetables and those chewy, soft noodles. Chicken Udon Noodle Soup with Vegetables is comfort food at it's best.
If you like this recipe, please leave a comment below and pin us on Pinterest!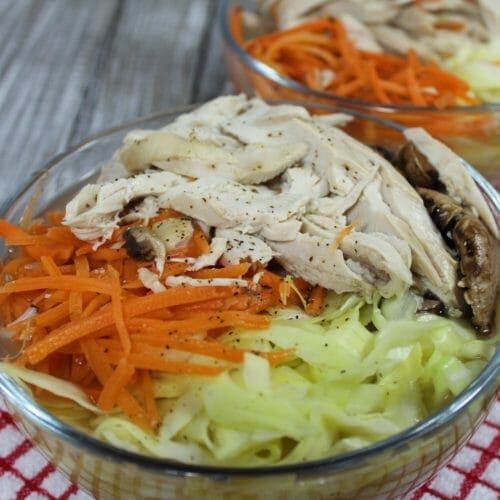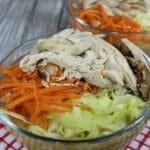 Print Recipe
Chicken Udon Soup with Vegetables
This Chicken Udon Soup with Vegetables is packed with nutritious flavor with chicken, carrots, cabbage, Soft chewy Udon noodles and mushrooms all in a savory chicken broth.
Ingredients
4

Ounces

Udon noodles

Dried

1

Chicken breast

Skinless and boneless. Cooked and sliced thin

1

Cup

Carrots

Shredded

1

Cup

Cabbage

Shredded

1/2

Cup

Portobello Mushrooms

Sliced

6

Cups

Chicken Broth

Low sodium

1/4

Tsp

Pepper
Instructions
Bring a large pot of water to a boil and add noodles. Allow to cook for 5 minutes. Drain and divide noodles into serving bowls.

Add 1/6 portion of chicken, carrots, cabbage and mushrooms to each bowl.

In a saucepan over medium high heat, bring chicken broth to a boil and add pepper. Finish by ladling hot broth into each bowl and serve.
Nutrition
Calories:
111
kcal
|
Carbohydrates:
16
g
|
Protein:
8
g
|
Fat:
1
g
|
Cholesterol:
12
mg
|
Sodium:
1126
mg
|
Potassium:
371
mg
|
Fiber:
2
g
|
Sugar:
3
g
|
Vitamin A:
71.5
%
|
Vitamin C:
26.9
%
|
Calcium:
2.6
%
|
Iron:
3.7
%