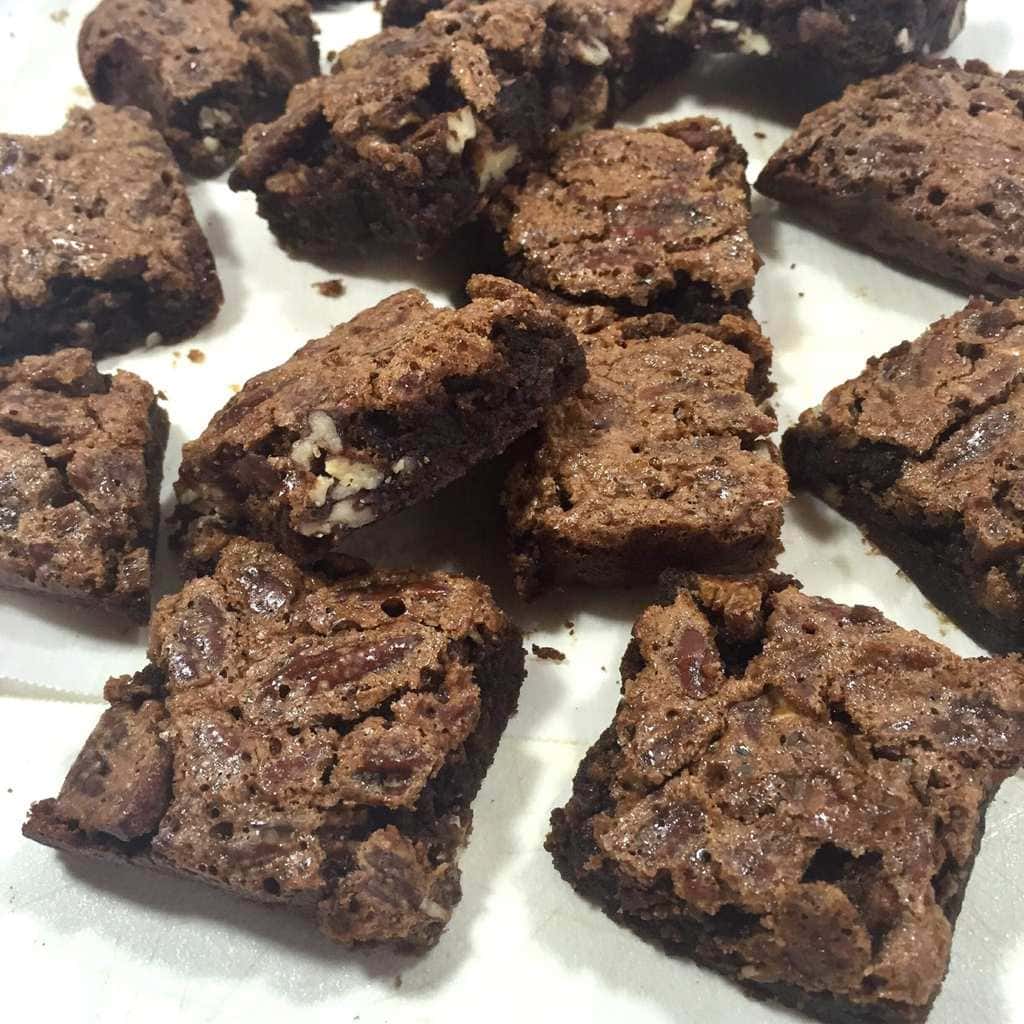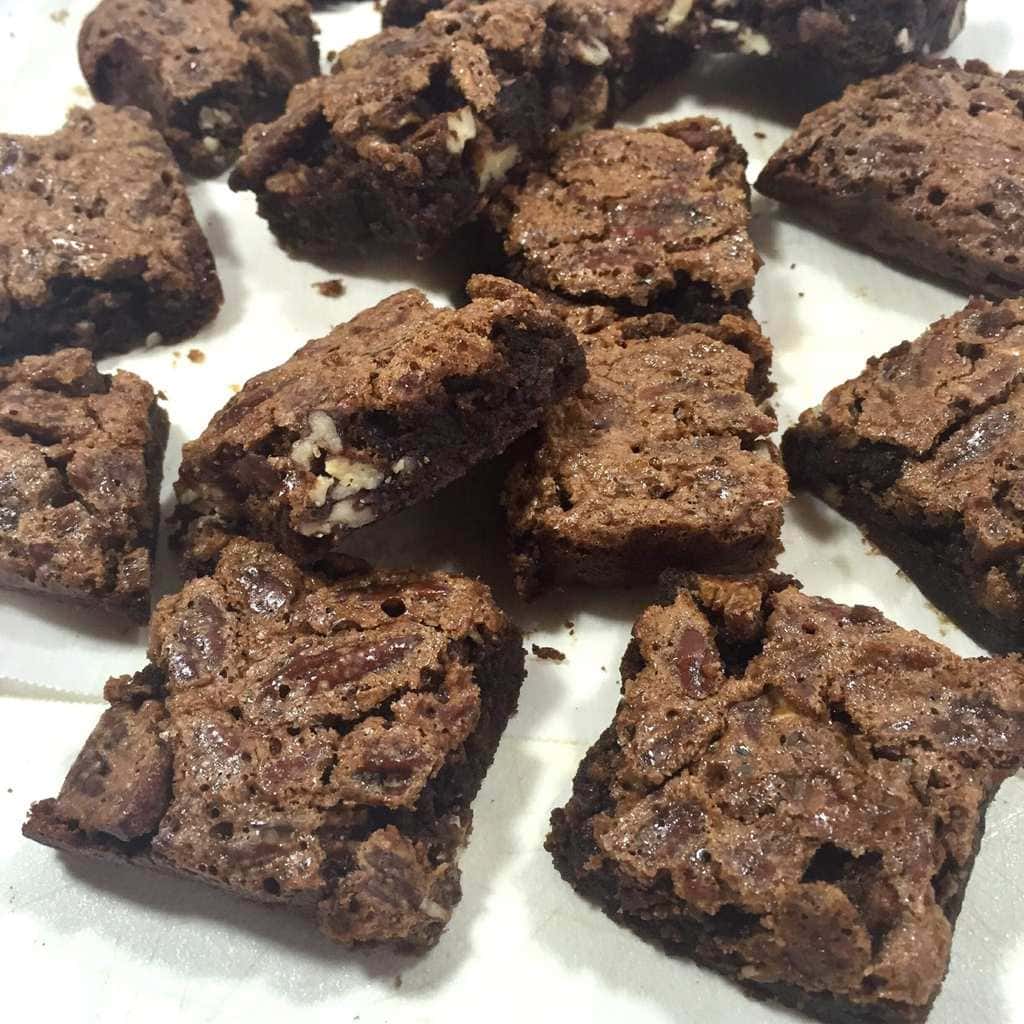 About Cappuccino Brownies
Ah, Capucino Brownies!
This recipe was inspired by Katherine Hepburn's famous brownies.
There's so much to respect about Katherine Hepburn.
Her acting was second to none.
In fact she still holds the record for winning the most Oscars for Best Actress.
In fact she won four times.
She was also independent in an age when most women weren't. She was beautiful and smart.
And she was never afraid to tell someone what she thought. Have to respect her for that alone.
But being a Foodie, one thing stands out from the rest.
She made the most incredible Brownies in the world!
I discovered her recipe years ago.
Her Brownies were unlike any other recipe I've seen before.
Other recipes called for lots of flour, where her recipe only called for 1/4 cup.
So instead of a cakey brownie, hers were rich and fudgy.
And her original recipe, unlike recipes that call for cocoa powder, was doubly rich with a full 2 ounces of unsweetened baker's chocolate.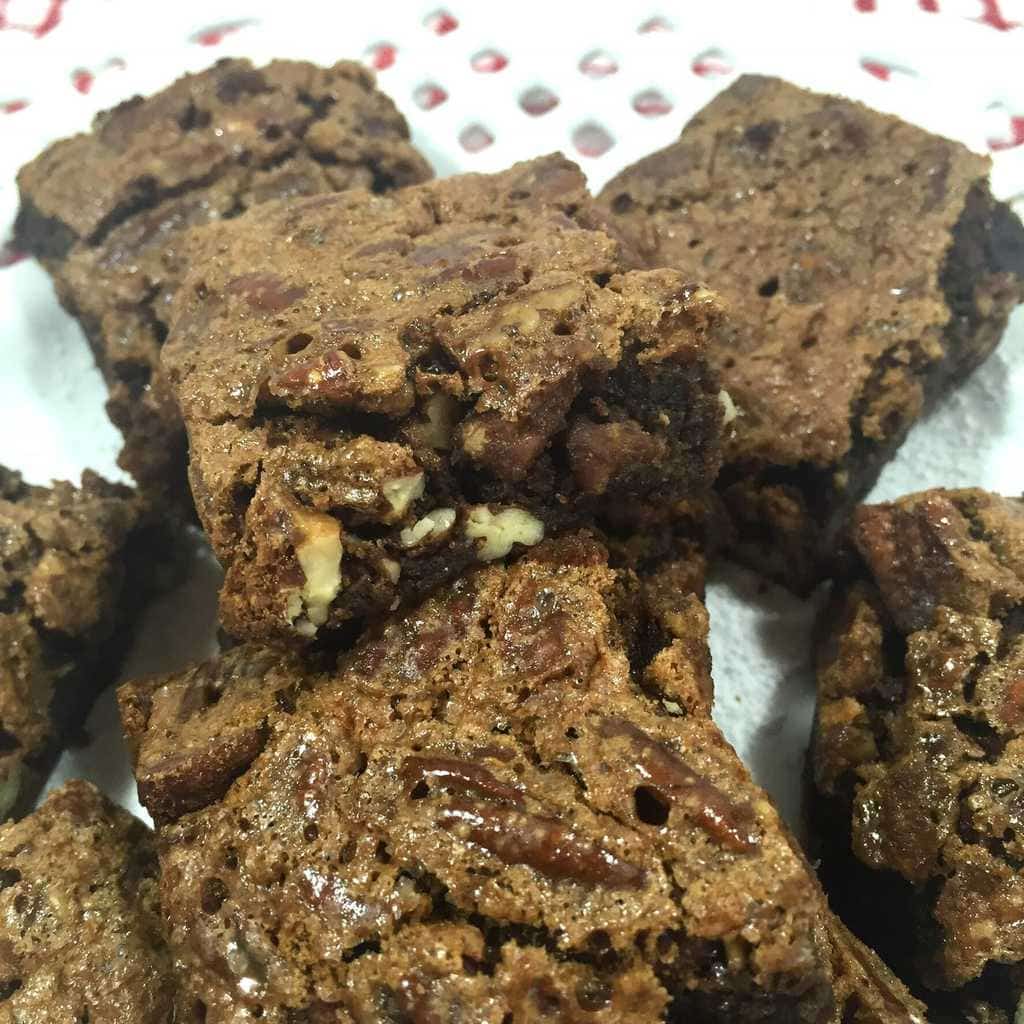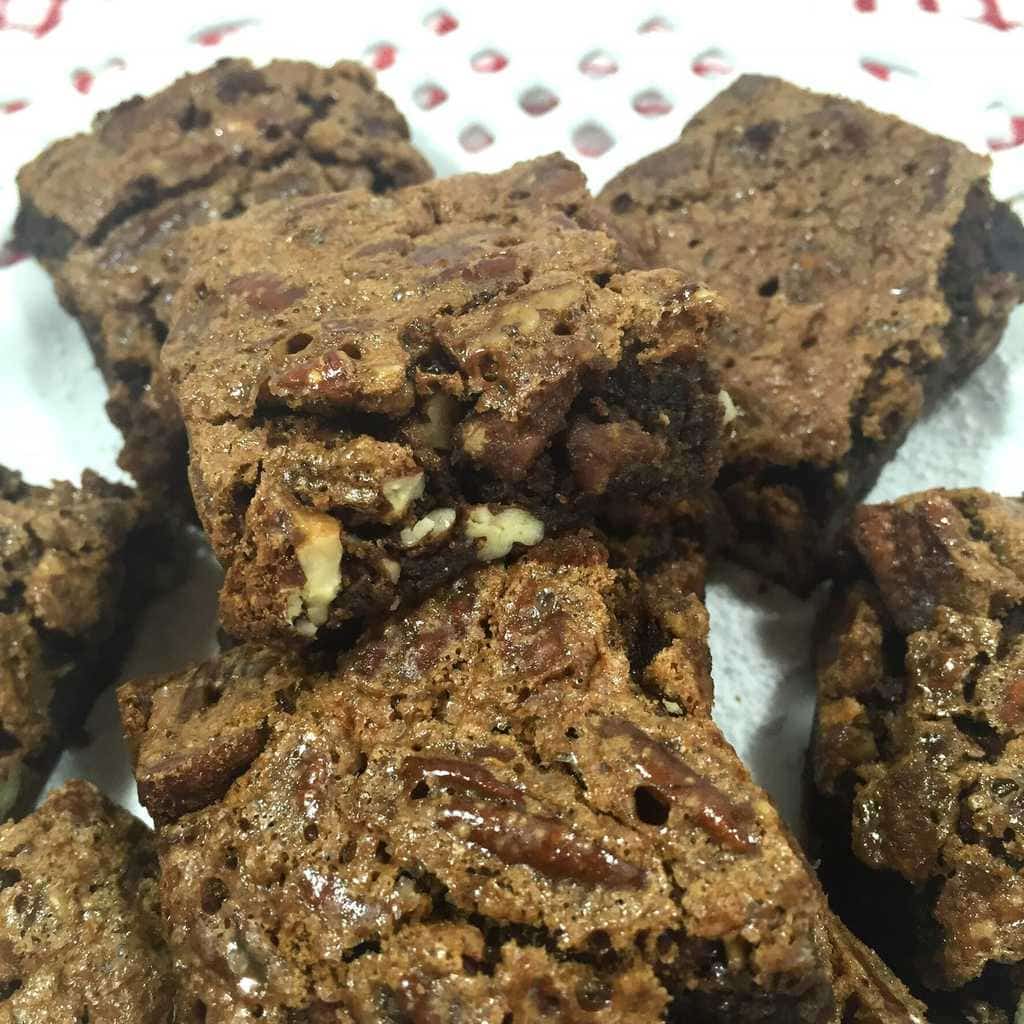 Now, this being a blog that emphasizes healthy recipes, I haven't let you down.
Yes there's sugar and butter, but the super heathy aspect of this recipe is the chocolate.
Did you know that chocolate is actually good for you?
It's full of flavonoids, which act as antioxidants.
In fact, dark chocolate contains 8 times as many antioxidants as Strawberries.
And dark chocolate also helps keep your heart healthy.
How?
It actually stabilizes your blood pressure. And it balances hormones in your body.
I mean, does this get any better?
Yep, because chocolate is also anti-aging.
It actually increases circulation in the skin and helps improve its ability to retain moisture.
This moisture helps reduce the appearance of wrinkles and helps you look younger.
Maybe this is why Katherine Hepburn kept her beauty all her life.
And with all those antioxidants from her Brownies, she was in excellent health and lived to be 96.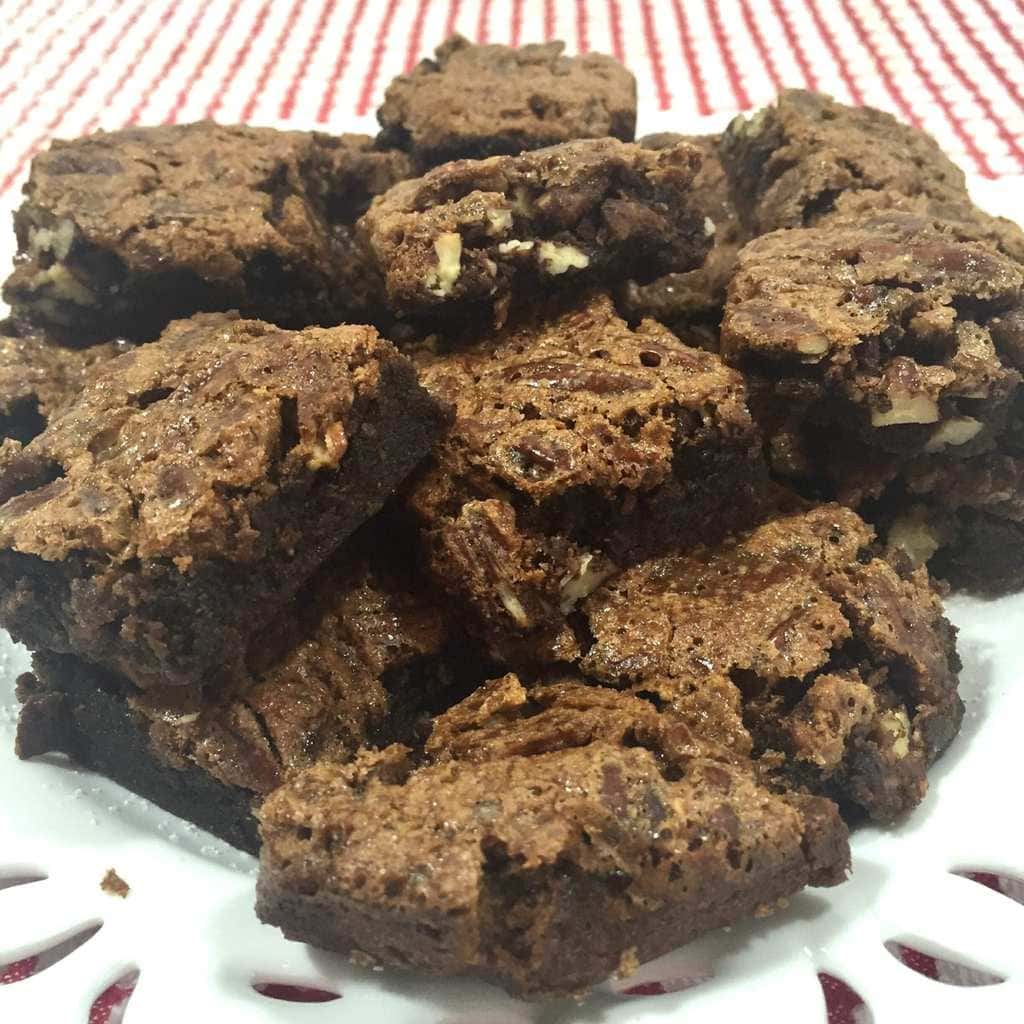 On top of all of this, chocolate just tastes good.
It stimulates endorphin production, which makes you happy.
And it also contains serotonin, which is a stress reliever.
So thank you, Katherine, for this excellent recipe.
With a recipe as perfect as this, I know I should leave well enough alone.
But I just can't help myself.
I know that Brownies and coffee are a wonderful combination.So why not Cappuccino Brownies?
The addition of Espresso Instant Coffee would work. A brownie and a sip of coffee, all in one bite!
Ingredients of Cappuccino Brownies
Butter
Unsweetened Chocolate
Sugar
Eggs
Flour 
Vanilla
Salt
Pecans
How to Make Cappuccino Brownies
First preheat your oven to 325 degrees. Low and slow is how these brownies bake.
Then, line an 8" square pan with parchment.
I've tried both buttering and spraying the pan and nothing is better than parchment for these brownies.
Then in a medium sized pan over low heat, melt the butter and the dark chocolate, whisking until smooth.
Next, remove from heat and whisk in the sugar until blended.
Then whisk in the eggs and vanilla.
Finally add flour, salt and pecans and whisk until thoroughly mixed.
Pour the mixture into your prepared pan and bake for 40 minutes.
When cool, cut into squares.
Notes 
Be sure and add Unsweetened Chocolate.
Anything more than that will make these brownies overly sweet.
I almost always use Wondra flour, because it's light and doesn't clump.
If you like this recipe, please leave a comment below and pin us on Pinterest!
Also try Espresso Meringues with Chocolate Chips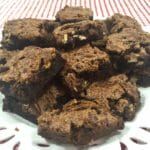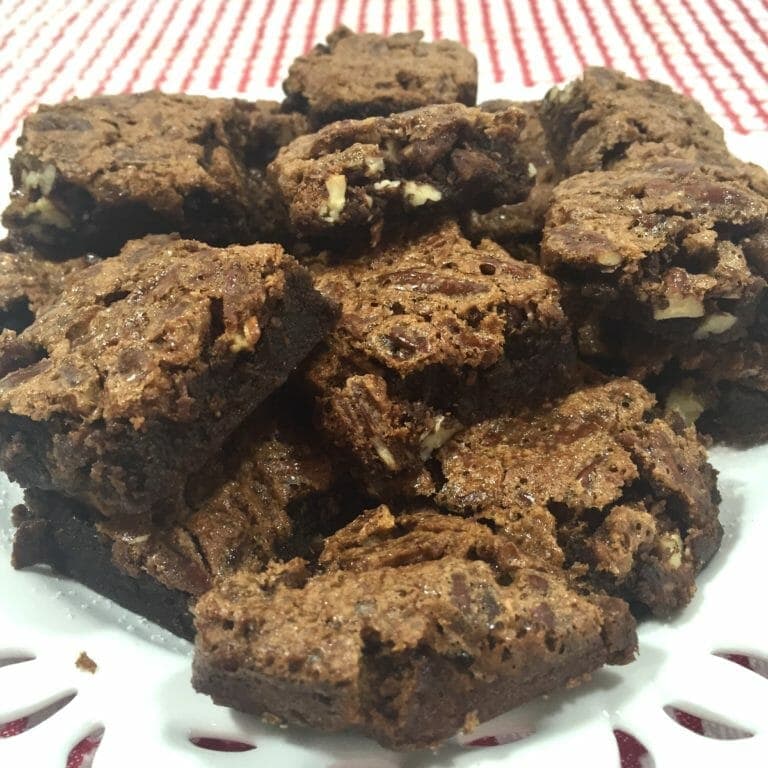 Print Recipe
Cappucinno Brownies
Brownies and coffee are a wonderful combination. So why not Cappuccino Brownies? A brownie and a sip of coffee all in one bite.
Ingredients
1/2

Cup

Butter

1 stick

2

oz

Unsweetened chocolate

Bakers

7/8

Cup

Sugar

2

Large

Eggs

1/4

Cup

Flour

1

Tsp

Vanilla

1/4

Tsp

Salt

1

Cup

Pecans

Chopped

2

Tbsp

Espresso Instant Coffee
Instructions
Preheat oven to 325 degrees F

Line an 8" square baking pan with parchment.

Melt butter and chocolate in saucepan over medium low heat whisking until blended.

Remove from heat and whisk in sugar until mixed. Then whisk in eggs and vanilla. Then add flour, salt and pecans and whisk until thoroughly blended.

Pour chocolate mixture into prepared baking pan and bake until toothpick inserted into center comes out clean, about 40 minutes.

Cool completely and cut into 16 squares.
Nutrition
Serving:
1
Brownie
|
Calories:
170
kcal
|
Carbohydrates:
14
g
|
Protein:
2
g
|
Fat:
12
g
|
Saturated Fat:
5
g
|
Cholesterol:
38
mg
|
Sodium:
96
mg
|
Potassium:
63
mg
|
Fiber:
1
g
|
Sugar:
11
g
|
Vitamin A:
215
IU
|
Vitamin C:
0.1
mg
|
Calcium:
13
mg
|
Iron:
1
mg