Radish Bruschetta is an easy and surprisingly wonderful appetizer because of its chewiness, its herb butter creaminess and its crisp freshness.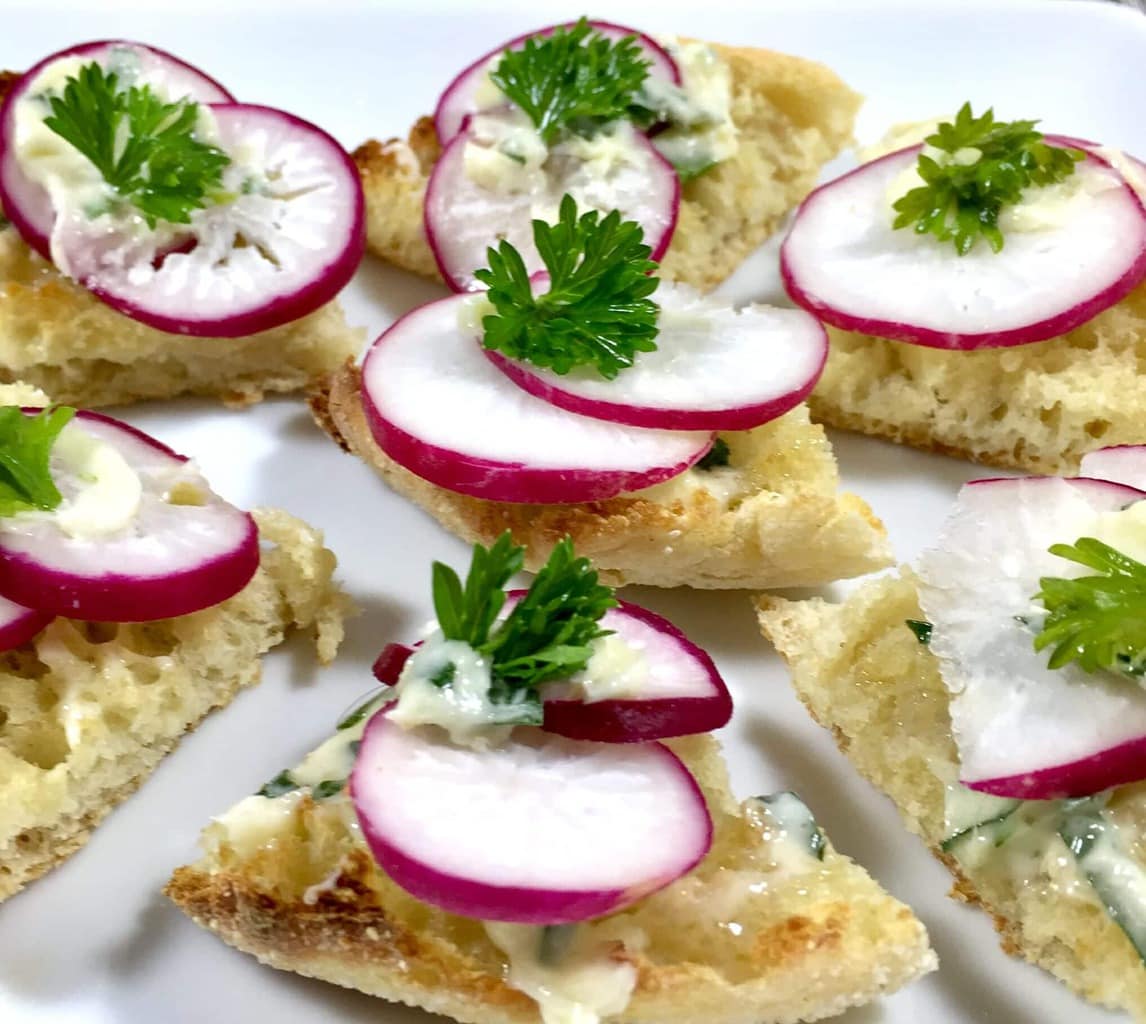 About Radish Bruschetta
I recently saw a video where
Ina Garten
was talking about how French
mothers make their children after school snacks of radish sandwiches.
I was intrigued.
French kids love radishes as a snack?
Good for them!
There's no question the French diet is healthier than ours and perhaps giving your children vegetable sandwiches may be one of the reasons.
So I decided to experiment and I came up with Radish Bruschetta.
To be  honest, I've  never really been a fan of radishes, nor has anyone in my family.
Not sure why.
I've tasted them in salads and, for the most part, they were bitter and way too peppery.
So to me it was incredible that French children loved their radish sandwiches.
I mean how, many kids love something bitter, peppery and actually good for you?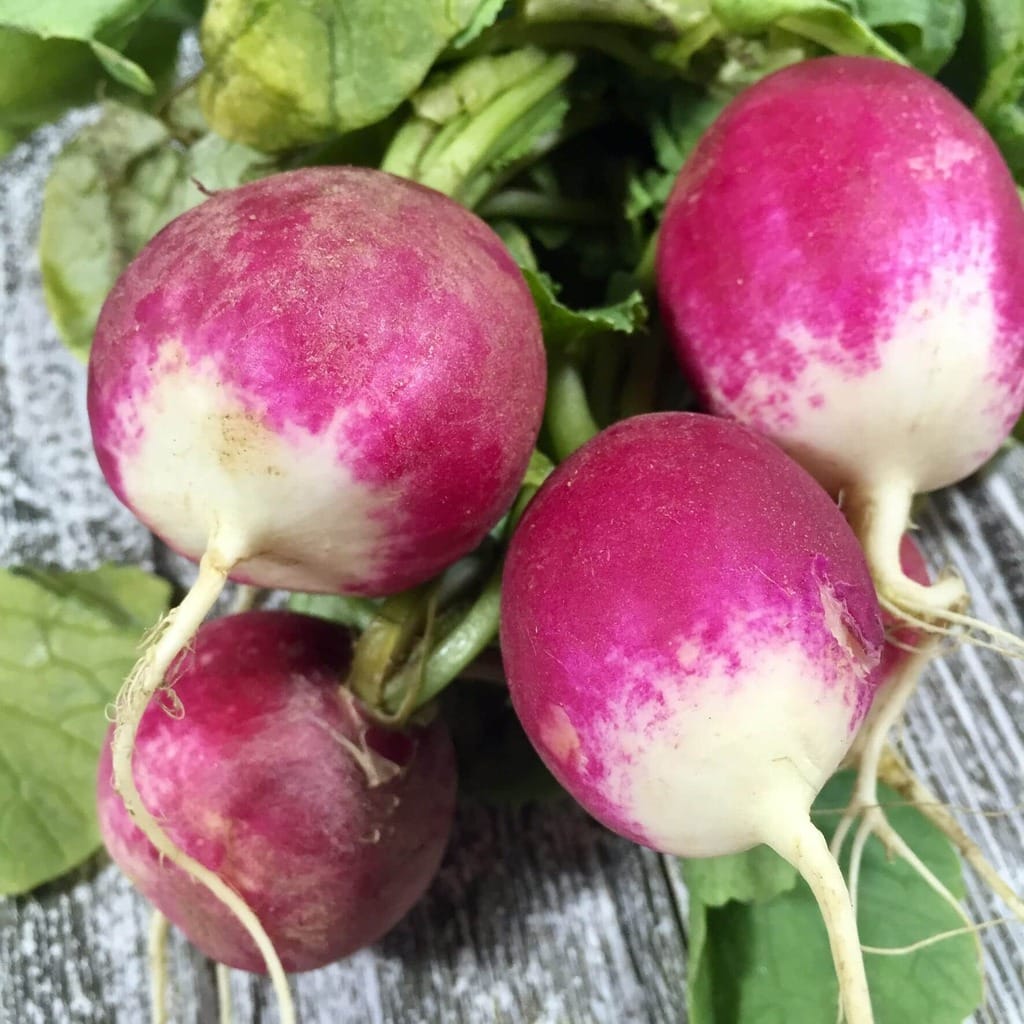 Yet the way that the French use radishes is really different.
They temper the bitter peppery taste with butter.
And enhance it further with herbs.
Ingredients in Radish Bruschetta
English muffins
Unsalted butter
Tarragon
Chives
Radishes
Parsley
Salt
How to Make Radish Bruschetta
Ina used dill in her butter.
I substituted fresh tarragon because of the soft licorice flavor and added a little salt.
For a base for my Bruschetta I wanted something small.
Something you could consume in two bites.
So I thought of toasted English Muffins.
They were soft, easily toasted in the toaster and just one muffin could make eight appetizers.
(Note: In the picture below there are 7. Sorry, I couldn't resist eating one of them.  So good!)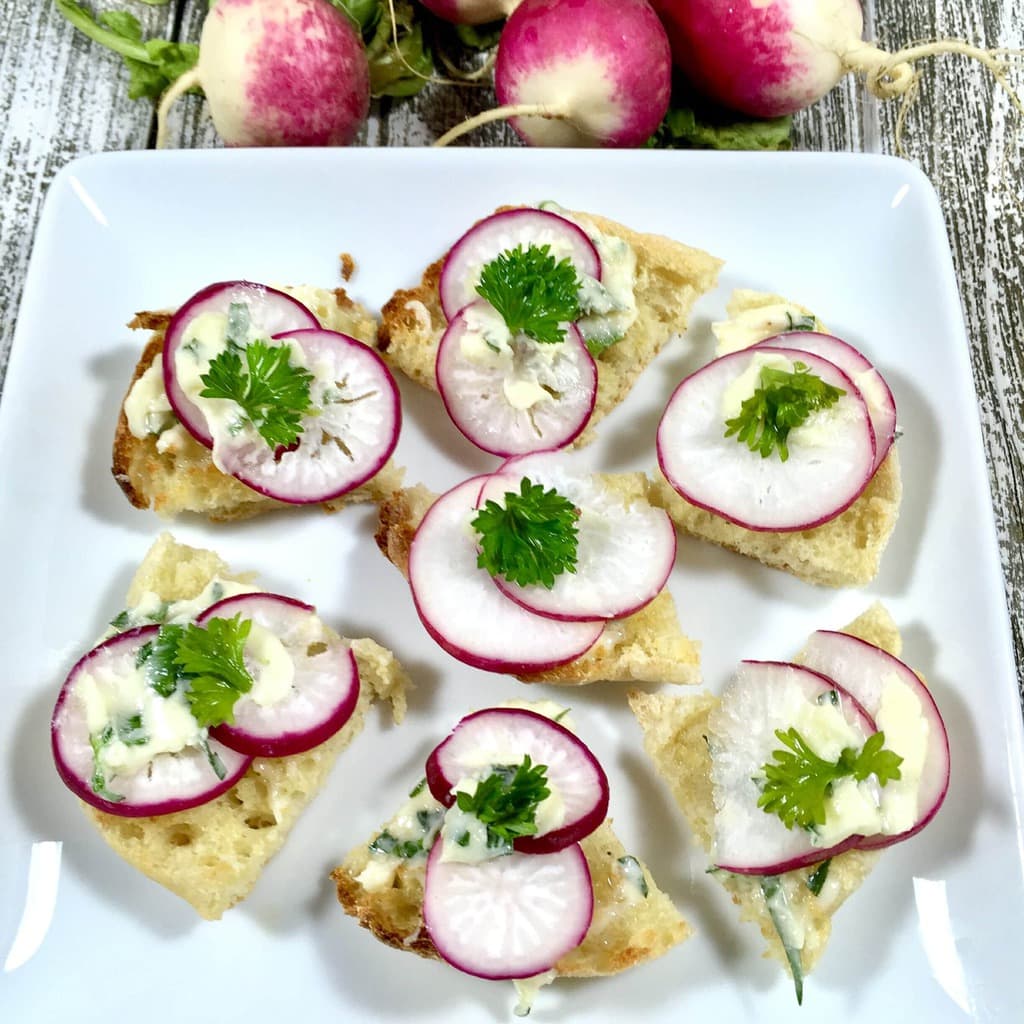 As I spread the butter on my hot quartered muffin wedge, it melted beautifully.
And with two thin slices of radishes, a small dollop of butter on top as well as parsley for garnish, I gave it the taste test.
Amazing. Gone was the bitter peppery taste.
Instead all the flavors mingled beautifully and with just a slight crunch from the radishes.
I think my next party will definitely include these beautiful bite sized Radish Bruschetta appetizers.
Thank you Ina for your inspiration, and I have to say no wonder that the children of France develop such a sophisticated palate.
They learn wonderful food habits at home.
If you like this recipe, please leave a comment below and pin us on Pinterest!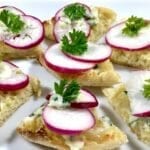 Print Recipe
Radish Bruschetta
Radish Bruschetta is an easy and surprisingly wonderful appetizer because of its chewiness, its herb butter creaminess and its crisp freshness.
Ingredients
2

English muffins

2

Tbsp

Unsalted butter

Softened

1

Tbsp

Tarragon leaves

1

Tsp

Chives

Chopped

3

Radishes

2

Tsp

Curly parsley sprigs

1/4

Tsp

Salt
Instructions
Split muffiins in half and toast in toaster.

In a small bowl mix tarragon, chives and butter until blended.

Cut each toasted English muffin half into 4 quarters - making 16 pieces - and spread butter mixture on each piece.

Rinse and cut stems and roots from each radish. Then cut each radish into thin slices.

Add two slices to each buttered muffin wedge and sprinkle with salt. Garnish each wit( a parsley sprig.
Nutrition
Calories:
29
kcal
|
Carbohydrates:
3
g
|
Fat:
1
g
|
Cholesterol:
3
mg
|
Sodium:
69
mg
|
Potassium:
12
mg
|
Vitamin A:
50
IU
|
Vitamin C:
0.2
mg
|
Calcium:
5
mg
|
Iron:
0.1
mg