What is light, crisp and just this side of heaven?  These fabulous Espresso Meringues with Chocolate Chips.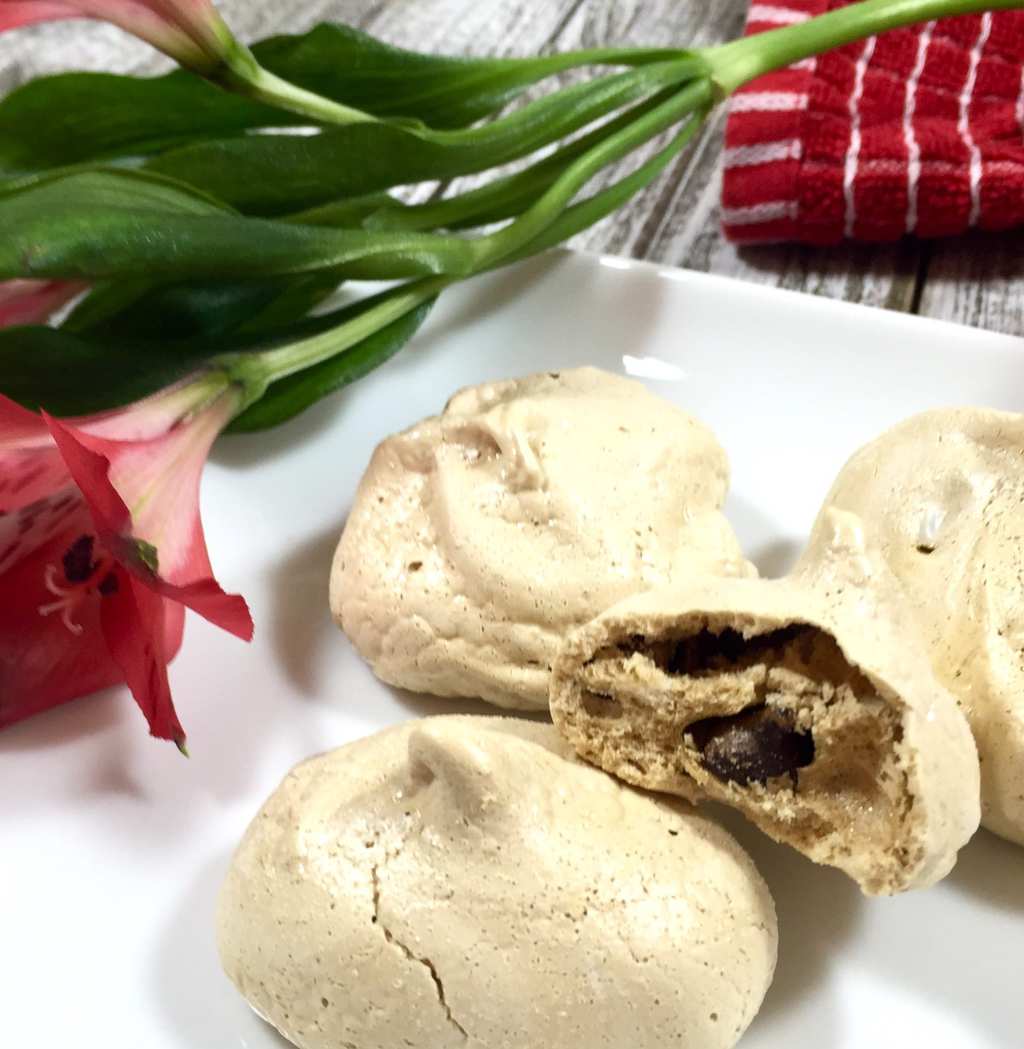 I've never been a real fan of cookies, unlike my husband who adores them and happily takes free cookie samples whenever he can get them. 
From grocery stores, from banks, anywhere. Butter cookies, sugar cookies, peanut butter cookies. Makes no difference, he loves them all. 
Especially chocolate chip cookies.
And now I have to say I'm in total agreement with him. At least on one kind of cookie and this it it!  These Espresso Meringues with a Chocolate Chips.
They're amazingly great!
Plus they're light, crunchy and chocolately. Plus they have the most wonderful flavor of espresso.
And all that goodness is only 53 calories per cookie.
I mean, how can you get better than that?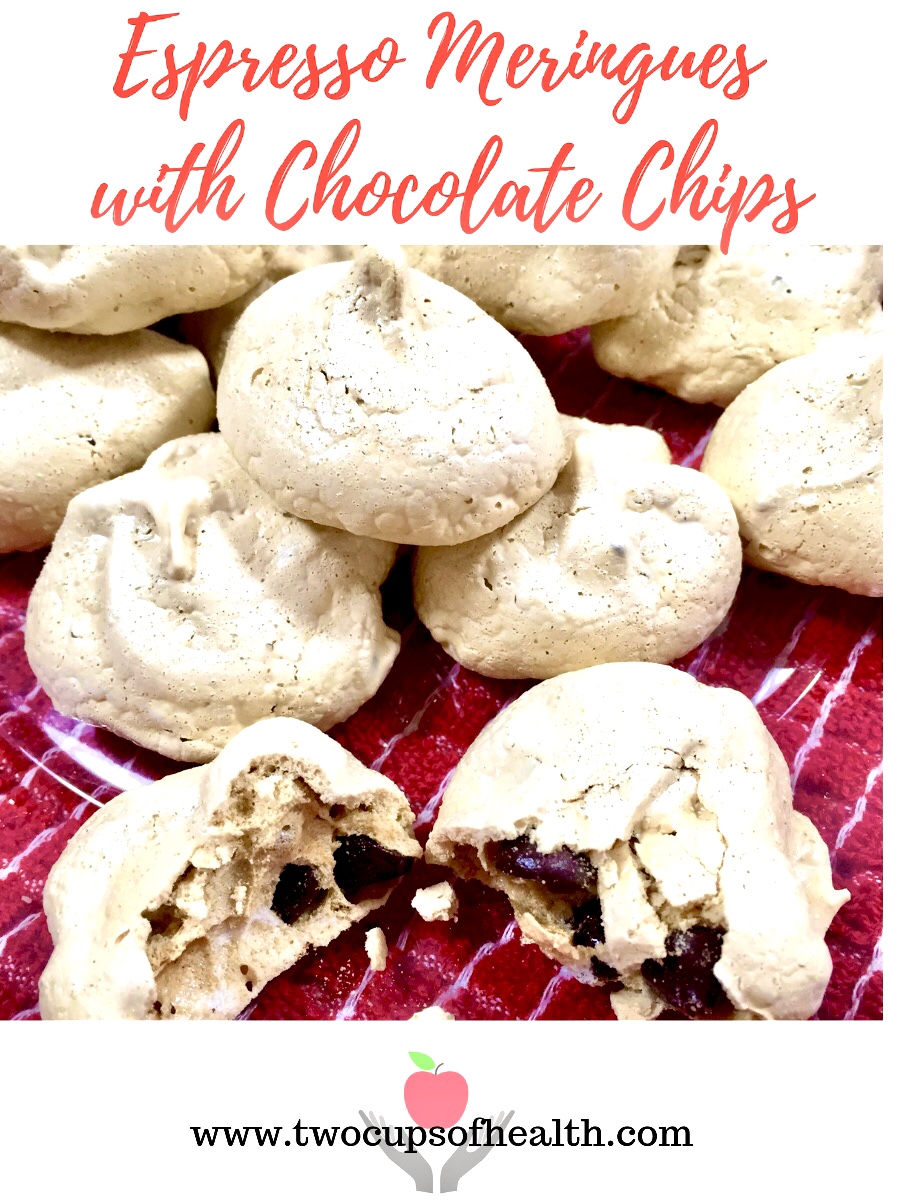 These meringues will be in my short list of Favorite Cookies of All Time from now on.
I can only describe the texture as crunchy and light-as-a-feather airy. Really, you pick one up and there's no weight.  
And then there's the taste. And when you bite into them your mouth says Oh Yes! to all the espresso crunchiness. 
The slightly bitter coffee flavor is combines wonderfully with the richness of the dark chocolate. The two balance each other perfectly. 
And just to add more flavor and crunch, I added in some organic walnuts as well. 
So what's the difference between organic and non organic? In a word, chemicals.
The non organic walnut trees are raised with chemical fertilizers and insecticides, not the best thing for us to ingest, where the organic walnut growers use natural fertilizers and use insects, birds and traps to keep the walnuts healthy.
Personally, I aim for health first no matter what so I opt for organic. A good source is Superedibles.
So let's make them.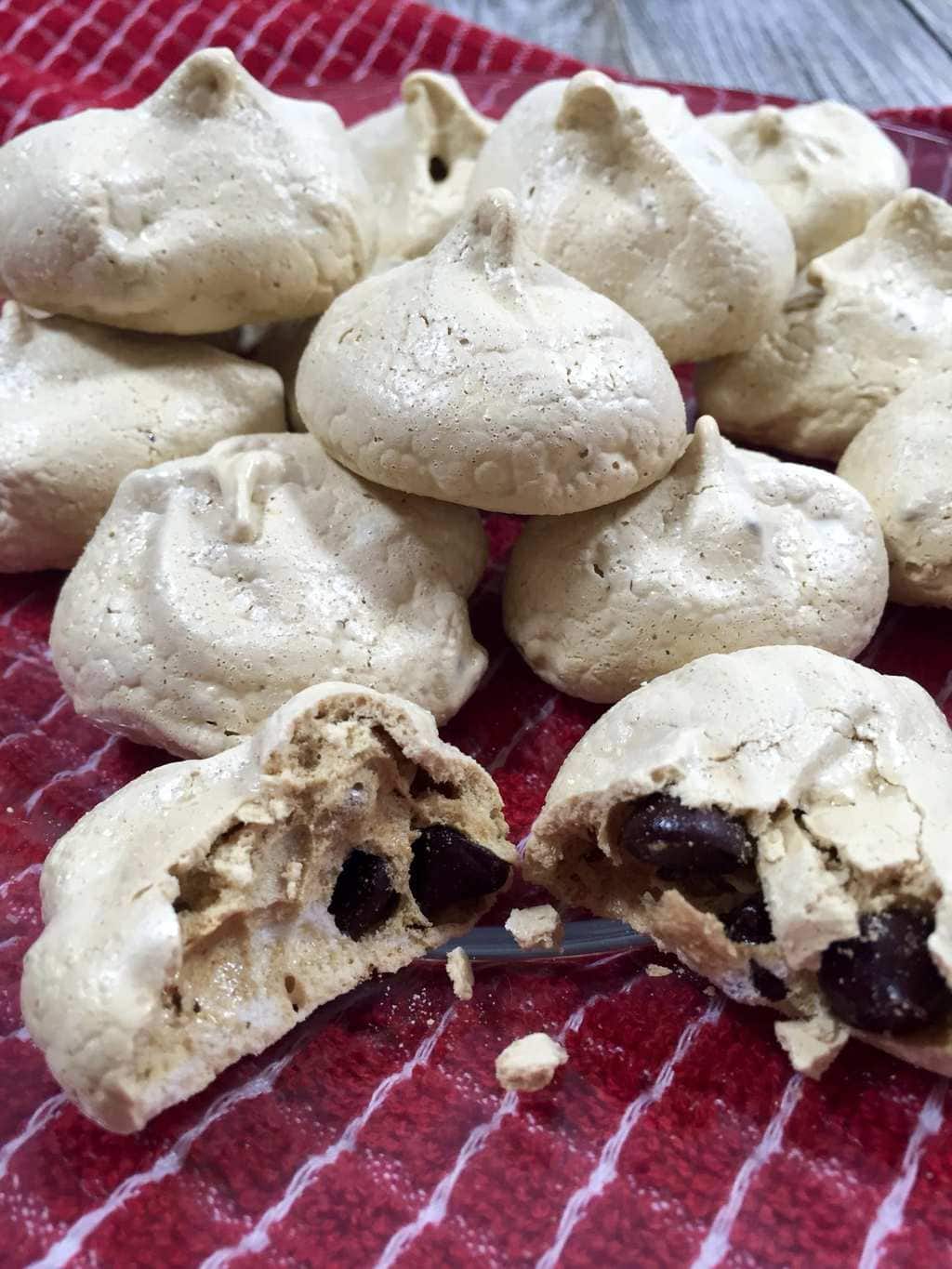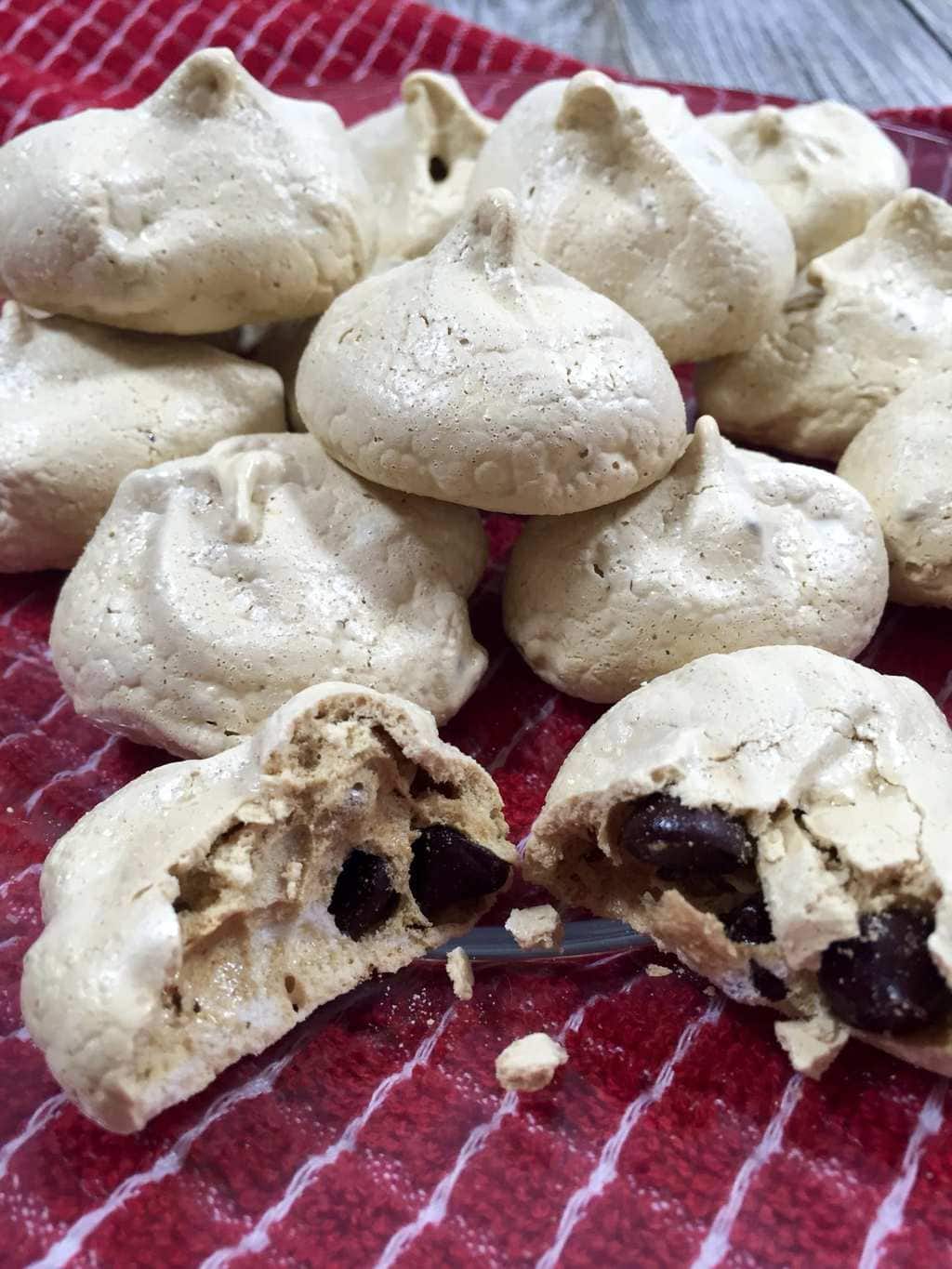 Ingredients for Espresso Meringues with Chocolate Chips
Egg whites: The star of the show
Sugar: To add sweetness
Vanilla: Adds amazing flavor
Espresso powder: Balances the sweetness
Dark chocolate chips: Everything's better with a little chocolate, right?
Walnuts: Brings it altogether with a nice crunch
How to Make Espresso Meringues with Chocolate Chips
Here's the best part. They are so simple to make.
You begin with just two egg whites. Only two! I know! And it makes so many cookies. 
You can get at least three dozen out of them if you make tiny ones. But if you do my method and drop them by heaping spoonfuls, you'll get about two dozen. And really, that's enough because they are really rich.
Because I thought just two egg whites would get lost in a large mixer, I used a hand mixer. And as I was beating them those two little egg whites began to cover half the bowl. 
You beat them until they form soft peaks. And then you add the sugar, very gradually, as you continue to beat them. 
By this time the white froth is beginning to thicken and turn into satiny egg whites.
Continue to beat a bit more until they form stiff peaks, where the top holds up straight and then just slightly curves over.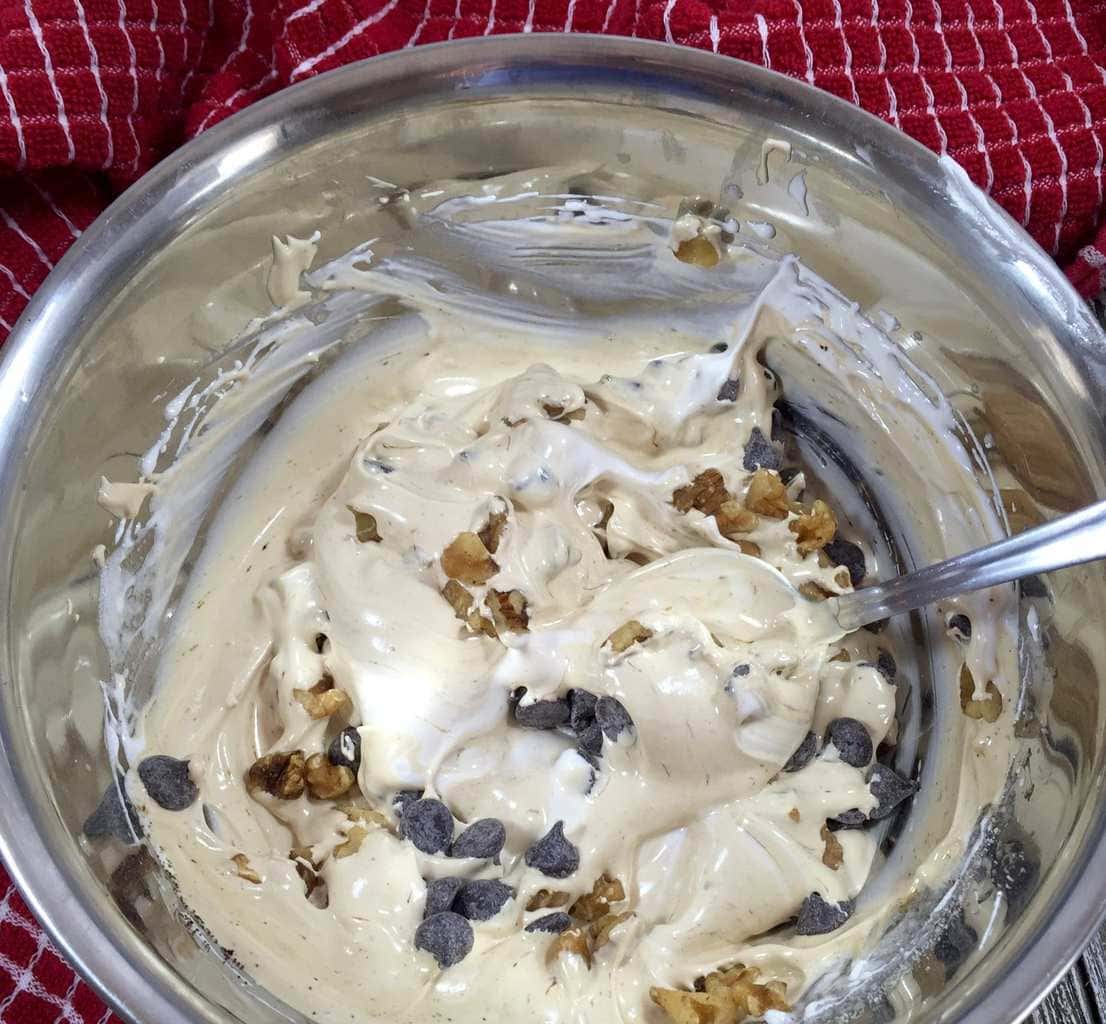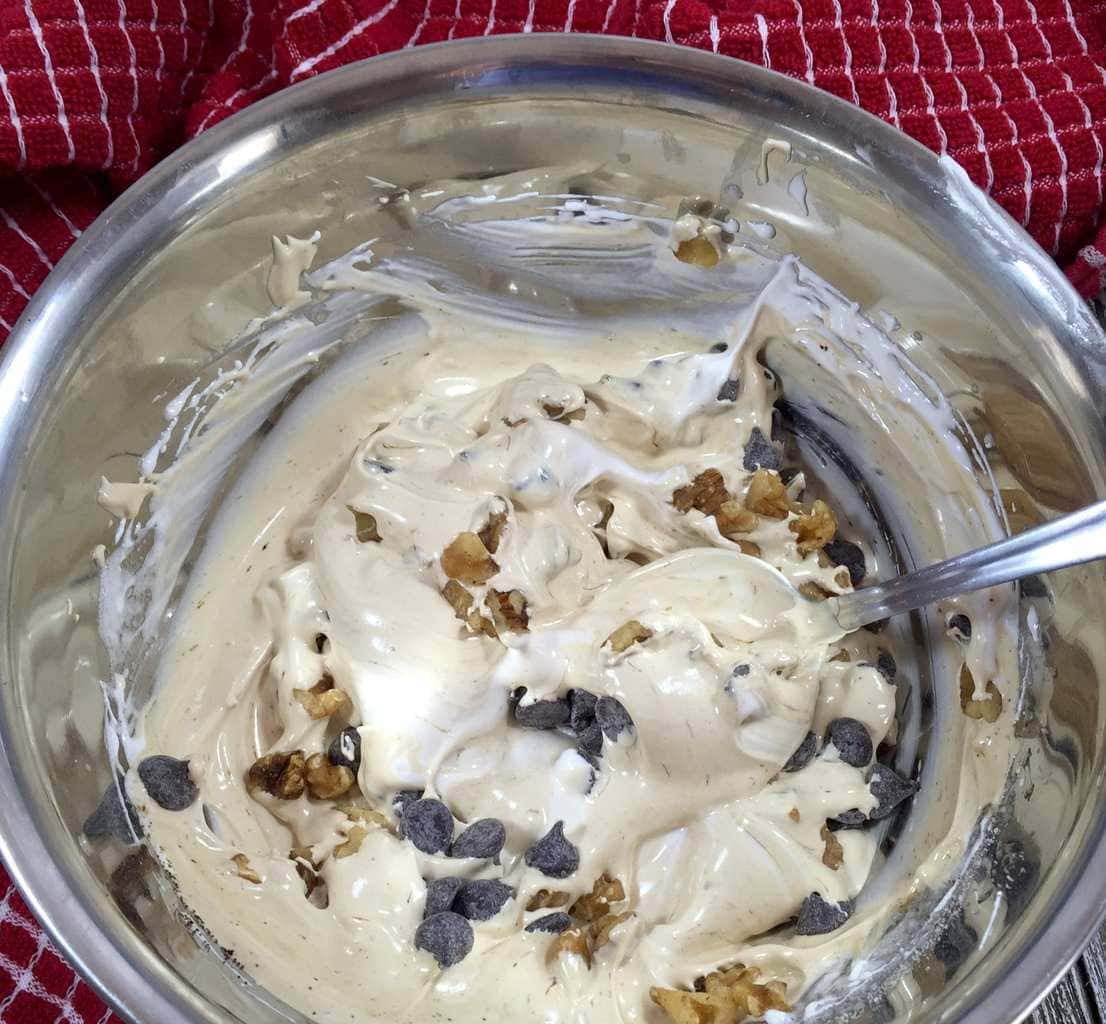 At that point, you add the vanilla and espresso powder and mix to combine. Finally, you fold in by hand the chocolate chips and the walnuts.  
Time to turn them into cookies. 
First line two cookies sheets with parchment. Important to do this because the cookies bake perfectly on parchment paper. 
Then spoon out a heaping teaspoon full of batter and space them about 1 1/2" apart. They really don't spread, I just think they cook better that way.
And don't worry if they're not perfect little peaks.
I guarantee you people will love them anyway.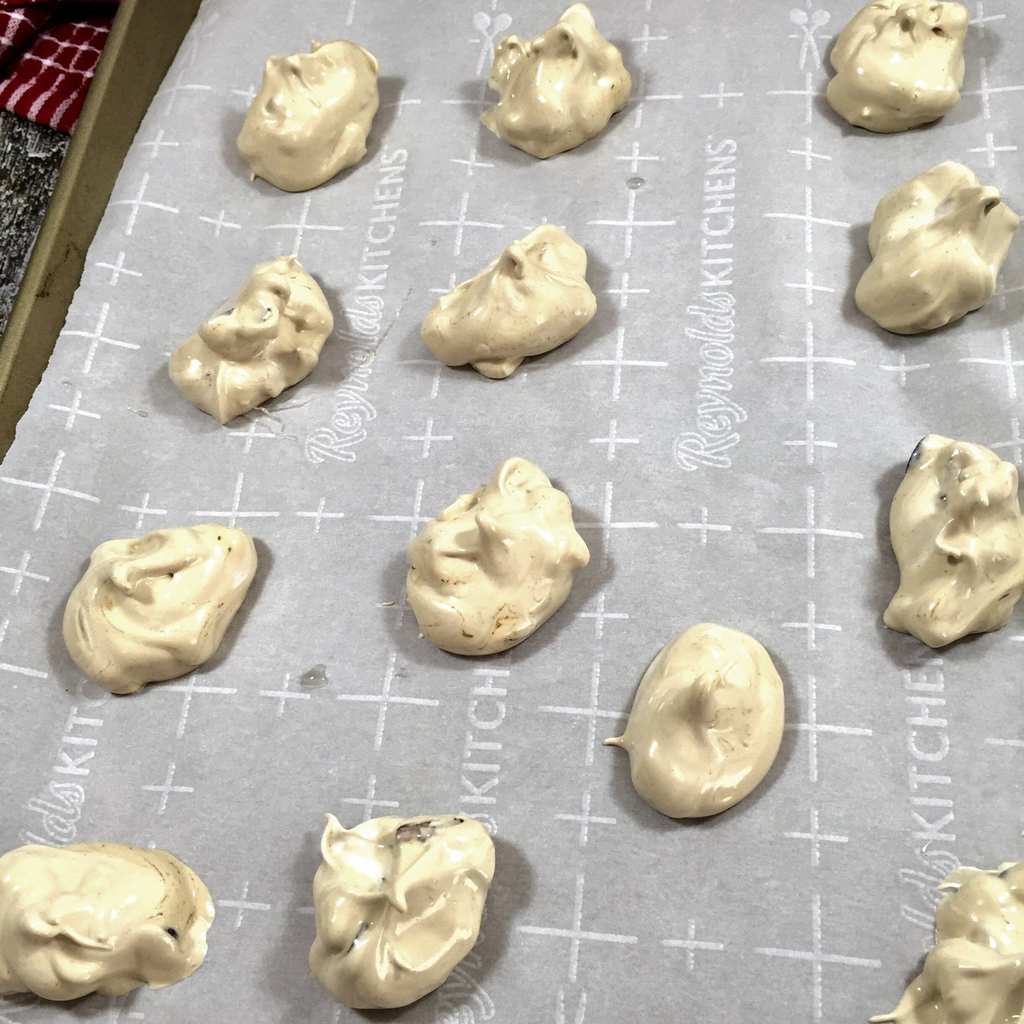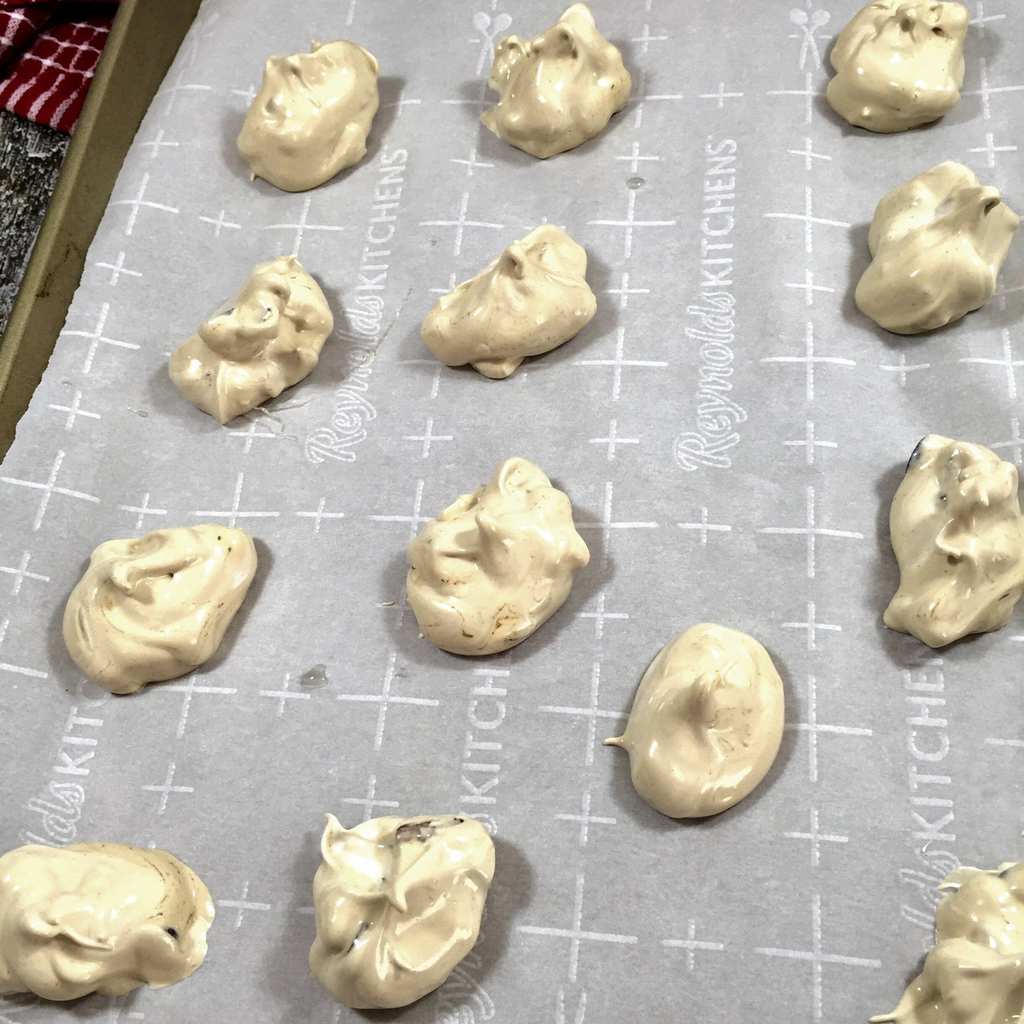 Then you bake them for an hour.  An hour???  Yep, at 250 degrees.
Why an hour?  Low and slow baking is the key here.
And when you think  they are done perfectly, well, they're not done yet. 
Turn off the oven and leave them in there for 2 more hours.
2  more hours? Yep, that's the drying time to make them crunchy and perfect.
It's kind of like when I used to make cream puffs. Same principle. The insides need to dry out. 
If you can't wait to try one after the hour baking time, you'll find out that they're chewy – not crispy. I learned this from experience.
So they really need the extra time. Trust me, these cookies are worth it.
Is this cookie worth three hours? Sometimes the best things take a while and this cookie is a good example.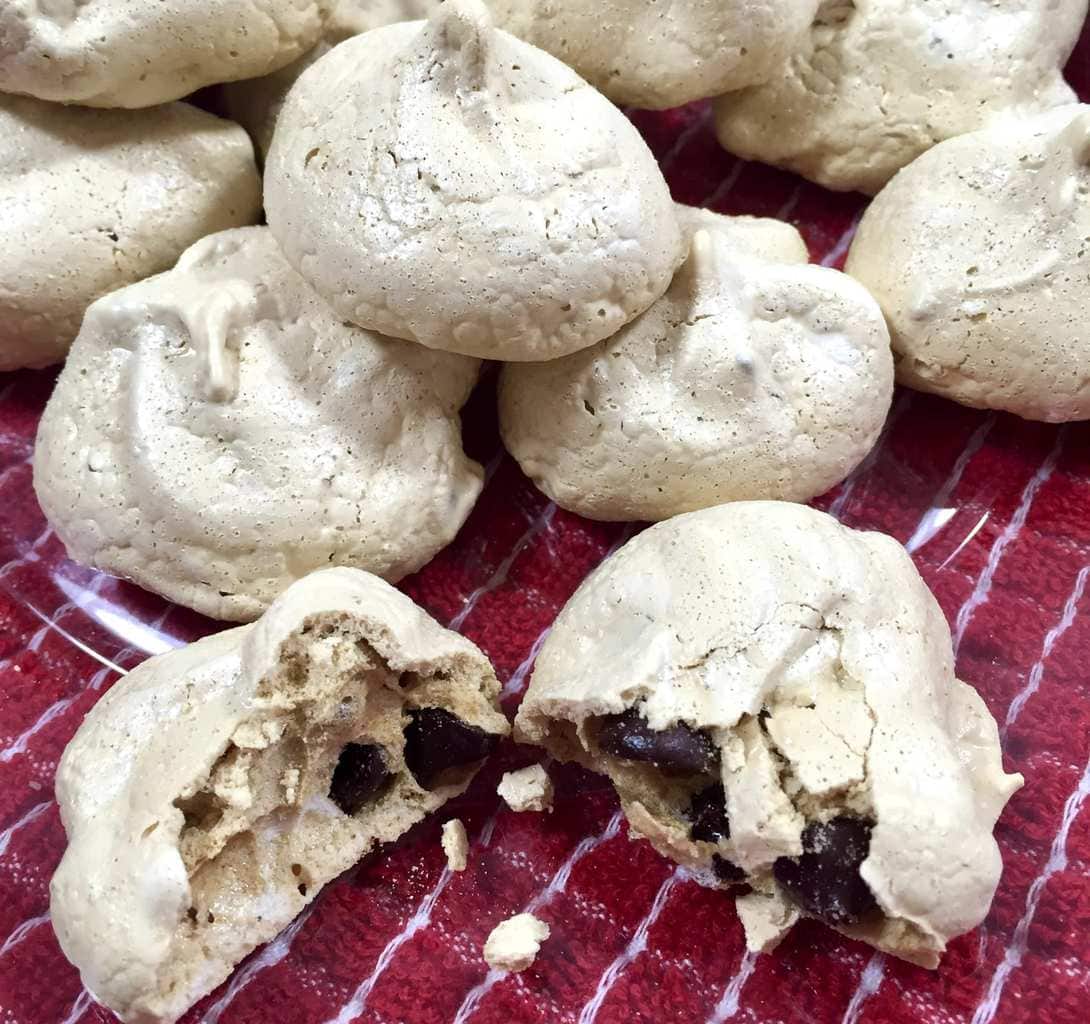 And the remarkable thing is that the chocolate chips hold their shape! So when you bite into all that delicious espresso crunchiness, you also bite into whole chocolate chips.
They're not melted as you might expect. The magic is the low heat.
Oh, one more thing if you're into healthy recipes.
Oh, did I mention that these cookies are only 53 calories each with only 2 grams of fat. Well, it bears repeating.
Healthy and decadent  all in one..or two…bites!
Need more delicious deserts? Check these out:
Chocolate Chip Macadamia Cookies with Cranberries
If you like this recipe, leave a comment below and pin us on Pinterest!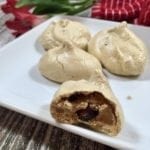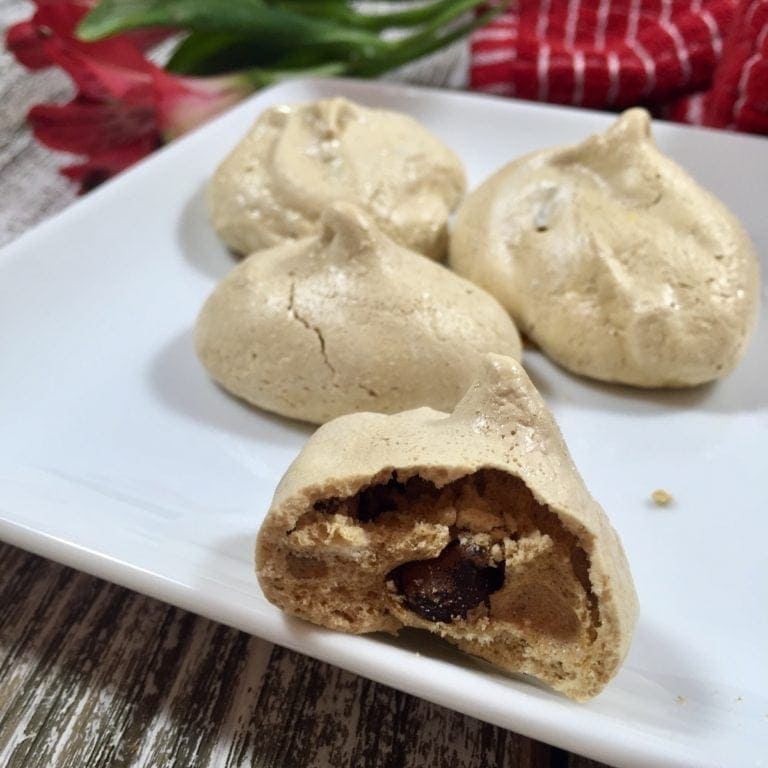 Print Recipe
Espresso Meringues with Chocolate Chips
Espresso Meringues with Chocolate Chips are incredibly light. They are a perfect flavor combination of espresso crunchiness and dark chocolate chips.
Ingredients
2

Egg whites

1/2

Cup

Sugar

1

Tsp

Vanilla

1

Tbsp

Instant Espresso Powder

1/2

Cup

Chocolate chips

1/2

Cup

Walnuts
Instructions
Preheat oven to 250 degrees F

Line two baking sheets with parchment paper.

In a medium glass or metal bowl, beat egg whites on high speed until whites become frothy and form soft peaks.

Add sugar a little at a time and continue beating the egg whites on high speed until they become satiny white and start to hold stiff peaks, where the tops stand up straight and then just slightly curves over. Add in vanilla and espresso powder and mix until combined. Add in vanilla and chocolate chips and walnuts.

Drop by heaping teaspoon fulls about 1 1/2" apart on the parchment lined baking sheets. Place in oven and set your timer for 1 hour. At the end of an hour, turn oven off and leave meringues in oven for 2 more hours. This allows the cookies to dry inside to make them perfectly crisp.
Nutrition
Calories:
53
kcal
|
Carbohydrates:
7
g
|
Fat:
2
g
|
Sodium:
6
mg
|
Potassium:
22
mg
|
Sugar:
6
g
|
Vitamin A:
10
IU
|
Calcium:
7
mg
|
Iron:
0.1
mg