Slow Cooker Chicken Chile is so easy and perfectly seasoned with chile powder, garlic and lime. This dish is total comfort food.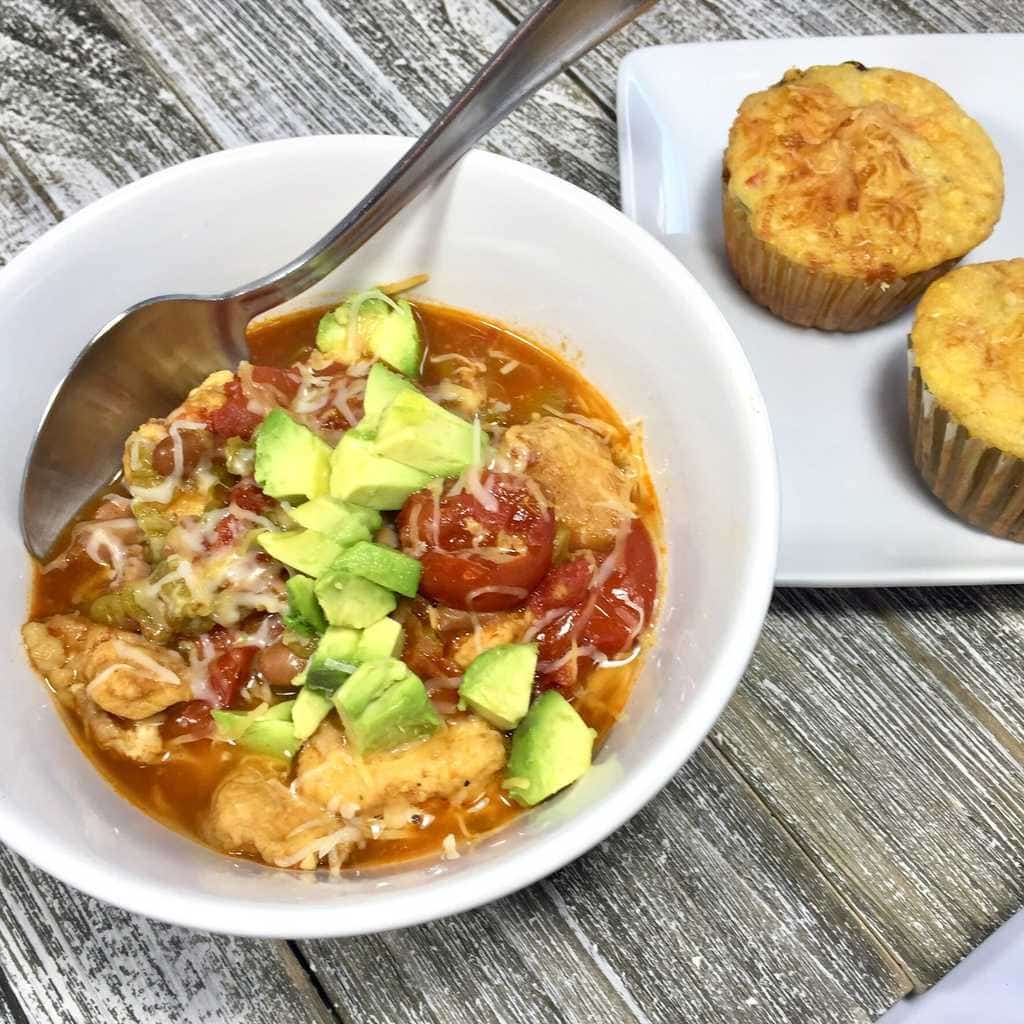 Slow Cooker Chicken Chile is a real lifesaver when you have one of those days when work keeps you so busy that you don't even arrive home until after seven. And nothing is better knowing that you don't have to do anything more when you get home. Dinner is happily and deliciously waiting for you.
This Chile recipe is really from a combination of Chile recipes that I've made over the years. That's the thing about Chile. Each time it's a little new depending on what you have on hand or what you've had a whim to buy at the market.
How to Make Slow Cooker Chicken Chile
There are those purists who insist that Chile with beans is not really Chile. I disagree. Mainly because I think beans are healthy for you in many ways. Also I think the beans give the Chile a bit more substance. So on my last market visit, I found Bush's Chile Beans. They're basically Pinto beans with a lot more flavor. I do have to tell you that this flavor comes from the sauce and there's a lot of it there, so I did drain some of that out before I added it to the slow cooker.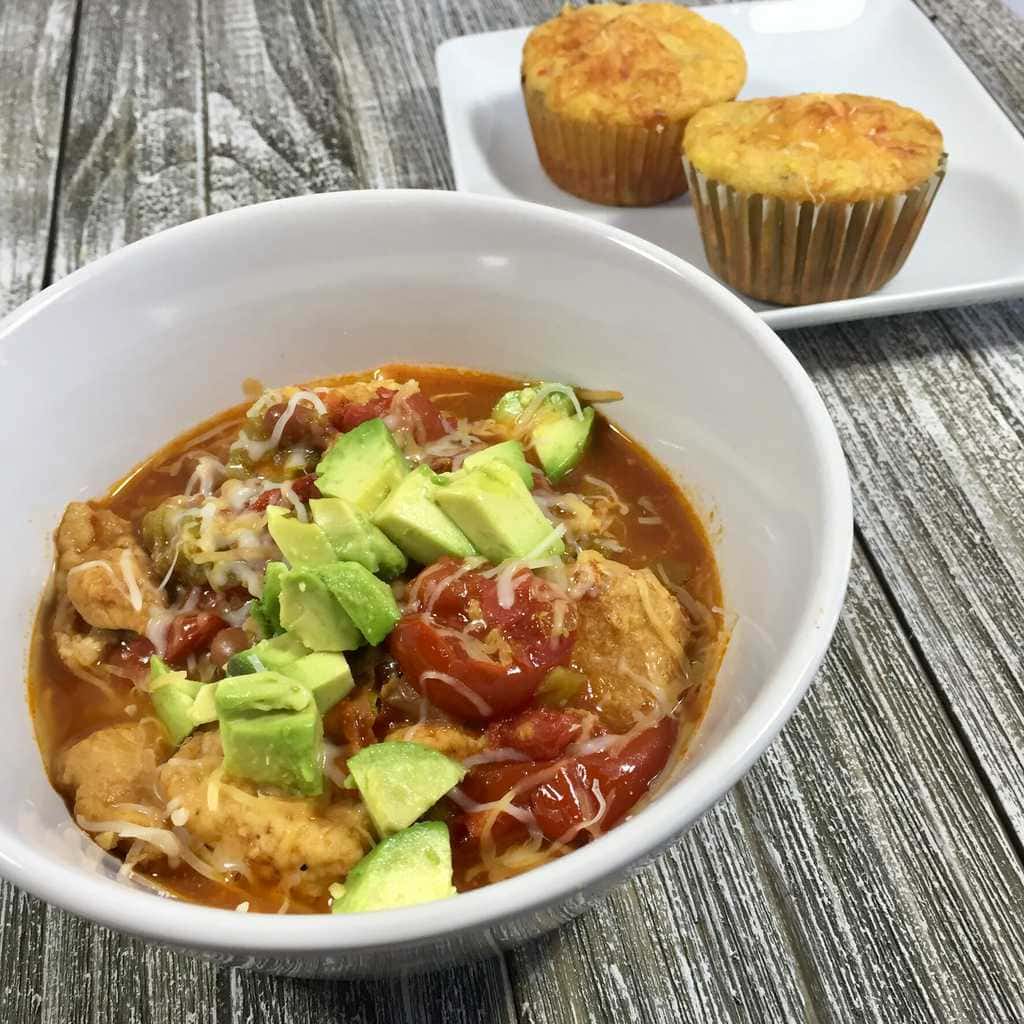 I also found Greek cherry tomatoes. I was fascinated because normally you find whole tomatoes or diced tomatoes, but I've never seen whole canned cherry tomatoes. I suppose I could have just substituted raw cherry tomatoes and might try that another time. But these cherry tomatoes were really good, so I'm glad I bought them. Sometimes Greek cherry tomatoes are hard to find, so a good substitute is the Italian brands.
I also added chicken broth. I mean, what's Slow Cooker  Chicken Chile without chicken broth? Because I freeze my leftover broth in ice cube trays and toss them in a zip lock bag, I don't have to worry about opening a can when I only really need about 1/2 cup. I just throw about 8 broth ice cubes into the slow cooker to meld with the rest of the ingredients and it works just fine.
And then there's the Chile. Now this is the time where you decide how much heat to add. Me? I like it mild. Too hot and I can't even eat it. So I add in diced green Chile's. Tougher people can go for the straight jalapeños.
And of course it's Chicken Chile, so I started with a whole breast. It's perfect for two, but add in one more if you have four people. And finally I added in the spices. Chile Powder, some cumin, garlic powder and salt. And because I like Chile and lime together, I added the juice of 1 lime. And that was it. It hummed along all day by it self on low heat, and by the time I arrived home, it was there waiting for me in all it's deliciousness.
It's been a long day and now all you have to do is ladle out a bowl of this delicious Slow Cooker Chicken Chile, pour yourself a glass of wine and just relax. And if you have a little more time the next time you make this Slow Cooker Chicken Chile, whip up a batch of 
Tex-Mex Corn Muffins
. They are perfect together!
If you like this recipe, please leave a comment below and pin us on Pinterest!
For similar recipes see also: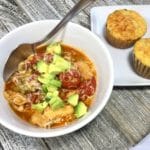 Print Recipe
Slow Cooker Chicken Chile
Slow Cooker Chicken Chile is so easy and perfectly seasoned with chile powder, garlic and lime. This dish is total comfort food
Ingredients
1

Chicken breast

1/4

Tsp

Salt

1/4

Tsp

Pepper

2

Tbsp

Flour

1

Tbsp

Olive oil

2

Cloves

Garlic

1/2

Cup

Chicken broth

1

tsp

Chile powder

1

Large

Lime

Juiced

1

14 oz can

Pinto beans

Prefer Bush's Chile Beans

1

14 oz can

Tomatoes

Prefer Cherry Tomatoes because they hold their shape better

1

7 oz can

Green chiles

This will make this Chile mild. Substitute Jalapenos for more heat
Instructions
Salt and pepper both sides of chicken breast, then cut chicken into bite size pieces. Sprinkle chicken with flour.

Add oil and garlic cloves to saucepan over medium high heat. Add chicken and brown 2-3 minutes.

Pour chicken and juices into slow cooker.

Add chicken broth, chile powder, lime juice, pinto beans, tomatoes and chiles.
Nutrition
Calories:
230
kcal
|
Carbohydrates:
8
g
|
Protein:
25
g
|
Fat:
10
g
|
Saturated Fat:
1
g
|
Cholesterol:
72
mg
|
Sodium:
661
mg
|
Potassium:
491
mg
|
Vitamin A:
435
IU
|
Vitamin C:
6.4
mg
|
Calcium:
11
mg
|
Iron:
1.1
mg