Sole with Creamy Pesto is deliciously mild and tender with just the right amount of creamy flavor.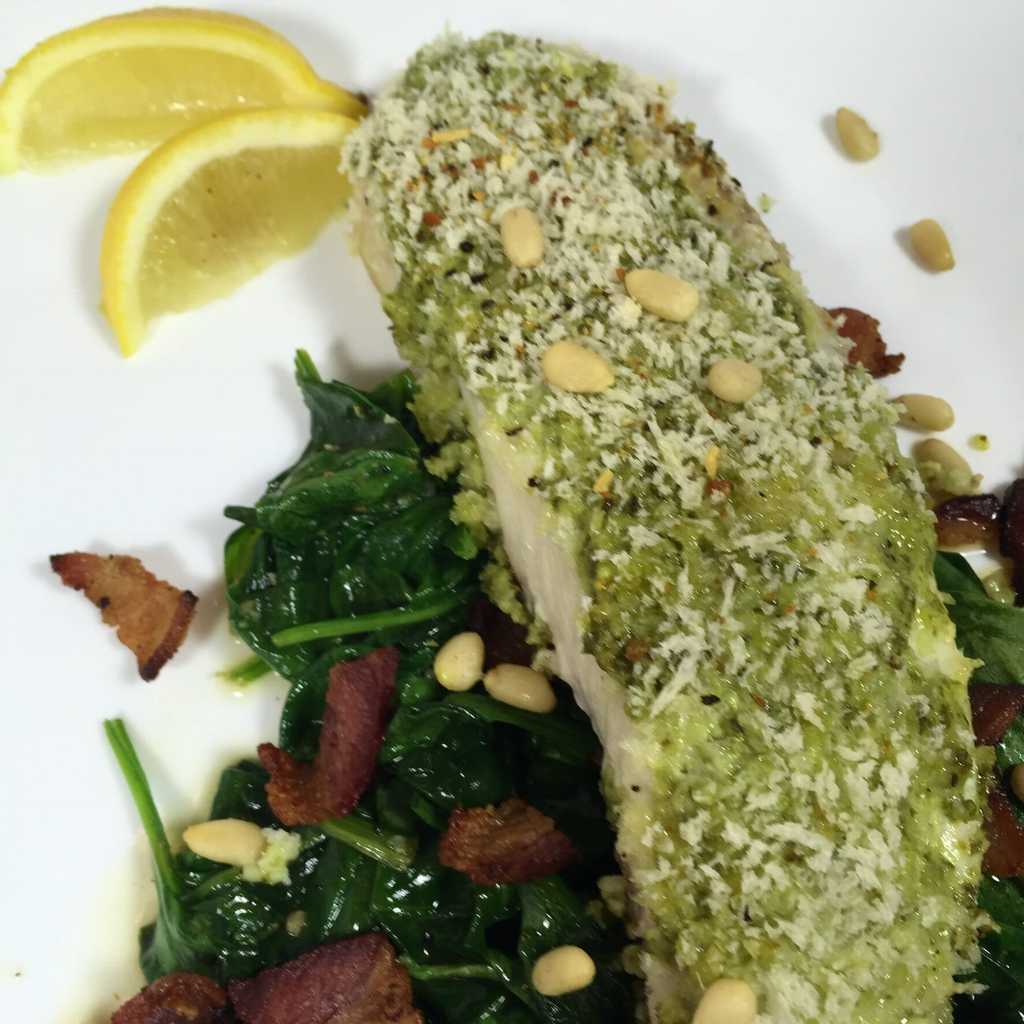 About Sole with Creamy Pesto
Sole with Creamy Pesto is light, easy and totally delicious.
I've always loved fish -all kinds of fish.
I think this stems from the fact that I was lucky enough to have both a Dad and a Grandfather who took me fishing.
With Dad, we'd go to streams and lakes for trout and use salmon eggs for bait.
With my Grandpa we'd head out to sea for bigger fish.
I still remember getting up at 4:00 am when it was still dark.
His boat, the Laur Max, was moored at Shelter Island in San Diego.
After hearty pancake breakfast, courtesy of my grandmother, we headed off to the dock and stow our  gear aboard.
Then we motored through  the darkness, only stopping at the Bait Dock for live anchovies and sardines which immediately went into the Bait Tank.
Finally, we headed out to sea where the chop of the waves began to pick up.
There's nothing like watching the sun rise over the ocean especially when you can no longer see land. It's beyond beautiful.
I felt like Columbus.
Just after the sunrise, Grandpa would set us up with our fishing poles.
He adjusted the weights and taught me how to bait my own hook and how to cast out.
He also taught me, as my Dad did, that fishing requires patience.
So I patiently waited for that first nibble.
If Grandpa's pole got a fish on first, he would immediately hand it over to me or one of his other grandchildren, so he could teach us how to reel in a fish.
We caught an incredible variety of fish from bonito, to yellowtail, to barracuda, to halibut, to sea bass and sole.
I guess that early memory taught me how important it was to get fresh food from the source.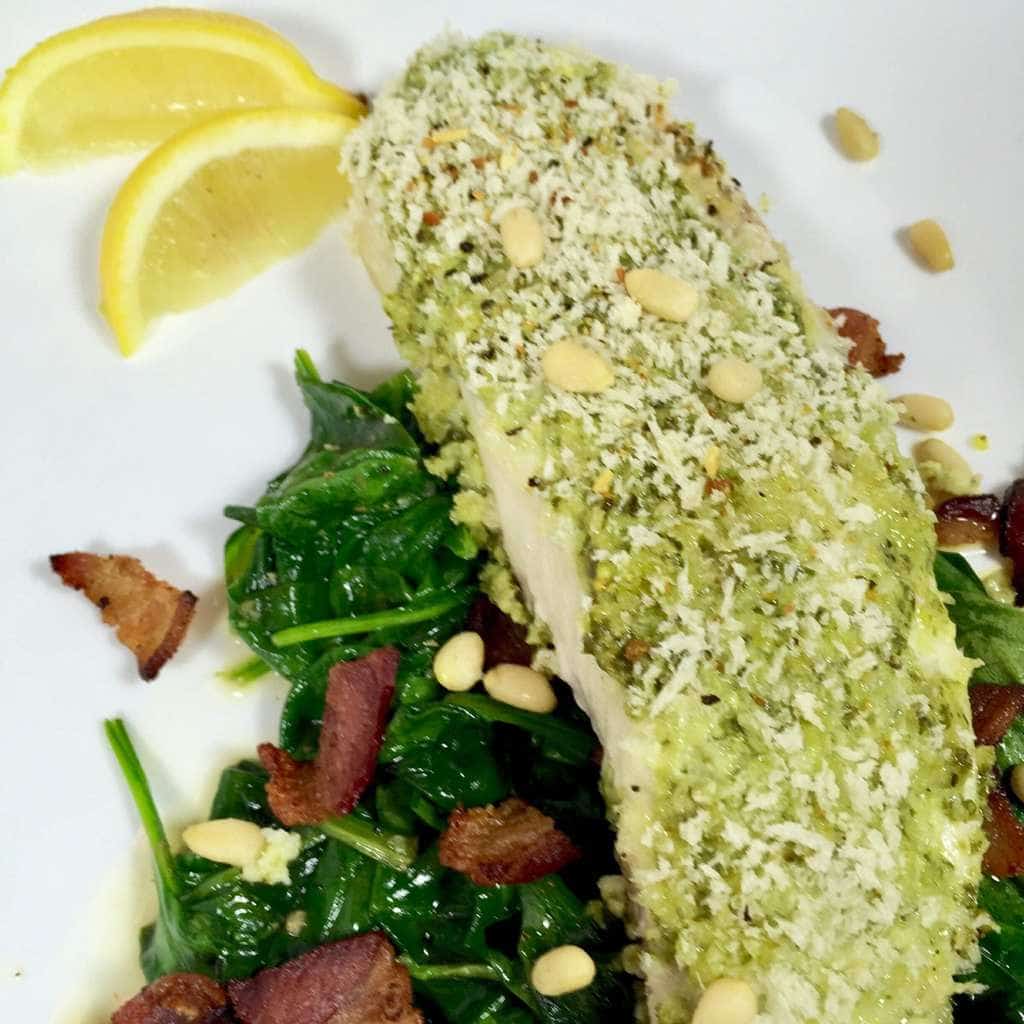 And so I actually caught sole that my Grandmother would filet and bake it for us.
When it's that fresh, it's wonderfully tender and sweet.
If you've read my article, Healthiest Choices When Buying Seafood, you'll see that Sole is on the list.
This mild fish is great for sautéing, but because it's so delicate, it has a tendency to fall apart when you flip it over.
So for that reason, like my Grandmother, I prefer baking sole.
I've made it all kinds of ways: with lemon butter sauce, to a mayonnaise dill sauce to Cajun Style.
I finally decided, because I'm a fan of pesto, I would use that in my sauce.
But pesto itself is a little strong for this mild sauce, so I added a little cream fraische to lighten it up a bit and the result was fabulous.
Hope you like Sole with Creamy Pesto as much as we did.
Ingredients of Sole with Creamy Pesto 
How to Make Sole with Creamy Pesto
First, preheat your oven to 400 degrees.
In a greased baking dish, add the sole filets in a single layer.
Next, mix the pesto sauce with Creme Fraiche and add the pesto sauce over the top.
Sprinkle to the top with Panko.
Bake 12-15 minutes until the fish flakes easily.
Note
My go-to pesto recipe has always been Rosie Daley's Pesto.
She was hired many years ago as a chef for Oprah and she cooked the most wonderful healthy dishes for her.
Check out her book, In the Kitchen with Rosie.
Her book has been absolutely one of my favorites for years.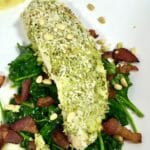 Print Recipe
Sole with Creamy Pesto
Sole with Creamy Pesto is deliciously mild and tender with just the right amount of creamy flavor. This dish is perfect with a spinach salad.
Ingredients
2

4 oz

Filet of Sole

1/4

Cup

Pesto sauce

1

Tbsp

Creme Fraiche

1

Tbsp

Panko
Instructions
Preheat oven to 400 degrees F

Add Sole in a single layer in lightly greased ovenproof dish.

Mix Pesto with Creme Fraiche and cover each filet with pesto mixture.

Sprinkle Panko evenly over both filets.

Bake 12-15 minutes until filets flake easily
Nutrition
Calories:
151
kcal
|
Carbohydrates:
6
g
|
Protein:
2
g
|
Fat:
12
g
|
Saturated Fat:
2
g
|
Cholesterol:
5
mg
|
Sodium:
331
mg
|
Sugar:
1
g
|
Vitamin A:
665
IU
|
Calcium:
66
mg
|
Iron:
0.4
mg