Rosie Daley's Pesto is fabulous not only because of its delicious taste, but the real bonus is the savings in calories and fat over all other pesto recipe.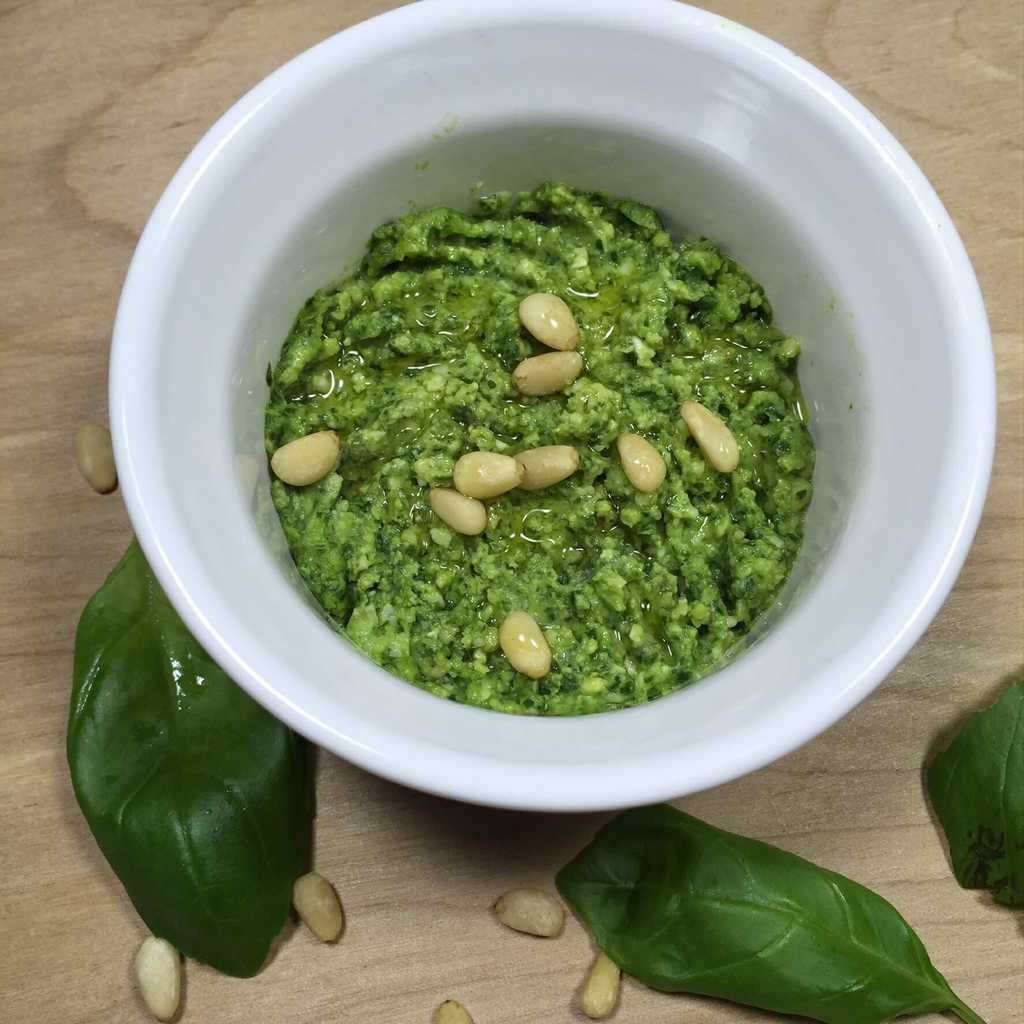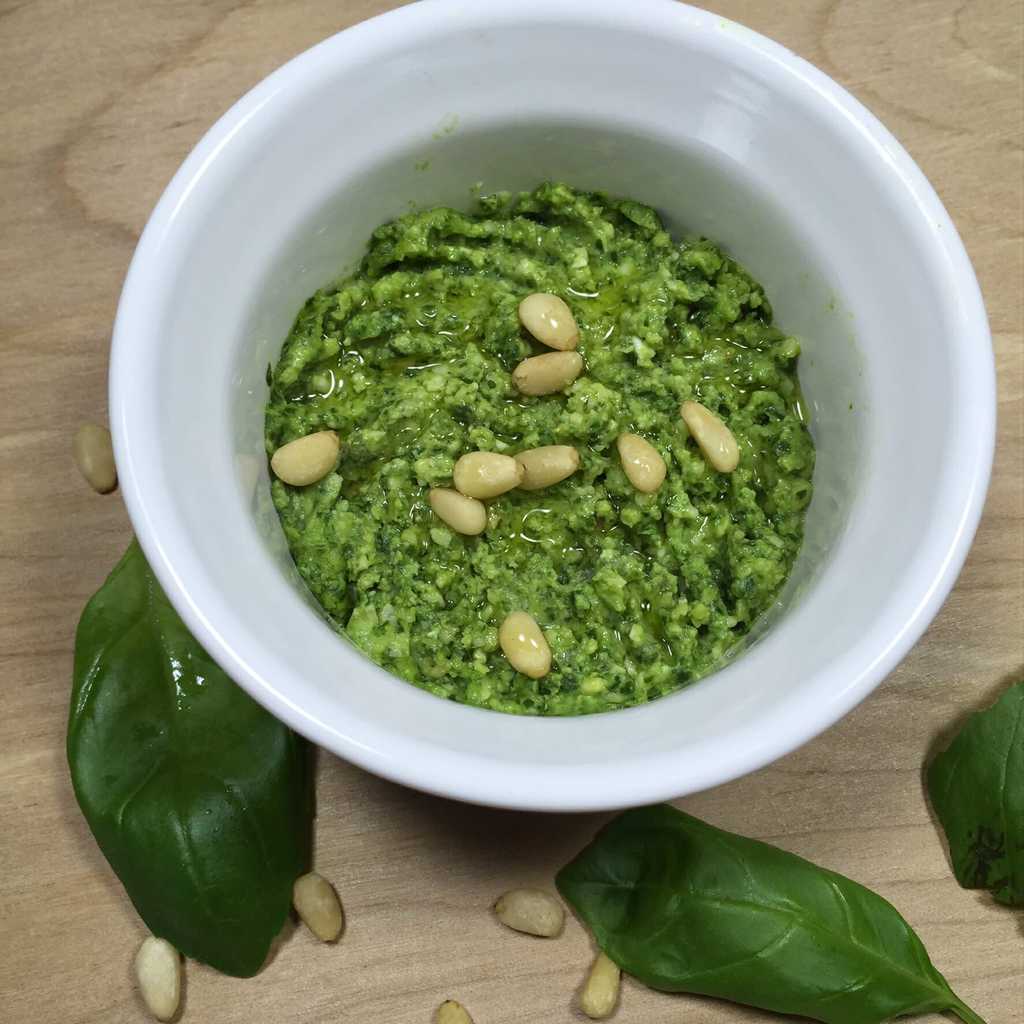 About Rosie Daley's Pesto
I love pesto.
It's great in pastas, in sandwiches and paninis.
It's also perfect in salad dressings, in soups, and in couscous and rice.
It just adds a freshness to so many dishes and that's why I always keep a supply on hand in the freezer.
When I lived in Arizona there was always a bumper crop of basil every winter and friends would always give me more than I could use at one time, bless them.
But unless you use it within a day or two the leaves begin to turn dark.
Not wanting to waste it, I decided to freeze it and my food processor and cupcake pans came to my rescue.
To freeze: Thoroughly wash the basil, then pick the leaves off and dry them on huge towels on the counter.
Then stuff them a bit at a time into my Hamilton Beach Food Processor along with all my other ingredients.
It especially helps that this processor includes a bowl scraper, so you don't have to stop and push the pesto down with a spatula every so often.
And, after tasting to make sure it's perfect, spray a 9" x 13" cake pan lightly with olive oil and set cupcake liners in it and lightly spray the liners as well.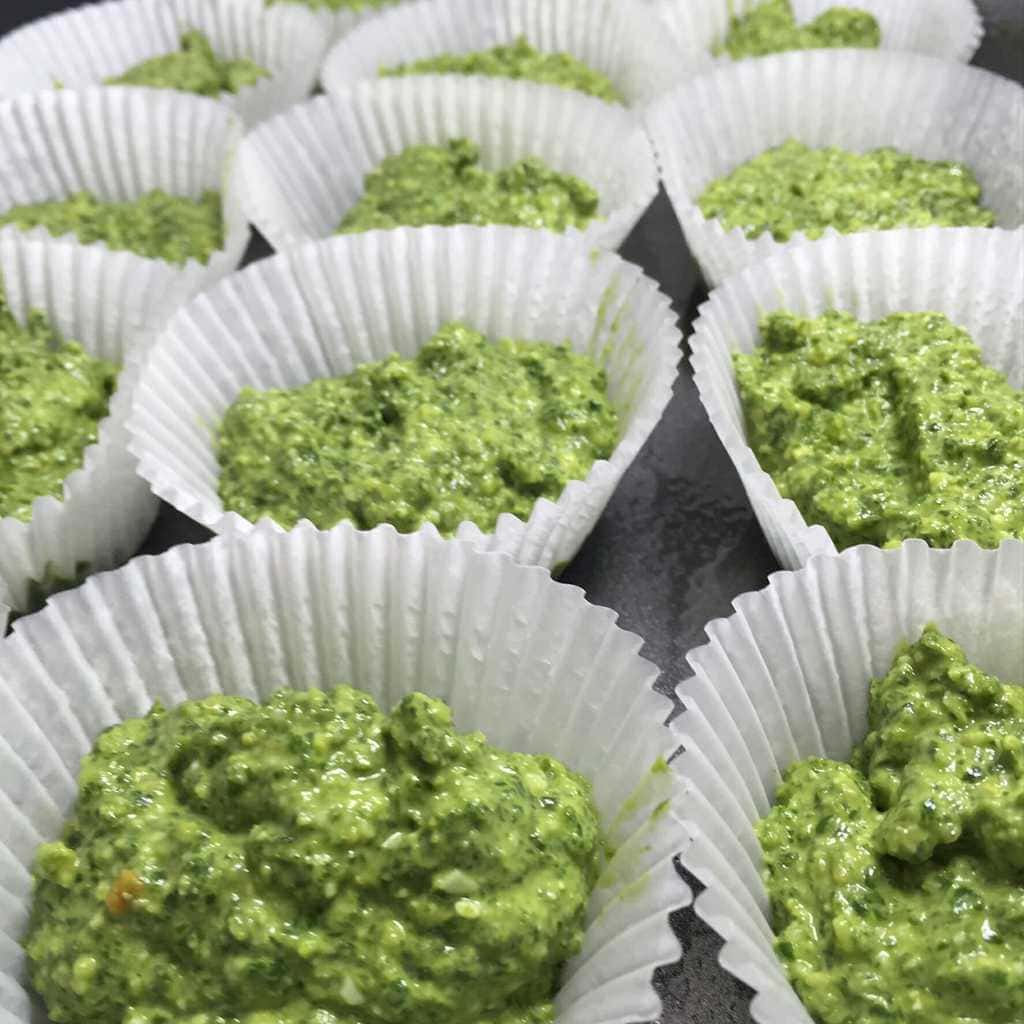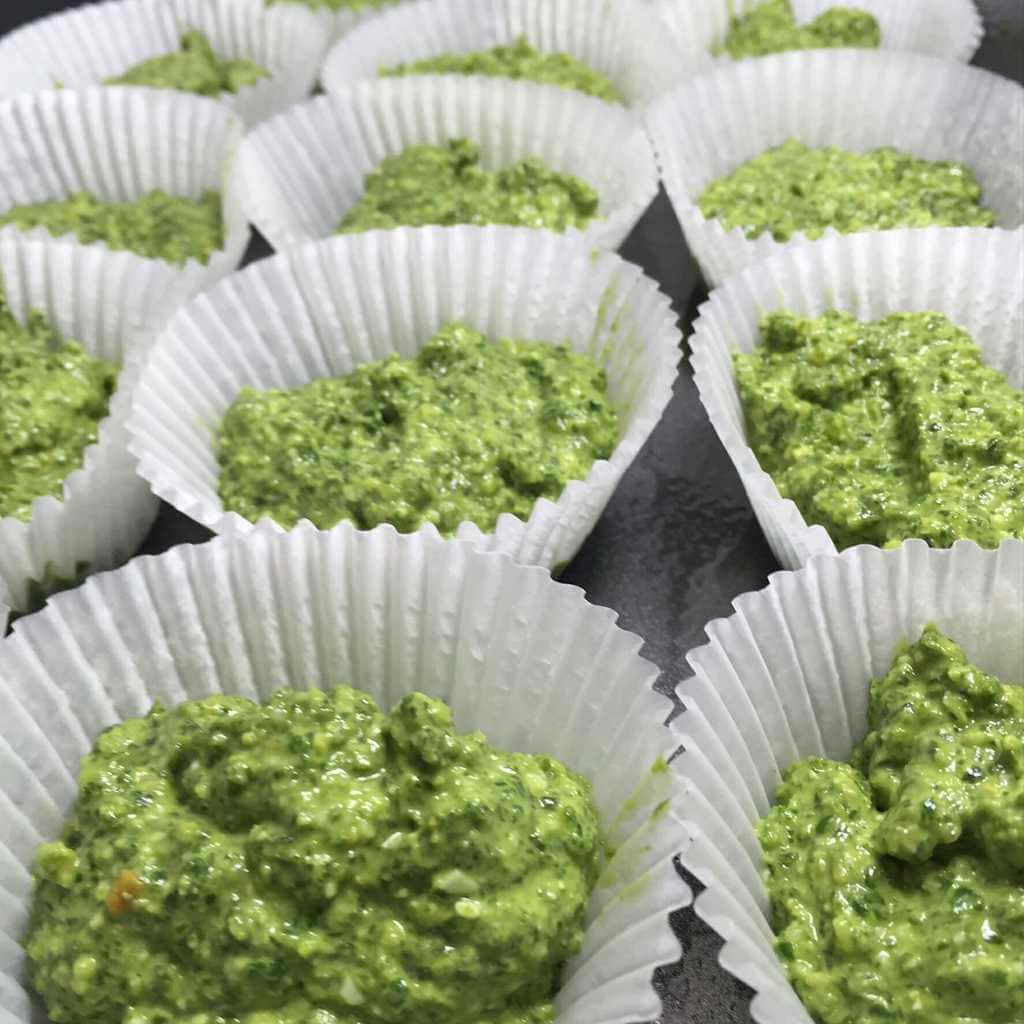 Then I add about 2 Tbsp of pesto to each one and cover the pan with plastic wrap and set the pan in the freezer.
The next day I unwrap each frozen pesto and store them in a gallon zip lock bag and put them back in the freezer where they'll last for a month or two.
Easy Peasy and ready when ever you need it.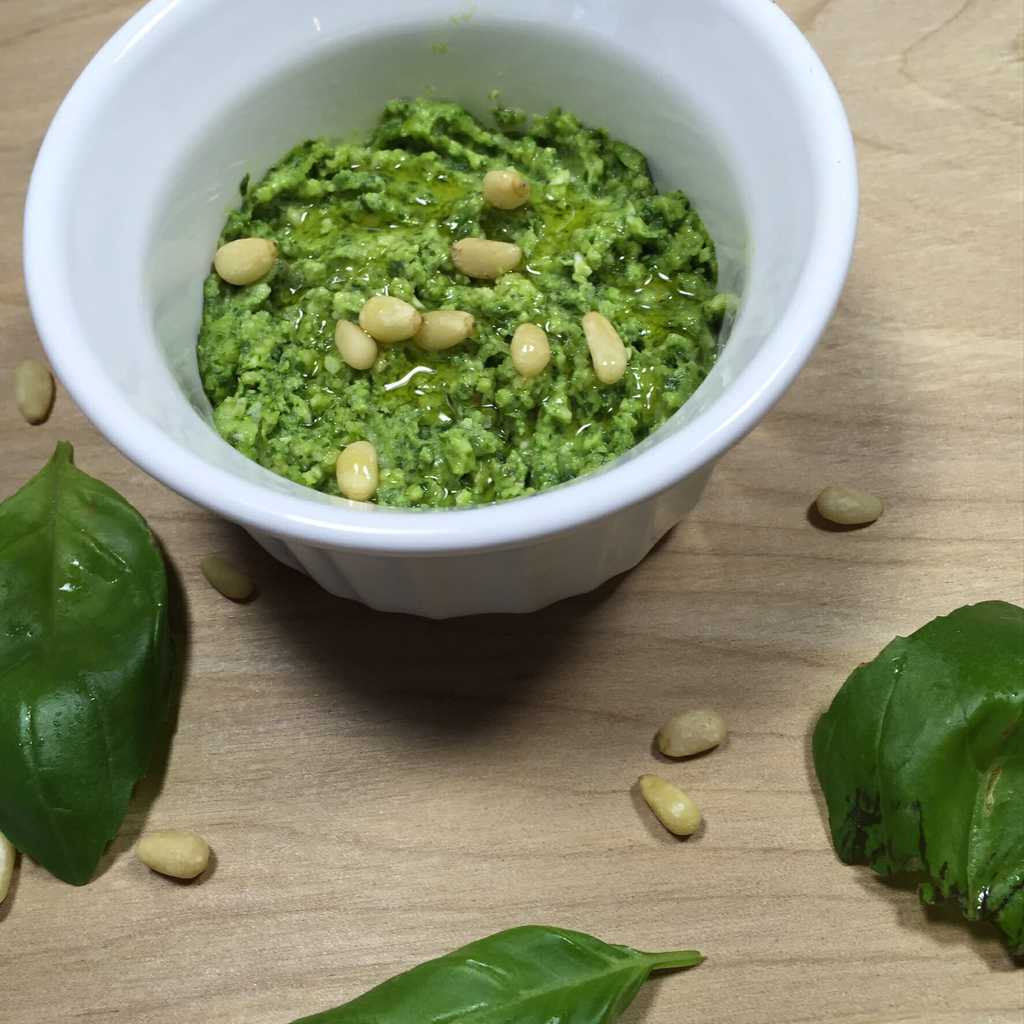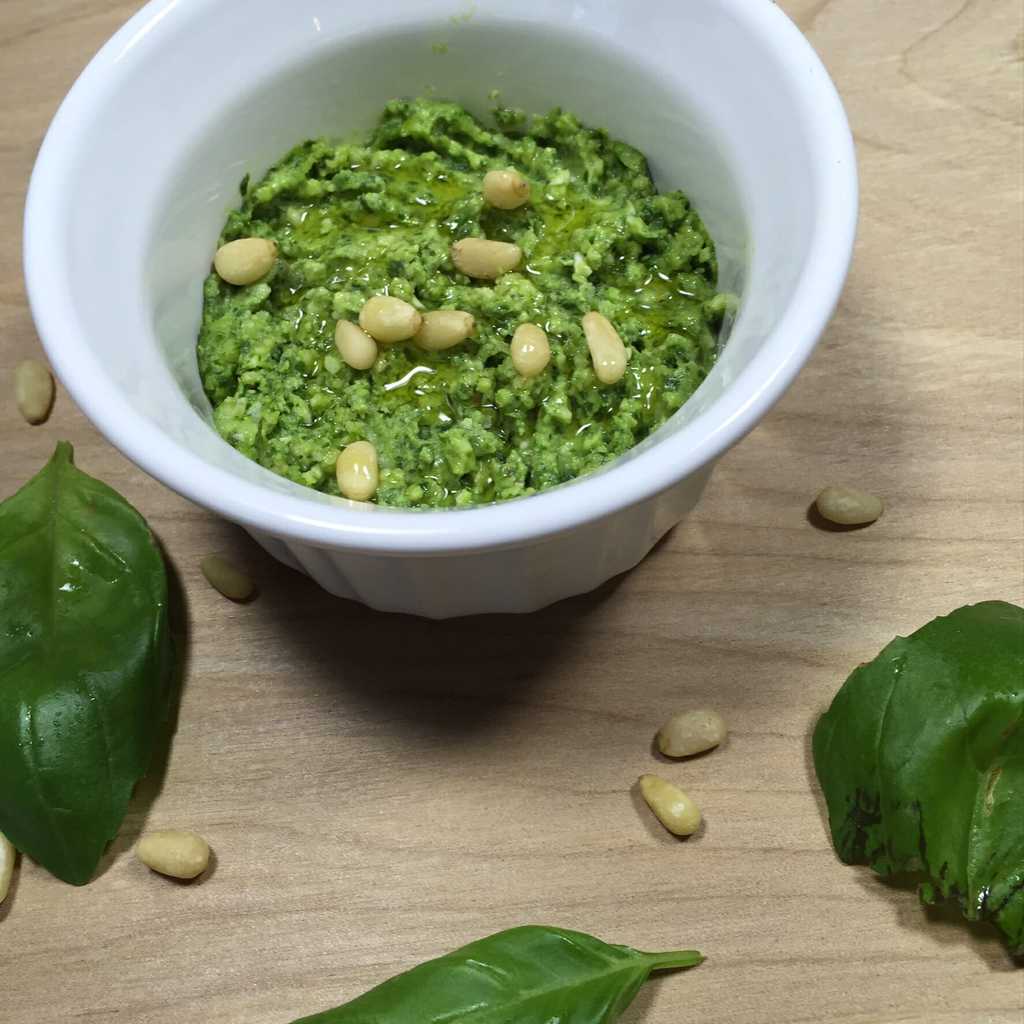 The ingredients for the nuts vary depending on what I have in the pantry.
Sometimes it's pine nuts, other times it's walnuts or even pistachios.
And because I want my pesto to be lower calorie and healthier, I have taken inspiration from Rosie Daley, Oprah Winfrey's personal chef, and use lemon juice.
It just makes the pesto taste fresher.
And because I also want it to taste rich, I use a little olive oil as well.
I'm posting Rosie Daley's Pesto, because of health and it's fabulous taste.
This recipe comes from her cookbook, In the Kitchen with Rosie – Oprah's Favorite Recipes.
It's a perfect starting place for pesto.
You may like it just as is.
It's fresh and wonderful, but you may also want to adjust it to your taste.
Maybe less garlic, maybe more pine nuts, or like me, you may want to add some olive oil.
Play with it, taste it and make it your own.
And after all your work, freeze it in small portions where you can add it in at the last minute.
Ingredients of Rosie Daley's Pesto
Basil Leaves
Pine Nuts
Garlic
Parmesan Cheese
Lemon Juice
How to Make Rosie Daley's Pesto
Thoroughly rinse basil leaves.
Then place them on a clean kitchen towel to soak up extra water.
Place the basil leaves, pine nuts, garlic, and parmesan cheese into a food processor.
Pulse several times, then turn the machine on high to blend.
Finally add the freshly squeezed lemon juice.
Blend again until it's well blended.
Also try Chicken Pesto Soup.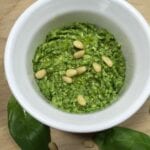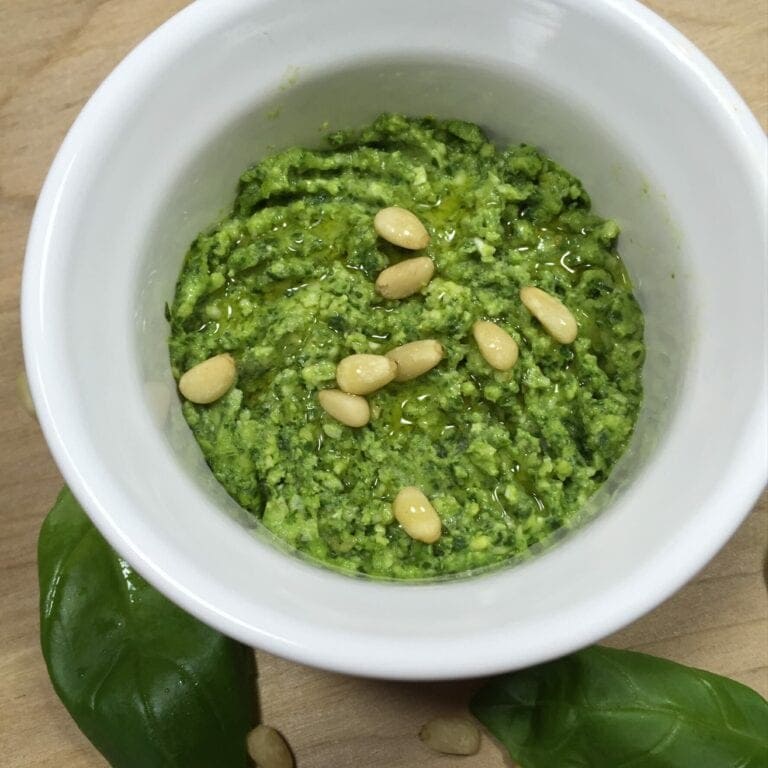 Print Recipe
Rosie Daley's Pesto
This pesto created by Rosie Daley is fresh tasting healthy, and delicious. Begin with this recipe and then make it your own.
Ingredients
1 1/2

Cups

Fresh basil leaves

1/4

Cup

Pine nuts

2-5

Cloves

Garlic

1/4

Cup

Parmesan cheese

Freshly grated

1/4

Cup

Freshly squeezed lemon juice
Instructions
Put basil, pine nuts, garlic and Parmesan cheese into blender or food processor. Turn on the machine, drizzle in the lemon juice and continue to purée until a smooth paste is formed. Makes about 3/4 cup pesto.
Nutrition
Calories:
365
kcal
|
Carbohydrates:
12
g
|
Protein:
15
g
|
Fat:
30
g
|
Saturated Fat:
6
g
|
Cholesterol:
22
mg
|
Sodium:
386
mg
|
Potassium:
370
mg
|
Fiber:
1
g
|
Sugar:
3
g
|
Vitamin A:
2115
IU
|
Vitamin C:
31.9
mg
|
Calcium:
352
mg
|
Iron:
3.2
mg