Smoky Salmon Skewers are grilled in the traditional Northwest style with a touch of brown sugar and a smoky flavor from the spices.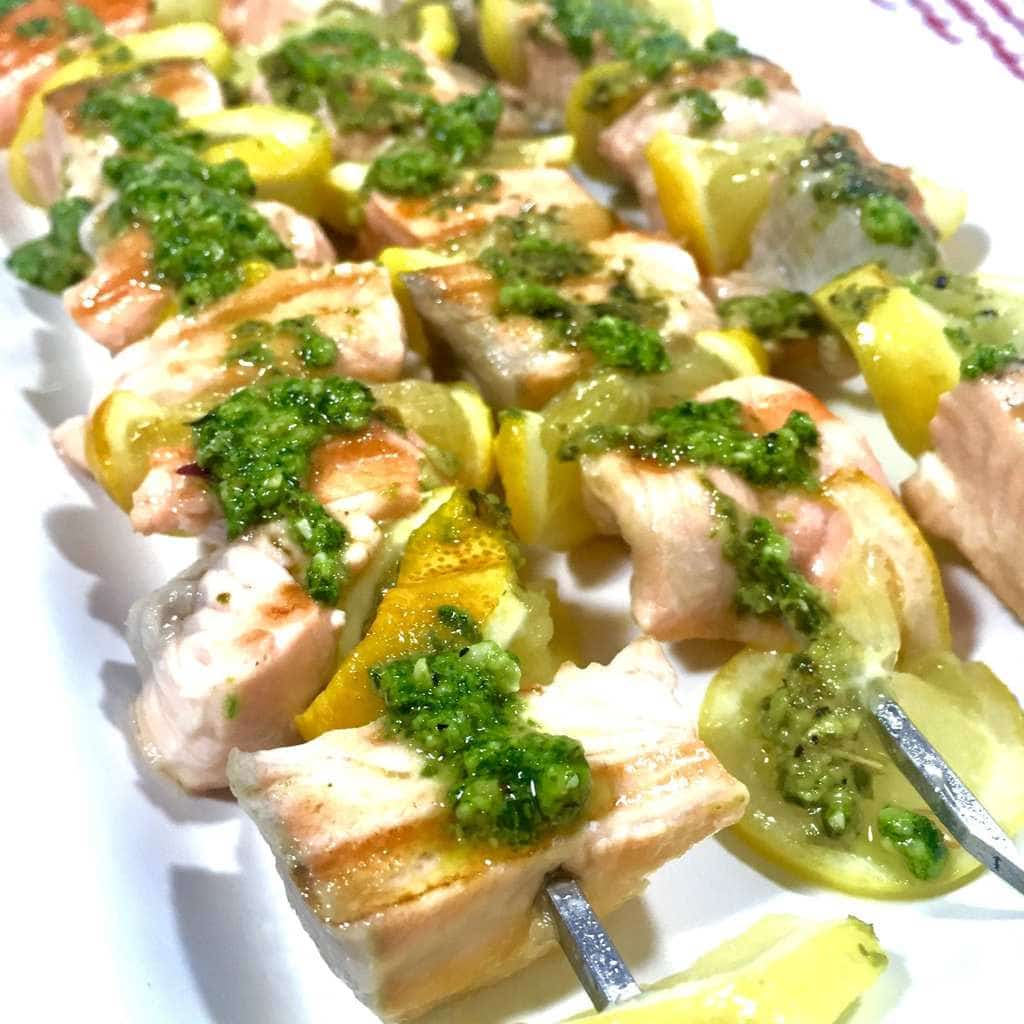 Smoky Salmon Skewers are my new go-to salmon dish. Not only because it's easy and delicious, but it's also fun to eat. Actually to me any kind of salmon dish is wonderful and each type of salmon has its own flavor. King salmon from the great Northwest, to Norwegian Salmon, to Icelandic Arctic Char, to that buttery Ora salmon from New Zealand. There's just nothing quite like the rich taste of salmon.
I think the most interesting preparation for salmon that I've ever seen was in Depoe Bay, Oregon. They have an annual Indian Salmon Bake that draws thousands of people to their beautiful little seaside town, which boasts the world's smallest navigable harbor. Originally, Depoe Bay was home to the coastal Salish Indian tribes who were great fishermen. They would host annual Potlatches, a shared ceremony that involved a feast, gift giving and dancing. Through the years this feast included salmon which was cooked over burning logs.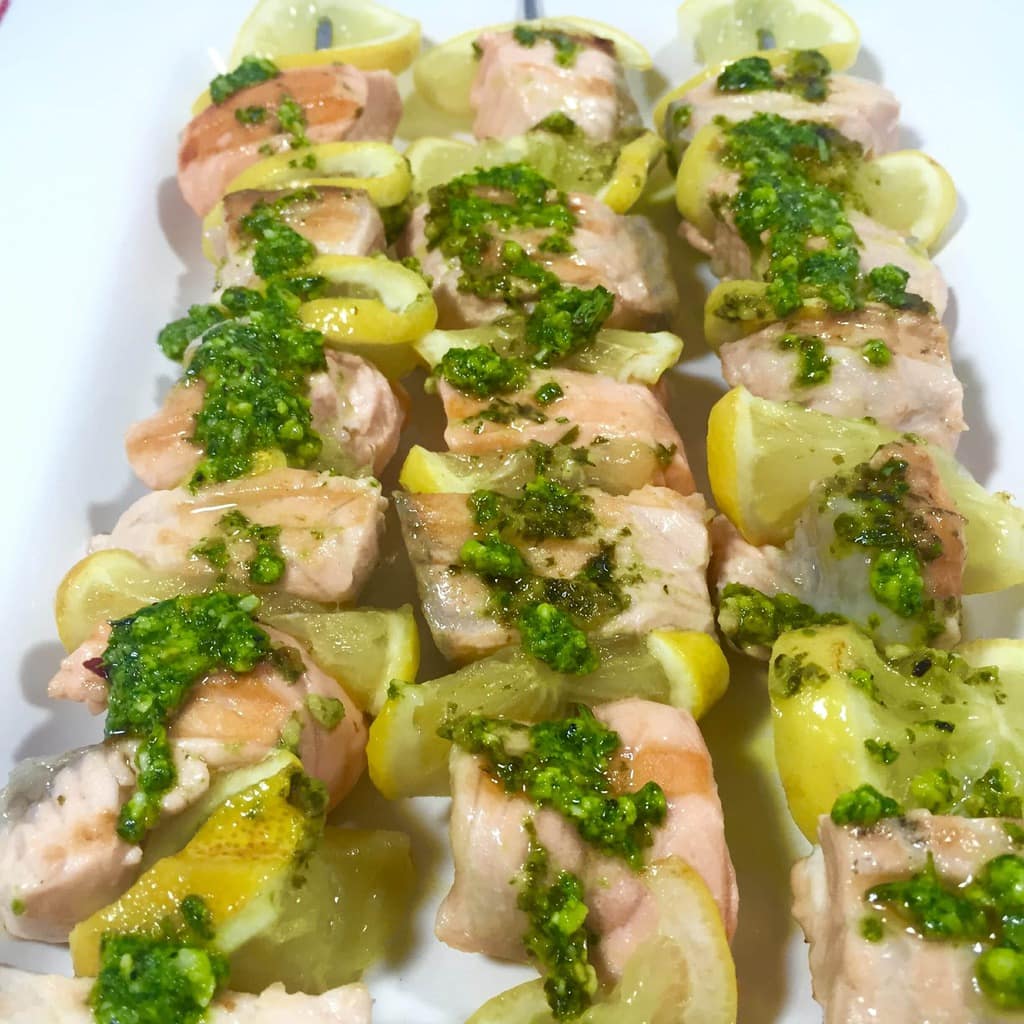 Today Depoe Bay still honors the Indian tribes with an annual Depoe Bay Salmon Bake which is held each September. Before sunrise on the morning of the event an eighty foot trench is filled with six cords of fir, to sustain the heat, and three cords of alder, to add flavor. It is then ignited to burn throughout the morning.
In the traditional Indian Style, green saplings are used as holding racks for the salmon and is cross braced with strong twigs to hold the salmon securely. These skewered salmon fillets are then positioned on each side of the 80' foot trench to slowly roast over the hot, smoky logs. It's an amazing sight to see and even more amazing is the taste of that salmon. Juicy, smoky and slightly crispy.
How to Make Smoky Salmon Skewers
Unfortunately, we missed the Salmon Bake last year but I still wanted to try and capture that taste again. Well, as much as possible, since I don't have room for an 80' barbecue pit and I'm fresh out of alder and fir logs. So you make do. I had some beautiful salmon in the refrigerator and I had skewers. Plus, since it was raining, I also had my trusty Griddler. So to try and duplicate that great outdoor grilled taste I added smoked seasonings.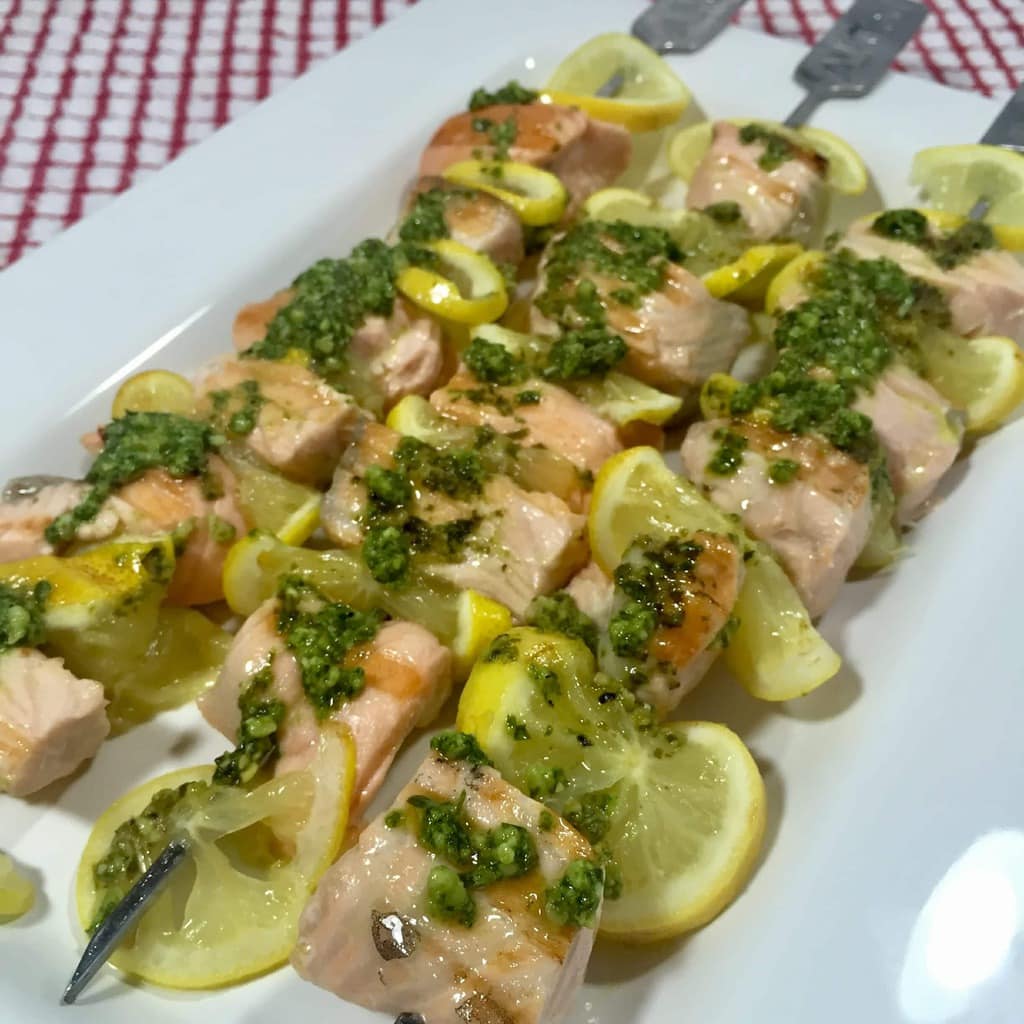 I cut the salmon into bite sized pieces, coated them with olive oil and rolled them in a brown sugar, smoked paprika and smoked hickory Powder mixture. Sprinkled salt and pepper over each side and grilled them. No, it wasn't traditional and the flavor doesn't compare to the real McCoy of the Indian Bake, but I have to say it was good. Very good. And so, Smoky Salmon Skewers. Hope you enjoy!
If you like this recipe, please leave a comment below and pin us on Pinterest!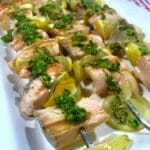 Print Recipe
Smoky Salmon Skewers
Smoky Salmon Skewers are grilled in the traditional Northwest style with a touch of brown sugar and a great smoky flavor from smoked paprika and smoked hickory powder.
Ingredients
3/4

Pound

Salmon

1

Tsp

Olive oil

2

Tbsp

Brown sugar

1

Tsp

Smoked Paprika

1/2

Tsp

Hickory smoke

1/2

Tsp

Sea salt

Himalayan Pink Sea Salt is preferred

1/4

Tsp

Pepper

2

Lemons

Thinly sliced
Instructions
Preheat Griddler to Grill setting

Cut salmon into large bite sized pieces. Add olive oil and coat evenly.

In a shallow mixing bowl add brown sugar, smoked paprika, hickory smoke powder, salt and pepper. Coat salmon with sugar mixture.

Alternate salmon with lemon slices in Skewers,

Add salmon Skewers to heated Griddler and close lid. Cook 2-3 minutes.

Optional: Add 1 Tsp olive oil to 1 Tbsp prepared Pesto and drizzle over salmon.
Nutrition
Calories:
341
kcal
|
Carbohydrates:
22
g
|
Protein:
35
g
|
Fat:
13
g
|
Saturated Fat:
2
g
|
Cholesterol:
93
mg
|
Sodium:
662
mg
|
Potassium:
1005
mg
|
Fiber:
3
g
|
Sugar:
14
g
|
Vitamin A:
560
IU
|
Vitamin C:
57.3
mg
|
Calcium:
58
mg
|
Iron:
2.2
mg