George's Char Salmon is made with delightfully light Arctic Char that is sautéed and finished in the oven is a rich garlic butter sauce.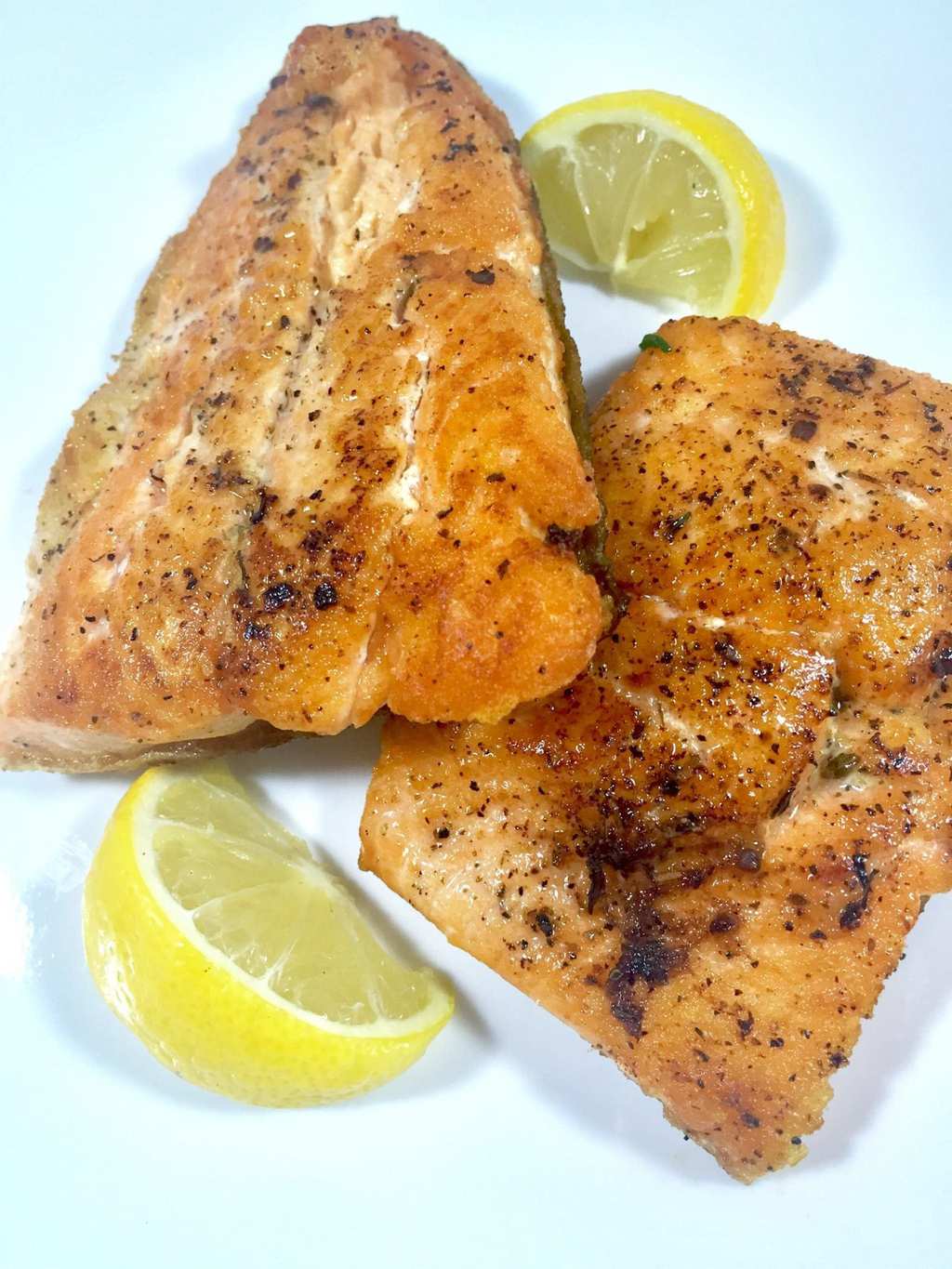 About George's Char Salmon
Interesting how life works out.
One day all is normal and the next you find yourself in the Emergency Room.
All I have to say is be careful with knives and avocados. Especially when you have sharp knives.
So after several shots and a suture, all is well, but that first day was pretty miserable.
So here came my husband and best friend, George, who said, "I'm making dinner."
His menu was Char, which I now call "George's Char Salmon" along with a wonderful Spinach Salad with Bacon, a gorgeous Rainbow Tomato Salad and finally brown rice.
Bless him.
Healthy all. Well, maybe not  so much the bacon, but all things in moderation, right?
Now you have to understand, George's (volunteer) kitchen duties usually entail being a fabulous Sous Chef.
I know I couldn't have done all our parties without him, but his chef duties are rare.
It's not his fault at all, it's mine because I love to cook so much.
But after this delightful dinner, he obviously has been watching and learning.
One of the hardest things to do when you first start cooking is timing.
All the hot foods need to be hot and the cold foods cold, right on time.
And he nailed it. Everything was perfect.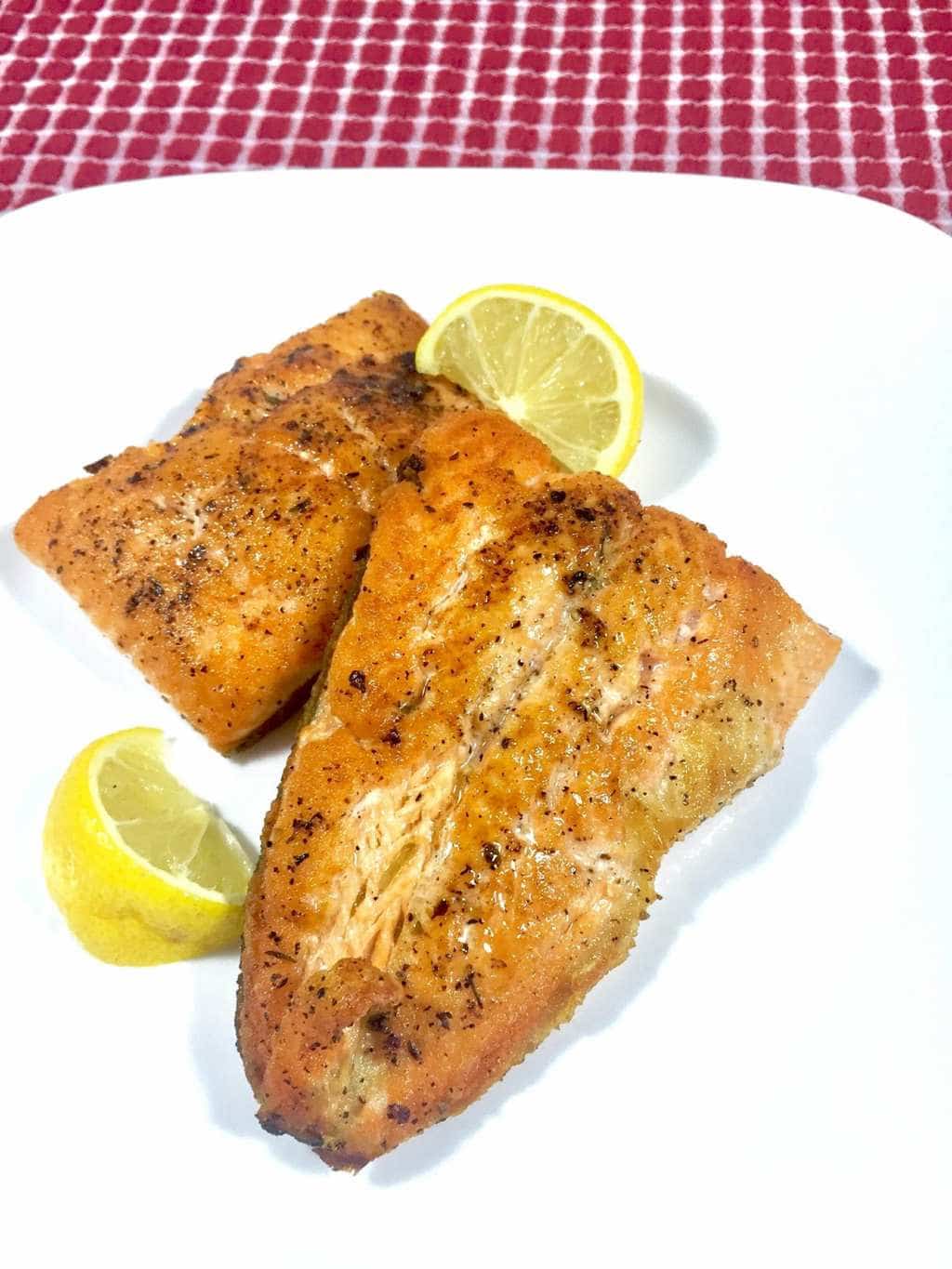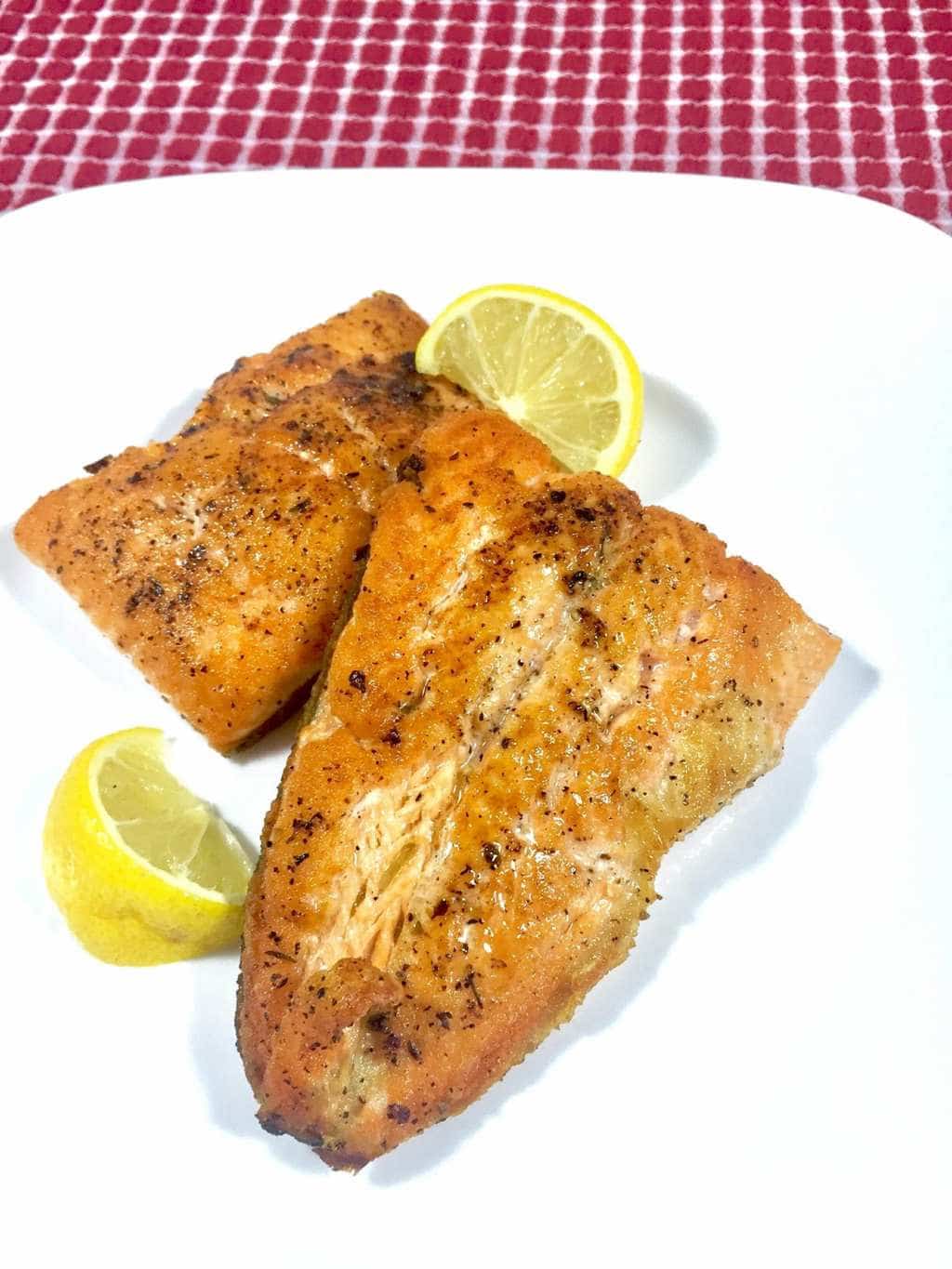 Ingredients of George's Char Salmon
Arctic Char Filets
Salt
Pepper
Ghee
Garlic 
How to Make Easy Arctic Char
George's recipe was a little different from my Easy Arctic Char and I loved it.
The preparation was close to mine but he made his Char with garlic and butter and it really made a big difference.
Begin by preheating your oven to 350 degrees. Then bring an oven proof frypan up to medium high heat and add  ghee and garlic.
In the meantime salt and pepper both sides of your Arctic Char filets.
Then add them to the pan, flesh side up, and let then cook for about 2-3 minutes.
Flip the filets over and add the pan to the oven and let it bake for another 4-5 minutes.
Remove the filets to a serving dish and pour the juices over the filets and serve with lemons on the side.
As he said, "Garlic and butter just go hand in hand with fish."
And he's right. Who doesn't like
Scampi
?
Notes
By the way, if you've never tried Char, you really are missing out.
The Icelandic fish is really a cross between salmon and trout.
It's deep red flesh looks like salmon, but it's shimmery silver skin looks like trout.
And the taste? Much milder than salmon and far richer than trout.
It's really perfect.
Although what you buy in the market is farm raised, don't let that deter you.
So thank you George for once again coming to my rescue. You're the best of the best!
One last thought, on this little Emergency Room visit.
The nurses actually told us that kitchen knife accidents, especially with avocados, are the most common injury they see.
So, be extra careful around those slippery pits!
If you like this recipe, please leave a comment below and pin us on Pinterest!
You might also like: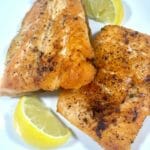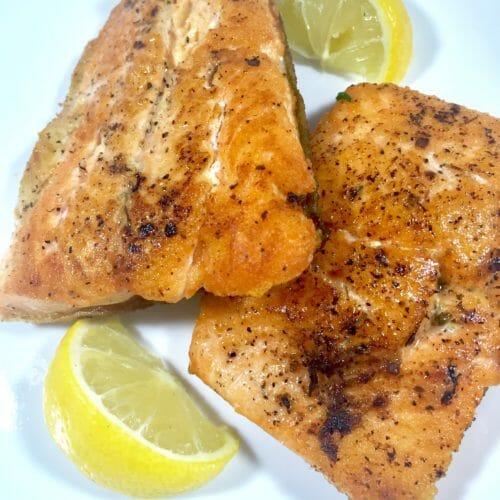 Print Recipe
George's Char Salmon
George's Char Salmon is made with delightfully light Arctic Char that is sautéed and finished in the oven is a rich garlic butter sauce.
Ingredients
2

6 oz

Arctic Char filets

1/2

Tsp

Salt

1/4

Tsp

Pepper

1

Tbsp

Ghee

Clarified butter

2

Cloves

Garlic

Finely minced
Instructions
Preheat oven to 350 degrees F

Salt and pepper char filets.

In a oven proof frying pan, add Ghee and garlic. Cook 1 minute then add char filets flesh side down. Allow to cook 3 minutes until we'll browned.

Turn filets over and immediately place in oven for 4-5 minutes, just until filets are firm.

Add to serving dish and pour pan juices over top.
Nutrition
Calories:
70
kcal
|
Carbohydrates:
1
g
|
Fat:
7
g
|
Saturated Fat:
4
g
|
Cholesterol:
19
mg
|
Sodium:
582
mg
|
Vitamin C:
0.9
mg
|
Calcium:
5
mg