This Stacked Caprese Salad not only provides the Wow! Factor, but it's as easy as can be.
About Stacked Caprese Salad
Sometimes, the simplest things are the best.
It's no surprise that I like to cook, but I also like to go out to restaurants.
It's a great way to investigate taste, preparation and presentations.
This Stacked Caprese Salad was inspired by a dish from a wonderful restaurant on Coronado Island overlooking beautiful San Diego Bay.
Coronado Island is wonderful for so many reasons.
It's located right on beautiful San Diego Bay and the restaurants…well, I can't even begin to tell you how wonderful they are.
There was one within walking distance from the fabulous Hotel Del Coronado.
These people really know how to cook and present food.
I remember one dish that my husband, George, ordered that was a stacked appetizer of crab, avocado and mango.
It was not only absolutely beautiful with the white, green and orange colors, but the tastes were perfect together.
I loved the look and he loved the taste.
As a designer, I'm a very visual person.
How furnishings should be placed, how paintings should be grouped, how a table should be set.
Presentation has always been important to me, and that extends to cooking.
So when I create dishes I always try to keep presentation in mind.
Not only how does the dish look by itself on the plate, but how does it look with the rest of the meal? Are the flavors compatible?
When I made Creamy Cheesy Cauliflower, I knew I needed something beautiful to compliment it.
Since the cauliflower dish was rich and creamy, I needed something with texture, and I needed color as well since the dish was made with basically white ingredients.
And then I remembered the crab stacked appetizer George ordered.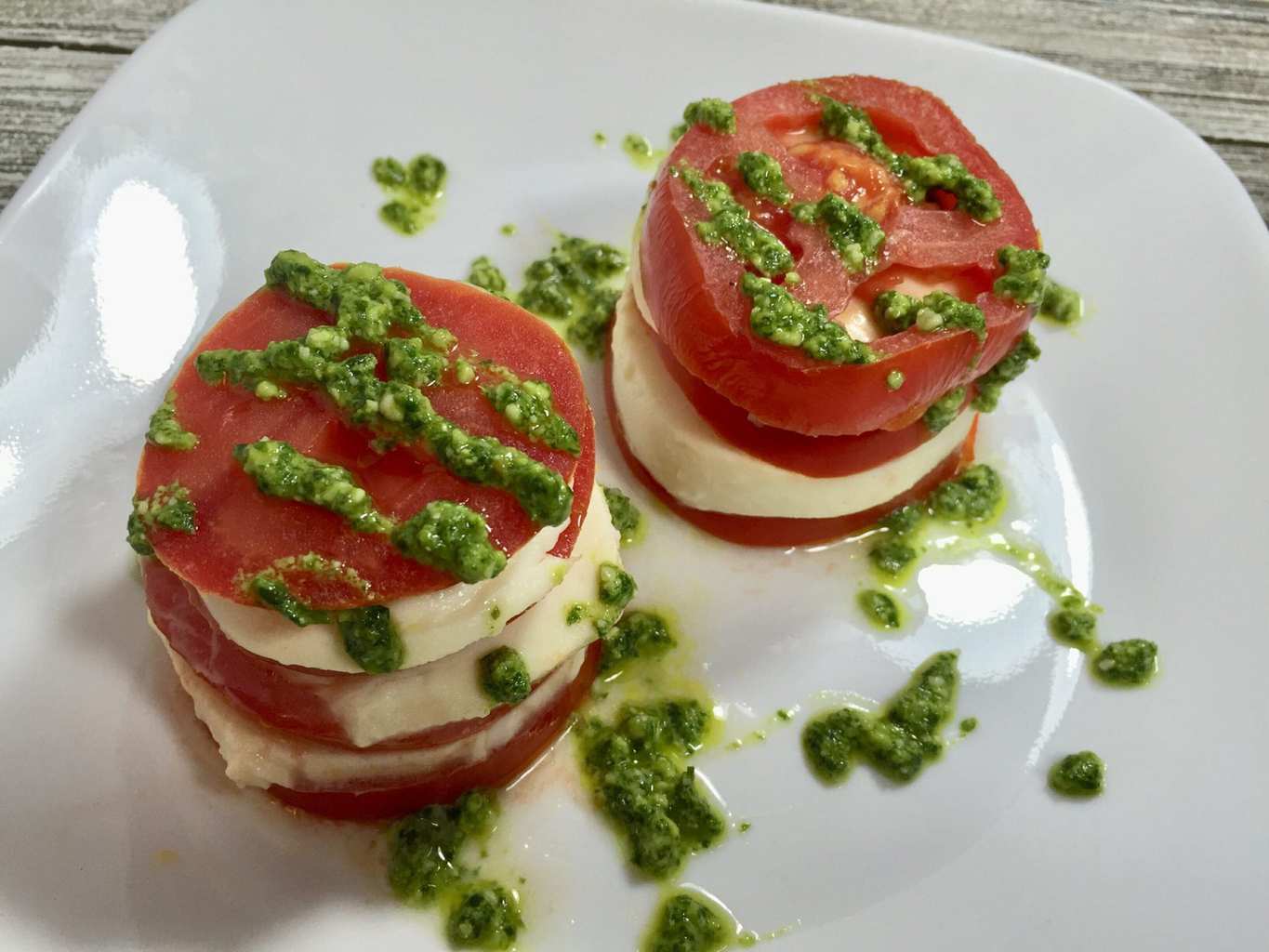 Since I was already having roast chicken as the main dish, how about a salad?
A Caprese Stacked Salad would be beautiful with it's red and white colors, and the texture complimented the creamy cauliflower perfectly.
And for more color and an extra tang of flavor, this dish is finished with Rosie Daley's Pesto, thinned with some olive oil.
Even with it's Wow Factor, it's really an easy side dish to put together at the last minute, especially when you have frozen pesto waiting for you in the freezer.
Ingredients of Stacked Caprese Salad 
Pesto
Olive Oil
Tomatoes
Mozzarella
How to Make Stacked Caprese Salad
Add Pesto to a small bowl, then drizzle in 2 tsp olive oil and mix thoroughly.
Slice tomatoes about 1/4" thick
Also slice Mozzarella ball 1/4" thick and finally drizzle the pesto mixture over the top.
Notes 
No question,  this is a simple recipe.
And even made simpler when you have pesto in your freezer.
My go-to pesto recipe is Rosie Daley's Pesto, as I mentioned earlier.
And if you don't know Rosie Daley, check out her book In the Kitchen with Rosie -Oprah's Favorite Recipes.
She was hired by Oprah Winfrey as a private chef to help Oprah lose weight.
And that she did.
Oprah loved all of her recipes, but to me the outstanding one was her pesto.
Normally pesto is incredibly high in calories and fat because of all the olive oil and cheese.
But this pesto substitutes lemon juice for the oil and really cuts down the cheese.
The result is a super fresh tasting much lighter pesto that really is great.
And when you click on Rosie Daley's Pesto, you'll also see my easy method to freeze this pesto ahead so it's there when you need it.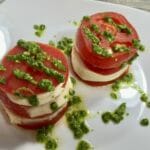 Print Recipe
Stacked Caprese Salad
This Stacked Caprese not only provides the Wow! Factor, but it's as easy as can be.
Ingredients
2

Tbsp

Pesto

Tsp

Olive oil

2

Medium

Tomatoes

8 slices 1/4" thick

6

oz

Mozzarella ball

6 slices 1/4" thick
Instructions
Add pesto to a small bowl and thin with olive oil. Set aside.

For each stack use 4 tomato slices And 3 mozzarella slices. Beginning and ending each stack with a tomato slice.

Add pesto decoratively over each stack.
Nutrition
Calories:
276
kcal
|
Carbohydrates:
2
g
|
Protein:
16
g
|
Fat:
23
g
|
Saturated Fat:
7
g
|
Cholesterol:
31
mg
|
Sodium:
202
mg
|
Potassium:
73
mg
|
Sugar:
1
g
|
Vitamin A:
560
IU
|
Vitamin C:
4.3
mg
|
Calcium:
328
mg