Pomegranate Orange Roasted Beets with Pomegranate molasses and blood orange oil are not only super easy but they are totally delicious.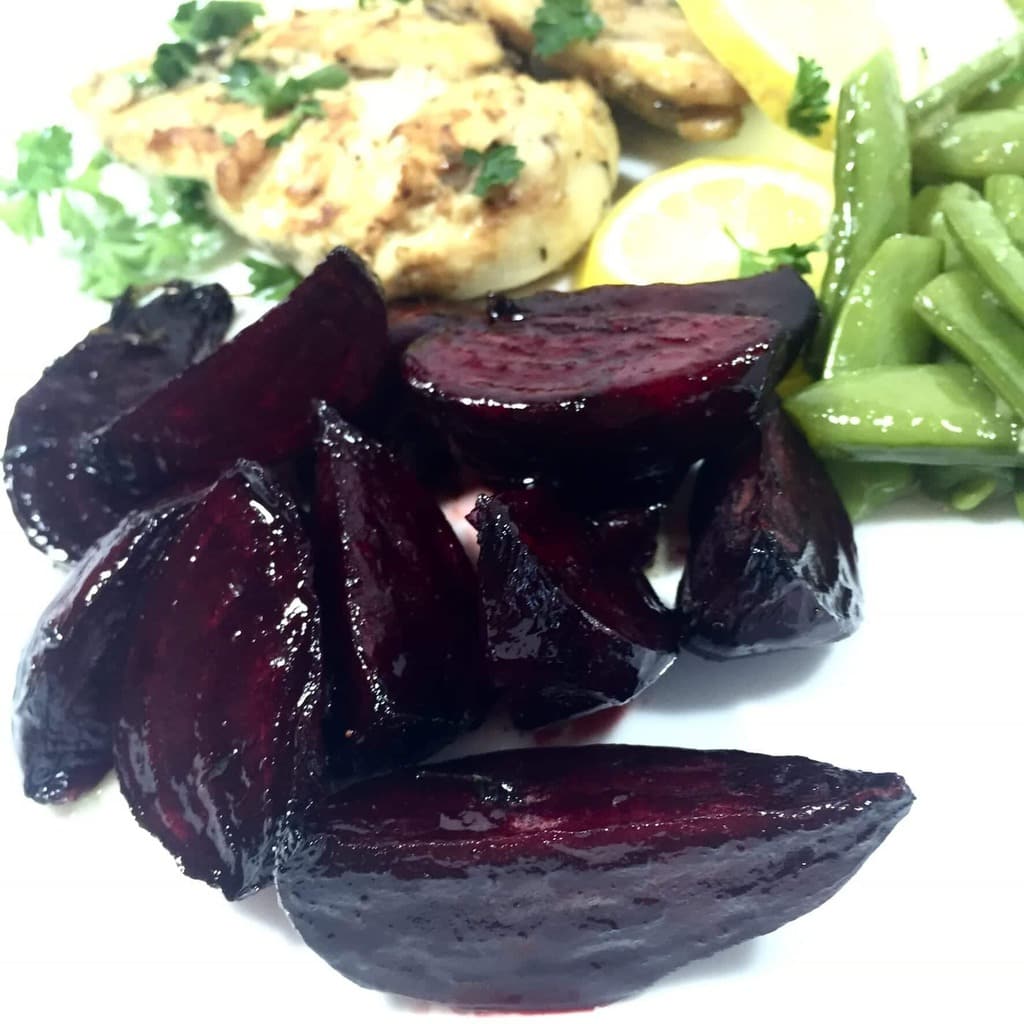 About Pomegranate Orange Roasted Beets
When I think of  my Pomegranate Orange Roasted Beets I think of McClendon's farm.
Scottsdale has a great Farmer's Market that they hold downtown on Saturday mornings.
This remarkable market, which is open from October to June, not only has beautiful flowers, locally grown oranges and honey, handmade mozzarella and pasta in all different flavors.
They also have fresh loaves of all kinds of bread, the best hummus I've ever tasted-made in the traditional Lebanese way and so much more.
The real star of the show is the fresh produce.
There are several booths that showcase their fruits and vegetables but the showstopper there is McClendons, who have such a variety of produce that they occupy an entire corner of that huge market.
This is the place that chefs target as soon as they arrive and there's a reason.
McClendons doesn't just have a simple produce stall. It actually takes up a huge corner of the Scottsdale Farmer's Market. Their farm produces the most amazing unique produce I've ever seen.
In fact they grow over 100 varieties of organic fruits and vegetables on their farm. Purple Artichokes, oranges, lemons, baby artichokes, pomegranates, yellow beets , orange beets, ruby red beets, kale and all kinds of greens.
The list goes on and on. Sweet potatoes, baby Yukon golds and so much more.
They also produce their own honey from their hives as well as grow their own dates….and then there's their citrus. Meyer lemons, blood oranges and grapefruit.
For a chef, looking for the perfect ingredient, or just a Foodie who absolutely loves fresh food from the source, this is heaven.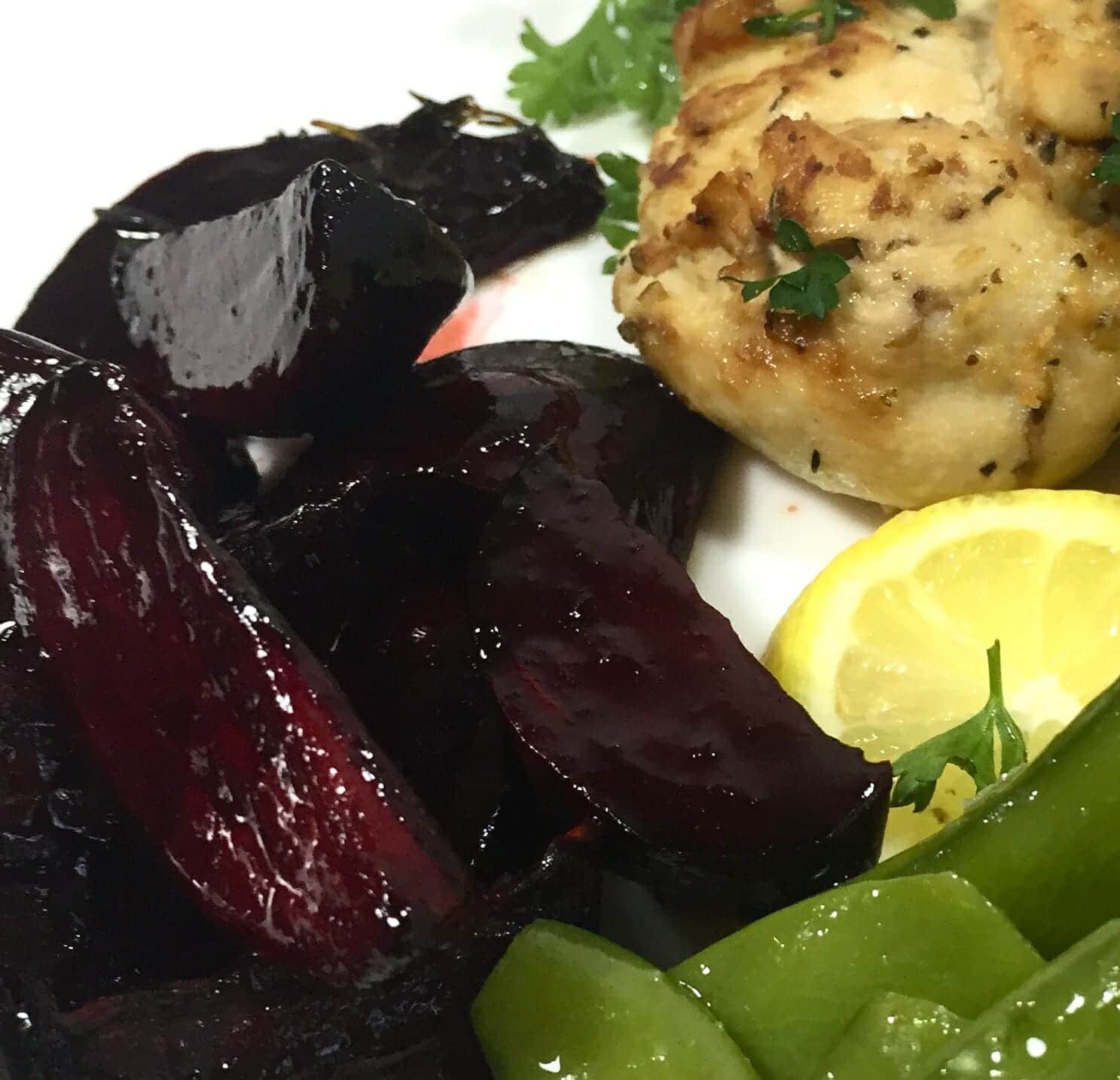 We were fortunate to be invited to a special dinner at McClendon's farm.
First they took us on a tour of the farm – from the date groves, to the orchards, to their endless fields of specialty produce and herbs.
We even toured the buildings where they set up huge vats to triple wash their produce.
As much as I always wash produce that claims to be previously washed, I would never hesitate to use McClendon's produce immediately after seeing the care that they put into it.
We sat outside under an open air greenhouse canopy at long tables.
Top chefs from local restaurants created the dinner in one of the huge kitchens on the farm.
Each dish was creative, amazing and abundant. And the dishes kept coming, each outdoing the one before.
We left that night feeling blessed with the experience, and reluctantly said goodby to our new friends.
As I think back, I'm trying to think which dish was the best.
I truly think it was a tie, they were all perfect.
But then I think about that Beet Salad. They used the ruby red variety and roasted them to perfection.
They were served over greens with a variety of herbs and the chefs added a slightly tangy, sweet dressing that complimented the beets perfectly.
They reminded me of a recipe I saw in Sunset Magazine.
And so I want to share these flavors with you.
If you haven't tried freshly roasted beets, they truly are amazing. And fairly simple to make.
How to Make Pomegranate Orange Roasted Beets
Begin by cutting the tops and the tails off the beets. (Be sure and save the greens. They are delicious when they're sautéed with butter and seasonings).
Then simply peel the beets with a potato peeler.
Cut them in wedges.
Place them in a baking dish and add olive oil, some thyme, salt and pepper.
Then roast them for 35-40 minutes.
To get the flavor of McClendon's special beets make a dressing using pomegranate molasses, blood orange oil and white wine vinegar.
Pomegranate Orange Roasted Beets. Fresh, perfect and super easy!
If you like this recipe, please leave a comment below and pin us on Pinterest!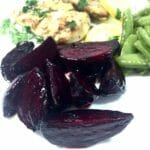 Print Recipe
Pomegranate Orange Roasted Beets
Pomegranate Orange Roasted Beets are not only super easy but they are totally delicious. The roasted beets combine with Pomegranate Molasses and Blood Orange Oil to make a perfect side dish.
Ingredients
4

Beets

1

Tsp

Olive oil

1/2

Lemon

Juiced

1/2

Tsp

Thyme leaves

1/4

Tsp

Salt

1/4

Tsp

Pepper

1

Tbsp

Blood Orange Oil

2

Tsp

Pomegranate Molasses

1

Tbsp

White wine vinegar
Instructions
Preheat oven to 400 degrees F

Cut the tops and roots off each beet, then with a vegetable peeler peel each beet. Cut the beet in 1" wedges.

Add beets to baking sheet and toss with olive oil, lemon juice, thyme leaves, salt and pepper. Roast for 40 minutes or until tender stirring occasionally for even roasting.

In a small mixing bowl add the Blood Orange Oil, Pomegranate Molasses and the vinegar. Whisk thoroughly and pour over warm beets.
Nutrition
Calories:
180
kcal
|
Carbohydrates:
22
g
|
Protein:
2
g
|
Fat:
9
g
|
Saturated Fat:
1
g
|
Sodium:
421
mg
|
Potassium:
570
mg
|
Fiber:
5
g
|
Sugar:
14
g
|
Vitamin A:
55
IU
|
Vitamin C:
22.4
mg
|
Calcium:
33
mg
|
Iron:
1.5
mg
You might also try Arugula Salad with Chicken, which also uses the Pomegranate Molasses and Blood Orange Oil.