Dublin Pub Chicken takes it's inspiration from the warm and comforting pubs of Dublin where you can feed your body and soul at the same time.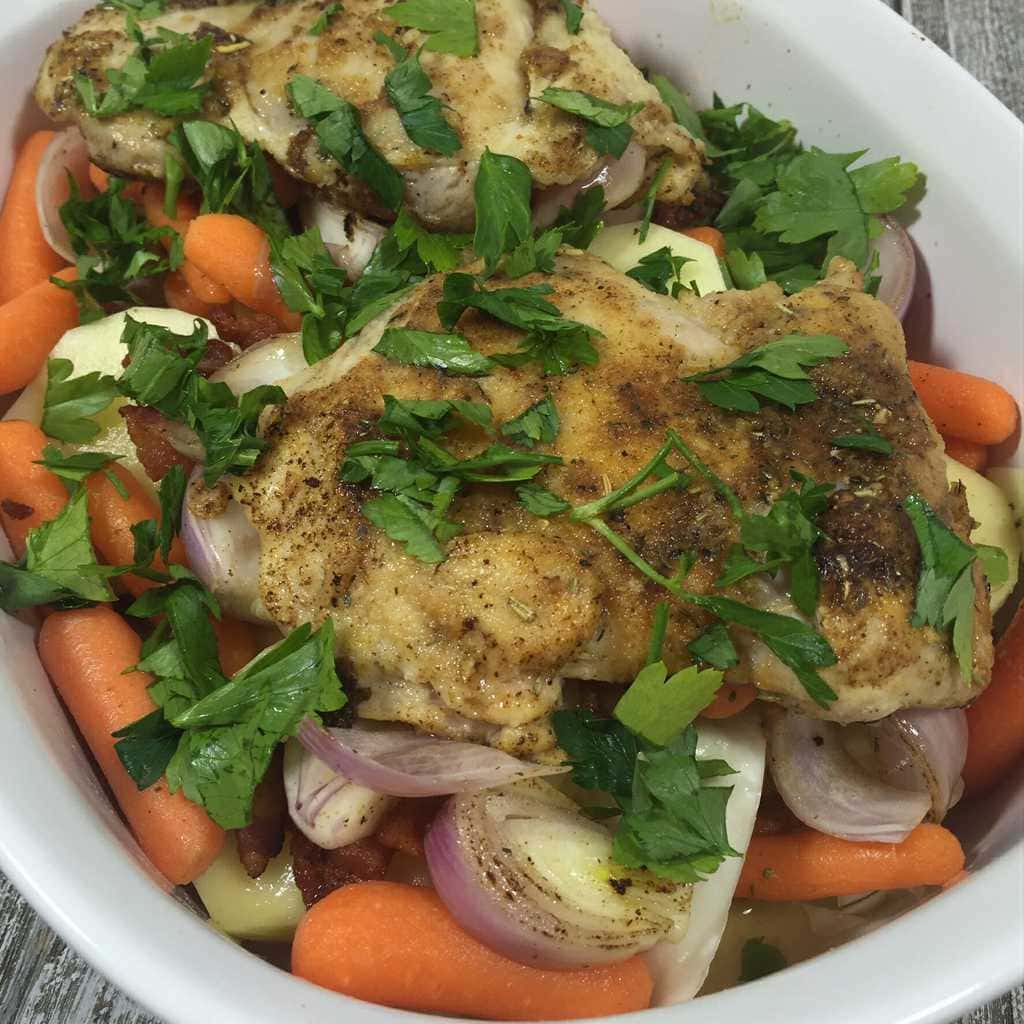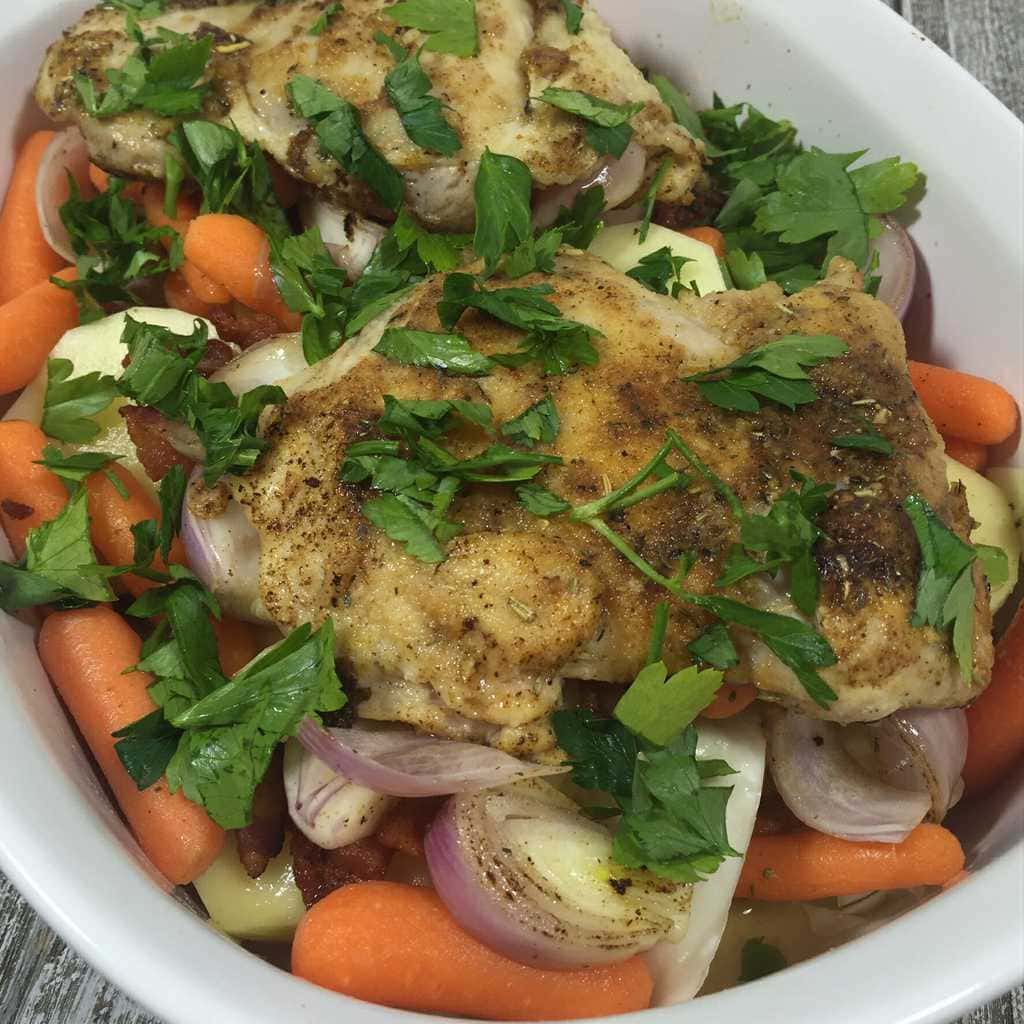 Ah, the Dublin Pubs. I mean, really, what could be better? Public Houses aren't just bars, they are welcoming places where people gather to hear some wonderful music, watch the bartenders pour a perfect glass of Guinness, enjoy a nip or two and eat some pretty decent food. Good solid healthy food. Like, for instance, Dublin Pub Chicken, one of the healthiest baked chicken recipes I've ever eaten.
A lot of the pubs have what they call the "Joint of the Day." I remember one pub in Dublin, just off of Grafton Street, where their joint of the day was chicken. They featured a soul-warming dish that they called Irish Chicken.
Very simple and to the point, it featured chicken and bacon. As well as healthy vegetables like cabbage, potatoes and carrots. Just the right kind of dish to stave off the cold outside. This was in October, and the wind was 'galing' up a storm. So much so that umbrellas were turned inside out. Mine included.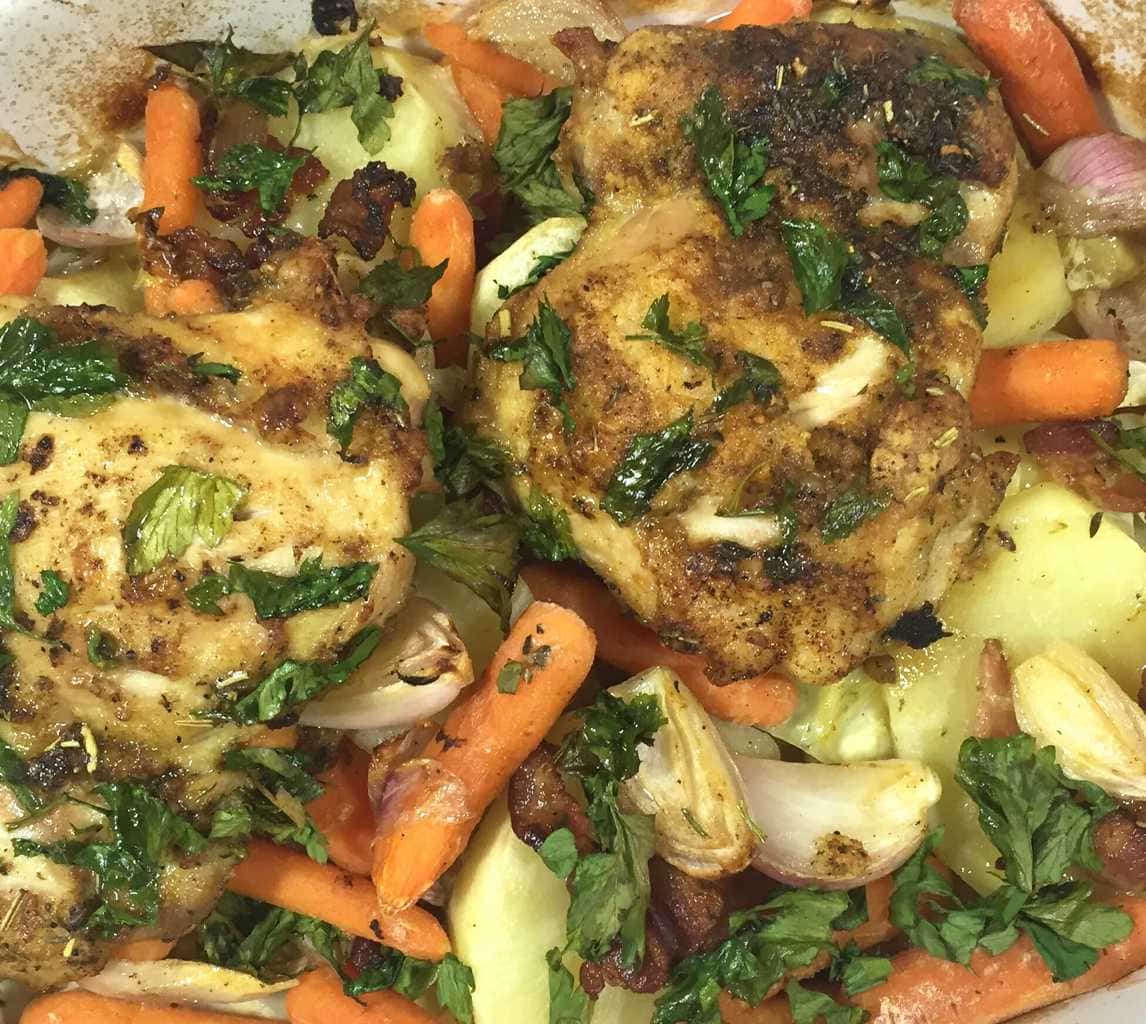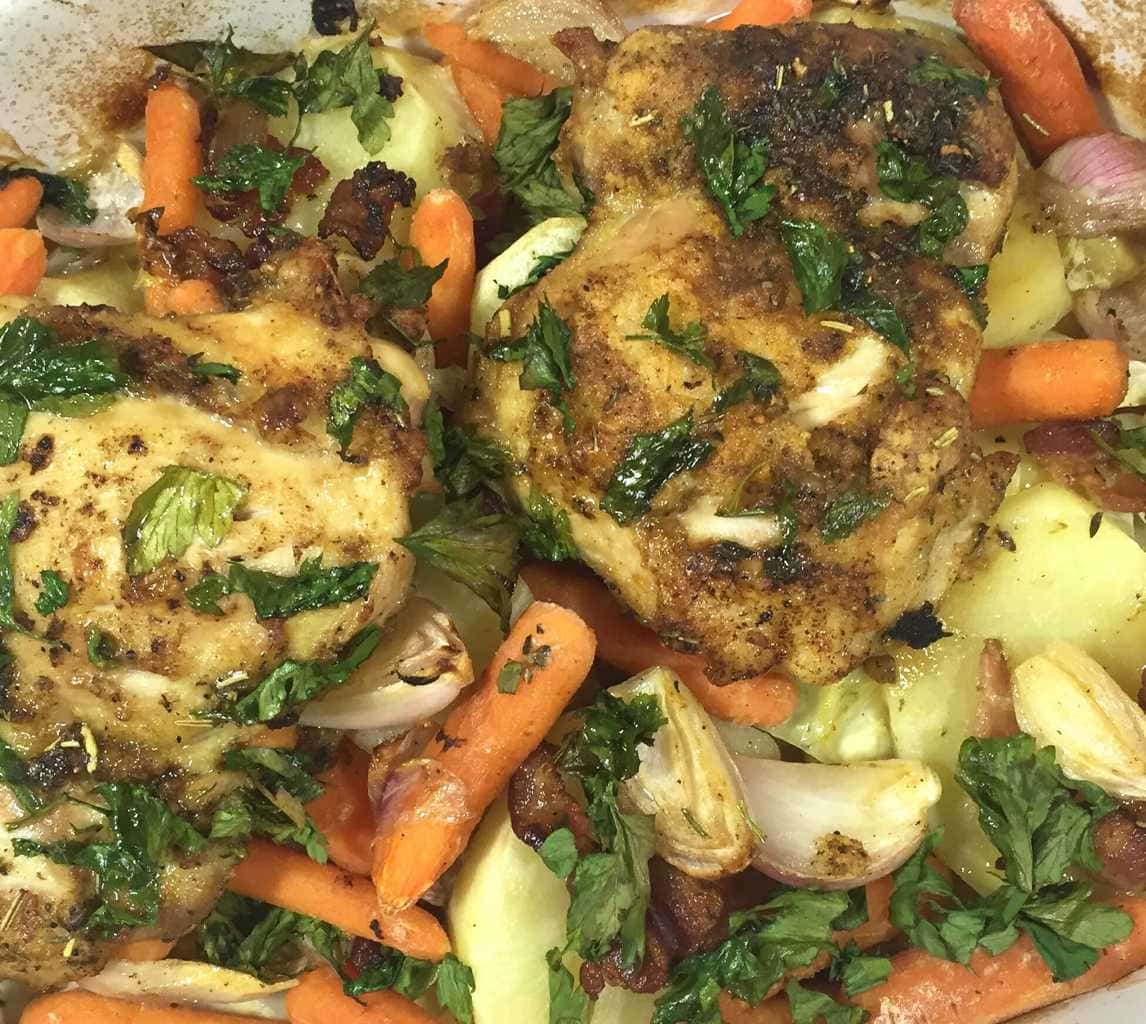 But in the pub, with it's rich dark woods, all was comfy and warm. A safe haven. The aroma of that chicken dish just filled the place when we walked in so of course we had to order it. As  we waited for the food to come, my husband George sipped on his Guinness. And me, well I ordered a glass of wine. Everyone was having a grand time, including two tables of entire families.
After a brief time, the waiter brought our dinners. The Irish Chicken was served in large bowls that were filled with perfectly cooked healthy vegetables and topped with roasted chicken. I don't know if it was the food itself, or the warmth of the pub with it's friendly atmosphere, but that dish was absolutely memorable.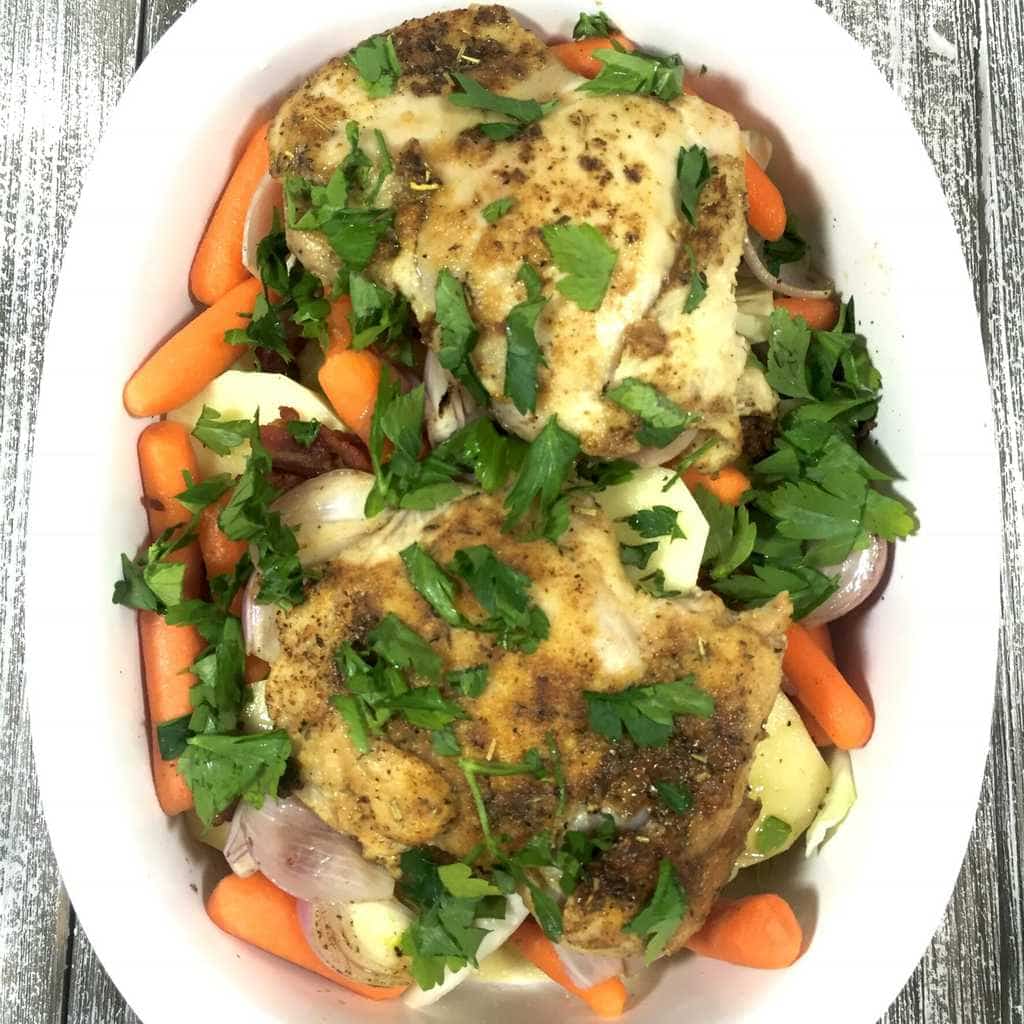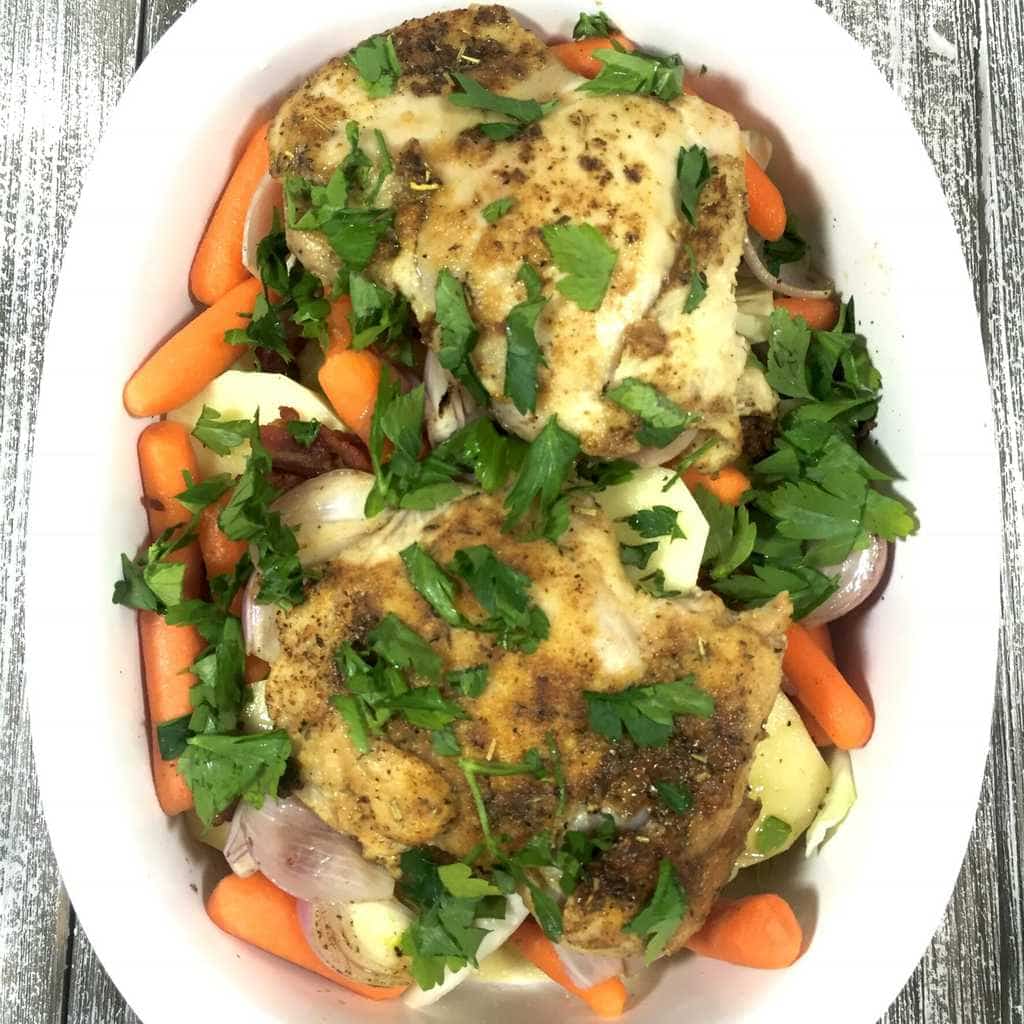 How to Make Dublin Pub Chicken
So when we arrived home, I wanted to bring Ireland back with me and tried to recreate that wonderful dish. I called it Dublin Pub Chicken, because that's exactly what it was. I started with cutting up bacon and rendering it down. Scooping out the crisp bacon, I then added seasoned chicken thighs to brown in all that deliciousness.
After removing the chicken I added shallots, potatoes and carrots and let the caramelization magic work. I removed them after a minute or two and added sliced cabbage to the juices and gave quick toss of those flavors. And then in an oven proof pan, I added the cabbage,  the potatoes, the shallots and the carrots. Sprinkled the bacon over it all and finally topped it with the browned chicken thighs. I baked it for almost an hour for all those flavors to mingle and cook together.
The end result? Well, it was almost Dublin. Nothing is like Dublin, but it was very close.
If you like this recipe, please leave a comment below and pin us on Pinterest!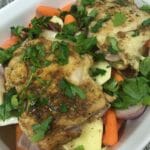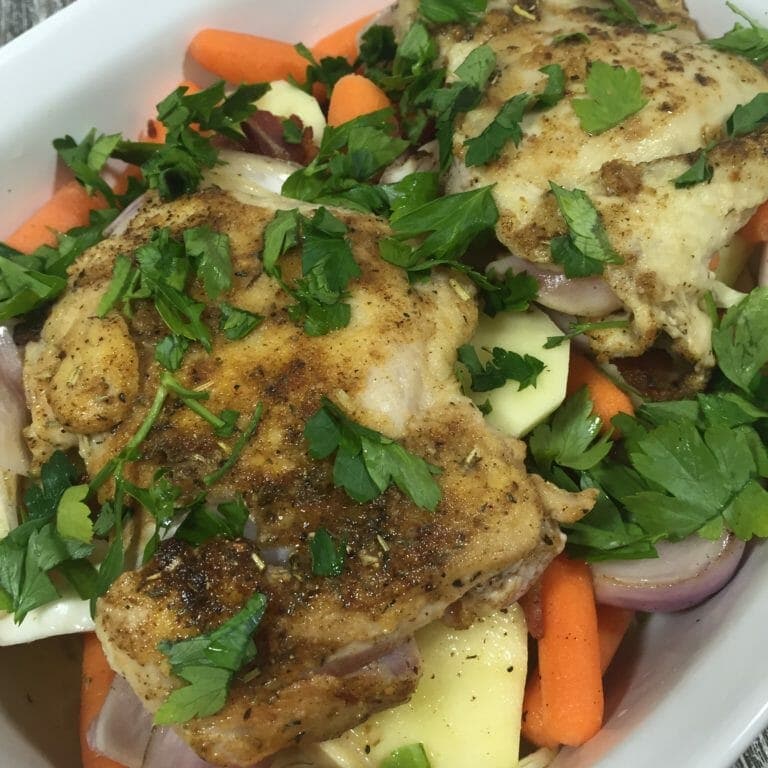 Print Recipe
Dublin Pub Chicken
Dublin Pub Chicken takes it's inspiration from the warm and comforting pubs of Dublin where you can feed your body and soul at the same time.
Ingredients
2

Large

Chicken thighs

1/4

Tsp

Salt

Himalyan preferred

1/4

Tsp

Pepper

1/2

Tsp

Thyme

1/4

Tsp

Sage

Ground

1

Tbsp

Flour

2

Strips

Bacon, thick sliced

3

Cloves

Garlic

Minced

3

Shallots

Roughly chopped

1

Large

Potato

Yukon Gold preferred

3

Large

Carrots

Peeled and roughly chopped

1/4

Head

Green cabbage

Roughly chopped

1/2

Cup

Chicken broth
Instructions
Preheat oven to 375 degrees F

Season chicken with salt, pepper, thyme and sage. Lightly sprinkle both sides with flour. Set aside.

Cut bacon into 1/2" pieces and add to frypan over medium high heat. Fry the bacon until crisp and rendered. Scoop bacon out of pan and allow to drain on paper towels.

Add garlic to bacon drippings and cook 1 minute. Add seasoned and floured chicken to same frypan over medium high heat and allow to brown, about 3-4 minutes. Turn over and cook an additional 3-4 minutes. Remove from pan.

Add shallots, potatoes and carrots to frypan and allow to caramelize over medium high heat, about 3-4 minutes. Add chicken broth and cook 1 minute to deglaze pan.

Add raw cabbage to large baking dish. Pour vegetables and broth over top of the cabbage and sprinkle with bacon bits. Top with chicken thighs and place in oven. Cook 50-60 minutes, until chicken registers 165 degrees and vegetables are tender.
Nutrition
Calories:
409
kcal
|
Carbohydrates:
28
g
|
Protein:
22
g
|
Fat:
23
g
|
Saturated Fat:
7
g
|
Polyunsaturated Fat:
1
g
|
Monounsaturated Fat:
3
g
|
Cholesterol:
24
mg
|
Sodium:
1067
mg
|
Potassium:
800
mg
|
Fiber:
7
g
|
Sugar:
11
g
|
Vitamin A:
18155
IU
|
Vitamin C:
56.4
mg
|
Calcium:
103
mg
|
Iron:
1.7
mg