This Baked Sea Bass recipe is totally easy and super quick. Cooking time is only 8 minutes!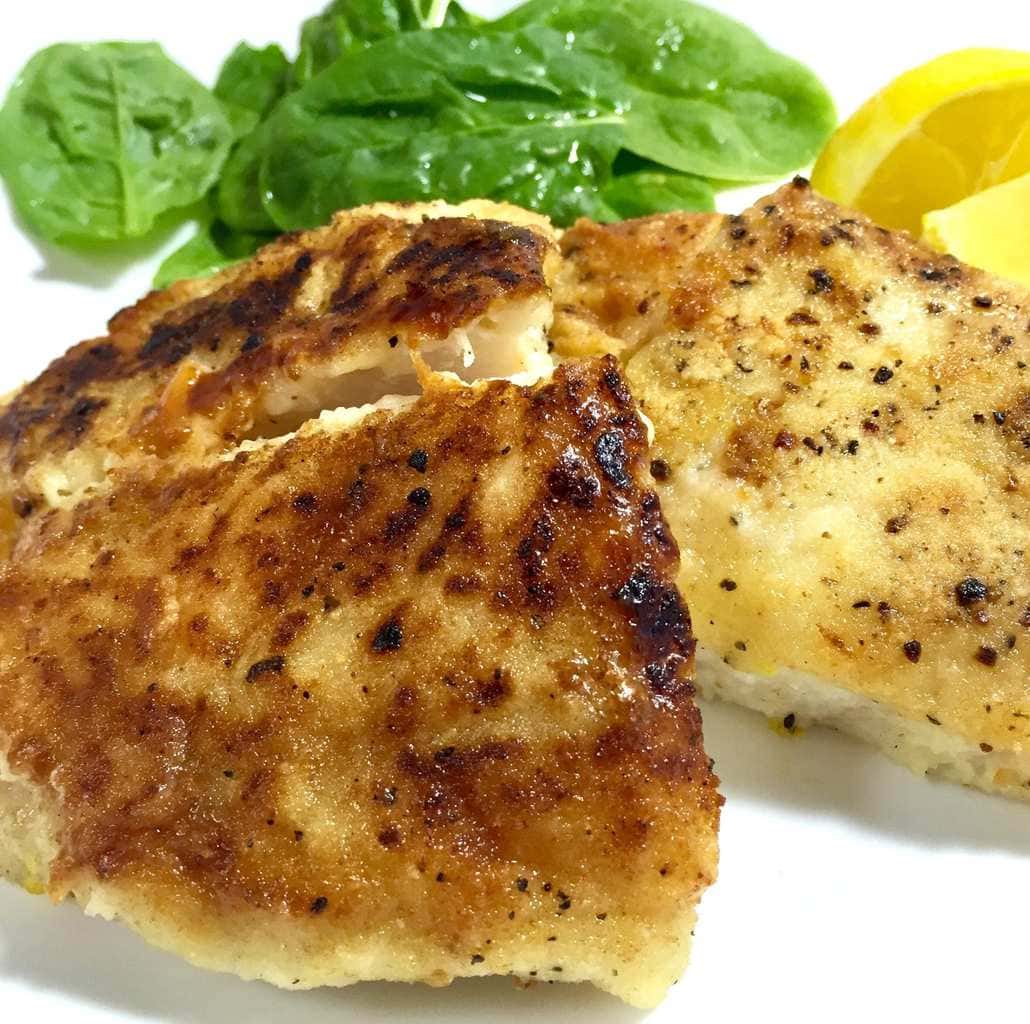 About Baked Sea Bass
Baked sea bass was an absolute favorite of my grandfather.
When I used to go deep sea fishing with my Grandfather out of San Diego, we would catch halibut, tuna, bonito and barracuda.  
But his prize fish that he was always after was Sea Bass. Unfortunately, we didn't catch a lot of them. But now I understand why he loved them so much. Baked Sea Bass is absolutely delicious.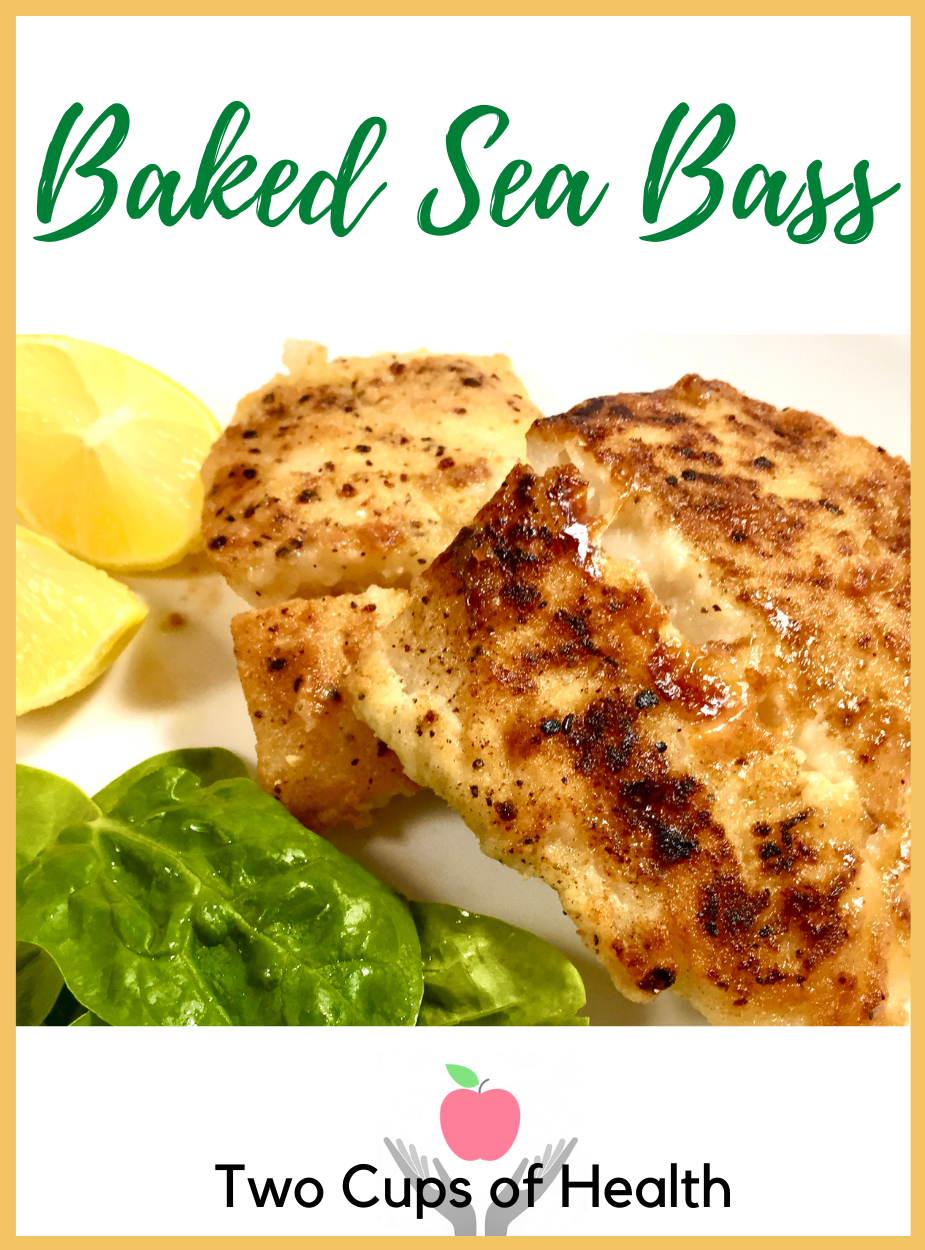 I'd describe the flavor as mild and buttery, and the texture is somewhat firm – almost like halibut. Plus, according to the Monterey Bay Aquarium Seafood Watch site, Sea Bass is one of their recommended fish to eat, not only because of safety but also because of it's sustainability. 
There's really so many ways to cook this wonderful fish, but not having a lot of time the other day I thought, 'Let's just go simple.'
My absolutely favorite way to prepare most fish is to pan sear quickly and then finish in the oven. The quick pan searing ensures a crispy crust and baking in the oven allows the fish to retain its juiciness.  
So, let's get cooking.
 Ingredients for Baked Sea Bass
Sea bass filets: The star of the show
Flour: To give the sea bass a little crust
Pepper: Added flavor
Salt: Ditto
Garlic powder: Garlic does wonderfully well with the sea bass
Lemon zest: Adds freshness to everything
Olive oil: For health
Butter: For rich flavor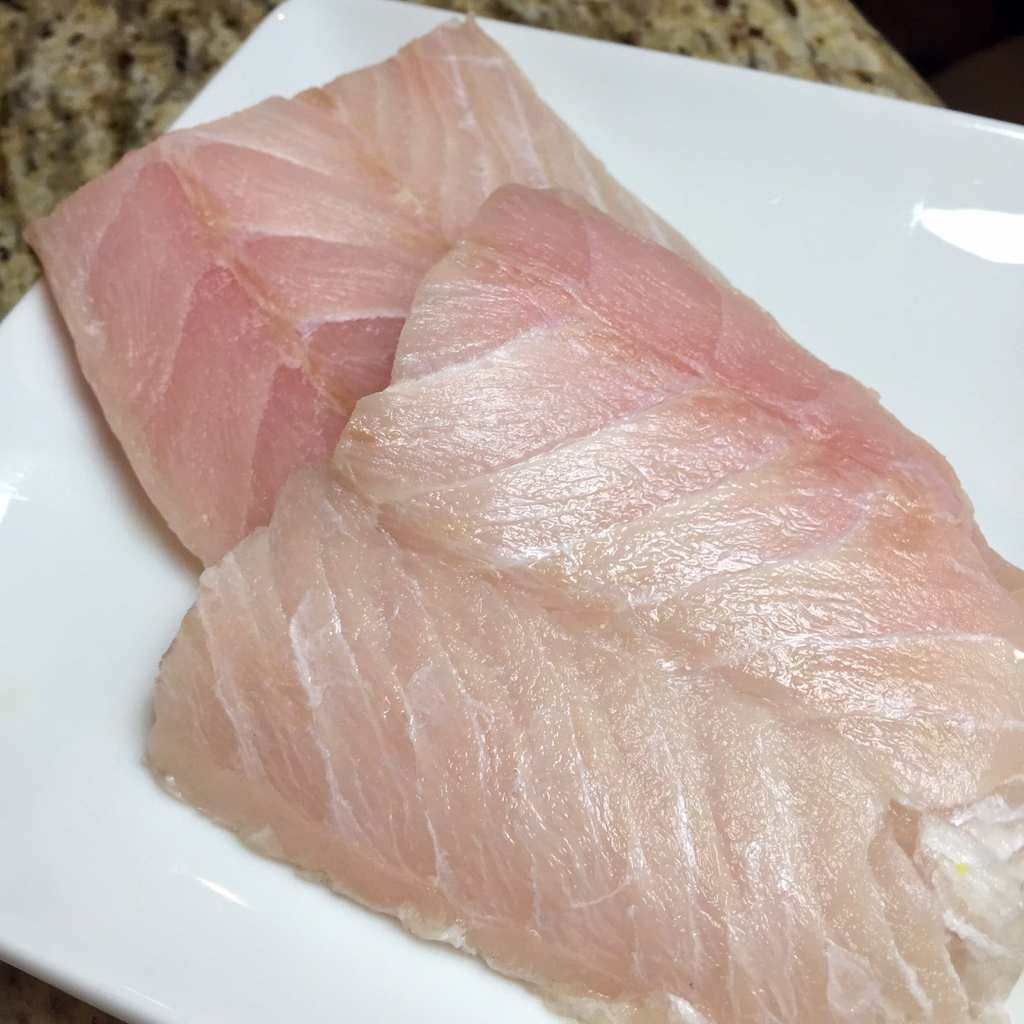 How to Make Baked Sea Bass
Preheat your oven to 375 degrees F. Preheating is always a good idea, but I think it's especially important with this recipe because the cooking time in the oven is only 8 minutes. 
Because the fish is so mild flavored, seasoning your filets well is the important. Salt and pepper is always the first step, but to add a little more flavor I added garlic powder and lemon zest.  
I like to have fish with a bit of crust on it, so after seasoning the filets on both sides, I then sprinkled flour on both sides as well. My go-to flour is almost always Wondra, because with it's fine texture it doesn't clump.  It just creates a light coating.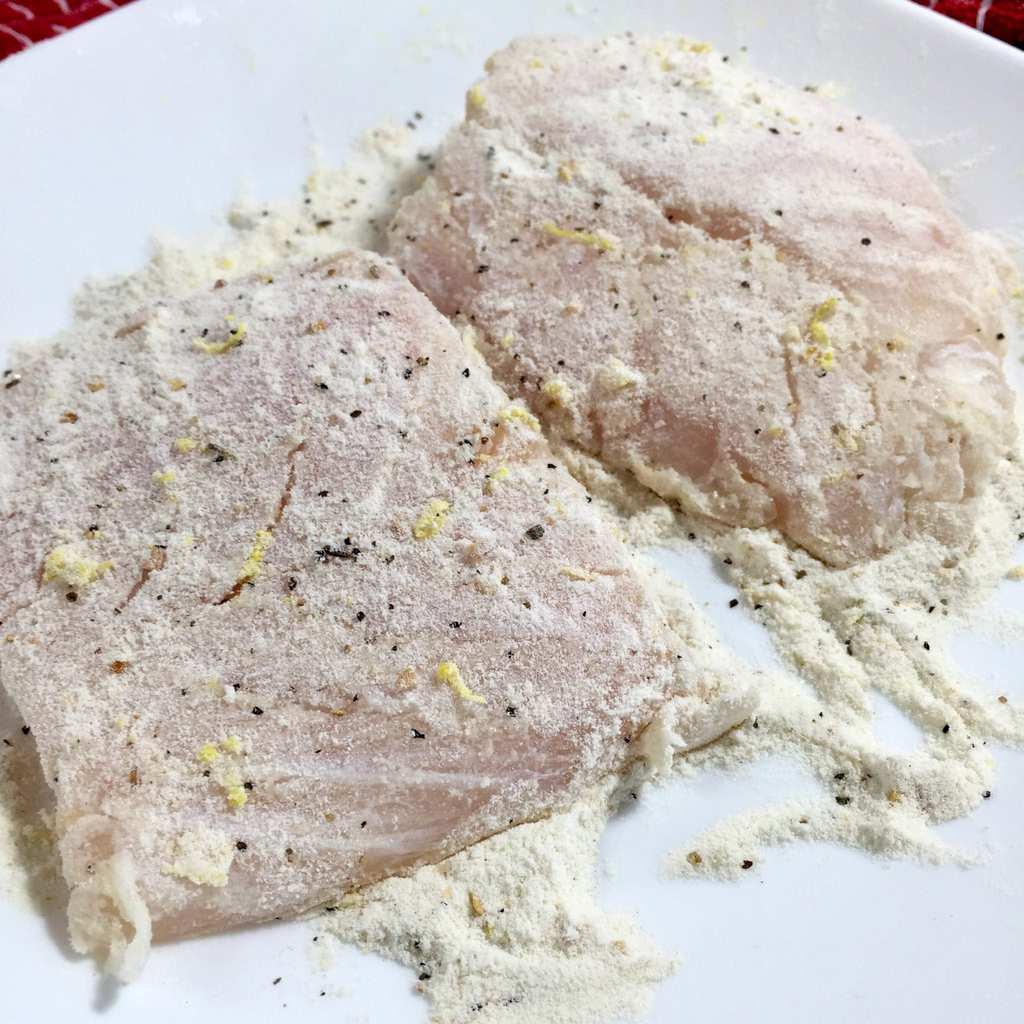 Then, with your oven proof frypan over medium high heat, add olive oil and butter and let it cook until the butter begins to bubble.
At that point add your filets to the pan and let it cook for 2 minutes without disturbing it. Then without flipping it over, add your pan to the preheated oven and let it bake for 8 minutes.
You'll know it's finished perfectly when it flakes with a fork.
Then just flip the filets over to reveal all their golden beautifulness.  ….Is that a word?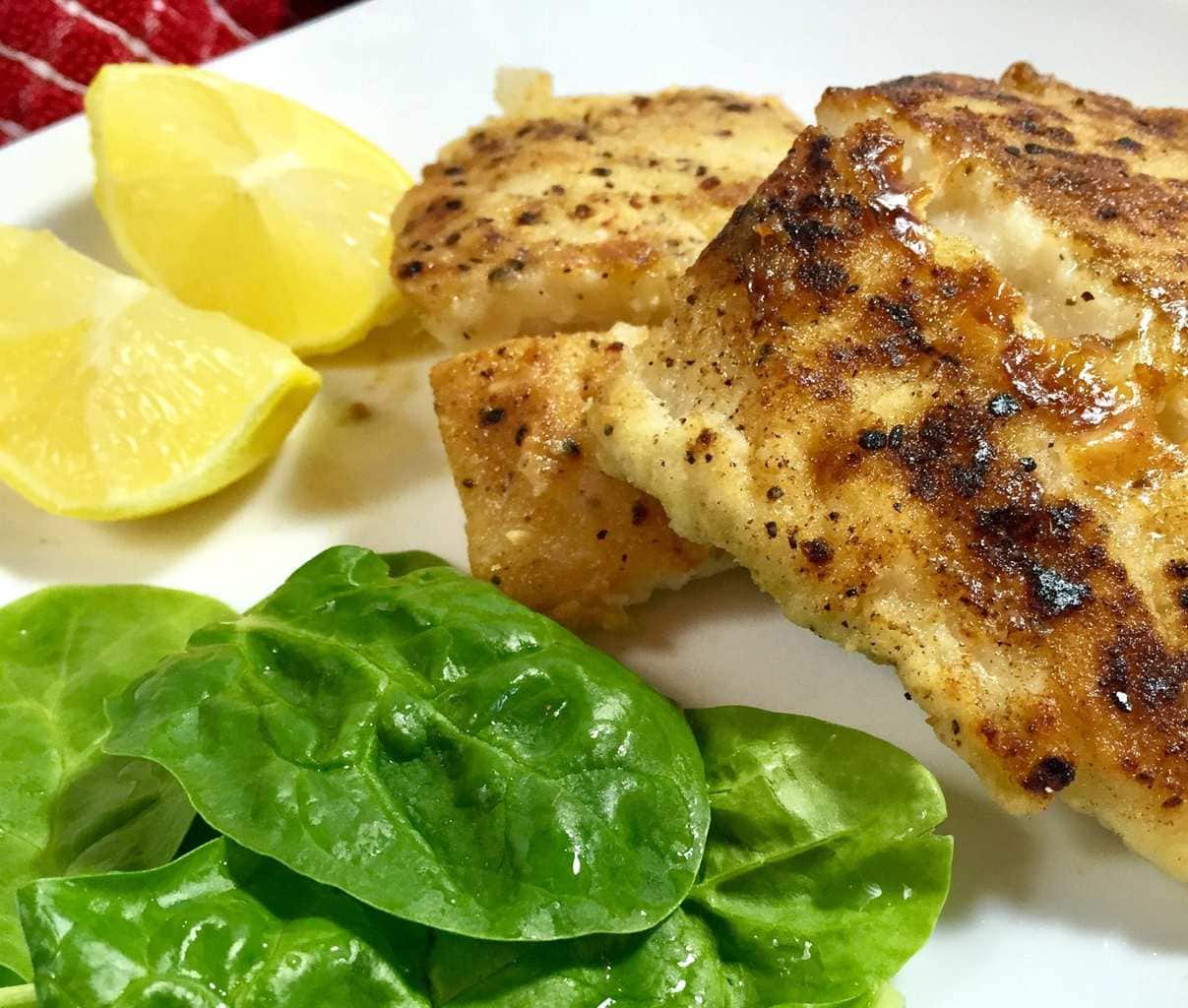 And finally add your filets to a serving plate along with some additional lemon slices on the side if you'd like for an extra tang.  And that's it.  Quick, easy and delicious.  What could be better?
Oh, maybe this if you're into healthy recipes: Each serving of this delicious recipe is only 90 calories! Healthy and delicious.  Yay!
For more delightful fish recipes, check these out:
Halibut with Lemon Cream Sauce
If you like this recipe, please leave a comment below and pin us on Pinterest!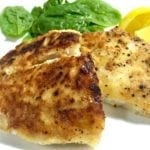 Print Recipe
Baked Sea Bass
This Baked Sea Bass recipe is not only crispy delicious, but it's also super easy and quick. From start to finish, it only takes 11 minutes.
Ingredients
2

6 oz

Sea Bass filets

1 1/2

Tsp

Aunt Lou's Special Seasoning

2

Tbsp

Flour

Prefer Wondra

2

Tsp

Olive oil

1

Tsp

Butter
Instructions
Preheat oven to 375 degrees F

Season both sides of filets with Aunt Lou's Special Seasoning.  Then sprinkle flour evenly over each side.

 

Over high heat add olive oil and butter to oven proof frypan. When butter begins to bubble, add seasoned and floured filets. Allow them to cook for 2 minutes with disturbing them.

Without flipping filets, place the pan into a preheated oven and bake for 8 minutes. When fish can flake with a fork, it's ready.

Remove from oven and flip filets on to a serving plate. Serve with lemon for extra tang.
Nutrition
Calories:
90
kcal
|
Carbohydrates:
6
g
|
Protein:
1
g
|
Fat:
6
g
|
Saturated Fat:
1
g
|
Cholesterol:
6
mg
|
Sodium:
600
mg
|
Vitamin A:
65
IU
|
Vitamin C:
1.3
mg
|
Iron:
0.3
mg