If you love smoked salmon as much as I do, this Smoked Salmon Frittata will be a Go-To Recipe that you will make again and again.
Now I have to admit, my heart has always been in the Northwest for lots of reasons. But, of course, one of the main reasons is food. 
This is a Food Lover's  paradise. The climate is perfect for growing all kinds of wonderful foods from apples to zucchini.
And in between you have blueberries, cranberries, all kinds of nut trees, especially hazelnuts, every vegetable you can think of and lots and lots of grapes for their wonderful wine.
Pinot Noir also happily grows here.
But to me, no food says 'This is the Northwest' more than salmon. And especially Smoked Salmon.
I love it all by itself, but when you add it to eggs with a bit of cream and throw in some fresh dill, your taste buds say, "Oh Yeah!" And this is what you have in this Smoked Salmon Frittata.
So, let's make it.
Ingredients for Smoked Salmon Frittata
Eggs
Water
Cream – just a splash
Smoked Salmon
Jack cheese
Green onions
Capers
Fresh dill
Butter – only enough to coat the pan
How to Make Smoked Salmon Frittata
You simply whisk the eggs with water and cream. Don't skip the water part because it adds lightness to the Frittata. 
Then carefully stir in the smoked salmon. I say carefully because you want to have nice beautiful chunks, not shreds.
Next, add some jack cheese, green onions for taste and color and finally, capers for a tang. 
And one more item to add is fresh dill. You can add dried dill, but unless it's freeze-dried, it really won't be as flavorful.
Next, melt some butter in an oven proof fry pan and tilt the pan to coat it completely including the sides. 
This step will help your Frittata slices come out of your pan more easily. Then, pour your egg mixture into that buttered pan.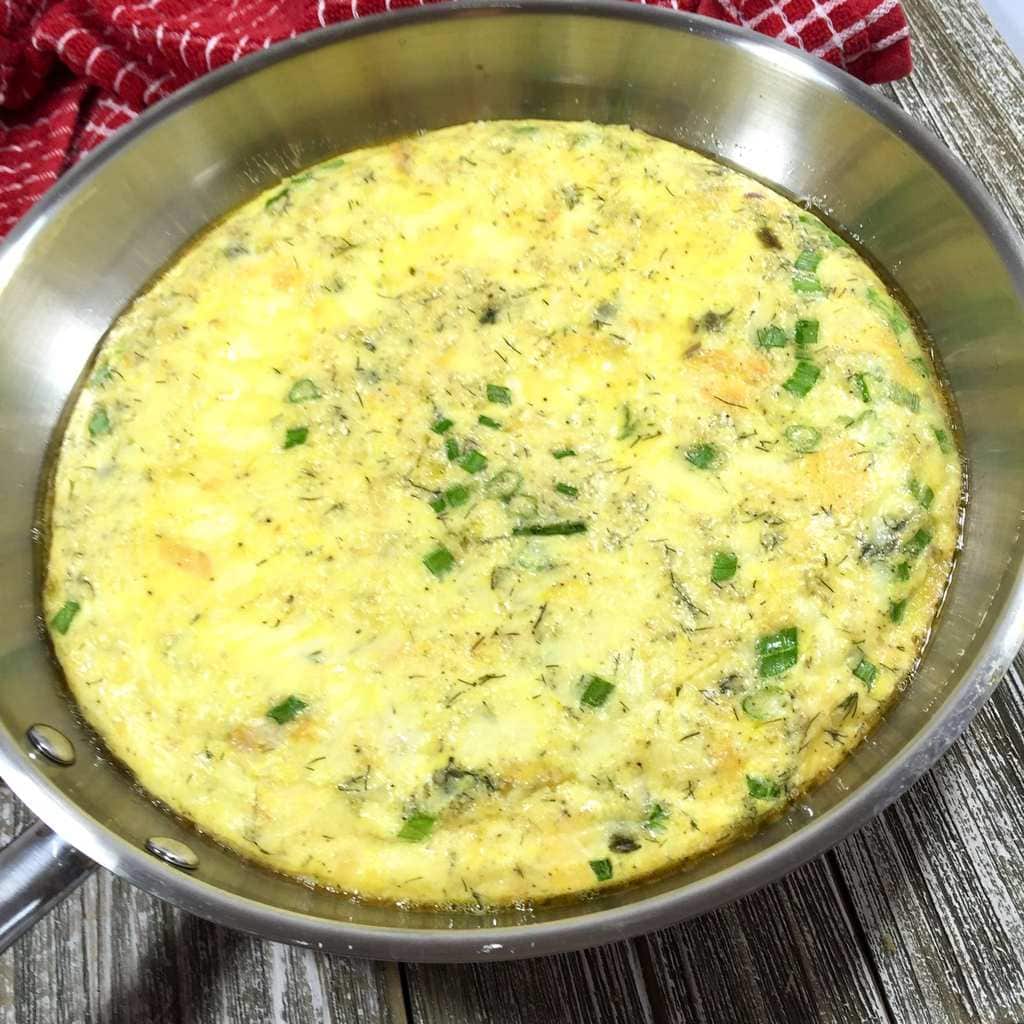 Sprinkle more jack cheese over the top and place the frittata in your preheated oven to bake for 25 minutes.  
And that's it. An absolutely delicious breakfast dish. Or, if you're like me and you sometimes like breakfast for dinner, then this is perfect!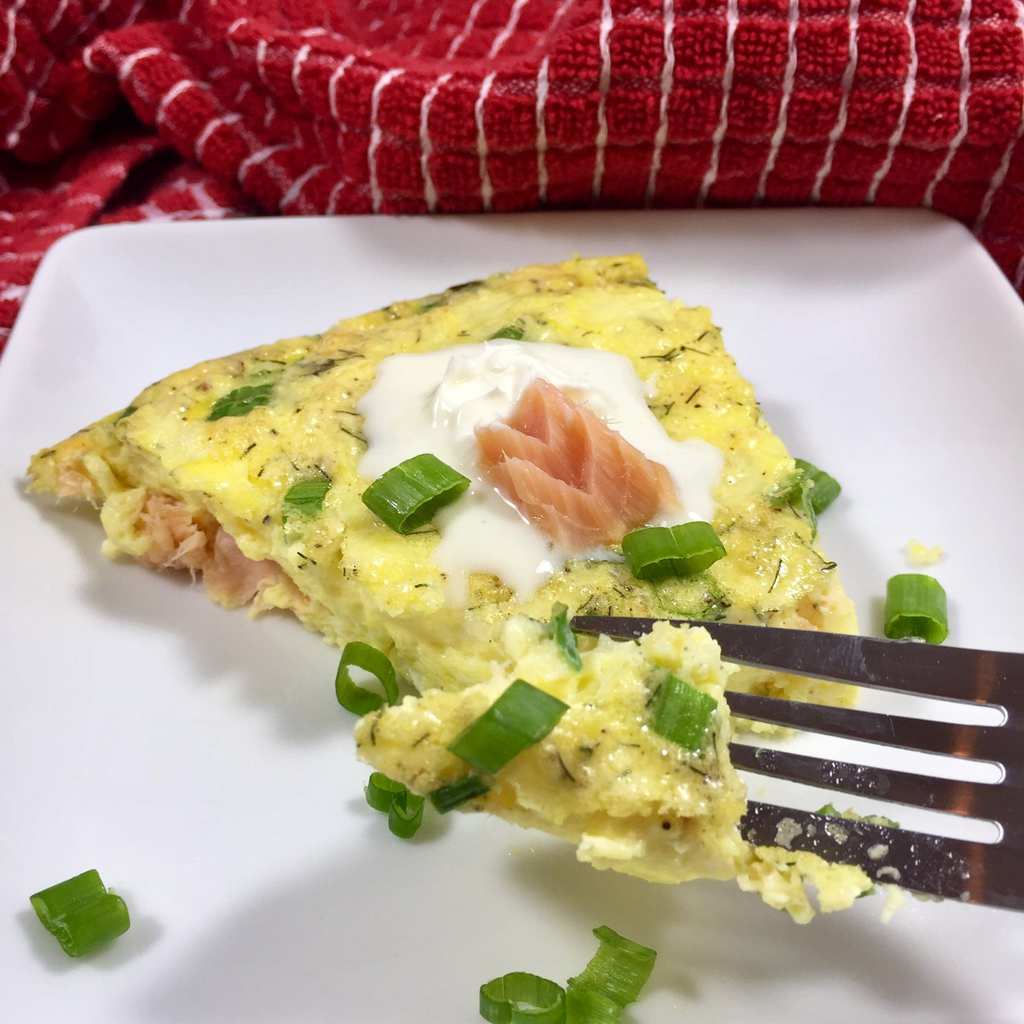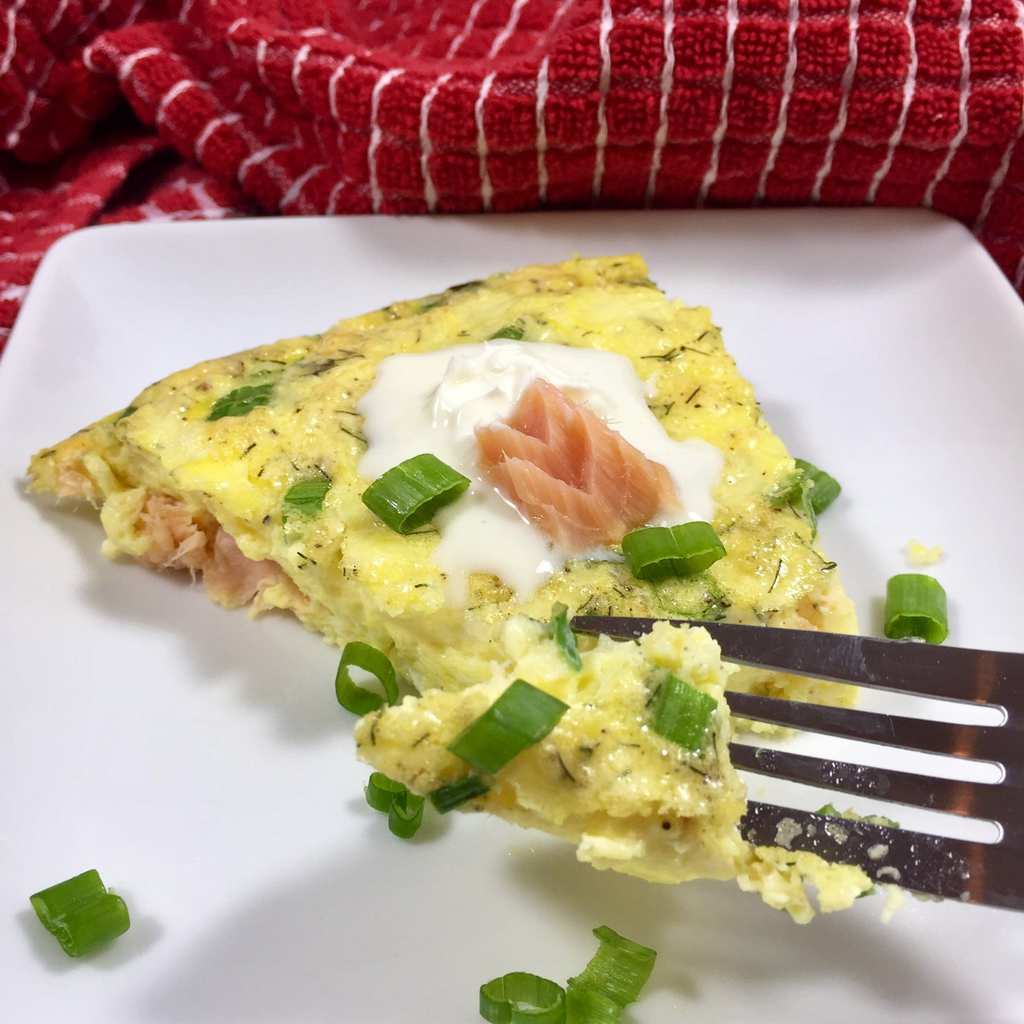 And if you're into Healthy Recipes, this one is a winner.  Each serving is only 117 calories! 
Here are some more delicious fish recipes:
Halibut with Lemon Cream Sauce
If you liked this dish, please leave a comment below and pin us on Pinterest!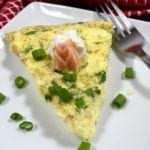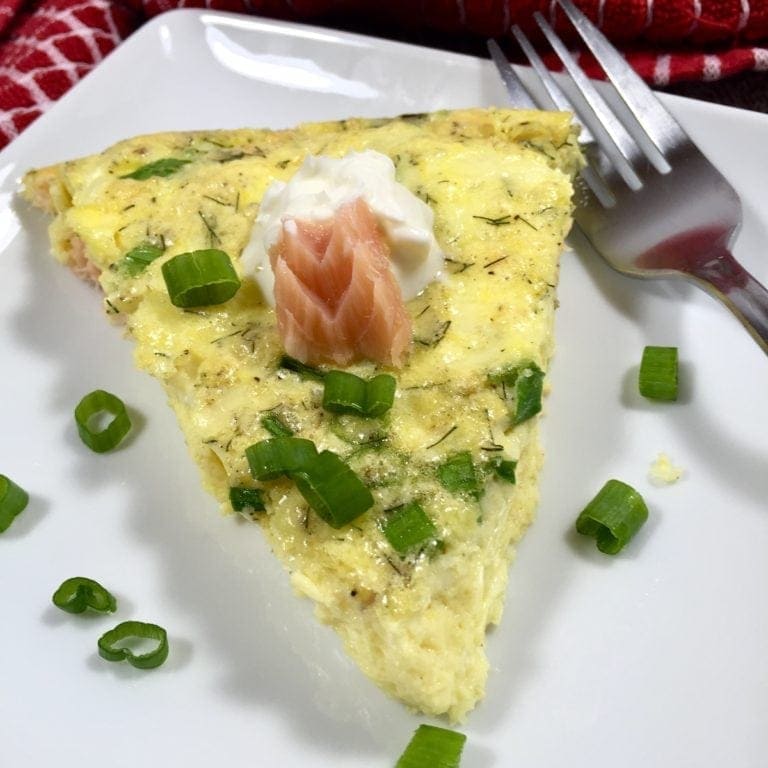 Smoked Salmon Frittata
Smoked Salmon Frittata is rich, creamy and totally delicious. This healthy, quick and easy frittata is absolutely company worthy.
Course:
Breakfast, Main Course
Cuisine:
American, Italian
Keyword:
Smoked Salmon, Smoked Salmon Frittata
Ingredients
8

Eggs

2

Tbsp

Water

2

Tbsp

Heavy cream

1/4

Tsp

Salt

Prefer Himalayan Pink

1/4

Tsp

Pepper

1/2

Cup

Monterey Jack

Shredded

2

Tbsp

Green onions

Green tops, diced finely

2

Tbsp

Capers

Drained

1

Tsp

Fresh dill

1/2

Cup

Smoked salmon

1/2" diced

1

Tsp

Butter
Instructions
Preheat oven to 350 degrees F

In a medium bowl whisk eggs until frothy. Add water, cream, salt and pepper.

Stir in 1/4 cup Monterey Jack cheese, green onions, capers and dill. Then carefully stir in salmon trying not to break it apart too much.

In an oven proof frypan, melt butter over medium heat and swirl to coat pan. Pour in egg mixture and sprinkle remaining 1/4 cup Monterey Jack cheese evenly over top.




Place pan in oven and bake 25 minutes
Nutrition Facts
Smoked Salmon Frittata
Amount Per Serving
Calories 117
Calories from Fat 72
% Daily Value*
Total Fat 8g 12%
Cholesterol 178mg 59%
Sodium 305mg 13%
Potassium 81mg 2%
Protein 8g 16%
* Percent Daily Values are based on a 2000 calorie diet.