This Roasted Brisket recipe is amazing. Instead of roasting it at a low temperature, you roast it at medium high for a long time and the result is perfection!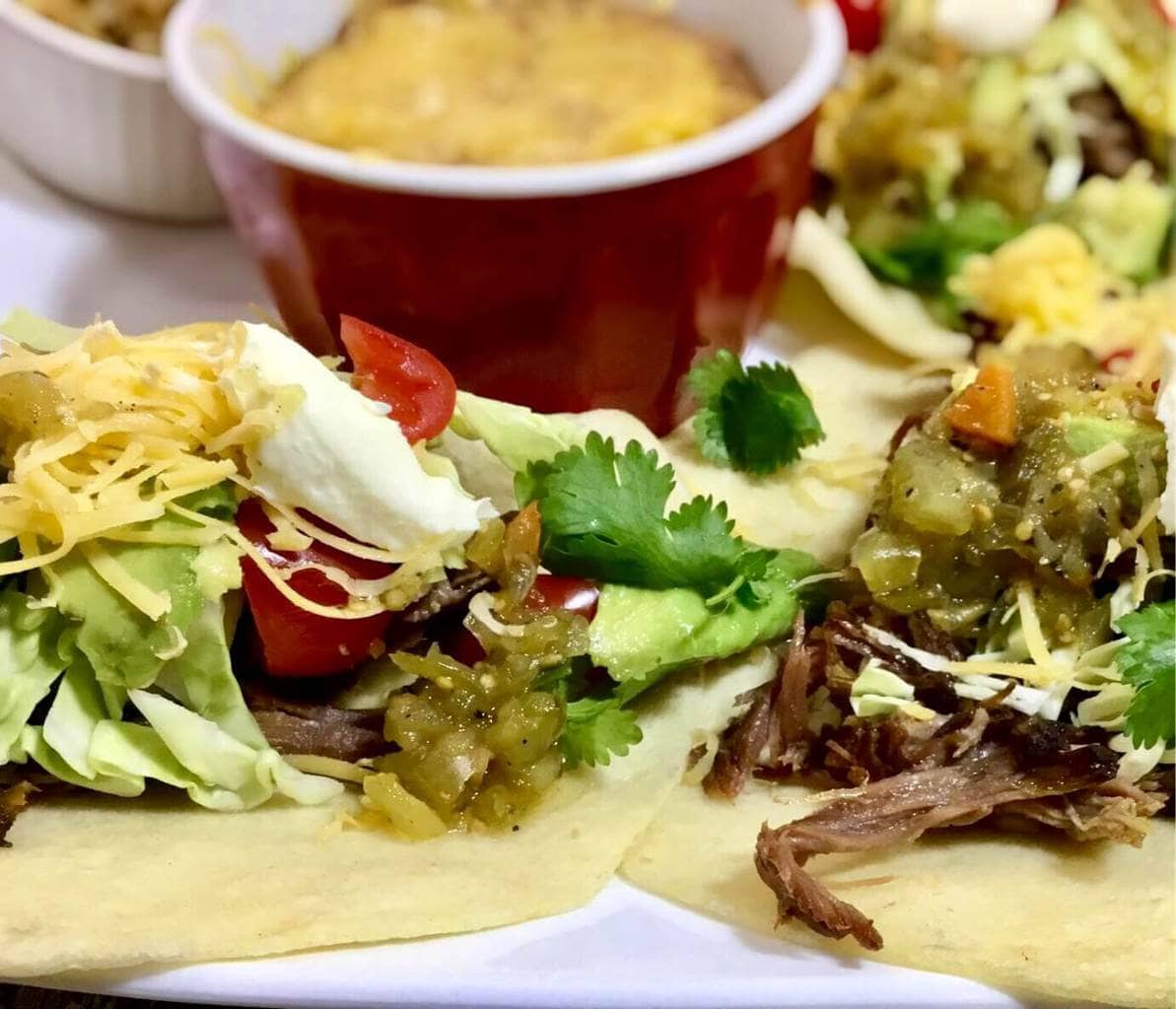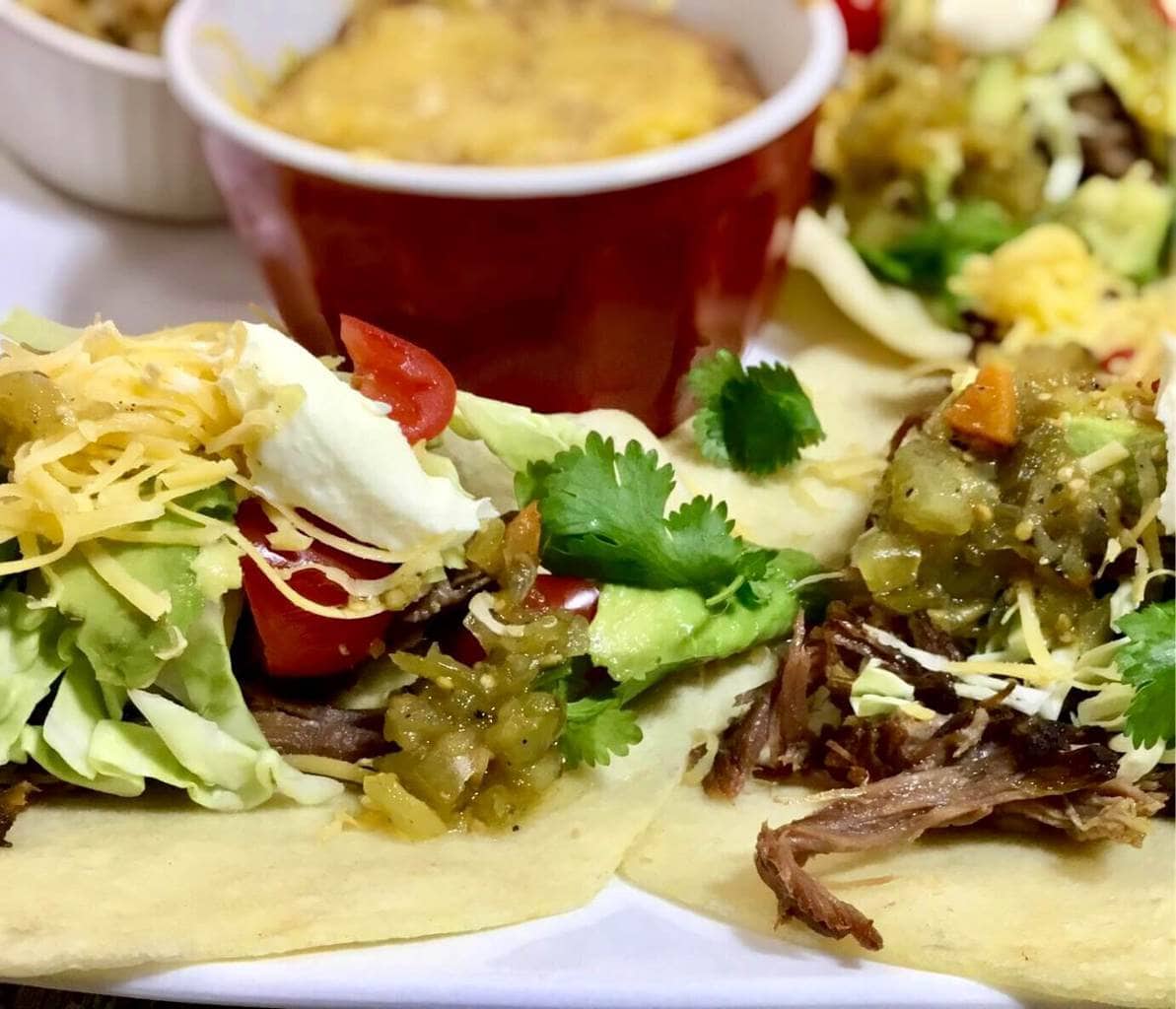 About Roasted Brisket
I actually should have called this Forever Roasted Brisket because the truth is, depending on the size of your Brisket, it takes anywhere from 6-8 hours to roast. 
And the the surprise is that it cooks at 350 degrees for all that time.  
350 degrees!  You would think this oven cooked brisket would be totally dried out and  ruined. 
But no, the end result is absolute perfection. Moist, tender, shreddable, mouthwateringly wonderful.   
We have a favorite Tex Mex restaurant, Anamia, that serves the most incredible Brisket Tacos.  I order them Every time I go there. 
I can't help it. 
There's just something amazing about this oven cooked brisket that makes it stand out from any other Brisket I've had before.  
I've made Slow Cooked Brisket in a Crockpot and it was good. Shreddable and moist. 
I've also had Brisket slow cooked over Mesquite wood that I turned into Mesquite Smoked Brisket Chile.  Incredible flavor.    
But the Brisket from this restaurant still haunted  me, so I knew I had to get the recipe.
Yes, it was shreddable and not only moist, but down right juicy. And the flavor. Wow! 
I asked our waitress how they make it. 
She went back to ask the Chef and when she came back she said it's proprietary and they really couldn't give it out. 
I told them I certainly understood and told her to give compliments to the Chef.
Fortunately, this particular restaurant is a chain and when we tried another one of their restaurants, we ordered the same thing and the flavor was exactly the same. 
So I thought I'd try it again. 
I told the waiter how much I loved the Brisket and asked him if he knew how it was made.  
A few minutes later the manager walked up to our table. He said, "I hear you like our Brisket." I replied, "I absolutely love it. You must cook this for a long time."
He said that they do about 8 hours at 350 degrees. I was amazed at that high temperature for that long and then realized they had to wrap it in foil. 
He said, "That's right." I asked him about the spices and he told me.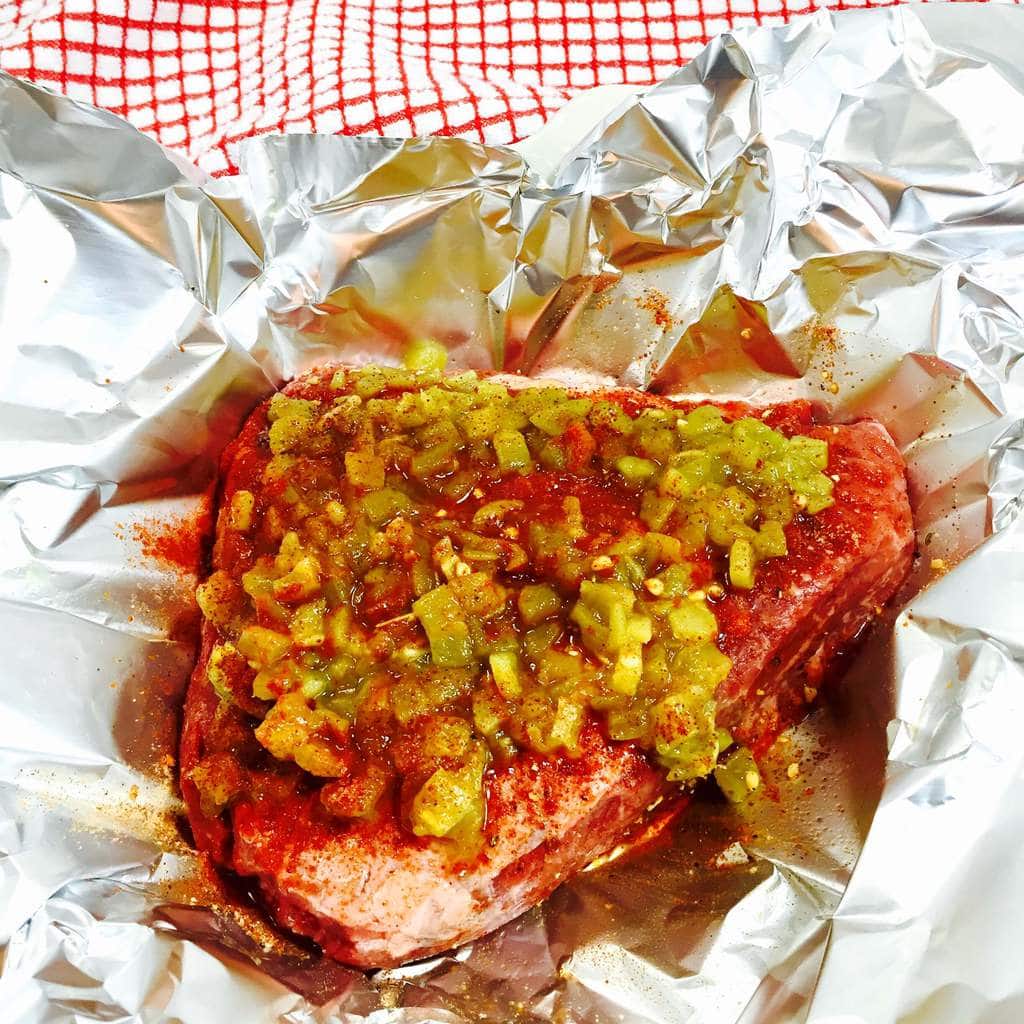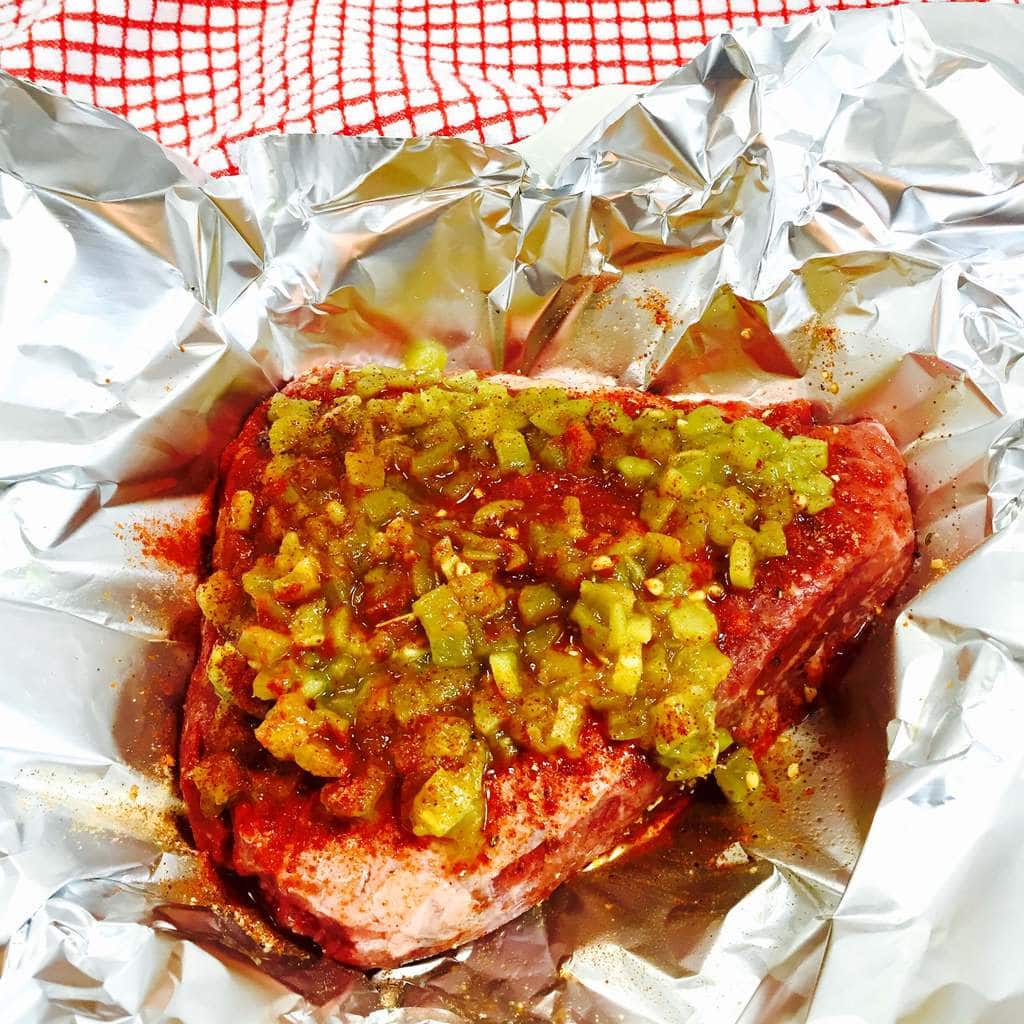 So what's the secret? 
Not only is this oven cooked brisket roasting roasting  at that high temperature for a long time tightly wrapped in foil, but their secret is also the spices they use.
They do their own combination of garlic powder, onion powder and paprika plus other spices but they also cook it with peppers. 
Poblano Peppers. 
If you don't know about Poblano peppers, they're pretty mild. I've used them in my Chile Rellenos. 
So let's make this mouth-watering Roasted Brisket.
Ingredients for Roasted Brisket
Brisket:

 

The star of the show
Olive oil:

 

For health
Sea salt: Himalayan Pink Sea Salt is best because it's stronger.
Pepper:

 

For a kick
Garlic powder:

 

For pungent flavor
Onion powder: For rich flavor
Smoked Mesquite powder:

 

Like you're cooking over a campfire
Smoked Paprika:

 

A different kind of smoky taste

 

Bay leafs: This wonderful leaf brings all the spices together

 

Poblano Chilies:

 

South of the Border flavor
How to Make Roasted Brisket
This recipe came together so fast. Just brush the brisket with olive oil on both sides.  
Then mix the sea salt, pepper, garlic powder, onion powder, Mesquite powder and smoked paprika in a small dish and sprinkle the mixture evenly over both sides of the brisket.  
Add 2 whole bay leaves on the brisket and then spoon the diced chilies over the top.  
Just a word about the chilies. Poblano chilies stay true to the recipe and you can find these both fresh and canned. 
But if you happen to have canned green chilies on hand, you can certainly substitute them in this recipe.  
Finally, the most important part of making this oven roasted brisket is making sure that you completely wrap the meat up and seal it tightly.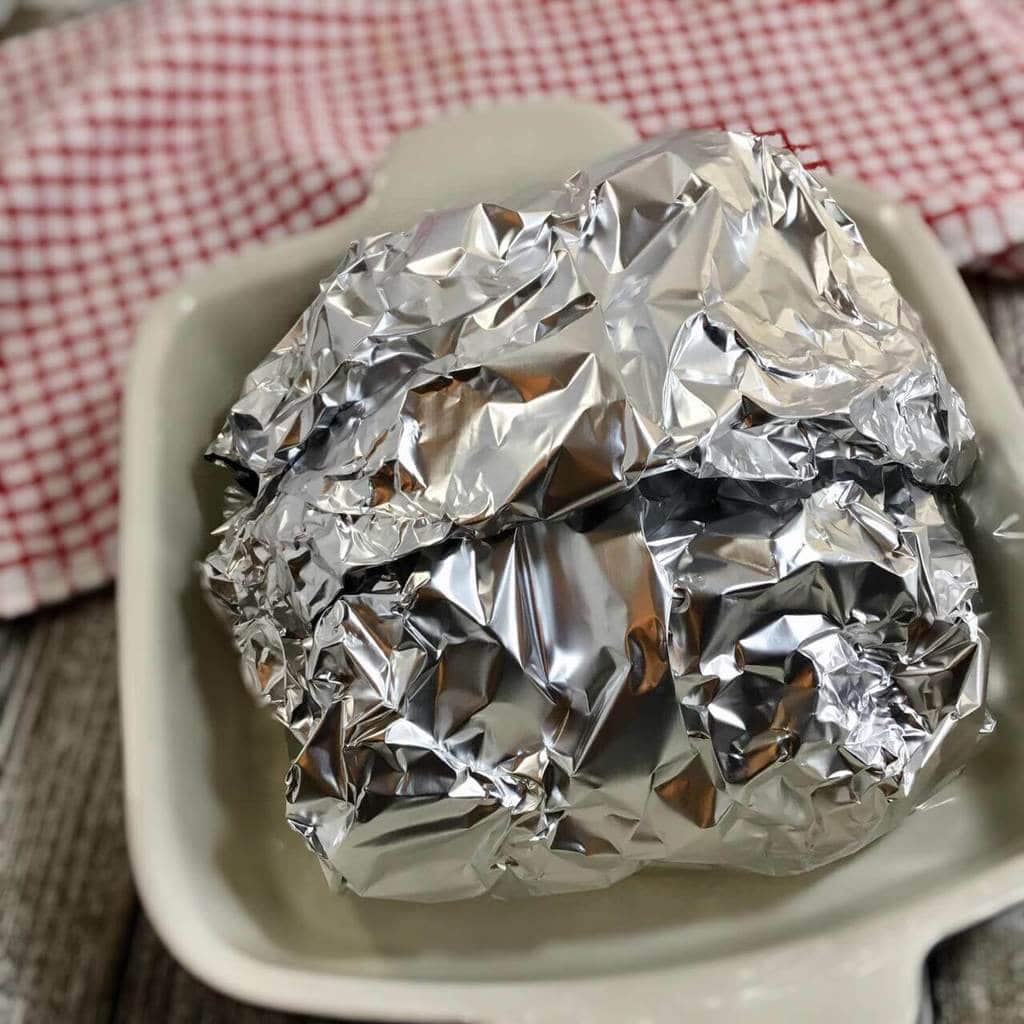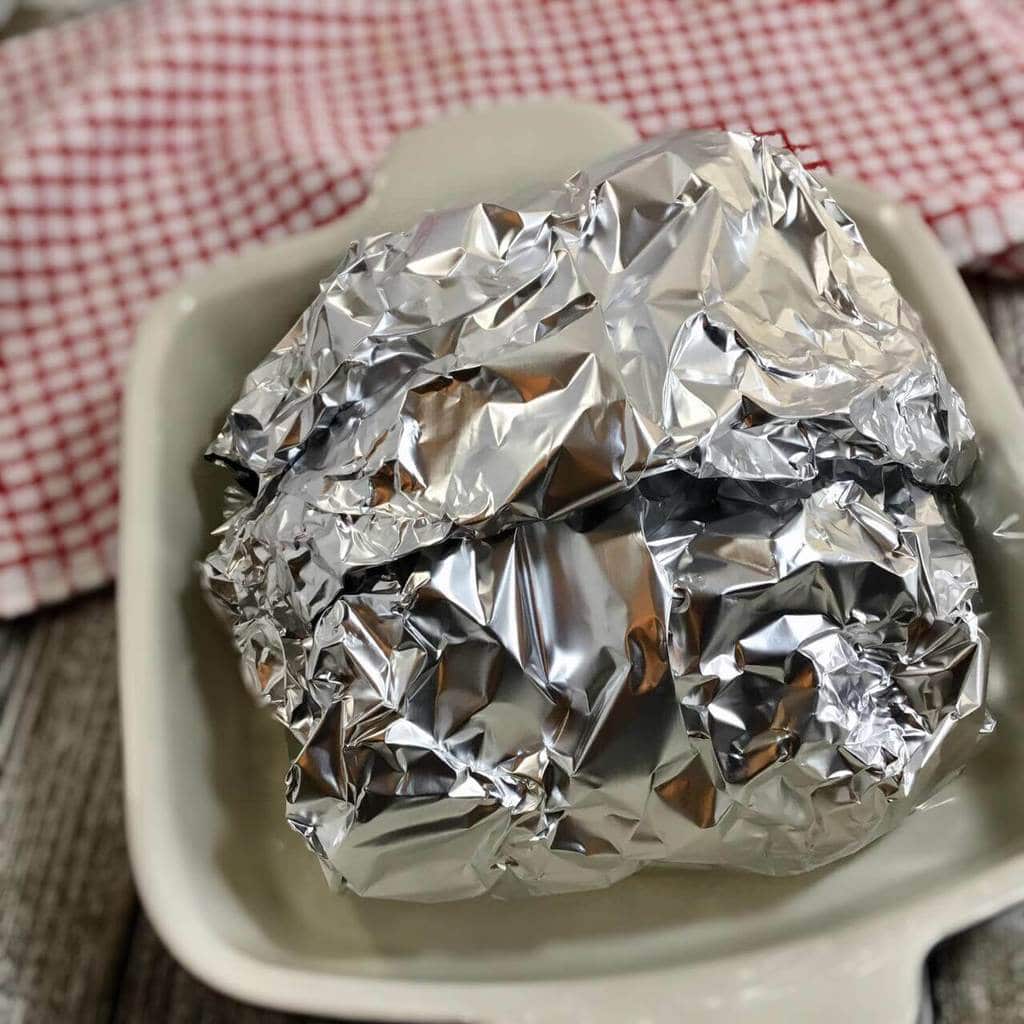 It's best to use long two sheets of heavy duty foil. One wrapping it North to South and one wrapping it East to West. 
Not literally of course, but you get the idea. 
Wrap and seal it in two different directions.  
Then just put the foil package in a baking dish and place it in a preheated 350 degree oven.  
This recipe was for a 2 pound brisket and I let it cook for 6 hours. If you have a larger brisket then the recommended time is 8 hours.  
When you open the package, the meat will be totally juicy. Just remove the bay leaves and shred the brisket with all the spicy chili deliciousness.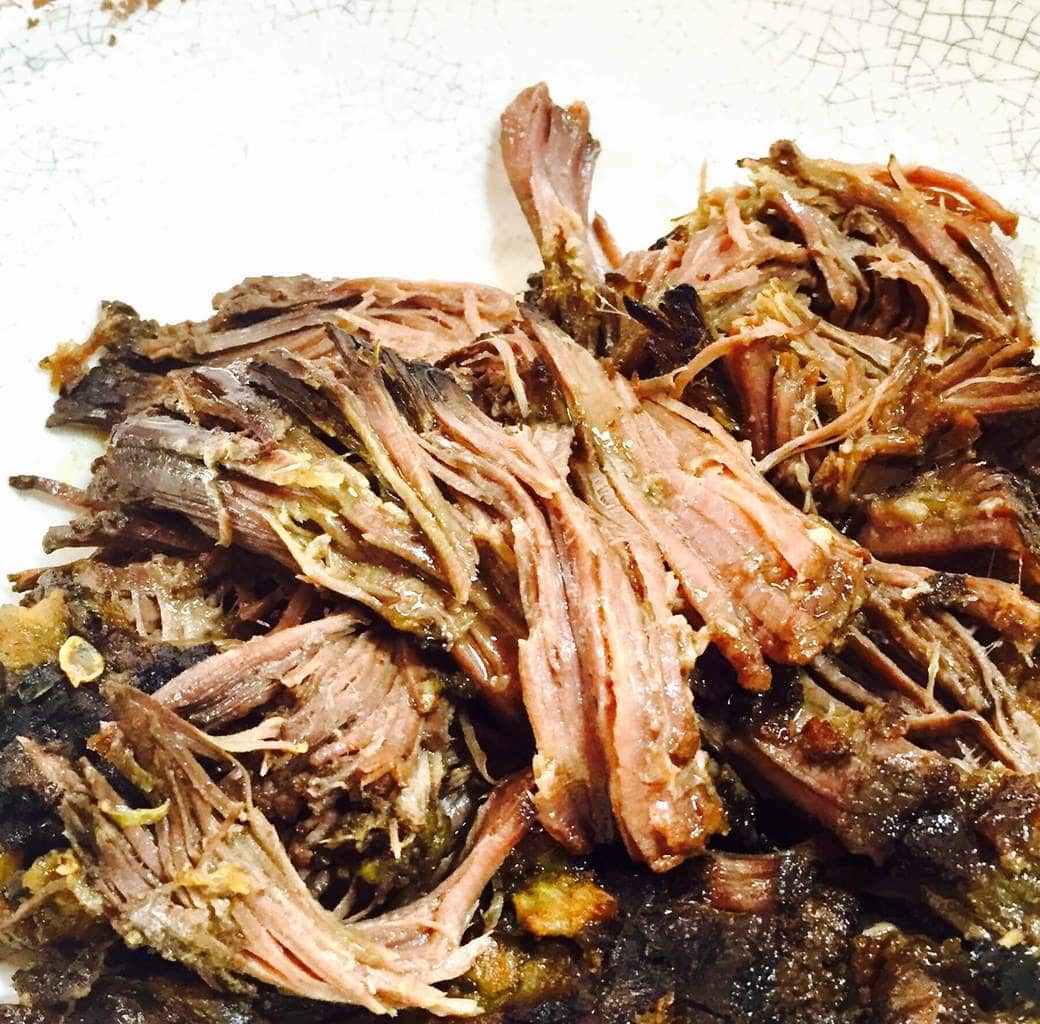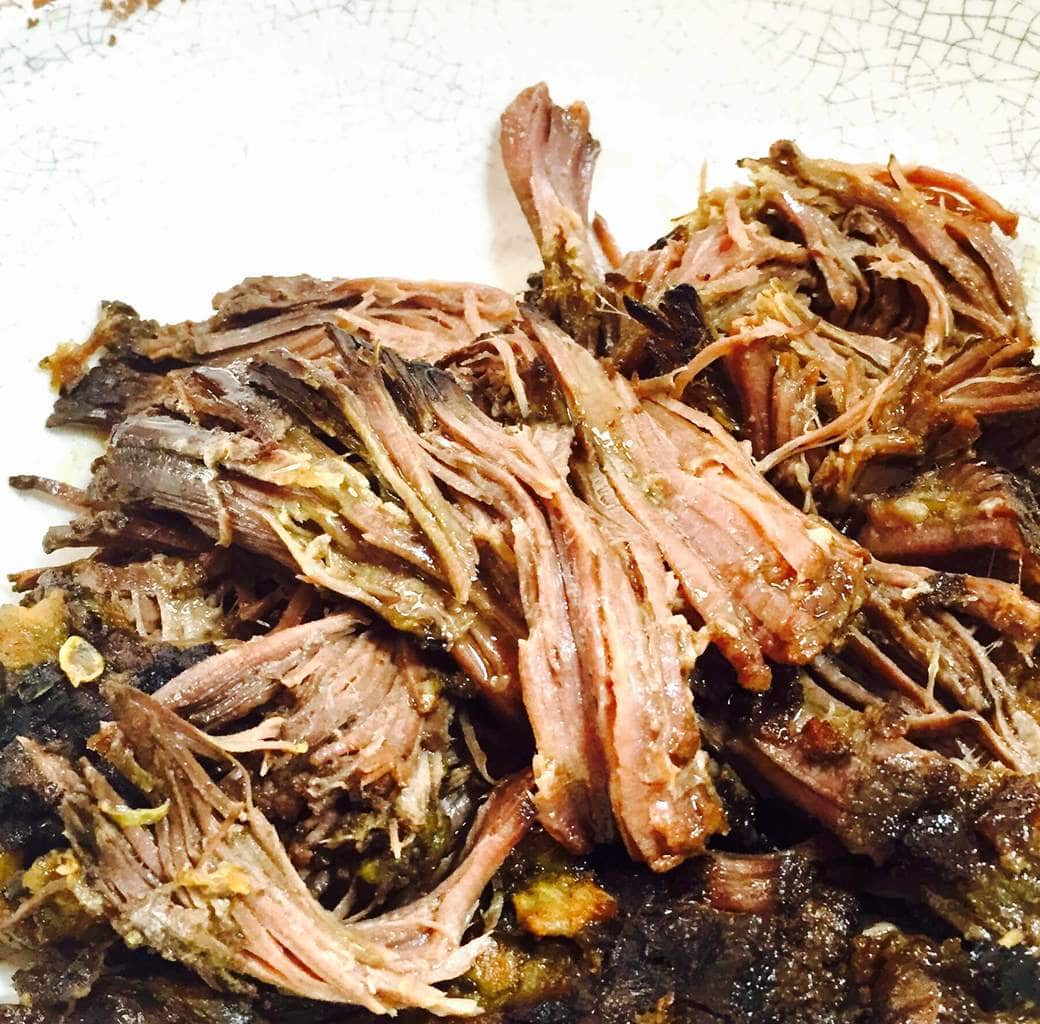 You can serve this fabulous beef a few different ways. Enjoy it by itself or add it to a bun with a little bbq sauce for the best Brisket burger you ever had…or make tacos like I did.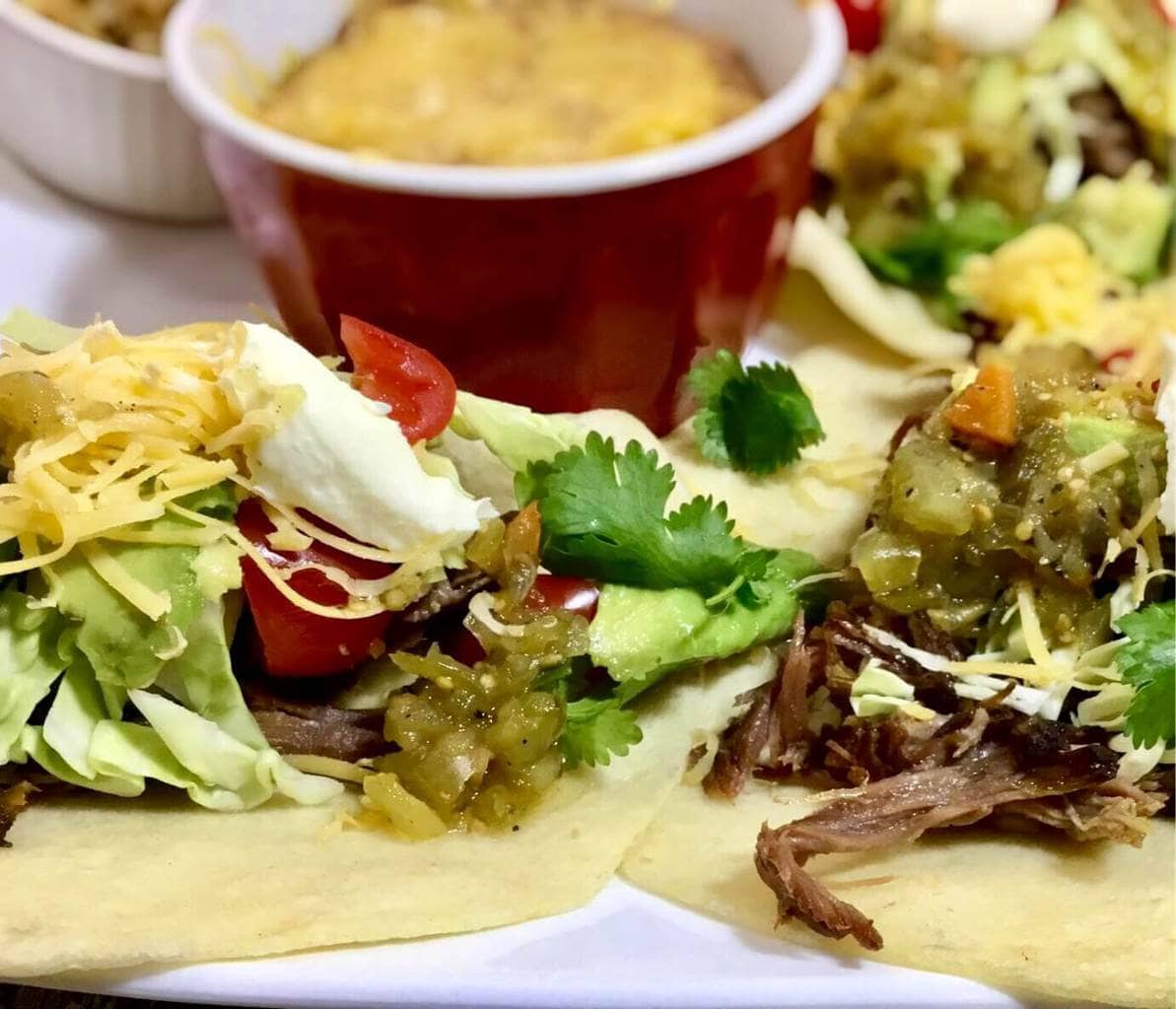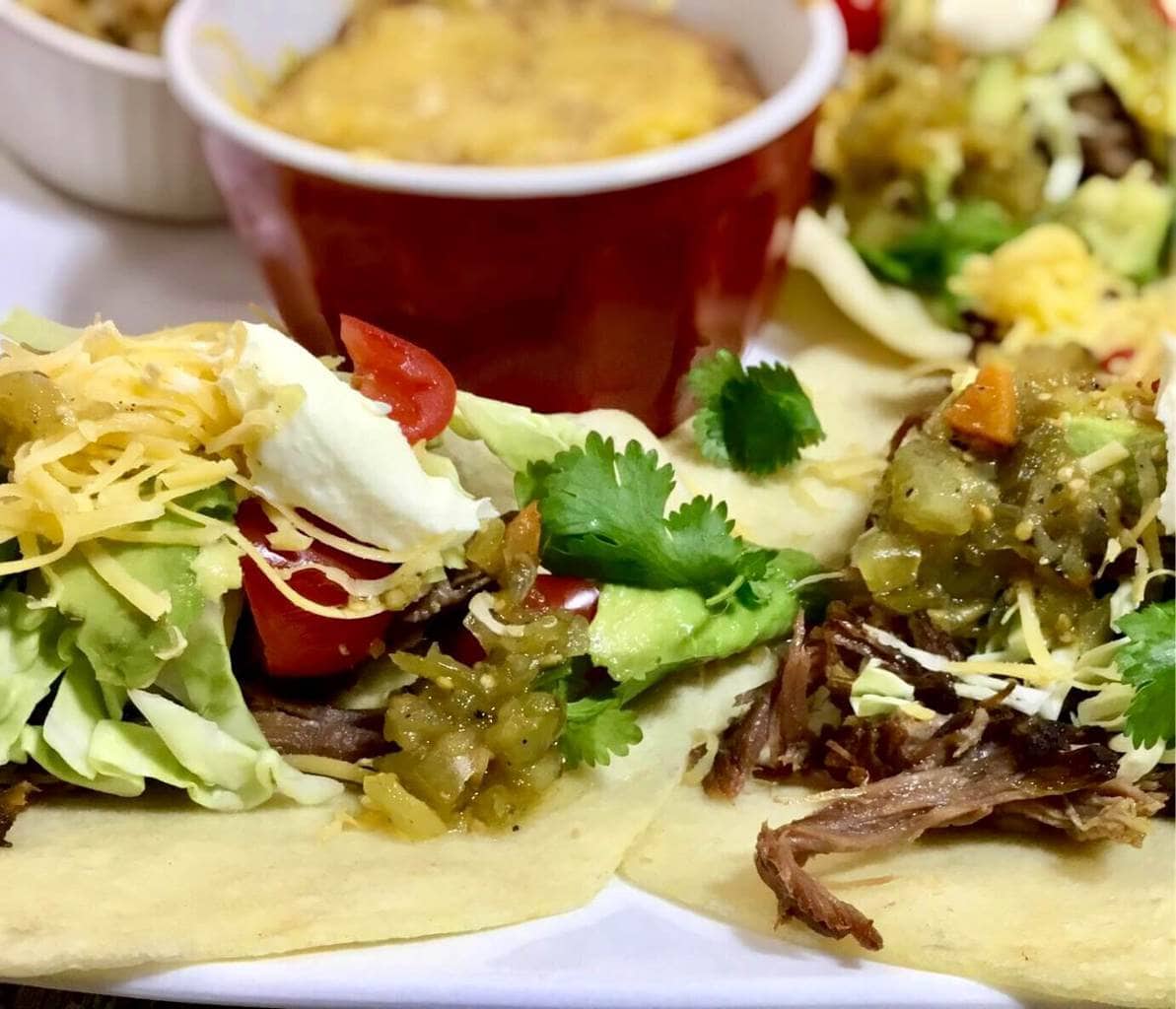 Whatever way you serve it, you're going to love this brisket!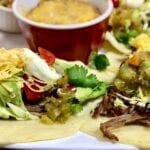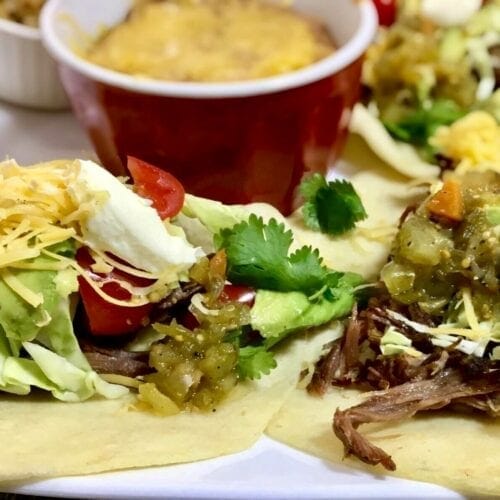 Print Recipe
Roasted Brisket
This Roasted Brisket recipe is amazing. Instead of roasting it at a low temperature, you roast it at medium high for a long time and the result is perfection!
Ingredients
2

Lb

Brisket

2

Tsp

Olive oil

1/2

Tsp

Sea salt

Prefer Himalayan Pink Sea Salt

1/2

Tsp

Pepper

1/2

Tsp

Garlic powder

1/2

Tsp

Onion powder

1/2

Tsp

Smoked Mesquite powder

1/2

Tsp

Smoked Paprika

2

whole

Bay leaves

3

Tbsp

Poblano chilies, diced

Canned diced green chilies can substitute
Instructions
Preheat oven to 350 degrees F

Brush brisket on all sides with olive oil.

In a small dish mix sea salt, pepper garlic powder, onion powder, Smoked Mesquite powder and Smoked Paprika. Sprinkle mixture on both side of the brisket.

Spoon the dices chilies over the top. Then add the bay leaves.

Wrap the brisket in heavy duty foil and and seal it tightly.

Place foil package in a baking dish and cook for 6 hours.

When finished, remove the bay leaves and discard. Then shred the brisket.

Serve as is or add the brisket to tacos.
Nutrition
Calories:
250
kcal
|
Protein:
31
g
|
Fat:
12
g
|
Saturated Fat:
4
g
|
Cholesterol:
93
mg
|
Sodium:
313
mg
|
Potassium:
498
mg
|
Vitamin A:
80
IU
|
Calcium:
8
mg
|
Iron:
2.9
mg
If you liked this recipe, please leave a comment below and be sure and pin this on Pinterest!