This Chile Rellenos recipe was inspired by a wonderful cook from Mexico and she made it look so easy.This recipe is creamy, tangy, crispy and full of flavor.
About Chile Rellenos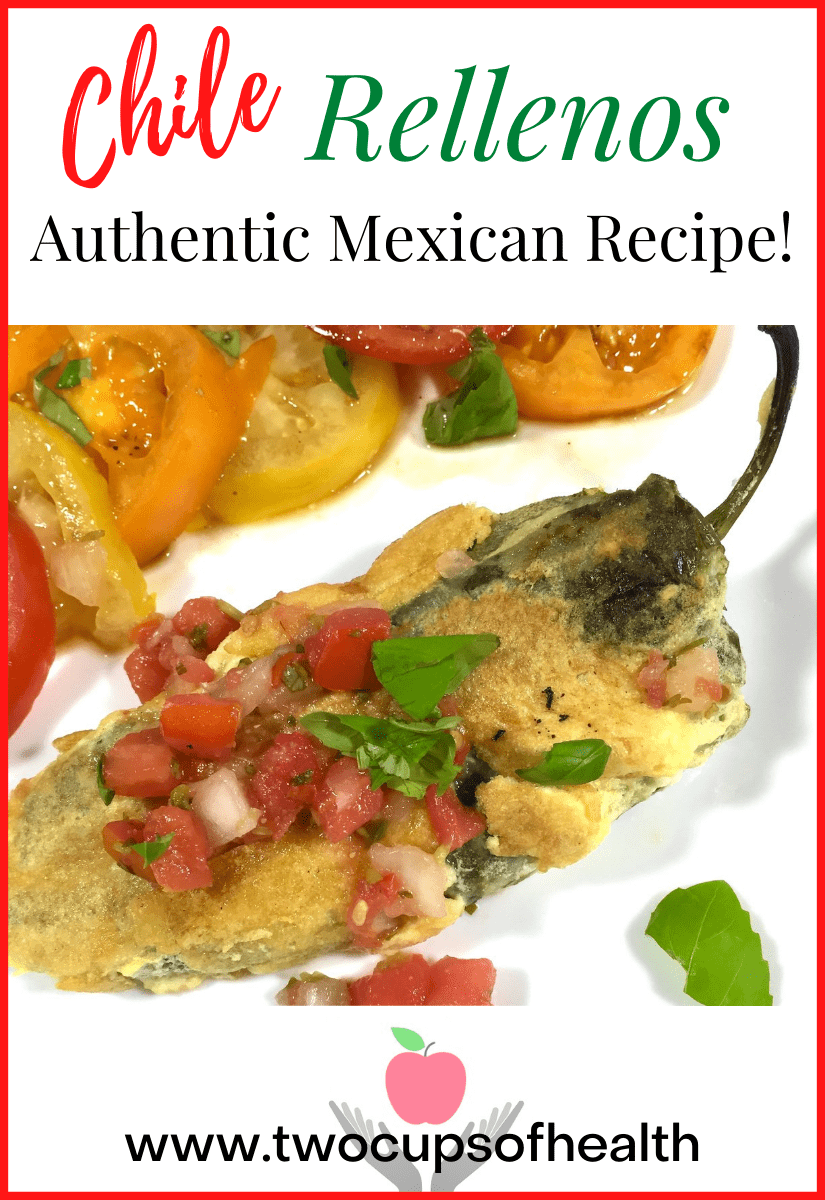 Chile Rellenos rank right up there with my top 10 favorite Mexican dishes. And actually it ranks way closer to the top spot.
In Scottsdale, we had great restaurants like the Blue Adobe that prepared this special dish.
But none of those dishes compared to the fabulous Chile Rellenos we had in Santa Fe.
We were with friends exploring this beautiful town and discovered an incredible restaurant just off the plaza called La Plazuela at La Fonda.
The food was amazing, but what really stood out was the Chile Rellenos. They were light, slightly crispy and full of flavor.
I tried to duplicate them, but they were never quite right.
How to Make Chile Rellenos
Recently, I had the good fortune to watch a Mexican chef make Chile Rellenos the way they're supposed to be made.
In Spanish, she very carefully and thoroughly described the technique as she demonstrated each step.
I speak un poco Spanish so I was able to follow along. She made it look very easy.
She said first that the Poblano was absolutely the Chile to use as she rotated her pepper over an open flame on her stove.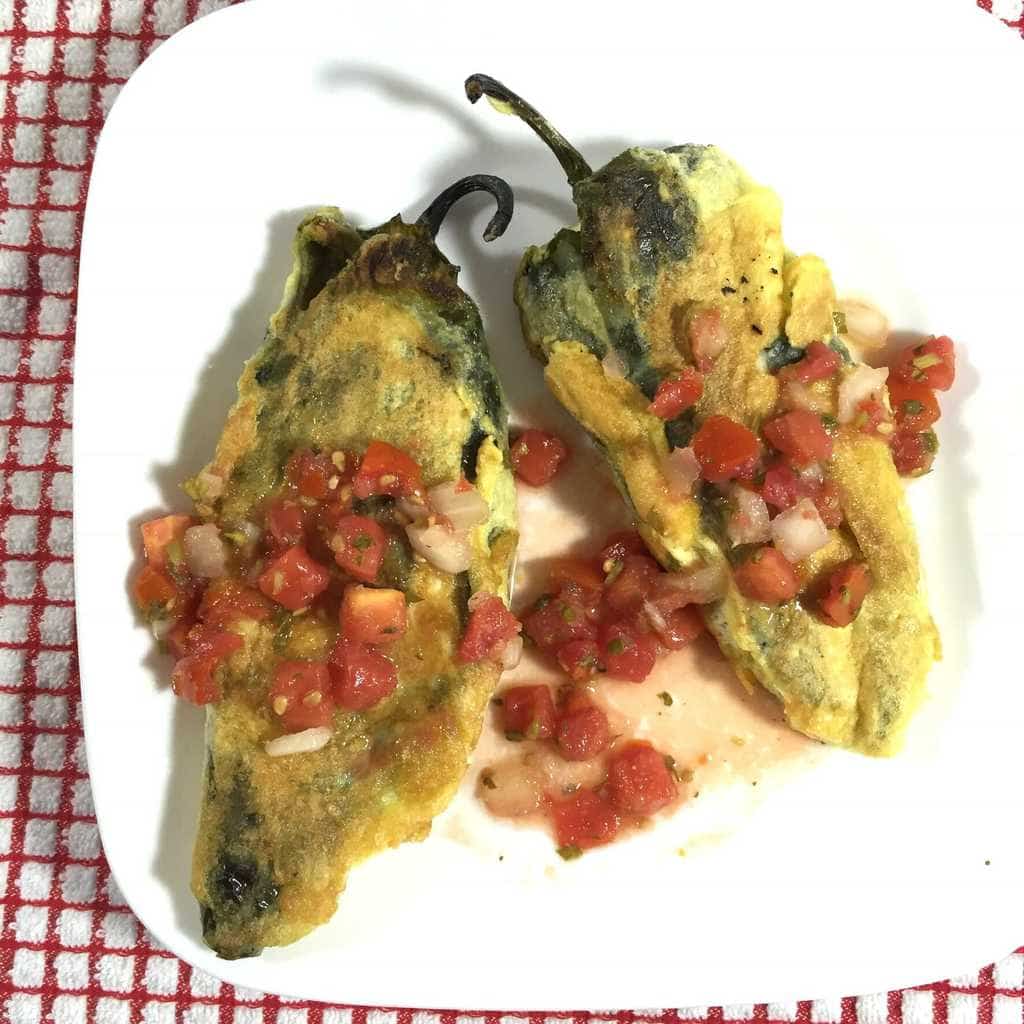 After the chile was roasted and charred all over, she immediately put it in a plastic bag.
She said this was to steam the hot pepper so that peeling would be much easier. After peeling the pepper, she slit the side and seeded the pepper.
Then she stuffed the pepper with queso asadero cheese, dredged it in flour and added it to the other already prepared peppers.
Next she separated 8 eggs and whipped the the egg whites to soft peaks and slowly added the mixed yolks to the whites.
Then she added a small amount of oil to a pan over heat…she called it muy calliente (very hot).
After dredging  a cheese stuffed Poblano in the egg batter, she added it to the hot pan to brown and crisp on one side about 3 minutes.
Then flipped it over for three more minutes. Again, it just was so easy.
When all the Chile Rellenos were cooked, she made a quick tomato sauce  and dipped the Rellenos in the sauce before she plated it.
So I tried once again to make Chile Rellenos her way.
They were not only perfect, but they were perfectly easy.
And that delicious flavor I had in Santa Fe was there once again. Light, slightly crisp and full of wonderful flavor.
I think some people go wrong with adding beer, or they deep fry them -which makes the rellenos heavier and far too greasy.
But this recipe was spot on!
If you like this recipe, please leave a comment below and pin us on Pinterest!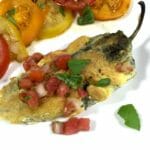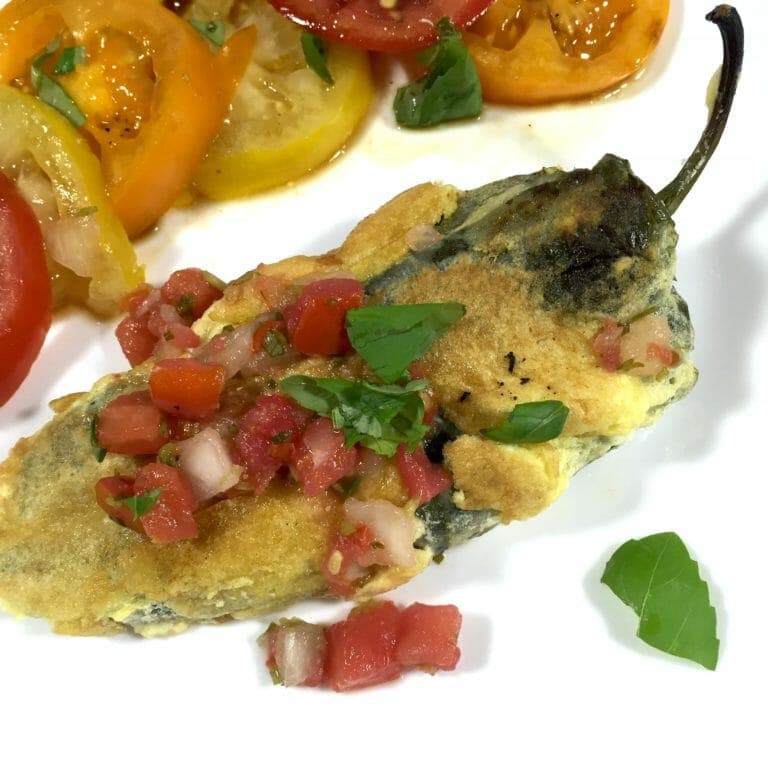 Print Recipe
Chiles Rellenos
This Chile Rellenos recipe was inspired by a wonderful cook from Mexico and she made it look so easy. This recipe is creamy, tangy, crispy and full of flavor.
Ingredients
2

Large

Poblano peppers

2

Oz

Panela cheese

Monterey Jack can substitute

2

Tbsp

Flour

2

Large

Eggs

1

Tbsp

Olive oil
Instructions
Preheat oven to 500 degrees F

Cut a slit into one side of each Chile and remove seeds. (Note: this will take away the heat of the Chile. If you want more heat, leave them in.) Place Chilies in oven proof pan and bake in oven for 30 minutes. Turn them once while cooking to roast both sides. When finished roasting, remove from pan and place in plastic bag to steam.

When Chilies have sufficiently cooled to handle, peel skin.

Cut mozzarella into four 1/4" x 2" strips. Stuff each Chile with 2 cheese strips. Press slit edge down and roll in flour to coat.

Separate the egg yolks from the egg whites. Mix the yolks to combine. With a mixer, beat the egg whites to soft peaks. Add in egg yolks and beat 1 more minute to thoroughly combine

Add oil to frypan over high heat. Holding stem, dip floured Chilies into egg mixture until completely coated. Add battered Chile to frypan and cook 3-4 minutes on each side until well browned. Then turn and cook 3-4 more minutes.

Serve hot and crispy. Optional: Top with your favorite salsa.
Nutrition
Calories:
278
kcal
|
Carbohydrates:
14
g
|
Protein:
14
g
|
Fat:
18
g
|
Saturated Fat:
6
g
|
Cholesterol:
208
mg
|
Sodium:
253
mg
|
Potassium:
377
mg
|
Fiber:
2
g
|
Sugar:
4
g
|
Vitamin A:
1070
IU
|
Vitamin C:
131.8
mg
|
Calcium:
188
mg
|
Iron:
1.9
mg
Also try: