New Zealand Ora Salmon is absolutely the best salmon in the world with its melt-in-your-mouth deliciousness in every bite. 
About New Zealand Ora Salmon 
All salmon's the same, right? Well, not really.
If you buy Atlantic Salmon, you'll usually be buying farm raised salmon.
But If you want wild caught salmon, then you need to buy…or catch…Pacific Salmon and most of that salmon comes from the Northwest United States on up to Alaska.
There's also Norwegian salmon which is farm raised in their pristine waters.
Plus, there's Icelandic Arctic Char, which I featured in my Easy Arctic Char recipe. This char is a lovely rainbow skinned fish that's actually related to trout and salmon.
Finally there's New Zealand Ora Salmon. Without question, Ora Salmon is truly the best salmon in the world!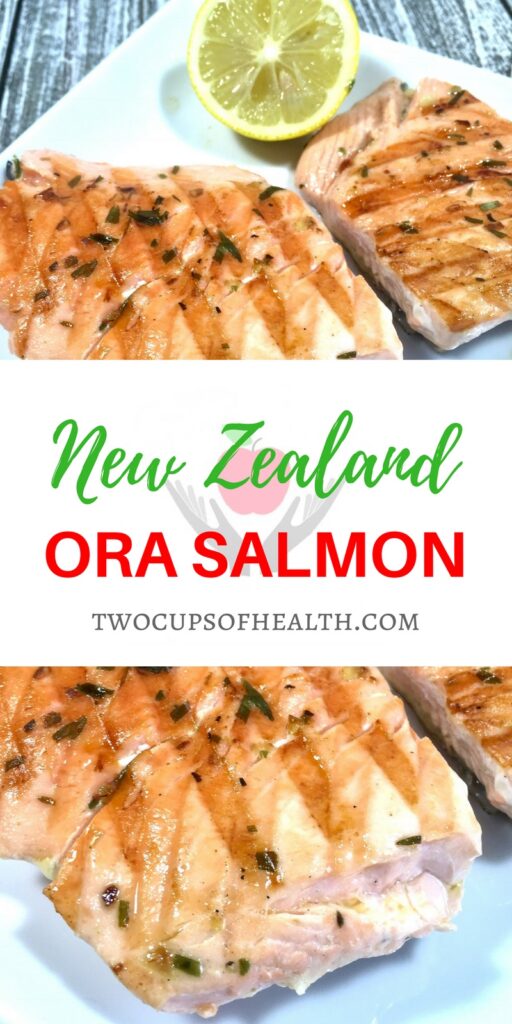 What's the Difference in the Salmon You Buy? 
Farm raised salmon usually spend their lives in pens. Crowded pens, where they are prevented from swimming freely. This crowding situation results in polluted waters where they feed and breed.
Also, because of the diet they're given, their flesh color is basically grey.  The vendors know customers won't buy grey fleshed salmon, so they are fed food with artificial coloring.
This coloring is actually synthetic Astaxanthin, which is made from petrochemicals.
I'm certainly not a fan of chemicals in food.
Although the Food and Drug Administration in America has approved synthetic Astaxanthin for human consumption, many countries have banned it. Among those countries are Australia and New Zealand.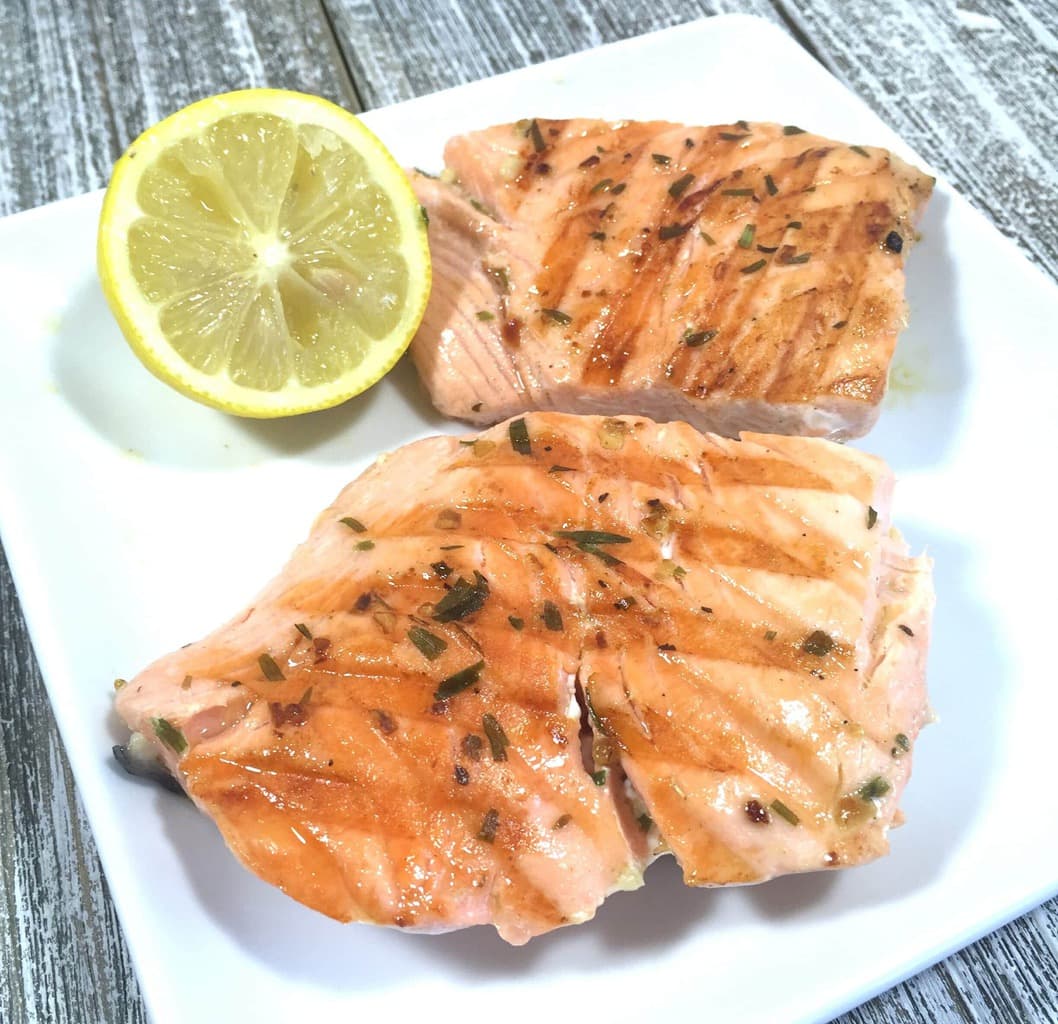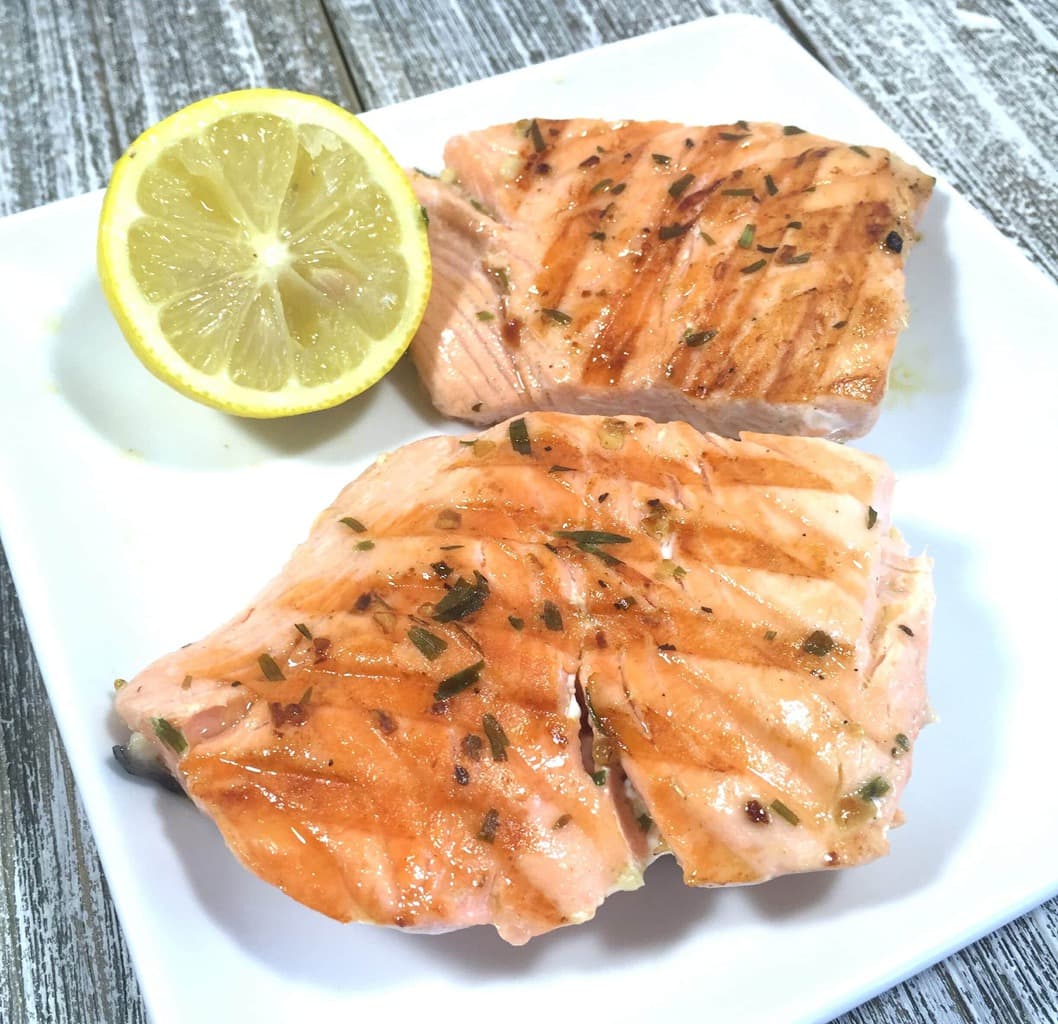 A healthier choice when you are buying salmon is Pacific caught wild salmon.
These fish swim freely in the oceans and streams and their diet also is based on Astaxanthin. But not synthetic Astaxanthin.
This keto-carotenoid is found naturally in their diet of krill and pink shrimp.
It's also interesting to know that various types of Pacific wild caught salmon also have different degrees of orange coloring in their flesh.
Chum salmon, also known as Keta or dog salmon for its dog like teeth actually has pale to medium colored flesh. This is often sold canned or frozen and sold to foreign markets.
Then there's Pink Salmon that has very light colored and mild flavored flesh. This is often canned but is also smoked.
There is also Sockeye salmon known for its bright red orange flesh. In fact they're known as "reds" because of their deep red flesh due to catching them at sea as they make their way upstream to spawn.
Finally there's Chinook Salmon, also known as King Salmon, and they're considered to be the best tasting salmon of all the Alaskan varieties.
They have a high fat content, and like Sockeye, their flesh is deep red.
But the best of the best salmon in the world actually is farm raised in New Zealand. This is Ora King Salmon.
This special king salmon has been described as the "Wagyu of the Sea" because the taste of this fish compares to no other.
When I saw it at the market it immediately caught my eye because of it's deep reddish flesh.
I mean, it was gorgeous with its marbled fat lines and yep, it is expensive.
I had never seen it before and I asked the man at the seafood counter what it tasted like.
He said, "Butter. It's the best tasting salmon in the world."
Well, that did it! I had to buy it.
How Salmon is Raised Makes All the Difference in Taste
The secret I think to this fabulous fish is the respect for how they are raised.
First the eggs of the Ora King Salmon are carefully nurtured in the crystal clear waters which flow from the Te Waikoropupu Springs near Golden Bay.
These waters have been verified as the cleanest waters in the world.
Once hatched these months old Ora King Salmon are then carefully transported to the pristine sea waters of Marlboro Sound where they will live for the remainder of their lives in large sea farm pens.
Unlike other fish farms, which are way over crowded, the Oro Salmon have room to move since only 2% of the salmon swim in pens that are in 98% water.
These waters, north of New Zealand's South Island, have hundreds of sheltered deep water bays and the swiftly moving current of Cook's Strait provides food for the Ora Salmon and the other area's wildlife.
These waters were carefully chosen to maintain the most natural habitat for the Ora Salmon.
The result of this care and respect for these salmon has consistently produced, as the man at the seafood counter said, "…the best tasting salmon in the world."
Read more about this incredible salmon at the New Zealand Ora Salmon website.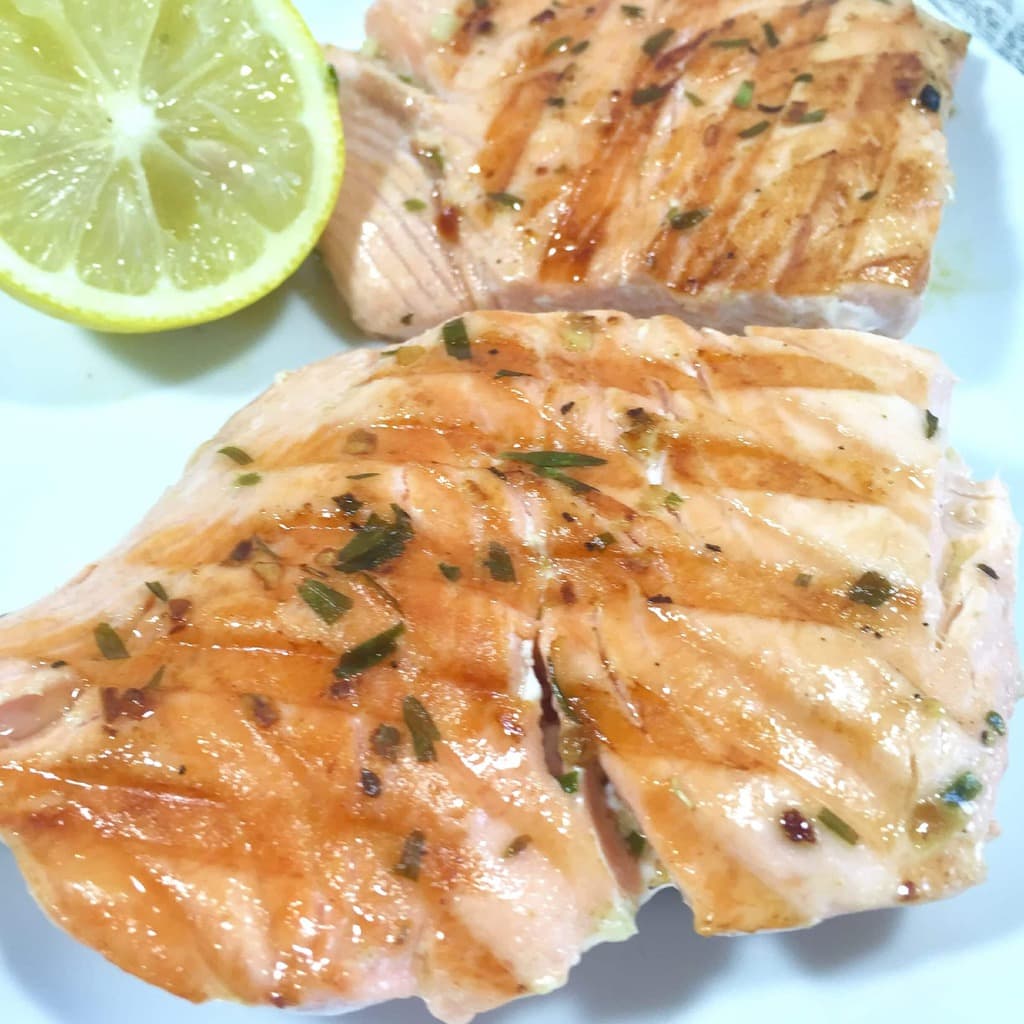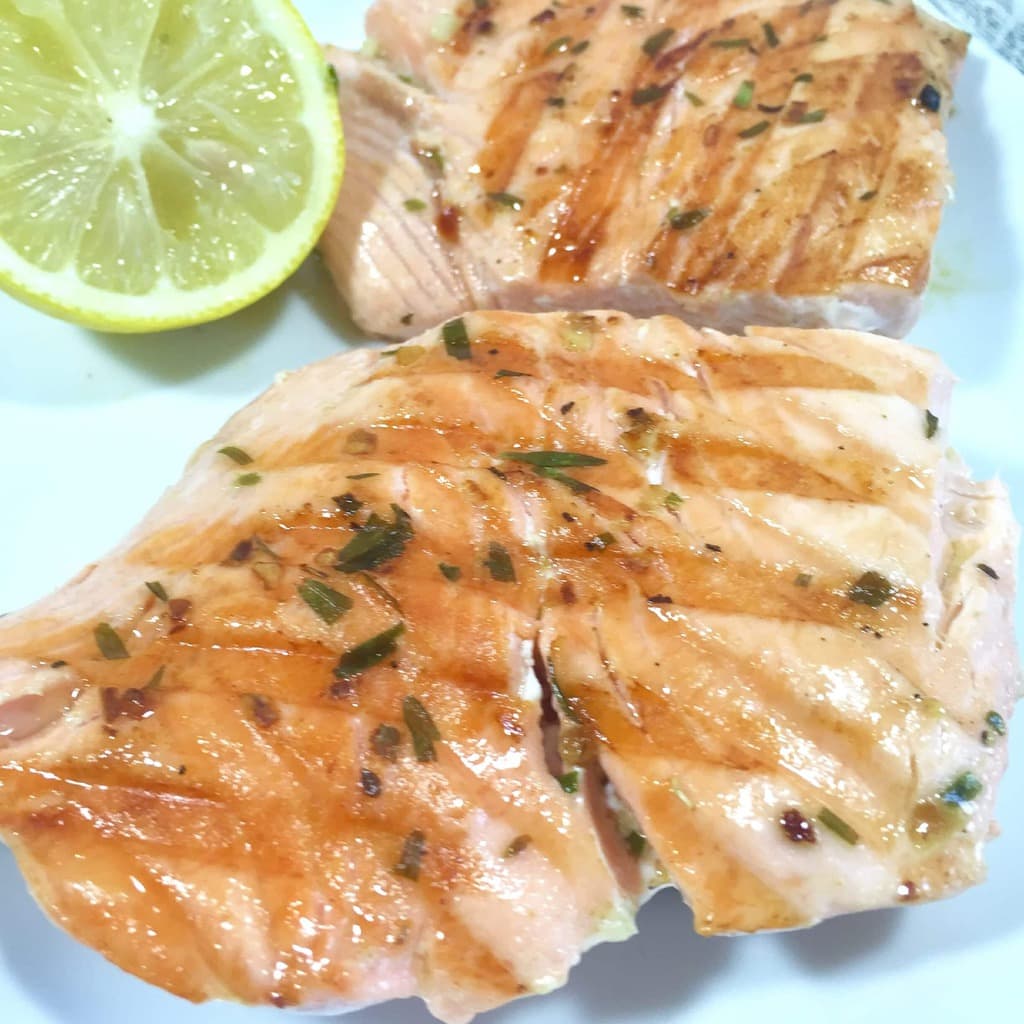 Ingredients of New Zealand Ora King Salmon 
Ora  Salmon Filets
Olive Oil
Fresh Tarragon Leaves
Salt 
Pepper
Lemon
How To Cook New Zealand Ora Salmon
I brought it home and decided this special fish didn't need a lot of fuss. Maybe some Tarragon, a little olive oil, a touch of salt and pepper, and a squeeze of lemon.
I debated about pan frying it briefly and then finishing in the oven.
Good way to do almost any fish, but then decided, hum….how about grilling?
So I grabbed my Griddler, heated it up and 2 minutes later it was done to perfection.
Really.
The seafood man absolutely nailed it.
Even with this simple preparation, it melted in your mouth with its luscious butteriness. I can understand why the Wagyu nickname came to be.
For additional fish recipes, also try:
Baked Halibut with Tarragon Cream Sauce
If you like this recipe, please leave a comment below and pin us on Pinterest!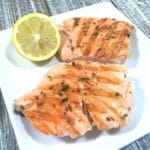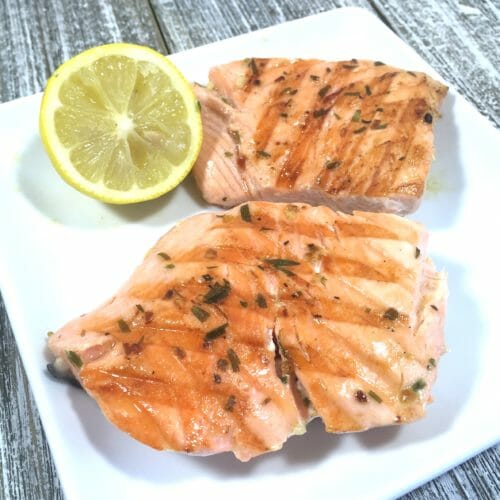 Print Recipe
New Zealand Ora Salmon
New Zealand Ora Salmon is the best tasting salmon in the world. It is often called the Wagyu of fish because melts in your mouth with it's luscious butteriness.
Ingredients
2

4 Oz

Salmon filets

Ora Salmon

1

Tsp

Olive oil

1/2

Tsp

Tarragon Leaves

Fresh

1/4

Tsp

Salt

Himalayan Pink is best

1/4

Tsp

Pepper

1/2

Lemon

Juiced
Instructions
Heat Griddler to high grill temperature.

Drizzle Ora filets with olive oil and add salt, pepper and tarragon leaves to each filet.

Place filets in Griddler, close lid and allow to grill 2 minutes.

Remove filets to a serving place and give each filet a squeeze of lemon.
Notes
This can also me made in a frypan on the stove.  Add an extra tsp of olive oil to oven proof frypan over medium high heat.  Place seasoned filets skin side up in frypan and cook 2 minutes.  Turn filets over and place in a 350 F degree oven for 4-5 minutes depending on the thickness of your filets.
Nutrition
Calories:
191
kcal
|
Carbohydrates:
2
g
|
Fat:
9
g
|
Sodium:
291
mg
|
Potassium:
37
mg
|
Vitamin C:
14.3
mg
|
Calcium:
7
mg
|
Iron:
0.2
mg