These Easy Pork Dumplings are not only totally delicious but they're also fun to make. So recruit the family and have a dumpling party!  
I fell in love with Asian Dumplings years ago. I tried them for the first time at PF Chang's restaurant.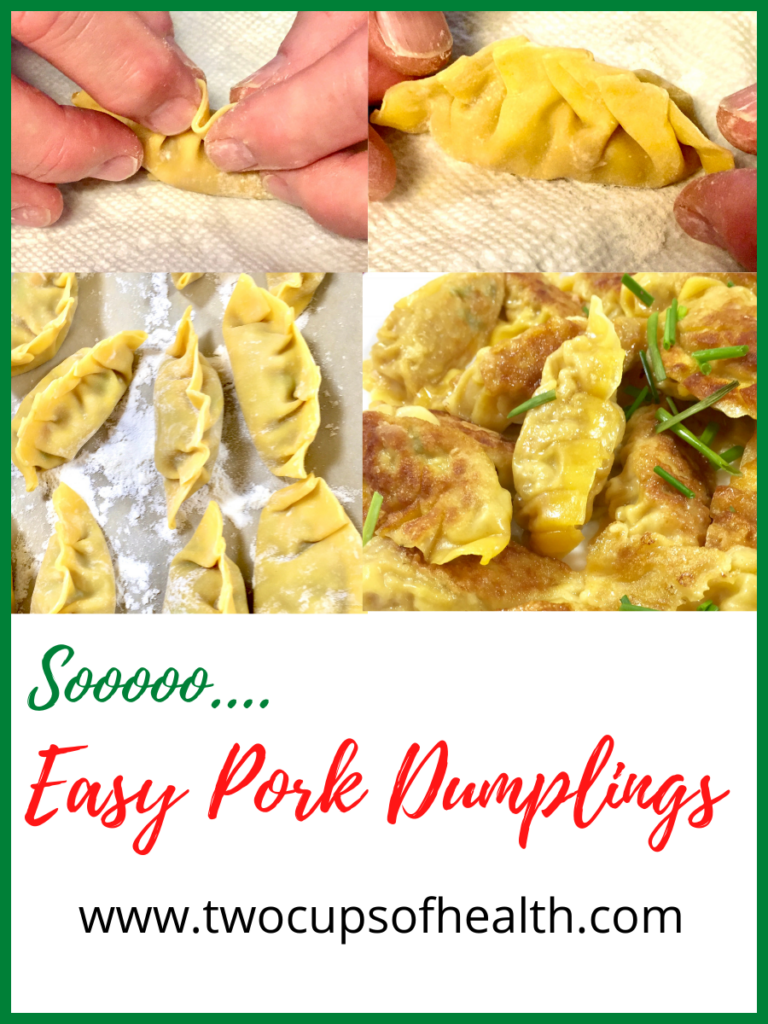 They serve their dumplings steamed in their perfect little steamer baskets which keeps the dumplings warm.
I admired their presentation and I loved the taste.  
Most of all I loved the fact that those wonderfully delicious healthy dumplings were low in calories and fat.
Unfortunately, the sodium was high, so I thought I'd learn how to make them myself.
At first I thought they would be incredibly hard to make, but the reality is that making them is really easy and super fast. And actually a lot of fun. 
I even turned it into a family thing and recruited my husband's help.
He loved it and was actually much better at crimping the dumplings than I was.
Plus, the great thing about dumplings is that the filling can be anything you want. 
Vegetetarian?  Easily done with tofu, cabbage and carrots and garlic and any other vegetable you choose. 
Do you like fish? Then shrimp added to a vegetable combination is perfect. Or beef for another filling.
This recipe is made with ground pork, which is probably the most traditional filling.  
Normally you would serve these dumplings with a dunking sauce. In this recipe though, I incorporated the sauce inside the dumpling.
They're perfect the way they are, but if you'd like an extra sauce, I'd recommend Kikkoman Gyoza Dipping Sauce.
By the way if you're concerned about healthy recipes, this Easy Pork Dumpling recipe is a huge winner.
There's only 33 calories and 1 gram of fat in each dumpling.
Delicious dumplings and low calorie on top of it. It's a win-win!
So let's make them!
Ingredients for Easy Pork Dumplings
Cabbage
Salt
Ground pork
Garlic
Egg
Ginger
Sherry
Sesame Oil
Green onions
Carrots
Gyoza dumpling wrappers
Water
Vegetable oil
How to Make Easy Pork Dumplings
In order for the dumplings to have the right texture, it's important to have your ingredients relatively dry. 
Cabbage is often used in dumplings, but it has a lot of water in it and as it cooks it develops even more. So the secret is to draw the water out. 
Just add the chopped cabbage to a small bowl, along with some salt, and let it sit for a few minutes. 
Then add the cabbage to a clean towel and wring the excess water out.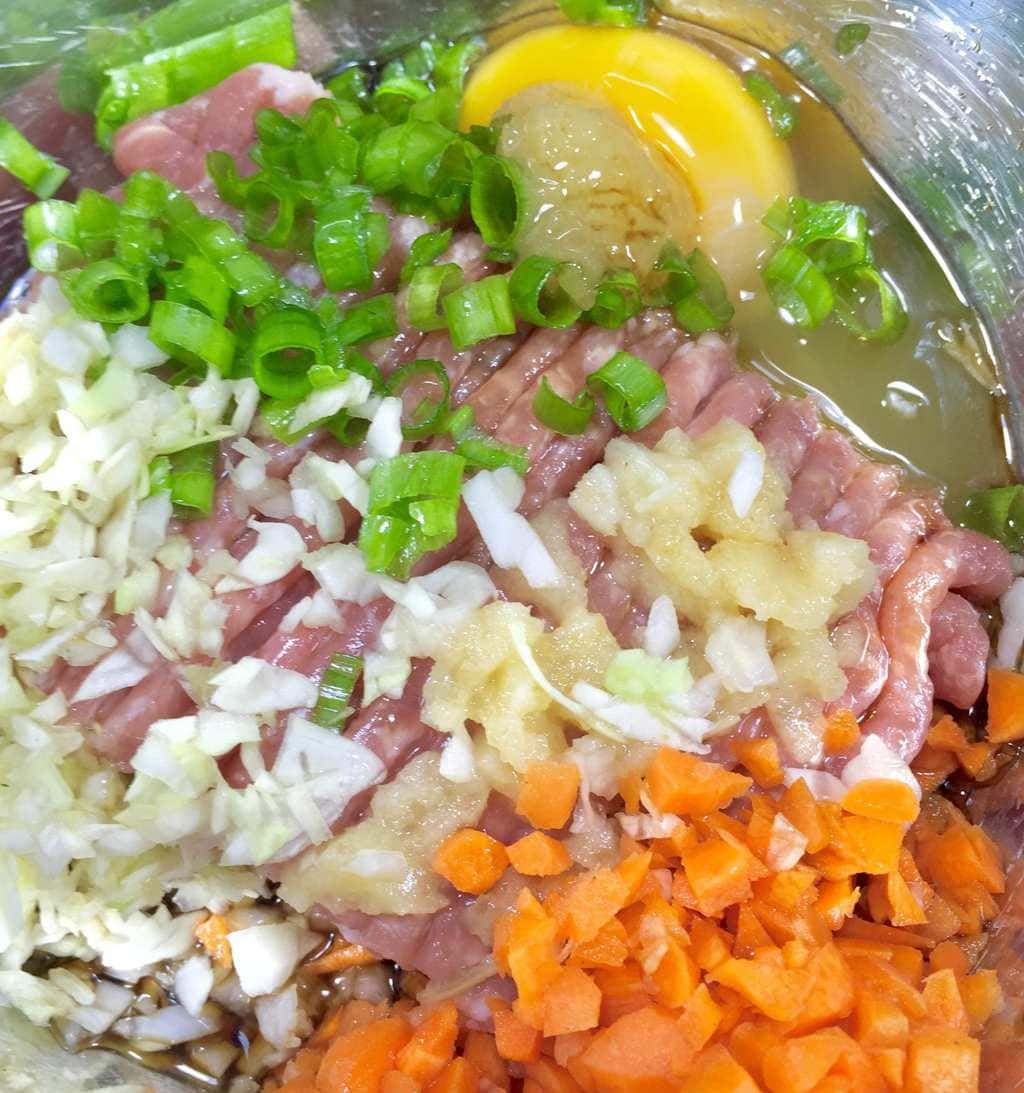 Next add the ground pork to a medium size bowl along with the cabbage, a beaten egg, green onions and chopped carrots. 
Then mix in the flavorings – ginger, soy sauce, sherry, sesame oil and Mirin. 
Then it's time to make the dumplings. 
You begin with a Gyoza wrapper. 
You can find these in Asian stores. I found mine in my favorite Central Market in the frozen section. 
Just thaw them in the refrigerator…overnight is best.
 If you can't find the Gyoza wrapper, the second best wrapper is wonton wrappers which are much easier to find.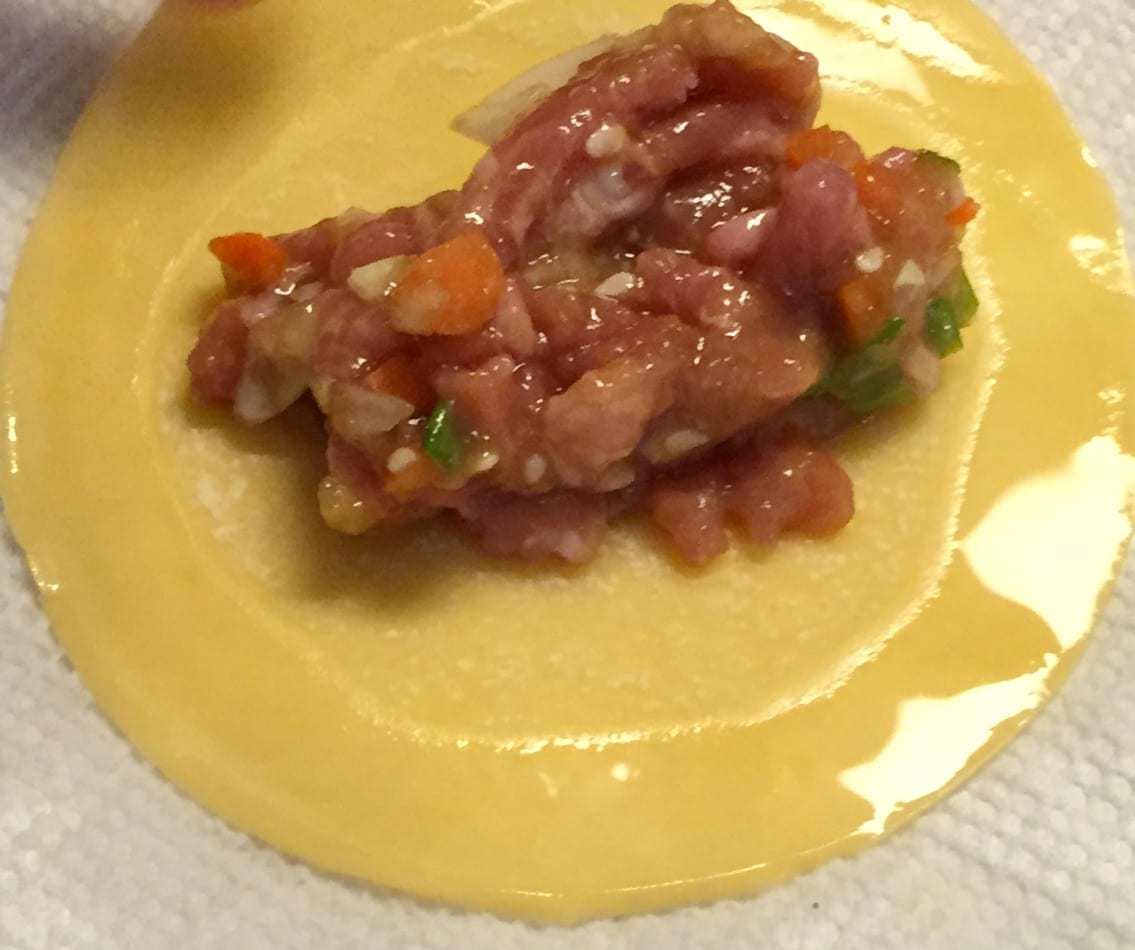 Just take one wrapper out and moisten the entire outside edge with water. This will be your glue to keep these dumplings together. 
Add 1 Tbsp of Pork mixture to the center of each wrapper.
Then just fold the wrapper in half and tightly press the two sides together.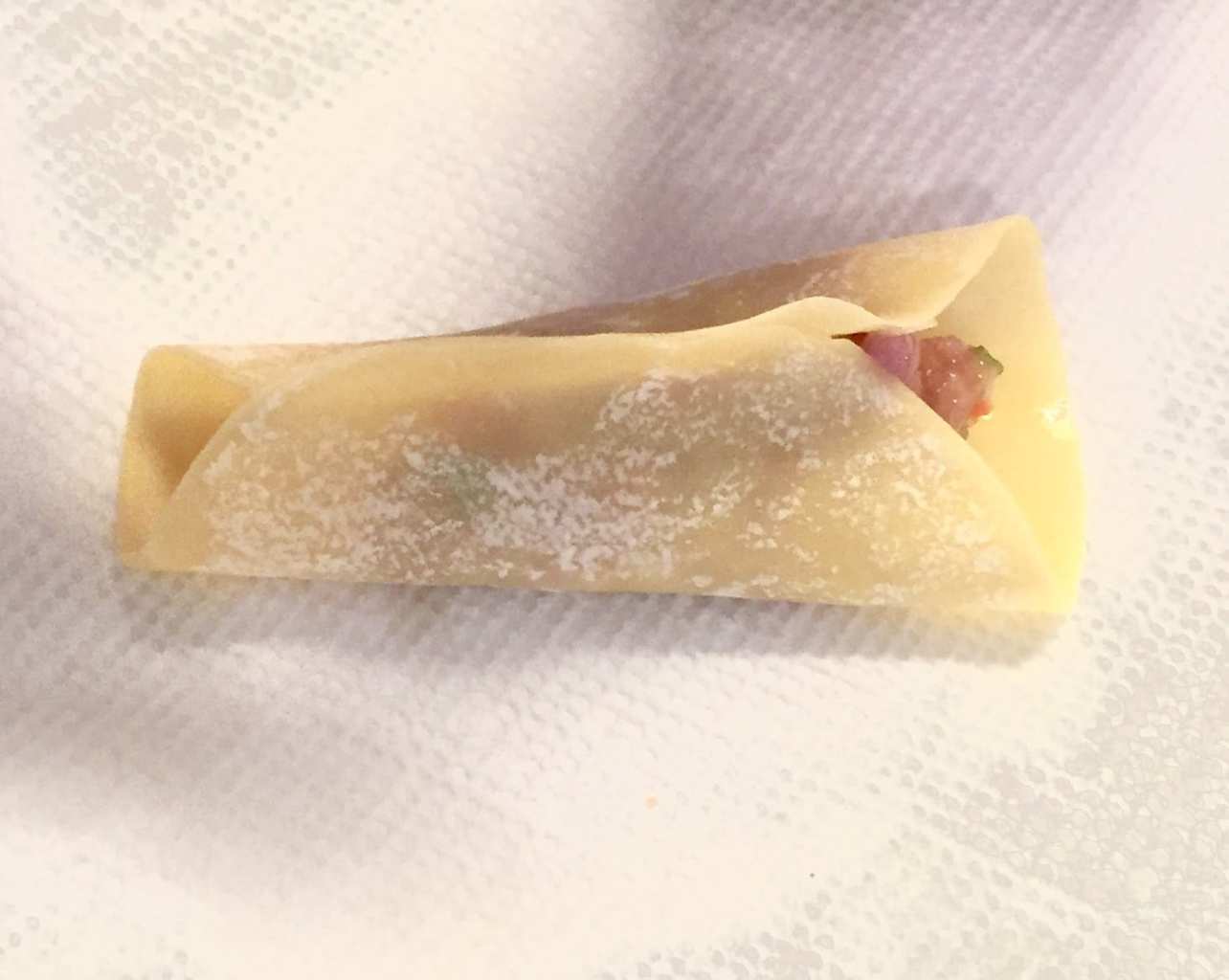 Now it's time to be creative. There are several ways to totally seal the dumpling. My favorite is to pleat the entire half edge. It just looks so perfectly finished.
It will only take you once or twice,to learn the technique. And before you know it, you'll be whipping them out.  
Then get out your electric skillet and turn the setting to medium high heat.
I find this so much easier than a frypan on the stove because of the even heat.
Add a couple of Tbsp of oil and when it's at temperature, just add the pork dumplings and brown them about 2 minutes per side.
Then add about a cup of water to the pan, cover it with the lid and steam the dumplings for 5 minutes.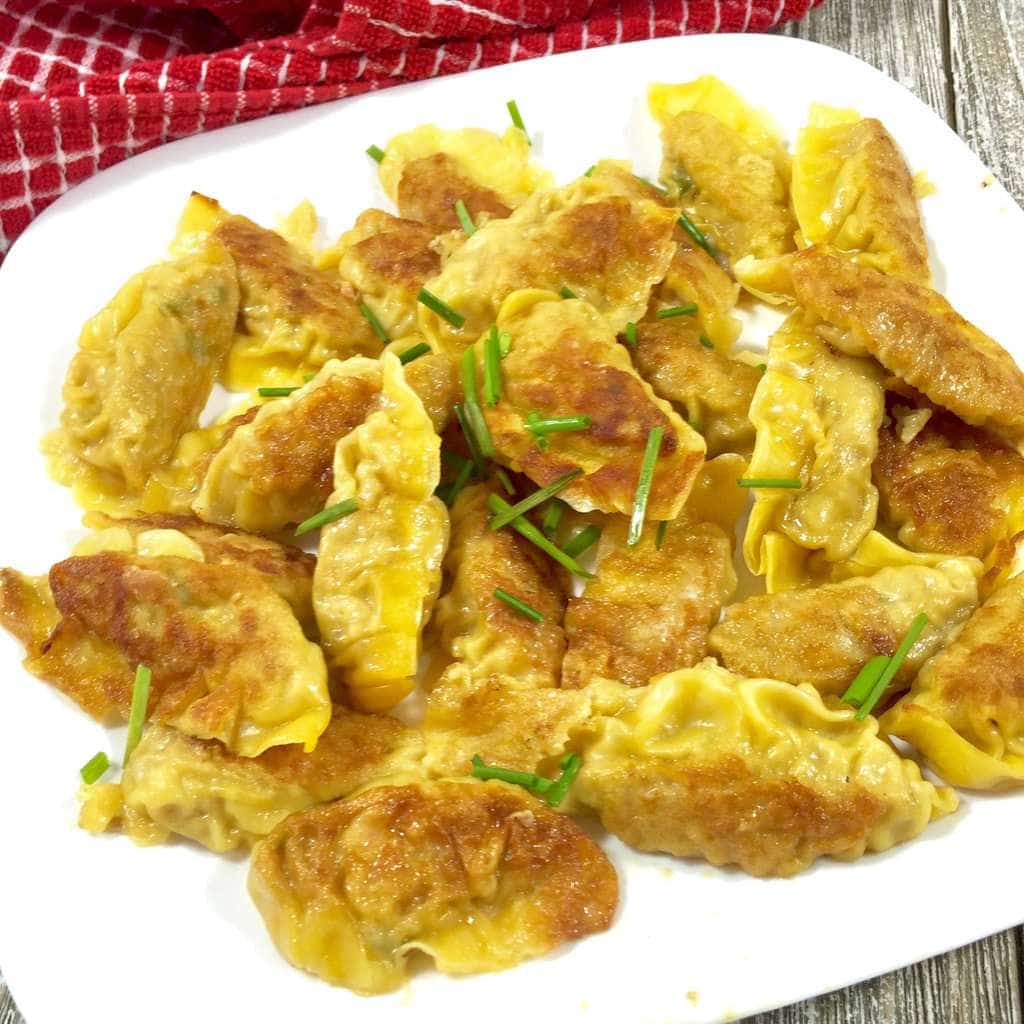 And they're done! We loved them. Low-cal healthy deliciousness. What could be better?
For more great pork recipes, see:
If you liked this recipe, please leave a comment below and pin us on Pinterest!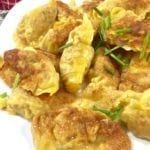 Print Recipe
Easy Pork Dumplings
These Easy Pork Dumplings Are quick to make and melt-in-your-mouth delicious. Cooking time is only 9 minutes!
Ingredients
1/2

Cup

Cabbage

Chopped fine

1/4

Tsp

Sea Salt

1/2

Pound

Ground pork

2

Cloves

Garlic

Finely minced

1

Egg

Beaten

1

Tsp

Ginger

Grated

2

Tsp

Sherry

1

Tsp

Mirin

2

Tsp

Sesame oil

1

Tbsp

Green onions

Green ends fine chopped. Chives can substitute

1/4

Cup

Carrots

Finely Chopped

36

Gyoza skins

Wonton wrappers can substitute

1

Cup

Water

2

Tbsp

Vegetable oil
Instructions
Add cabbage and salt to small bowl and let set a few minutes. Then add cabbage to a clean towel and wring excess water out.

Add pork to medium bowl along with the cabbage. Then add garlic, egg, ginger, sherry, Mirin, sesame oil, green onions and carrots mix to combine.

Place dumpling skin on a paper towel and spoon about I Tbsp Pork mixture in middle. Wet the edge all the way around. Fold wrapper in half and seal tightly. Crimp edges in small pleats to seal the dumpling. Repeat with the rest of the skins placing each on a floured surface to keep from sticking.

Add oil to a electric skillet over medium high heat. When hot add dumplings. Cook dumplings for 2 minutes until browned on one side. Turn over and cook for 2 more minutes. Add remaining water to hot pan. Immediately cover with lid and allow to steam 5 minutes.
Nutrition
Serving:
1
Dumpling
|
Calories:
33
kcal
|
Protein:
1
g
|
Fat:
2
g
|
Saturated Fat:
1
g
|
Cholesterol:
9
mg
|
Sodium:
32
mg
|
Potassium:
24
mg
|
Vitamin A:
155
IU
|
Vitamin C:
0.5
mg
|
Calcium:
3
mg
|
Iron:
0.1
mg