Creamy Cheesy Cauliflower is rich and decadent with both cheddar and Gruyere cheese.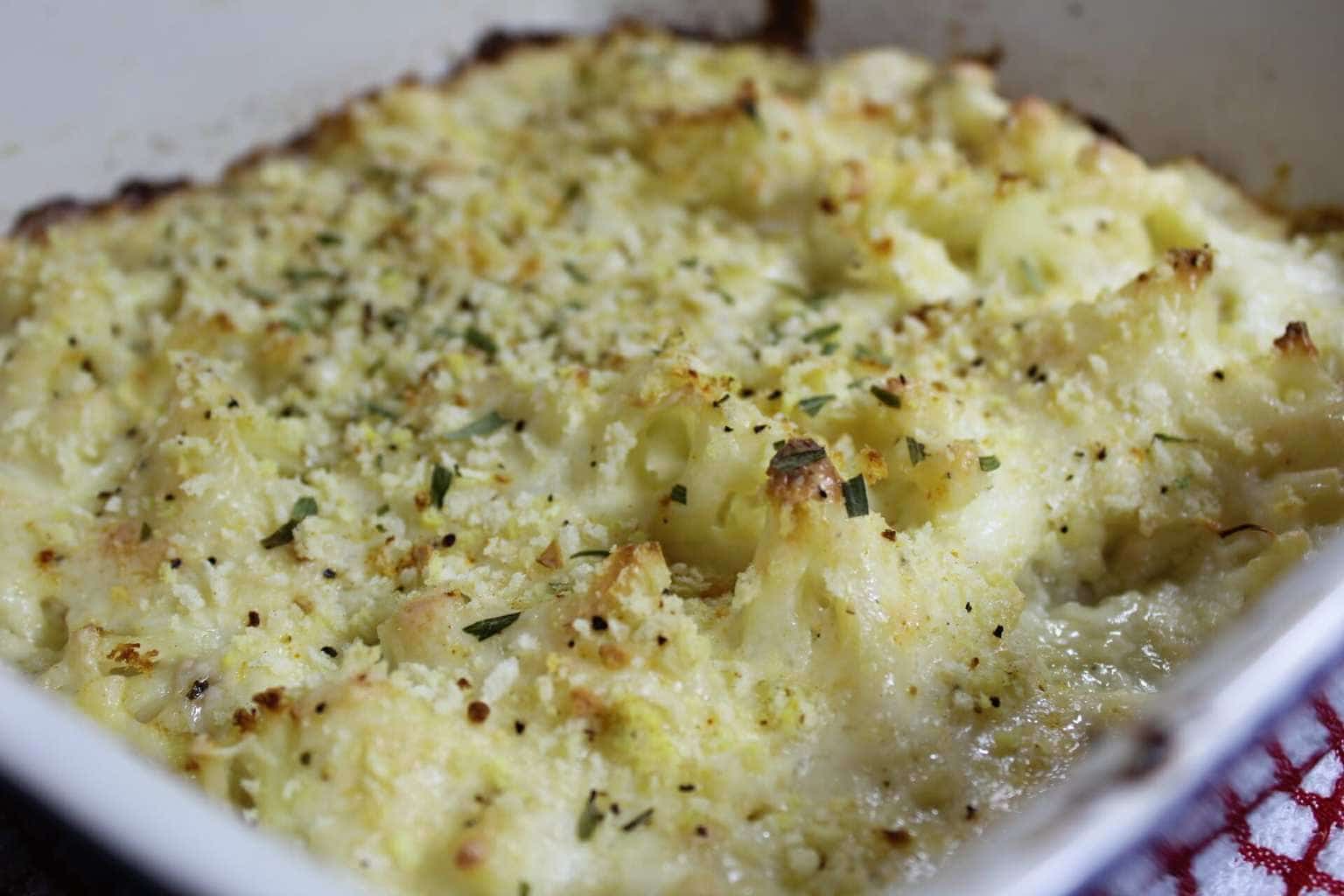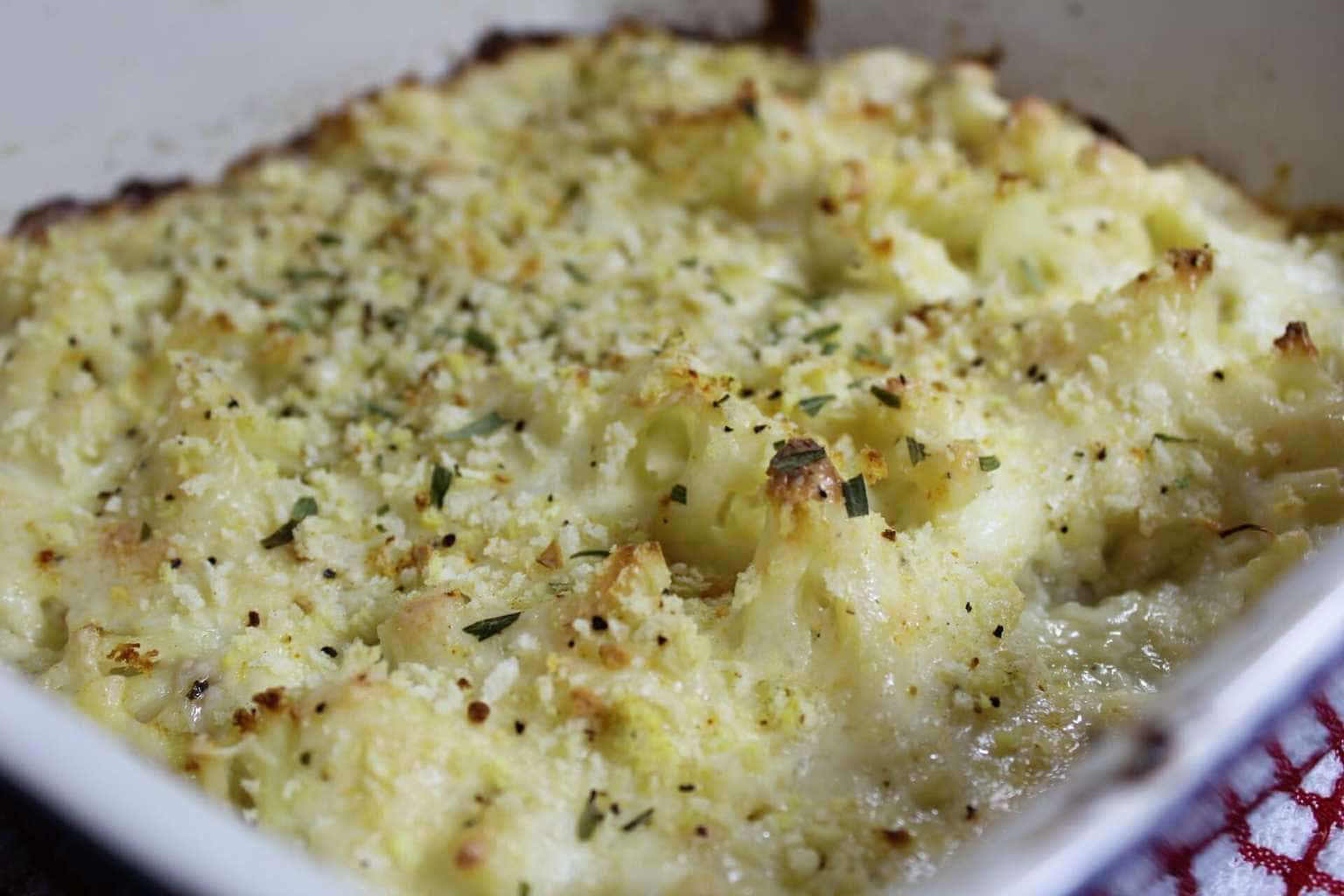 About Creamy Cheesy Cauliflower
Normally I prefer vegetables served simply either roasted or steamed.
Call me a purist, but I just love the flavor of them all by themselves with a little olive oil and salt and pepper.
Recently though when we were out to lunch, my entree was served with a choice of sides.
I could either have mashed potatoes or creamed cauliflower. Hands down, I chose the cauliflower.
Have to say although it may have beat the potatoes, it was good but not great, because as I think back I remember the best.
When I was young, my mother used to serve cauliflower with this wonderful cheesy sauce and I couldn't get enough of it.
It was rich and creamy and totally satisfying.
In comparison to my mother's recipe, the restaurant version had a thick cheesy sauce, but no richness and it was way over salted.
I figured I could do better.
So as I often do, I stopped at the store on the way home and picked up this gorgeous head of cauliflower.
Then headed back to the kitchen to recreate Mom's dish.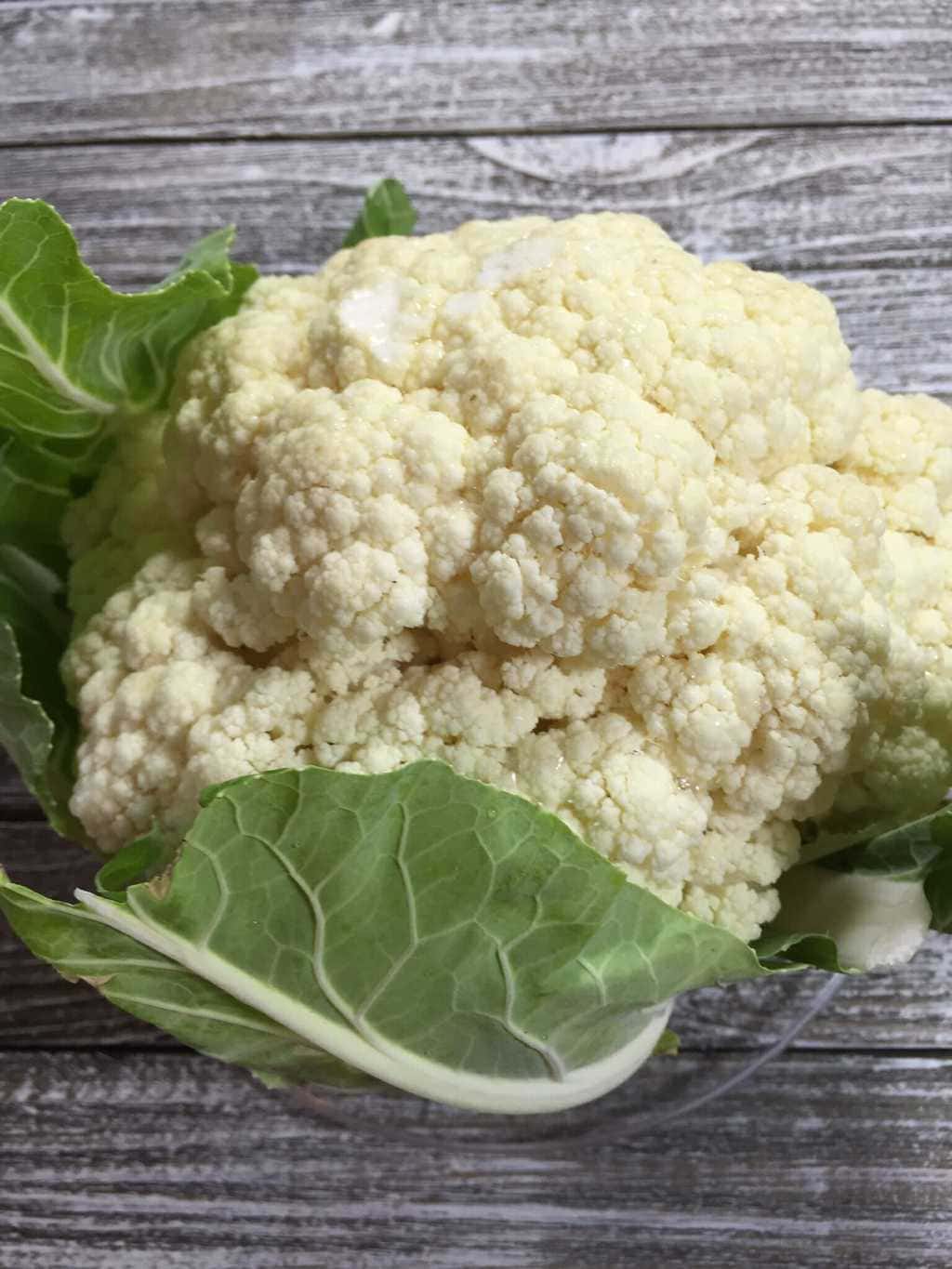 I'm very fortunate to still have my Mom, so I called her.
She's 96 now and hasn't cooked in awhile, but still she remembers that cauliflower dish although she couldn't quite give me the exact recipe.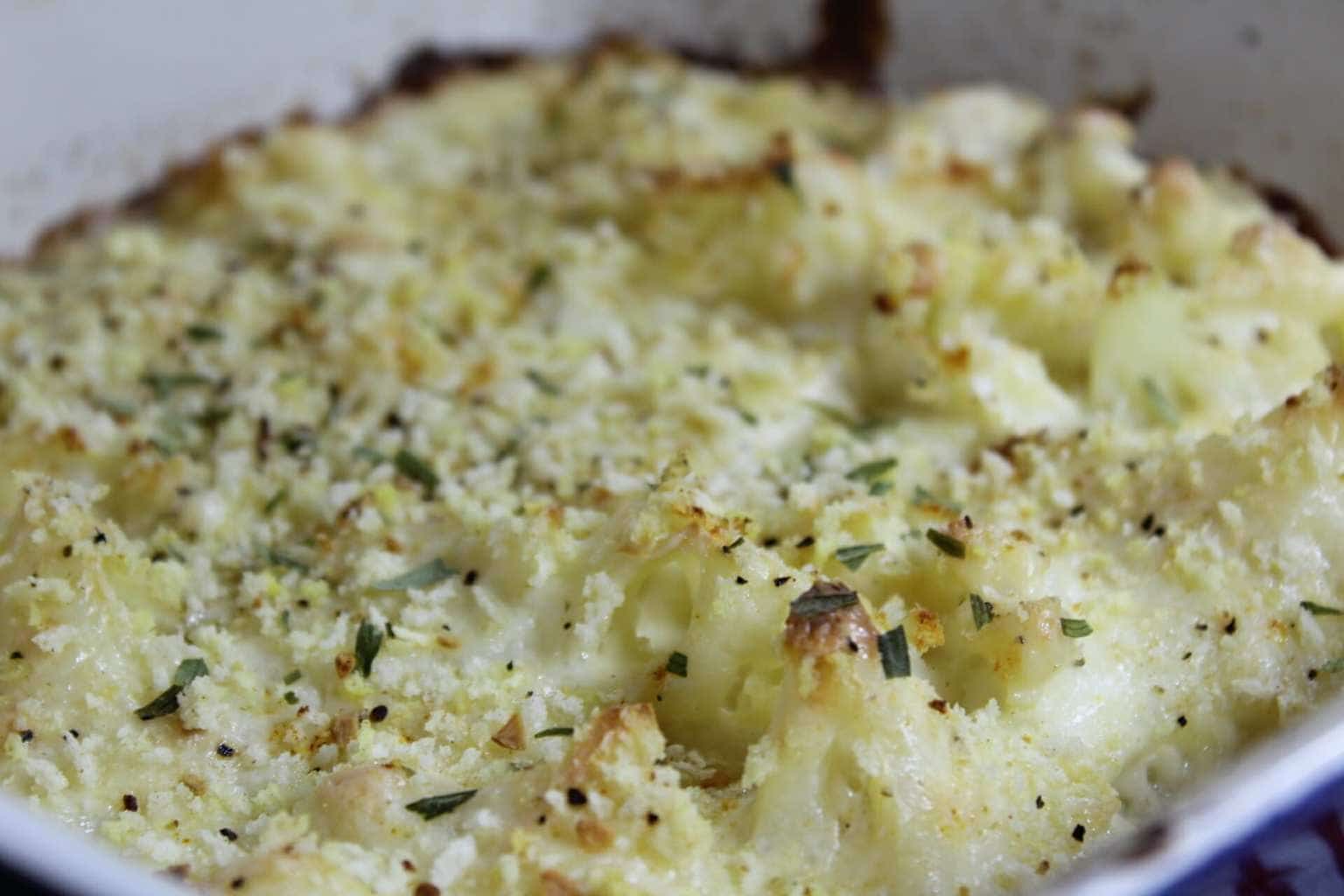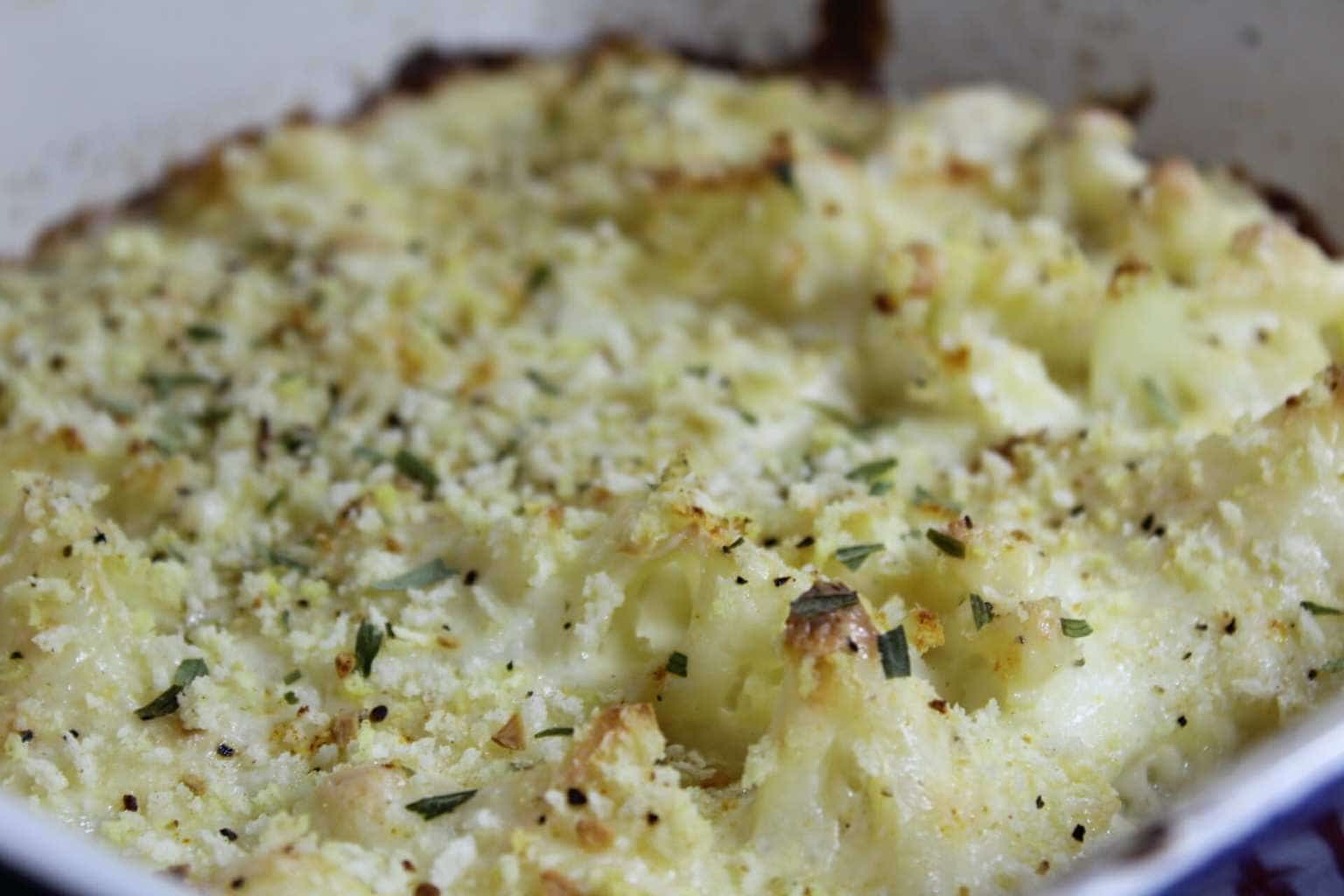 I remembered that Mom was great at making white sauce and could whip it up in a minute, so I asked her if it included white sauce.
She said she believed that was right and also told me to not forget the breadcrumbs.
So, thanks to Mom, it was right the first time I tried it.
Same richness, same creaminess and same cheesiness.
My husband  loved it so much, he wanted it for breakfast the next morning.
Ingredients of Creamy CheesyCauliflower
Cauliflower
Butter
Flour
Milk
White Cheddar Cheese
Gruyere Cheese
Pepper
Garlic Powder
Breadcrumbs
How to Make Creamy Cheesy Cauliflower
First preheat your oven to 400 degrees F
Then, separate the cauliflower into florets.
Place the florets into a basket steamer and steam about 5-6 minutes until just tender, but still firm.
Butter a medium sized baking dish (about 9" x 9") and add the steamed florets to the dish.
Next, make the white sauce.
Add butter to a saucepan over medium high heat.
When the butter is melted, whisk in the flour and cook about 1 minute to blend.
Immediately turn the heat down to medium low and add the milk.
Whisk until the sauce begins to thicken.
Remove the sauce from the heat heat and add the cheeses into the sauce a little at a time as you continue to whisk.
Then whisk in garlic power and pepper.
(I omit the salt in this recipe because the cheese adds plenty of salt.)
Finally pour the sauce over the florets, sprinkle with breadcrumbs and bake 20-25 minutes until lightly browned.
Notes
When you're cutting the cauliflower, make it easy.
I used to watch my Mom as she cut the cauliflower and so I do it the same way.
Don't cut through the top of the cauliflower, because it will make an absolute mess.
Instead, turn the cauliflower upside down and cut around the core.
Then you can easily break off the florets and if they're large, just cut each piece in half.
I do lettuce and cabbage the same way.
So much easier.
If you'd like a different version of this dish, Taste of Home has a version with bacon.
I haven't tried it yet, but it sounds good.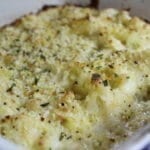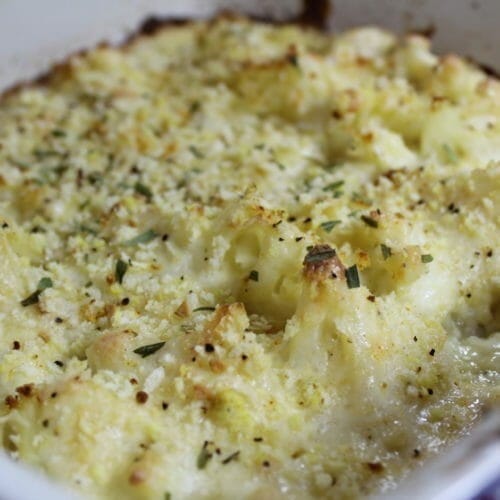 Print Recipe
Creamy Cheesy Cauliflower
Creamy Cheesy Cauliflower is creamy, rich and decadent with two kinds of cheese
Ingredients
1/2

Cauliflower Head

Cut into flowerettes

2

Tbsp

Butter

2

Tbsp

Flour

Wondra

1 1/4

Cup

Milk

1/2

Cup

White Cheddar Cheese

Grated

1/2

Cup

Gruyere Cheese

Grated

1/4

tsp

Pepper

1/4

tsp

Garlic powder

3

Tbsp

Bread crumbs
Instructions
Preheat oven to 400 degrees F

Place cauliflower in basket steamer over pot of water and steam for 5-6 minutes until tender but still firm.

Add butter to a sauce pan over medium heat. When melted add flour and cook 1 minute stirring to blend.

Turn heat to medium low and add milk. Stir until thickened. Remove pot from heat and add grated cheeses a little at a time stirring after each addition. Stir in pepper and garlic powder.

Place steamed cauliflower in a buttered 9"x9" ovenproof dish and pour cheese sauce evenly over cauliflower. Sprinkle with breadcrumbs and bake 20-25 minutes until lightly browned.
Nutrition
Calories:
221
kcal
|
Carbohydrates:
8
g
|
Protein:
10
g
|
Fat:
15
g
|
Saturated Fat:
9
g
|
Cholesterol:
48
mg
|
Sodium:
254
mg
|
Potassium:
131
mg
|
Sugar:
3
g
|
Vitamin A:
500
IU
|
Vitamin C:
4.3
mg
|
Calcium:
322
mg
|
Iron:
0.5
mg