This Pappardelle pasta with Lemon Dill Sauce is rich, garlicky, buttery and full of the fresh taste of lemon and dill and only 191 calories per serving.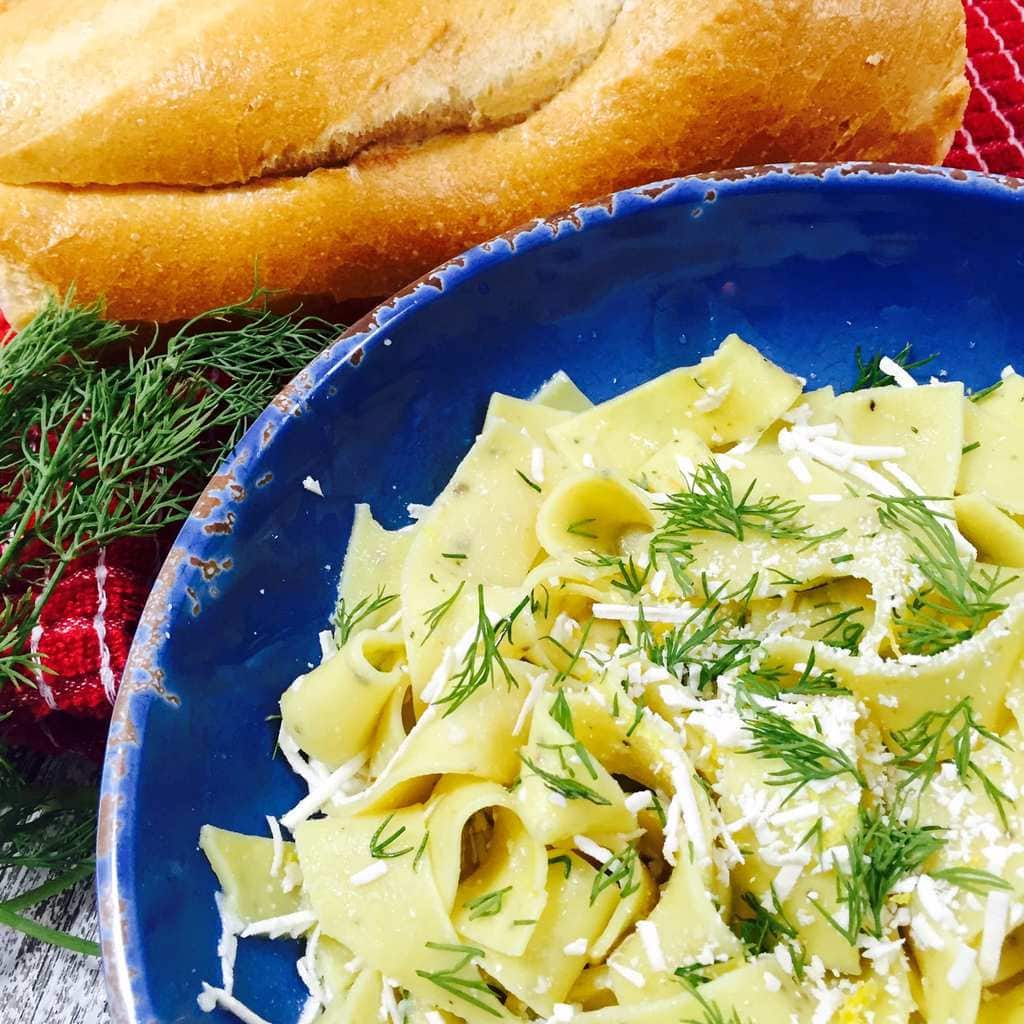 About Papparadelle with Lemon Dill
When you want something rich and decadent – you know what I mean…Comfort food – nothing beats Pappardelle with Lemon Dill Sauce.
The rich garlicky, tangy cheese sauce over big chewy Pappardelle noodles would seem that you're totally off your diet but really each serving is only 191 calories
Oh yeah, I'm ready.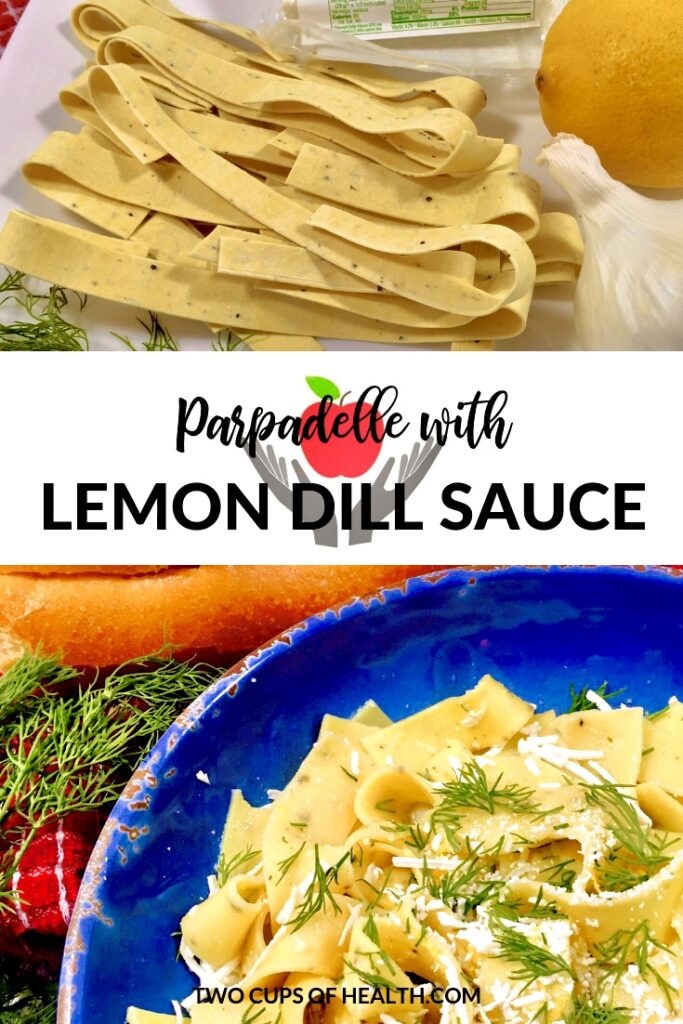 Normally I like to serve pasta with chicken or seafood and vegetables, of course, but this Pappardelle with Lemon Dill Sauce can really stand on its own. 
And the flavor of this dish is amazing due to the tang of the lemons, the freshness of the dill, the rich garlic-butter of the chicken broth and also to the slightly salty dry cheese.
Ricotta Salata Cheese used in this recipe reminds me a lot of Mizithra cheese, which I first discovered when I used to go to the Spaghetti Factory years ago.
They serve an addictive dish called Spaghetti with Browned Butter with Mizirtha Cheese. 
Like this dish, it's served all by itself without meat, fish or vegetables and it's soooo satisfying. 
That's where I got the idea for Linguine with Scallops and Mizithra Browned Butter.
Unfortunately Mizithra is not all that easy to find, so a really great substitute is Ricotta Salata which is more readily available in stores.  
The flavor is close to the same. 
Same dryness, same salty texture (although Ricotta Salata is less salty than Mizithra) and the same richness.  
Where the browned butter sauce uses only butter and Mizithra, this recipe sauce uses more of lemon buttery, garlic, dill combination combined with a rich chicken broth.
I almost always use Swanson low sodium chicken broth because it's the only brand I found that tastes like its homemade.   
So let's make Pappardelle with Lemon Dill Sauce!
Ingredients for Pappardelle with Lemon Dill Sauce
Olive oil
Manischewitz Low Sodium Chicken Broth
Butter

 

Garlic
Lemon
Fresh dill
Ricotta Sala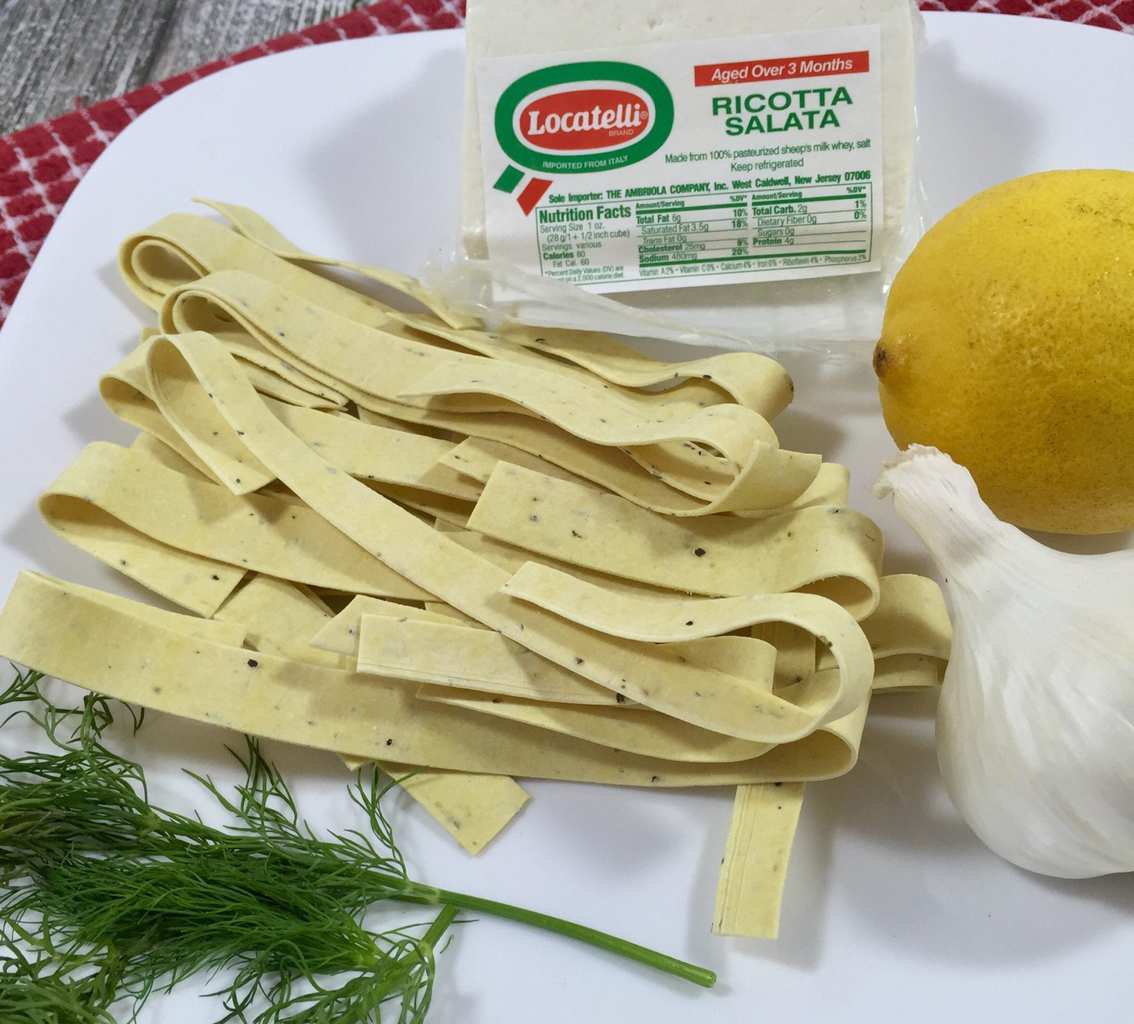 How to Make Pappardelle with Lemon Dill Sauce
This recipe is actually so quick and easy. 
In fact from start to finish, you'll have this in the table in 15 minutes. 
Not too bad when you're craving comfort food and you want it like..now.
Just bring a large pot of water to a boil and cook for roughly 5 minutes – just until the al dente stage where there's still a bit of texture to your noodles.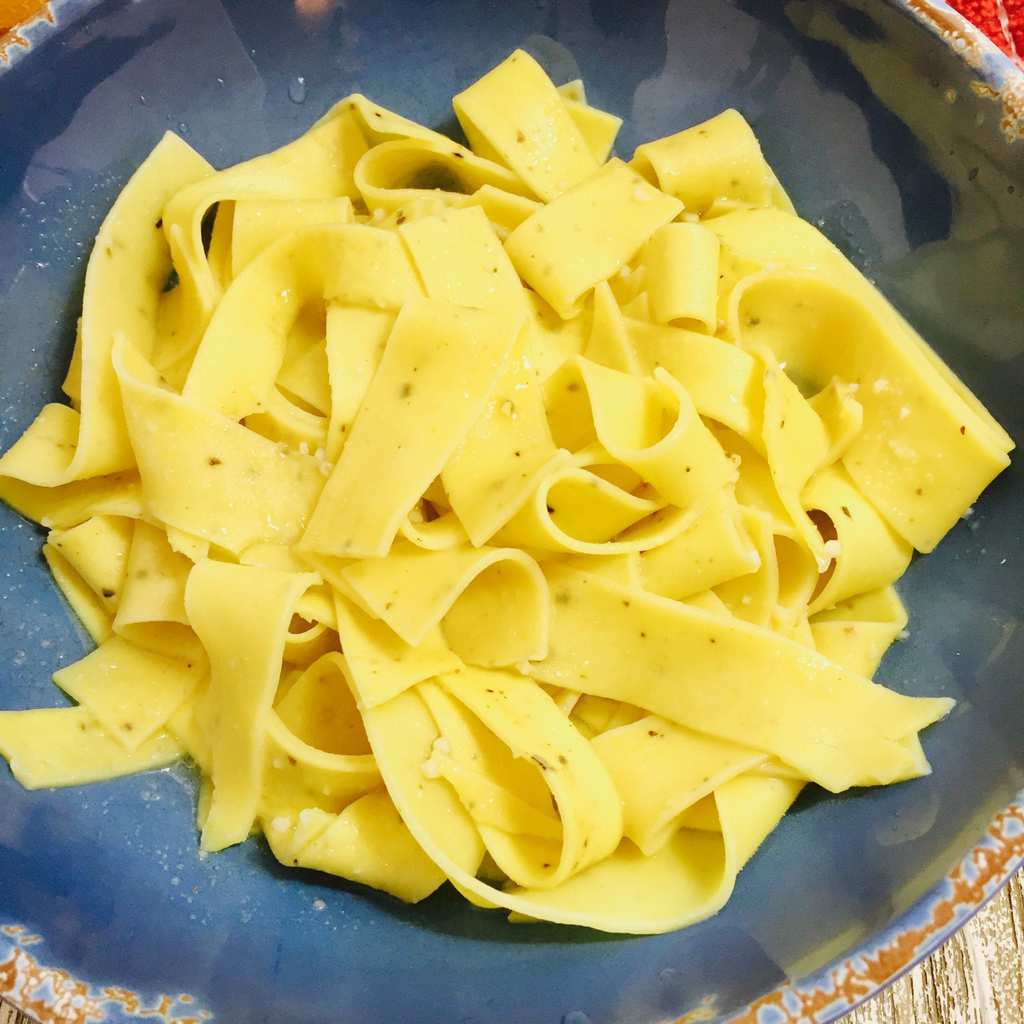 Next, while the noodles are boiling, in a saucepan over medium high heat add chicken broth, minced garlic and the juice of 1 lemon (which you've also zested, but you'll save the zest for later). 
Then allow the chicken broth mixture to reduce. 
This takes about 4-5 minutes – about the same time that it takes the pasta to boil. 
When pasta is finished, divide it between 2 serving bowls. 
Ladle the sauce evenly on top and sprinkle with fresh dill, the grated Ricotta Salata cheese, lemon zest and pepper and toss lightly.
And here's the real beauty of this dish as far as healthy recipes go.
This wonderfully decadent comfort only comes in at 191 calories per serving.
Less than a low calorie TV dinner. Yet sooooo much better!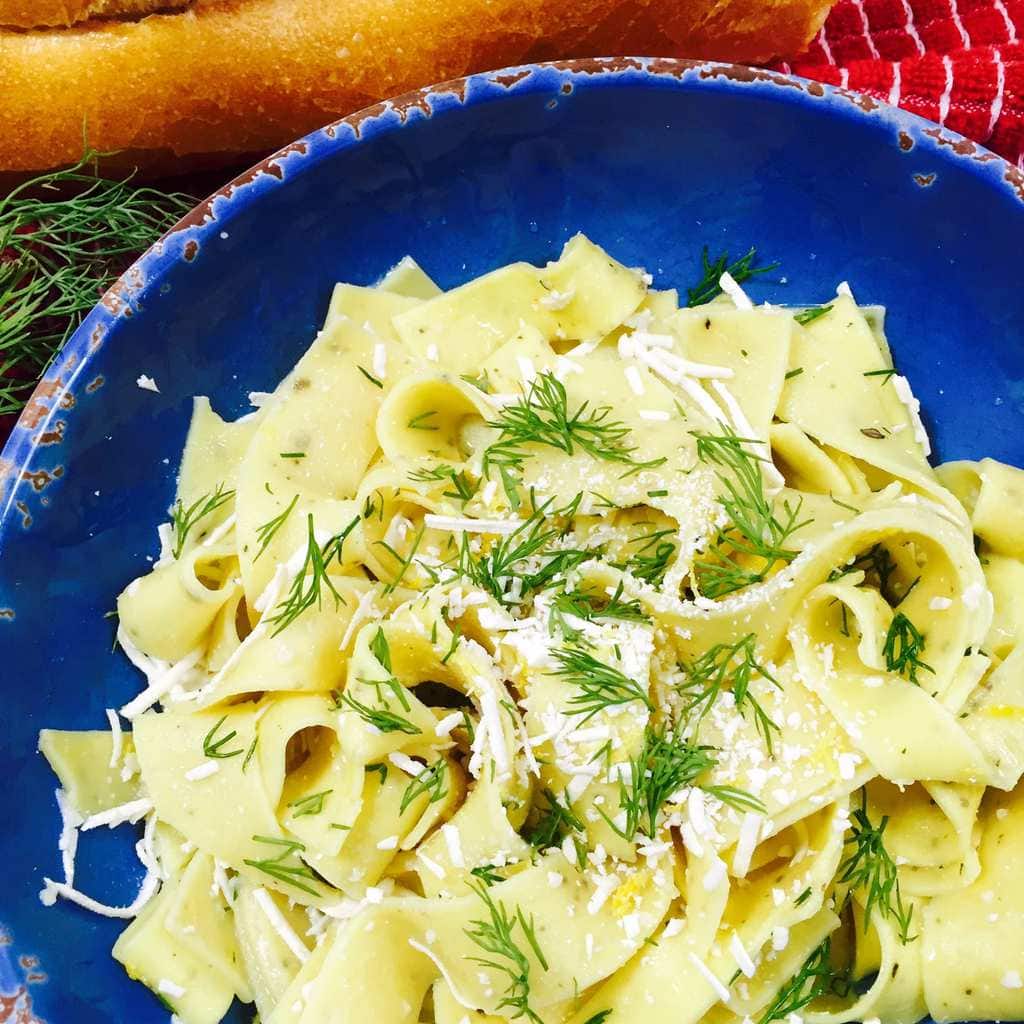 To finish it, I like to sprinkle with a tiny bit of extra cheese and dill and that's it. Get ready for comfort food!  
Notes
If you'd like to make the great Pappardelle pasta yourself, check our Michael Chiarello's recipe for homemade Pappardelle.
If you like this recipe, please leave a comment below and be sure to pin this on Pinterest!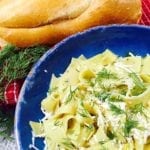 Print Recipe
Pappardelle with Lemon Dill Sauce
Ingredients
1/2

Lb

Papparadelle pasta

1/2

Tsp

Olive oil

1/2

Cup

Chicken broth

Manischewitz preferred

1

Tbsp

Butter

2

Cloves

Garlic

Minced

1

Lemon

Zested and juiced

2

Tbsp

Fresh Dill

Chopped

1/2

Cup

Ricotta Salata

Grated

1/4

Tsp

Pepper
Instructions
Bring large pot of water to a boil over high heat. Add pasta and olive oil. Cook until al dente, about 5 minutes.

In a small saucepan over medium high heat add chicken broth, butter, garlic and lemon juice. (reserving zest for finishing). Continue to cook until reduced by half. This will be your sauce for the pasta.

Add pasta to serving bowls. Pour half of sauce over each bowl.

Finish by adding dill, cheese, lemon zest and pepper over each bowl and lightly toss to combine ingredients.
Nutrition
Calories:
191
kcal
|
Carbohydrates:
8
g
|
Protein:
8
g
|
Fat:
15
g
|
Saturated Fat:
8
g
|
Cholesterol:
46
mg
|
Sodium:
319
mg
|
Potassium:
186
mg
|
Fiber:
1
g
|
Sugar:
1
g
|
Vitamin A:
480
IU
|
Vitamin C:
33.7
mg
|
Calcium:
147
mg
|
Iron:
0.7
mg
You might also be interested in:
Linguini with Scallops and Mizithra Browned Butter