These Asian Wings with Orange gives a special sweet and savory twist on chicken wings by adding soy sauce, rice vinegar, honey and orange marmalade.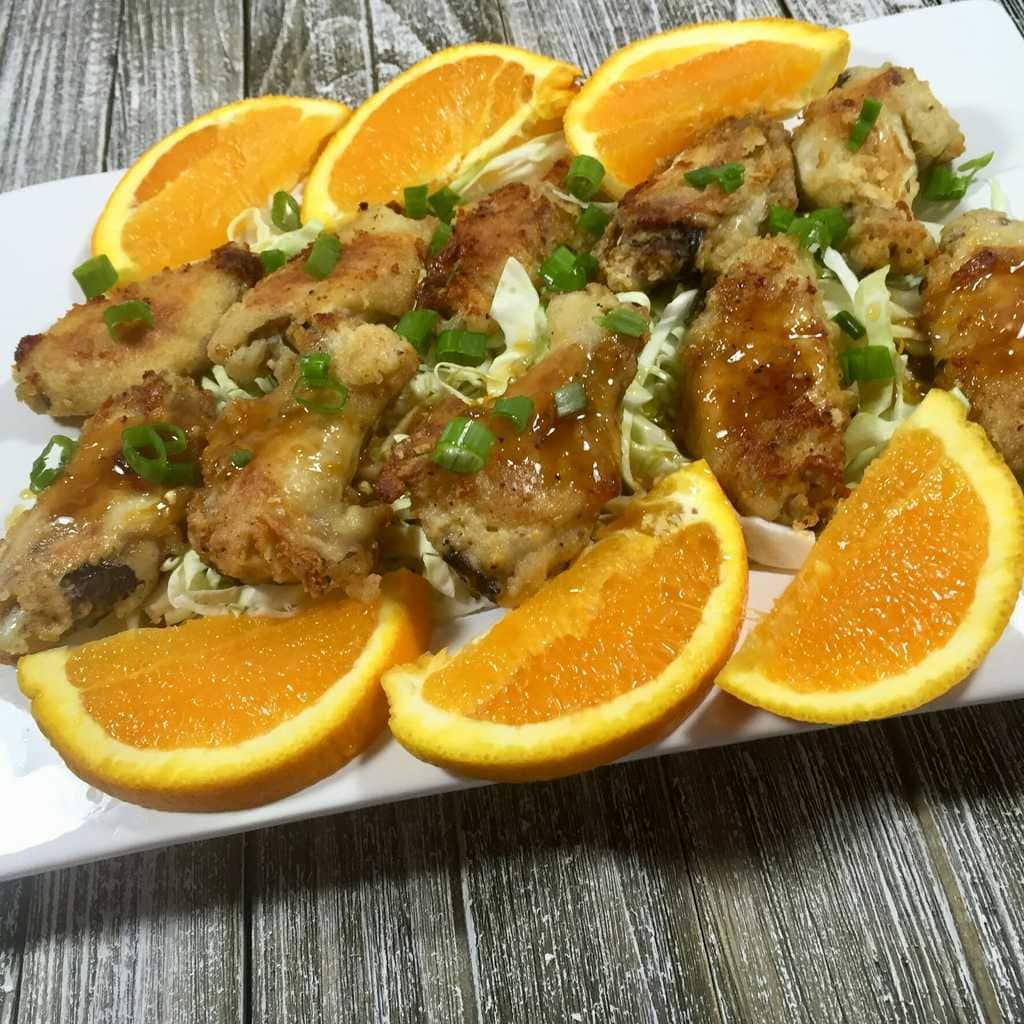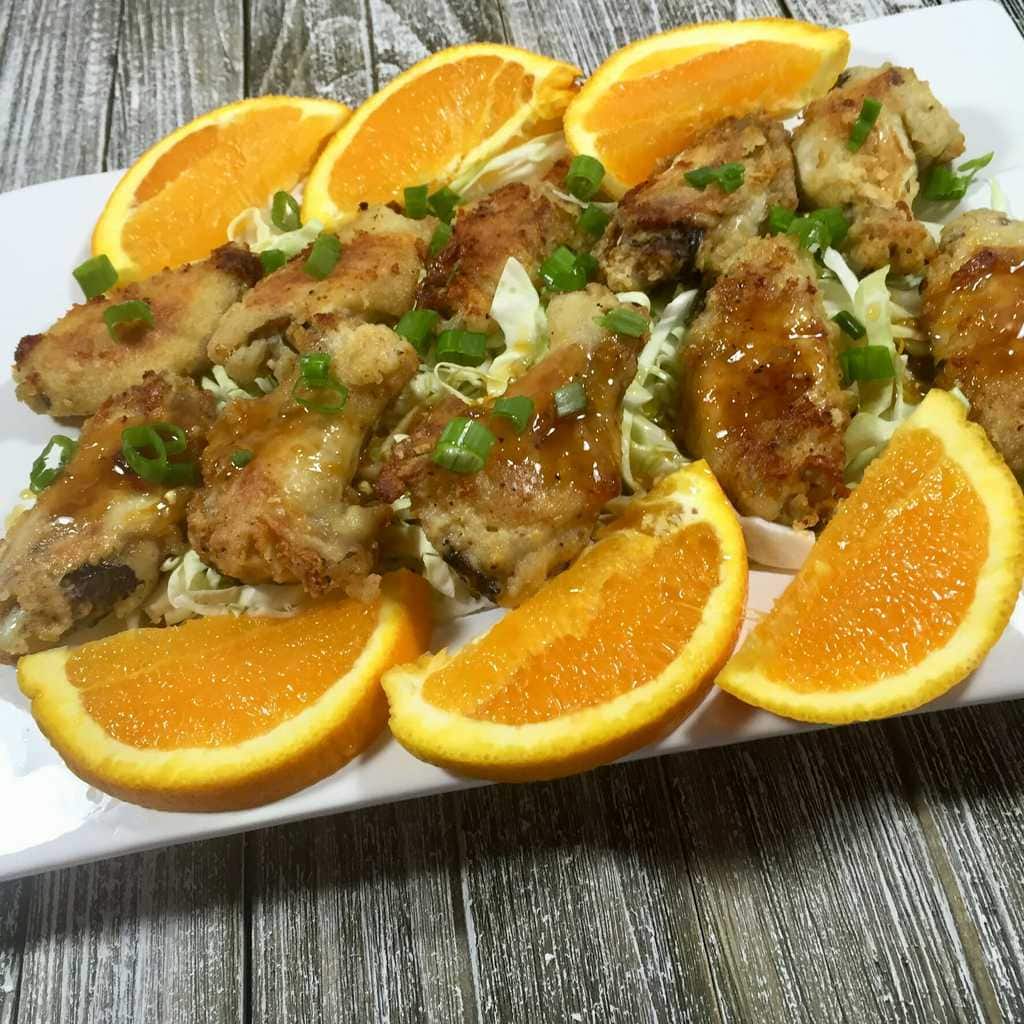 About Asian Wings with Orange Glaze
I'm a huge fan of chicken wings.
And, I'm a real fan of unfried food.
You know what I mean, food that's baked but really has the crispiness of fried food with just a whole lot less calories.
I've been doing my Crispy Baked Wings for…it seems like… Ever.
Why? Because they're healthier than fried, plus they are So Easy and mostly because they are incredibly delicious.
So I based my Asian Wings with Orange Sauce on this recipe and then tweaked it to bring out the flavors of the East.
Just have to point out right here that we absolutely love Asian food.
Ok, we love all food, but still a special place in our heart for Chinese food.
One of our favorite restaurants in Scottsdale is
Flo's
.
This place is absolutely amazing for so many reasons.
First, is the food.
Every dish is just right and absolutely delicious.
You know the restaurant P.F. Chang's? The F stands for Flo. She was the wife of one of the founders of P.F. Chang's. Paul and Flo.
After their divorce Flo decided to open her own restaurant, which led to another, and to another.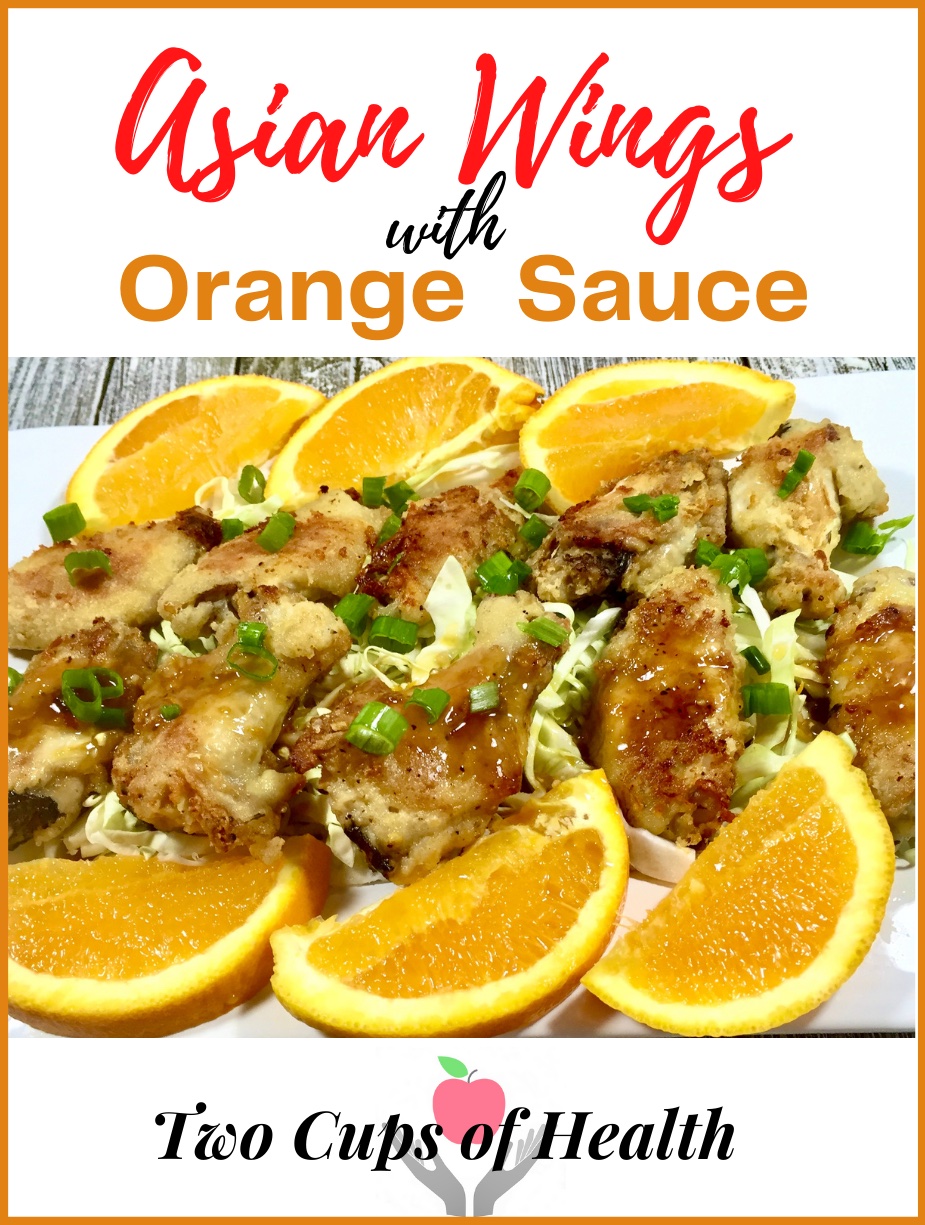 Her food is excellent, her service is excellent, her menu is huge and every restaurant is totally crowded on a daily basis with people waiting in line.
Is it noisy in there? Oh, yeah…because it's always packed.
One of the items we ordered a lot was Orange Chicken.
Flo doesn't really give out her recipes, so I had to improvise a bit to come as close as I could.
Where Flo uses chicken breast in bite size pieces which is breaded and fried, I thought maybe my Crispy Baked Wings could substitute -only if I changed the spices around to more oriental flavors like ginger and Five Spice.
I still kept the heat of the cayenne because hers definitely had a spicy kick.
And then came the sauce. That's where all the flavor was!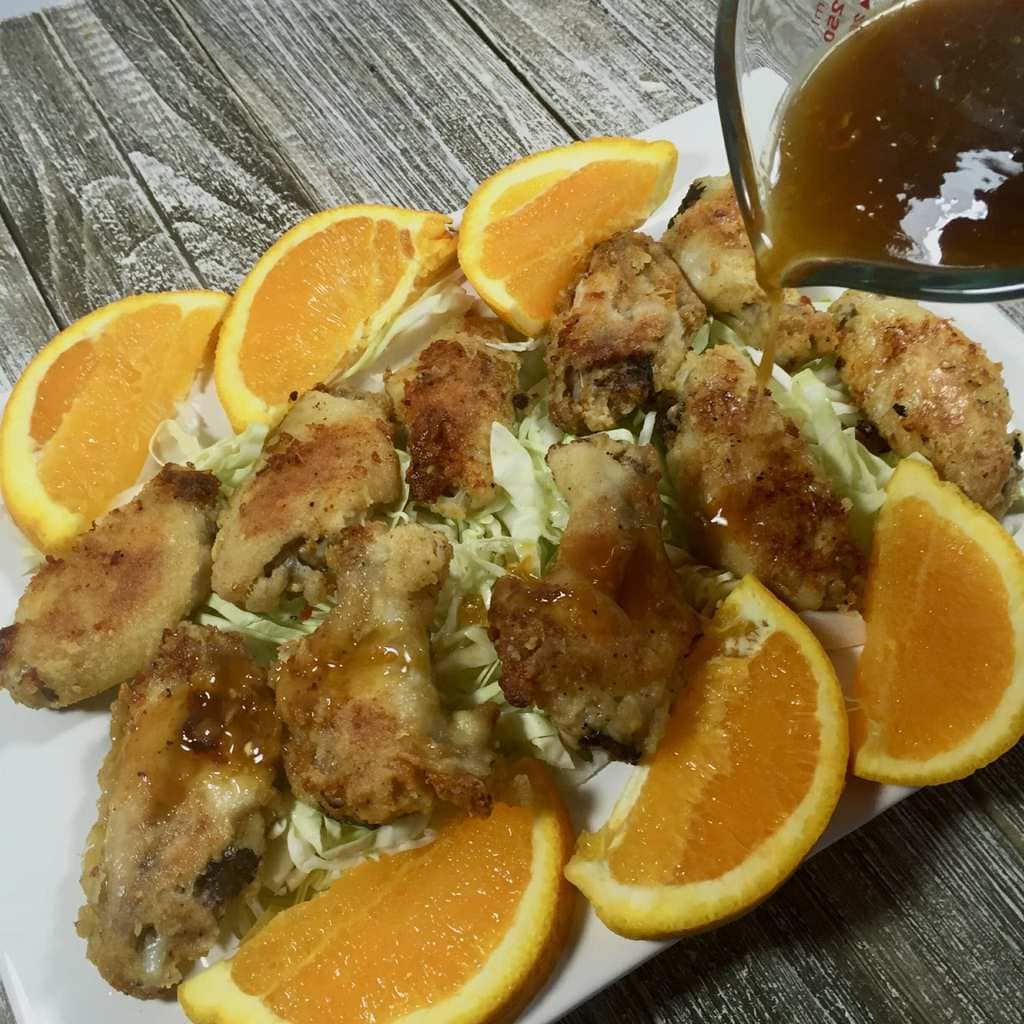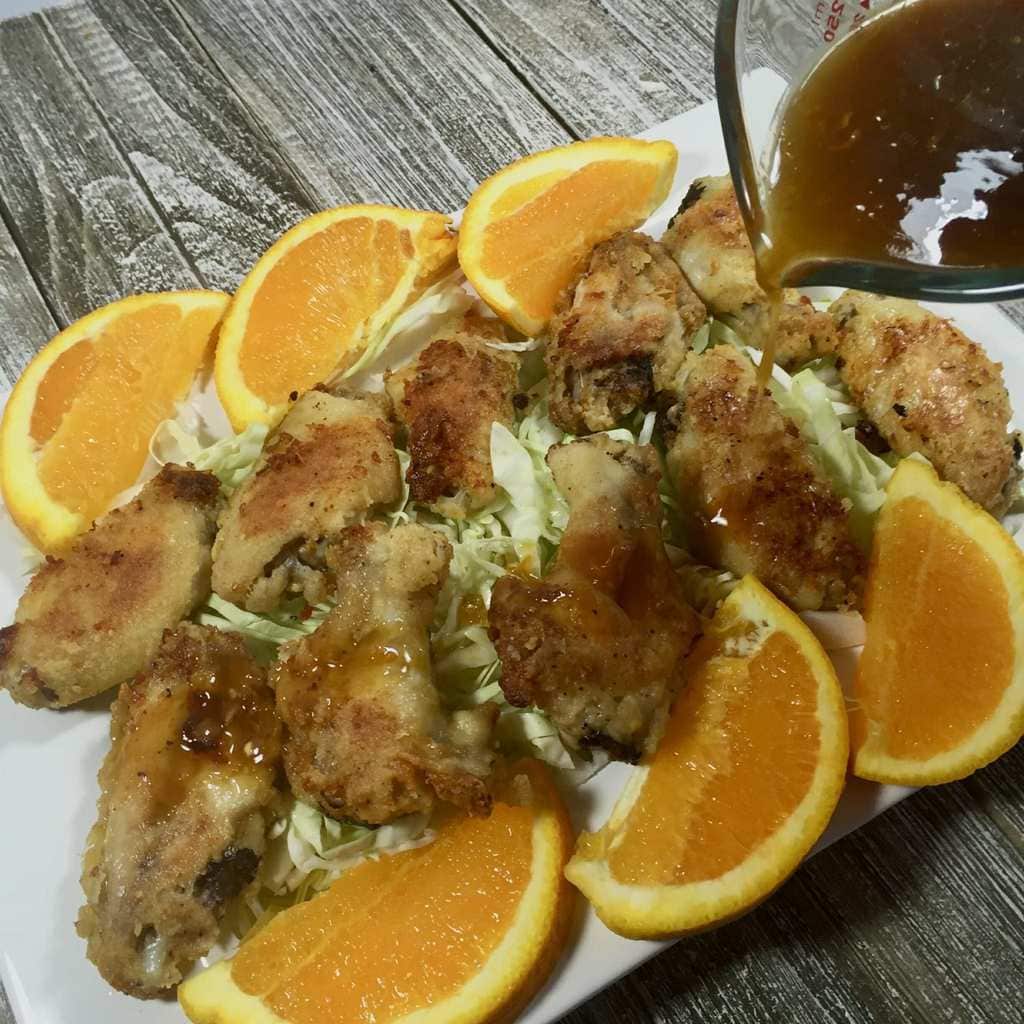 How to Make Asian Wings with Orange Sauce
I started with chicken broth, some orange zest and juice. Then added in rice vinegar, some soy sauce, a combination of honey and orange marmalade and garlic.
Cooked it about 5 minutes until it reduced a bit and then lightly poured it over my hot Crispy Baked Wings which I plated over a bed of shredded lettuce.
The result was crispy Asian Wings with Orange Sauce.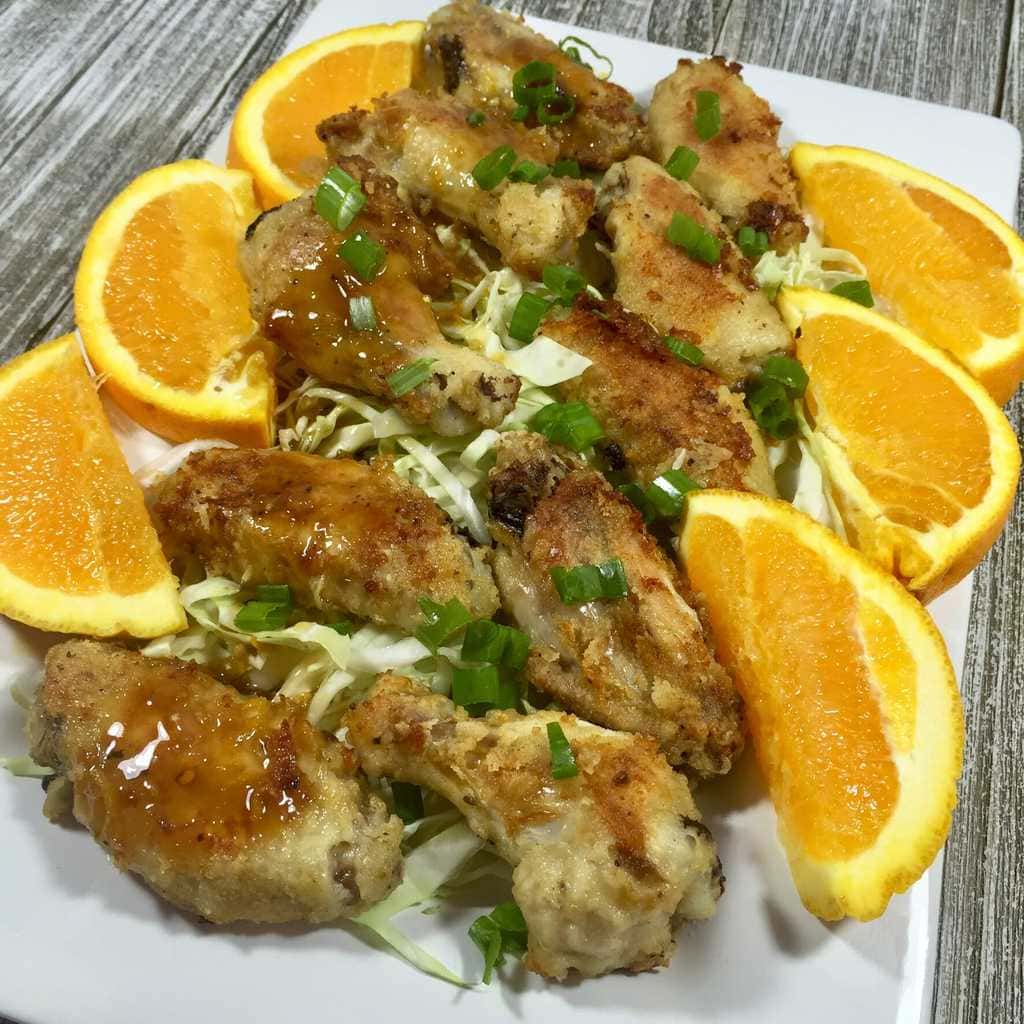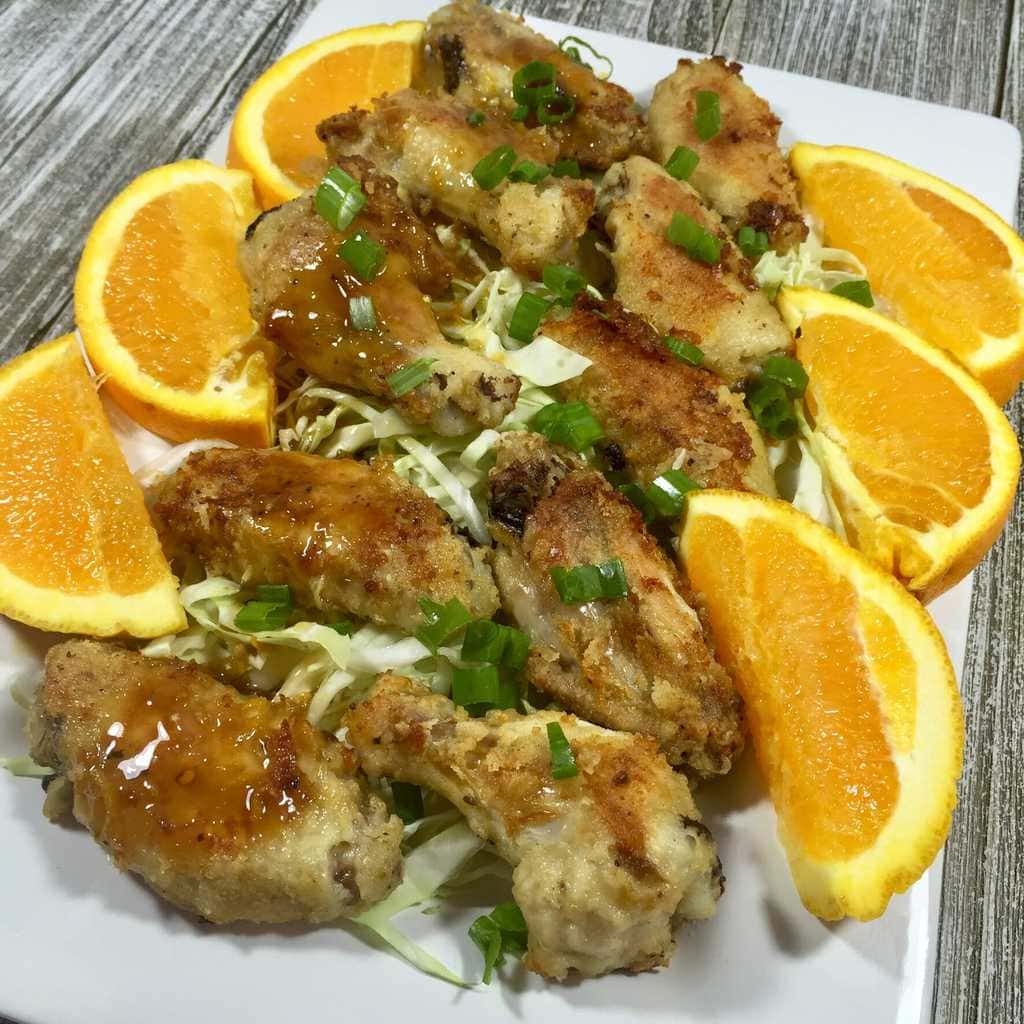 Was it Flo's Orange Chicken?
Only Flo can make that.
But it was absolutely delicious.
And my chief tester said he could easily eat 10 more wings.
So, I think this is my new go-to recipe for wings.
If you like this recipe, please leave a comment below and pin us on Pinterest!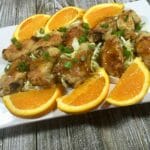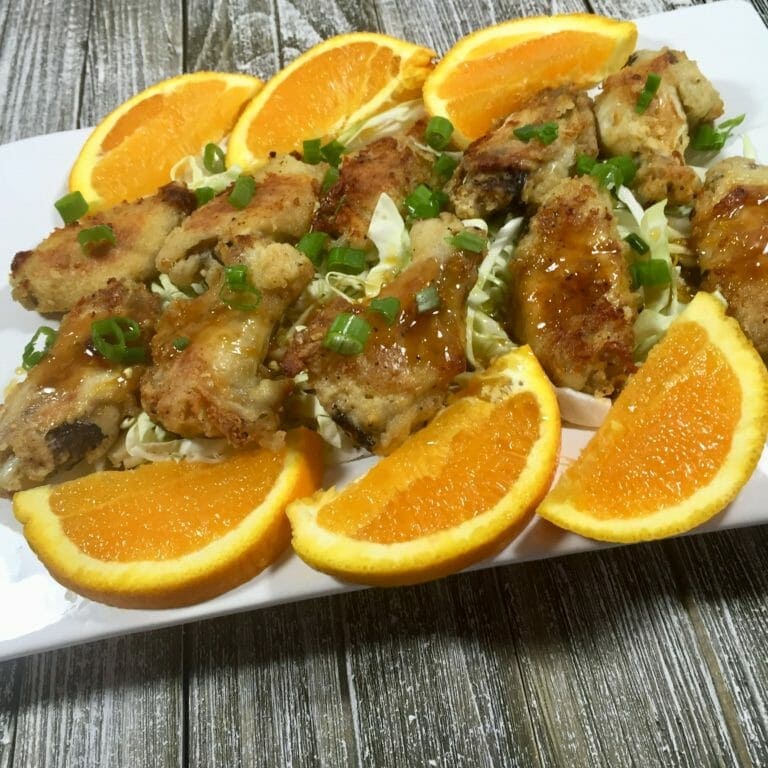 Print Recipe
Asian Wings with Orange Sauce
Asian Wings with Orange Sauce combines the crispiness of the wings with an Orange Sauce that is savory, rich, sweet and tangy.
Ingredients
1/2

Cup

Chicken broth, low sodium

Manischewitz is preferred

2

Tsp

Orange zest

1

Small

Orange

Juiced

2

Tbsp

Rice vinegar

2

Tbsp

Soy sauce, low sodium

2

Tbsp

Honey

1

Tbsp

Orange marmalade

1

Clove

Garlic

Finely minced

5

Whole

Chicken wings

Tips removed and separated at joint to make 10 wing portions

1/3

Cup

Flour

Prefer Wondra

1/2

Tsp

Garlic powder

1/2

Tsp

Ground ginger

1/2

Tsp

Pepper

1/2

Tsp

Cayenne

1/2

Tsp

Five Spice Powder

2

Tbsp

Butter

Melted
Instructions
Preheat oven to 425 degrees F

In a sauce pan add chicken broth, orange zest and juice, rice vinegar, soy sauce, honey, marmalade and garlic. Cook over medium heat about 4-5 minutes. Set aside.

Add, flour, garlic powder, ginger, pepper, cayenne and Five Spice Powder to a gallon zip lock bag. Shake bag to combine ingredients. Add rinsed chicken wings and again shake bag until evenly coated.

Line a baking sheet with parchment paper and pour melted butter in middle. Lightly dip each wing into butter on each side and place in rows sheet. Place in oven and bake 30 minutes. Then turn over wings and bake 12 minutes longer.

Remove chicken wings to a serving plate. Lightly pour sauce over hot chicken wings.
Nutrition
Calories:
329
kcal
|
Carbohydrates:
50
g
|
Protein:
5
g
|
Fat:
12
g
|
Saturated Fat:
7
g
|
Cholesterol:
32
mg
|
Sodium:
662
mg
|
Potassium:
188
mg
|
Fiber:
2
g
|
Sugar:
28
g
|
Vitamin A:
650
IU
|
Vitamin C:
29.2
mg
|
Calcium:
26
mg
|
Iron:
1.8
mg