French Country Chicken Soup is a classic French Provencal recipe with fresh ingredients and a touch of thyme for true French flavor.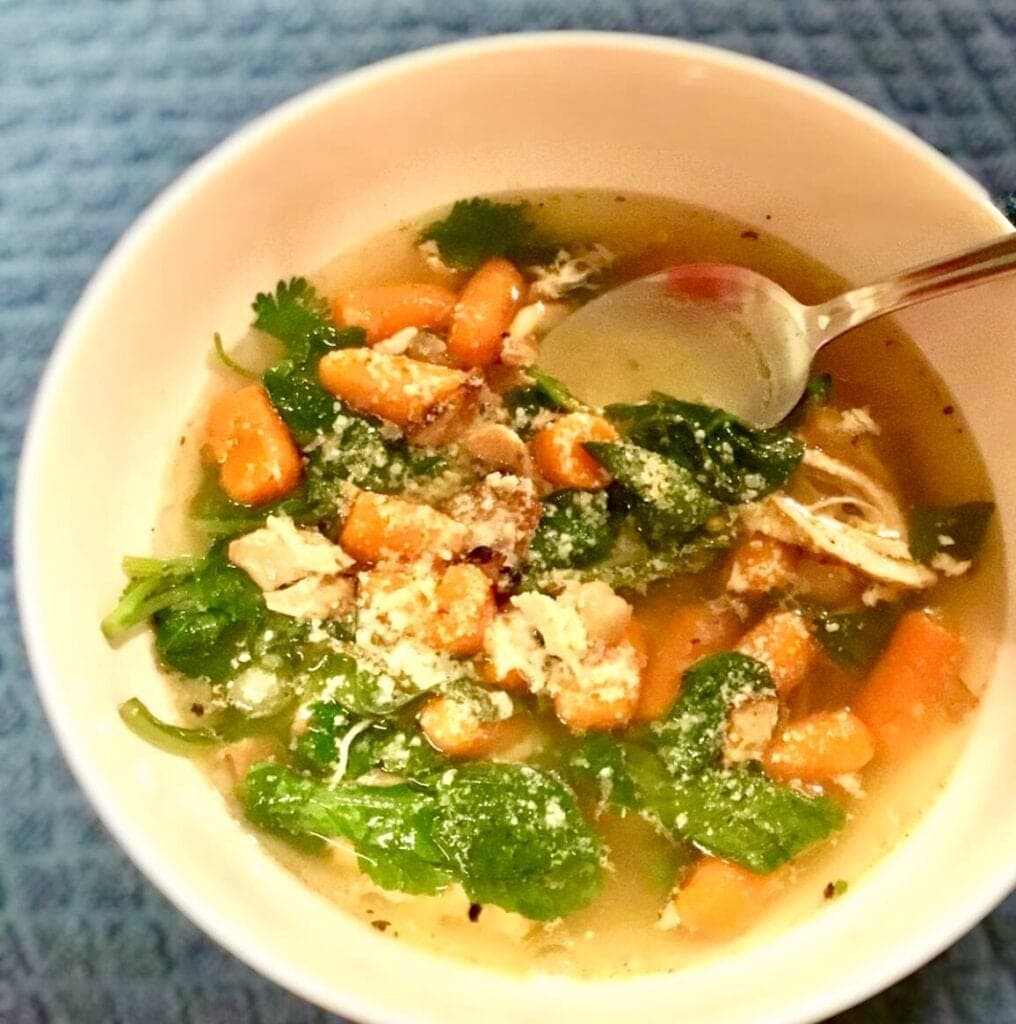 About French Country Chicken Soup
I love the fresh flavors of this French Country Chicken Soup.
It's made in the classic way of true French Country Cooking. No fuss, just huge flavor from the fresh ingredients with added herbs.
I discovered French Provencal cooking from Julia Child – and who doesn't love Julia Child? She taught me how to cook.
Well, not personally, but through her PBS television shows, and her wonderful videos she taught me how to bone a chicken, filet a fish, make baguettes, and to love Boeuf Bourgeon.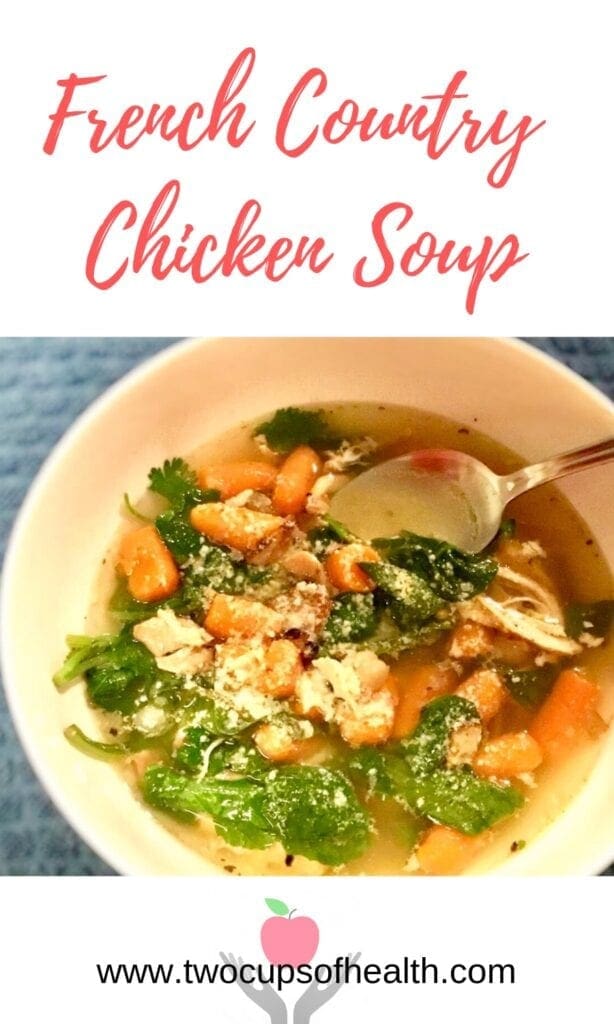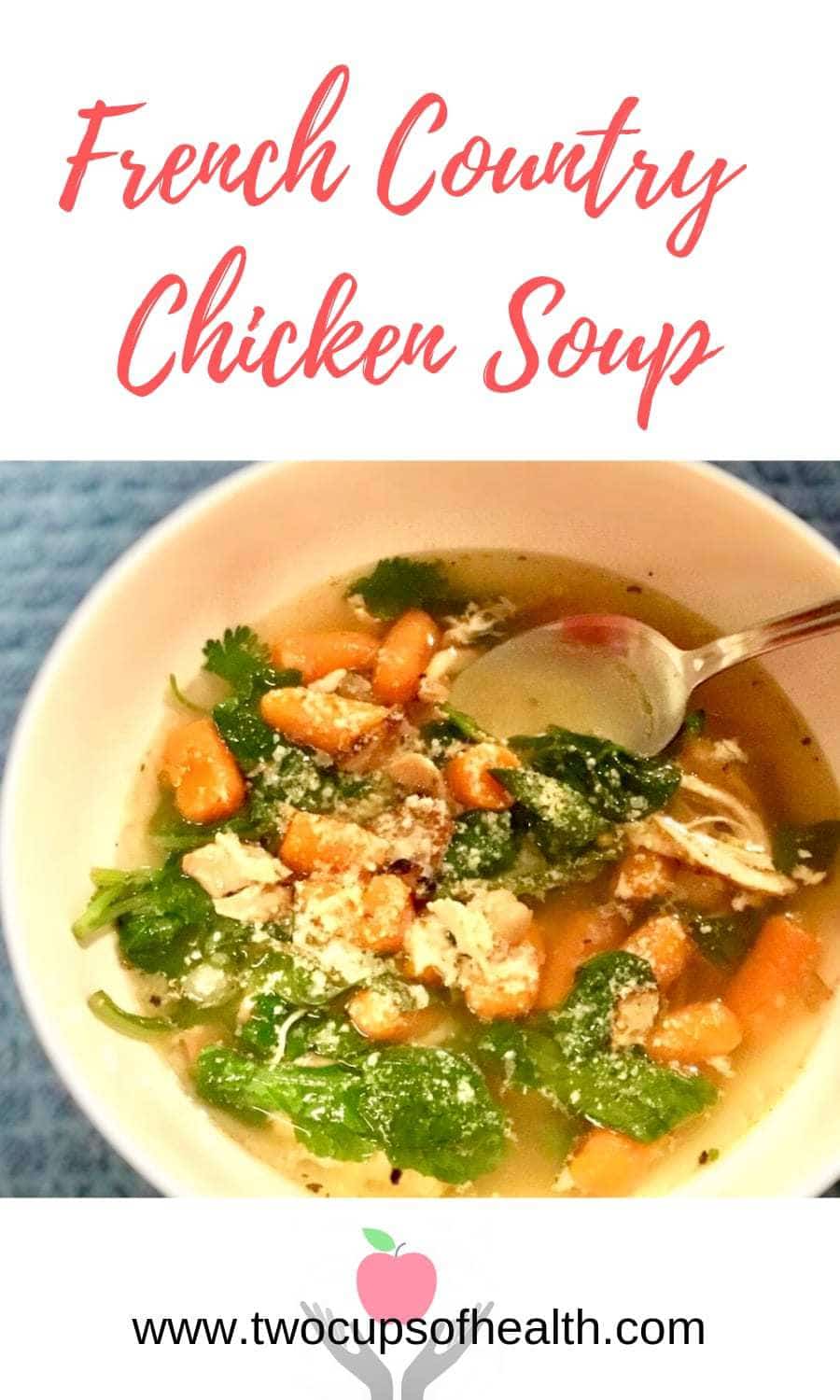 And to love all things French from croissants, to pastries, to all French Provencal recipes like this French Country Chicken Soup.
Plus, she taught me to really be fearless in the kitchen. Nothing was too intimidating for her, and as her student, neither was it for me.
Anything Julia tackled, I tackled wholeheartedly.
Along the way, she taught me the most important lesson of all: to respect food – especially to fresh food.
Food from the source.
As she lived in Paris, she recalled going daily to the French markets, to buy wonderfully fresh fruits and vegetables, bread, fish and so much more.
As an American, she could barely speak French, but she found a home at the market and began to make friends with the vendors, who helped teach her French.
Although she ended up with a degree from Le Cordon Bleu, she said it was the friends that she met at the markets that taught her that French cooking, and really any type of cooking, doesn't have to be fussy or difficult.
In fact, she said, "You don't have to cook fancy or complicated masterpieces – just good food from fresh ingredients."
She demonstrated this by showcasing the delicious hardiness of the cuisine.
Recipes for soups, stews, breads, and the simple desserts – often with fresh fruit – that had passed from generation to generation..
I met her once.
She was actually coming to town for a book signing promoting In Julia's Kitchen with Master Chefs.
Now to be honest, I have never stood in line for anyone for book signings before, but it was Julia and I had to go.
I arrived two hours early and was the second one in line. And then another person came and then another.
It was not unlike Julia's Market experience. People were gathered there for the love of food, and the love of Julia, and everyone joined in the conversation as we waited.
Finally they opened the doors, and there she was with stacks of books in front of her.
I said, "You taught me how to cook." She didn't know how to respond and simply said, "Thank you." I smiled and replied, "No, thank you!"
And I meant it.
So now, being winter with cold damp days, soup seems to be a perfect evening dinner.
It's like a warm hug.
So as I came up with this soup, made in the French Country way, I thought about Julia.
Hope she would have approved of this simple French Country Chicken Soup.
So let's make it.
Ingredients for French Country Chicken Soup
Bacon: For smoky flavor
Chicken thighs: For rich taste
Shallots: For depth of flavor
Carrots:  For health and color
Garlic: For an additional layer of flavor
Chicken broth: The French would make their own, but I used Manischewitz Low Sodium Chicken Broth because it tastes like home made.
Lemon: For a tang and it's so prevalent in French cooking
Salt: Just a touch
Pepper: For spice
Thyme: A savory, lemon addition
Parsley: For health and color
Parmesan cheese: For fabulous flavor
How to Make French Country Chicken Soup
To begin, add diced bacon to a frying pan over medium high heat and cook it until the bacon is crisp and the fat is rendered.
Remove the bacon to paper towels.
Next salt and pepper the chicken thighs on both sides and dredge the pieces in flour on both sides.
Add it back into the pan that you cooked the bacon in and keep the heat on medium high.
Cook the chicken until browned about 4 minutes. Turn them over over and cook another 4 minutes. Then add the chicken to a slow cooker set to low.
That frying pan is not finished yet. With all those wonderful bacon flavored browned bits, add in the shallots and carrots.
Cook about 2-3 minutes until caramelized. Then add the garlic and cook another minute.
Transfer the vegetables to the slow cooker and pour in the chicken broth, lemon juice, thyme and the drained garbanzo beans.
You could use fresh thyme in this recipe, but dried thyme works just as well.
Unless you want to use your own home made broth in this recipe, I highly recommend using Manischewitz  Low Sodium Chicken Broth.
It's the closest I've found in a prepackaged broth that really tastes like home made.
Then just cook on low for 5 hours or longer if you are planning on starting this before you head off to work.
Then when you get home add the baby spinach in for the last 1/2 hour. And it's ready.
Just ladle it into bowls. Then top with some parsley, a little parmesan cheese and your reserved bacon bits that you've crisped and warmed in the microwave for 30 seconds.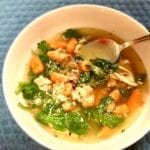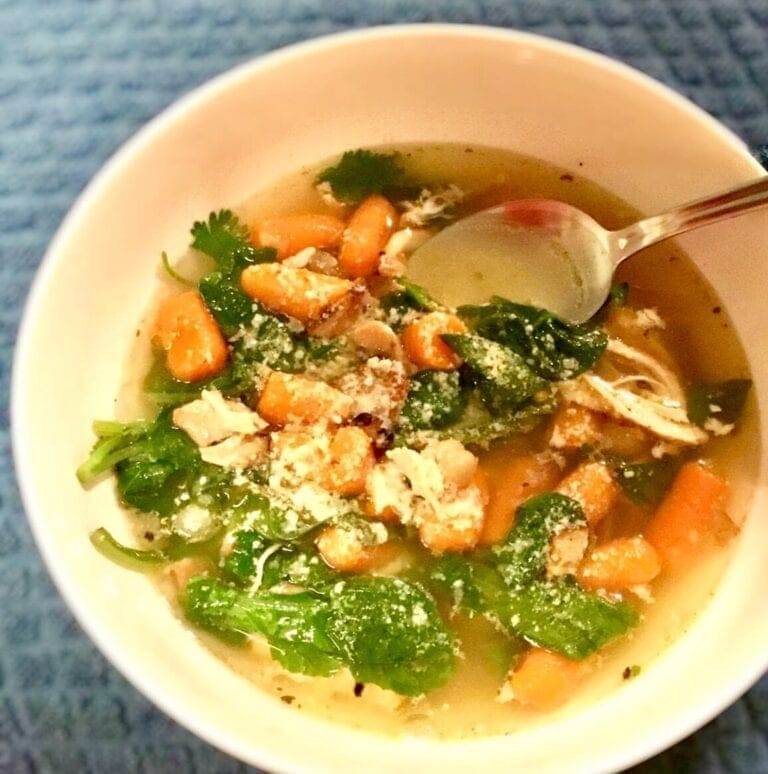 Print Recipe
French Country Chicken Soup
French Country Chicken Soup is classic. This amazing recipe with a hint of smoky bacon is rustic, warm and welcoming on those cool Autumn days.
Ingredients
2

slices

smoky bacon

Diced

2

chicken thighs

1/2

Tsp

salt

1/2

Tsp

pepper

1/4

cup

flour

Wondra is best

2

medium

shallots

Diced

1 1/2

cup

carrots

Chopped

4

cups

low sodium chicken broth

4

sprigs

fresh thyme

1

15.5 oz can

Garbanzo beans, drained

2

cups

baby spinach

chopped

parsley

1

tsp

Parmesan cheese

Grated
Instructions
Sauté diced bacon in a frying pan over medium heat until fat is rendered, about 3 minutes. Remove bacon and reserve for later.

Add flour to a plate. Then salt and pepper the chicken thighs and dredge them lightly in the flour.

Transfer chicken to slow cooker set on low.

With the frying pan still on medium heat add shallots and carrots and sauté for 2-3 minutes until slightly caramelized. Add in the garlic and cook 1 minute more.

Transfer vegetables to slow cooker and pour in chicken broth, lemon juice, salt, pepper, thyme, and Garbanzo beans.

Cook on low for 5 hours then stir in spinach and continue to cook for another 1/2 hour.

Chicken should be falling apart by this time, but if not just cut the chicken into bite sized pieces and add it back into the soup.

Ladle into bowls and top each with some crispy bacon pieces, a sprinkle of parsley and Parmesan cheese.
Nutrition
Calories:
149
kcal
|
Carbohydrates:
13
g
|
Protein:
13
g
|
Fat:
5
g
|
Saturated Fat:
1
g
|
Cholesterol:
40
mg
|
Sodium:
357
mg
|
Potassium:
452
mg
|
Fiber:
2
g
|
Sugar:
2
g
|
Vitamin A:
6325
IU
|
Vitamin C:
16.3
mg
|
Calcium:
44
mg
|
Iron:
1.6
mg
If  you like this recipe, please leave a comment below and be sure and pin this on Pinterest!
For Similar Recipes:
Mediterranean Lemon Chicken Soup