Healthy Roasted Vegetables with Garlic is not only easy and delicious, but it packs a Powerhouse of Health for you
---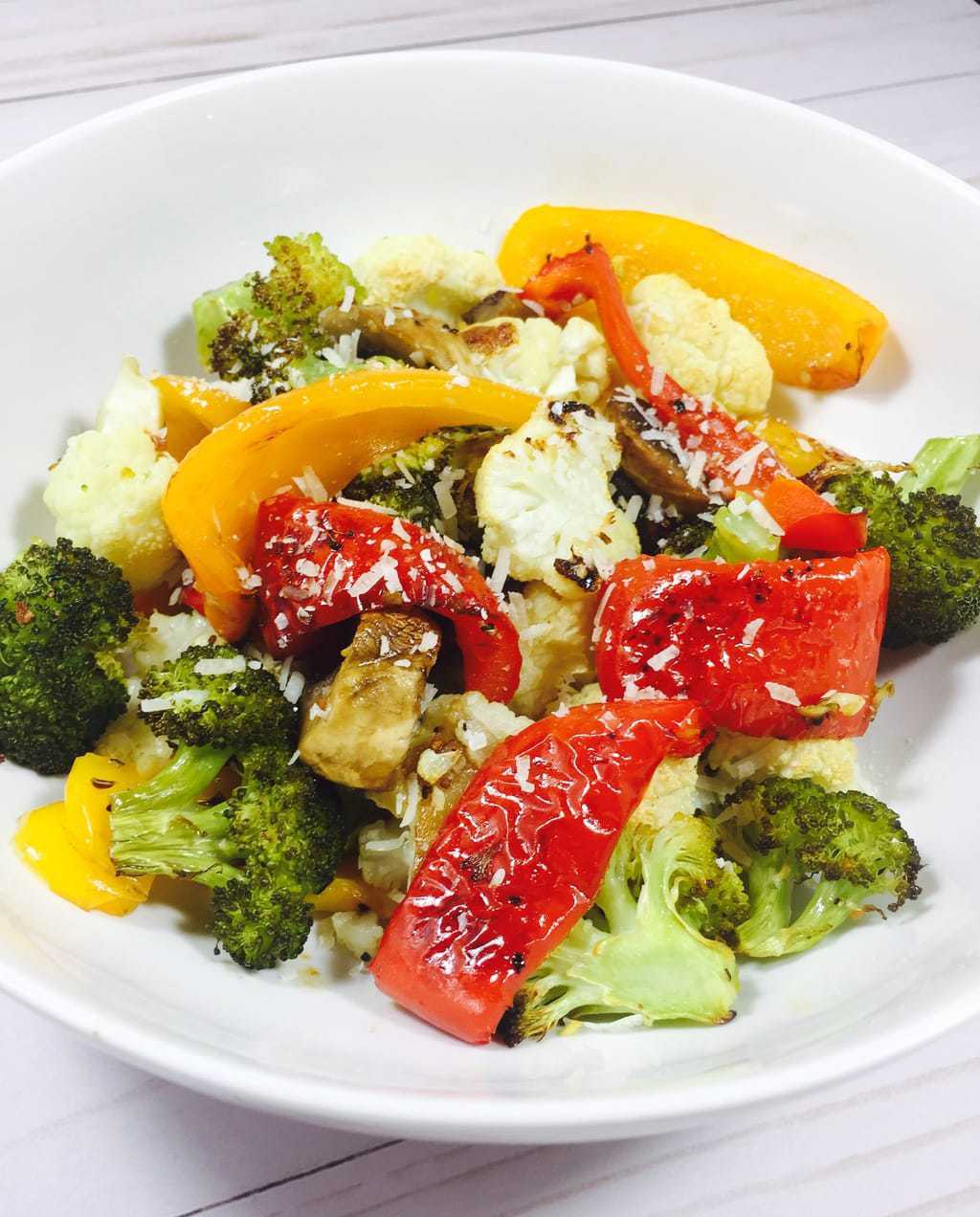 About Healthy Roasted Vegetables with Garlic
Today it's about vegetables.
One of my favorite Food Network cooks is Ina Garten, the Barefoot Contessa.
She has a fabulous garden that's enviable and really cooks from the source.
There's just something special about home grown garden vegetables and herbs.
The vegetables just have so much more flavor.
And some of my favorites are broccoli, cauliflower, mushrooms, peppers and of course garlic, which makes everything wonderful.
And I thought about the health aspects of each of these and even why this combination is great.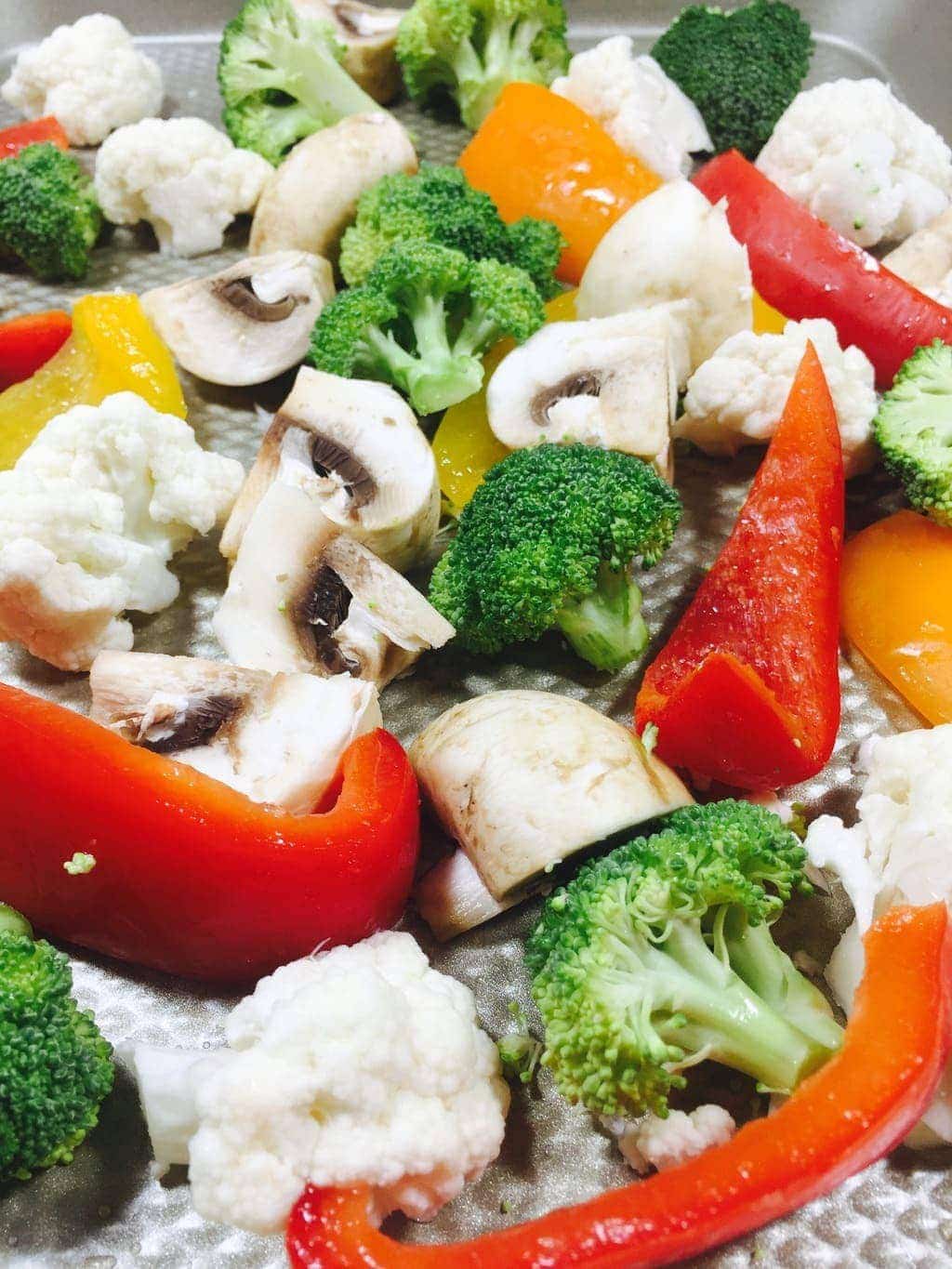 When I was doing research for my book, Natural Healing Foods, I discovered the huge benefits of broccoli.
The American Journal of Clinical Nutrition in 2000 published a paper that listed foods most likely to prevent colon cancer and the food that stood out the most was broccoli.
Then there's cauliflower.
Did you know that it's not really a vegetable, but rather the flower of the plant?
But this flower packed with Vitamin C,  has been found to be helpful against cancer.
And mushrooms increase your immune system.
According to studies done at the Kansai Medical University in Osaka, Japan, they found that the mushroom compound, AHCC, plays a key role in a healthy immune system.
And that mushrooms could reduce our need for antibiotics and lessen our rate of bacterial resistance allowing us to fight infection more easily.
So what about Peppers?
Fabulous news here.
Peppers could actually help you lose weight.
The Exercise Metabolism Research Group at McMaster University in Ontario studied the effects of capsinoids, the compound found in sweet peppers, on a group of 12 young men.
Half we're given a placebo, and the other half were given the capsinoid.
They found that the capsinoid group, after 90 minutes of moderately intense cycling, had much higher energy than the placebo group.
They concluded that sweet peppers had potentially played a key role in their increased energy and could be used as a weight loss aid.
The good news continues as we investigate garlic.
Garlic has been referred to as "Russian penicillin", because of its ability to fight disease.
A study was done at the Clinical Research Center in New Orleans where 9 patients with severe hypertension were given 2400 mg of allicin, a compound in garlic.
The results were impressive.
Within 5 hours after taking the garlic, their sitting blood pressure was lowered and continued to stabilize for several hours, with no side effects.
So in thinking about all of this health research, why not combine all of these great vegetables in one dish?
Add in healthy olive oil, which helps keep your heart strong and healthy, and you have a delicious side dish that your children might even love.
Ingredients of Healthy Roasted Vegetables with Garlic 
Broccoli
Cauliflowers 
Mushrooms
Sweet Peppers 
Garlic
Salt
Pepper
Olive Oil
Lemon
How to Make Healthy Roasted Vegetables with Garlic 
First, preheat your oven to 400 degrees F
Add bite sized broccoli, cauliflower, mushrooms, and garlic to a mixing bowl.
Then drizzle with olive oil and add salt, pepper and juice of one small lemon.
Mix to coat all the vegetables.
Spread the vegetables out evenly on a baking pan.
Place in the oven and bake uncovered for 25-30 minutes until browned.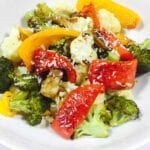 Print Recipe
Healthy Roasted Vegetables with Garlic
Healthy Roasted Vegetables with Garlic is not only a delicious side dish, but it is a powerhouse of Health.
Ingredients
1

Cup

Broccoli

Chopped

1

Cup

Cauliflower

Chopped

1

Cup

Mushrooms

Chopped

1

Cup

Peppers

Chopped

2

Cloves

Garlic

Minced

1/4

tsp

Salt

1/4

tsp

Pepper

1 1/2

Tbsp

Olive oil

1

Lemon

Juiced
Instructions
Preheat oven to 400 degrees F.

Add broccoli, cauliflower, mushrooms, peppers and garlic to a mixing bowl. 

Add salt, pepper, olive oil and lemon juice and mix well.

Spread vegetable mixture evenly out on baking pan. Place in oven and bake 25 minutes or until tender and browned.
Nutrition
Calories:
83
kcal
|
Carbohydrates:
8
g
|
Protein:
2
g
|
Fat:
5
g
|
Sodium:
164
mg
|
Potassium:
330
mg
|
Fiber:
2
g
|
Sugar:
2
g
|
Vitamin A:
280
IU
|
Vitamin C:
78.4
mg
|
Calcium:
30
mg
|
Iron:
0.7
mg
Also try: Grilled Summer Salad