Fingerling Parmesan Potatoes are my favorite way of baking potatoes. They are creamy and full of flavor. Serve them at your next special dinner.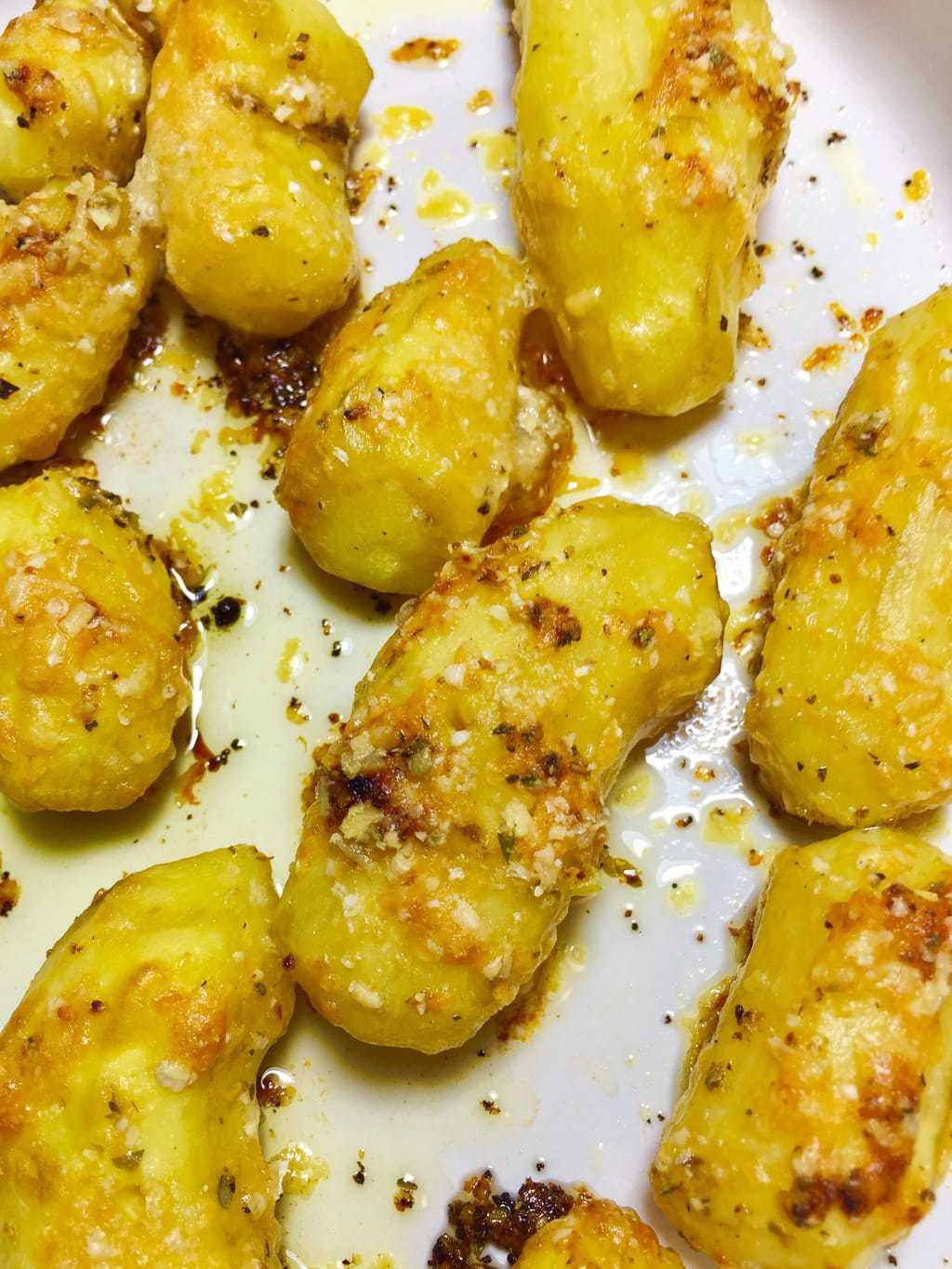 About Fingerling Parmesan Potatoes
Fingerling Parmesan Potatoes are wonderfully creamy, tiny potatoes.
In fact, they are so tiny that peeling them requires a little extra effort.
So, you may be asking, why on earth would you want to peel them?
And you would be right, normally because the skin has so many nutrients.
But with this particular recipe, if you left the skin on, you would lose the melt-in-your-mouth creaminess.
Plus, for presentation they're perfectly golden, instead of brown.
so good good they're really worth a little extra trouble. Because you want the creaminess, you really should peel these tiny potatoes.
Yes, I know the skin has lots of nutrients. But really peeling these potatoes makes a huge difference in presentation and really in taste. Instead of brown, they will appear beautifully golden when you serve them and, as I said, the bite will be creamy instead of having to contend with the skin.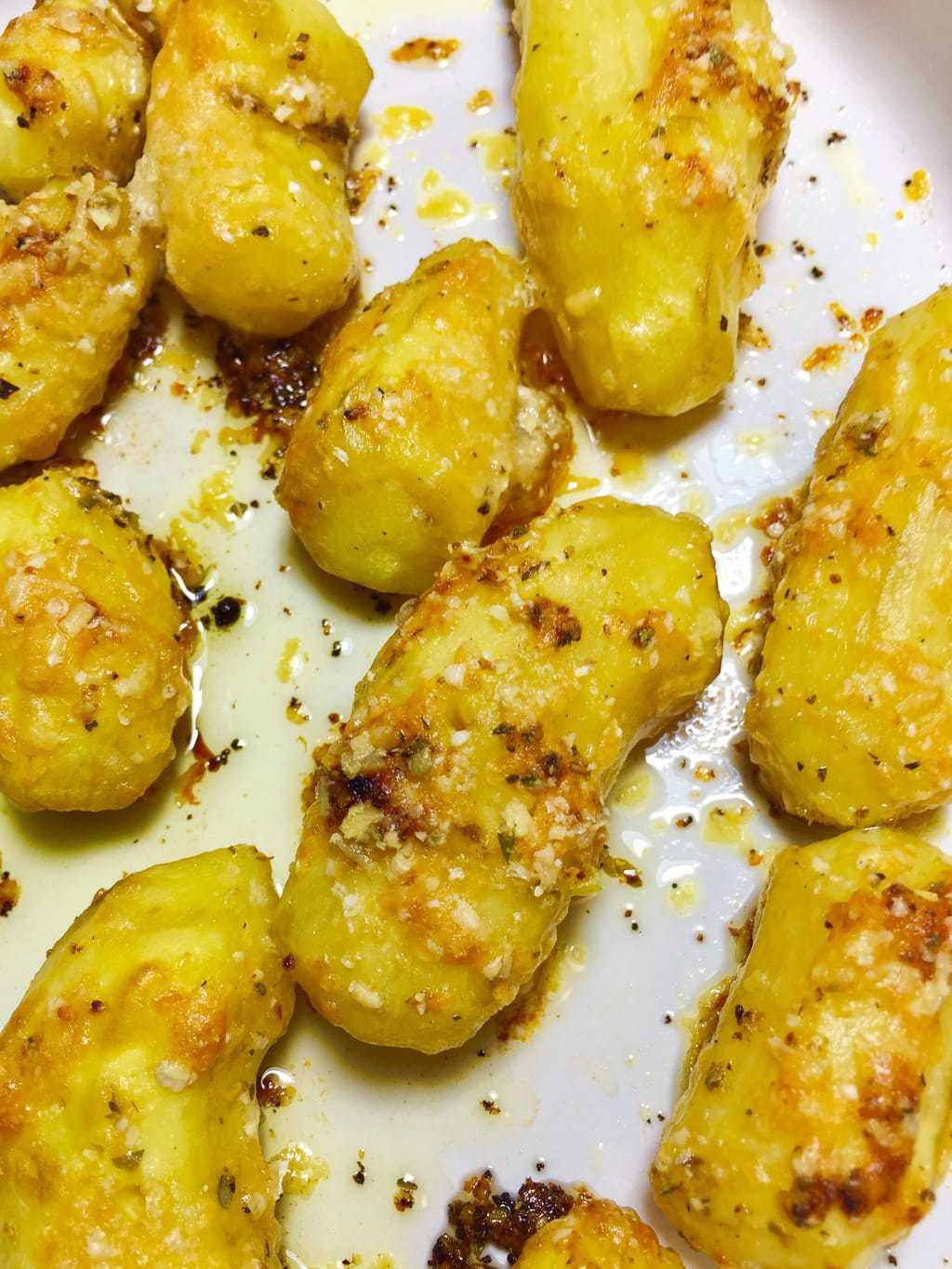 These potatoes are perfect for a special dinner or just anytime, like Wednesday.
Nutritionist David Friedman, recently said in Mel Magazine, "Fingerlings are an excellent source of vitamin B6, which plays an important role in the production of red blood cells, liver detoxification and maintenance of the brain and nervous system. Fingerling potatoes are also rich in vitamin C, which has immune boosting properties."
Health note:  Studies in Finland indicate that Potatoes could reduce blood pressure. In the journal "Food Chemistry" researchers from MTT Agrifoid Research found that the ACE inhibitor and anti-oxidants in Potatoes are the reasons. Lead author Anne Pihlanto stated, "The results of this study suggest that Potato is a promising source for the production of bio active compounds as ingredients for for developing functional foods with a beneficial impact in cardiovascular health."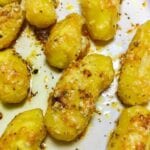 Print Recipe
Fingerling Parmesan Potatoes.
Fingerling Parmesan Potatoes are a creamy, bite size burst of flavor. Perfect for your next holiday dinner.
Ingredients
2

Cups

Fingerling potatoes

Peeled

1

Tbsp

Butter

Melted

2

Tbsp

Parmesan cheese

Grated

1/2

Tsp

Lemon Pepper

1/2

Tsp

Oregano
Instructions
Preheat oven to 400 degrees F

Combine potatoes and butter in bowl. In separate bowl add Parmesan cheese, lemon pepper and oregano.

Roll each potato in cheese mixture and place on parchment lined baking sheet. Bake in oven 1 hour.
Nutrition
Calories:
187
kcal
|
Carbohydrates:
26
g
|
Protein:
4
g
|
Fat:
7
g
|
Saturated Fat:
4
g
|
Cholesterol:
18
mg
|
Sodium:
139
mg
|
Potassium:
631
mg
|
Fiber:
3
g
|
Sugar:
1
g
|
Vitamin A:
215
IU
|
Vitamin C:
29.5
mg
|
Calcium:
77
mg
|
Iron:
1.3
mg