Looking for a special Sunday morning breakfast idea? Then this Spinach Mushroom Frittata is perfect.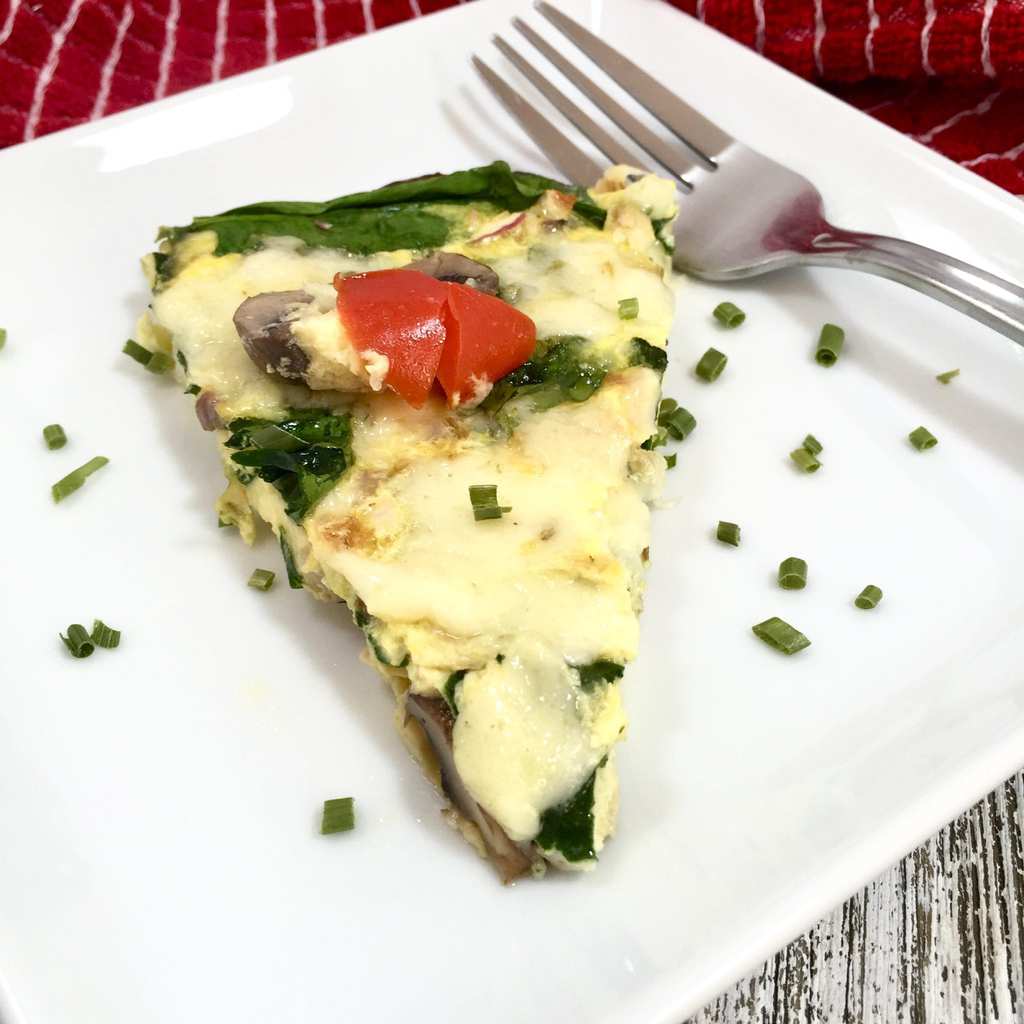 About Spinach Mushroom Frittata 
I used to really love quiche. Especially French Quiche Lorraine. 
But I really hated the calories.
And after endless trying, I found that it's almost impossible to make a traditional quiche without all that cream, tons of cheese and yep, tons of calories.
The problem is if you try and lighten up those ingredients, it just doesn't taste the same.
But here's the good news: Enter the quiche's Italian cousin, the frittata. 
So I searched for frittatas and discovered one of my favorite chefs, Alton Brown, had a recipe for a basic frittata.
But the more I thought about his great recipe, I thought I would really turn it into something healthy.
Maybe a little spinach, some mushrooms, then add in peppers and shallots.
And wow, you'll end up with a breakfast with vegetables that your kids will eat.
Now here's where you can really get creative and save lots of calories.
So let's make it!
Ingredients for Spinach Mushroom Frittata
Butter
Mushrooms
Peppers
Eggs
Water
Salt
Baby spinach leaves
Ricotta Salata Cheese (Gruyere or Swiss can substitute)
Dried shallots
How to Make Spinach Mushroom Frittata
First the prep time.
First, wash the mushrooms and peppers and slice them.
Oh, I know what you're thinking…wash the mushrooms?
Some people prefer to just rub them off with a paper towel because they think they will get soggy.
But I know what those mushrooms are grown in and well,  I prefer washing them quickly under running water and adding them to paper towels to drain.
Then cut the peppers and mushrooms into bite sized slices and set them aside.
Next, 'whisk the eggs and add salt and a little water.
This helps keep the frittata light. 
Then wash and pat dry the spinach leaves with paper towels and set aside. 
Next, shred the cheese.
Isn't this easy?
This prep time is important because you'll need all those ingredients right beside you after you cook the vegetables.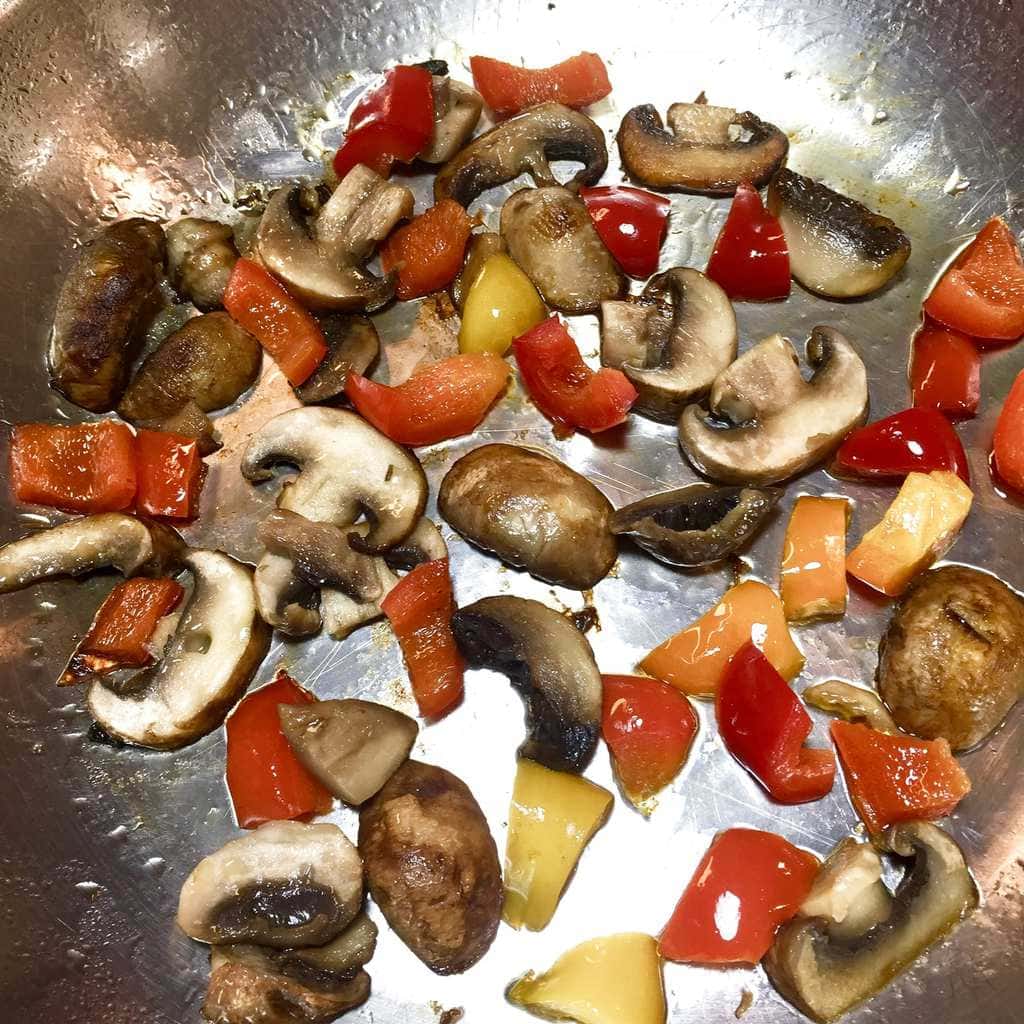 I like to start by caramelizing the mushrooms and peppers in a little butter.
 The trick of caramelization is just to resist the urge to stir the vegetables after you layer them in the pan. 
Leave them alone for at least 3-4 minutes.
They'll develop a nice rich brown color. 
That's where the flavor is. 
Then you can stir them and let them cook just a minute more. 
When vegetables are cooked, pour the egg mixture over them. Sprinkle the spinach leaves over the top of the eggs.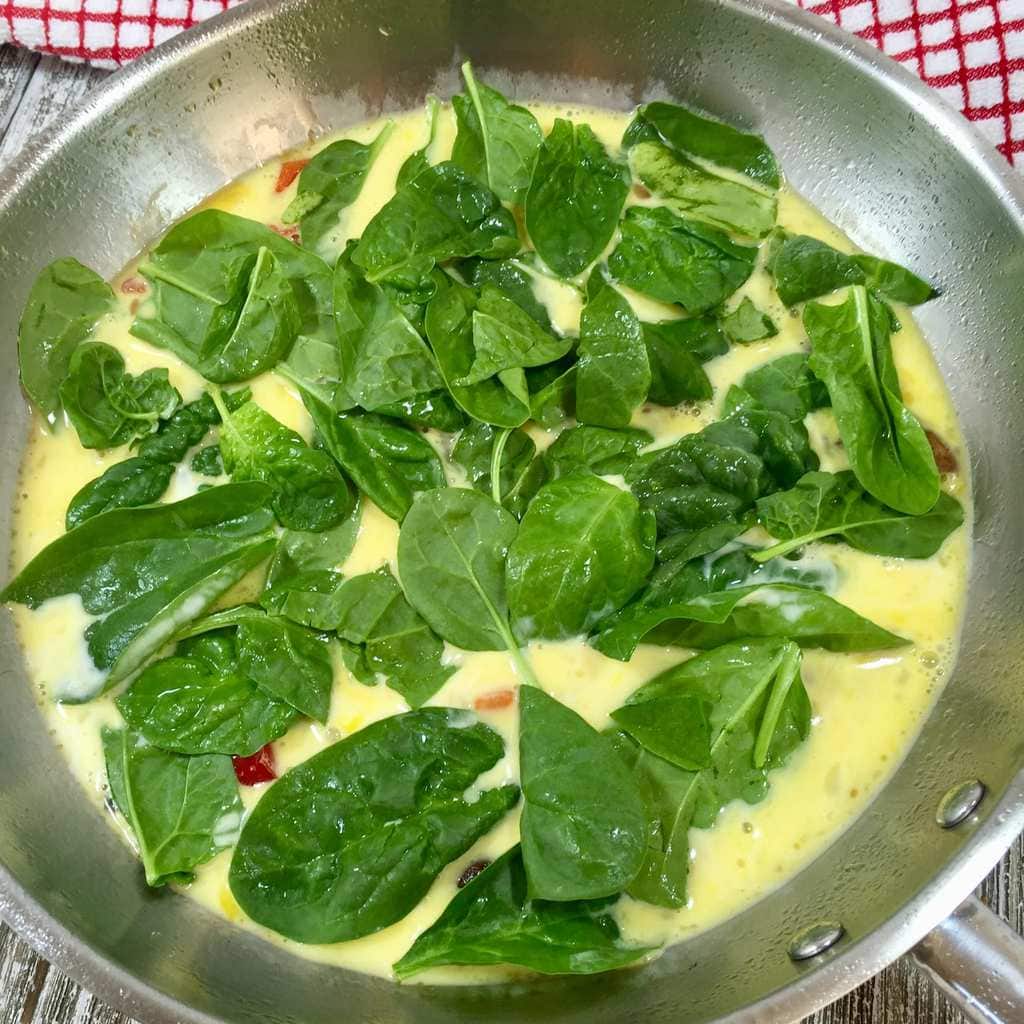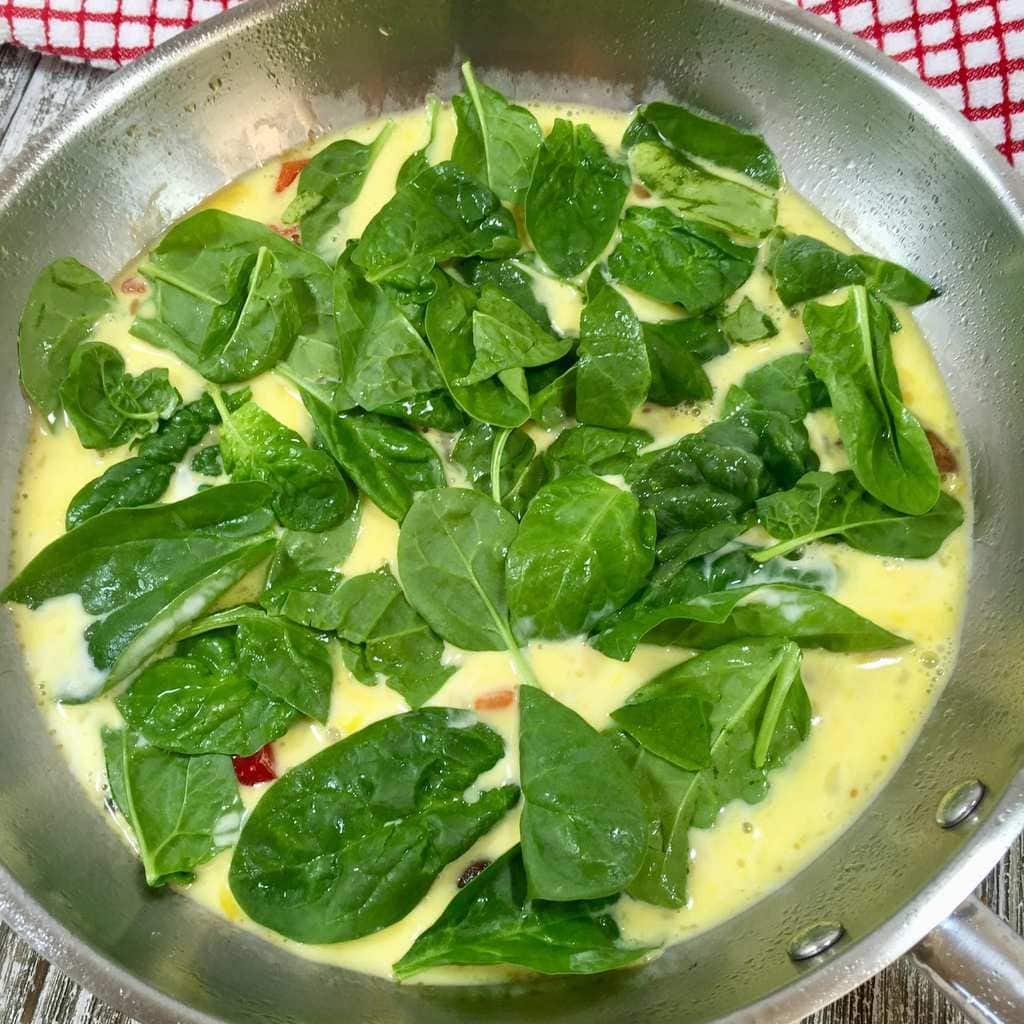 Then evenly sprinkle the cheese and the dried shallots over the top and immediately place the ovenproof frypan in a preheated 375 oven.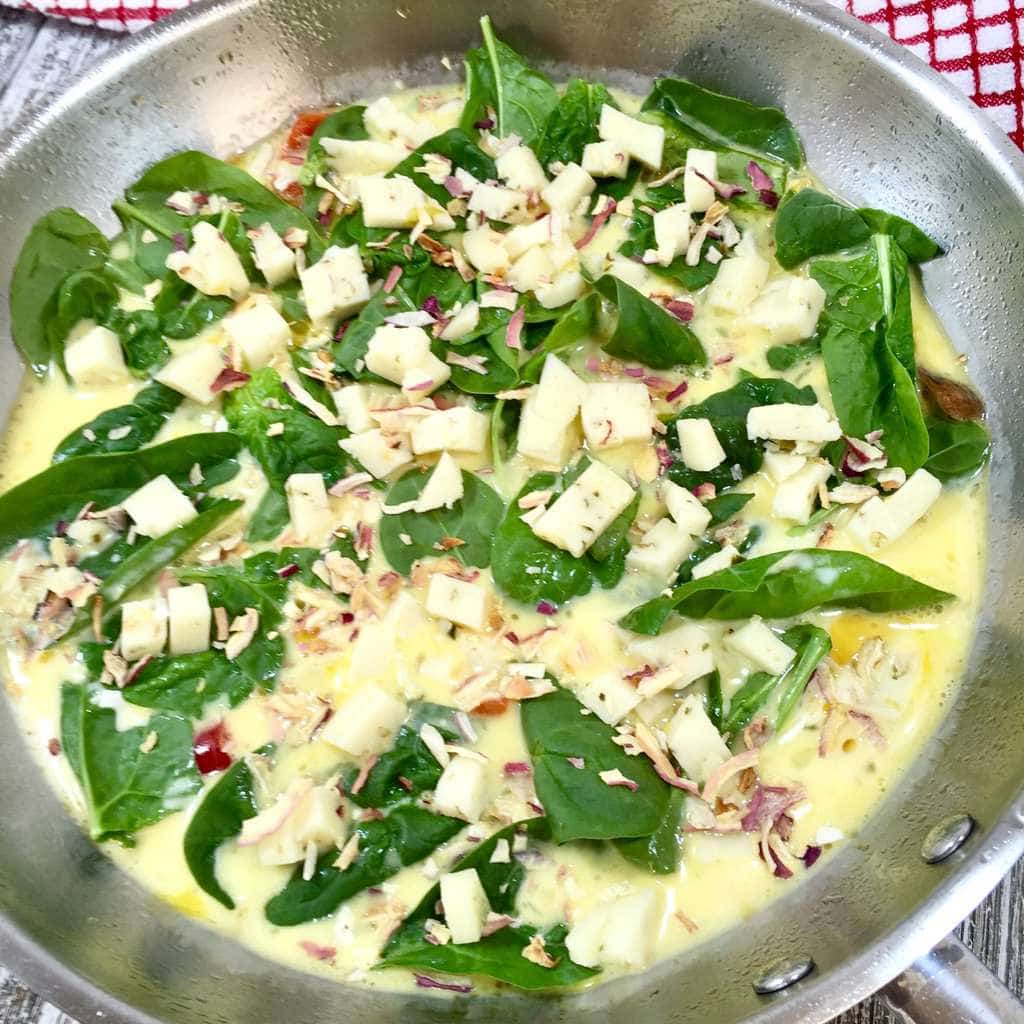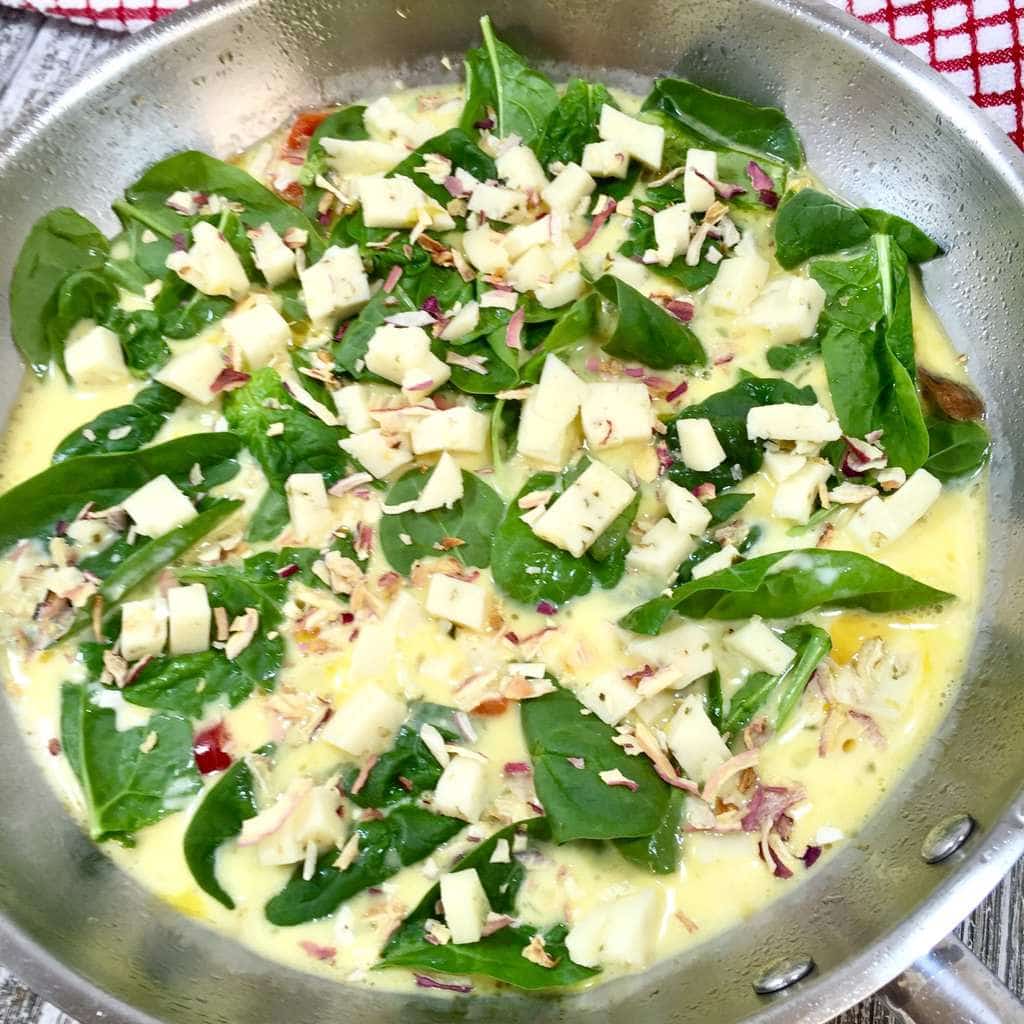 Bake for 30 minutes or until you insert a toothpick in the center of the frittata and it comes out clean.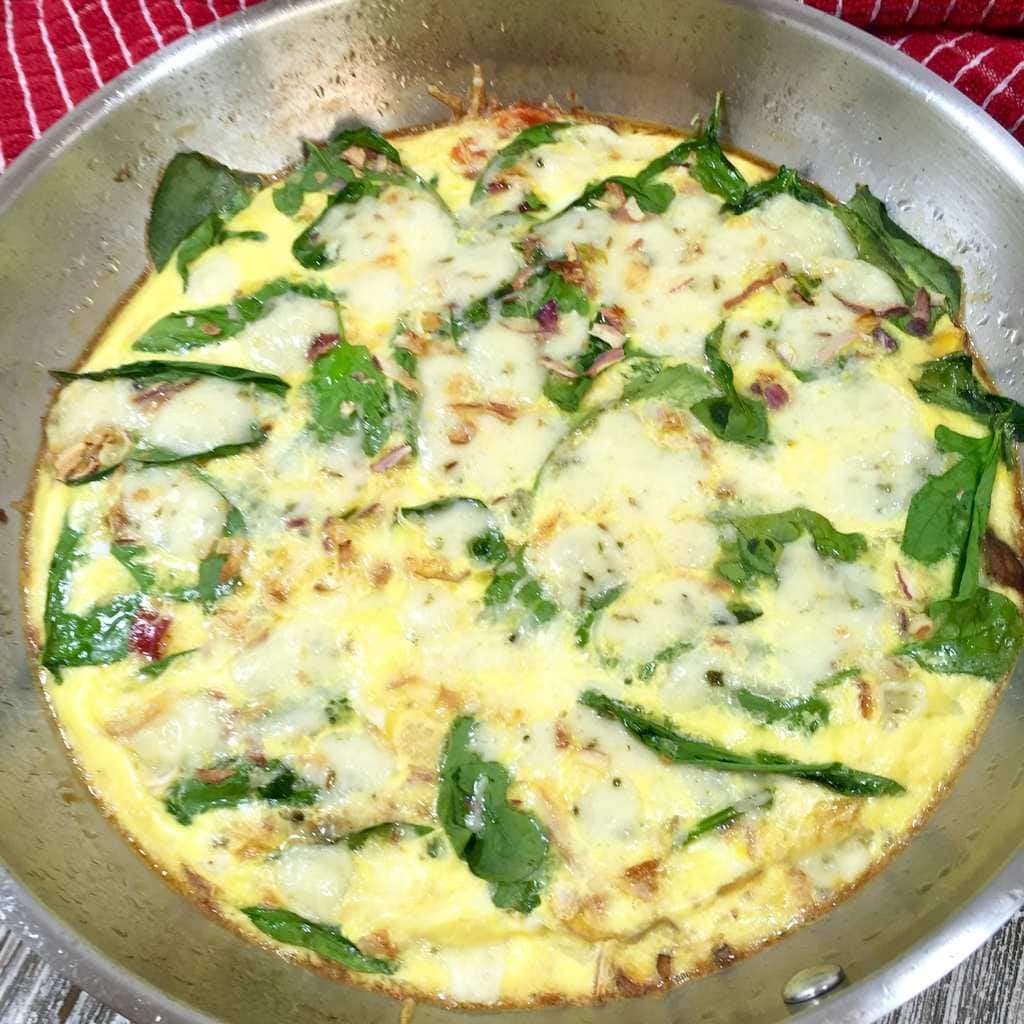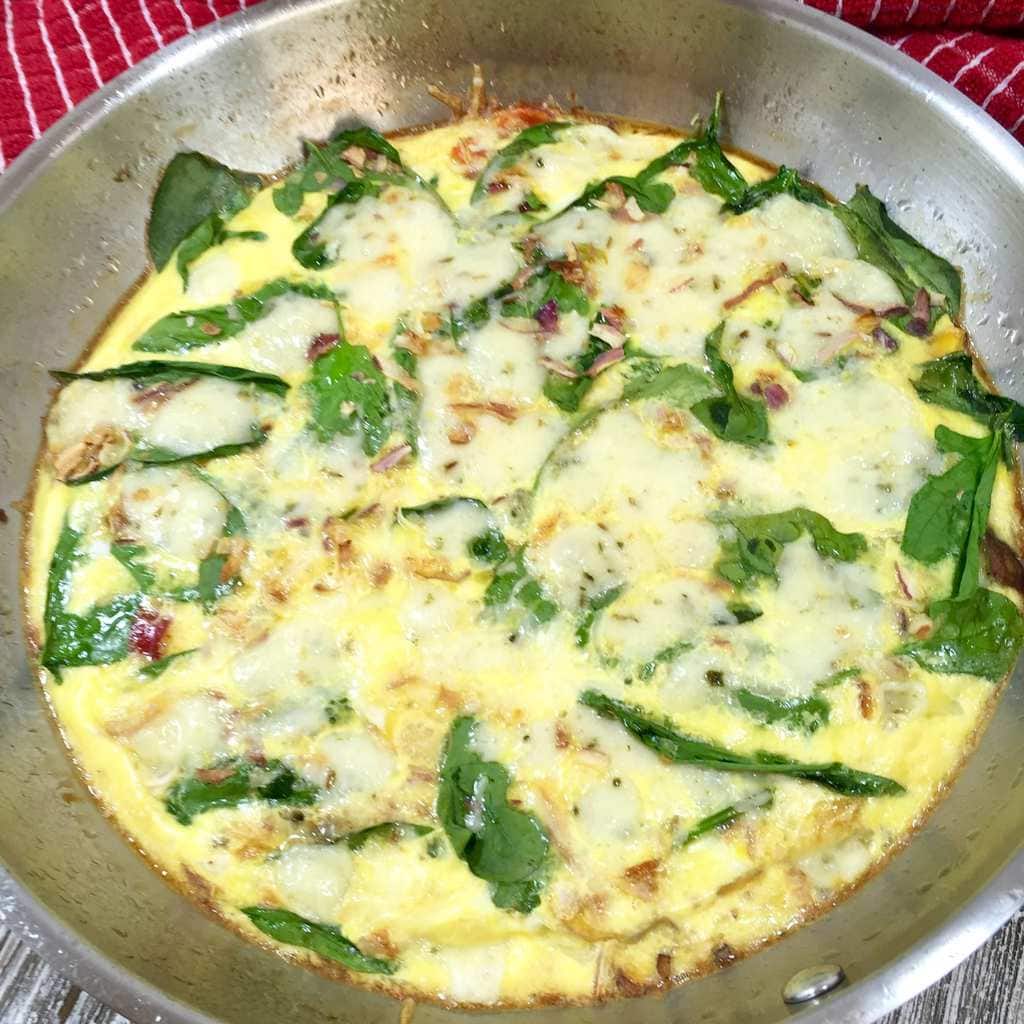 After removing from the oven, let it rest for a few minutes before you serve it. 
This resting time allows the frittata to firm up and makes it easier for slicing and serving.
Oh, I almost forgot to tell you you best part.
Not only is this frittata absolutely delicious but as far as healthy recipes go, this is a clear winner.
Each serving comes in at 102 calories with only 3 grams of fat. and when you compare that to quiche…well, we won't even go there.
Isn't it fun to have a win-win on occasion?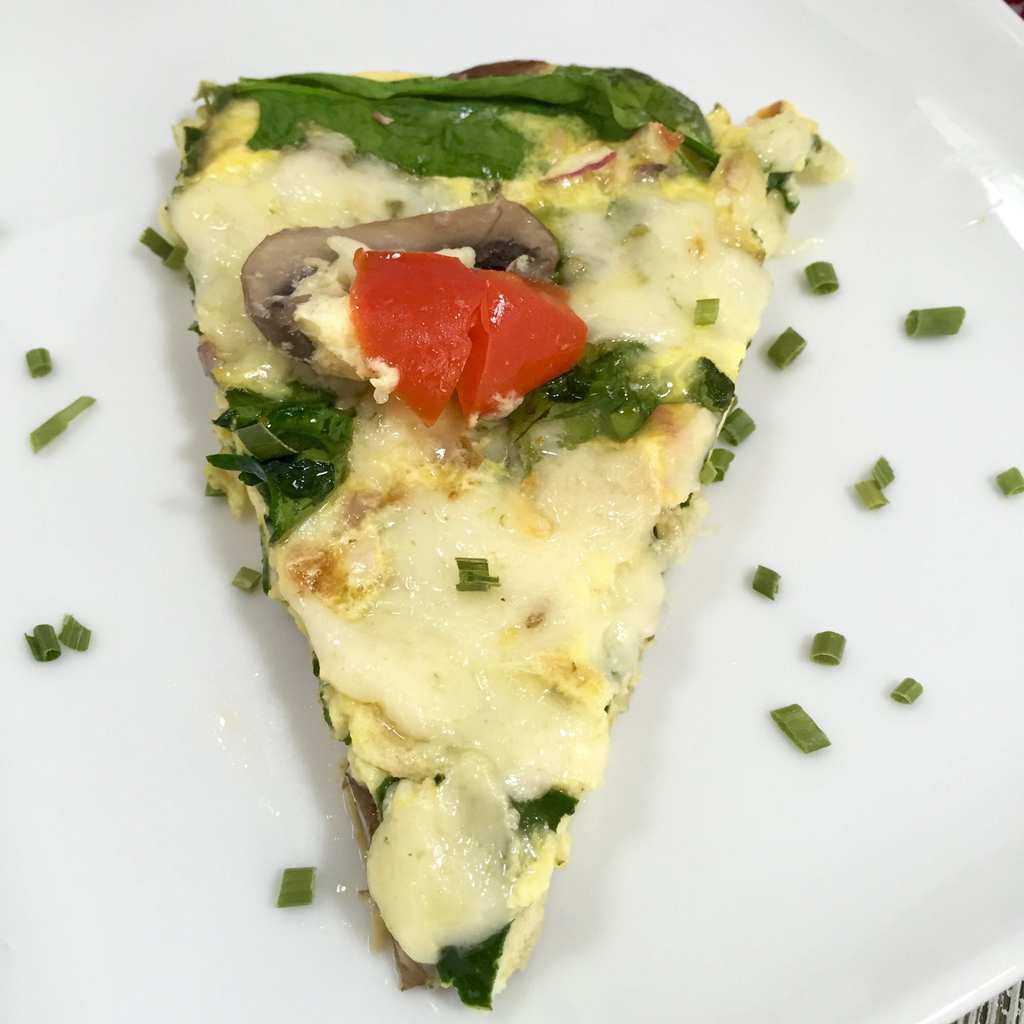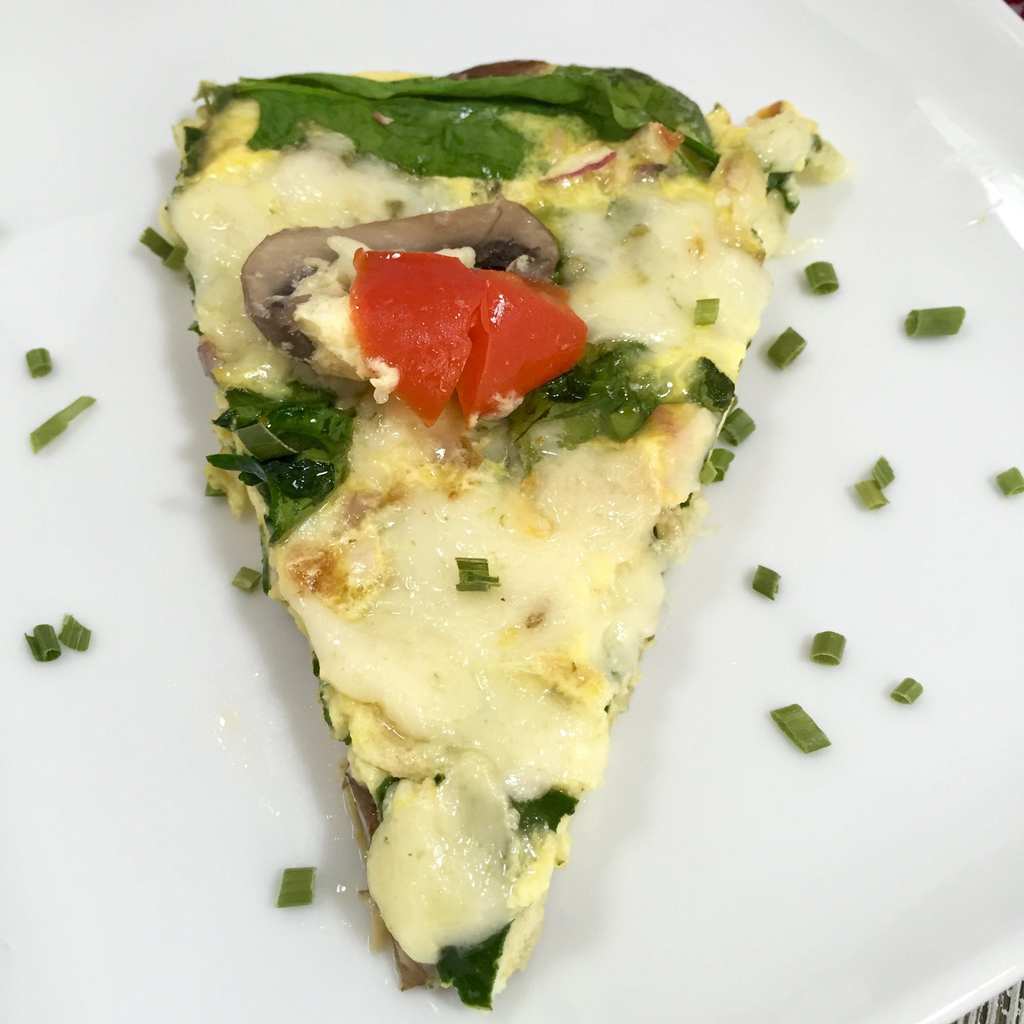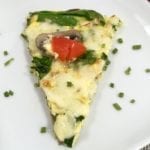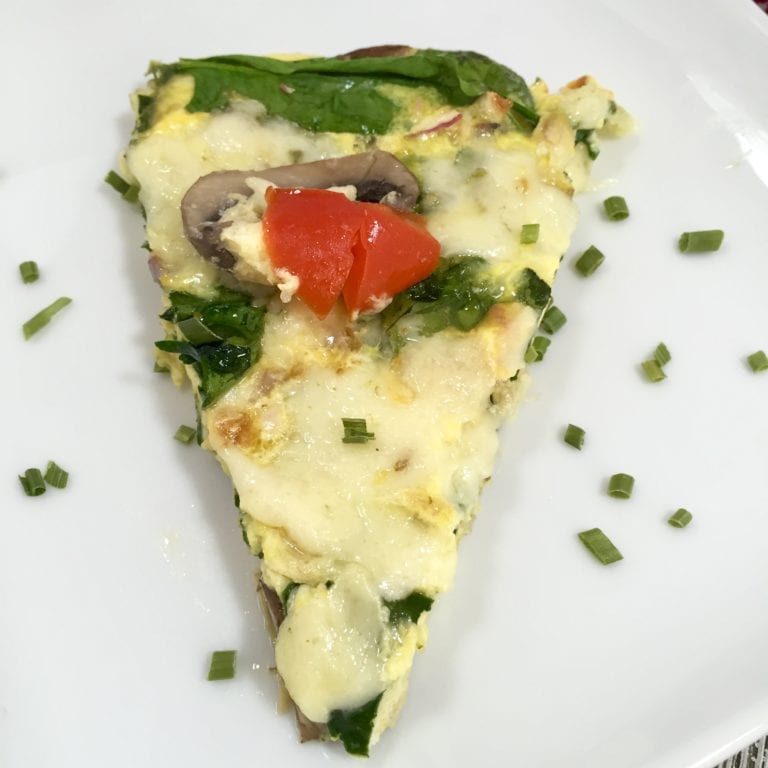 Print Recipe
Spinach Mushroom Frittata
This Spinach Mushroom Frittata is creamy, savory and super easy to make. It makes Sunday morning breakfasts extra special.
Ingredients
2

Tsp

Butter

8

Mushrooms

Sliced

1/2

Cup

Peppers

6

Eggs

1

Tsp

Water

1/4

Tsp

Sea Salt

1

Cup

Baby spinach leaves

1/4

Cup

Ricotta Salata Cheese

Diced

2

Tsp

Shallots

Dried
Instructions
Preheat oven to 350 degrees F

In an ovenproof frying pan over medium high heat add butter. When butter has melted and coated the pan, add mushrooms and peppers and allow to cook, undisturbed, to caramelize the vegetables. Then give a quick stir and cook 1 minute longer.

In a medium bowl, whisk eggs with water and salt and immediately pour egg mixture over the cooked vegetables. Evenly add the spinach leaves on top, then sprinkle with the cheese and dried shallots.

Add pan to preheated oven and bake for 30 minutes or until toothpick inserted in middle of frittata comes out clean.

Remove from oven, cover with foil, and allow to set 10 minutes. Slice and serve.
Nutrition
Calories:
102
kcal
|
Carbohydrates:
2
g
|
Protein:
7
g
|
Fat:
6
g
|
Saturated Fat:
3
g
|
Cholesterol:
172
mg
|
Sodium:
185
mg
|
Potassium:
205
mg
|
Sugar:
1
g
|
Vitamin A:
840
IU
|
Vitamin C:
12
mg
|
Calcium:
51
mg
|
Iron:
1.1
mg
If you like this recipe, please leave a comment below and be sure and pin this recipe on Pinterest!  
Other recipes that you might be interested in: