These Peach Cobbler Pancakes are light and fluffy, a total treat for breakfast, brunch or dinner and really taste like Peach Cobbler.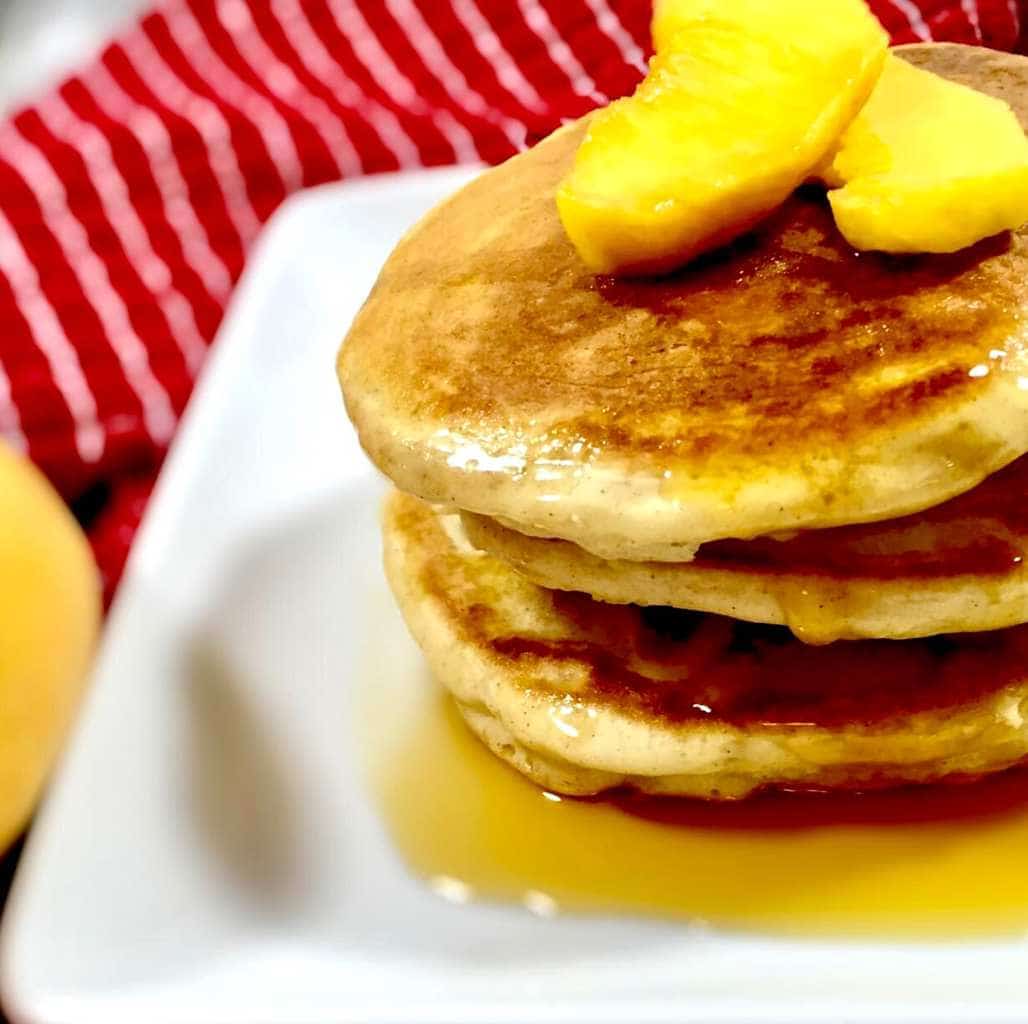 About Peach Cobbler Pancakes
My Mom used to make the best peach cobbler. I can still remember the wonderful aroma of cinnamon as it baked.
She would take it out if the oven and serve it hot with cream poured over the top, which made the crusty biscuits softer and deliciously creamy.
So, as  I was thinking about that wonderful cobbler, I wondered if I could have the same flavor in pancakes.
So I gave it a try and my husband said he loved them and added, "This needs to post on your blog."
Normally, I stay away from prepared mixes, but I take exception to a few brands that I trust not to have aluminum phosphate in them.
This recipe was made with Trader Joe's Buttermilk Pancake Mix mainly because of the ingredients and because the pancakes turn out light, fluffy and absolutely delicious.
Plus with the addition of peaches, cinnamon and a a touch of butter, well… welcome to good old fashioned peach cobbler. 
And who doesn't love Peach Cobbler?
I had wonderful memories growing up with peach cobbler. My grandmother also made cobbler with her special biscuit recipe. 
Later, my mother used Bisquick and I loved the taste of both.
And I love this easy recipe for Peach Cobbler Pancakes too.
So let's make them.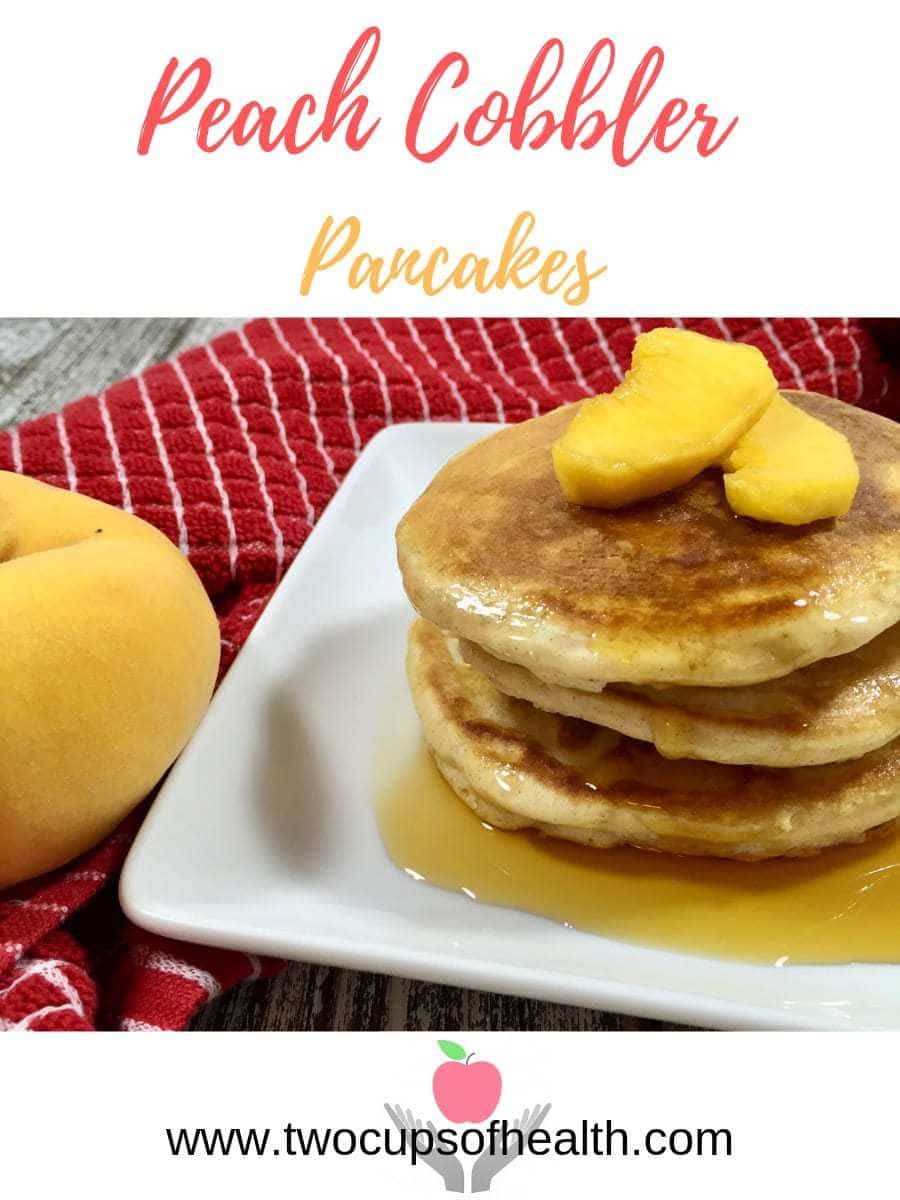 Ingredients for

 

Peach Cobbler Pancakes
Buttermilk Pancake Mix: Trader Joe's works great
Cinnamon: Perfect spice for Peach Cobbler
Water: To mix it altogether
Egg: For leavening
Peaches: The star of the show

Ghee: For a high smoking point and buttery flavor
How to Make Peach Cobbler Pancakes
First, it's really important for pancakes to start with a hot griddle, so preheat your griddle or electric frypan to 375 degrees.
Next add your pancake mix to a bowl.  Then add water and egg and mix it lightly until a smooth batter forms.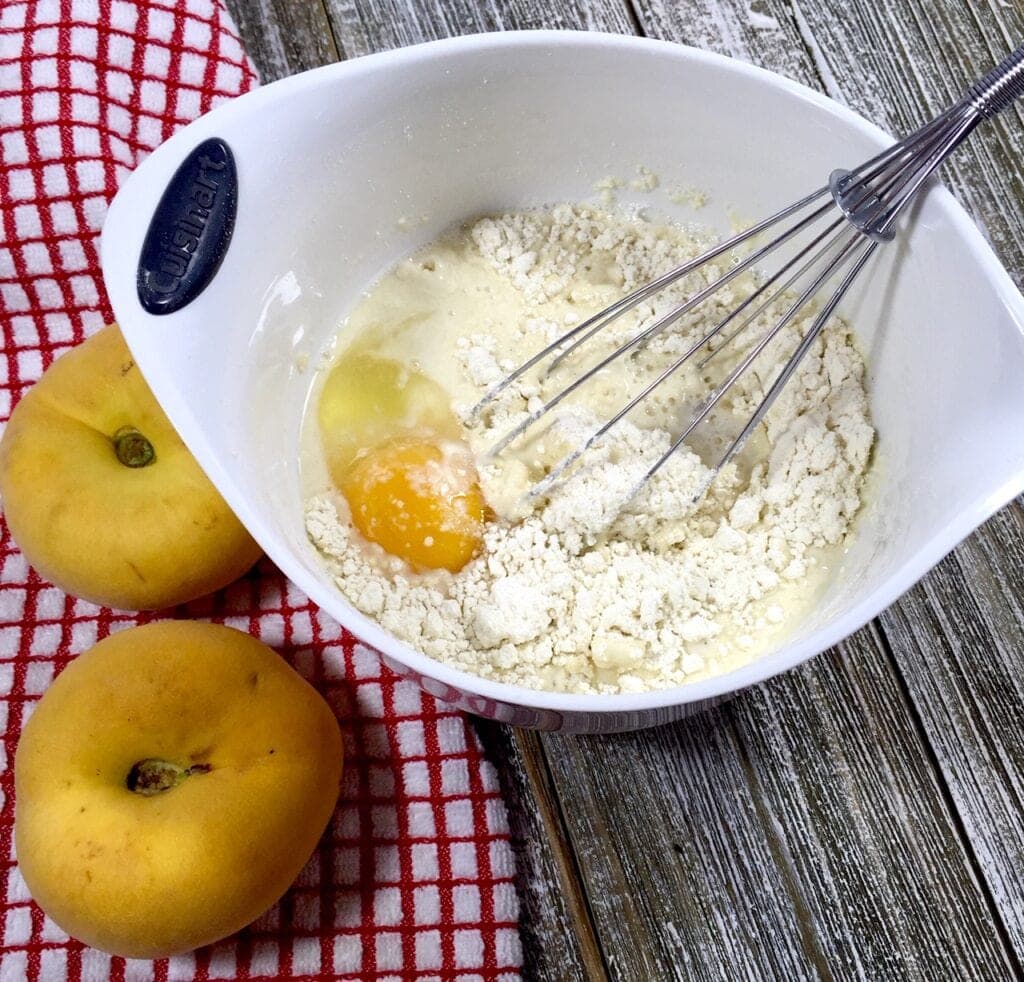 If you mix too vigorously at this point the pancakes will be a bit tougher and heavier.  And the key is to key them light and fluffy.
Next gently mix in the cinnamon and diced peaches.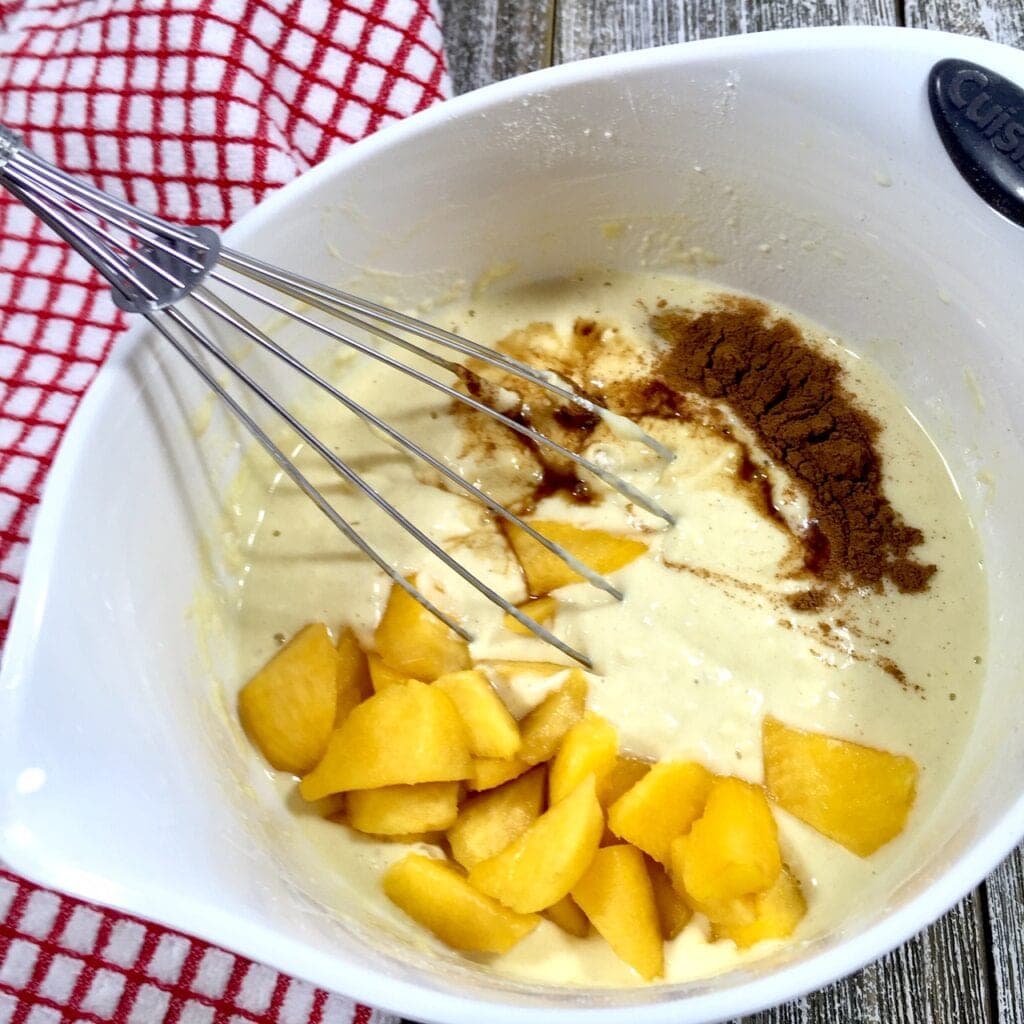 At this point I like to rest the batter a few minutes. It helps to make the pancakes soft and tender.
While the batter rests, test your griddle to make sure it's hot enough.
You can easily do this by adding a few drops of water to the griddle and if the drops sizzle, your griddle is ready.
Then add the Ghee and spread it over the griddle with a spatula.
Ladle a little less than a 1/4 cup of the diced peach batter on to the griddle for each pancake and let them cook undisturbed for 1-2 minutes. 
When bubbles begin to appear in the pancakes, it's time to flip them and let them cook 1 more minute.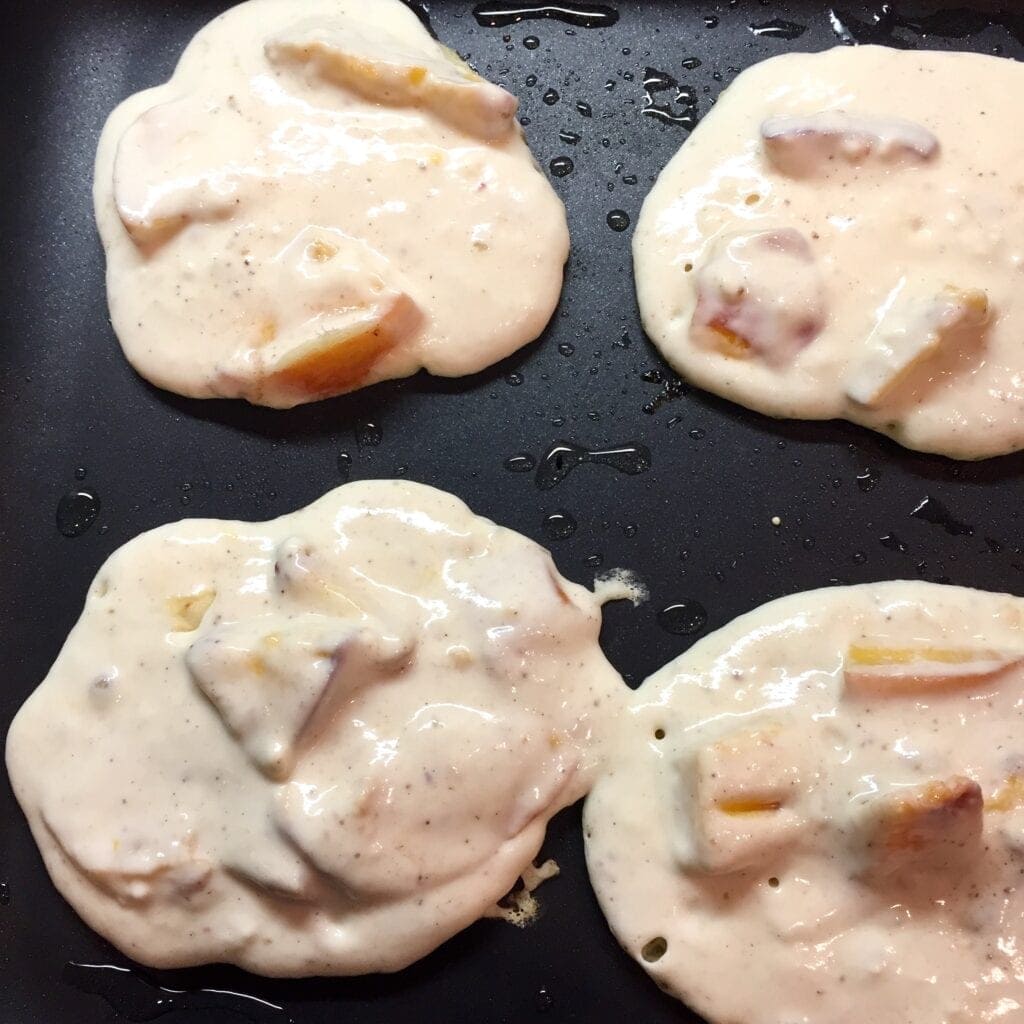 Keep them warm in an oven until all the batter is used.  Then serve them with warmed syrup. My favorite for these pancakes is maple syrup.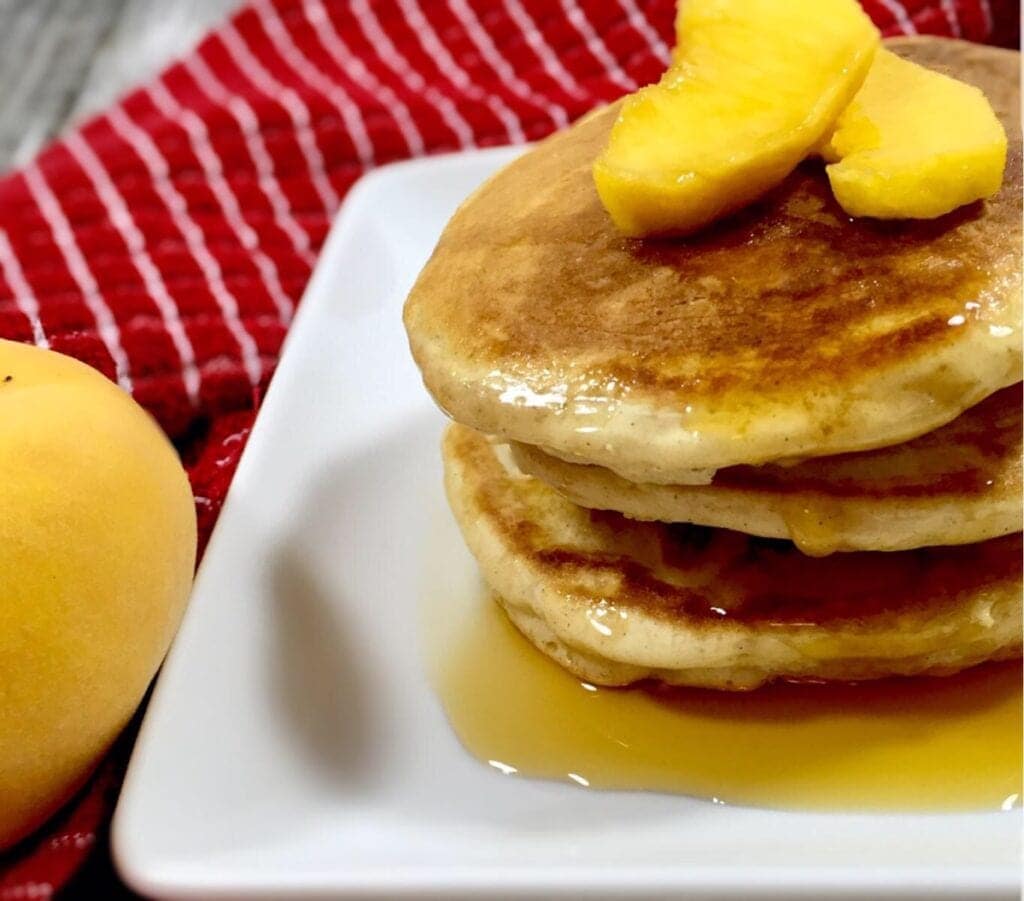 A Note on the Ingredients
As I said earlier, I make it a point to keep aluminum as far away from food as possible.
The jury may be out, but still too many examples of health problems have been associated with aluminum. 
So be sure and watch the ingredients on any prepared mixes.
Two other brands of mix that I would highly recommend is Bob's Red Mill .
You might also try Stonewall Kitchen Buttermilk Pancake Mix. Both excellent companies.
Your choice on whether to remove the peach skin or not. 
I've made these both ways.
If you would like to remove  the skin, there are two easy ways to do this. 
First is simply cut the skin off with a sharp knife.  The only disadvantage is that you lose some of the flesh.
The second way is to submerge the peaches in boiling water for 1 minute. 
Then add them to an ice water bath for 1 minute. At that point the skin will peel easily off the peach with a knife.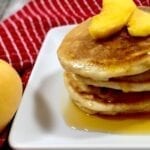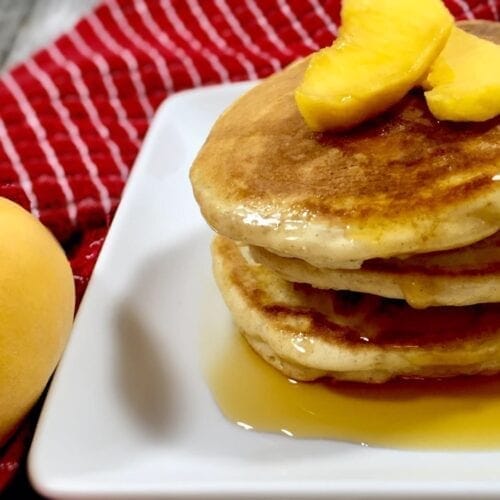 Print Recipe
Peach Cobbler Pancakes
These Peach Cobbler Pancakes are light and fluffy, a total treat for breakfast, brunch or dinner and really taste like Peach Cobbler.
Equipment
Griddle or electric frying pan
Ingredients
1 3/4

Cup

Buttermilk Pancake Mix

Recommend Trader Joe's or Bob's Red Mill

1

Cup

Water

1

Egg

3/4

Tsp

Cinnamon

2

Peaches

Peeled and diced

2

Tsp

Ghee
Instructions
Preheat griddle or electric frying pan to 375 degrees. Additionally, preheat oven to 125 degrees F

Add pancake mix to a bowl. Add water, cinnamon and egg and mix lightly to combine to a smooth batter.

Add in diced peaches and lightly stir.

Test griddle with a sprinkle of water. When hot, the water drops witll sizzle. At this point add Ghee and spread over the griddle with a spatula.

Add a little less than 1/4 cup to the griddle for each pancake. Allow the pancakes to cook 1-2 minutes until bubbles begin to appear in the pancakes. At that point, flip them and cook 1 minute more.

Add finished pancakes to a plate and keep warm in the oven as you continue to use the rest of the batter.

Serve hot pancakes with maple syrup.
Nutrition
Calories:
290
kcal
|
Carbohydrates:
38
g
|
Protein:
10
g
|
Fat:
11
g
|
Saturated Fat:
4
g
|
Cholesterol:
120
mg
|
Sodium:
559
mg
|
Potassium:
364
mg
|
Fiber:
3
g
|
Sugar:
6
g
|
Vitamin A:
625
IU
|
Vitamin C:
6
mg
|
Calcium:
238
mg
|
Iron:
2
mg
If you liked this recipe and want weekly recipes delivered to your email, subscribe here.  And be sure and pin us on Pinterest!
Other Breakfast Recipes you might like: