This flavorful Bourbon Roasted Chicken is not only juicy and tender but also so easy because it  makes it's own glaze out of a dry rub.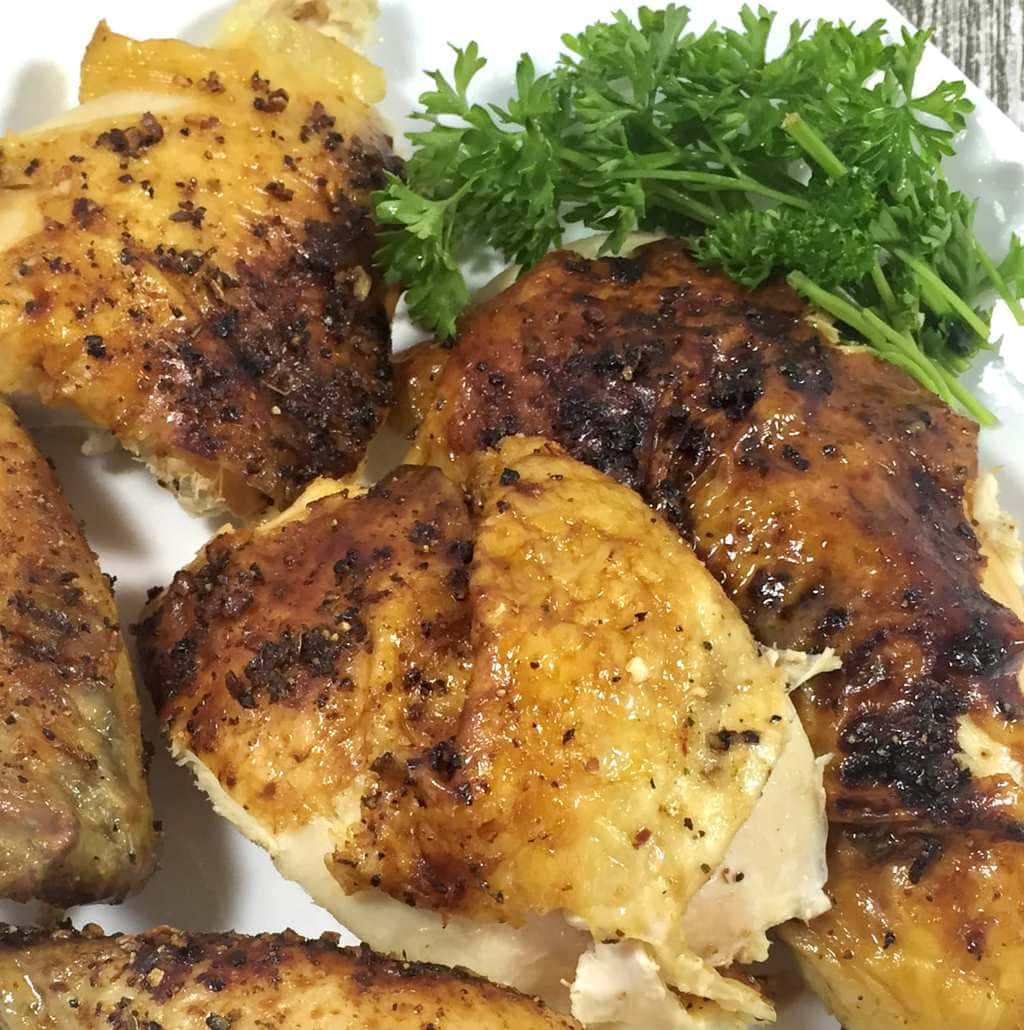 About Bourbon Roasted Chicken
Ah, Sunday roasted chicken. 
There's so many ways to make it. 
Lemon Pepper Chicken, Herb Chicken, Barbecue Chicken or like Ina Garten does with 40 cloves of garlic!
She swears by it and so does her husband, Jeffrey.
But this time Bourbon Chicken just sounded good.
I tried several different bourbon sauces but somehow they just weren't right. 
Bourbon with honey…? Nah, too potent and too sweet. 
Bourbon with soy sauce…?
Good, but still not what I was looking for so I decided maybe it's the wet ingredients that just didn't work for me this time.   
Then I remembered when I would barbecue chicken on a rotisserie. 
I only used dry ingredients and the chicken always was perfect…every single time. 
So in the process of thinking this recipe out, I went back to my old favorites. 
First, you have to understand I have tons of spices. 
I've never actually counted how many, but in the end I almost always come back to maybe 5 of my top favorite blended spices.
Jane's does a great job with Jane's Mixed Up Garlic Seasoning. 
It actually has chunks of garlic as well as pepper and onion in it.
Love the flavor. 
Then there's Jane's Mixed Up Steakhouse Seasoning, which has pepper and actually lime in it to give everything a special tang.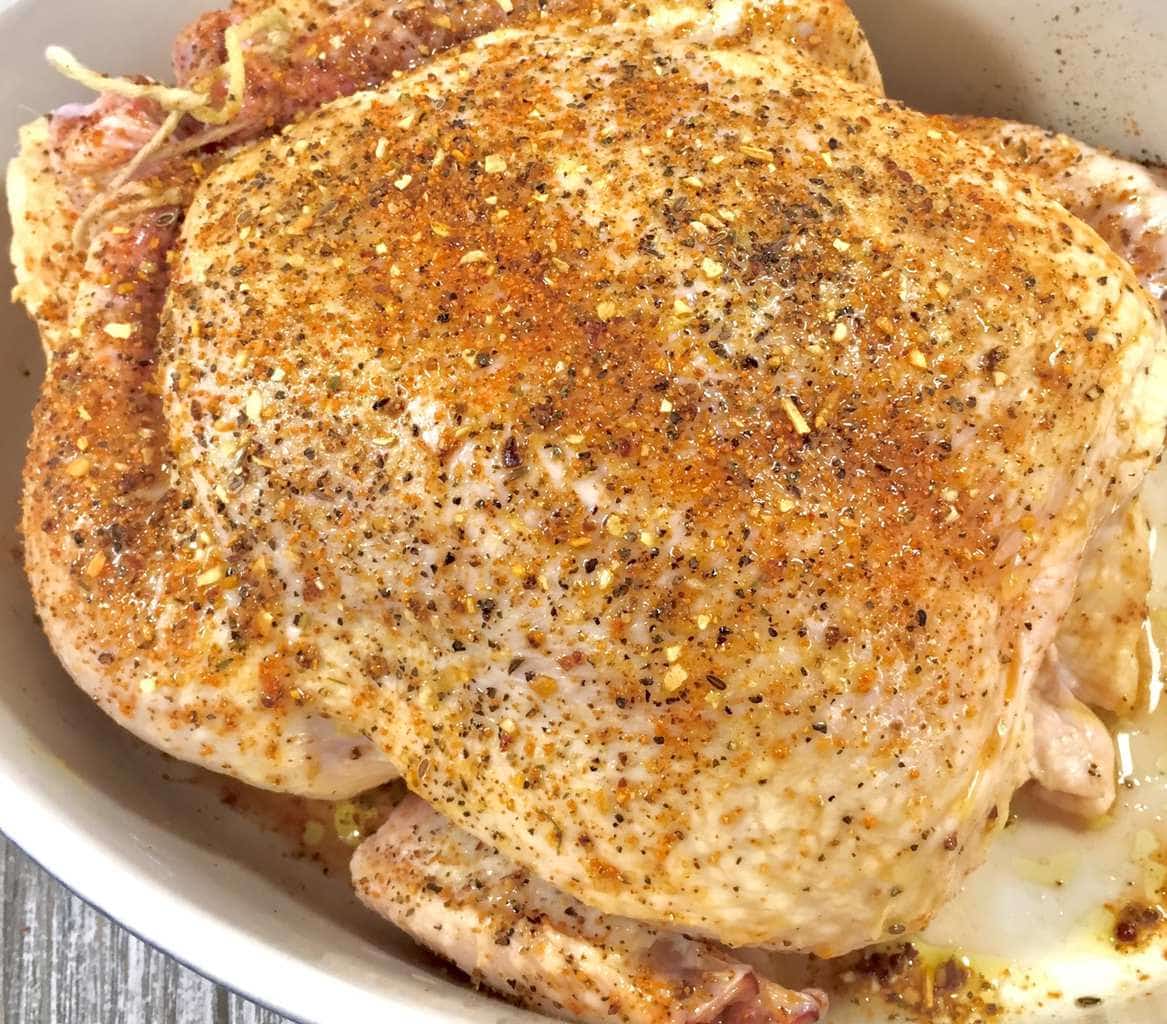 You can usually find these in almost every grocery store. And now there's my new favorite and it's the whole reason for this recipe:
McCormick's Brown Sugar Bourbon which has garlic, molasses and  malted barley whiskey. 
I mean, come on…right? 
So let's make Bourbon Roasted Chicken.
Ingredients for Bourbon Roasted Chicken
Whole Chicken
Olive Oil
Jane's Mixed Up Garlic Seasoning
Jane's Steakhouse Seasoning
McCormick's Brown Sugar Bourbon Seasoning
How to Make Bourbon Roasted Chicken
It's almost embarrassing to tell you with just 5 ingredients how totally simple this recipe is to make.
To start, there are two schools of thought on how to prepare chicken.
Wash it first or not?
Julia Child said yes definitely wash it first.
Ina Garten said no, it's not necessary.
And I had one more person give me advice.
This was someone I dated before I married my husband.
His Dad owned a chicken farm and he said whenever you make chicken, always wash it first.
So I'm with him and with Julia, I Always wash the chicken first and then dry it with paper towels.
Next, simply truss your chicken by tying the legs together with string.
(Check out the Spruce Eats way to truss chicken.)
 This allows the chicken to roast evenly. 
Then you rub oil into the skin. Next, mix the seasonings together in a small bowl and evenly sprinkle it on all sides of the chicken.  
You'll find that the chicken will really juice up as it cooks so it's a good idea to place your prepared chicken, breast side up, on a rack in a roasting pan to allow it to get a crisp skin all over.  
Next place the pan into a preheated 450F degree oven and let it cook just 10 minutes to begin crisping up the skin. 
Then turn it the temperature down to 350 degrees and let it continue to cook for about 90 more minutes until the internal temperature registers 165 degrees.
When the chicken is finished, remove it from the oven and let it set for about 10 minutes to allow it to become juicy and wonderful before you carve it.  
Then enjoy this flavorful chicken, guilt free.
As far as healthy recipes go, each serving is only 295 calories. Yay!
And that's it. Bourbon Roasted Chicken.  So simple, but so delicious.  
If you like this recipe, please leave a comment below and be sure and pin us on Pinterest!  
For more chicken recipes you might like: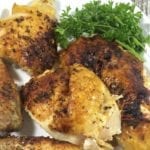 Print Recipe
Bourbon Roasted Chicken
Instructions
Preheat oven to 450 degrees F

Wash chicken and pat dry. Secure legs together with string. Rub entire chicken lightly with olive oil.

Mix seasonings together in a small bowl and sprinkle on all sides of chicken. Add rack to pan and place chicken on rack breast side up. Tuck wings underneath the chicken and place pan in preheated oven.

Roast for 10 minutes then turn oven down to 350 degrees and continue to roast for 90 minutes. With a thermometer inserted between breast and leg check for internal temperature of 165 degrees.

Remove pan from oven. Cover chicken with foil and allow to rest 10 minutes before carving.
Nutrition
Calories:
295
kcal
|
Carbohydrates:
4
g
|
Protein:
24
g
|
Fat:
19
g
|
Saturated Fat:
5
g
|
Cholesterol:
95
mg
|
Sodium:
270
mg
|
Potassium:
305
mg
|
Fiber:
1
g
|
Sugar:
3
g