Some of the links in this post are affiliate links. This means if you click on the link and purchase the item, I will receive an affiliate commission at no extra cost to you.
What can I tell you about this Tortellini Soup with Sausage and Spinach? Oh, so many things. It's Healthy, it's Easy, and most importantly, it's positively addictive. My little four-legged kitchen companion, Angel, was right there with me, underfoot, for every step of this process.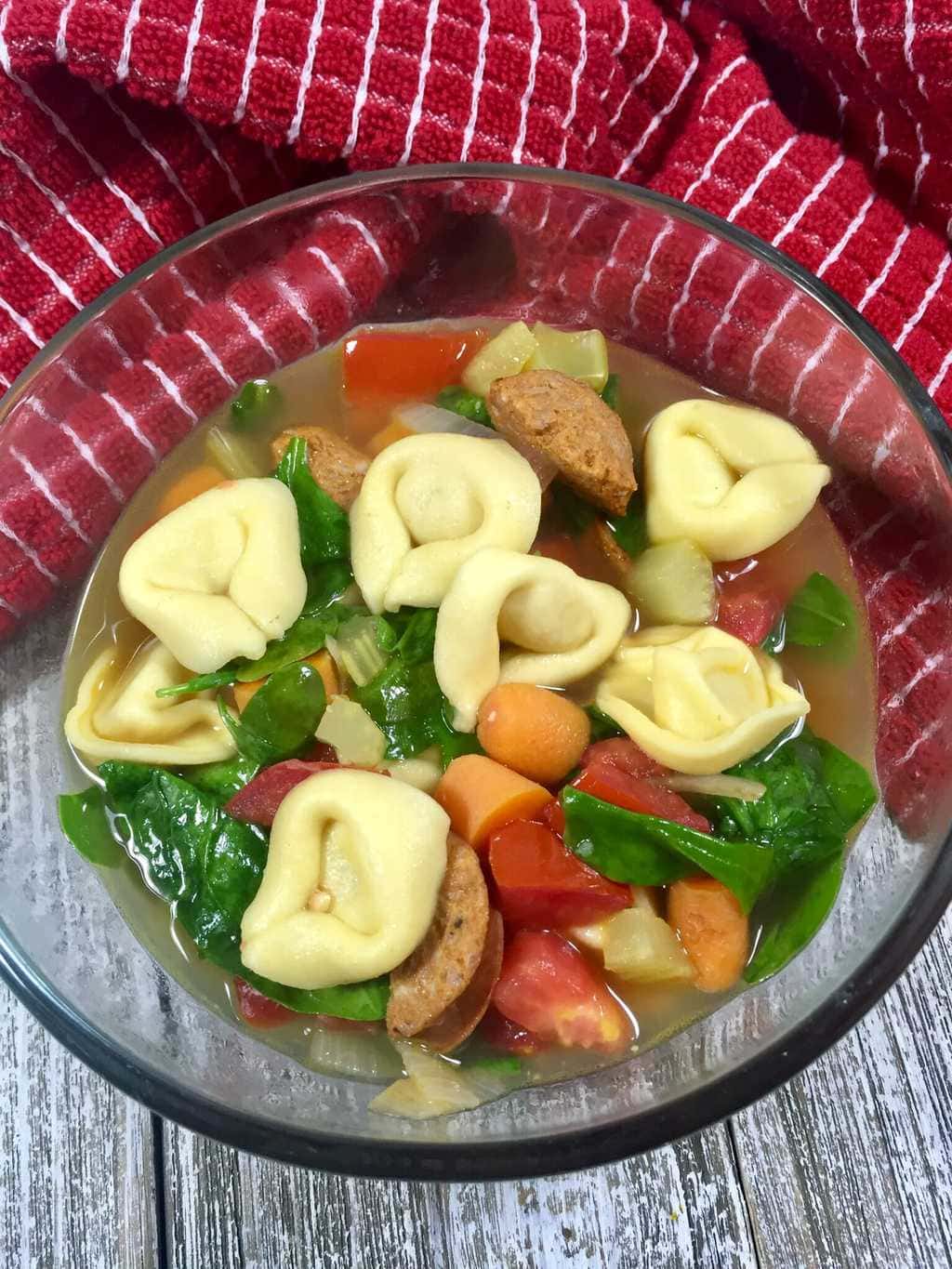 Only 314 calories per serving for this Vitamins A and C rich soup!
Now, you have to understand something about Angel. As a papillon, she's all French from her nose to her toes. Kind of like Remy in Ratatouille. And like Remy, she has a very sophisticated palate and, except for her dry salmon dog food, she leans mostly vegetarian. There are very few vegetables she won't eat. Cooked or raw, she's totally happy. So when she hears me in the kitchen chopping away, she instantly appears.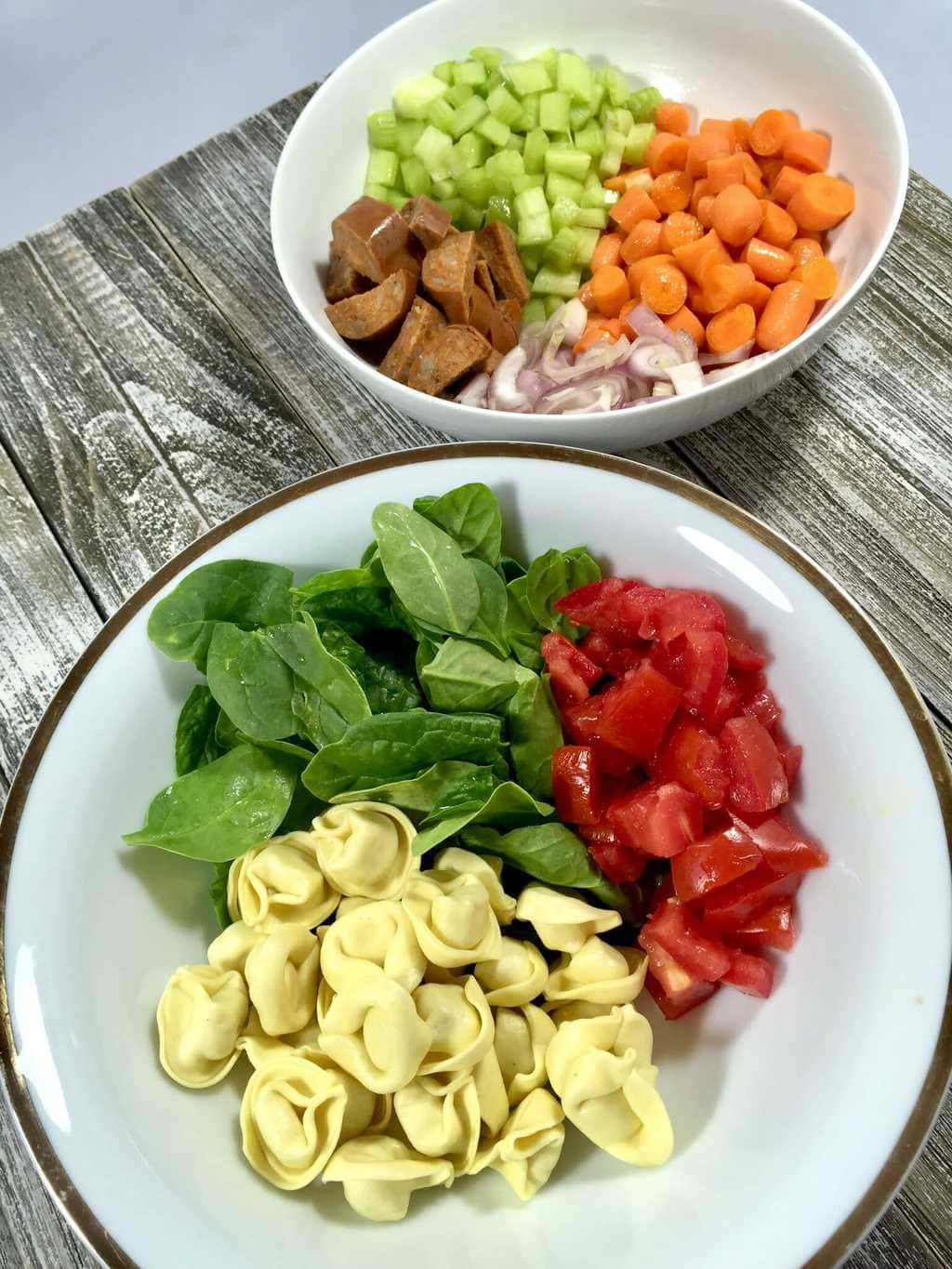 How to Make Tortellini Soup
I started with a mirepoix – celery, onions and carrots.  Of course she had to taste test the carrots to make sure they were good. She loved them raw, and especially loved them when they were caramelized. At that point I added 2 cloves of garlic and sliced smoked sausage and let it cook about another minute. I then poured in a couple of cups of low sodium chicken broth. My favorite is
Manischewitz
because it instantly tastes like you've been simmering this broth all day long.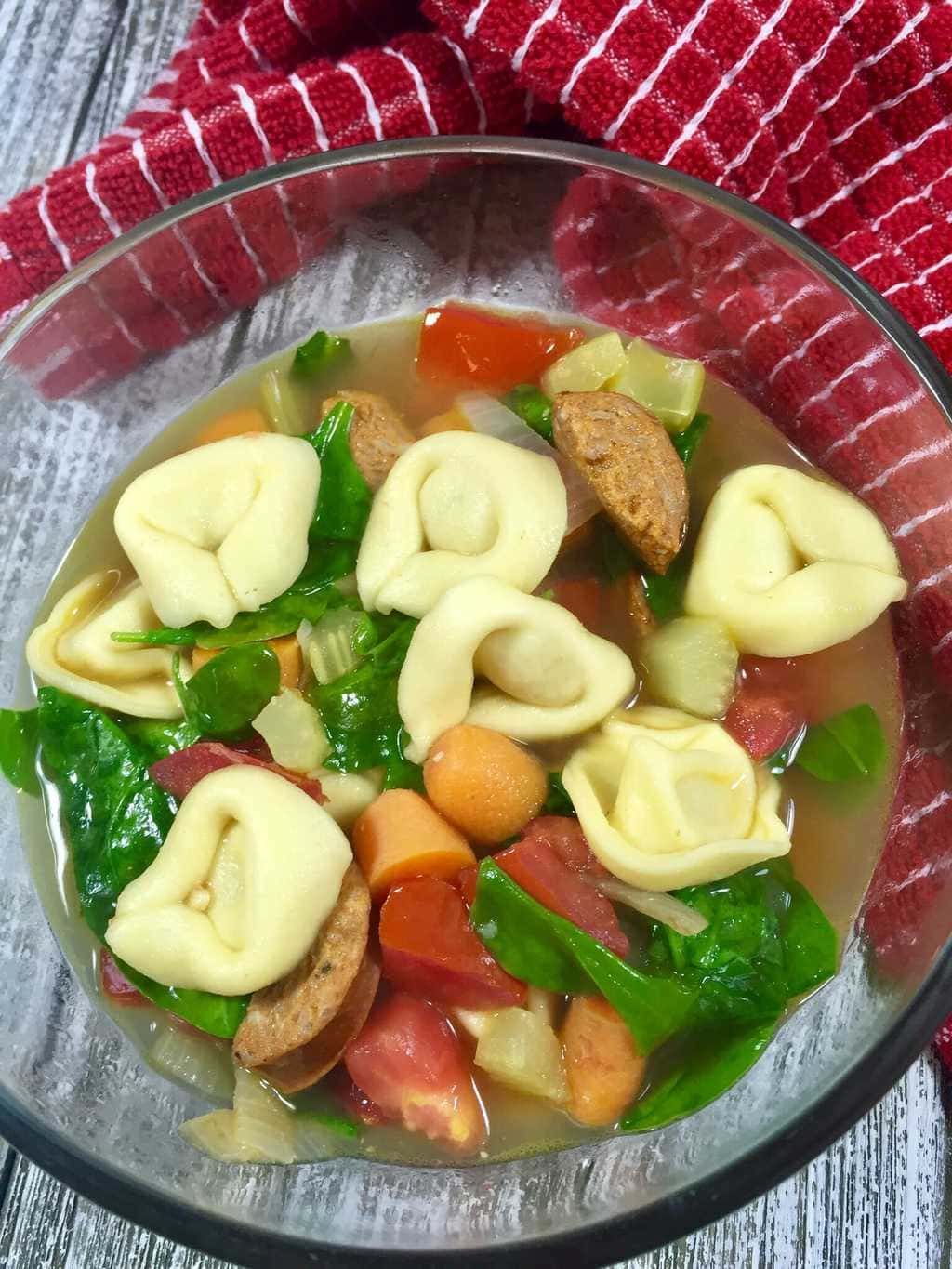 I actually did let it simmer a bit with some salt, pepper and lemon juice for a punch of flavor. But I didn't let it simmer too long because I still wanted the vegetables to be somewhat crisp-tender before I added the tortellini, which takes about another 6-7 minutes to cook.
After that I removed the pot from the heat and stirred in some tomatoes and raw baby spinach and gently stirred until the spinach just wilted.  And it was done!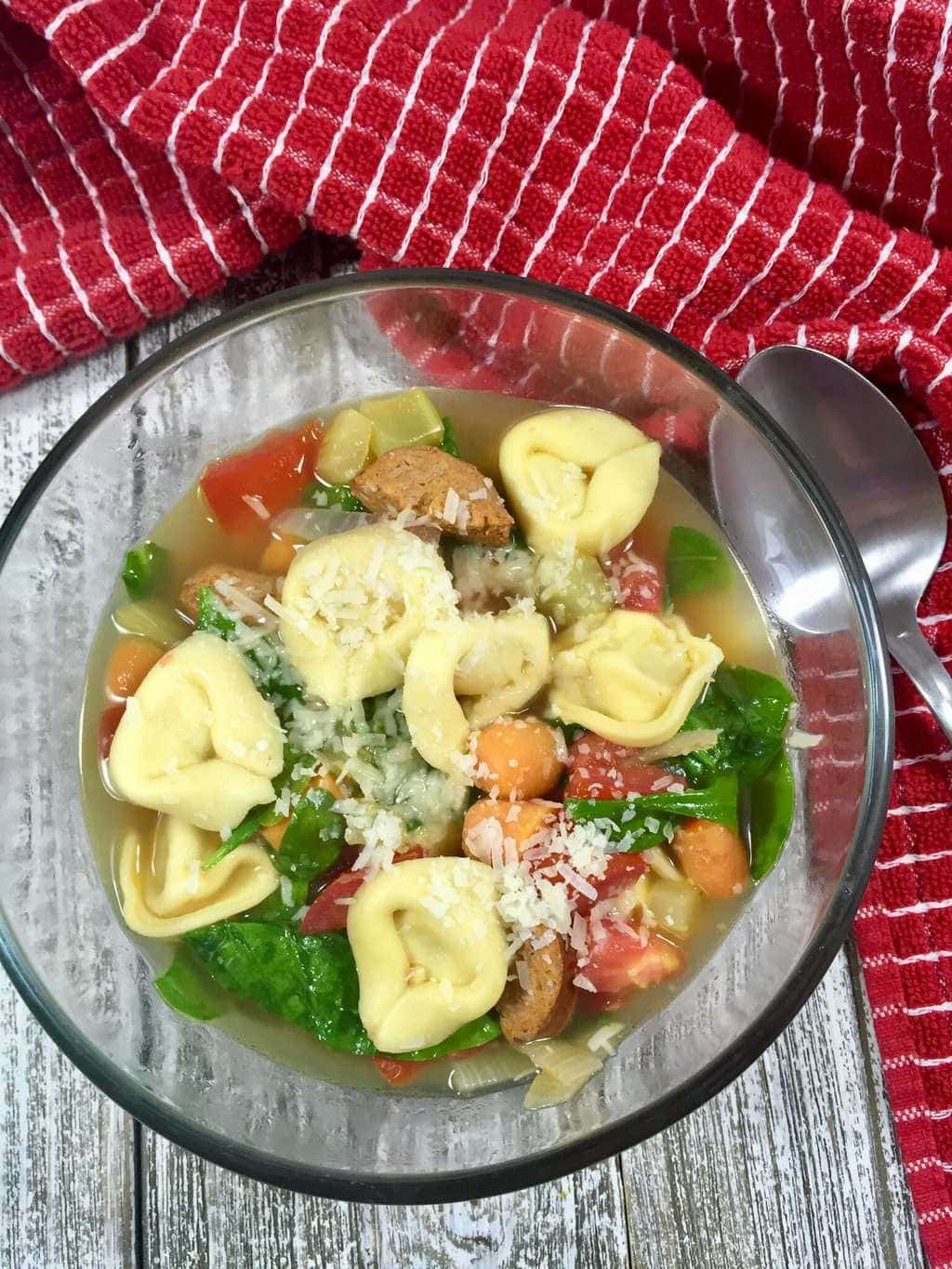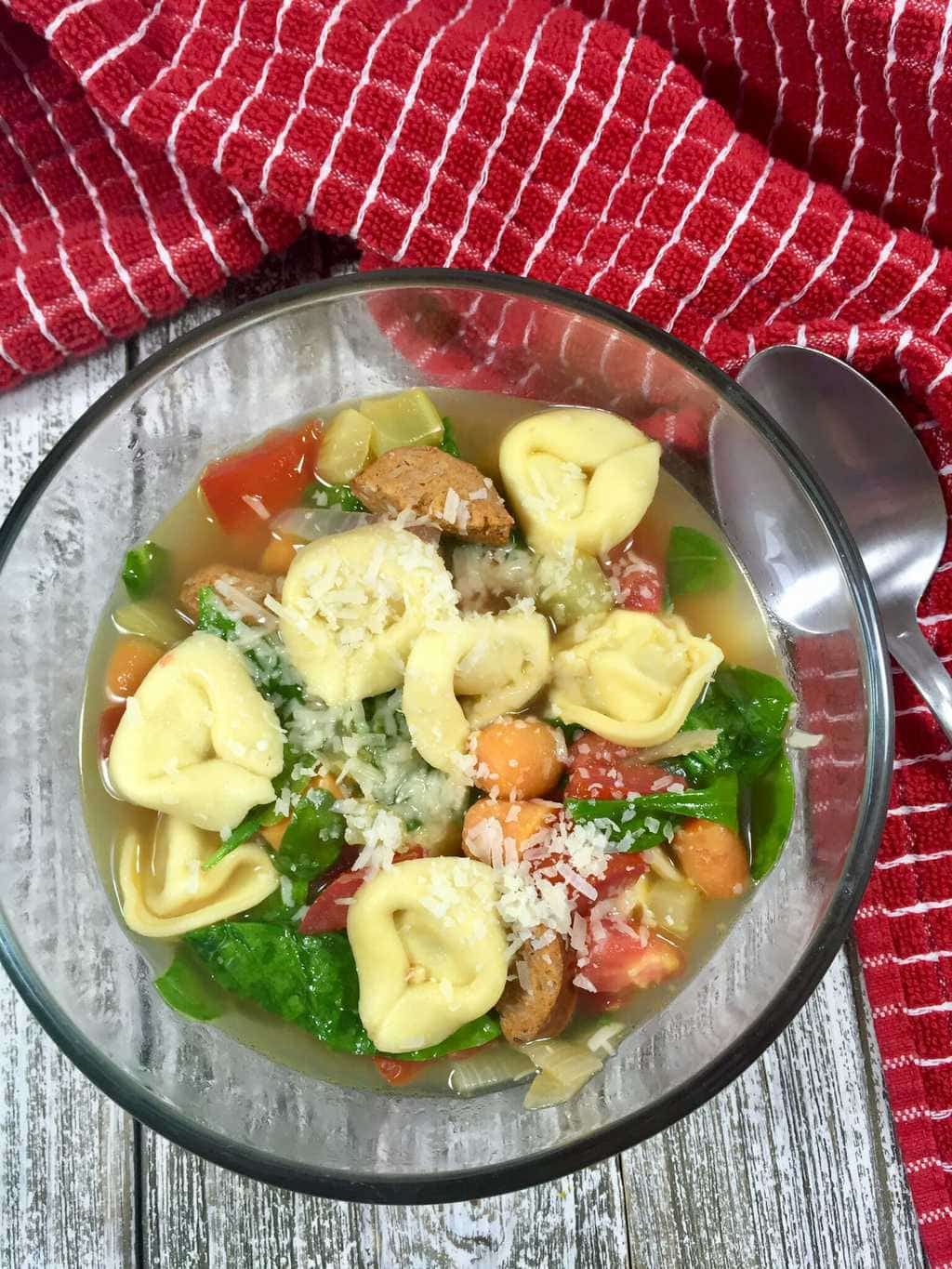 Ok now for the taste test. One sip from the spoon and it was perfect. But now came the big test. I added some raw carrots, as well as some cooked carrots, along with a little bit of raw cauliflower to her bowl and added a spoonful of that wonderful broth. Normally, she approaches her bowl carefully, but this time she dove in. It was gone in a moment and then she sat up for more.
Tortellini Soup with Sausage and Spinach is quick, healthy and totally delicious. Take it from Angel.
If you like this recipe, please leave a comment below and pin us on Pinterest!
You might also be interested in: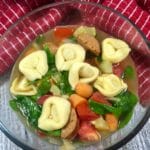 Tortellini Soup with Sausage and Spinach
Tortellini Soup with Sausage and Spinach is not only easy and quick, bit it's absolutely addictive. It tastes like it's been simmered all day.
Keyword:
Tortellini Soup with Spinach
Ingredients
2

Tbsp

Olive oil

1

Large

Shallot

Diced

1

Cup

Carrots

About 2 large carrots, diced

1

Cup

Celery

About 2 celery stalks, diced

1

Smoked chicken sausage

I used Andouille Chicken Sausage, cut in 1/4" slices

1/4

Tsp

Sea salt

I used Himalayan Pink because it has so much more flavor.

1/4

Tsp

Pepper

2

Cups

Chicken broth, low sodium

Prefer Manischewitz

1

Lemon

Juiced

1

Cup

Cheese Tortellinj

1

Cup

Tomatoes

Seeded and diced

1

Cup

Baby Spinach
Instructions
Add olive oil to large pot over medium high heat. Then add shallots, carrots, celery, salt and pepper. Stir and cook about 5 minutes until slightly caramelized. Add in Sausage and cook 1 minute more.




Add in chicken broth and and lemon juice and bring to a boil.

Add tortellini and cook 6 minutes. Then remove from heat and add in tomatoes and baby spinach. Stir lightly until spinach is slightly wilted.






Nutrition Facts
Tortellini Soup with Sausage and Spinach
Amount Per Serving
Calories 314
Calories from Fat 198
% Daily Value*
Total Fat 22g 34%
Cholesterol 30mg 10%
Sodium 897mg 37%
Potassium 873mg 25%
Total Carbohydrates 21g 7%
Protein 13g 26%
* Percent Daily Values are based on a 2000 calorie diet.