Love scones? Now you can have Holiday Scones -Two Ways. Choose a soul satisfying Chocolate Chip Scone or get into the holiday spirit with Cranberry Nut Scones.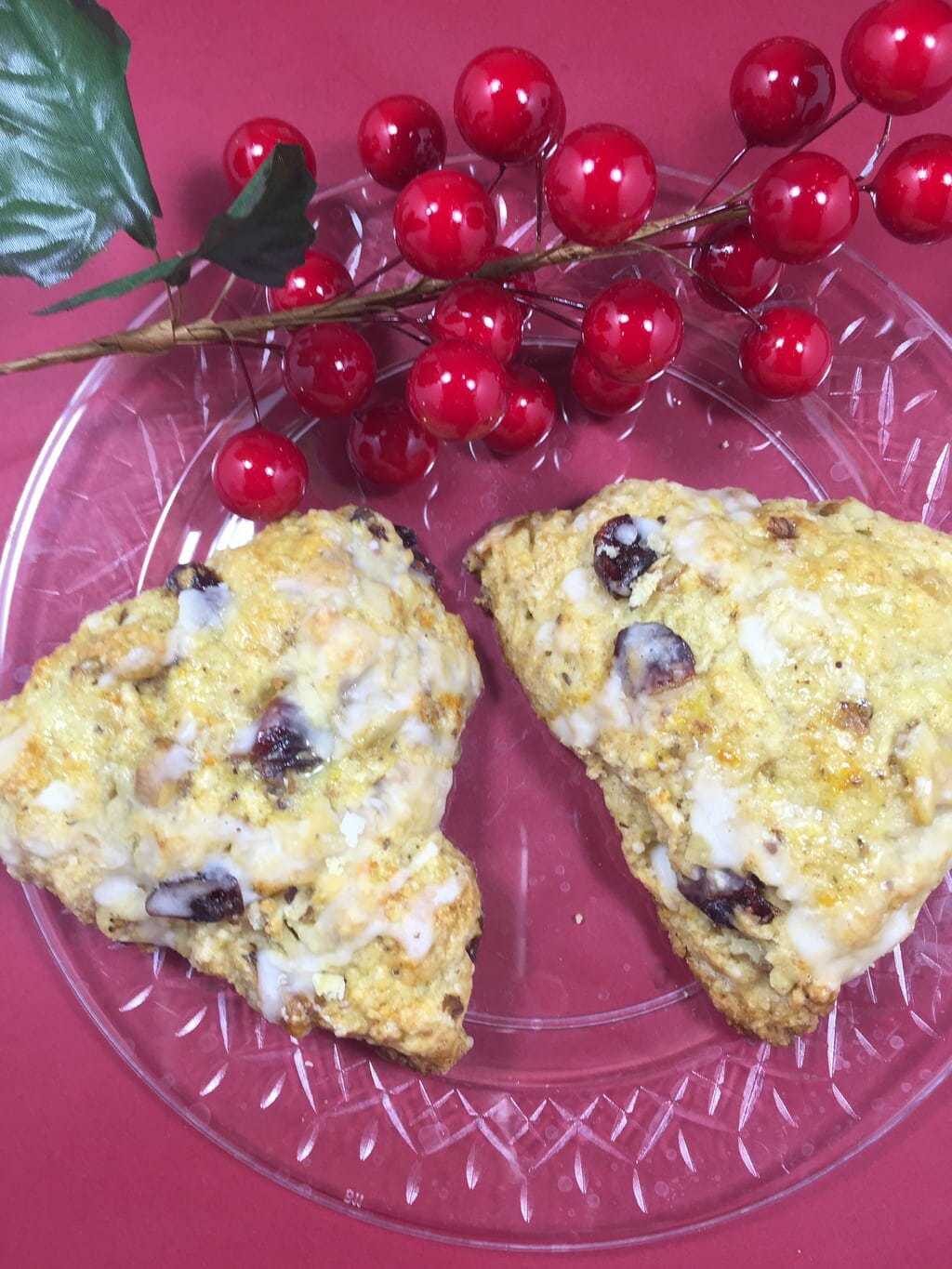 About Holiday Scones – Two Ways
Cookies are good and I have several planned for you in the upcoming weeks, but still they're not scones.
Scones are a notch above.
First of all it's the Wow! factor. It looks like you've been baking all day, when in reality these Holiday Scones – Two Ways are simple to make and bake up in 20 minutes.
Scones have actually been around since the 1500's. They originally were a quick bread, almost like a biscuit.
Then cooks became more creative with them and turned them into a pastry, which the English loved and served them at tea.
But the best thing about scones is how creative you can be with them. Lemon Scones, Blueberry Scones, Cherry Scones, Orange Scones, etc. In fact, Better Homes and Gardens came up with quite a few more.
How to Make Holiday Scones – Two Ways
Start with a basic recipe and then add your own touches to make them your own.
Although heavy cream is often an ingredient for wonderfully light and rich scones, I was flat out of cream.
But in a pinch you use your imagination. What I did have was eggnog, because my husband adores it and can't wait to buy it as soon as it appears on the shelves after Thanksgiving.
It's thick and rich and wonderful. It should be perfect.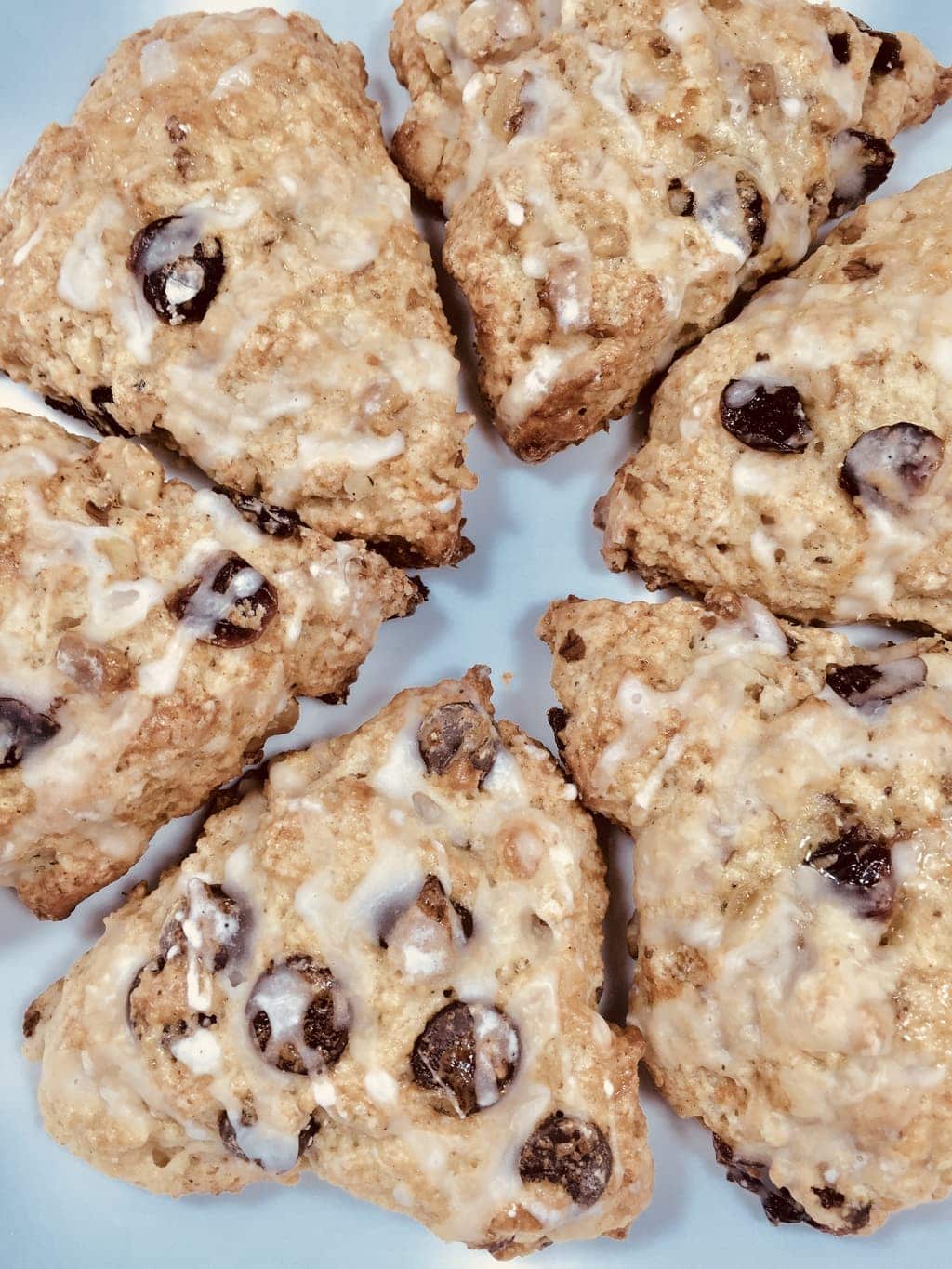 And then I looked further in the pantry for more ingredients to make these scones wonderfully delicious.
Ah yes, dried cranberries, walnuts, cinnamon, nutmeg of course and oranges.
Very Christmassy.
But wait there's the chocolate chips that I was going to use for cookies.
Ok. Let's make two kinds. And add some macadamias. Done and done.
Just a heads up though, scones love a gentle touch. I never bother with the food processor.
It's too easy to overwork the dough resulting in a heavy, hard scone.
So I prefer making scones the old fashioned way.
Measure your dry ingredients in a bowl. Cut your butter in small pieces and work the butter in with your fingers until it begins to resemble coarse meal.
Then add your wet ingredients, and here comes the secret, fold the ingredients in ever so gently together.
You will end up with a bit of a sticky dough, and that's exactly what you want.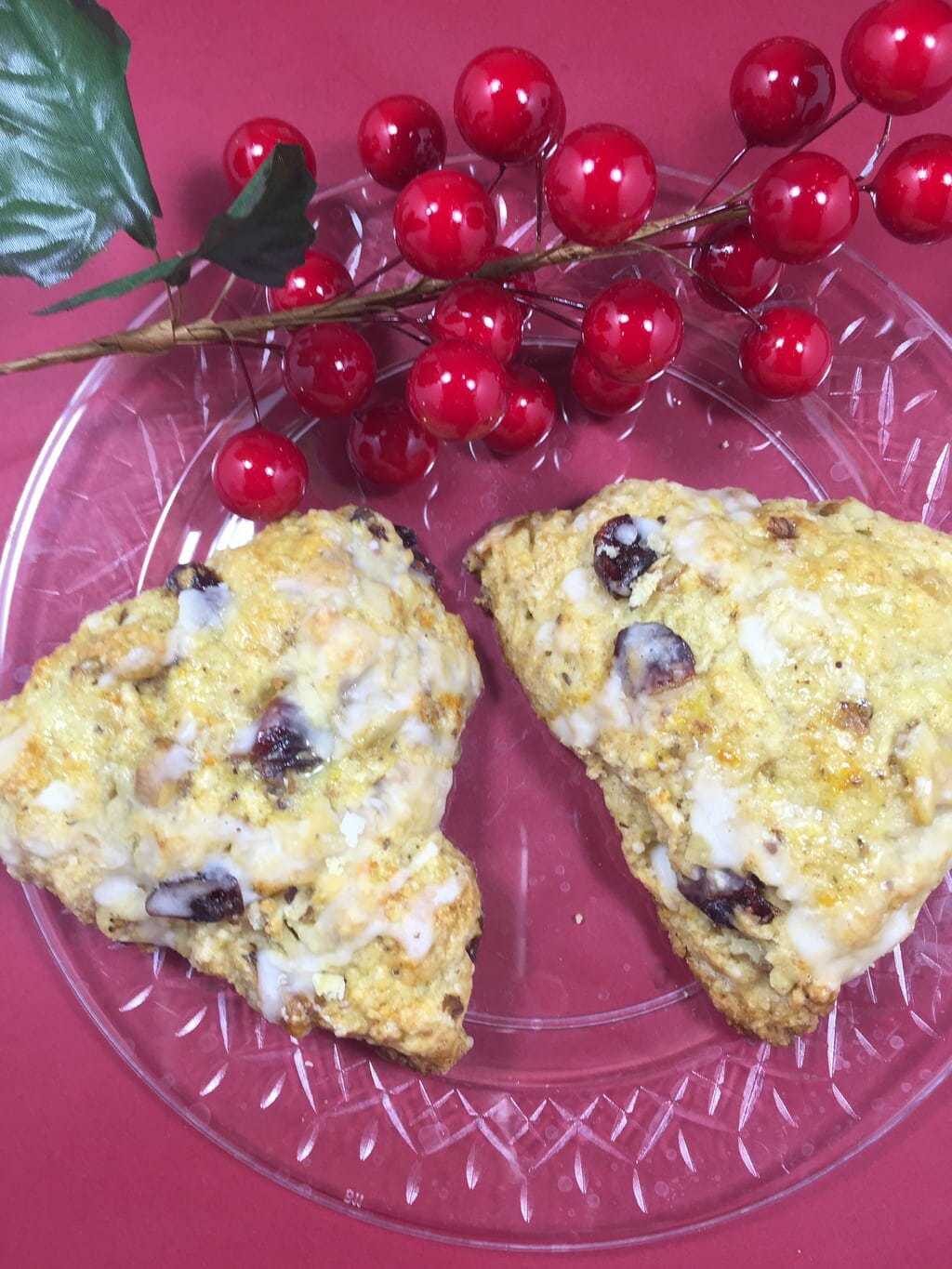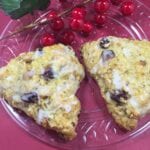 Print Recipe
Holiday Scones - Two Ways
Holiday Scones - Two Ways are fun to make to add a Wow! Factor to your entertaining.

Ingredients
2

Cups

Flour

1/3

Cup

Sugar

2

Tsp

Baking Powder

1/2

Tsp

Baking soda

1/2

Tsp

Cinnamon

1/8

Tsp

Nutmeg

Freshly grated

6

Tbsp

Butter

Cold, cut in small pieces

2/3

Cup

Eggnog

1

Egg

1/2

Tsp

Vanilla

1/3

Cup

Chocolate chips

1/4

Cup

Macadamia nuts

Chopped

1/4

Cup

Dried cranberries

1/3

Cup

Walnuts

Chopped

1

Tsp

Grated orange peel

1

Egg

1

Milk

1/2

Cup

Powdered Sugar

1-2

Tbsp

Eggnog
Instructions
Preheat oven to 400 degrees F

In a large mixing bowl sift flour, sugar, baking powder, baking soda, cinnamon and nutmeg. Add butter and, using your hands, thoroughly mix the butter with the flour incorporating it to a coarse meal.

Make a Well in the center of the flour mixture and add the eggnog, egg and the vanilla extract. Gently fold the wet ingredients into the dry. The dough at this point should be quite sticky.

Divide the dough into two pieces. Add second piece into a separate bowl.

Add chocolate chips and macadamia nuts into the dough in the first bowl. Lightly press chocolate chips and nuts into the dough. On lightly floured surface pat dough into circle, about 6" in diameter and 3/4" thick. Cut circle into 6 wedges and place wedges on parchment lined baking sheet.

Repeat process with the addition of the cranberries, walnuts and oranges in the second bowl. Again pressing fruit, nuts and orange into dough, patting into a circle, cutting into wedges and placing the wedges on a parchment lined baking sheet.

Lightly beat egg and milk and brush the scones with the mixture.

Bake 16-18 minutes until the scones are golden brown.

Mix powdered sugar and eggnog to consistency that is loose enough to drizzle. When scones are completely cooled, drizzle the icing over the scones and allow to dry.
Nutrition
Calories:
267
kcal
|
Carbohydrates:
34
g
|
Protein:
4
g
|
Fat:
12
g
|
Saturated Fat:
5
g
|
Cholesterol:
52
mg
|
Sodium:
126
mg
|
Potassium:
164
mg
|
Fiber:
1
g
|
Sugar:
16
g
|
Vitamin A:
255
IU
|
Vitamin C:
0.2
mg
|
Calcium:
77
mg
|
Iron:
1.5
mg