These Garlic Roasted Mushrooms are so amazing that you absolutely have to serve them at your next party.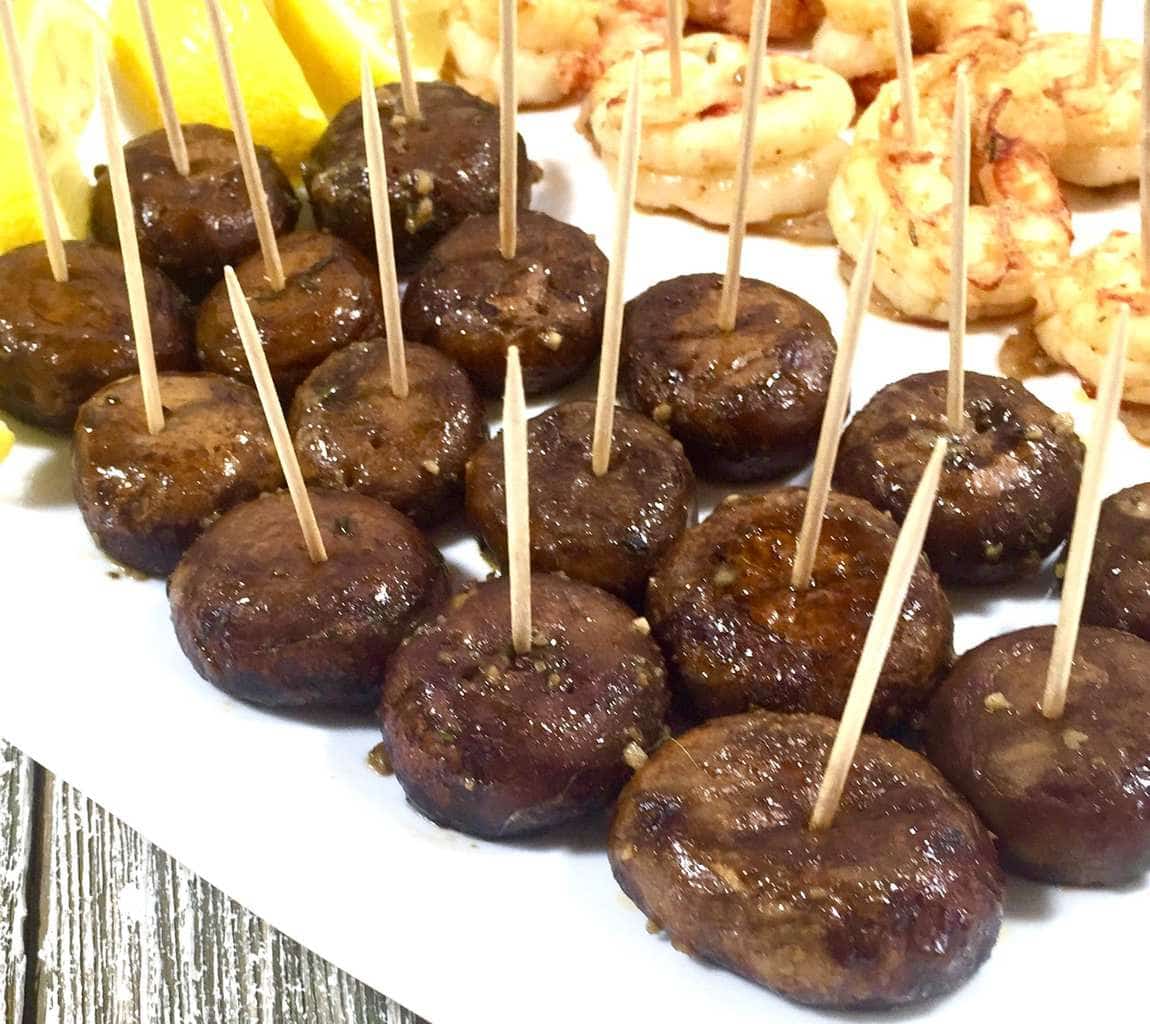 About Garlic Roasted Mushrooms
These Garlic Roasted Mushrooms just scream, "Let's have a party."
The thing is they are sooo good. And they're a perfect appetizer for several reasons.
First, they're easy to eat. Plus they're so decadently delicious that you feel satisfied with just 2 or 3.
And next, my favorite, they are only 17 calories per mushroom. Not bad. And did I mention they're easy to make?
Yep, you only need six ingredients to create all this deliciousness.
Ingredients for Garlic Roasted Mushrooms
Baby Bella Mushrooms
Butter
Garlic
Olive oil
Thyme
Sea salt
How to Make Garlic Roasted Mushrooms
You start of course with the mushrooms. I used Baby Bella's because of  their meaty taste and texture, but you certainly can substitute white mushrooms in this recipe.
First step is to clean the mushrooms. That should go without saying, but there's still some controversy about how to clean mushrooms.
Some chefs say absolutely do not wash them. They insist that washing not only takes away flavor but also makes them mushy, due to the fact that mushrooms are so porous.
So instead, they either brush the dirt off of them or sometimes they will use a slightly damp cloth or paper towel to lightly clean them.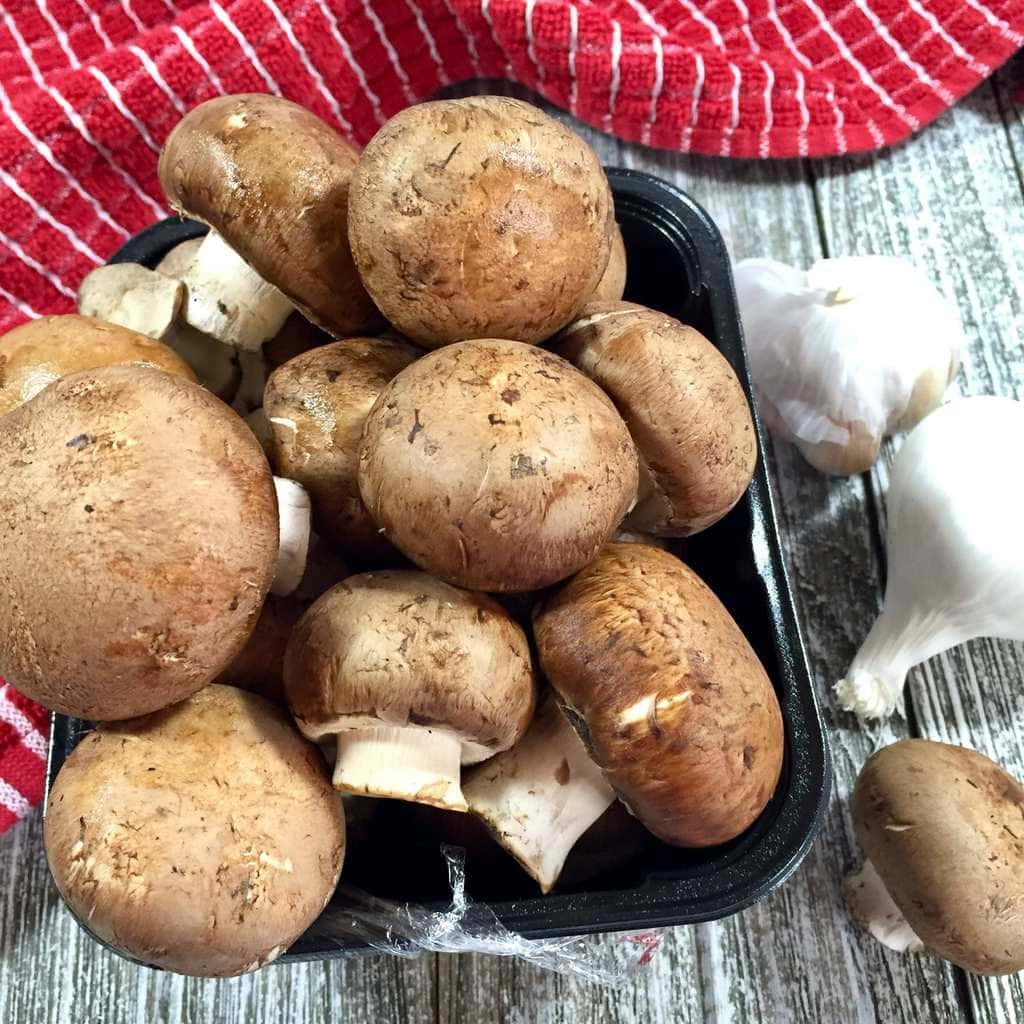 And then there's Julia Child, my favorite chef of all time. I remember videos of her happily making Boeuf Bourguignon and washing the mushrooms without giving it a second thought. 
I'm with her. I like my food to be clean. So I wash them and dry them on paper towels.
And I never have found them to be mushy at all.  
The two secrets of these Garlic Roasted Mushrooms is first the heavenly garlic butter. I mean garlic butter is great on everything from pasta to snails.
Note: Disregard if you don't like the idea of eating snails, but the real reason this dish is so popular is because of the garlic butter.
It is soooo good!
But then with the meaty taste of the mushrooms, the addition of thyme just completes it. Thyme has a slightly sweet, lemon peppery taste.
Perfect with mushrooms.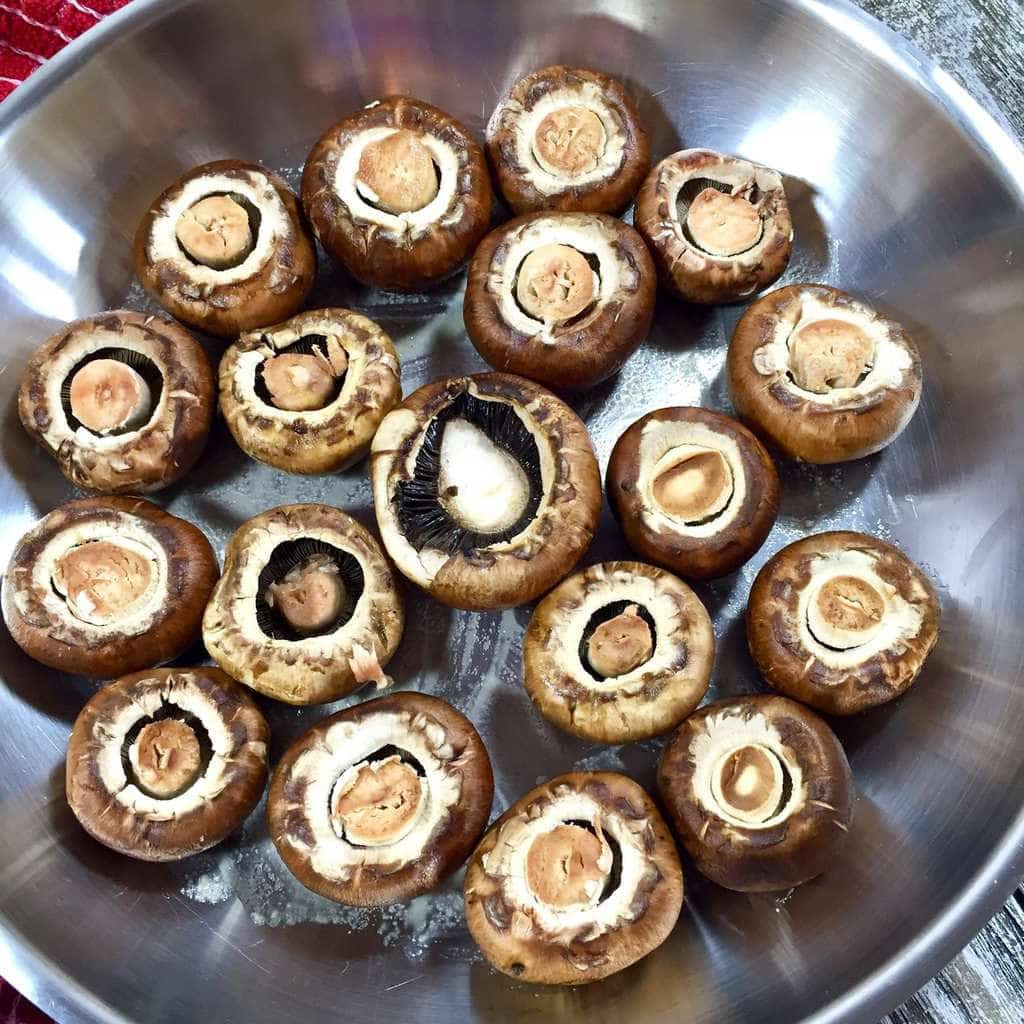 Once these mushrooms are cleaned and trimmed, they're simply arranged in a oven proof pan-stem side up.
And then each mushroom is filled with a little of that delicious garlic butter thyme sauce.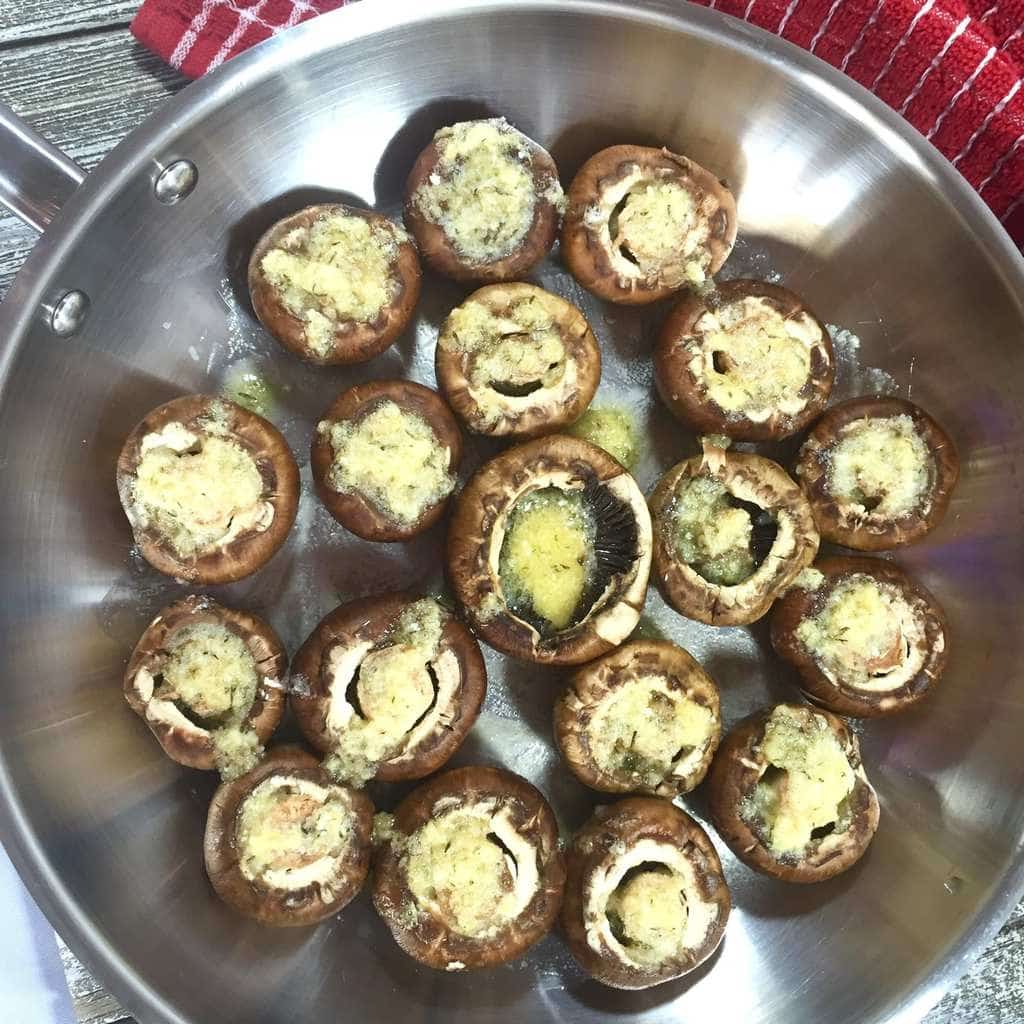 Then you let them bake at 400 degrees untouched for 25-35 minutes. It will be hard though, because the aroma of those mushrooms baking will be like heaven and they will keep calling to you.
But (as with sautéing mushrooms) the secret to caramelization is leaving the mushrooms alone for awhile so they can develop their great depth of flavor. If you move them, they won't be as caramelized or as good.
Once they're finished, that's the time to move them. Mix them up with that wonderful pan sauce.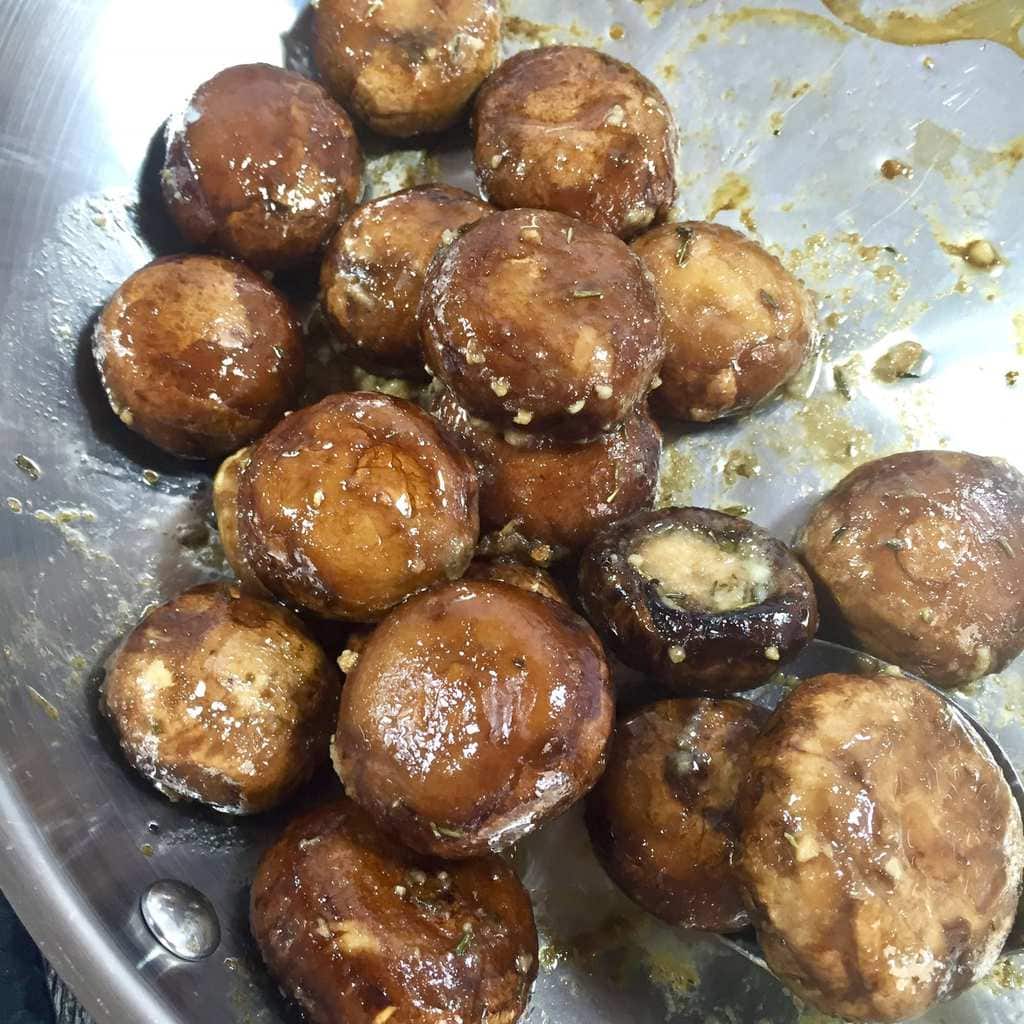 And you're done.
Add toothpicks, and I guarantee those appetizers will disappear in a heartbeat.  Plus if you're into Healthy Recipes, these delicious mushroom have only 17 calories and 1 gram of fat per serving. 
If you like this recipe, leave a comment below and pin us on Pinterest!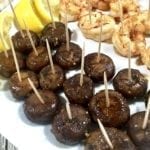 Print Recipe
Garlic Roasted Mushrooms
Garlic Roasted Mushrooms are not only super delicious and healthy, but this recipe is so easy to make with only 6 ingredients.
Ingredients
1/2

Tsp

Olive oil

18

Mushrooms

Baby Bellas

2

Tbsp

Butter

Unsalted

2

Cloves

Garlic

Monced

1/4

Tsp

Thyme

Dried

1/8

Tsp

Sea salt
Instructions
Preheat oven to 400 degrees F

Lightly coat oven proof pan with olive oil

Clean mushrooms and cut stems even with tops. Place stem side up in oiled pan.

Melt butter for 10 seconds in microwave. Add in garlic, thyme and salt. Spoon mixture evenly over mushrooms.

Place pan in oven and bake 25-30 minutes until tender. Remove pan from oven and stir mushrooms to coat with pan juices.

Arrange on a serving platter cut side down. Add a toothpick to each mushroom and serve.
Nutrition
Calories:
17
kcal
|
Fat:
1
g
|
Cholesterol:
3
mg
|
Sodium:
28
mg
|
Potassium:
63
mg
|
Vitamin A:
40
IU
|
Vitamin C:
0.5
mg
|
Calcium:
1
mg
|
Iron:
0.1
mg