Lentils with Sausage is rich, thick, buttery and spicy. It's a perfect soup at any time of the year.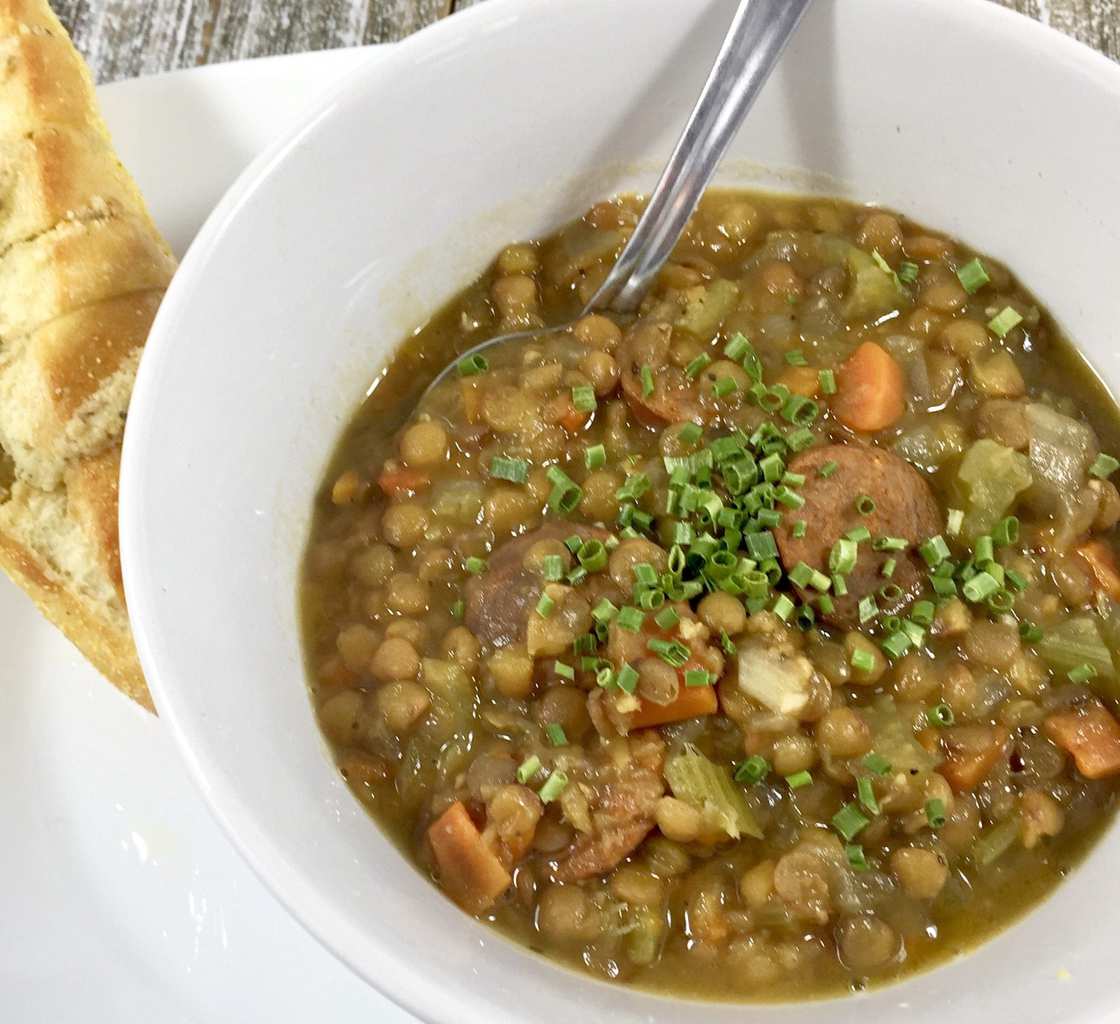 About Lentils with Sausage
I really love this recipe for Lentils with Sausage. It's absolutely comfort food. 
I have to say I never even tried lentils until I was in my 20's. My Mom never made them, nor did my grandmother.
So it really was really just happenstance that I had my first taste of lentils.
I stopped by to see a friend who was busy in the kitchen cooking up lentils and I have to tell you, that soup smelled fabulous. She gave me a little bowl and I fell in love. 
Her soup was garlicky and buttery and really great.  
Over the years I've experimented with lentil soup, adding carrots like she did. Plus I added celery and onions. I also added garlic. 
Where my friend's recipe was made with water, I used chicken broth instead.  And finally to really give it a kick, I added sausage.
At first it was Italian Sausage, but my new favorite is Smoked Chicken Andouille Sausage which I found at Trader Joe's. The smokiness is great, and the spice is unbelievable. 
And a big plus is that it's made with chicken, so a lot lower in calories than the Italian Sausage.
So let's make it!
 Ingredients for Lentils with Sausage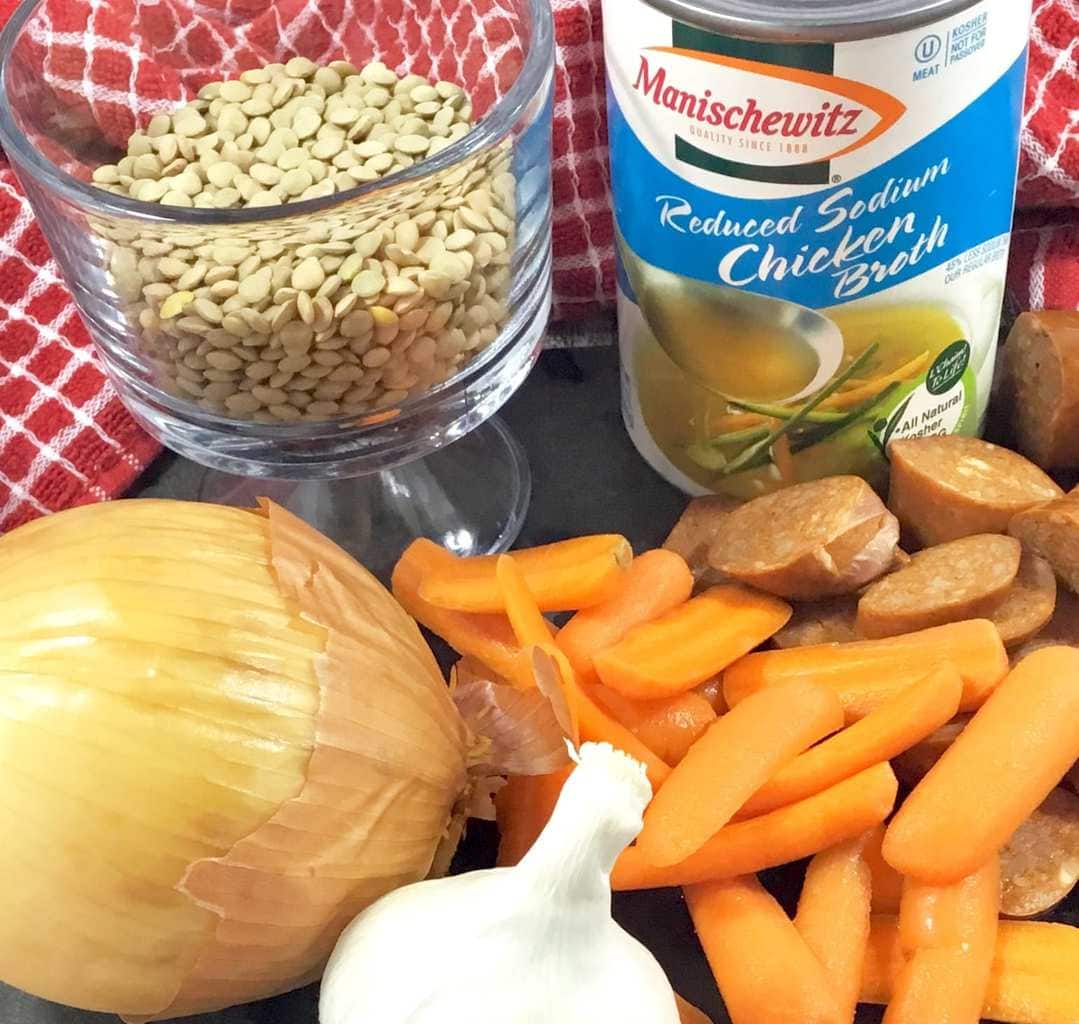 How to Make Lentils with Sausage
Begin with a mirepoix – that wonderful combination of carrots, celery and onions – which is sautéed in a little butter. Always a great way to start any soup for added depth of flavor. 
Then when the onions begin to caramelize, that's the time to add some minced garlic and let all of that cook along for another couple of minutes.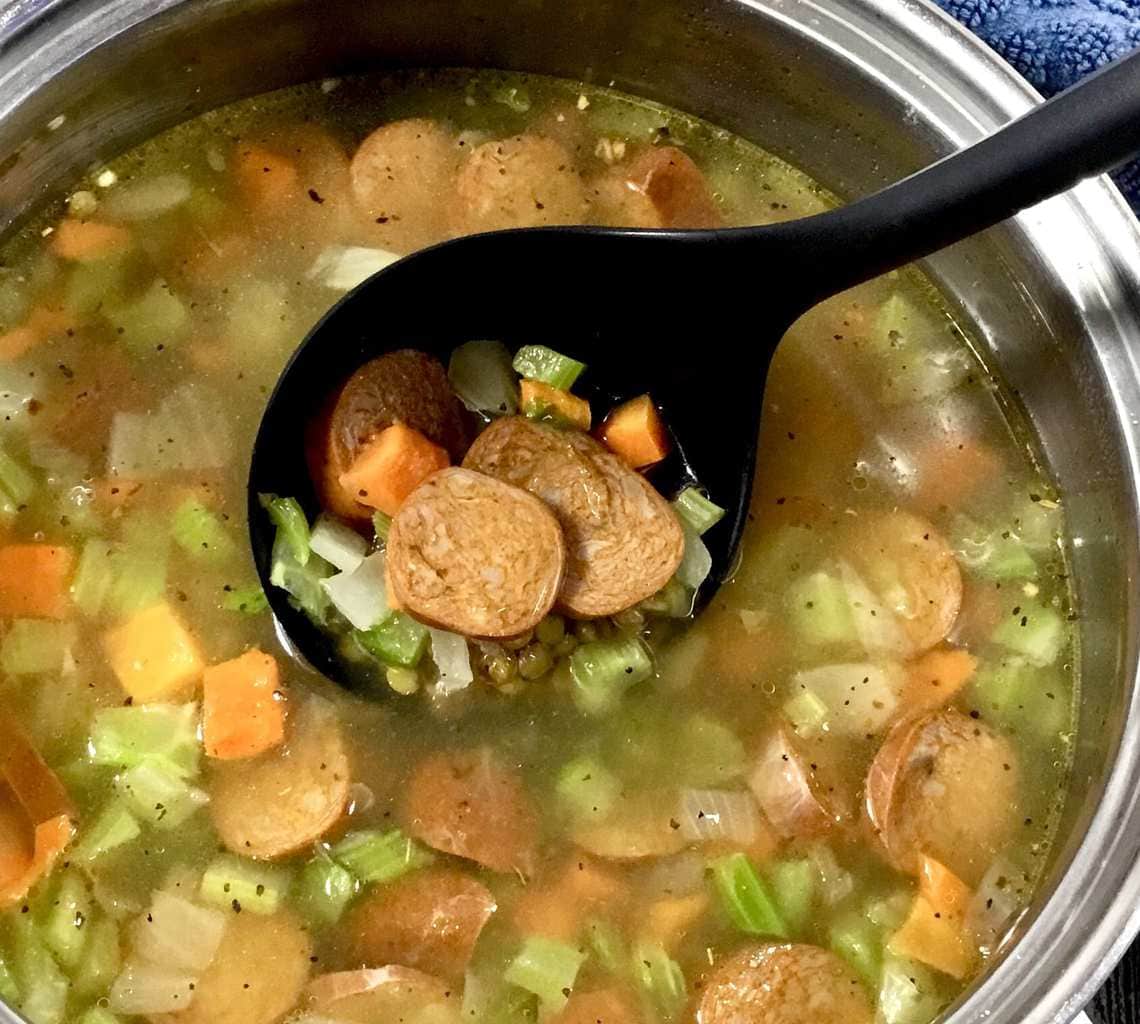 Next, rinse and drain the lentils and add that to the vegetables along with pepper and then what really adds to this recipe is McCormick's Mediterranean Spiced Sea Salt. 
More than just sea salt, this spice combines lemon peel, basil, red pepper, oregano and red bell pepper.
 Finally, add the great spicy flavor of that Smoked Chicken Andouille Sausage. Did I mention that it's already. It's smoked actually. 
Spicy and smoky. It all works together perfectly. 
But the real the secret to the wonderful buttery flavor is how long you allow the lentils to cook. 
Normal cooking time is 35-40 minutes. Personally I let the lentils simmer on low for much longer, like an hour or more. The flavors just meld together better.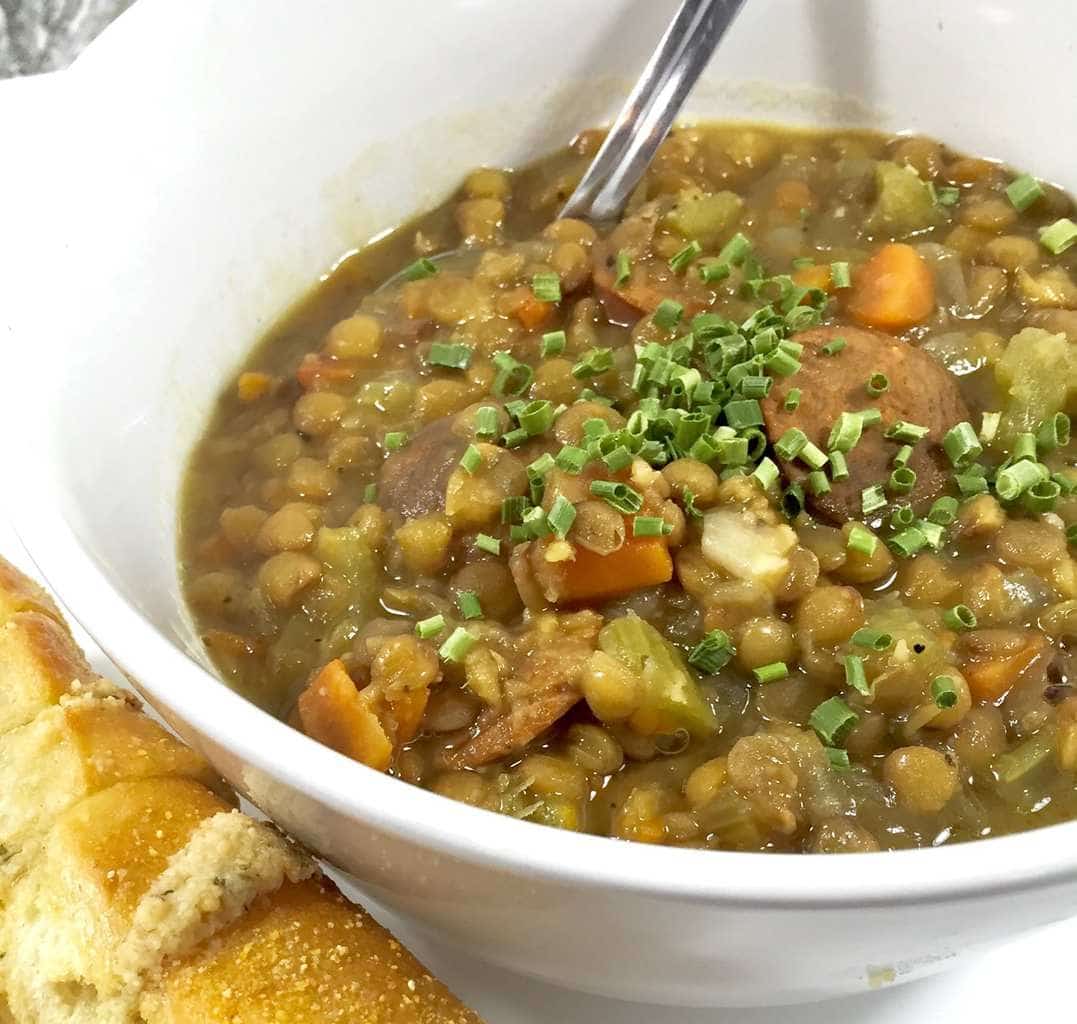 Now, to be honest, at first glance this soup doesn't look all that appealing.
I mean the best lentils for soup are usually earth colored and when fully cooked they become a deeper, almost muddy, brown and the soup becomes very thick.
But after one taste you'll understand why so many people love lentils. During the cooking process the soup goes from almost a thin peppery taste to a rich buttery spicy taste. Perfect comfort food.
Oh, and as far as healthy recipes go, this one is not only totally delicious but it also only has 402 calories per serving.
Healthy and delicious. A great combination.
Note:
For this recipe I used Chicken Andouille Sausage, because I love  the spicy taste. But really any type of sausage can substitute.
And if you like lots more vegetables, Alton Brown has a great recipe you might try as well.
If you like this recipe, please leave a comment below and be sure to pin us on Pinterest!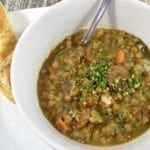 Print Recipe
Lentils with Sausage
Ingredients
1

Tbsp

Butter

1/2

Onion

Chopped

4

Large

Carrots

Chopped

4

Stalks

Celery

3

Cloves

Garlic

Minced

1 1/2

Cup

Brown Lentils

Rinsed and drained

1/2

Tsp

Mediterranean Spiced Sea Salt

McCormick's

1/2

Tsp

Pepper

6

Cups

Low Sodium Chicken Broth

Manischewitz preferred

1

Smoked Chicken Sausage Links

I used Trader Joe's Smoked Chicken Andouille Sausage
Instructions
In a large saucepan melt butter over medium high heat onions, carrots and celery and stir until onion begin to brown and slightly caramelize, about 6-7 minutes. Add garlic and cook 2 more minutes.

Stir in lentils as well as Mediterranean Sea Salt and pepper. Add in chicken broth and chopped chicken sausage.

Reduce heat to low and cover. Allow to simmer 40-45 minutes until lentils are tender. Serve warm.
Nutrition
Calories:
424
kcal
|
Carbohydrates:
58
g
|
Protein:
30
g
|
Fat:
9
g
|
Saturated Fat:
3
g
|
Cholesterol:
22
mg
|
Sodium:
726
mg
|
Potassium:
1355
mg
|
Fiber:
24
g
|
Sugar:
6
g
|
Vitamin A:
12400
IU
|
Vitamin C:
10.6
mg
|
Calcium:
101
mg
|
Iron:
6.6
mg