This Asparagus with Browned Butter brings a whole new level of deliciousness to asparagus with it's Kicked- Up flavors of garlic, lemon and Parmesan cheese.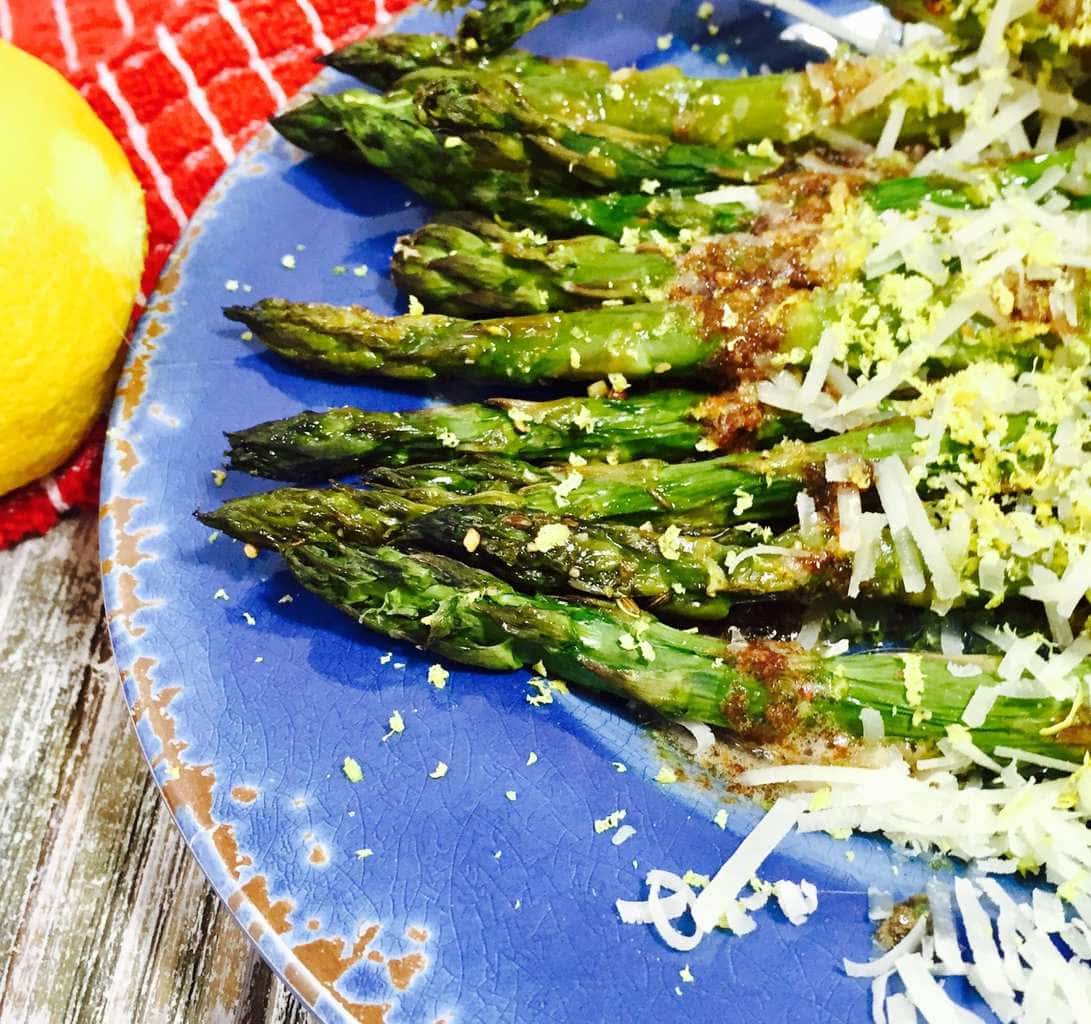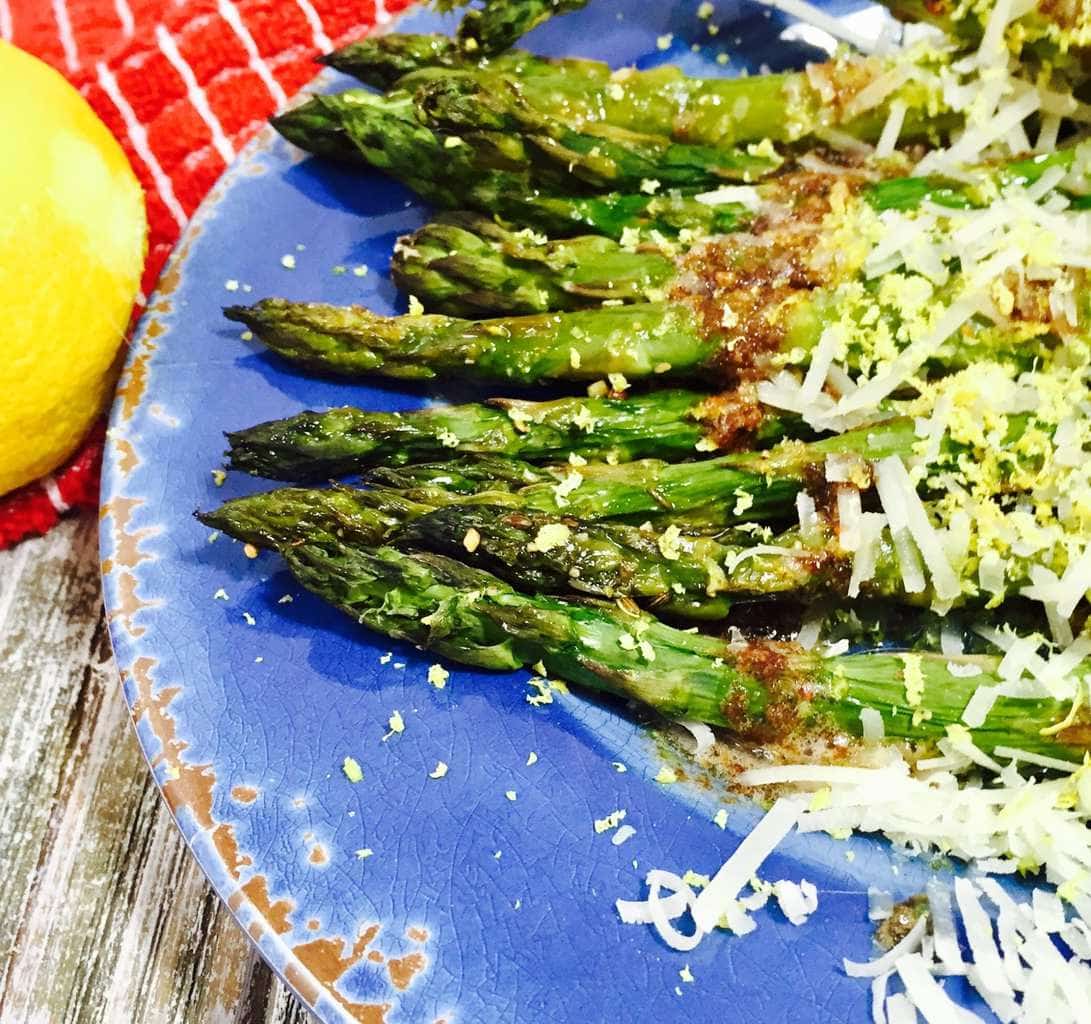 About Asparagus with Browned Butter 
I love asparagus almost any way it can be prepared. Steamed until it's crisp tender, roasted to bring out the nuttiness and sautéed in a quick stir fry.  
And the great thing about asparagus is that it is one of Dr. Andrew Weil's Clean 15 Foods you don't have to buy organic. These are foods that have the lowest pesticide loads.
I have to say though, one of the best ways I've had asparagus prepared was when my mother-in-law from North Carolina made asparagus as an appetizer and served it with Remoulade Sauce. 
The interesting thing is that she boiled it. You would think it would take all the flavor out of it. 
Instead, it was absolutely great. Bright green and crisp tender perfect. 
Her secret was to only let the asparagus boil for 2 minutes. Exactly 2 minutes. Then immediately rinse it under cold water and plate it.  
With this recipe I decided to use her technique and then kick it up a notch with browned butter. 
Fell in love with browned butter the first time I ever tasted at the Old Spaghetti Factory.
Their speciality dish is Mizithra Cheese with Browned Butter.  The dry, salty cheese with the browned butter over the pasta.
Ingredients for Asparagus with Browned Butter
Asparagus                   The star of the show
Butter                           Everything can use a little butter – especially browned butter
Garlic                            And a natural companion of butter is garlic
Lemon Zest                 Lemon just makes everything taste fresh
Parmesan Cheese      To wrap this dish in richness, a sprinkle of Parmesan Cheese
How to Make Asparagus with Browned Butter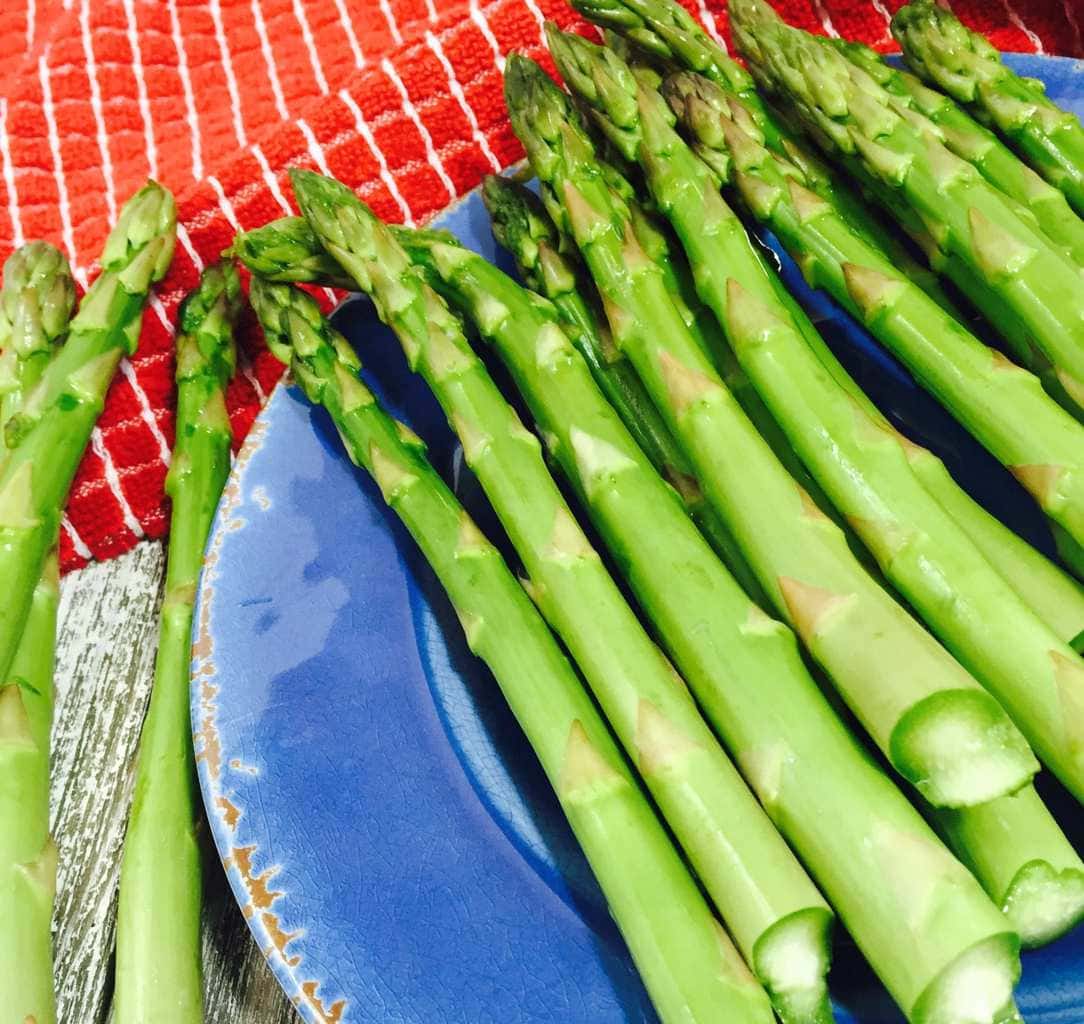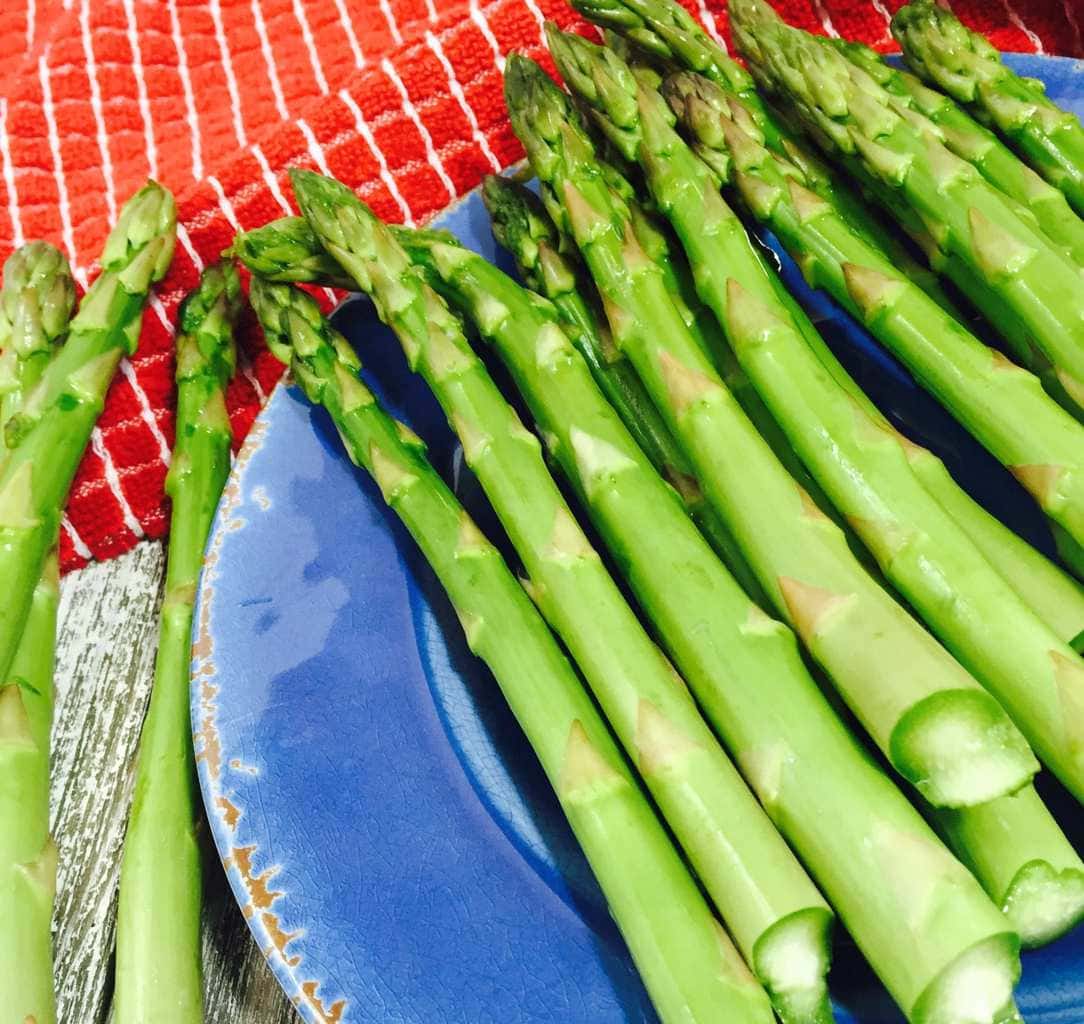 How to Make Asparagus with Browned Butter
Two ways to trim the asparagus. Either cut it, or, do like I do and just snap off the tough ends.  Asparagus just naturally breaks at the tender part.
Then in a pot or a large frying pan, add water and bring it up to a boil. Add the trimmed asparagus to the boiling water and set your timer to exactly 2 minutes.  
I usually buy thinner asparagus because it's more tender, but if your asparagus is thicker just pare it slightly with a peeler. Or boil it for 3 minutes.
When time is up, remove the asparagus to a colander and rinse it with cold water to stop the cooking process. Then plate it on a serving dish.
Next step is the sauce.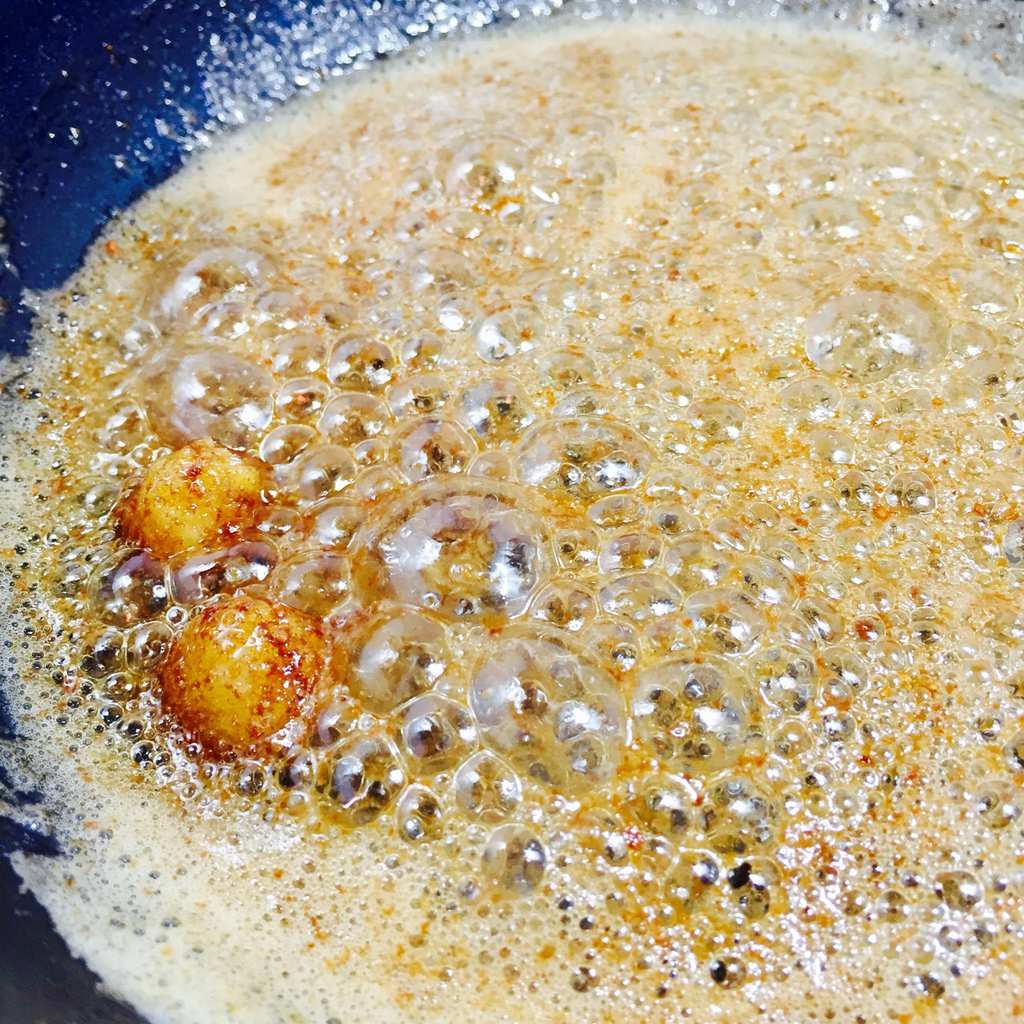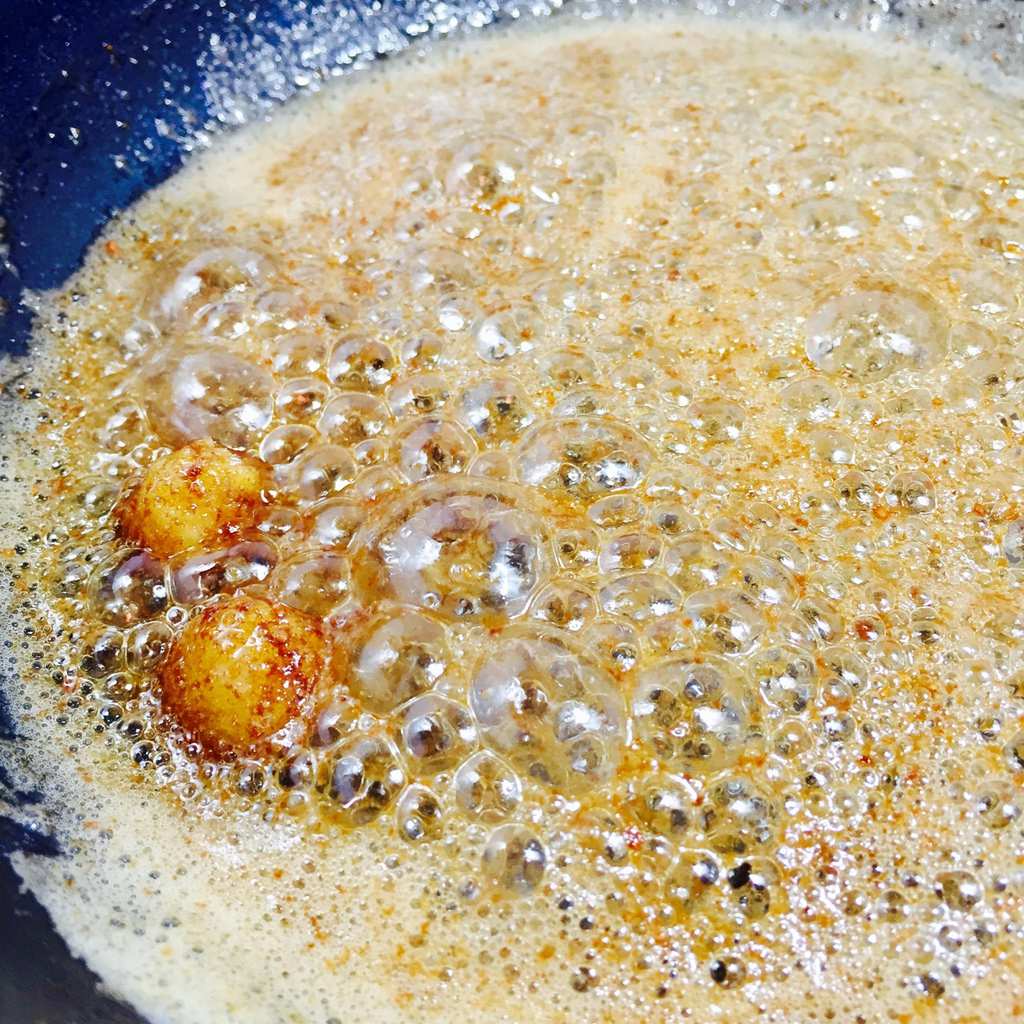 Add 2 Tbsp of butter to a sauté pan and let it cook until it becomes foamy. 
Then add 2 finely minced cloves of garlic. (I saved myself time by using the frozen garlic in the pods you can buy from Trader Joe's or your favorite market.)
Continue to let the butter/garlic cook until it becomes toasty brown.  
Then pour the sauce over the asparagus. Add a couple Tbsp of shredded Parmesan and the fresh zest of a lemon and it's ready to serve.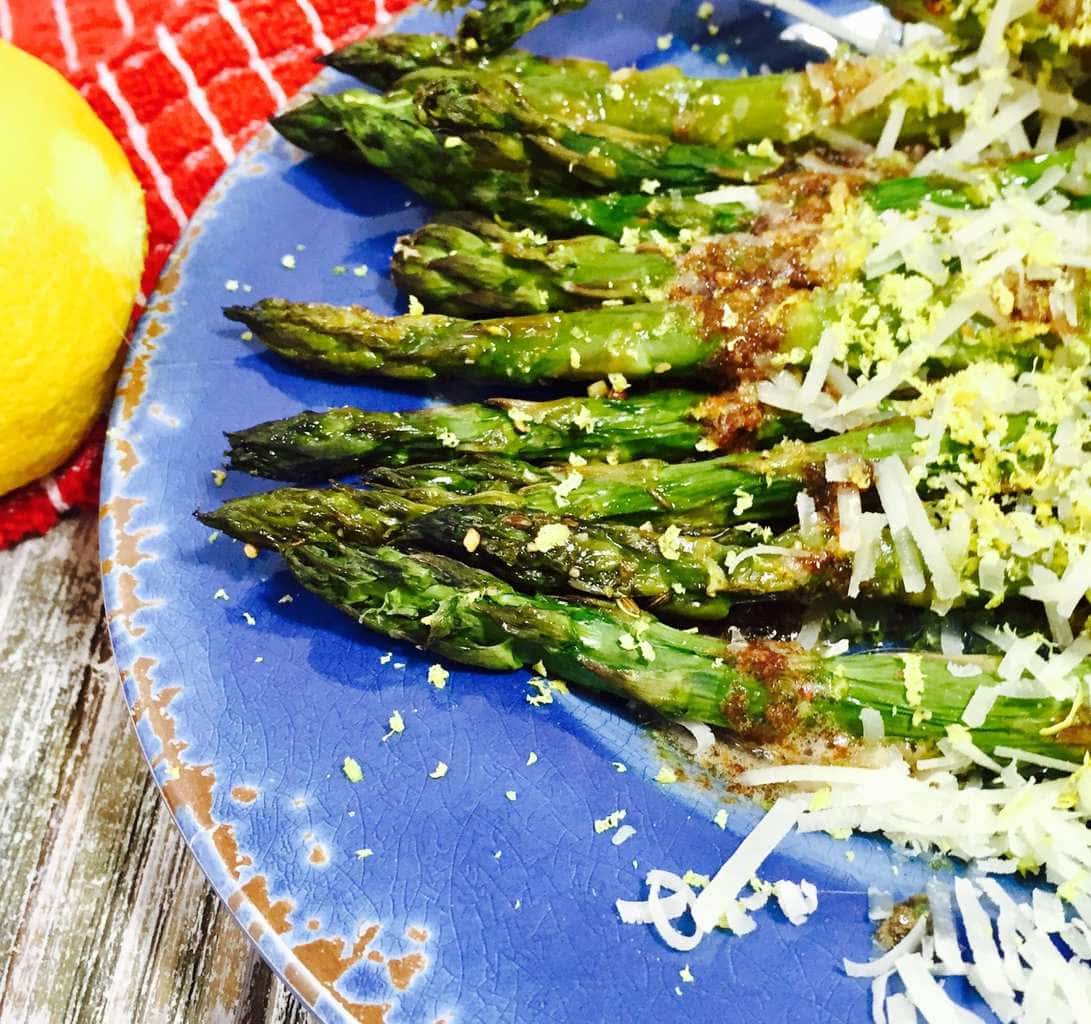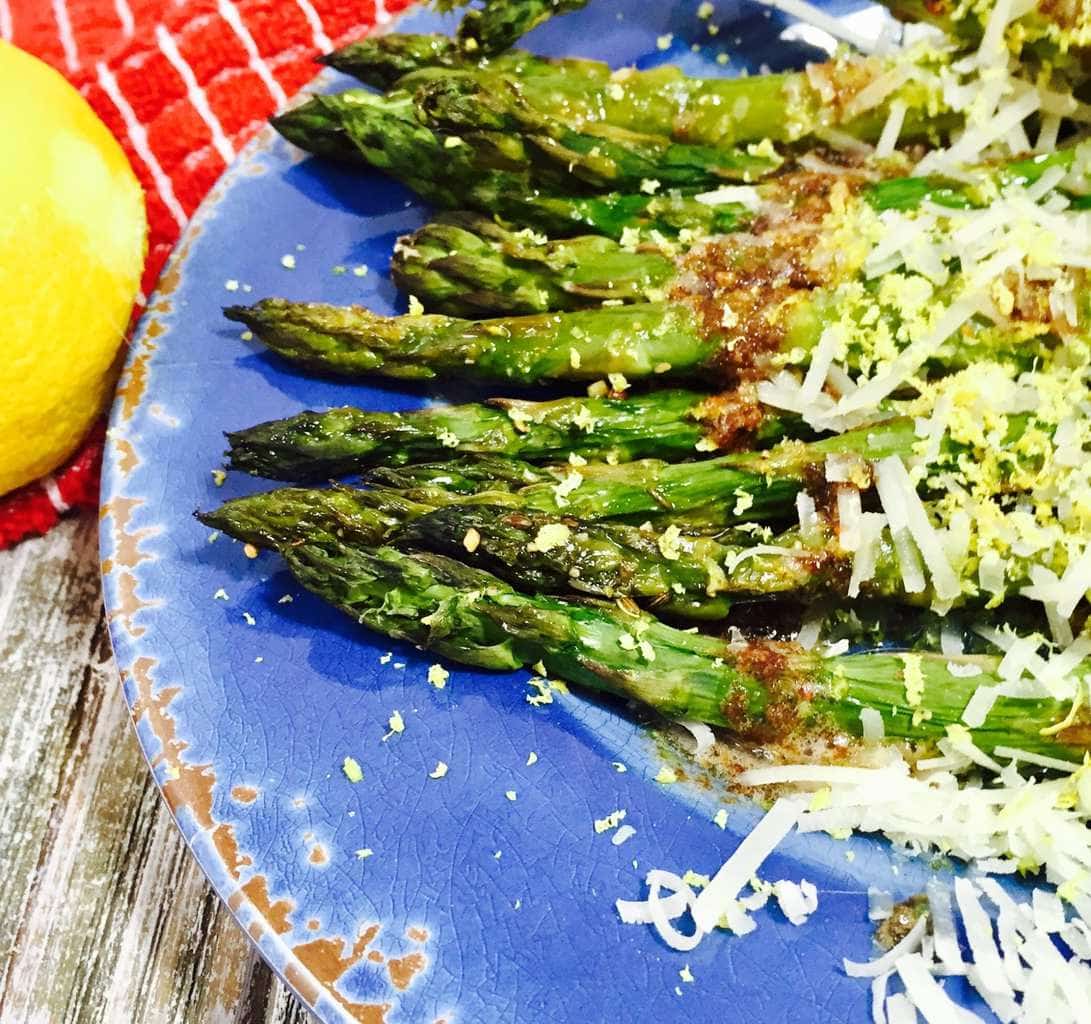 Healthy and totally delicious!  
Also try:
Linguini with Scallops and Browned Butter
If you liked this recipe, please leave a comment below and be sure and pin us on Pinterest.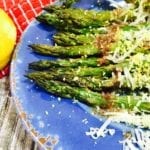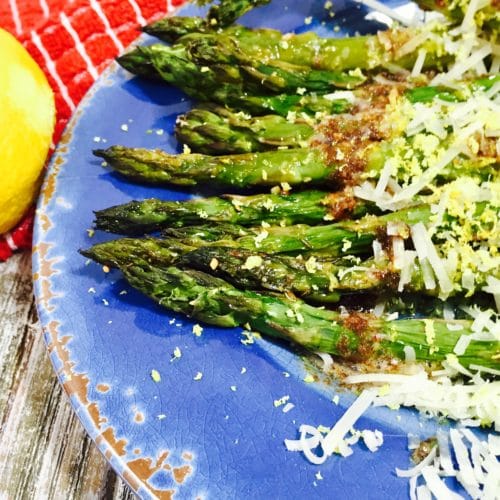 Print Recipe
Asparagus with Browned Butter
This Asparagus with Browned Butter bring a whole new level of deliciousness to asparagus with it's Kicked- Up flavors of garlic, lemon and Parmesan Cheese.
Ingredients
1

Lb.

Asparagus

2

Tbsp

Butter

2

Cloves

Garlic, finely minced

Or Trader Joe's frozen garlic in pods

2

Tbsp

Lemon zest

2

Tbsp

Parmesan Cheese

Grated
Instructions
Wash and trim asparagus by snapping off touch ends.

Bring a pot of water to a boil and add asparagus. Continue to cook for 2 minutes.

Remove from pot and immediately rinse under cold water. Add asparagus to serving dish.

Zest the lemon and grate the Parmesan cheese and set them aside.

Add butter to a saute pan over medium high heat. Cook until foamy, about 1 minute, and add 2 cloves of garlic. Continue to cook 1 minute more until butter begins to brown.

Pour browned butter over asparagus. Sprinkle with Parmesan cheese and finish with lemon zest.
Nutrition
Calories:
87
kcal
|
Carbohydrates:
5
g
|
Protein:
3
g
|
Fat:
6
g
|
Saturated Fat:
4
g
|
Cholesterol:
16
mg
|
Sodium:
93
mg
|
Potassium:
229
mg
|
Fiber:
2
g
|
Sugar:
2
g
|
Vitamin A:
1055
IU
|
Vitamin C:
10.7
mg
|
Calcium:
64
mg
|
Iron:
2.4
mg