This recipe for the Best Roast Chicken results in a Roast Chicken

 

that is tender and juicy on the inside and beautifully bronzed on the outside.

 

The secret is the Asian Marinade.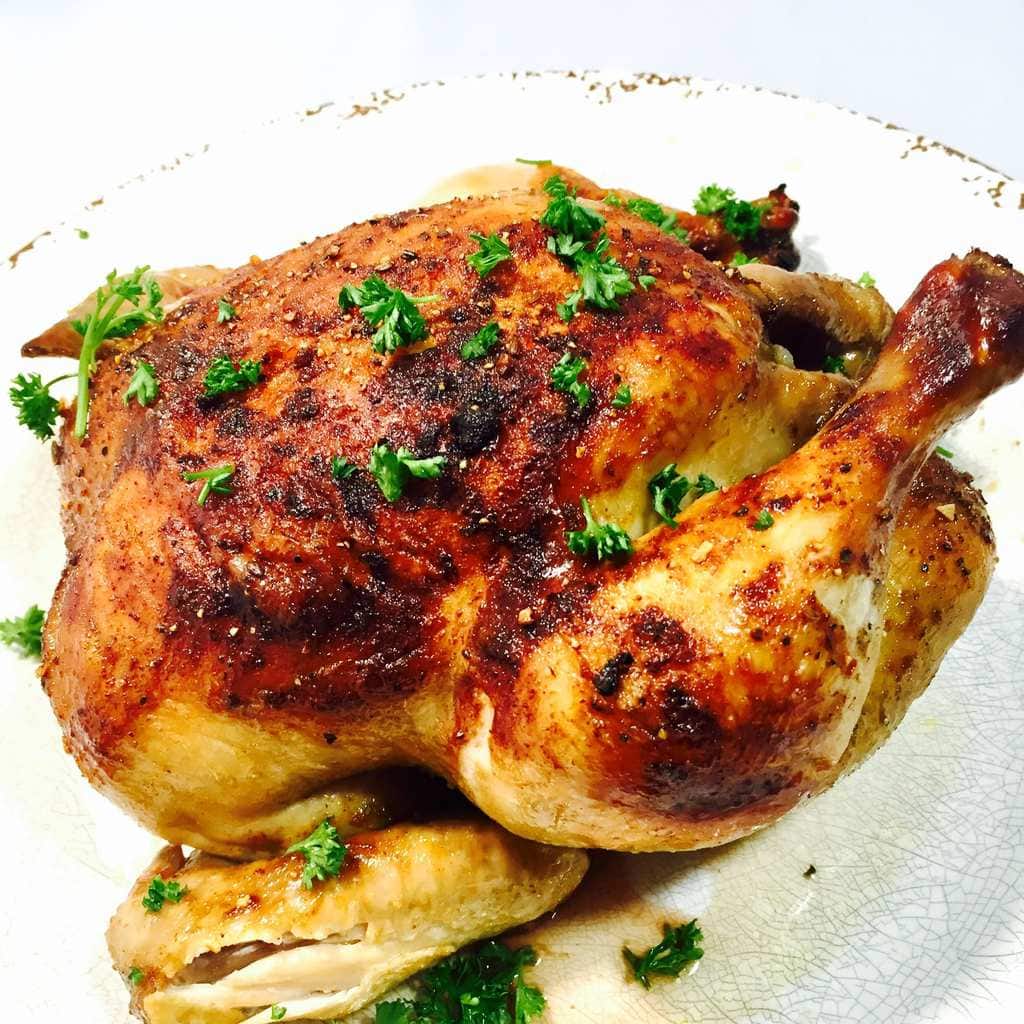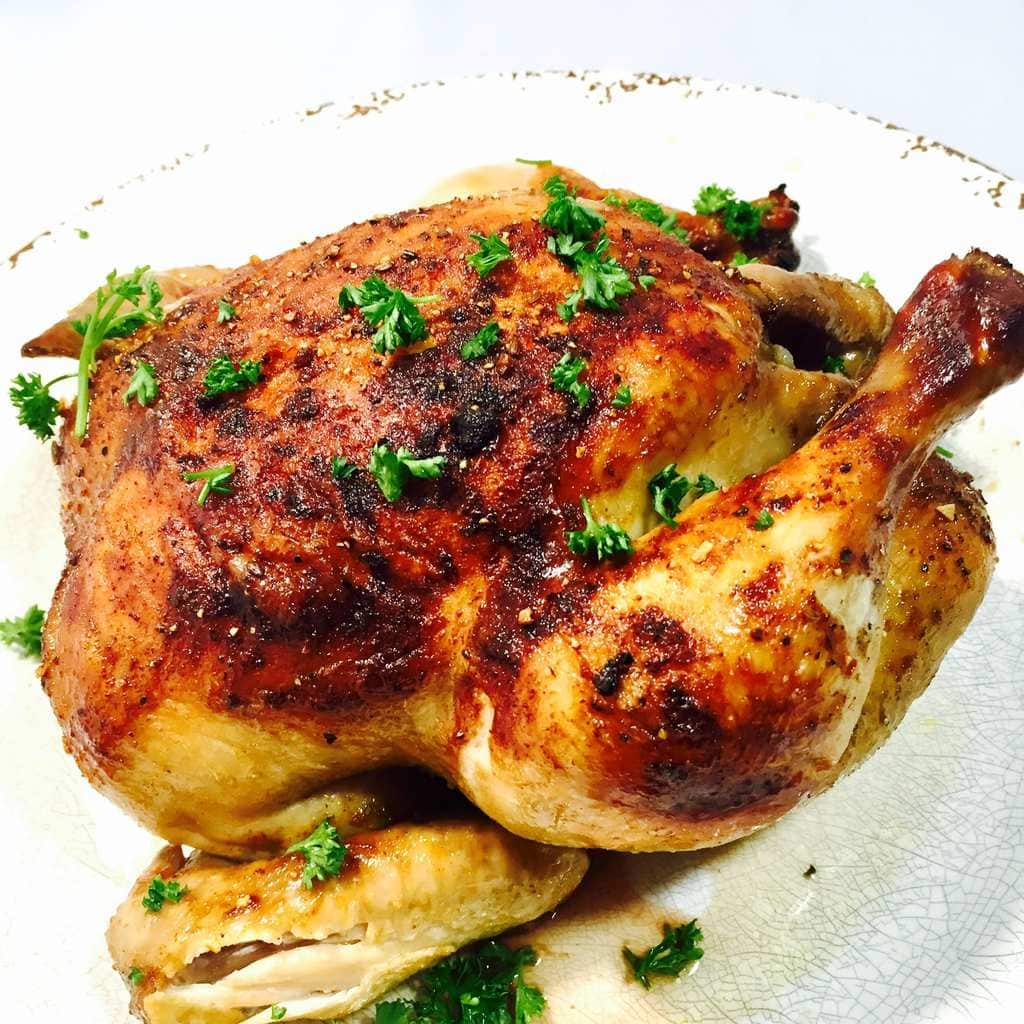 There are so many recipes for roast chicken. Ina Garten makes her husband Jeffrey a great roast chicken almost every Friday because he loves it so much. I've tried her recipe and it's very good but when I think about the best roast chicken I've ever had, I remember one that really stood out. It was one my aunt used to make. I absolutely loved it but I never even thought to ask her for the recipe.  
It had a slight sweetness with an equal amount of savory. And almost a tang to it. But the thing I remember about it most was the deep bronze color on the outside and the incredibly juicy meat and the flavor of the outside permeated throughout the meat.
In trying to duplicate it, I thought it made sense that her chicken had to have been marinated to achieve that kind of flavor. 
I experimented with lots of different marinades from an herby oil based marinade to a basic Italian dressing to a brown sugar based marinade with lemon to balance the sweetness. None of them were right. Too sweet. Too herby. Too tangy. And mostly they all produced a light brown skin at best.  
So on to my next experiment, I thought maybe Hoisin sauce since it's a touch sweet plus savory and I knew that would produce a deep brown color when roasted. Then I added soy and more Asian spices along with a kick of Dijon mustard for tang.  
But, it needed something more. My aunt's chicken almost tasted smoky…almost like she grilled it outside. But I knew she didn't because I remember watching her take it out of the oven. She must have added something else to give it that taste.  
The closest spices I had to that smokiness was Hickory Smoke Powder, Mesquite Smoked Powder and Smoked Paprika. I settled on the Smoked Paprika. Mixed it in and tasted it and that was it very close to it.  
After marinading and roasting, that beautiful bronze color was there.  And when I carved the chicken and saw how juicy it was, I knew I was in the right track. Of course the truth was in the tasting. And yep, because of that marinade, the flavor permeated the chicken throughout.
Ingredients for the Best Roast Chicken
Chicken: The star of the show
Soy sauce: For savory salt flavor 
Dijon mustard: For tang
Canola oil: Binds marinade while keeping a neutral cast
Garlic:  For sharp, savory flavor
Sugar: Just a touch of sweetness to balance the garlic 
Hoisin sauce: For complexity
Lemon olive oil: The lemon adds a tang
Pepper: Just a touch of heat
Smoked Paprika: The spicy smokiness is perfect with the chicken
Garlic powder:  Garlic and onion powder together adds tons of flavor
Onion powder
Yukon gold potatoes: These hold up the best
Baby carrots:  For color, for deliciousness and for health
Shallots:  Not only for flavor but also for health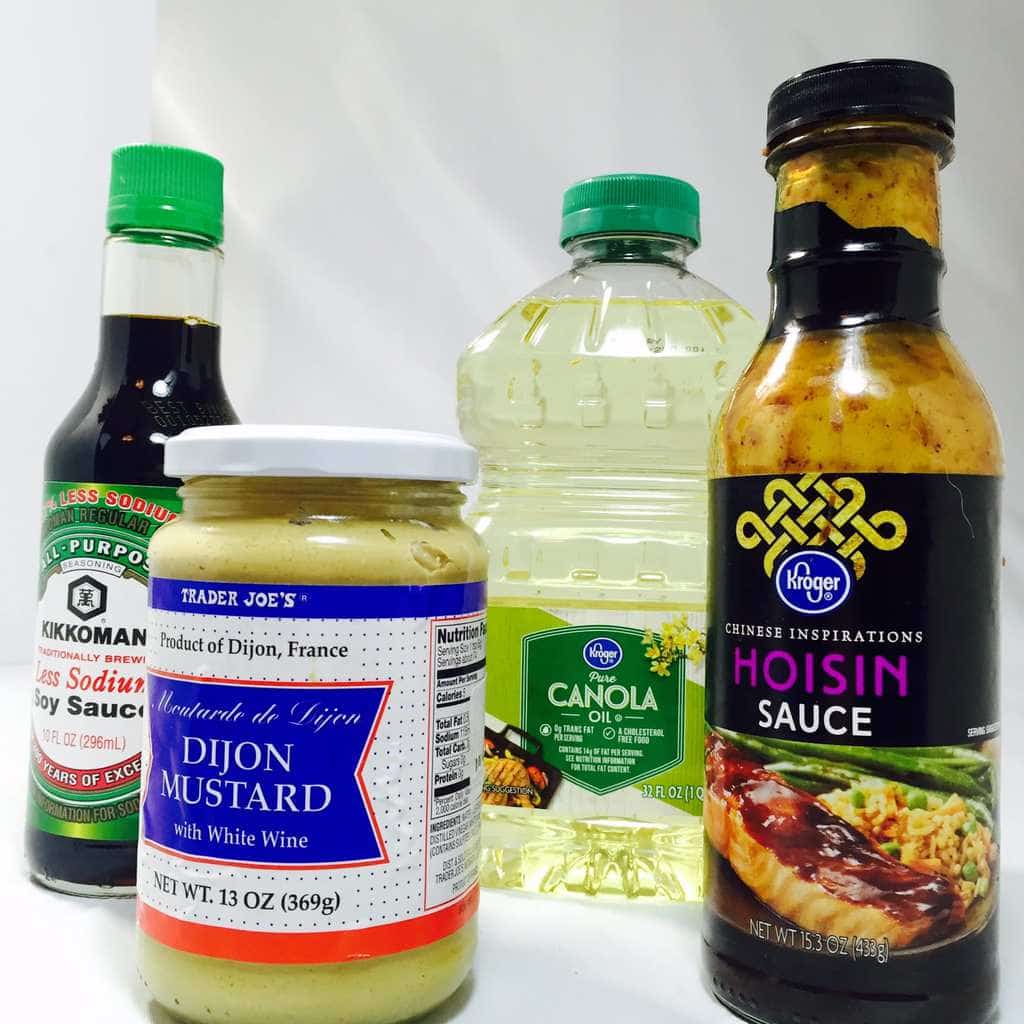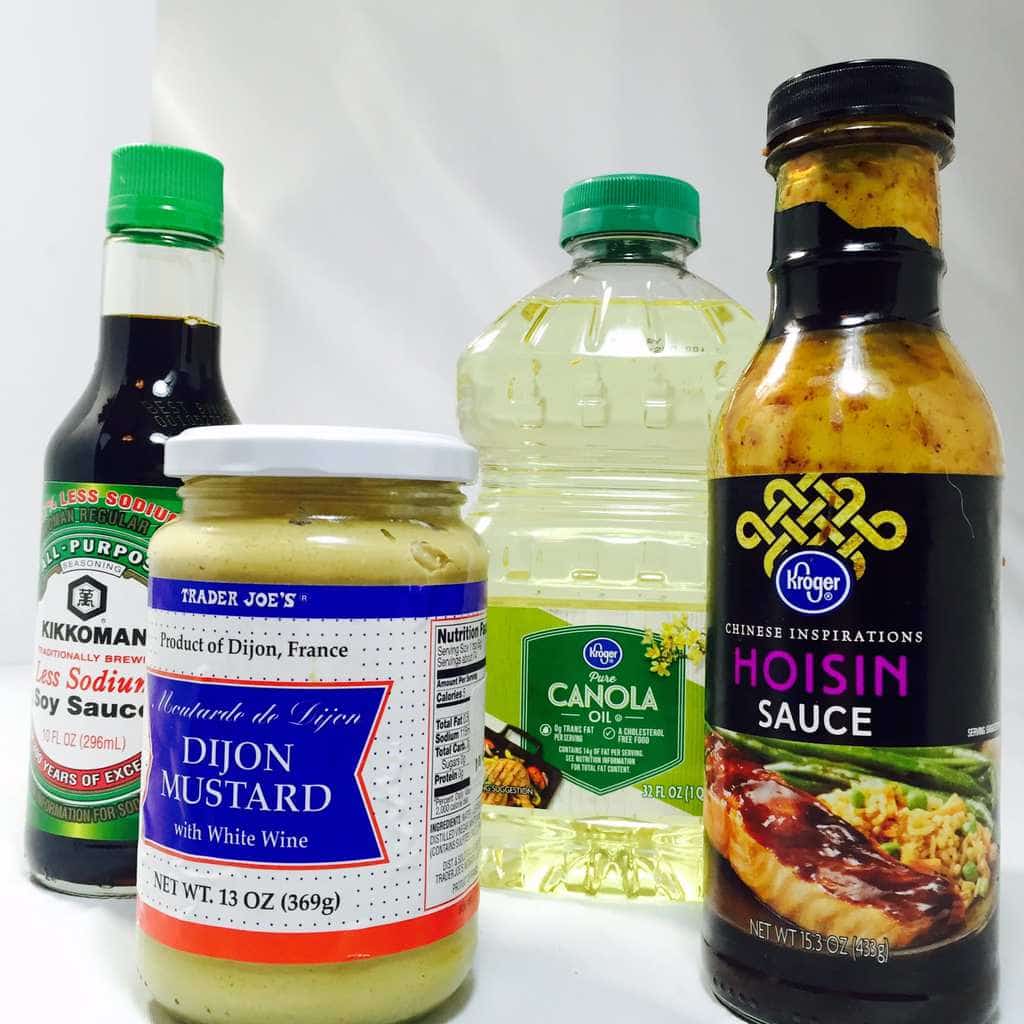 How to make The Best Roast Chicken
I know of chefs who feel that a chicken is perfectly fine without washing because they feel that the chicken will be cooked anyway and all the germs will cook away. However, I had a friend who's Dad owned a chicken farm and he said whenever you make chicken, always wash it. So I do.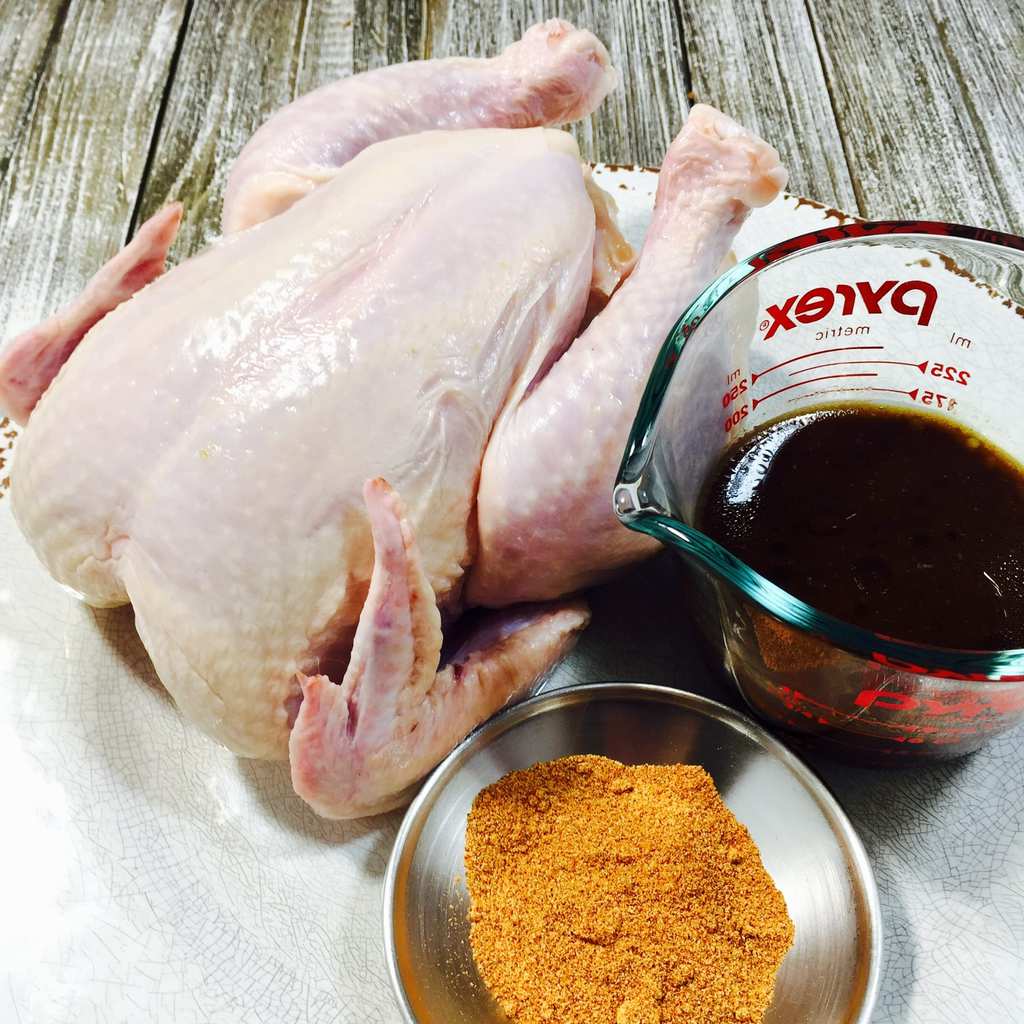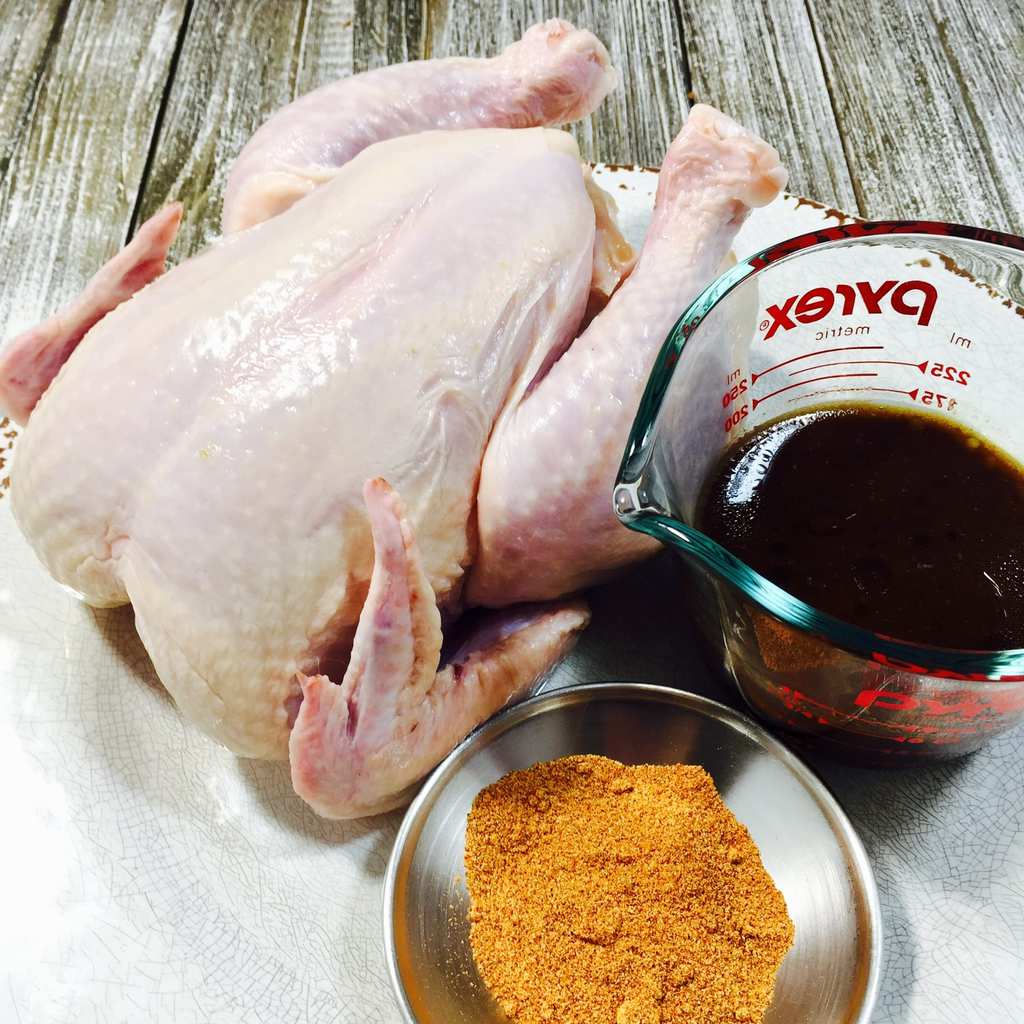 After washing and patting dry with paper towels, place the chicken in a gallon zip lock bag. 
For the marinade:
In a small bowl mix together soy sauce, Dijon Mustard, oil, garlic, sugar and hoisin sauce. Pour the mixture into the bag with the chicken and zip the bag tightly.  Then massage the marinade into the chicken and refrigerate the chicken for a minimum of 4 hours.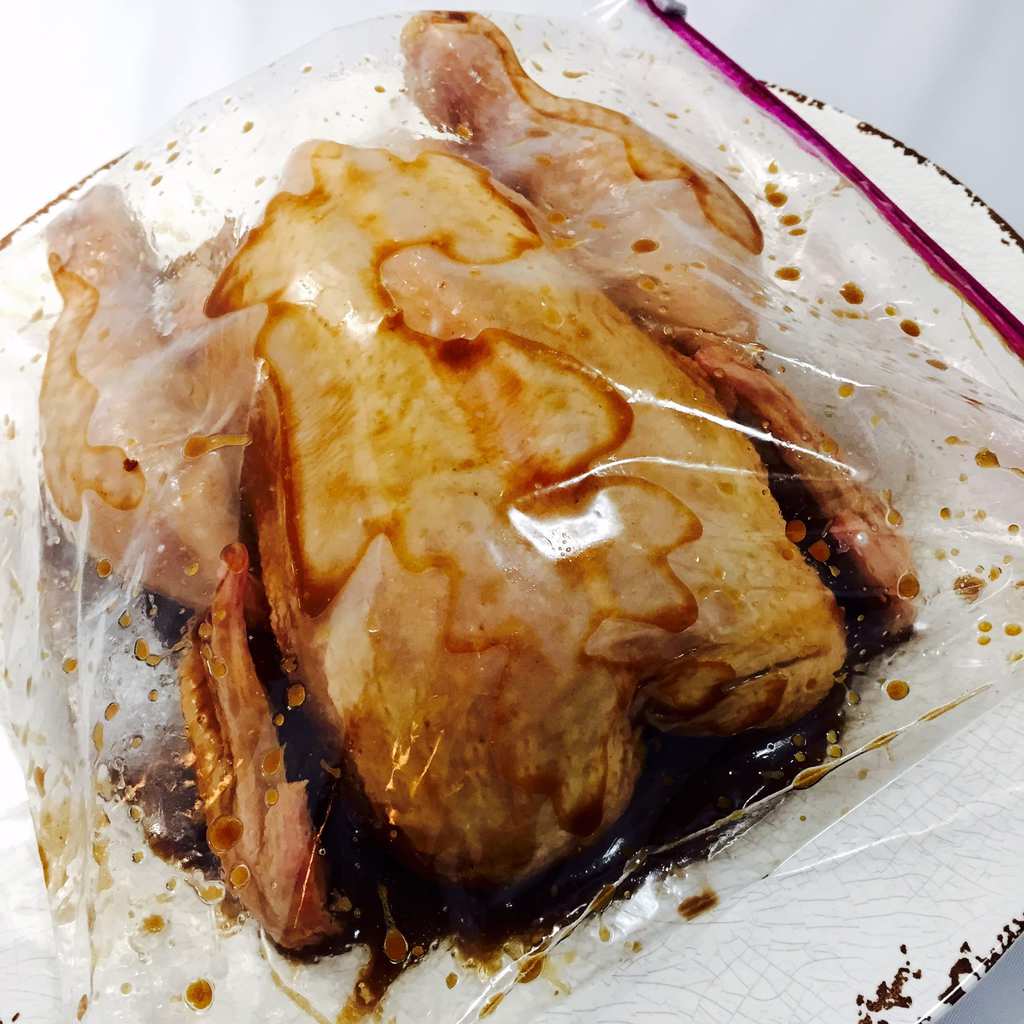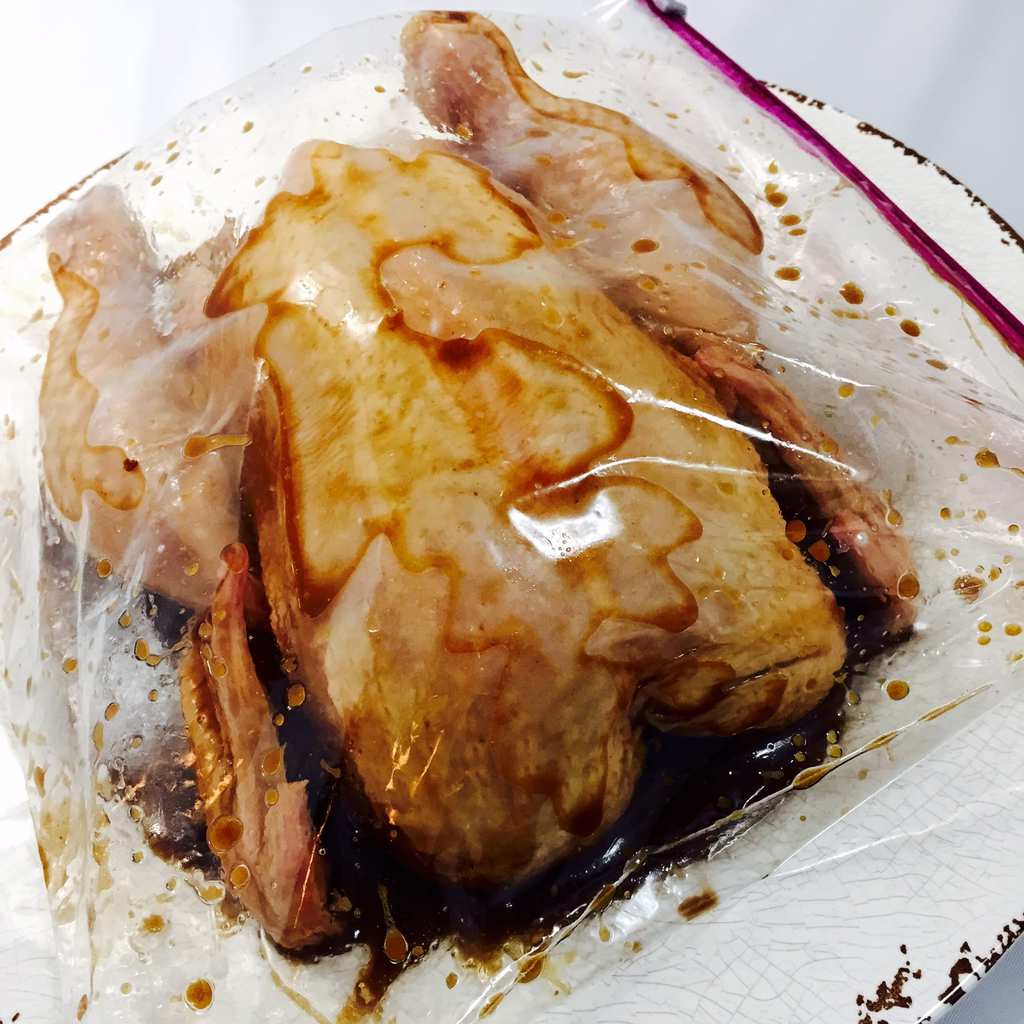 When it's time to cook the chicken,  preheat the oven to 400 degrees F. You'll want the oven to be hot before the chicken goes in. 
While it's heating remove the chicken from the bag and thoroughly pat it dry with paper towels and place it in an oiled baking dish. Then truss the chicken by tying the legs together and tucking the wings under.
Next step is the spice rub. In a small bowl mix the smoked paprika, pepper, garlic powder and onion powder together.
Brush all sides of the chicken with the Lemon Olive Oil. You can substitute with olive oil and a squeeze of lemon, but the blended lemon olive oil is really better for this recipe.  
Then sprinkle the spice mixture evenly over the chicken on all sides.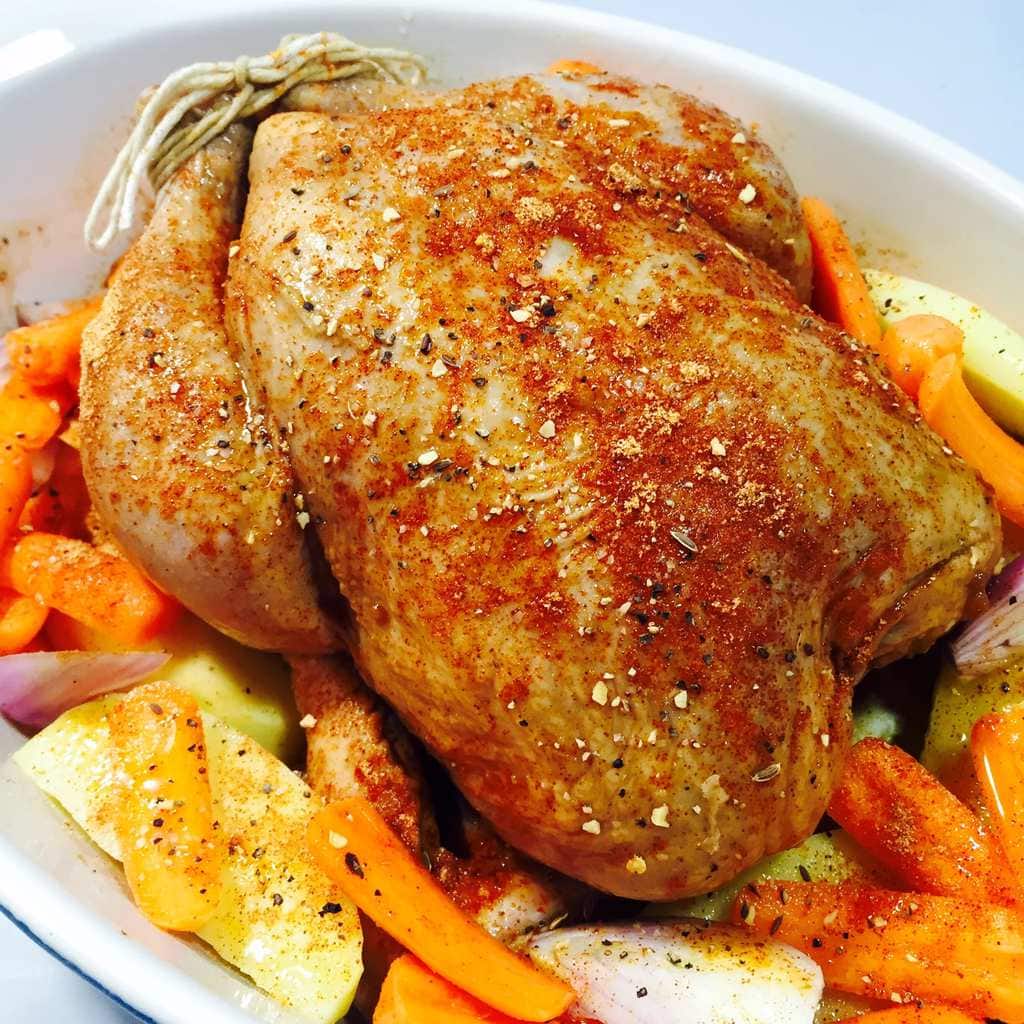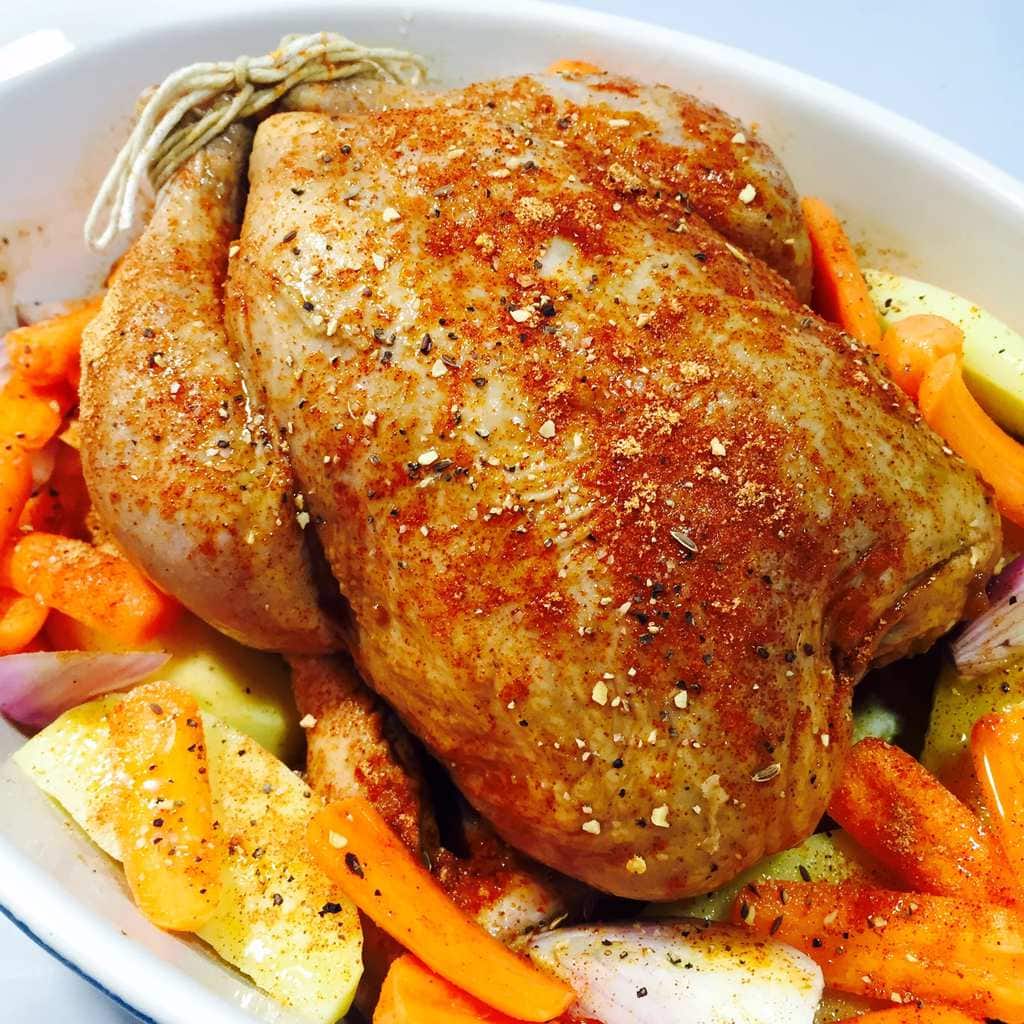 For extra flavor for both the chicken and for the vegetables, add potatoes, carrots and shallots around the outside edge of the chicken. Then bake it for 60-70 minutes or until a meat thermometer inserted between the breast and the thigh registers 165 degrees.  
When finished, remove from the oven and cover it with foil for 10 minutes before you carve it. This adds to the juiciness.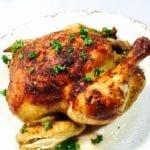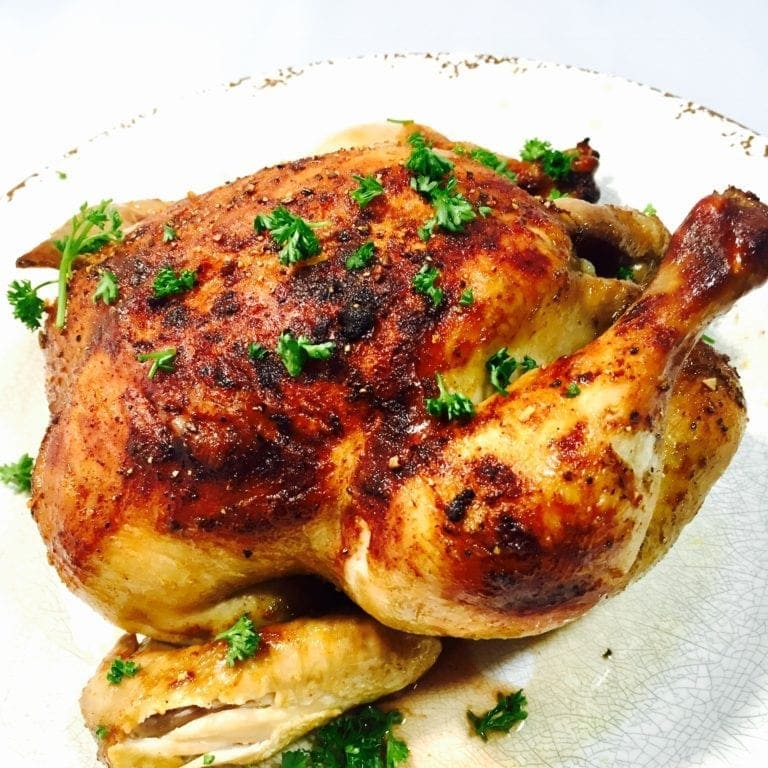 Print Recipe
Best Roast Chicken
This recipe for the Best Roast Chicken results in a Roast Chicken that is tender and juicy on the inside and beautifully bronzed on the outside. The secret is the Asian Marinade.
Ingredients
1

3 lb.

Chicken

2

Tbsp

Soy sauce

2

Tsp

Dijon Mustard

2

Tbsp

Canola Oil

2

Cloves

Garlic

Minced

1

Tsp

Sugar

1

Tbsp

Hoisin sauce

1

Tbsp

Olive oil

1/2

Tsp

Smoked paprika

1/4

Tsp

Pepper

1/4

Tsp

Garlic powder

1/4

Tsp

Onion powder

2

Potatoes

Yukon Gold, large sliced

1 1/2

Cup

Baby Carrots

2

Medium

Shallots

Large sliced
Instructions
Wash and pat dry chicken with paper towels. Add chicken to a gallon zip lock bag.

In a medium bowl add soy sauce, Dijon mustard, oil, garlic, sugar and Hoisin sauce. Whisk to combine.

Pour soy sauce mixture in zip lock bag with chicken. Zip the bag and massage the marinade into both sides of the chicken. Add bag to refrigerator and allow to marinade a minimum of 4 hours.

Preheat oven to 400 degrees F

Remove chicken from bag. Thoroughly pat dry with paper towels and place in oiled baking dish.

Spice rub: Mix sea salt, smoked paprika, pepper, garlic powder and onion powder in a small bowl.

Truss chicken legs and tuck wings under. Brush chicken on all sides lightly with olive oil and rub spice mixture over both sides.

Add potatoes, carrots and shallot around the chicken and roast 1 hour or until meat thermometer registers 165 degrees when inserted between breast and thigh.

When chicken is done remove the oven, cover with foil and let rest 10 minutes before carving.
Nutrition
Calories:
199
kcal
|
Carbohydrates:
22
g
|
Protein:
5
g
|
Fat:
11
g
|
Saturated Fat:
1
g
|
Sodium:
952
mg
|
Potassium:
584
mg
|
Fiber:
4
g
|
Sugar:
4
g
|
Vitamin A:
6740
IU
|
Vitamin C:
13.9
mg
|
Calcium:
53
mg
|
Iron:
4.3
mg
If you like this recipe, please leave a comment below and be sure and pin it on Pinterest!  
Similar recipes that you might like:
Mediterranean Lemon Butter Chicken