Inspired by Chez Panisse, Pork Tenderloin with Rosemary, Fennel and Sage is juicy, tender and a hint of sweetness from the fennel.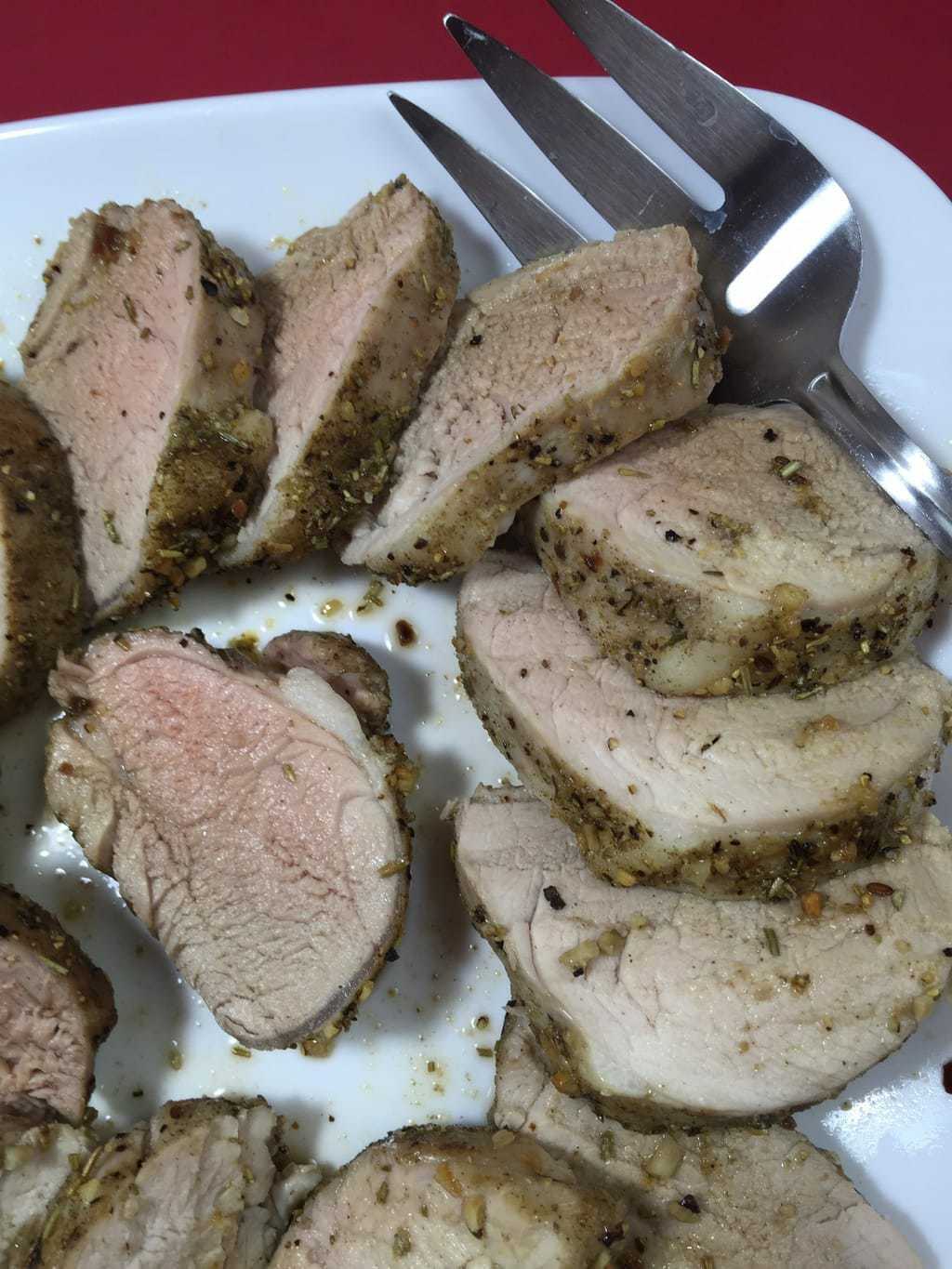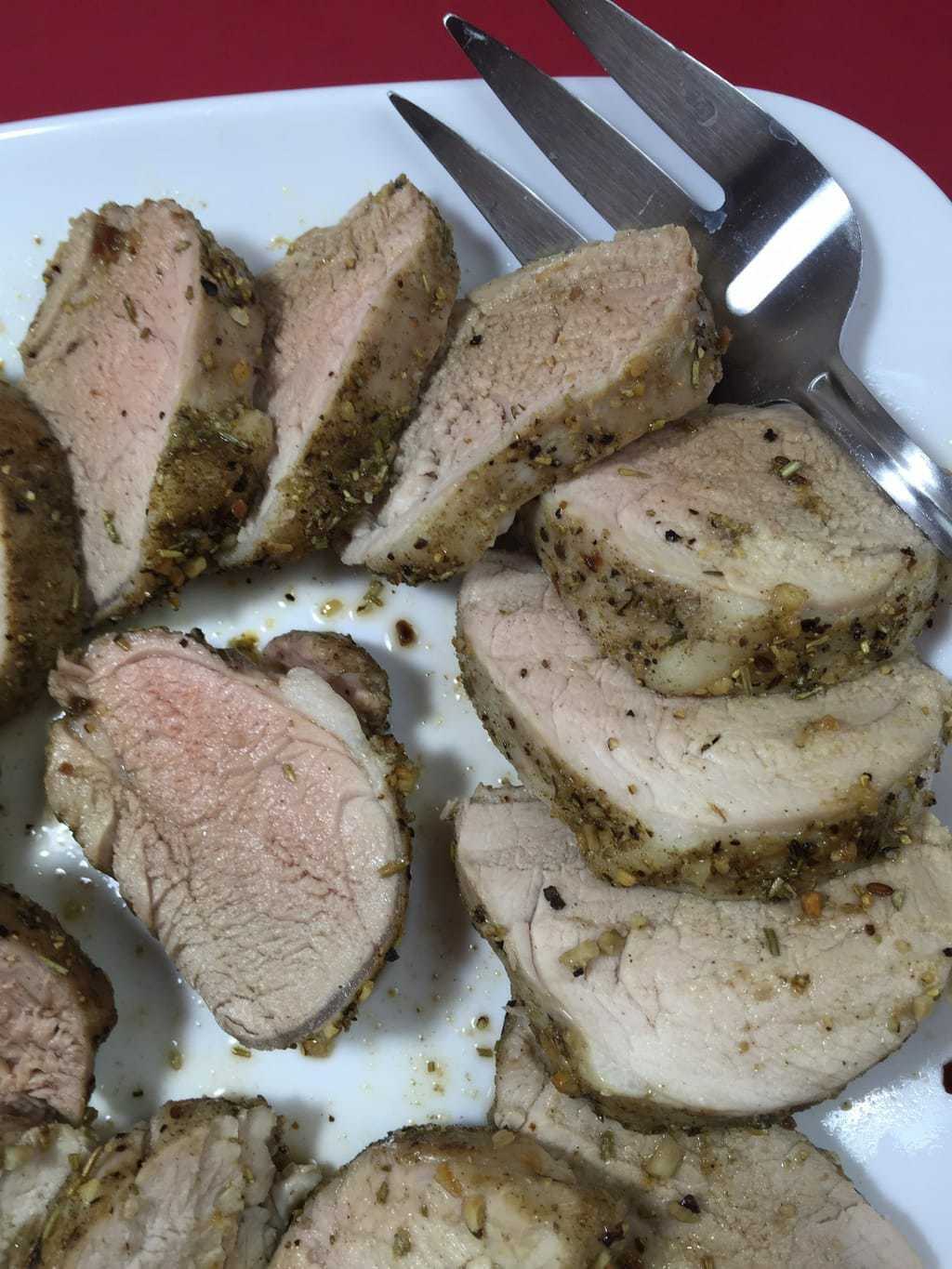 About Pork Tenderloin with Rosemary, Fennel and Sage
It's interesting where you find recipes that stay with you for life. Pork Tenderloin with Rosemary, Fennel and Sage is one of those recipes.
This one was inspired by a food writing class that I had taken a few years ago at the CIA, the Culinary Institute of America in Napa Valley.
The class was amazing enough with students and instructors from all over the United States attending.
But we were also lucky to have our lunch catered by Chez Panisse, Alice Waters restaurant in Berkeley.
All of the food was fabulous, and after one bite of the pork loin, I knew that was the star of the show.
It was unbelievably tender and juicy, but also had a touch of sweetness and savoriness at the same time.
No question about it, I had to find out how they made it.
I was able to catch up with the chef, and he generously told me exactly how he made it.
He said it was a two day process.
He first inserted garlic into the roast and seasoned it with salt and pepper.
Then he added crushed fennel seeds and rubbed them all over the roast.
Finally he added sage and rosemary sprigs, tied them to the roast and refrigerated it overnight.
The following day he let the roast come to room temperature and roasted the large loin on a rack in a 425 degree oven for about an hour.
Labor intensive? Absolutely.
Flavorful? Without question.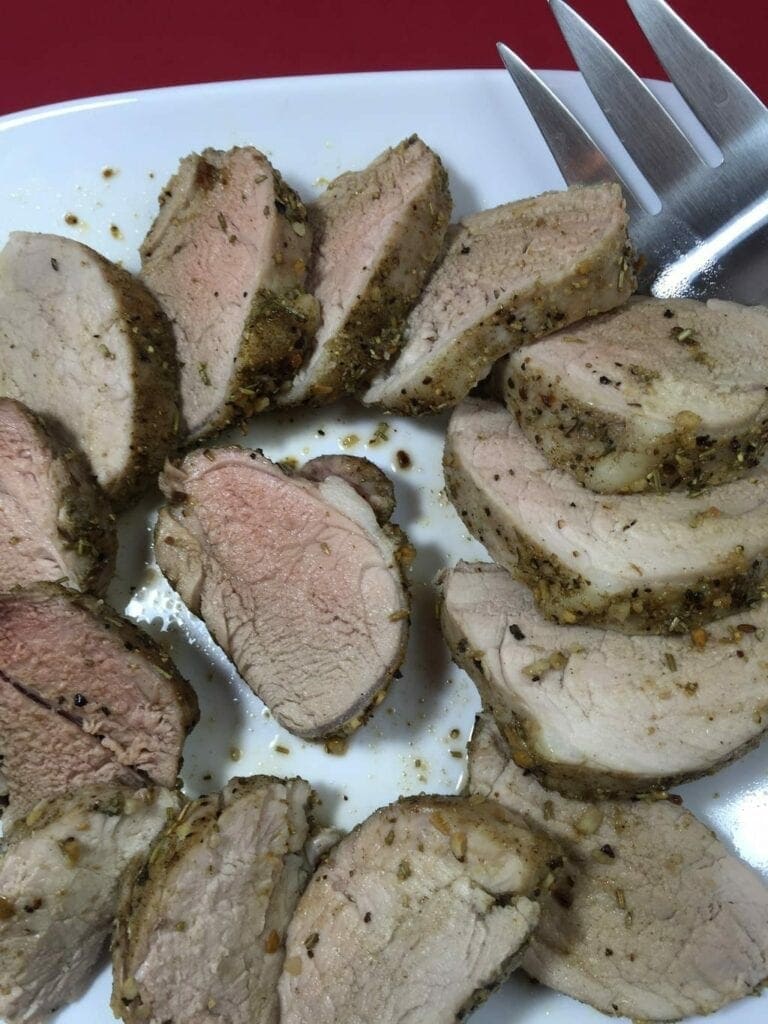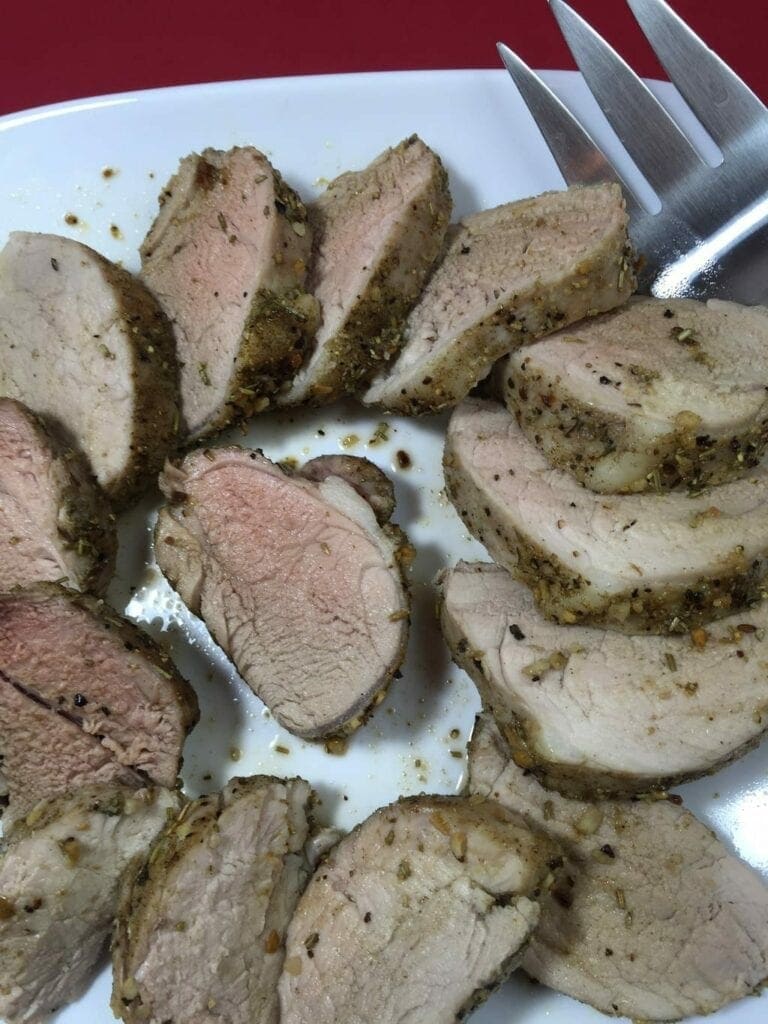 So I came home and thought I'd give it a try.
But of course, like everyone, I make my own adjustments.
First would be time.
I wondered if I could just do this in one day.
So instead of a pork loin, I bought a tenderloin.
Much smaller, much faster.
Next were the spices.
I had Janes Garlic Salt as well as Janes Steakhouse Pepper.
So I sprinkled it on.
Then I got out my mortar and pestle and crushed some fennel seeds.
Then dried rosemary and continued to crush the mixture.
It was beginning to smell right.
The perfume of the fennel and rosemary is so perfect together.
Then I added sage and stirred it in.
At that point, I thought, that's it.
I rubbed the mixture over the tenderloin.
Drizzled it lightly with olive oil and roasted it at 400 degrees for 30 minutes.
I have to say no one does it better than Chez Panisse, but this was very close.
Tender, juicy, slightly sweet and yet savory.
Thank you Chez Panisse!
Ingredients of Pork Tenderloin with Rosemary, Fennel and Sage
Pork Tenderloin
Olive Oil
Jane's Garlic Seasoning
Jane's Steakhouse Seasoning
Fennel Seed
Rosemary
Sage
How to Make Pork Tendeloin with Rosemary, Fennel and Sage
First, preheat your oven to 400 degrees F
Lightly the tenderloin on all sides with olive oil and sprinkle all sides with the garlic and steakhouse seasoning.
Next, add  dried rosemary, sage and fennel leaves and seeds into a mortar and use a pestle to grid them to a powder.
Alternatively, put the whole spices into a spice grinder, and blend for a few seconds until it reaches a fine powder.
The latter is my preferred way since I love this spice combination.
so much that I grind a lot of it at a time and have it handy when I need it.
Drizzle the tenderloin with the remaining olive oil and sprinkle the herb spices evenly over all sides.
Place the tenderloin in a baking dish and place in preheated oven.
Roast for 30 minutes until the internal temperature reaches 140-145 degrees,
Then remove it from the oven and cover it with foil.
Let it rest at least 10 minutes.
This helps it cook a bit more and brings the juices up.
Note:
I used to cook pork to the recommended 165 degrees, which left the pork tough and dry.
Thankfully the USDA finally relaxed their rule.
Now, we can eat tender, juicy incredibly delicious pork the way it way intended.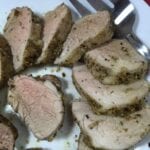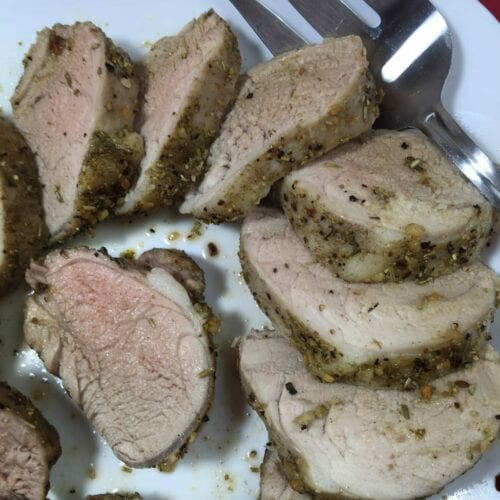 Print Recipe
Pork Tenderloin with Rosemary, Fennel and Sage
Inspired by Chez Panisse, Pork Tenderloin with Rosemary, Fennel and Sage is juicy, tender and a hint of sweetness from the fennel.

Ingredients
1

Pork tenderloin

1 - 1/2 pounds

1

Tsp

Olive oil

1/4

Tsp

Jane's Garlic Seasoning

1/4

Tsp

Jane's Steakhouse Seasoning

1

Tsp

Fennel seeds

Crushed

1

Tsp

Rosemary

Crushed

1/2

Tsp

Sage
Instructions
Preheat oven to 400 degrees

Lightly coat tenderloin with approximately 1/2 tsp of olive oil and sprinkle Garlic Seasoning and Steakhouse Seasoning on both sides.

With a mortar and pestle, crush fennel and rosemary. Add in sage and coat tenderloin. Drizzle remaining 1/2 tsp of olive oil over tenderloin.

Place in oven proof dish and roast 30 minutes until internal temperature reaches 140.

Remove from oven, cover with foil and allow to rest 10 minutes.
Nutrition
Calories:
371
kcal
|
Protein:
62
g
|
Fat:
11
g
|
Saturated Fat:
3
g
|
Cholesterol:
196
mg
|
Sodium:
210
mg
|
Potassium:
1188
mg
|
Calcium:
25
mg
|
Iron:
3.1
mg