I think if I could only make one cookie, the Best Shortbread Cookie is the one. This recipe is easy, fun to make and full of buttery deliciousness.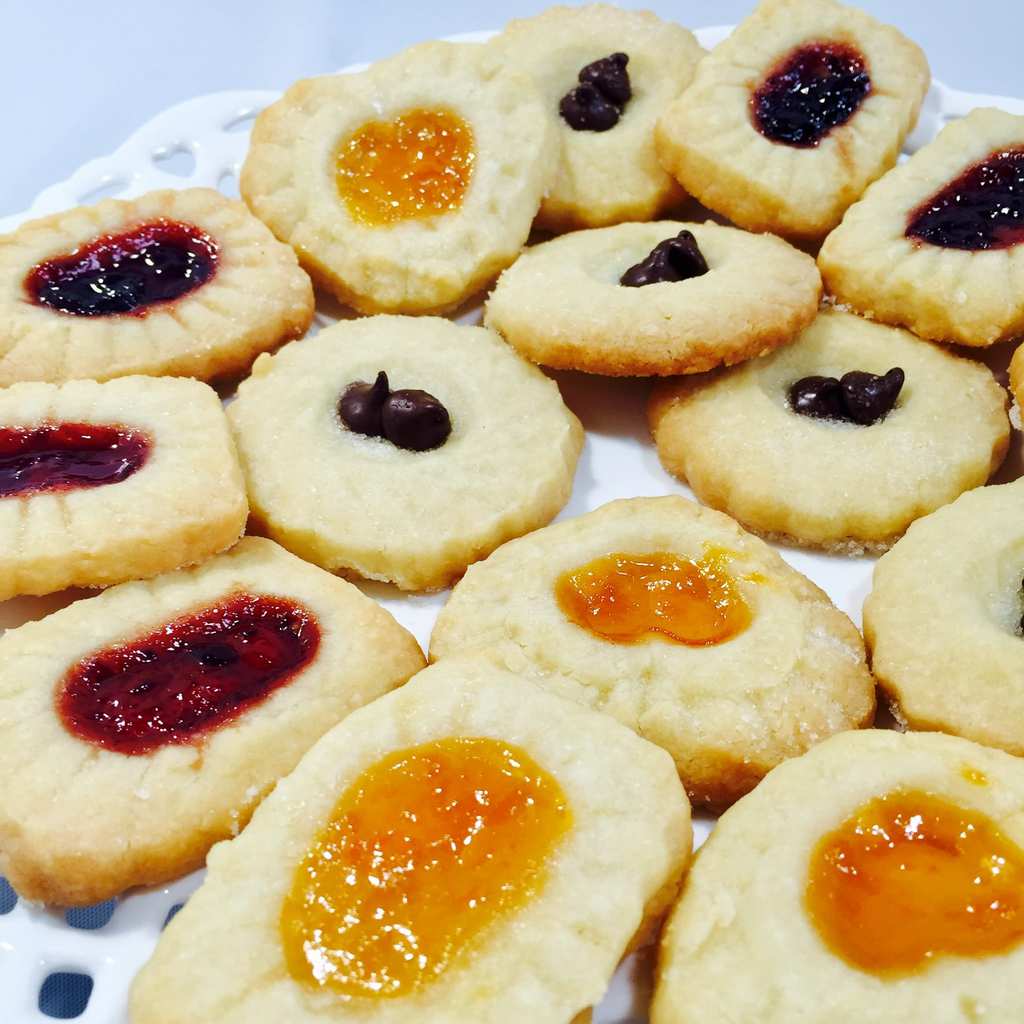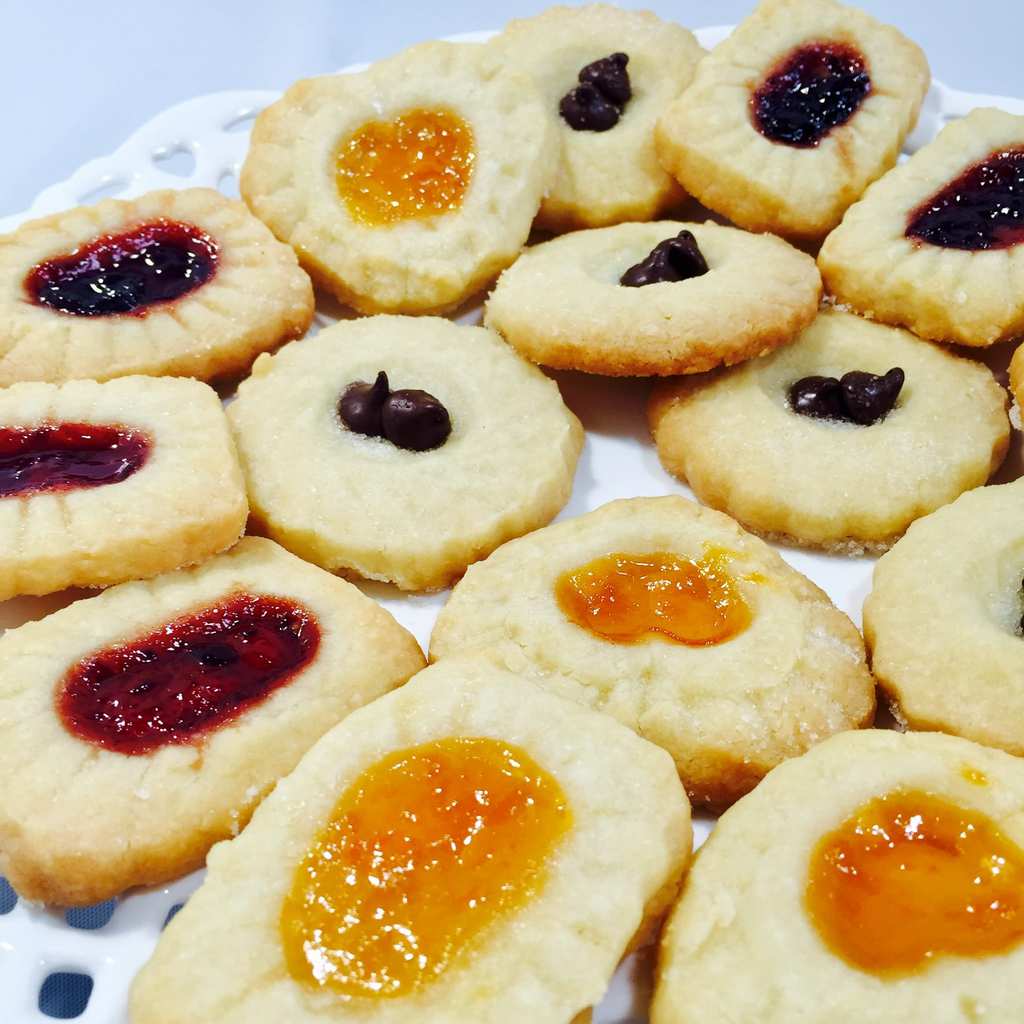 A friend of mine once told me that she met a man who owned a cookie factory and he only made one kind of cookie.  It was a Shortbread Butter Cookie.  She took one taste and said, "Wow! When cookies are This good, you really only Need one cookie!" 
It's true.
So when I saw these cookie stamps at Williams-Sonoma, I instantly fell in love with them and had to have them.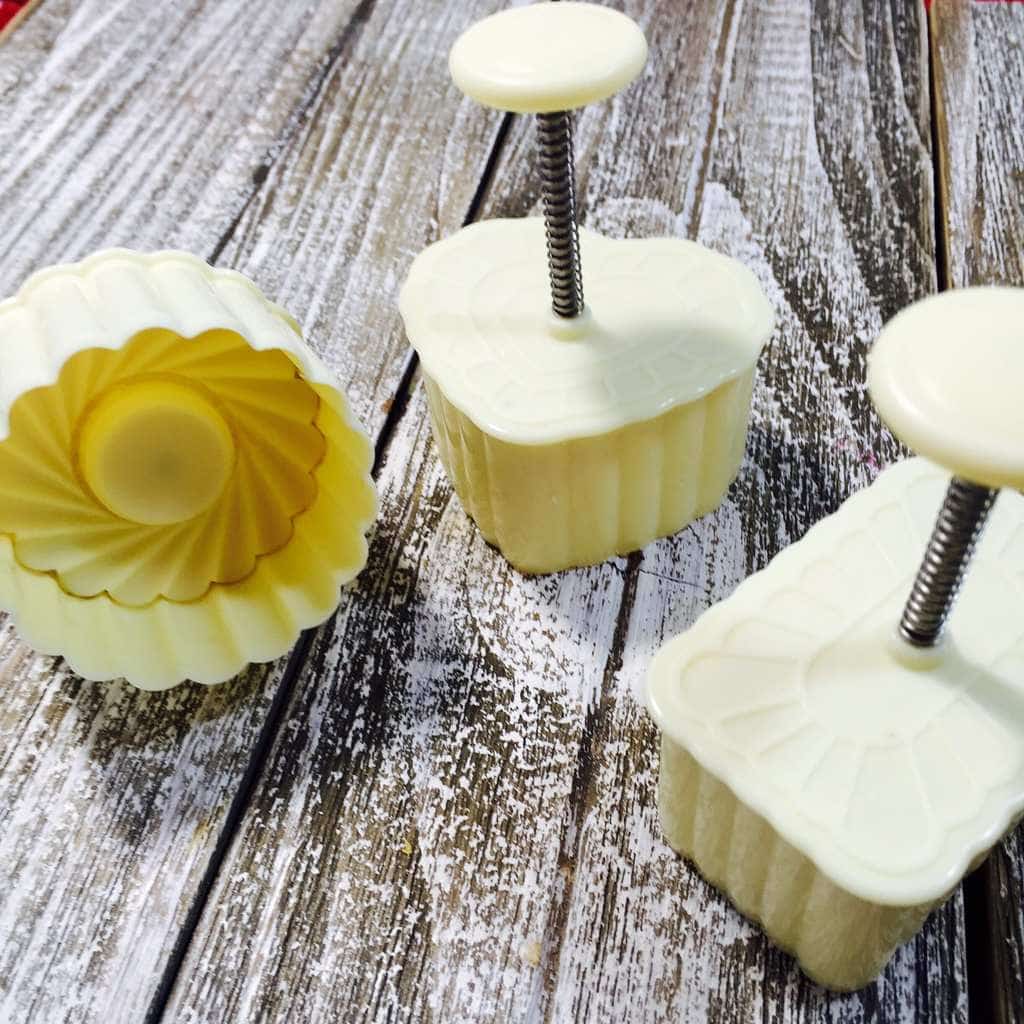 And I immediately thought of what my friend said about those shortbread butter cookies. These gorgeous little cookie stamps demanded the best.
So in my quest to discover how to make the Best Shortbread Cookie, I finally arrived at this recipe.  
They're light, they're buttery and with the cookie stamp, they're just gorgeous.  Plus you can make them exactly to your taste by just changing the flavors of the jam.
I chose Cherry and Apricot, but there's so many more possibilities.  Strawberry, Mint (think of Christmas colors here), Raspberry, Orange, Boysenberry.  Well, you get the idea.   And they come out looking like little stained glass windows.  
They truly are the Best Shortbread Cookie I've ever had.  And unlike purchased cookies, there are no preservatives.  In fact, these cookies only have 5 ingredients including the jam.
Ingredients for the Best Shortbread Cookie
Butter:

 

For moisture and total flavor

 

Flour: To bind everything together
Powdered sugar:

 

It not only adds sweetness, but smoothness

 

Vanilla: Always makes everything taste richer
Jam:

 

Now this is where you can get creative

 
How to make the Best Shortbread Cookie
I've made several attempts at making just the right dough.  The first time it was so dry it wouldn't hold together.  The second time I overdid it with wet ingredients.  Finally I discovered that the simpler the ingredients are, the better the dough.  
Actually there's really only 4 ingredients for the actual dough.  I suppose you could use a food processor, but really there's no need to and an electric beater will do just fine.
In fact, after you lightly mix the butter, flour, powdered sugar and vanilla together, just put aside the beater and finish it by mixing it with your hands.  There's actually a reason for this.  With your hands you can mix it more gently. 
Whether you're making cookies, or pancakes or bread, over-mixing always results in toughness.  So mix it enough to just hold together in a ball. And then flatten it slightly into a circle.  
Next lay out a sheet of plastic wrap – a large one about 12" long on the counter.  
You'll use this plastic to wrap the dough up and refrigerate for about 30-40 minutes, so that it will be firm enough to roll out.
When the dough is chilled just unwrap the plastic and add the dough to a large piece of parchment paper. The parchment makes rolling out and stamping these cookies so much easier.
Just sprinkle some flour on the top of the circle. Then flip it over and sprinkle on more flour. Just as an extra precaution with these delicate cookies, rub some flour on your rolling pin as well before rolling out the dough.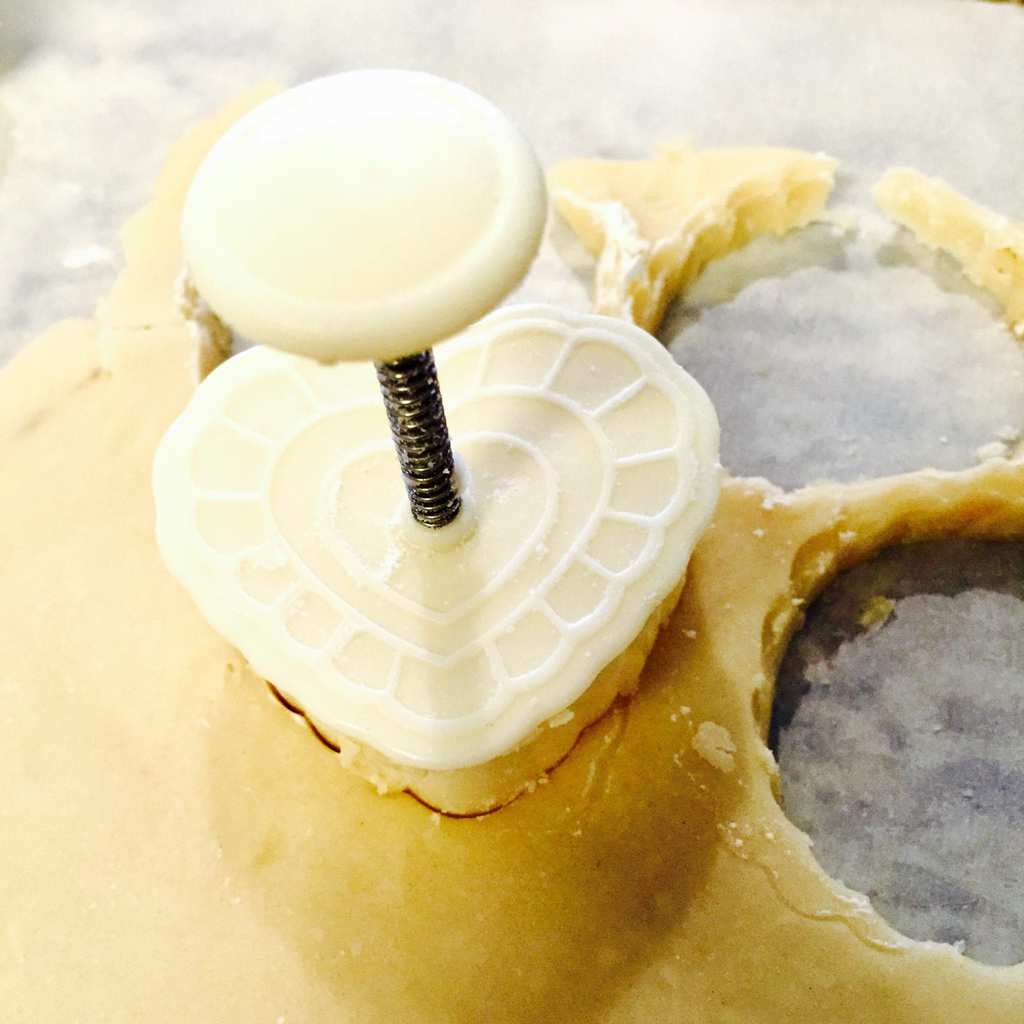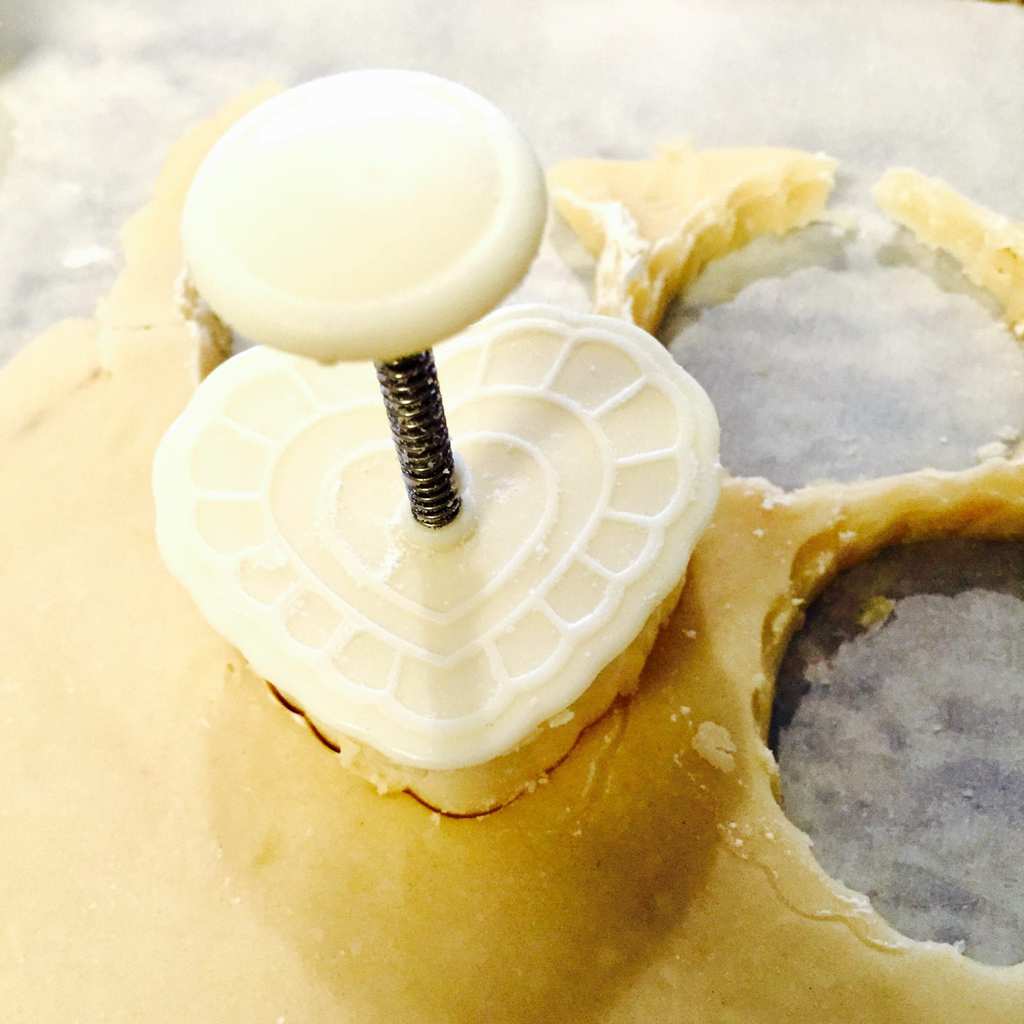 And when using stamps it's really important to roll the dough at least 1/2" thick. No, the cookies won't be that thick. They will actually press down to be a bit thinner. Perfect cookie size. And because of the thicker dough, the beautiful indentions will show better. 
Just a heads up. Stamps press down differently than cookie cutters, so there is a bit of a trick to use them. With cookie cutters, you quickly press down leaving the cut out cookie behind.  
With stamps though, you need to press down firmly with the stamp pressing the center button hard enough to pick the cut out cookie up with the stamp. Then you press down on the center button again to release the cut out cookie on to a parchment lined sheet pan. It takes one or two practice runs, then it goes like clockwork.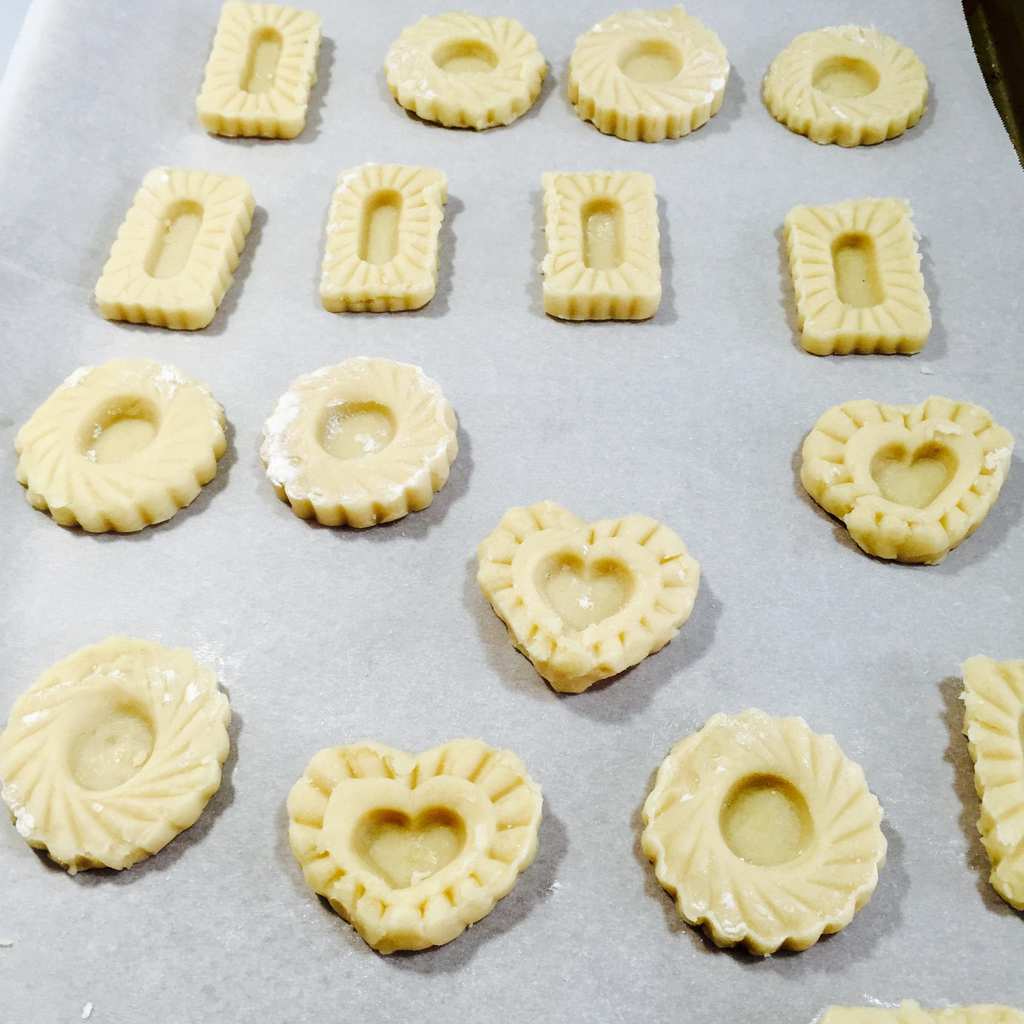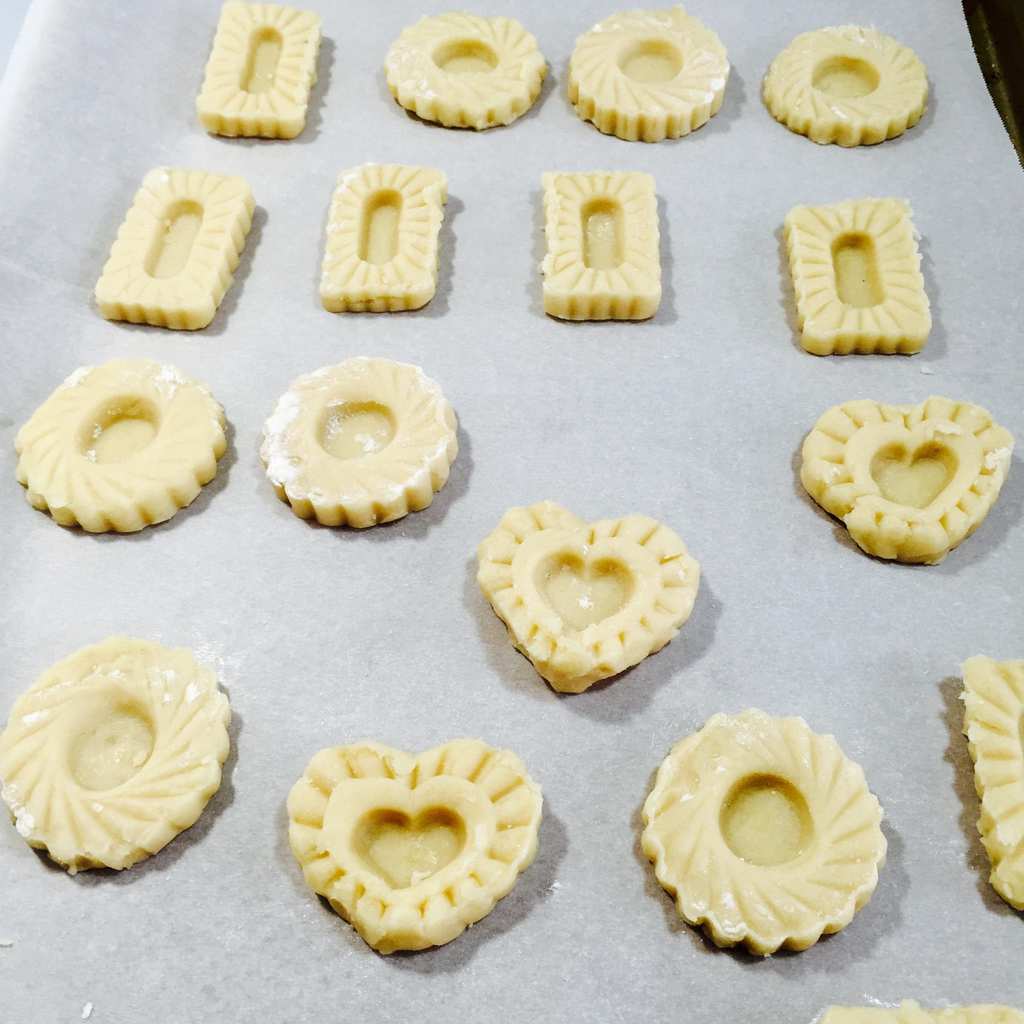 And when all the cookies are cut, it's time to fill the centers with jam.  It really doesn't take much, maybe a 1/4 tsp per cookie.  When all the cookies are filled, just lightly sprinkle sugar over each cookie.  This gives the cookies a slight sparkle.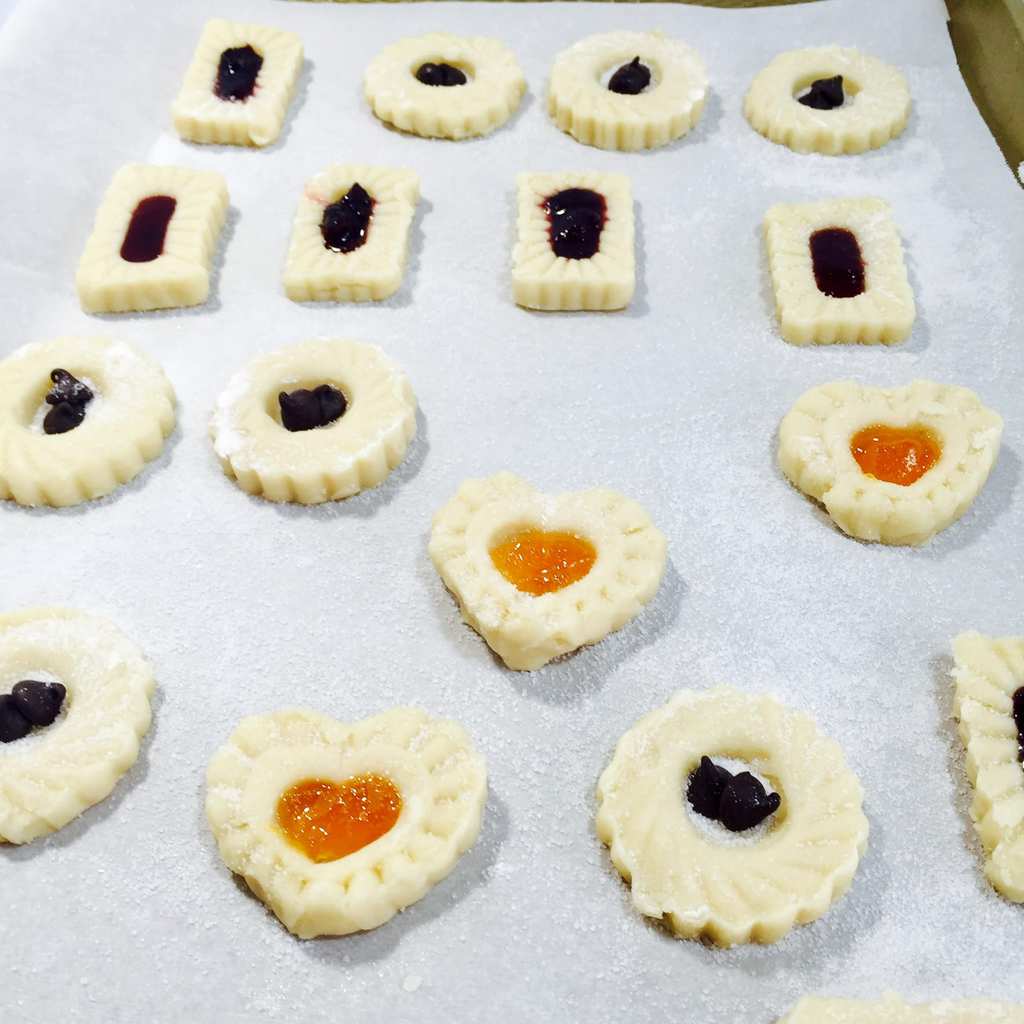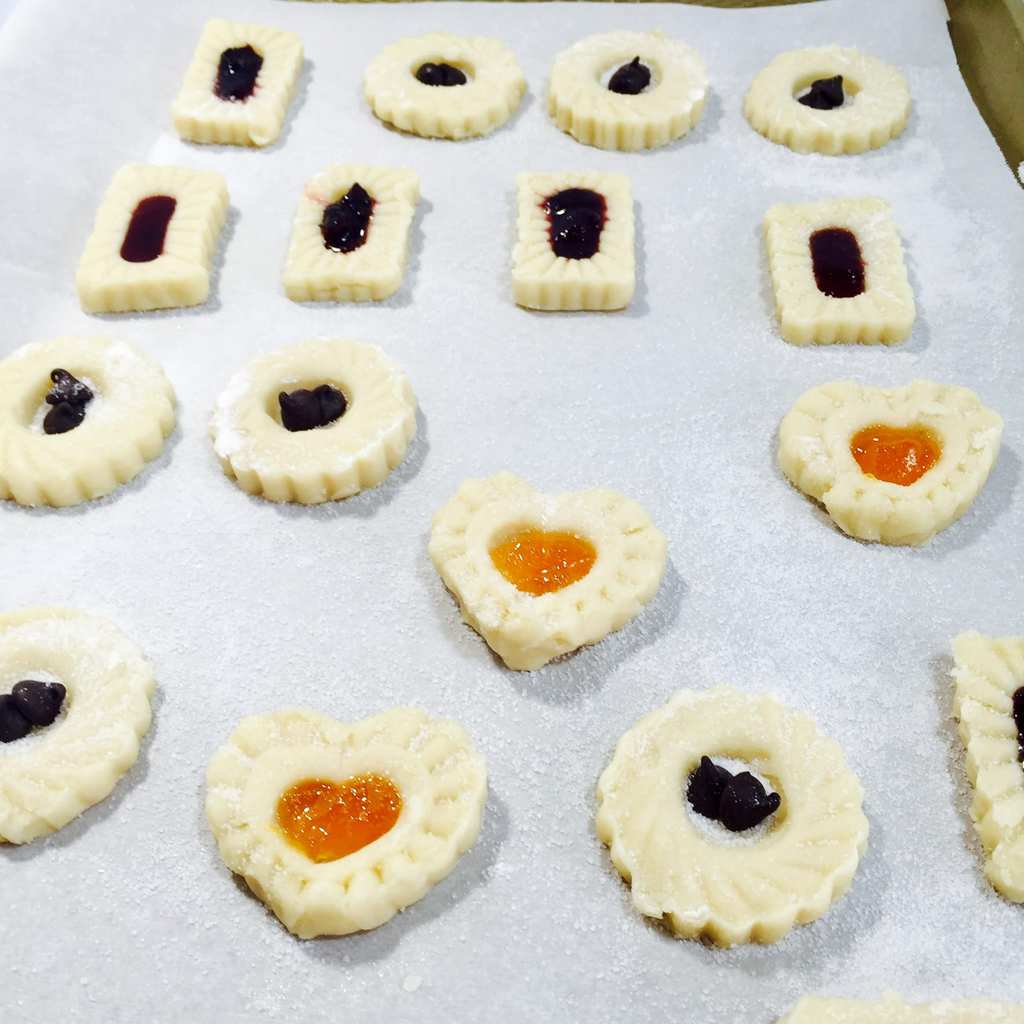 Then bake them at 350 degrees F for about 20-25 minutes until the edges are slightly browned.  Remove them and allow to cool on a rack.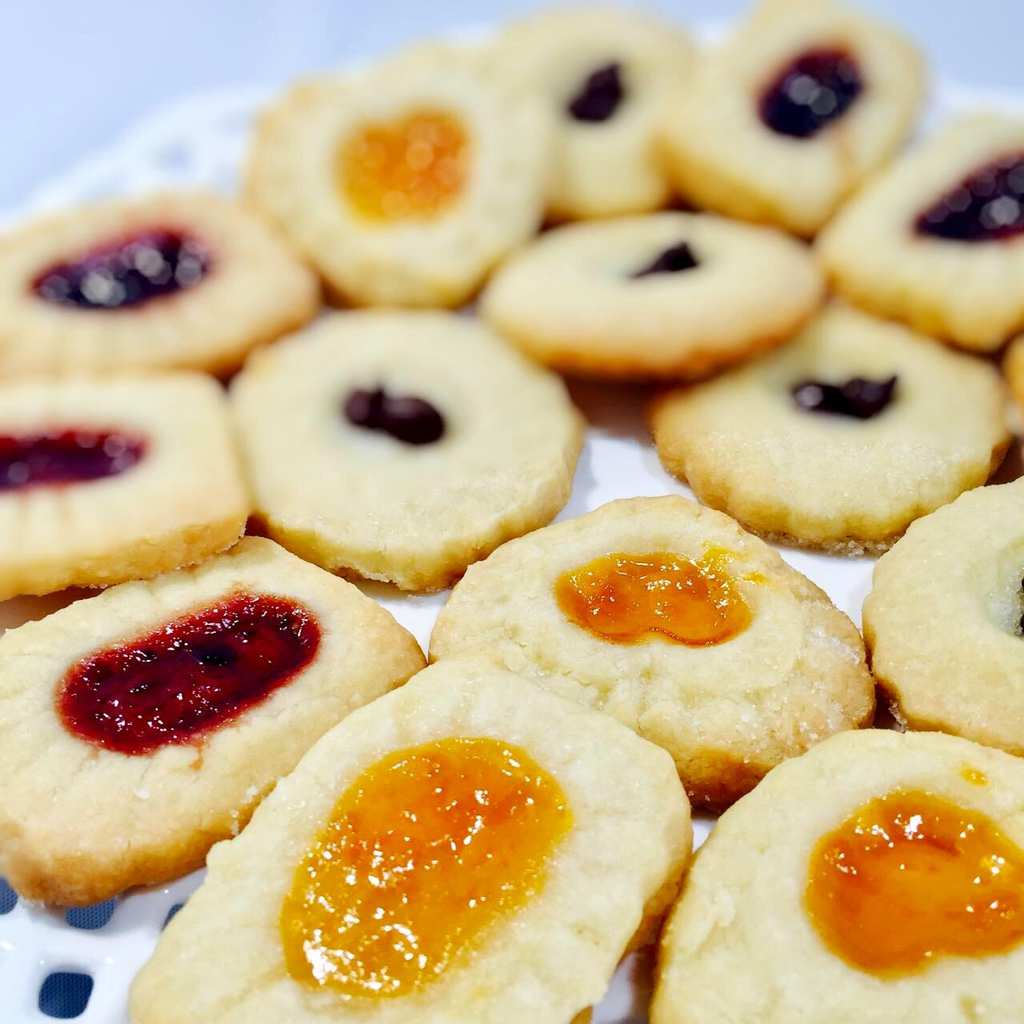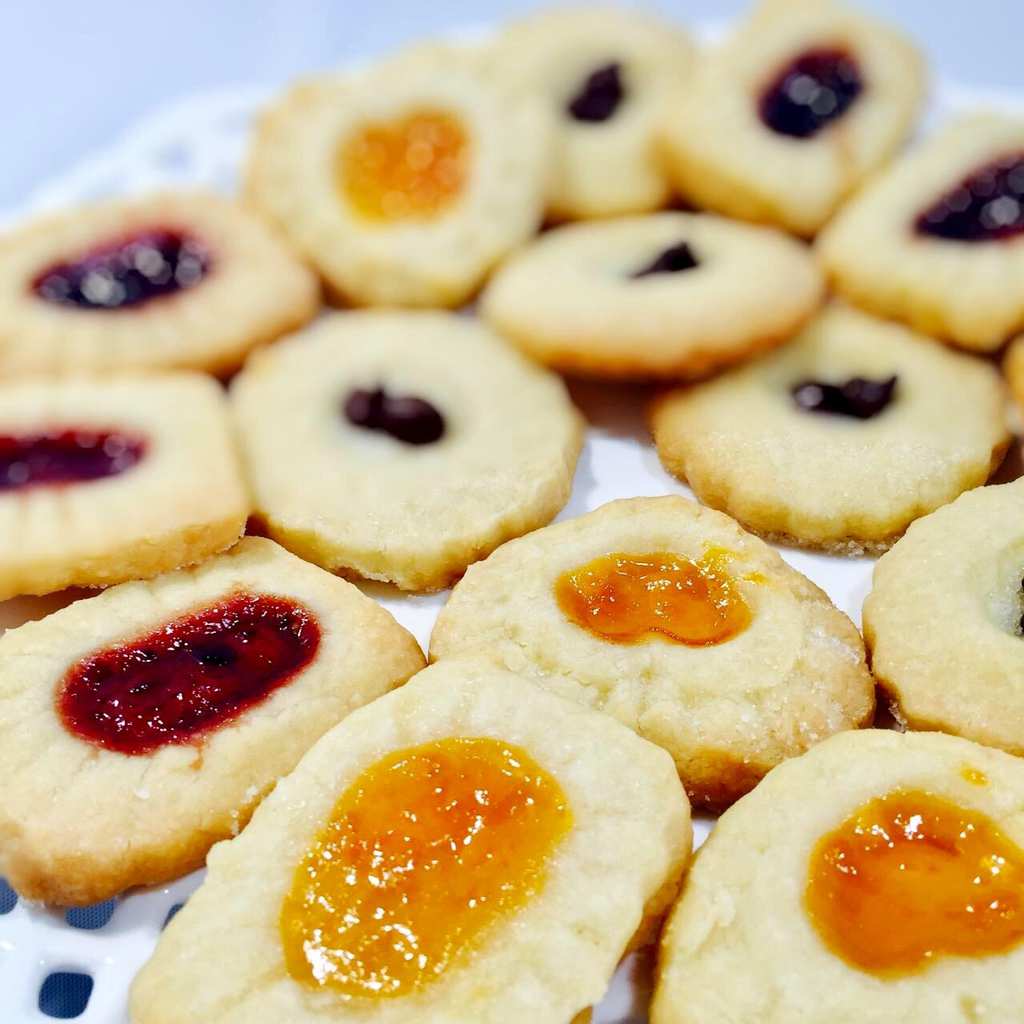 We absolutely love these cookies! My only problem is that disappeared way too fast.  Hope you love them too.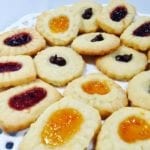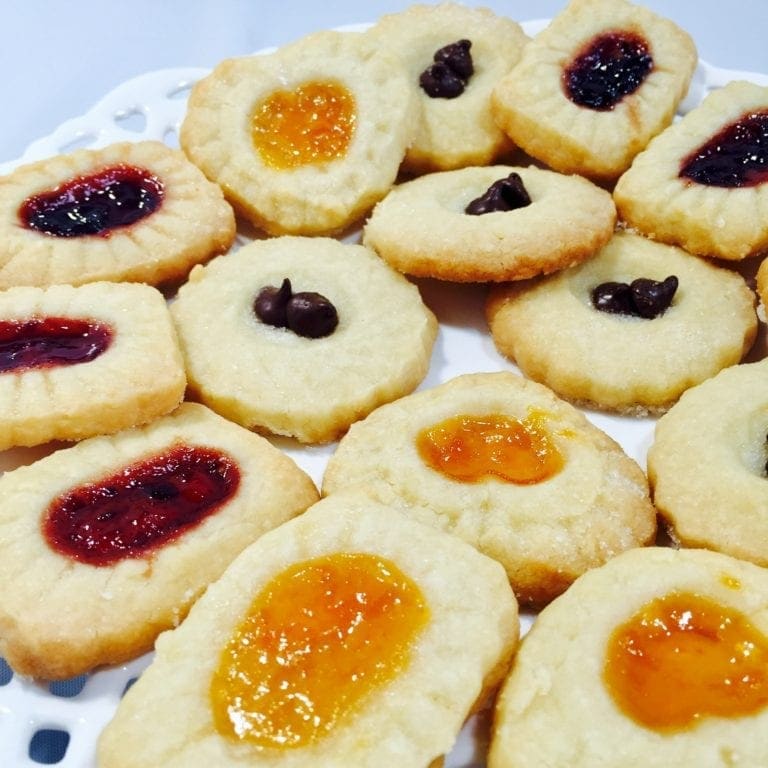 Print Recipe
Best Shortbread Cookie
If you only make one kind of cookie for the holiday season, the Best Shortbread Cookie is the one to make. These cookies are easy, they're fun to make and they're full of buttery deliciousness.
Ingredients
1

Cup

Butter

2

Cups

Flour

1/2

Cup

Powdered sugar

1/2

Tsp

Vanilla

4

Tsp

Jam
Instructions
Preheat oven to 350 degrees F

Line a sheet pan with parchment paper.

Cream butter, vanilla and powdered sugar together in a large bowl. Then add flour and mix with an electric mixer until dough just begins to come together.

Finish kneading dough by hand until it can be formed into a ball. Then slightly flatten it into a circle.

Wrap the dough circle in a piece of plastic wrap and refrigerate for about 40 minutes.

When chilled, add the dough to a piece of parchment paper which has been sprinkled with flour. Add additional flour on the top of the circle. With a floured rolling pin roll the dough out to a thickness of 1/2"

Add flour to the inside of the stamp and press down firmly into the dough pushing the center button hard enough to pick up the cookie with the stamp. Then push down on the center button to release cookie and place it on a parchment covered sheet pan.

Stamp remaining cookies, rolling leftover dough and stamping once again until all the dough is used.

Carefully fill center impression with 1/4 Tsp of the jam of your choice. Then Sprinkle the cookies lightly with granulated sugar.

Bake 20-25 minutes until the edges of the cookies are slightly brown. Remove and allow cookies to cool on a rack.
Nutrition
Calories:
178
kcal
|
Carbohydrates:
16
g
|
Protein:
1
g
|
Fat:
11
g
|
Saturated Fat:
7
g
|
Cholesterol:
30
mg
|
Sodium:
102
mg
|
Potassium:
20
mg
|
Sugar:
4
g
|
Vitamin A:
355
IU
|
Vitamin C:
0.2
mg
|
Calcium:
6
mg
|
Iron:
0.7
mg
If you like this recipe, please leave a comment below and be sure to pin it on Pinterest!  
For more cookie recipes you might like:
Espresso Meringues with Chocolate Chips
Chocolate Chip Macadamia Cookies with Cranberries