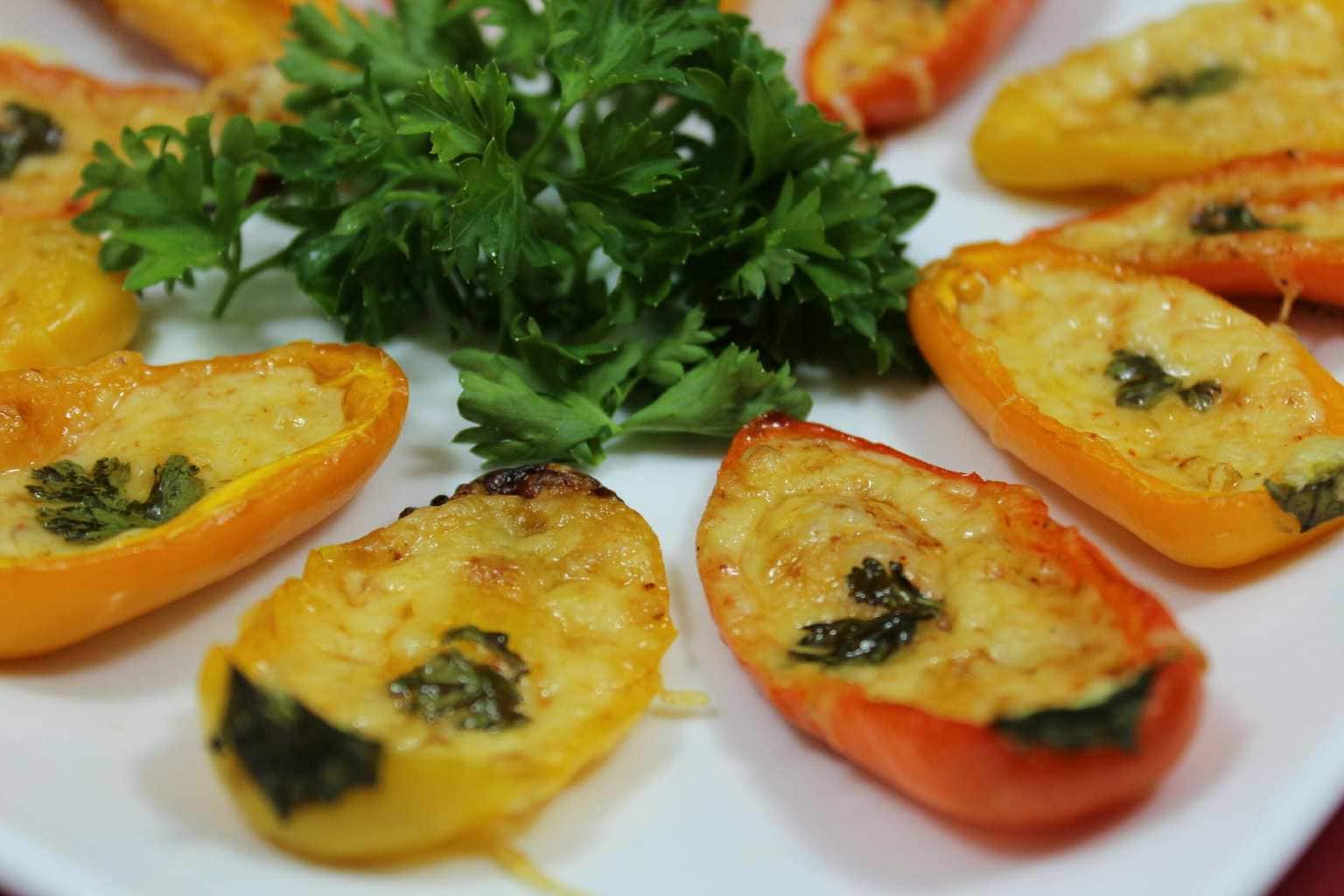 About Easy Sweet Pepper Poppers
I love dinner parties for lots of reasons. Good friends, good food and good times. But I have to confess I get a little….ok maybe a bit more than that…obsessed with having everything just right, from the table setting to the food. It used to be so important to me that the appetizers were perfect, and ditto with the main dish, the sides and dessert. Truth be told, to say that was stressful was an understatement. Then I discovered appetizers such as these Easy Sweet Pepper Poppers and, over time, I have learned to relax a bit. And that's a very good thing.
I confess I still write out menus. I have to. It's called organization. But now instead of having everything over the top, I try to focus on one thing, and usually that's the main dish. As far as appetizers, sides and dessert, my motto now is keep it simple with just a few ingredients and lots of good flavor.
Like these Easy Sweet Pepper Poppers. The first time I made these appetizers was not for my party, but for a neighbors party. She asked each guest to bring an appetizer and I had no idea what to bring until I went to the store and found these gorgeous mini peppers in bright yellow and red and orange.
I had never cooked with them before and wasn't sure what to do with them, but they were too gorgeous not to buy. I thought about stuffing them with sausage, which might have been all right. And then I thought of Pepper Jack cheese. Simple and fast. After baking I put them on this huge red platter with parsley garnishes. They were a hit and everybody wanted the recipe. I was almost embarrassed to tell them how simple it was.
So, the other day I found those same beautiful peppers in the store, grabbed them and headed for the cheese department. And instead of Pepper Jack, I discovered something even better. Boar's Head now makes a Chipotle Gouda cheese. Think of smoky Chipotle, zesty peppers and buttery Gouda. I had to get it and that evening made my Easy Sweet Pepper Poppers. I have to say Pepper Jack was really good on the peppers, but the Chipotle Gouda knocked it out the park. Smoky, creamy, spicy and easy as can be.
Health notes:  Did you know Peppers can actually increase your energy and clinical studies have proven they can used as a weight loss aid?
"We need a paradigm shift, and I think it's beginning to occur. Nutrition needs to be looked at, not as a means of preventing specific deficiency diseases, but as a means of contributing to the overall health of a person and his or her resistance to chronic diseases…This is going to produce a big upsurge in human health in the next twenty years". Richard P. Huemer, MD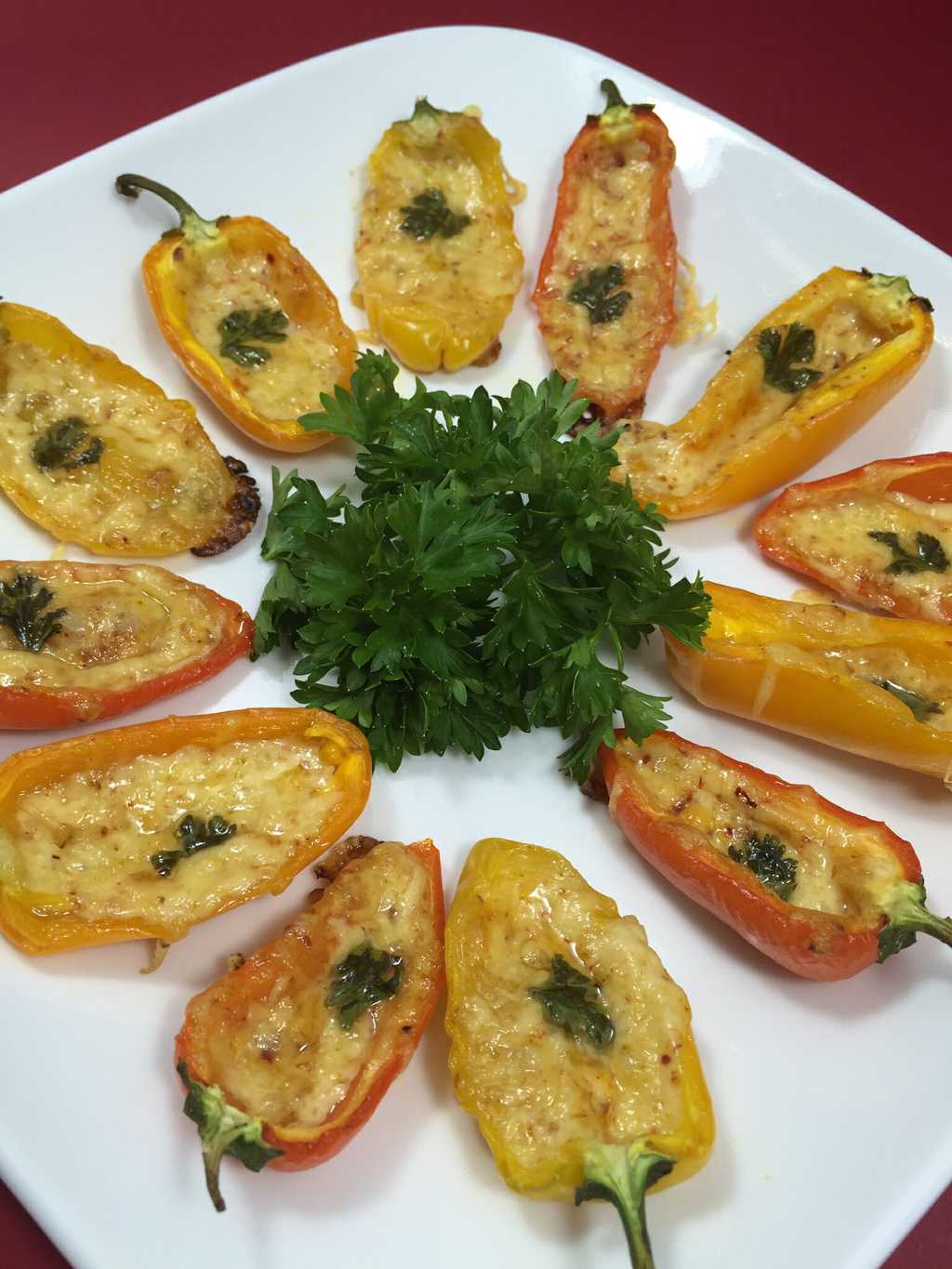 Print Recipe
Easy Sweet Pepper Poppers
Easy Sweet Pepper Poppers are fast, easy and use only 3 ingredients. And they're delicious. Think of smoky Chipotle, zesty peppers and buttery Gouda.

Ingredients
1/3

Cup

Boar's Head Chipotle Gouda cheese

Grated

6

Mini Sweet Peppers

1 1/2

Tbsp

Cilantro

Chopped
Instructions
Preheat oven to 400 degrees F

Cut each pepper in half lengthwise. Wash, seed and dry peppers.

Fill each Pepper with heaping tsp of grated cheese and place on baking sheet.

Bake for 20 minutes until cheese is melted and peppers just begin to brown.
Nutrition
Serving:
1
Popper
|
Calories:
23
kcal
|
Protein:
1
g
|
Fat:
1
g
|
Cholesterol:
6
mg
|
Sodium:
45
mg
|
Potassium:
36
mg
|
Vitamin A:
470
IU
|
Vitamin C:
17.9
mg
|
Calcium:
39
mg
|
Iron:
0.1
mg